Easy Garlic Roasted Yellow Squash – My New Fave Side Dish!
Roasted yellow squash recipes are taking the spotlight!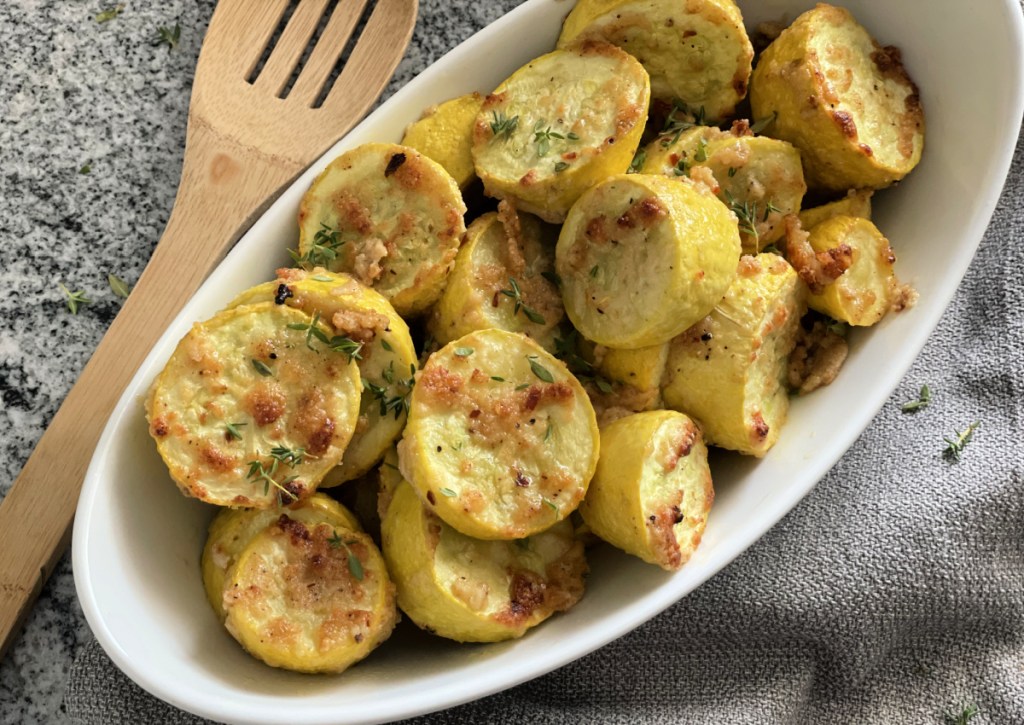 Garlic roasted yellow squash is the perfect way to use up summer produce.
If you planted a garden or have visited your local farmer's market lately, you've probably seen some yellow squash hanging out with the zucchini. Your grocery store is likely stocking it right now too as the end of summer is the peak season for squash.
I like to keep it simple when it comes to roasted veggies, and let me tell you, this recipe for garlic roasted yellow squash is incredible. It's one of the best baked yellow squash recipes around, and did I mention it's sprinkled with parmesan cheese? 🤤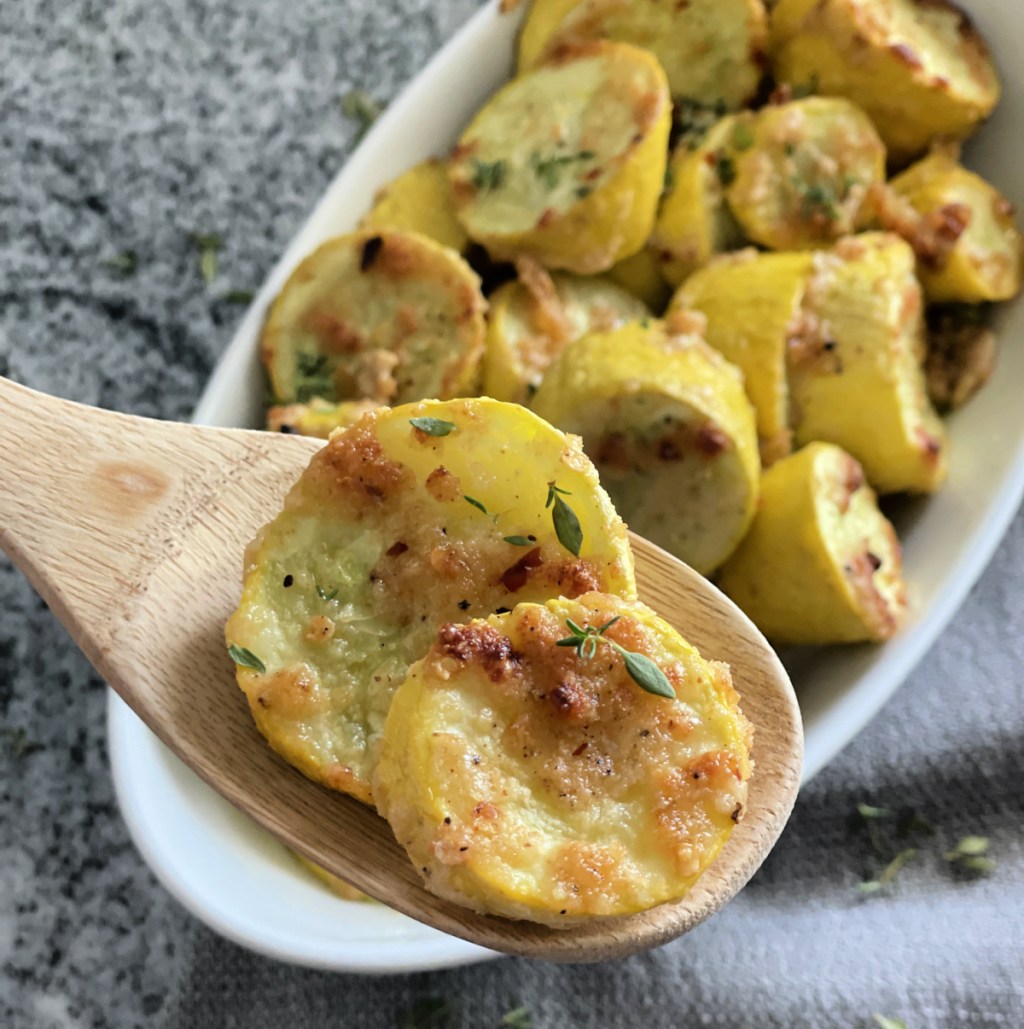 It doesn't get any better than roasting veggies with a ridiculous amount of garlic and parmesan.
Let's talk about the deliciousness in this recipe that coats the yellow squash. I'm talking about a boatload of garlic — some may say it's excessive, but I think it's oh so perfect. If you don't like garlic, this recipe may not be for you, or you'd want to consider reducing the amount of garlic in half (more on that in the tips below).
The coating on this roasted summer squash consists of garlic powder, grated parmesan, salt, pepper, red pepper flakes, and olive oil. That's it! But the star of the show is the 1/4 cup of garlic powder and 1/2 cup of parmesan.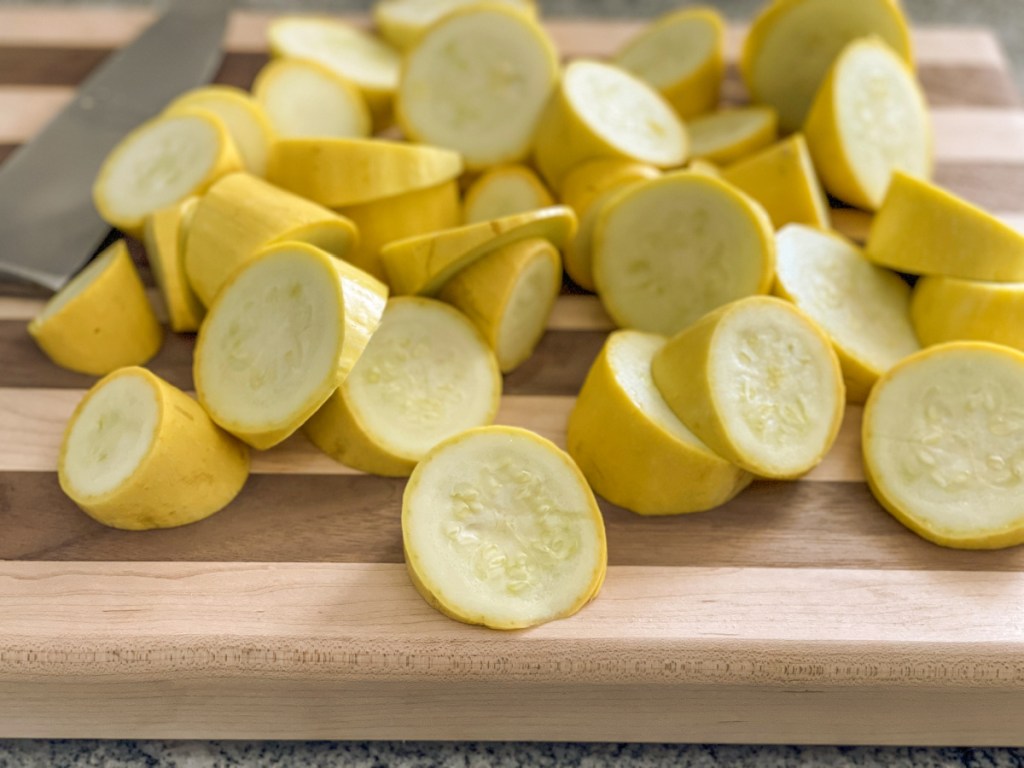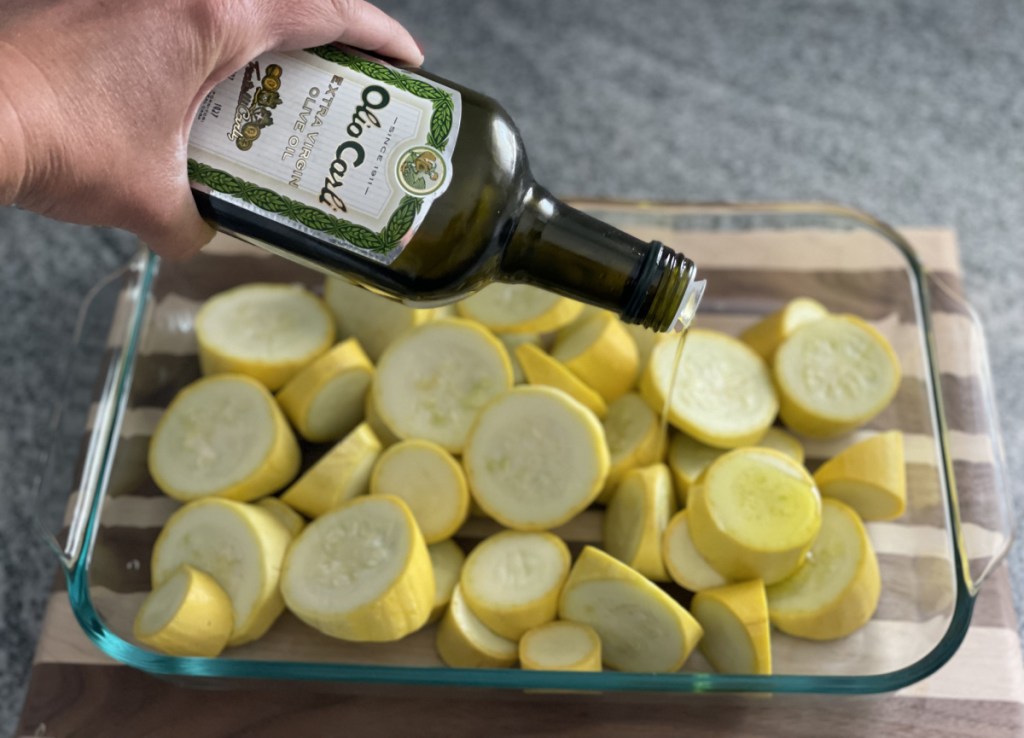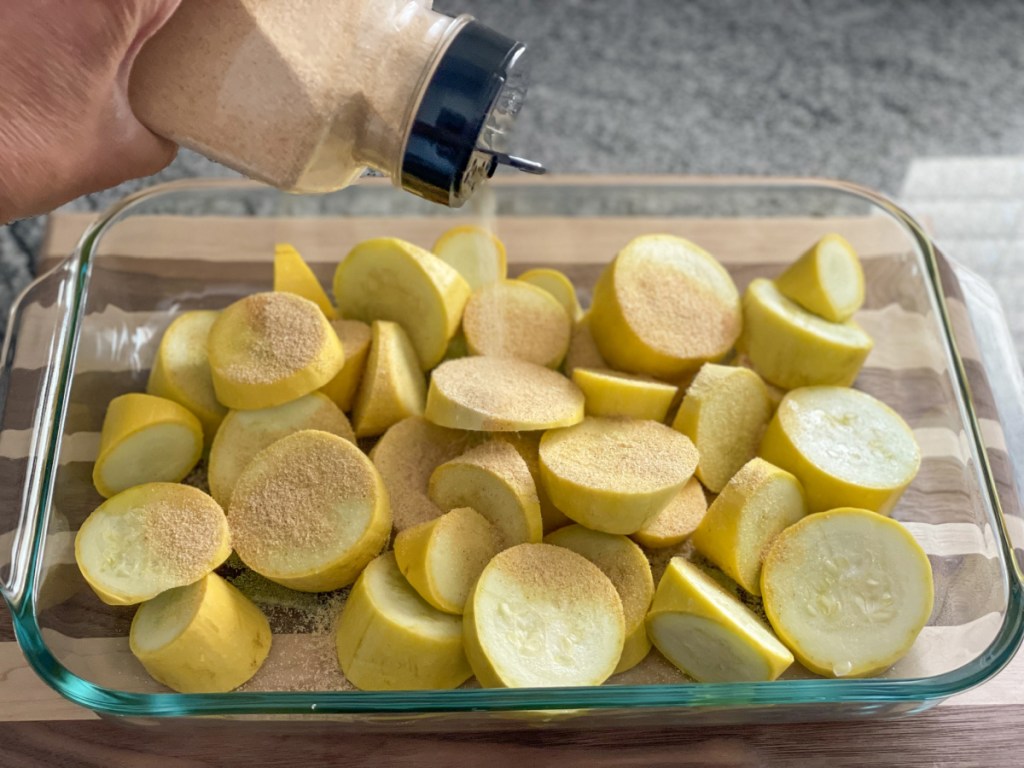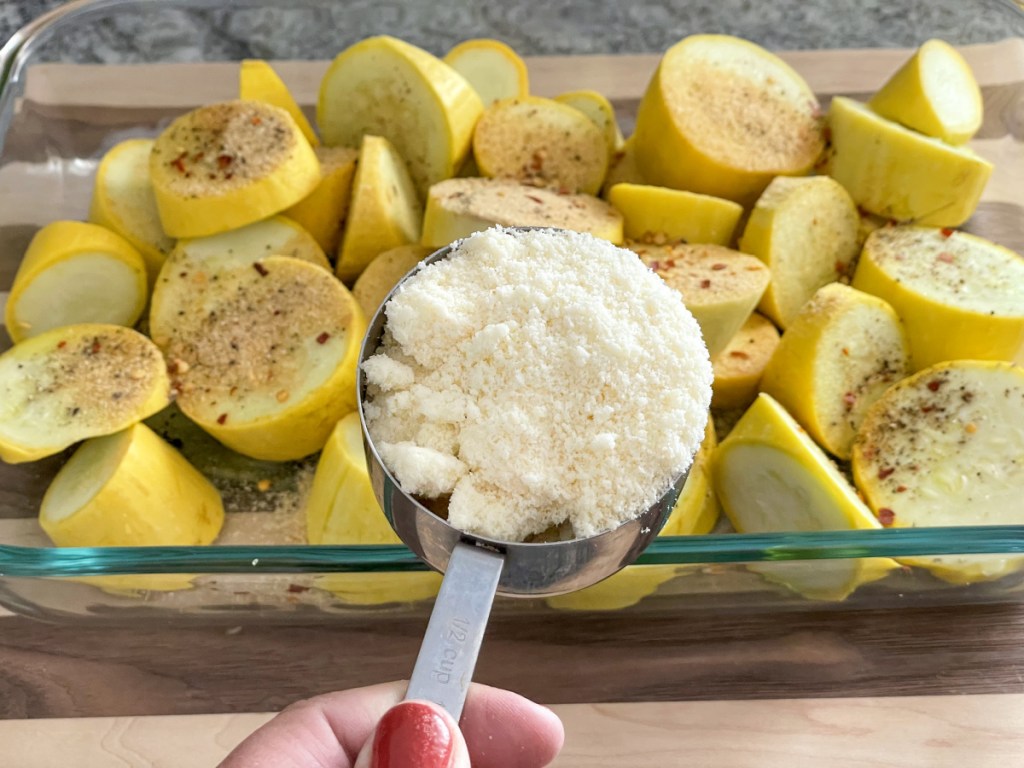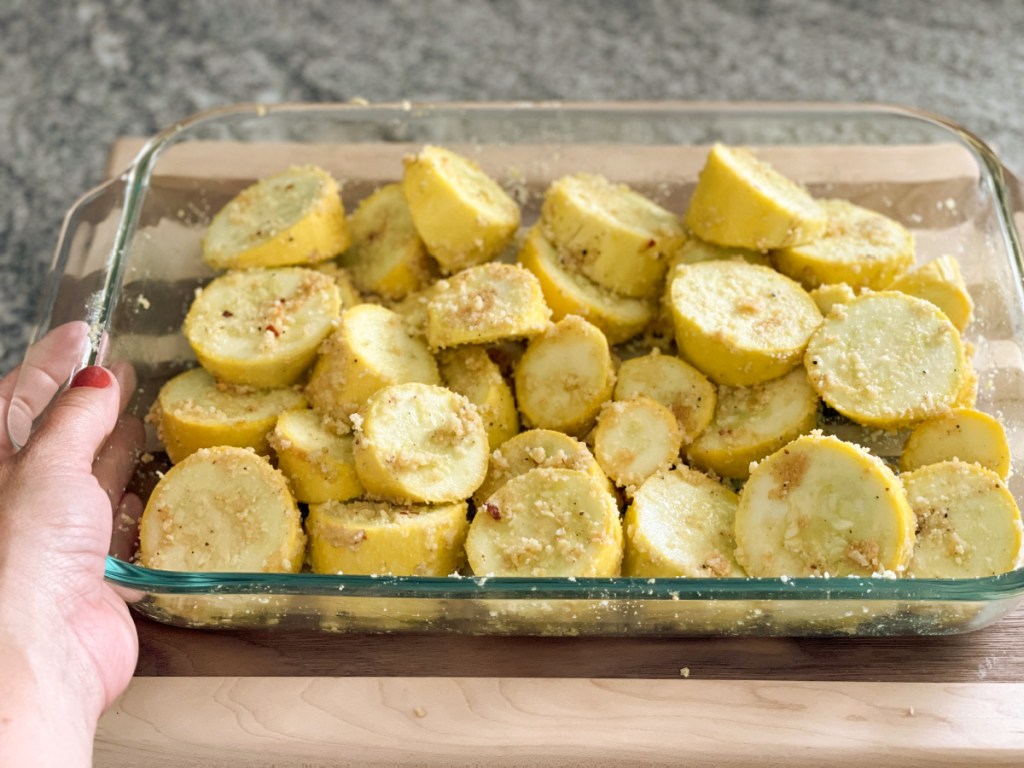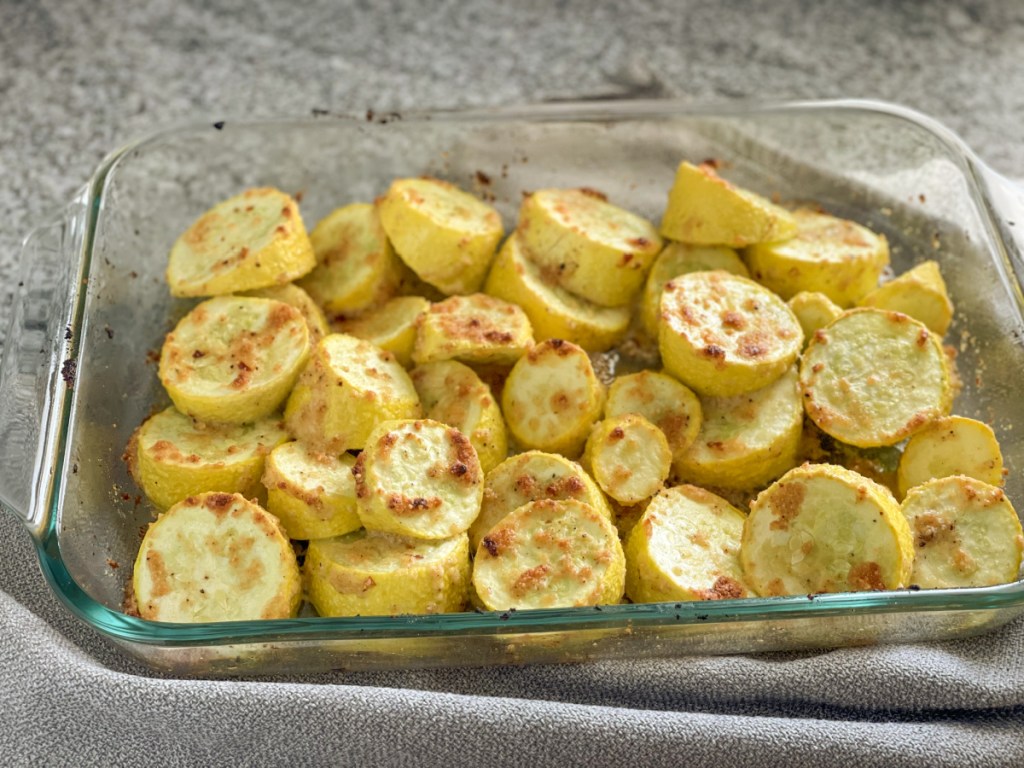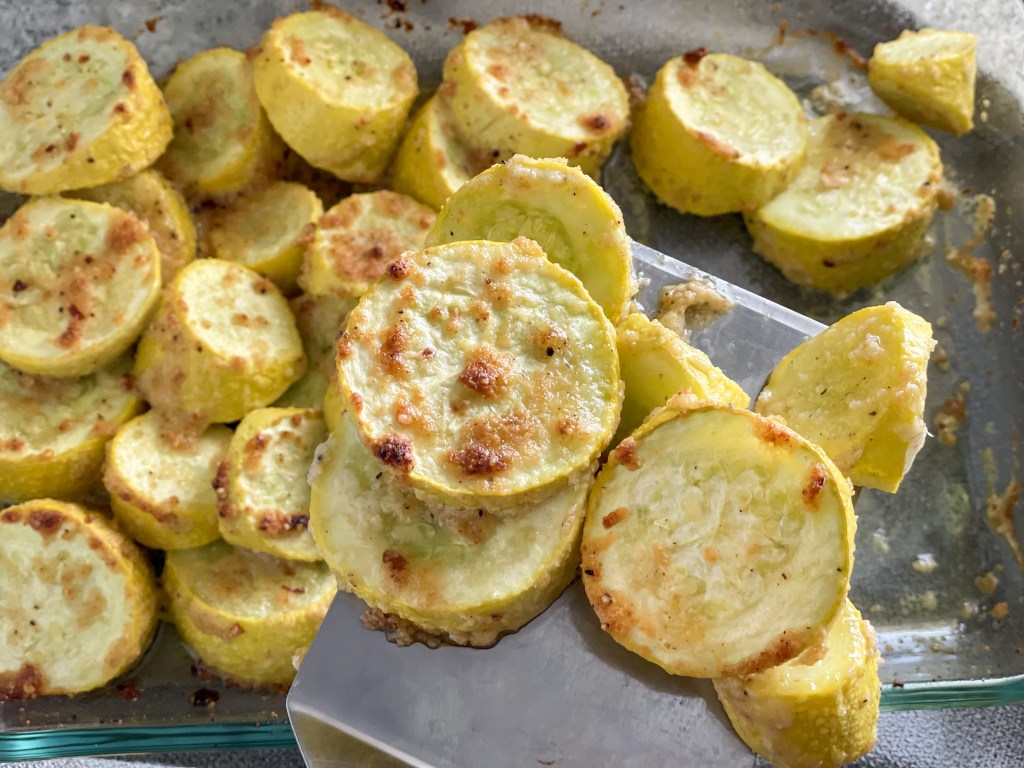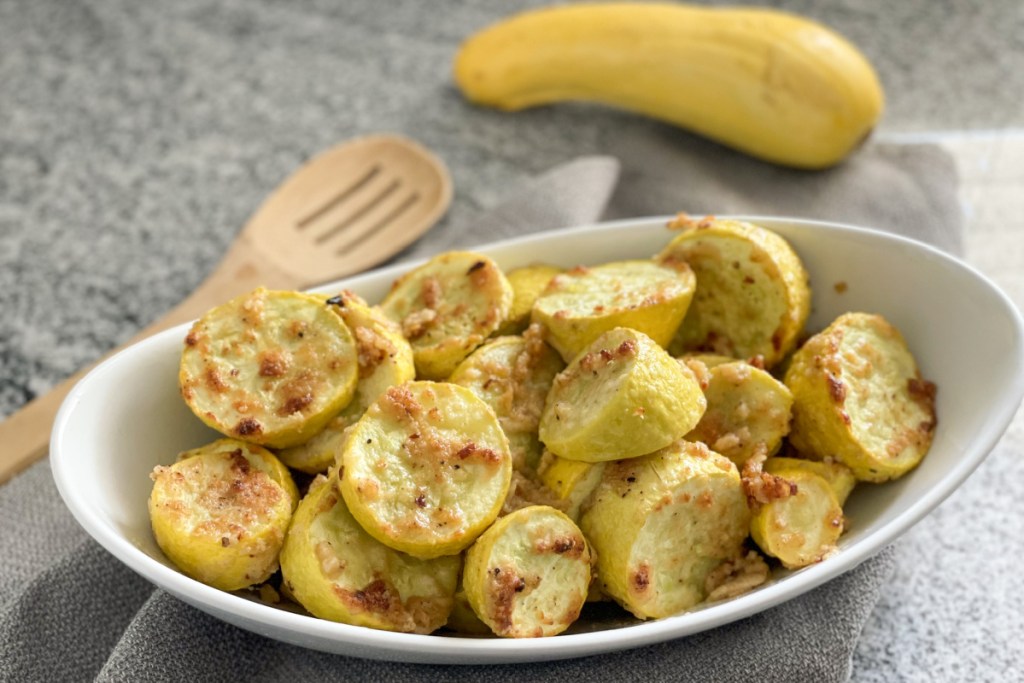 ---
Print
Garlic Roasted Yellow Squash
yield: 6 SERVINGS
prep time: 10 MINUTES
cook time: 17 MINUTES
total time: 27 MINUTES
Yellow squash coated in olive oil, garlic powder, and parmesan cheese, and then roasted to perfection.
Ingredients
4 medium yellow squash
3 tablespoons olive oil
1/4 cup garlic powder
1/2 cup grated parmesan cheese
1/2 teaspoon salt
1/2 teaspoon pepper
1 teaspoon red pepper flakes, optional
Fresh thyme or parsley to garnish, optional
Directions
1
Preheat oven to 400 degrees. Place oven rack in the middle position.
2
Cut yellow squash into "triangle" shaped slices by cutting the squash at a 45-degree angle and then cutting at the opposite 45-degree angle. You could also cut it into 1/2-inch rounds. Discard the end pieces and place the squash in an ungreased 9x13-inch baking dish (oil is added in the next step).
3
Drizzle the squash with olive oil. Then sprinkle on the garlic powder, parmesan, salt, pepper, and red pepper flakes (optional). Toss with your hands or a large spoon to evenly cover each piece of squash with the mixture.
4
Place in the oven and roast for 10 to 12 minutes, until just starting to get soft. Then turn your oven to broil and broil on HIGH for 3 to 5 minutes. It make take more or less time depending on your oven so watch carefully to prevent burning.
5
Once the yellow squash are golden brown and just starting to crisp, remove them from the oven. Garnish with fresh thyme or parsley if desired. Serve immediately. Enjoy!
Nutrition Information
Yield: 6, Serving Size: 1 cup cooked
Amount Per Serving: 111 Calories | 8.5g Fat | 7g Total Carbs | 1.5g Fiber | 4.7g Sugar | 2.7g Protein | 5.5g Net Carbs
---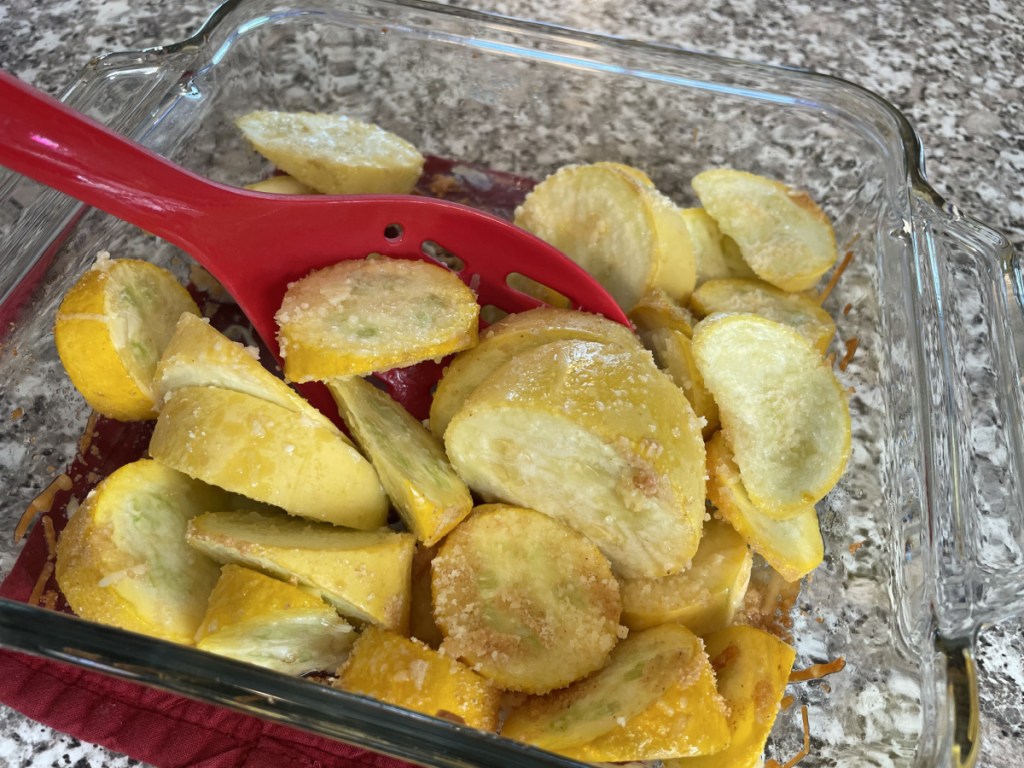 Tips for making the best garlic roasted yellow squash recipe:
I used four medium-sized squash for this recipe. If you have small squash, I'd use five.
Slice the yellow squash into "triangle" rounds like Martha Stewart does, because, Martha Stewart said so, right? You can also just slice the squash into thick rounds, about a 1/2-inch thick. This keeps the squash from getting overcooked and mushy.
Garlic is my food love affair. I get that not everyone appreciates garlic as much as I do. If your feelings for garlic aren't as strong as mine, you can reduce the amount to 1 to 2 tablespoons. I'll forgive you this one time.
If you can't find yellow squash for this recipe, you could use zucchini.
I garnished this dish with fresh thyme from my garden. Parsley would be good too, either fresh or dried. The garnish is optional but definitely makes this roasted summer squash recipe look pretty with that pop of green.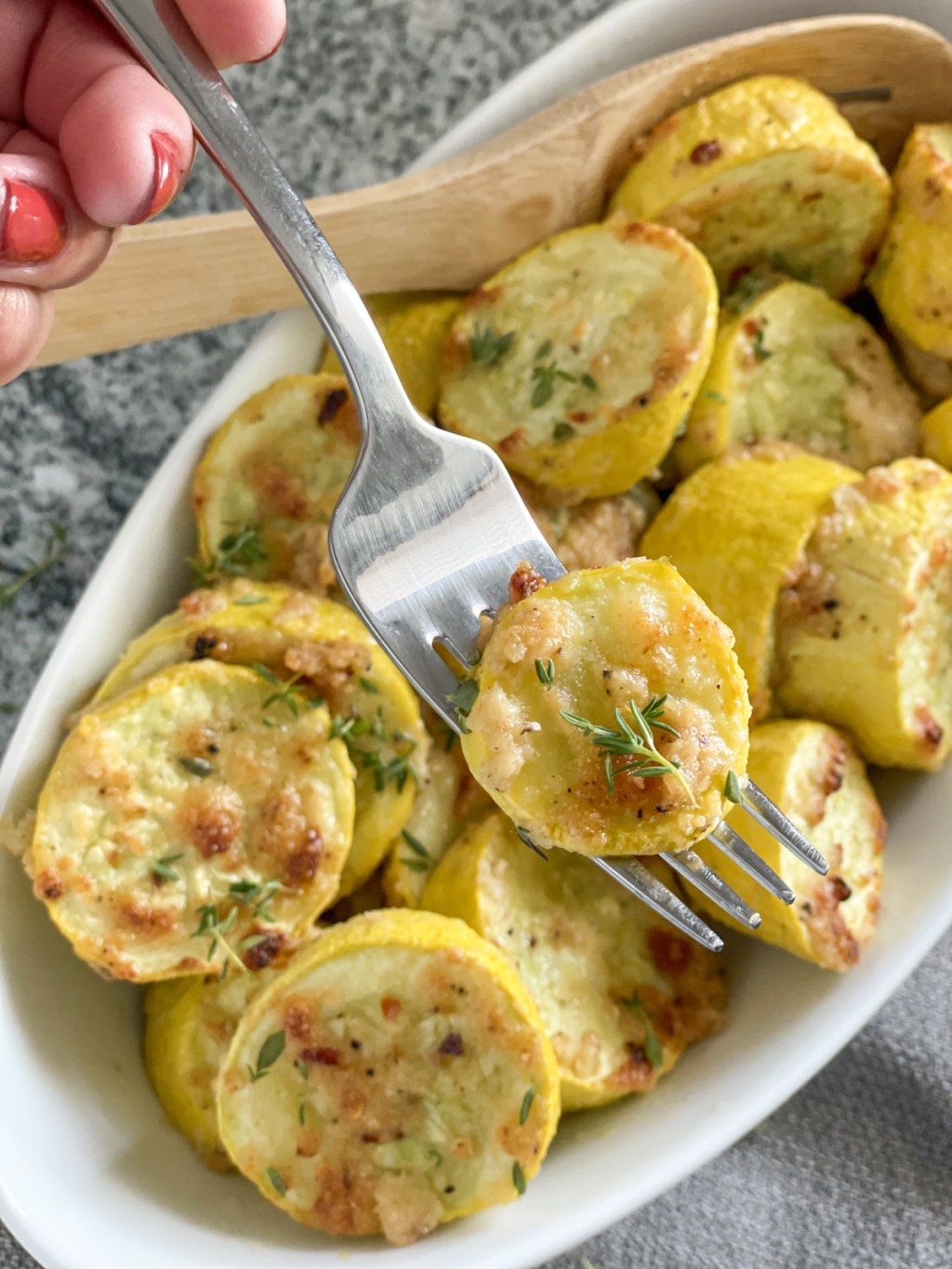 It's one of the best oven roasted yellow squash recipes!
This is my favorite way to make yellow squash. Actually, it's my favorite way to cook all vegetables: roasted and covered in garlic and grated parmesan. Who needs breadcrumbs?!
I'd love to know what you think of this recipe, or your favorite way to cook yellow squash!
Here's what my Hip sidekick Chelsey had to say about this oven roasted yellow squash with garlic:
"This is so easy to make and a great way to use up any squash from your garden. Plus, you can change up the recipe by adding different seasonings or herbs so that you're always trying something different. It's great on its own or I love pairing this recipe with chicken too."
---
Want more yellow squash recipes? Try our keto Cacio e Pepe or our Fresh Zucchini Salad!