Fresh Zucchini Salad is the Perfect Recipe to Use Up Garden Produce
What better way to use up the last of your summer produce than this Zucchini Salad?!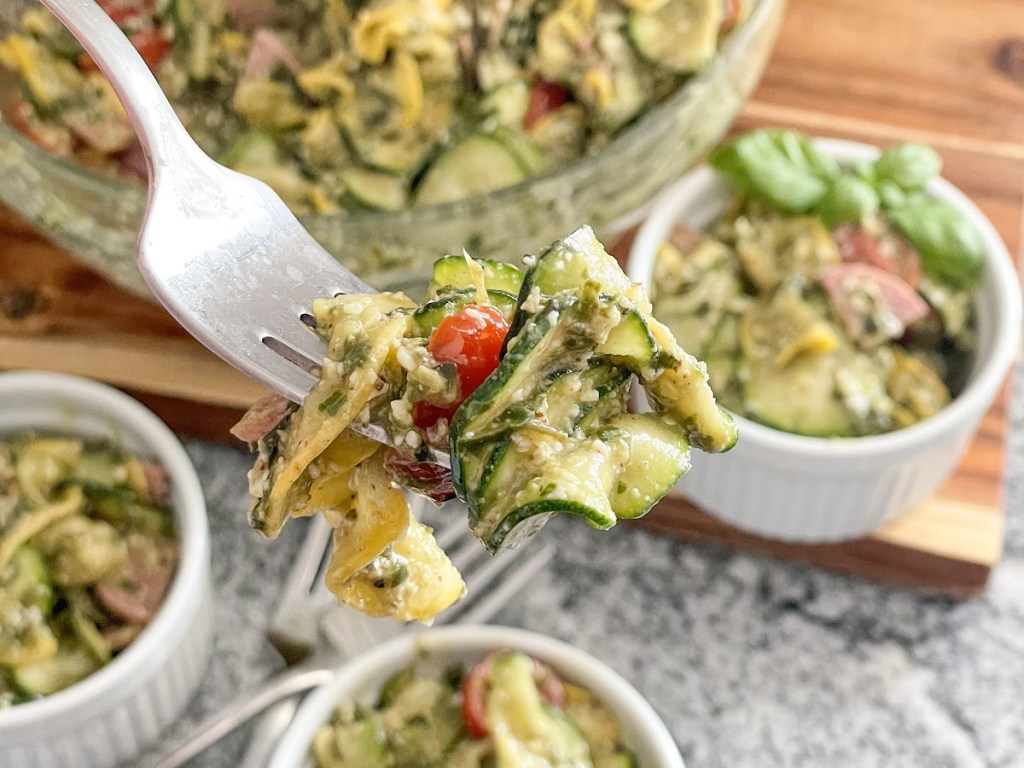 Have you ever had a fresh zucchini salad?
Whether you're clinging on to the last days of warm weather and bright sunny days, or looking for ways to use up the rest of your vegetable garden harvest, give this zucchini salad a try.
It is bursting with flavor and it makes the best side dish!
One of the best salads ever!
While I'm trying to get you to make this salad to use up the last of your garden veggies, it can be made any time of the year. In fact, I recommend keeping it in your salad recipe rotation.
One of my favorite ways to eat zucchini is fresh! I usually eat pieces of fresh zucchini whenever I'm slicing it to cook it. This zucchini salad has thinly sliced zucchini and yellow squash, tomatoes, and salami, and is covered in a tasty pesto sauce. I added grated parmesan at the end because you can never go wrong with cheese. Parmesan makes everything better!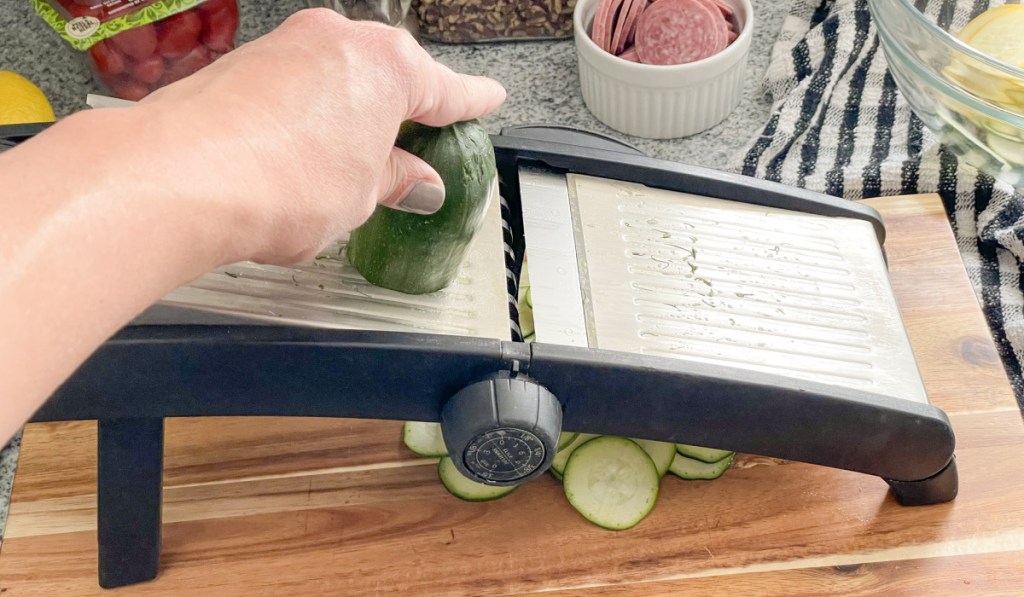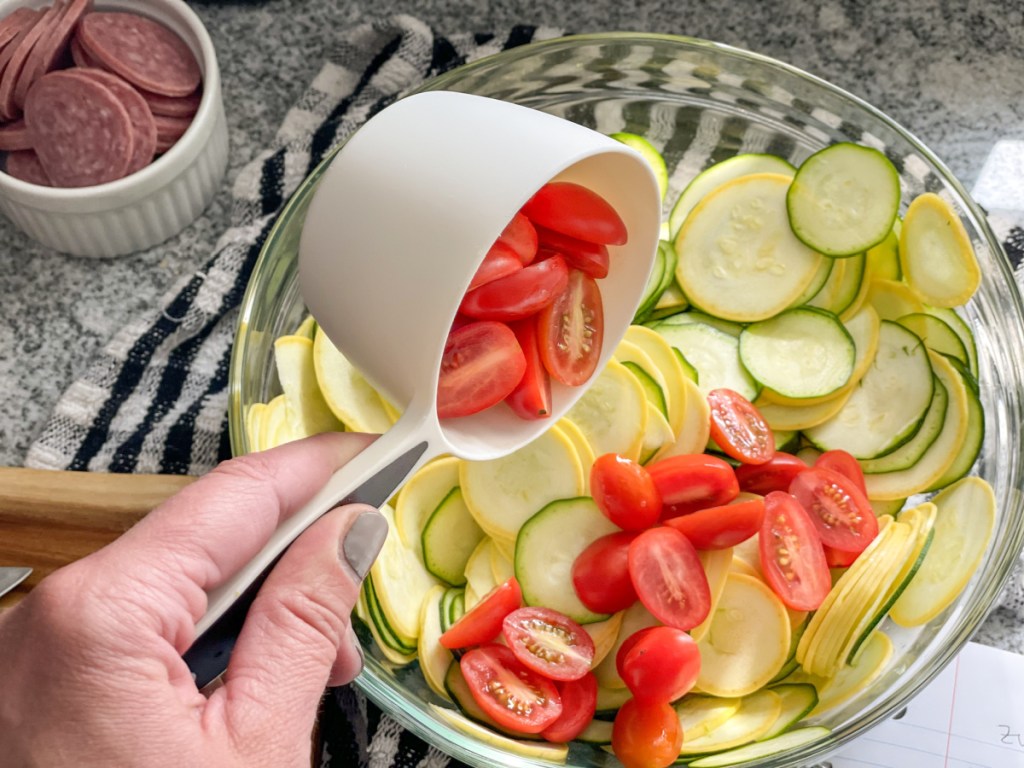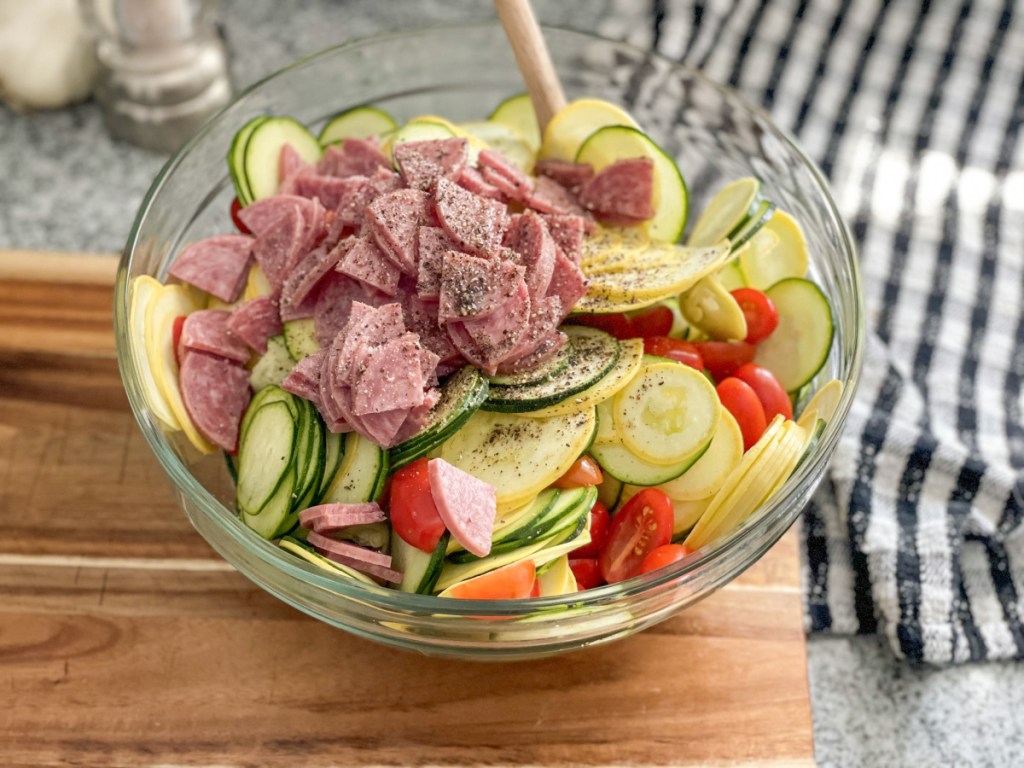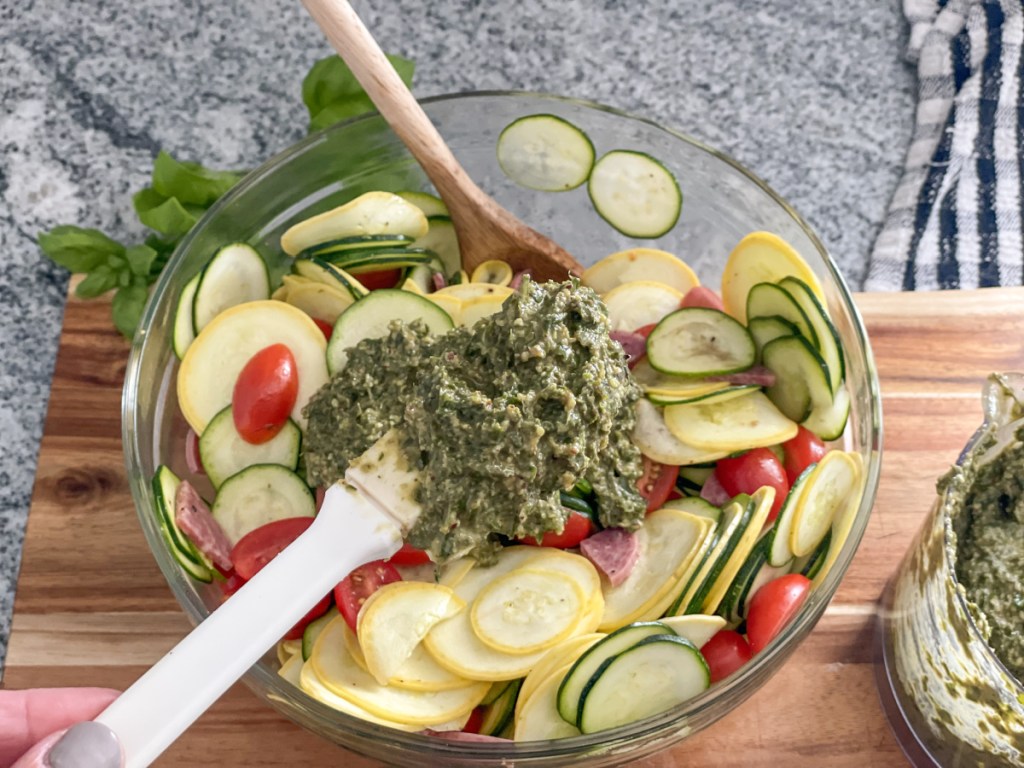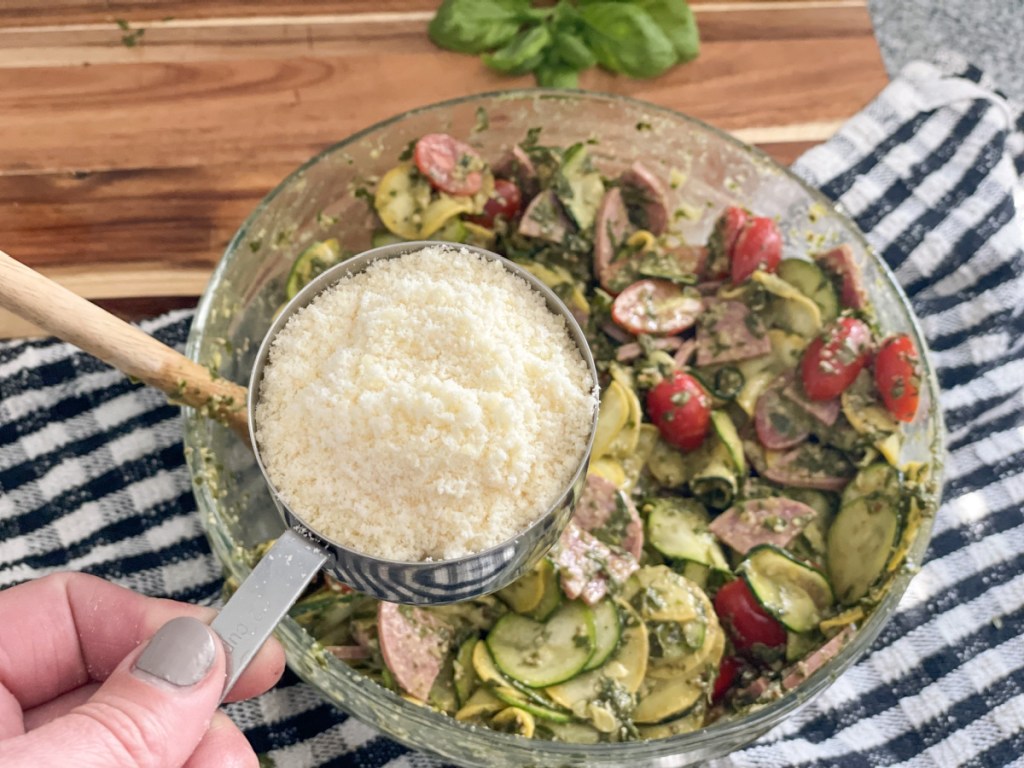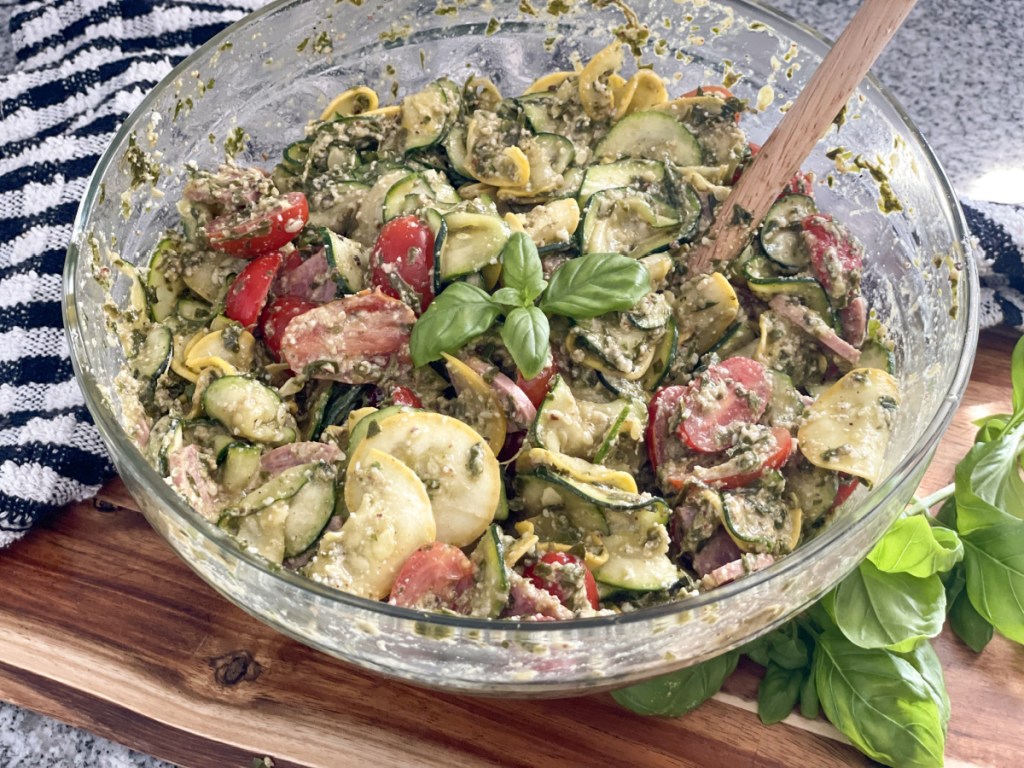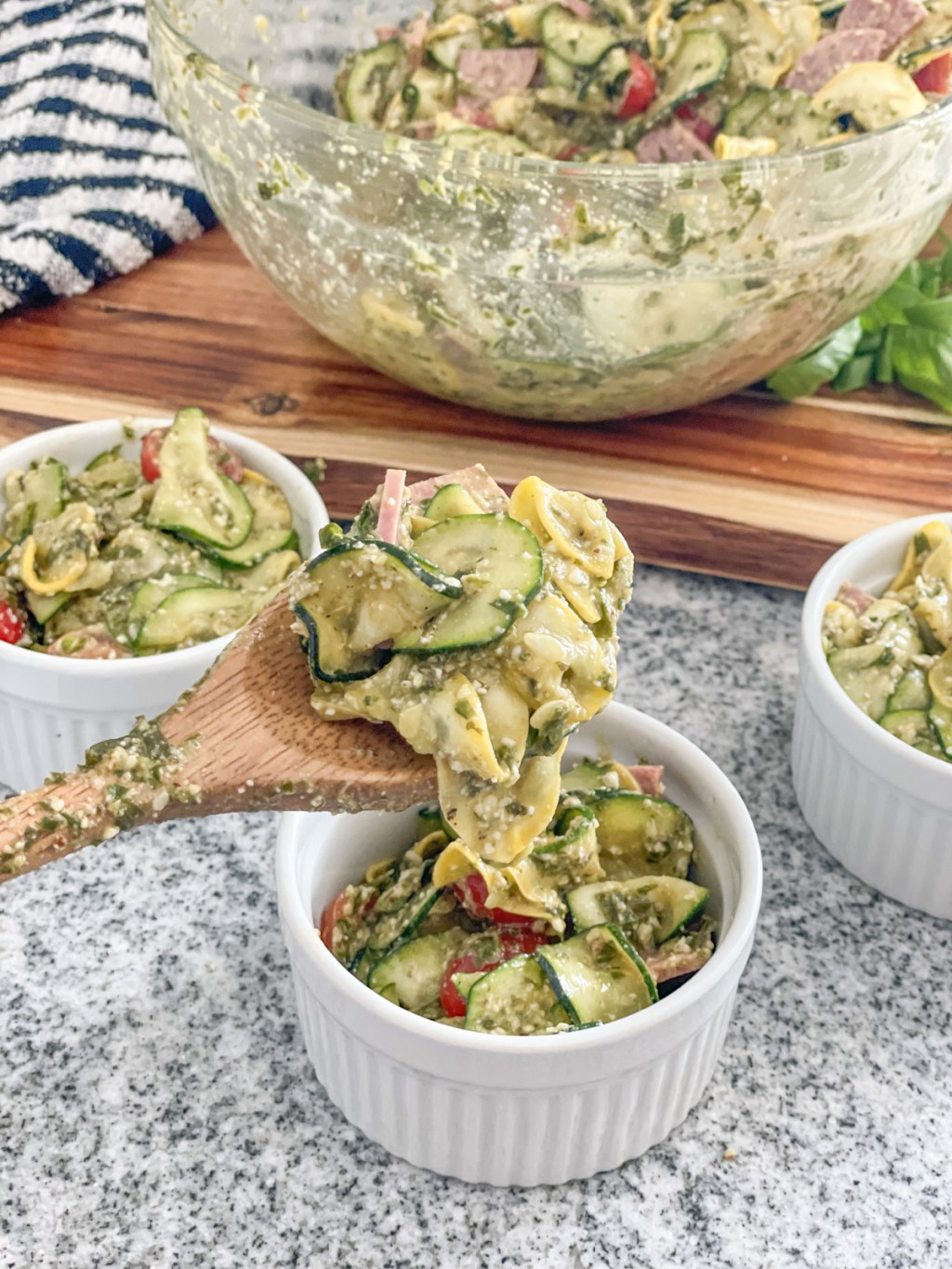 ---
yield: 6 SERVINGS
prep time: 20 MINUTES
total time: 20 MINUTES
Thinly sliced zucchini and yellow squash with grape tomatoes, salami, parmesan cheese, and a tasty pesto sauce.
Ingredients
Zucchini Salad:
3 small zucchini (or 2 medium)
3 small yellow squash (or 2 medium)
2 cups grape tomatoes
1 cup salami
2 tablespoons olive oil
1/2 teaspoon salt
1/2 teaspoon pepper
1/2 cup grated parmesan
Pesto Sauce:
3 cups fresh basil
1/2 cup pecans, chopped
2 cloves garlic
1/2 teaspoon salt
1/2 teaspoon pepper
1 tablespoon lemon juice
1/2 cup olive oil
Directions
1
Using a mandoline or knife, cut zucchini and yellow squash about 1/16-inch thick. Slice tomatoes in half. Cut salami slices into quarters.
2
In a large bowl, mix together sliced zucchini, yellow squash, grape tomatoes, salami, salt, pepper, and olive oil.
3
To make the pesto:
Place basil in food processor and pulse several times to purée. Add in pecans and pulse again until smooth. Next add in salt, pepper, lemon juice, and olive oil. Purée until smooth.
4
Pour pesto sauce over zucchini salad and stir to combine. Mix in grated parmesan cheese. Chill salad for at least an hour as it tastes better served cold. Enjoy!
Nutrition Information
Yield: 8, Serving Size: about 3/4 cup
Amount Per Serving: 314 Calories | 29.4g Fat | 6.8g Total Carbs | 2.4g Fiber | 4.2g Sugar | 8.3g Protein | 4.4g Net Carbs
---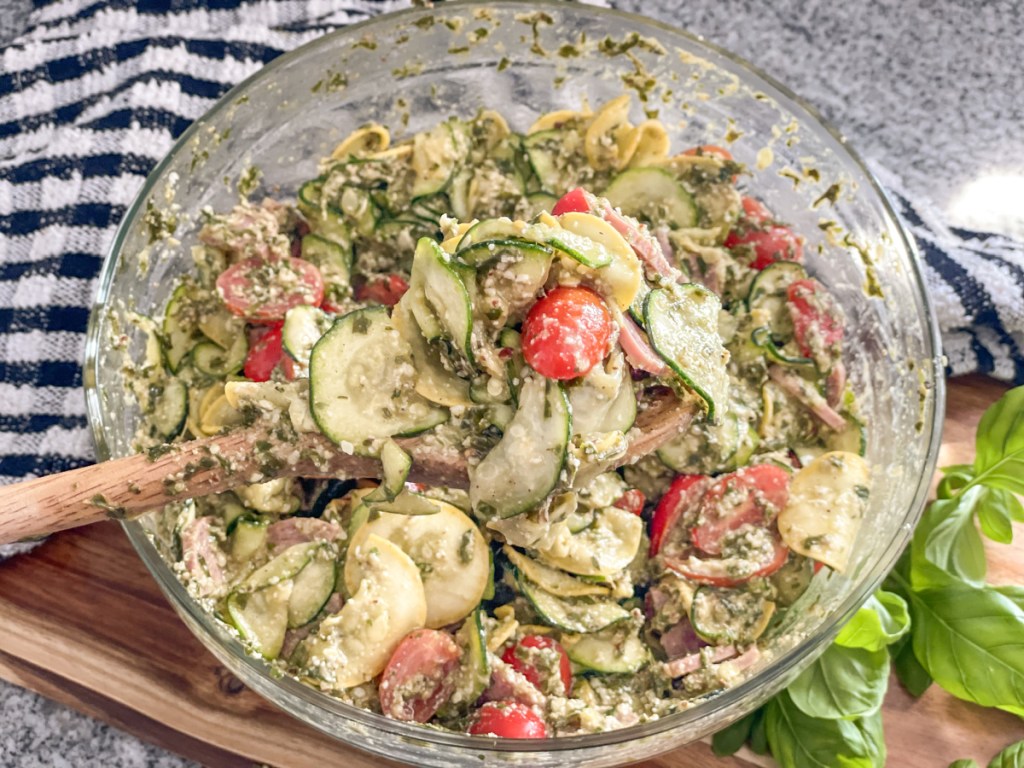 Tips for making the best zucchini salad:
Use a mandoline to get perfectly thin and uniform zucchini slices. If you don't have a mandoline, you can hand slice the zucchini and yellow squash.
Feel free to add pepperoni to this salad as well. You can make it a sort of zucchini-antipasto salad. Fresh mozzarella would also be tasty.
I left the pesto sauce a little chunky but you can blend it until it's smooth.
This salad tastes better cold so plan enough time for it to chill! It needs at least an hour to fully chill and let the flavors meld together.
I added a 1/2 cup grated parmesan to this salad and it took it to another level. Shredded parm would work as well!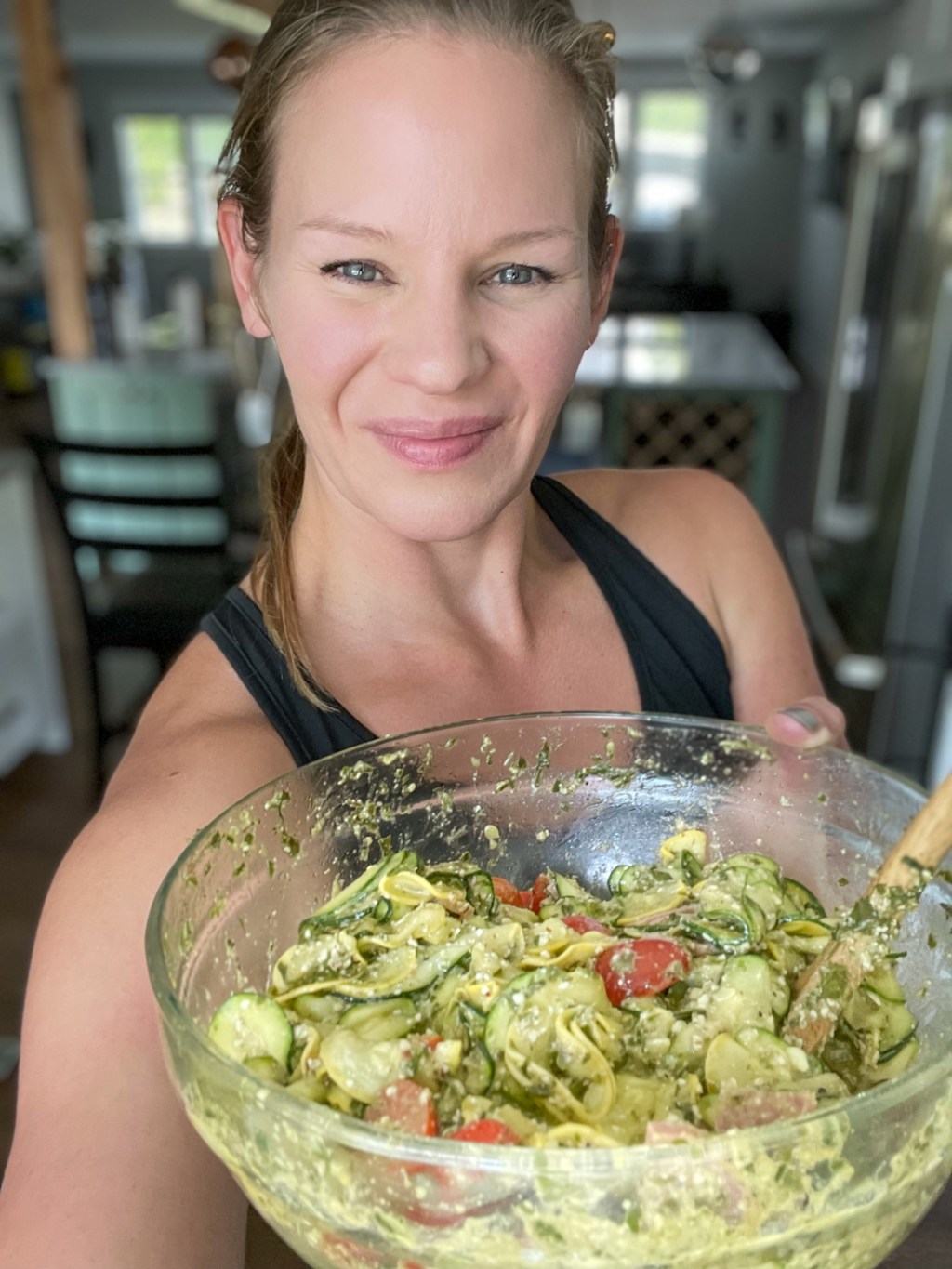 Fall in love with this fresh zucchini salad any time of year!
I know I'm going to be making this salad to use up the rest of the zucchini in my garden! It'll definitely make an appearance throughout the fall and winter too. My tomatoes weren't the greatest this year so I had to buy those at the store but I was able to use basil from my garden!
Here's what my Hip sidekick Erica had to say about this end of summer zucchini salad:
"This zucchini salad is not only perfect for summer when veggies are abundant, but it's a good one to make all year round! It makes for a great side dish or just by itself! I LOVE all the different veggies that are in this and it's such a beautiful salad! 🙌🏻"
---
Looking for another wonderful salad, try our popular Columbia 1905 Salad!