Low-Carb Dessert Kabobs with ChocZero's Keto Marshmallows
These keto dessert kabobs are fun to make and will definitely impress, especially with ChocZero's Keto Marshmallows!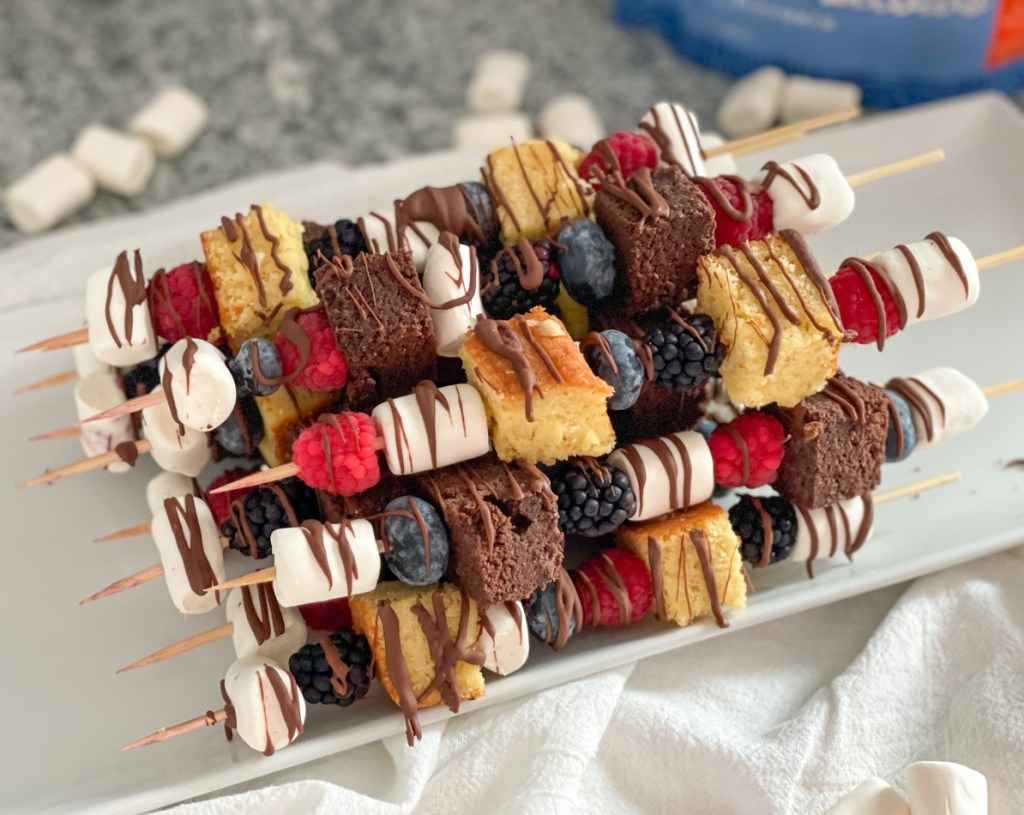 How cute are these dessert kabobs?
If you've been looking for a creative way to mix up your keto desserts, these kabobs are it!
First of all, let's talk about keto marshmallows. Yep, ChocZero has made that a thing! I know there are other keto marshmallows out there but ChocZero exceeds my expectations in every product they concoct.
Using these marshmallows in these keto dessert kabobs is delicious, but also delightfully simple. I love the presentation of these kabobs too. How pretty are they?! 🤩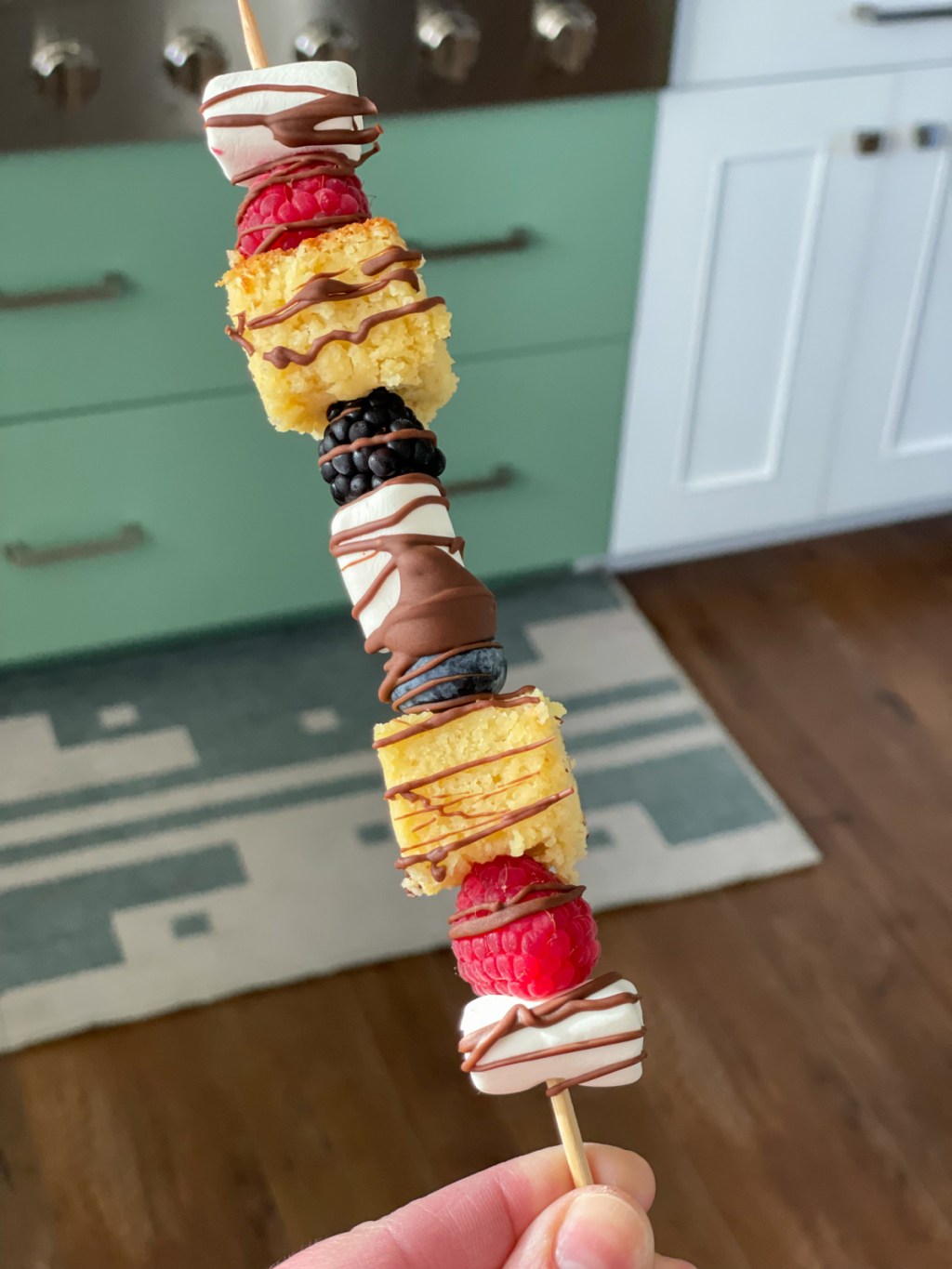 How to make keto dessert kabobs.
The beauty of kabobs is that you can personalize them, however, your heart desires. These specific desert kabobs are made with ChocZero's Keto Marshmallows, berries, and then either keto brownies or keto cake. I used our Keto Lemon Pound Cake and our Best Keto Brownie recipe.
To save on time, you could use a keto brownie mix or a keto white or yellow cake mix. Using a mix will help simplify the process. After you bake the brownies and cake, let them cool, and then cut them into 1-inch pieces.
The only other thing you need is skewers to assemble, and then drizzle with melted chocolate!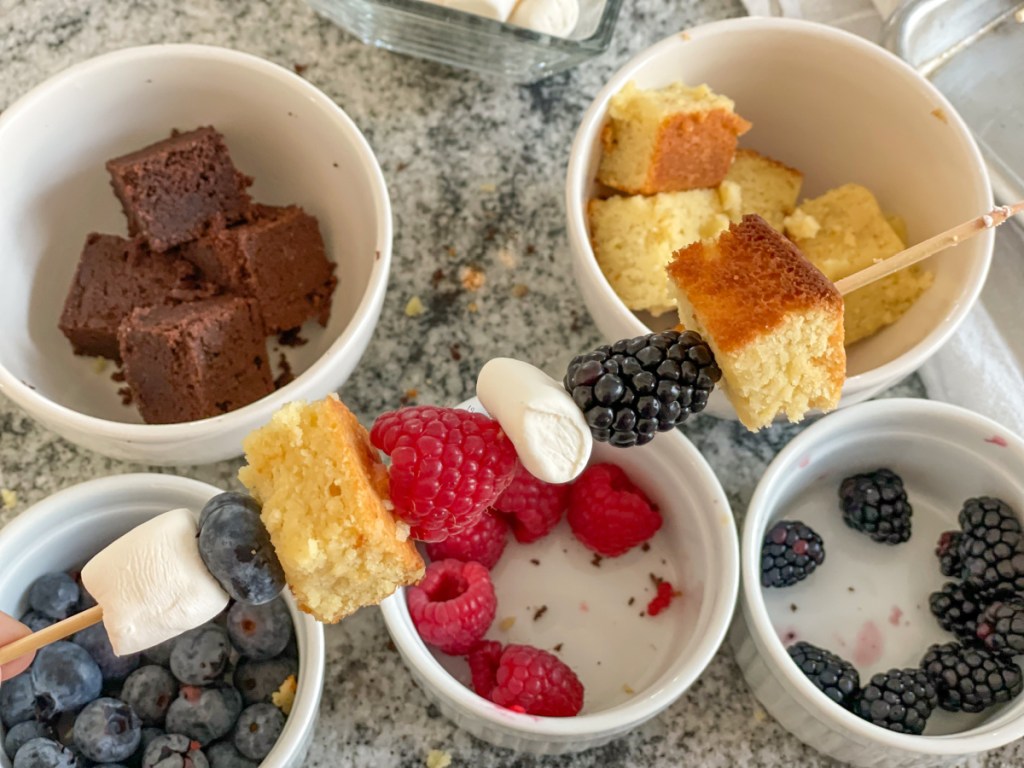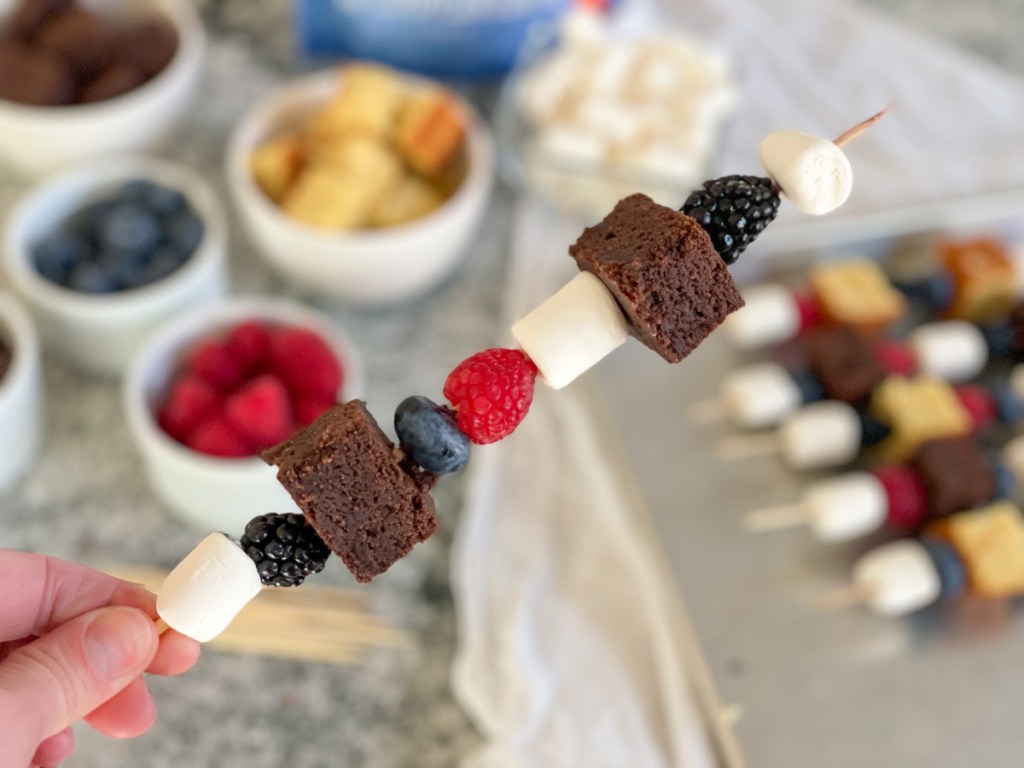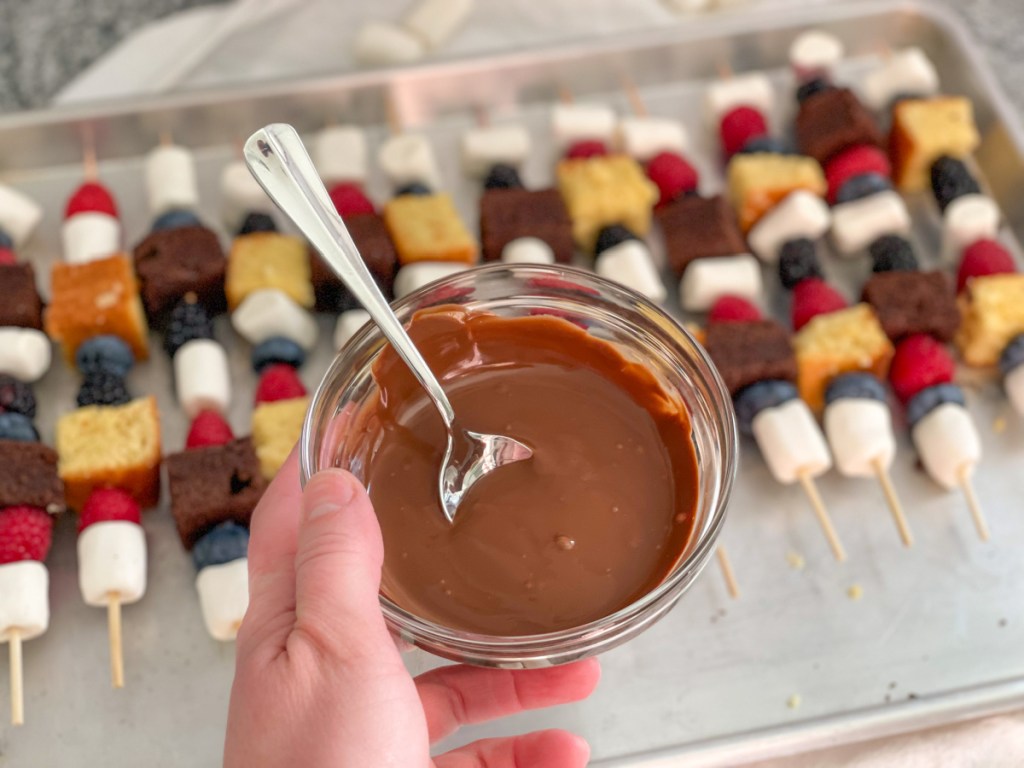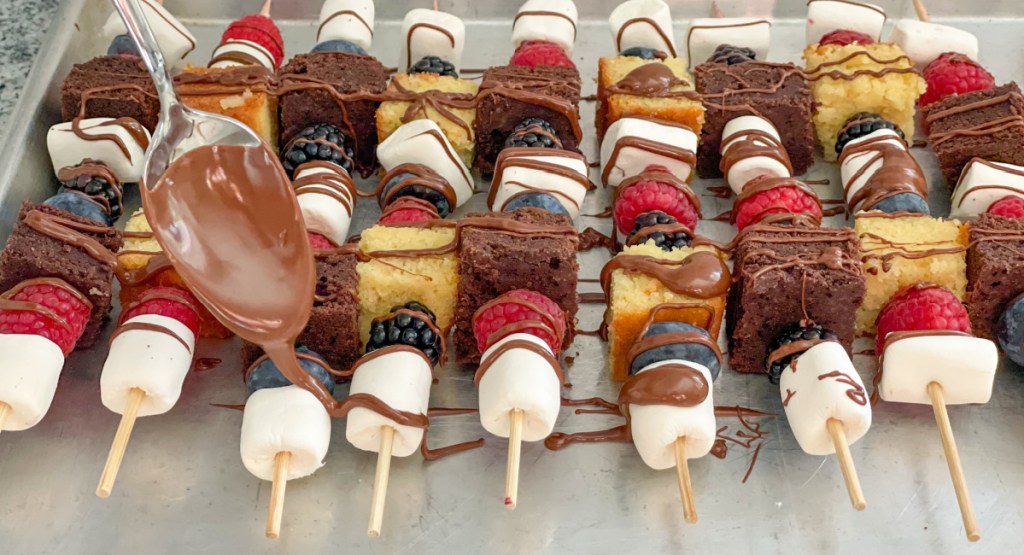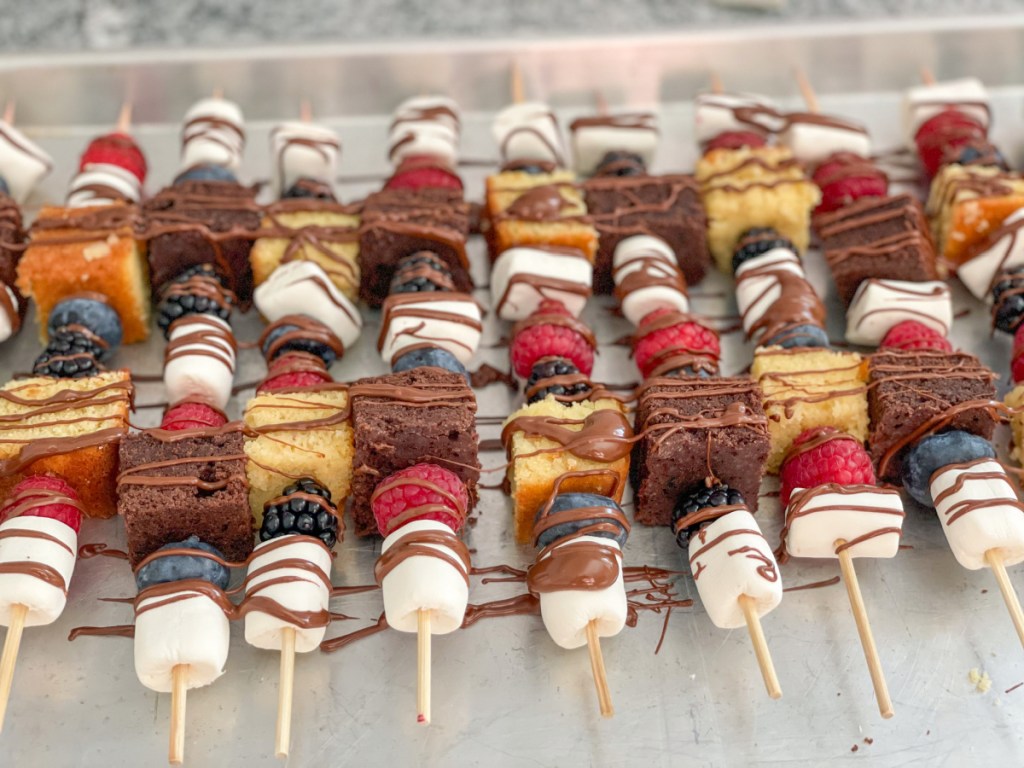 ---
Print
Keto Dessert Kabobs
yield: 12 SERVINGS
prep time: 30 MINUTES
total time: 30 MINUTES
Dessert kabobs with fresh strawberries, keto brownies, keto cake, and ChocZero marshmallows
Ingredients
36 ChocZero Keto Marshmallows
3/4 cup fresh blueberries
3/4 cup fresh raspberries
3/4 cup fresh blackberries
1 - 2 teaspoons butter or coconut oil (optional, as needed)
Directions
1
To assemble dessert skewers, start with a ChocZero Keto Marshmallow, a berry, a brownie or pound cake piece, one or two berries, another marshmallow, one or two berries, then another brownie or pound cake piece, a berry, and then finish the skewer with a marshmallow.
2
Per skewer, you should end up with three marshmallows, two brownie or pound cake pieces, and four to six berries. You can assemble them any way you'd like though!
3
After you've assembled the skewers, place them on a baking sheet. Melt the chocolate chips in the microwave in 15-second intervals. If the chocolate chips get over-melted, you can add butter or coconut oil.
4
Once the chocolate chips are melted, drizzle the chocolate over the kabobs. Let the chocolate harden and then enjoy!
Nutrition Information
Yield: 12 kabobs, Serving Size: 1 kabob
Amount Per Serving: 254 Calories | 22.1g Fat | 23g Total Carbs | 10g Fiber | 2.9g Sugar | 8g Sugar Alcohol | 5.9g Protein | 4.9g Net Carbs
---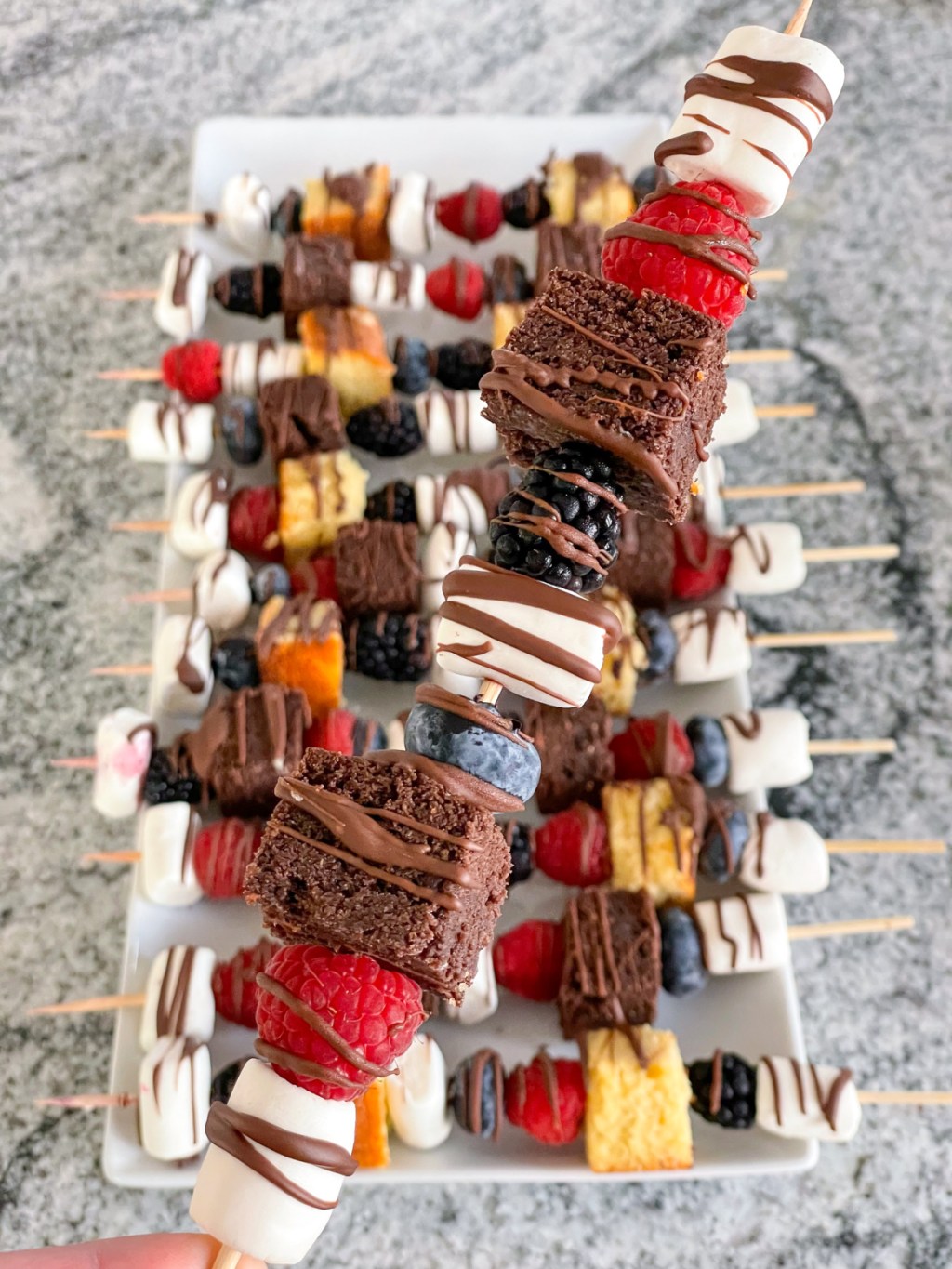 Tips for making Keto Dessert Kabobs with ChocZero Marshmallows:
You can make a lot of dessert kabobs if you use a whole batch of brownies and a whole keto pound cake — I'm talking at least 24 kabobs. I only used half the batch of brownies and half the pound cake to make 12 kabobs. So plan on either making a lot of kabobs or having leftover brownies and cake. Another option is to just do brownies or the cake instead of both.
Make the brownies or pound cake a day in advance to save time the day you assemble the kabobs.
Be careful when putting the brownie and cake pieces on the skewers so they don't break.
You can place the kabobs in the fridge or freezer to help the chocolate drizzle harden faster.
I like to start and end the skewers with the ChocZero Marshmallows. I found that they sort of helped hold everything on the skewer. Don't forget about our coupon code HIP2KETO to save 10% off your entire order!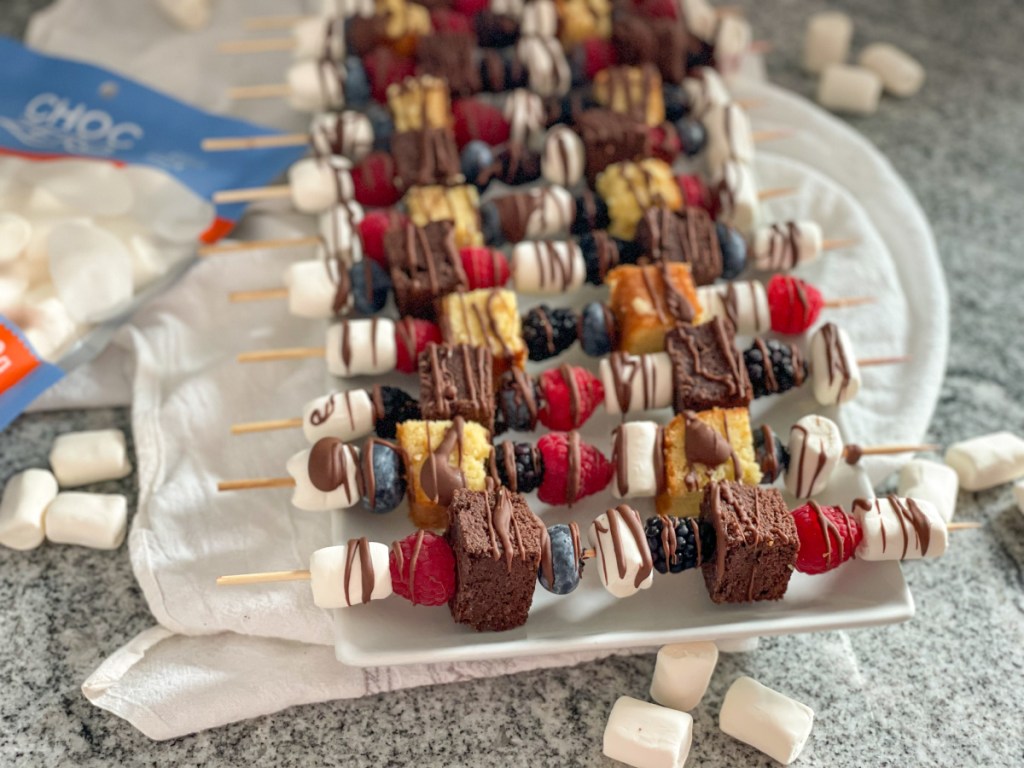 The marshmallows are the best part!
ChocZero did an awesome job with their marshmallows. They are amazing!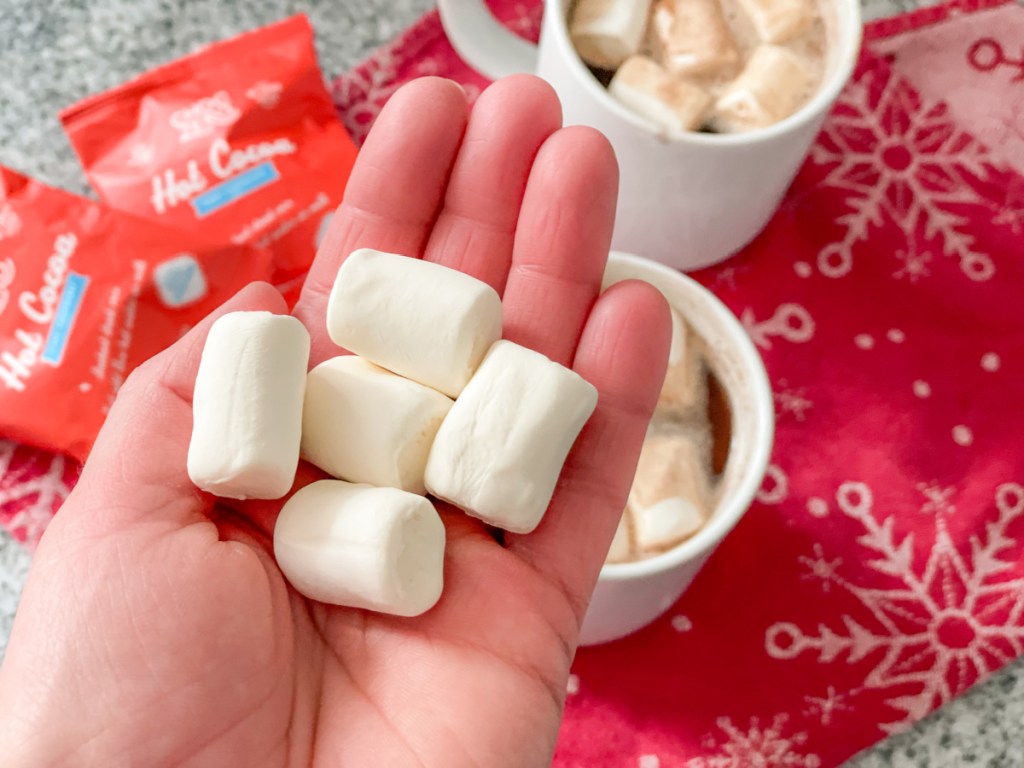 And I have to tell you that you get a giant bag of marshmallows! They're perfect for these dessert kabobs but also sooooo many other possibilities. I recommend you also try adding them to ChocZero's Keto Hot Cocoa!
---
Check out these Keto Honey Cinnamon Pecan Bars made with ChocZero's Keto Honey.