Crockpot Keto Lasagna Using Cabbage Leaves as the "Noodles"
This keto Crockpot lasagna will change the way you make lasagna!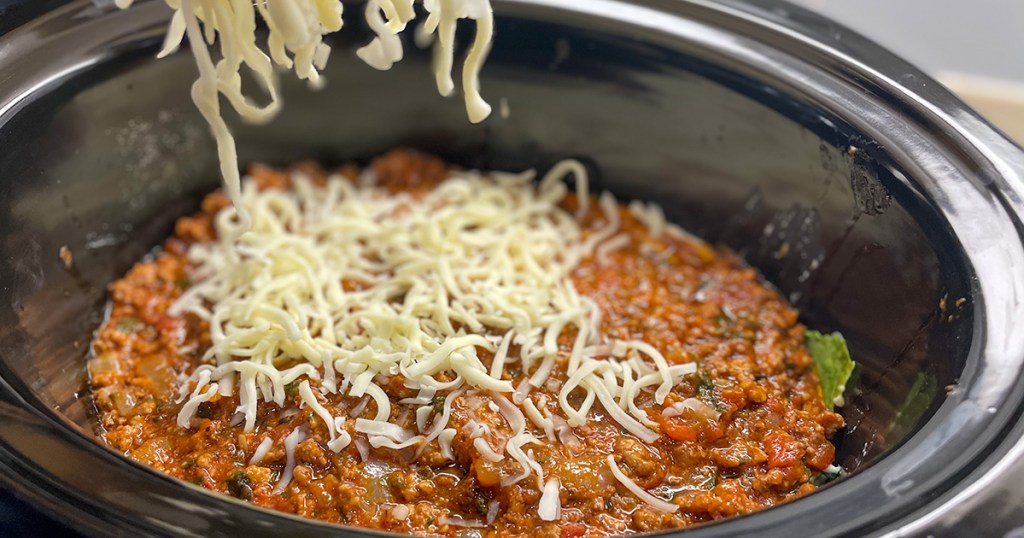 Lasagna is just the best!
I love lasagna… dare I say it's my absolute favorite meal of all time. I could eat it every day and never get tired of it! The ground beef and sausage marinara sauce is my favorite part, but the layers of cheese are just as amazing too.
But if you're thinking, "um, lasagna is NOT keto!" I'm going to let you in on a little surprise. This recipe uses cabbage leaves as noodles to make it super low-carb! I often use zucchini as my keto "noodles" (zoodles) but was worried they would get too soggy in the slow cooker. Since I've used cabbage as fettuccine (which turned out incredible) I figured I'd give it a try in this slow cooker low-carb lasagna.
And trust me, it's delicious!
This will become a new family favorite.
The Crockpot really brings out the flavors of this recipe. When I make lasagna in a baking dish, I usually make it a day or two in advance to really let the flavors meld together. It may sound strange but I think lasagna tastes better leftover, so I've found that cooking it in a slow cooker creates the same effect.
I have to say the only downside to making lasagna in a slow cooker is that it sort of turns into a casserole and you lose some of the look of the layers. But don't let that deter you, the flavor is amazing!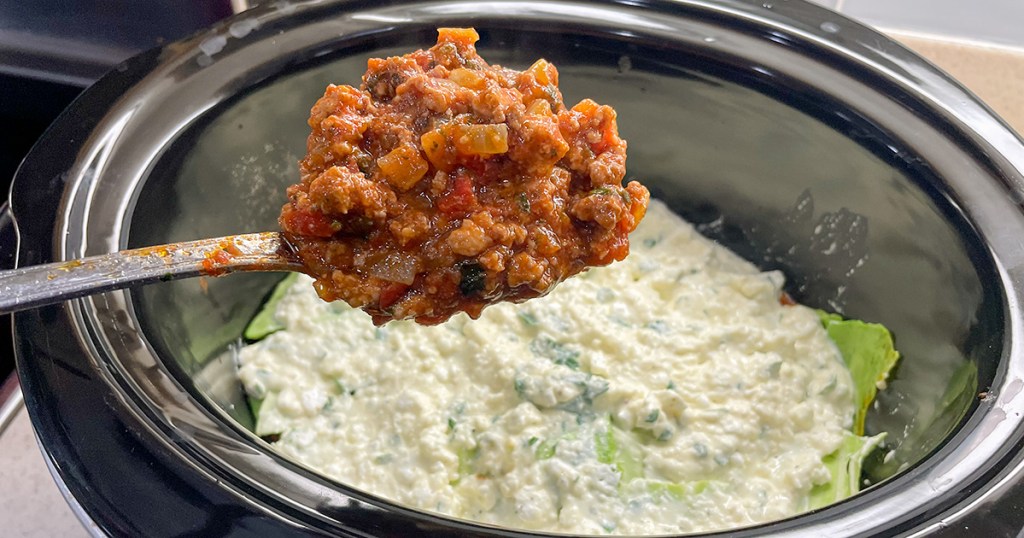 Tips for making the best Crockpot Keto Lasagna:
Tear the cabbage leaves into smaller pieces when making the "noodle" layer to help the leaves to fit into the slow cooker and cook through evenly. If you really want the cabbage noodle layer to stand out, double layer the cabbage leaves.
Skeptical about the cottage cheese? Trust me — it makes the best layer. 🤩 If you really don't like cottage cheese, ricotta is a good substitute but I highly encourage you to give the full-fat cottage cheese a try.
The flavor combo of sausage and ground beef is just the best! You could even use all sausage or all ground beef, but I recommend both!
This recipe does have a bit of up-front work, but it's totally worth it. You have to make the meat marinara sauce and let it simmer for 30 minutes before you assemble the lasagna. But you can make the cottage cheese layer and shred the mozzarella while it simmers to help save on time.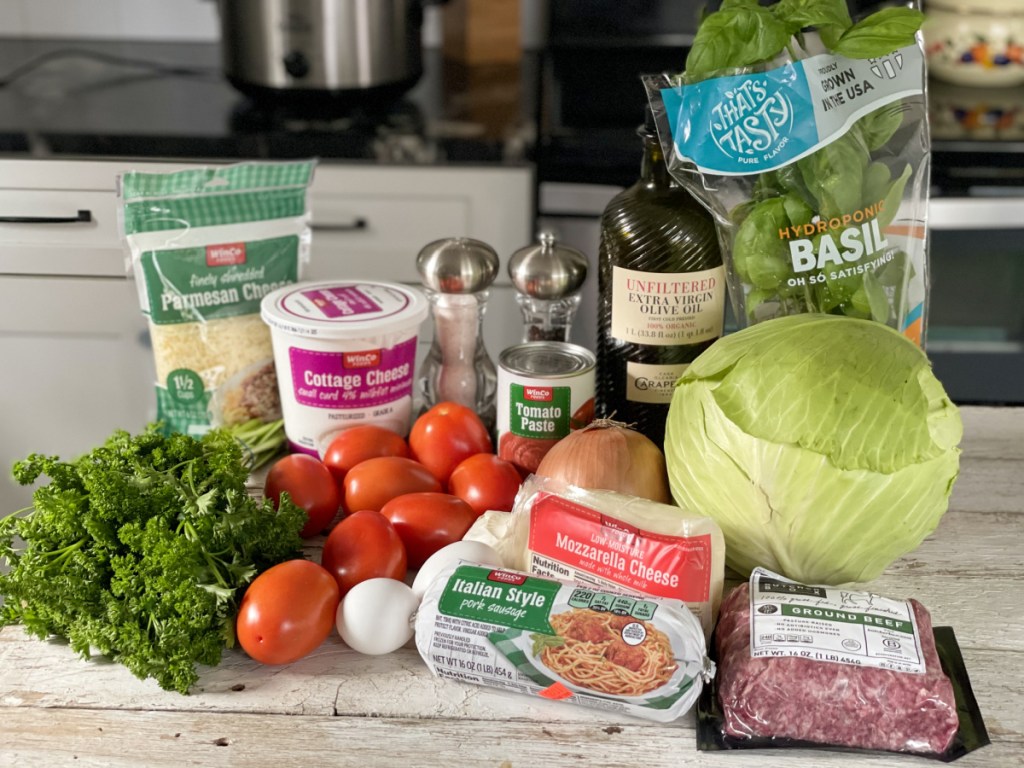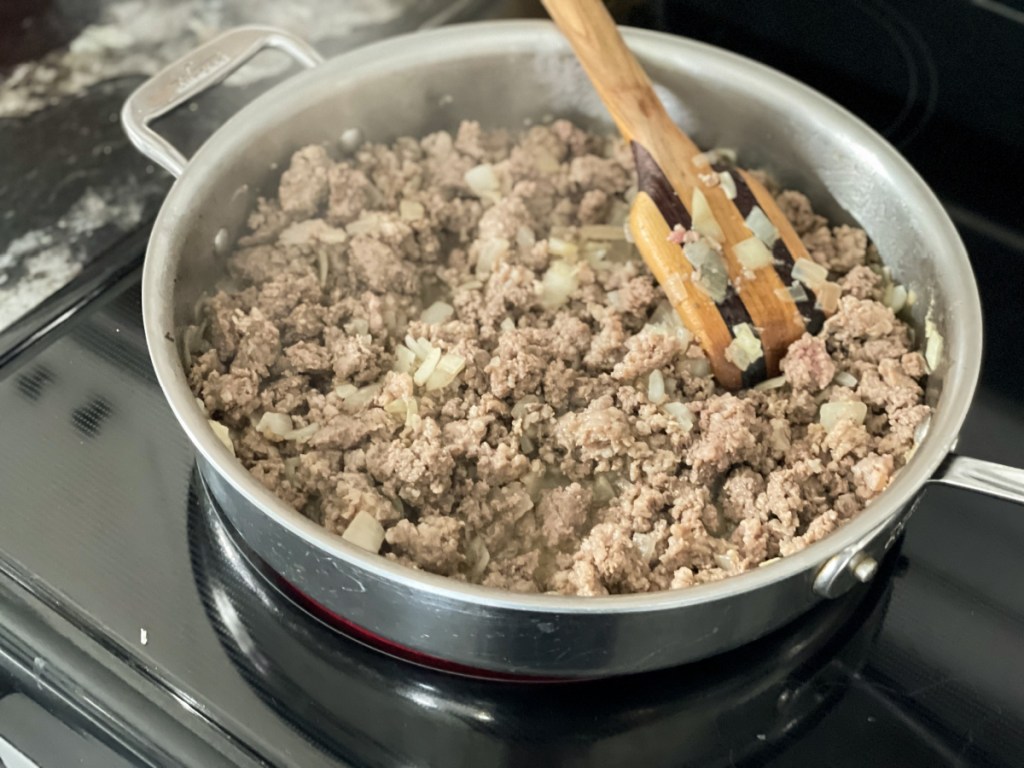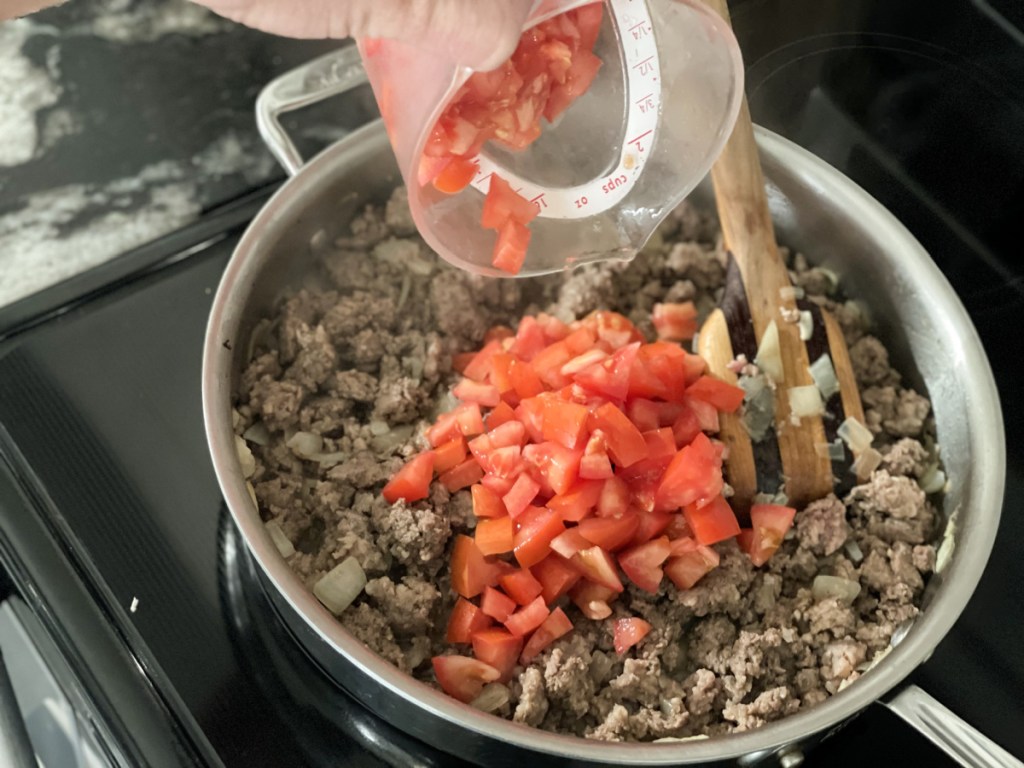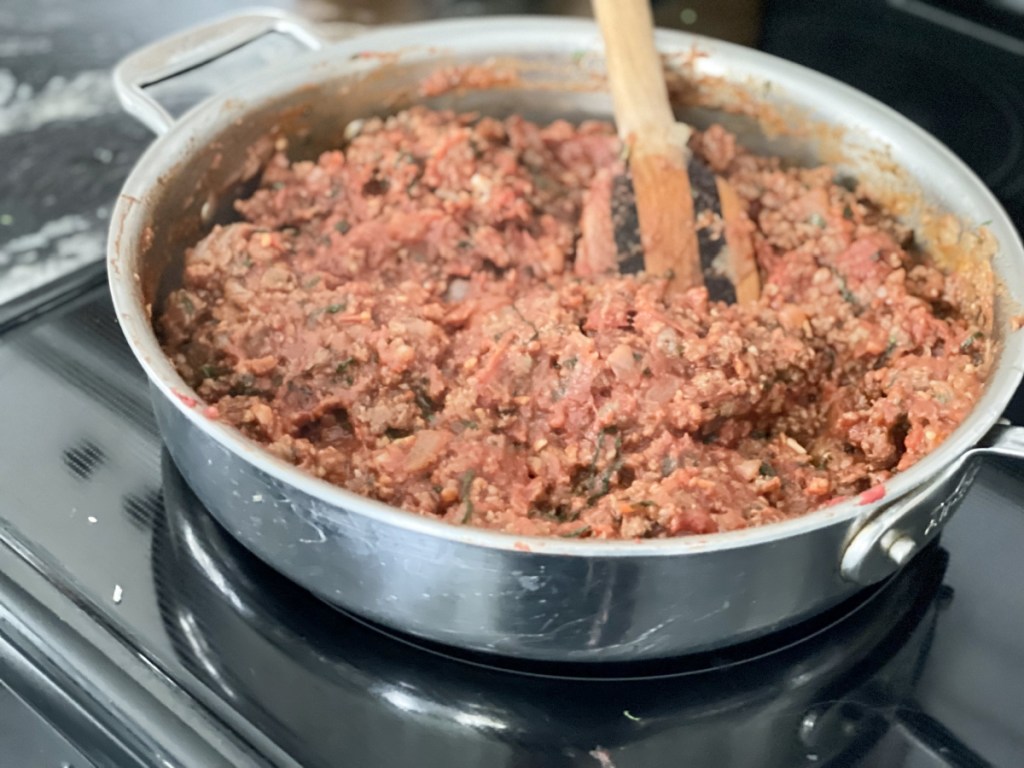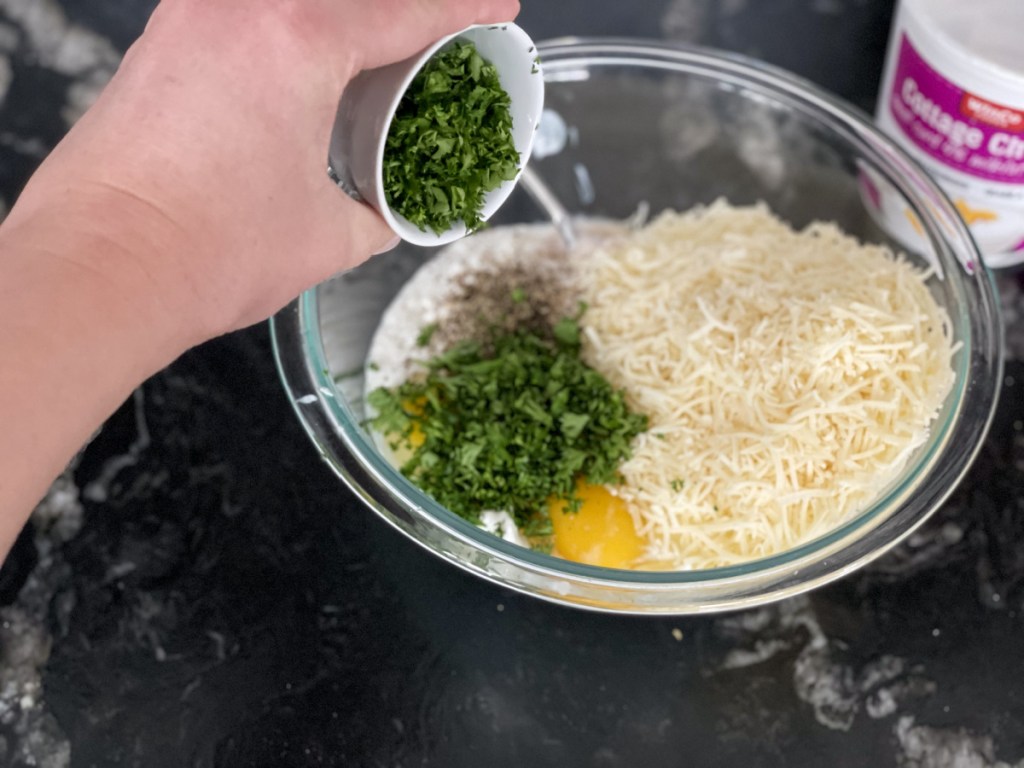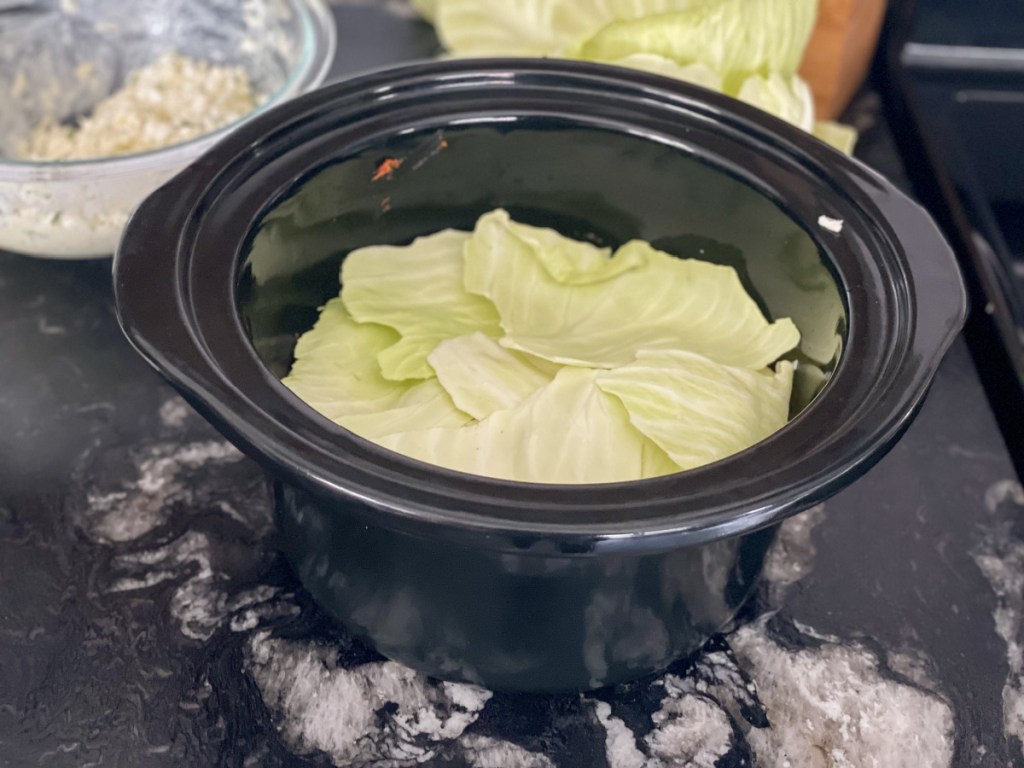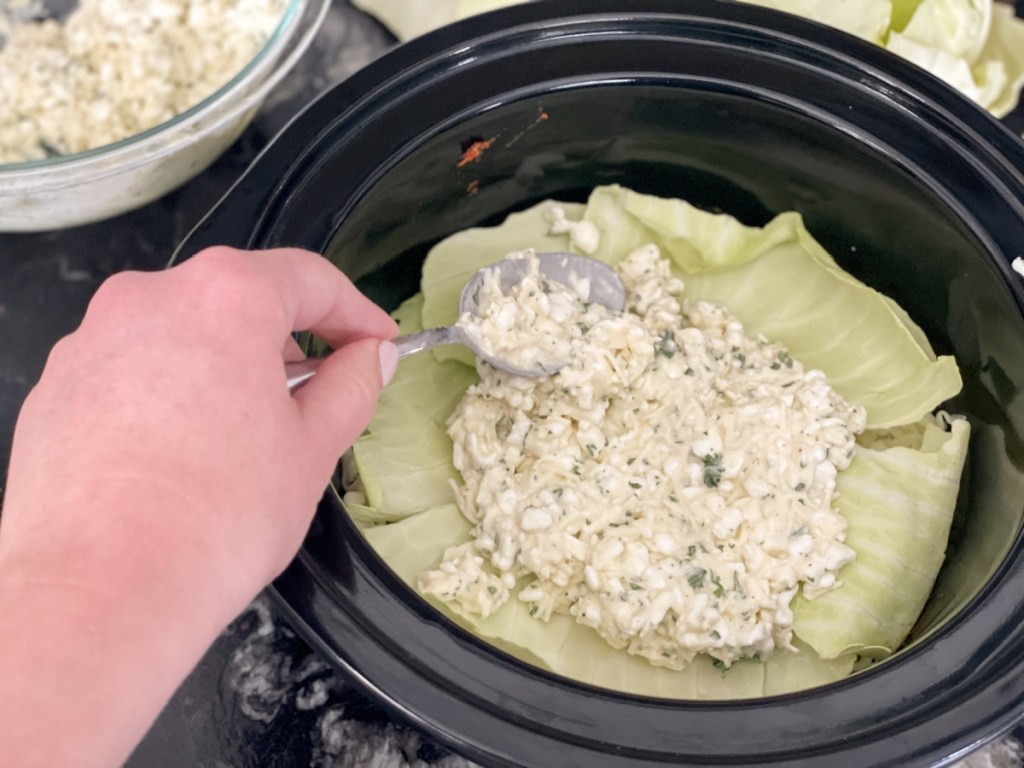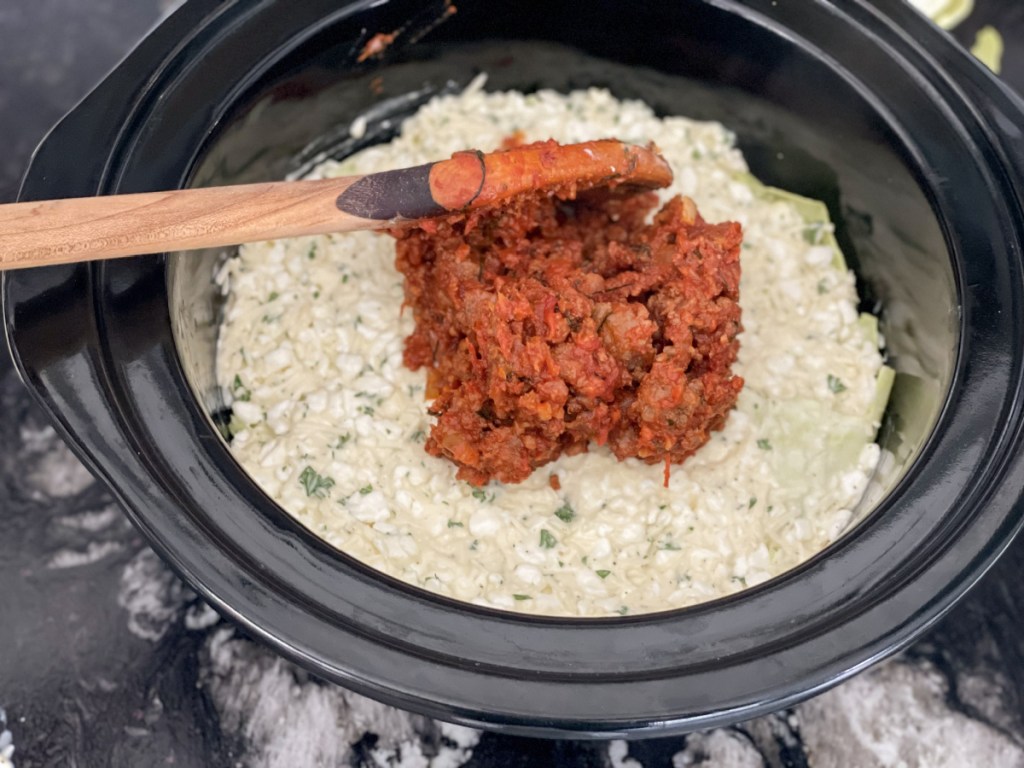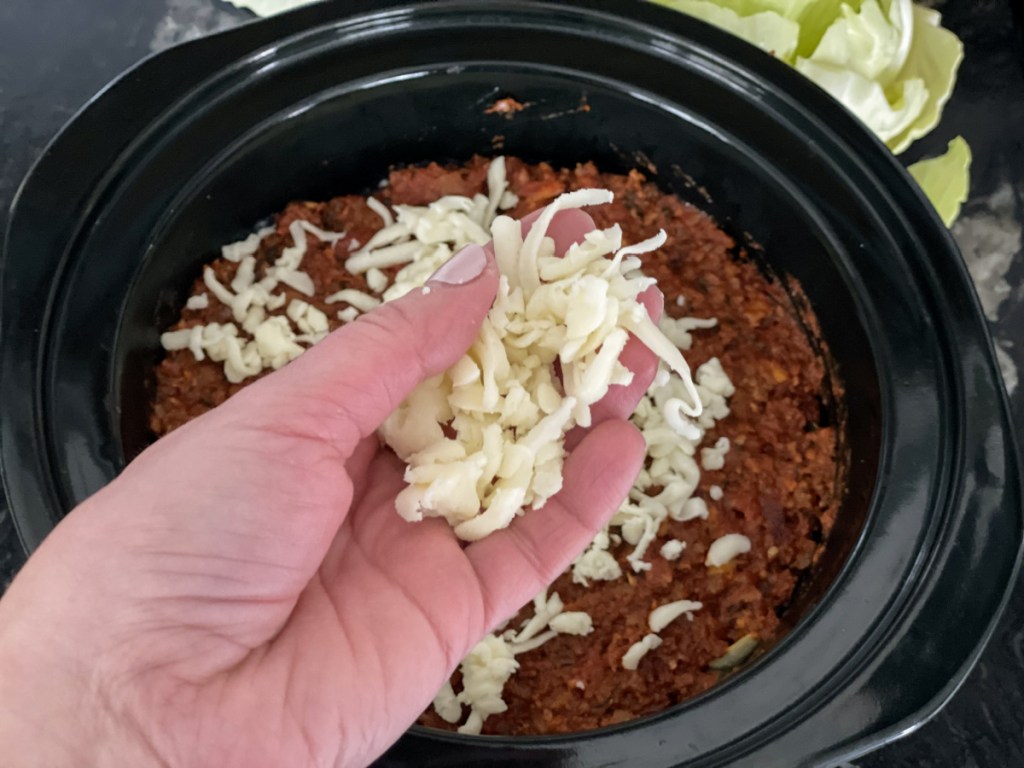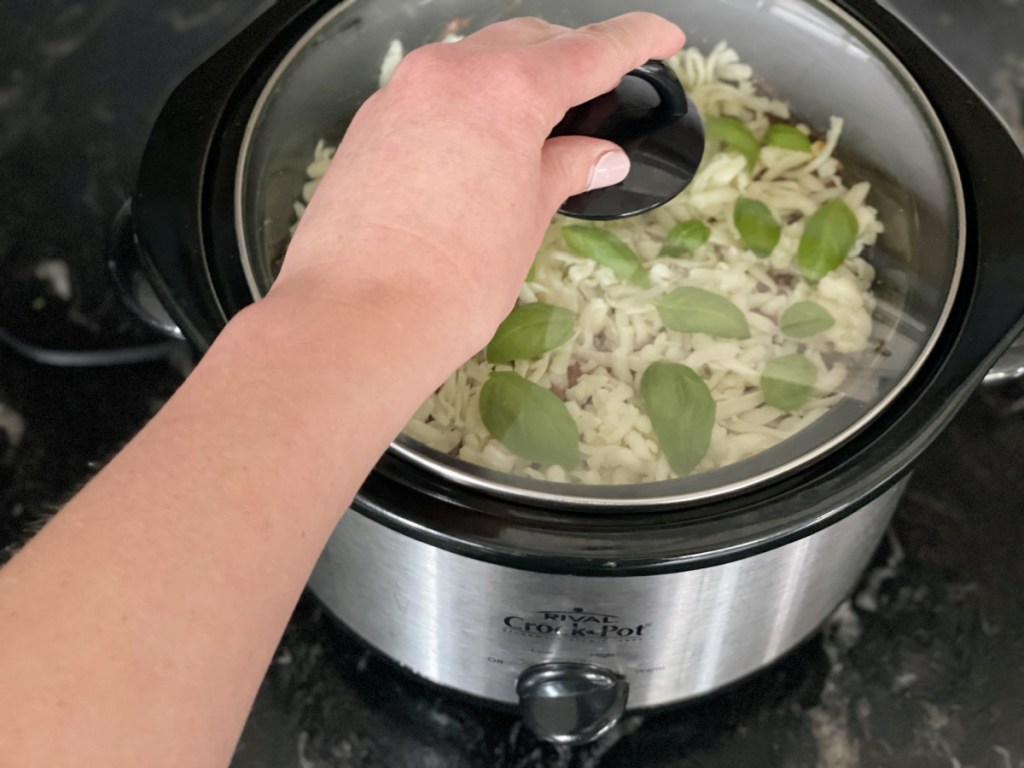 ---
Print
Crockpot Keto Lasagna
yield: 8 SERVINGS
prep time: 45 MINUTES
cook time: 3 HOURS
total time: 3 HOURS 45 MINUTES
Layers of savory meat marinara sauce, cheese, and cabbage "noodles" come together for a hearty dish from the Crockpot.
Ingredients
Meat Marinara Sauce:
1 medium onion, diced
2 tablespoons olive oil
2 cups Roma tomatoes, chopped (about 5 to 6 whole)
5 garlic cloves, minced
1 teaspoon salt
3 tablespoons fresh basil, sliced
3 tablespoons fresh parsley, chopped
Cottage Cheese Parmesan Layer:
2 eggs
1/2 teaspoon salt
1 teaspoon pepper
3 tablespoons fresh parsley, chopped
Mozzarella Cheese Layer:
Cabbage "Noodle" Layer:
1 small head of cabbage - 4 to 6 cabbage leaves
Directions
1
To make the meat marinara sauce:
Heat olive oil in a large skillet over medium heat. Add diced onion and sauté for about 5 minutes, until soft.
2
Add ground beef and sausage to the skillet with the onion and cook until browned, about 10 minutes.
3
Add Roma tomatoes, garlic, salt, basil, parsley, and tomato paste. Stir to combine and let simmer for 30 minutes, stirring occasionally. While the meat marinara sauce is simmering, make the cottage cheese parmesan mixture.
4
To make the cottage cheese parmesan mixture:
In a medium bowl, mix together cottage cheese, parmesan, eggs, pepper, salt, and parsley. Set aside until ready to assemble.
5
To assemble:
Place about a 1/4 of the meat marinara sauce in the bottom of the slow cooker, then make a layer with cabbage leaves. Tear the cabbage leaves as needed into smaller pieces to cover the entire bottom of the slow cooker.
6
Top cabbage leaves with half of the cottage cheese parmesan mixture, then half of the remaining meat marinara sauce, and then half of the shredded mozzarella. Repeat layers - cabbage, cottage cheese, marinara, mozzarella. If you have any leftover basil, you can arrange some of the leaves on top of the mozzarella.
7
Place the cover on the slow cooker and cook on HIGH for 3 hours or LOW for 6 hours. Serve warm and enjoy!
Nutrition Information
Yield: 8 servings, Serving Size: 1/8 recipe
Amount Per Serving: 749 Calories | 49.2g Fat | 18.5g Total Carbs | 2.9g Fiber | 10.4g Sugar | 58.7g Protein | 15.3 Net Carbs
---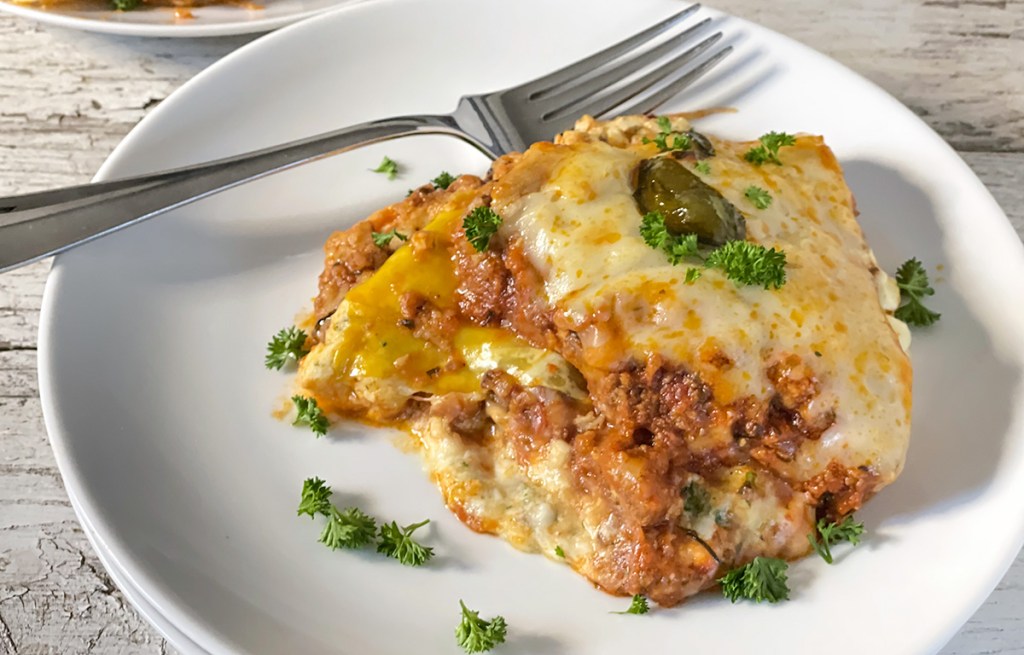 Crockpot Keto lasagna is full of flavor!
I hope you fall in love with this recipe! I've been making this for years and am so excited to share it with you. I guarantee it'll become the dish that everyone asks you to make for gatherings. 😋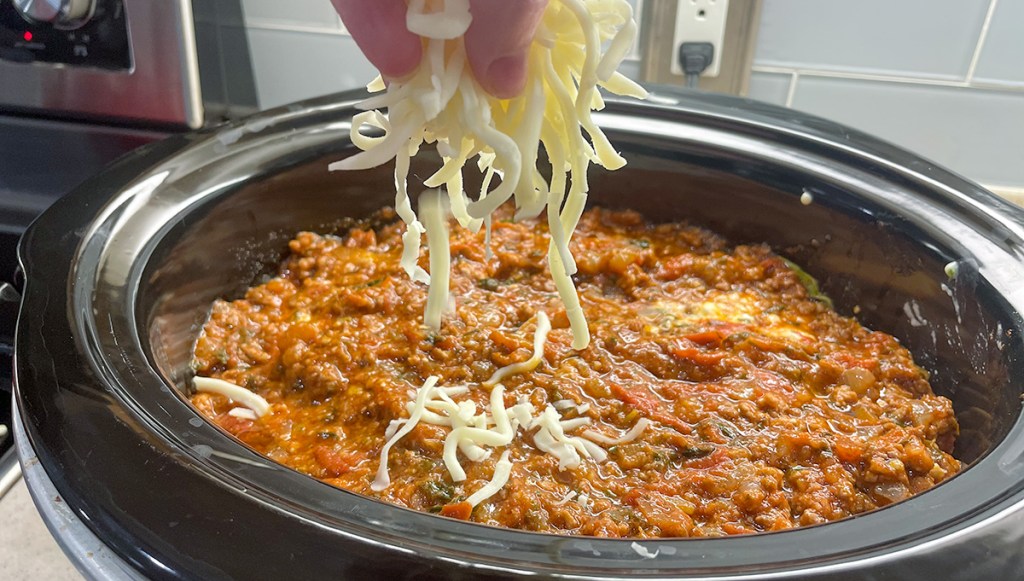 My Hip sidekick Erica made this Crockpot keto lasagna and had this to say:
"The flavor of this recipe is absolutely on point! I LOVE how there is lots of garlic, basil, and parsley! Emily was 100% correct in the fact that there is definitely some up-front work getting everything assembled into the Crockpot but it is so worth it once you put the lid on top and walk away for 6 hours! 🙌🏻"
---
Want more slow cooker recipes? Check out our recipe for Slow Cooker Pork Carnitas!