3-Ingredient Bacon-Wrapped Pickles (Easy Keto Snack Idea)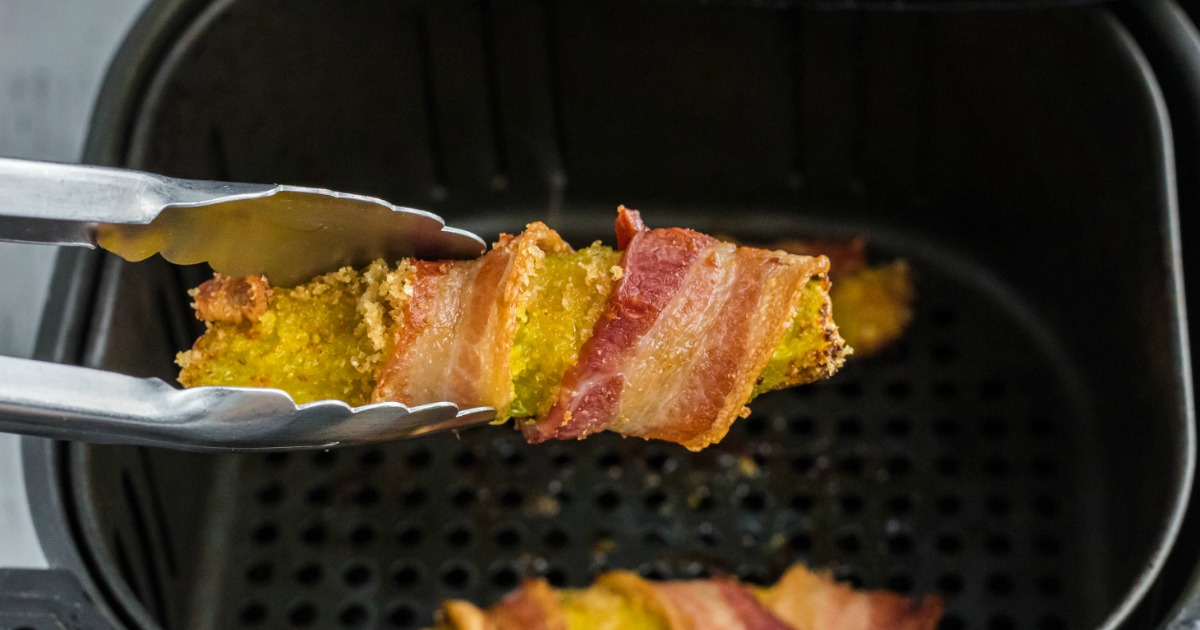 Say hello to your new go-to keto snack!

I'll be honest, fried pickles are already amazing as they are, but let's turn them up a few notches by adding some… bacon!
I just made these incredible bacon-wrapped pickles and I swear, I couldn't put them on the plate fast enough before my boys had dibs on all of them.
This keto-friendly appetizer is requested weekly, which is completely fine with me since they only have 1 net carb per spear, and they're so good. Better yet, they crisp up quickly in the air fryer so they're ready in a flash with minimal mess!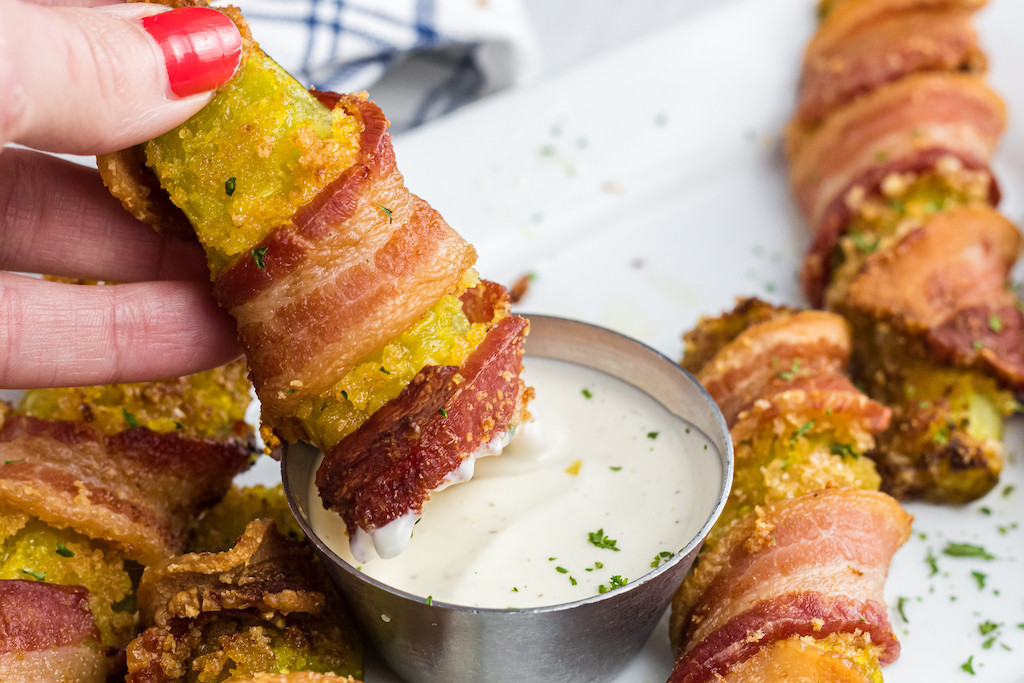 Hip Recipe Tips:
If you do not own an air fryer, you can absolutely make these in your oven at 425 degrees baked for 20 minutes. I would add a rack to your baking sheet and place the spears on top so the grease can drip down, helping your bacon get nice and crispy.
Usually, with fried pickles, you would want to remove the excess liquid with a paper towel but for this recipe, you'll want to leave the pickles juicy as is — the pickle juice helps act as glue for the pork rinds!
These bacon-wrapped pickles are great just by themselves, but my boys loved dipping them into our favorite keto ranch dip.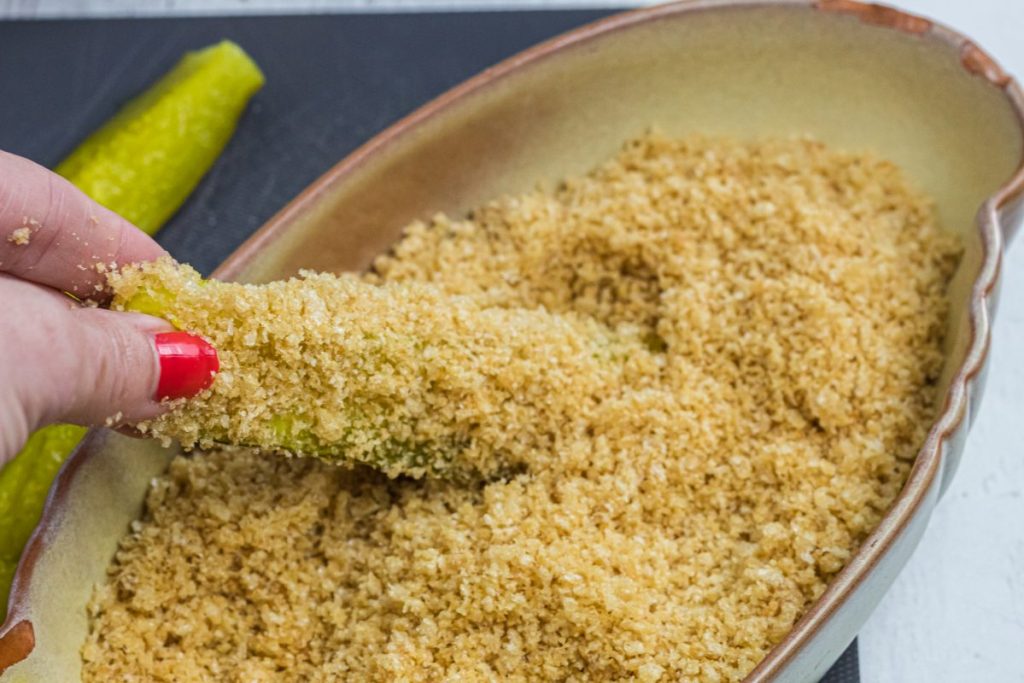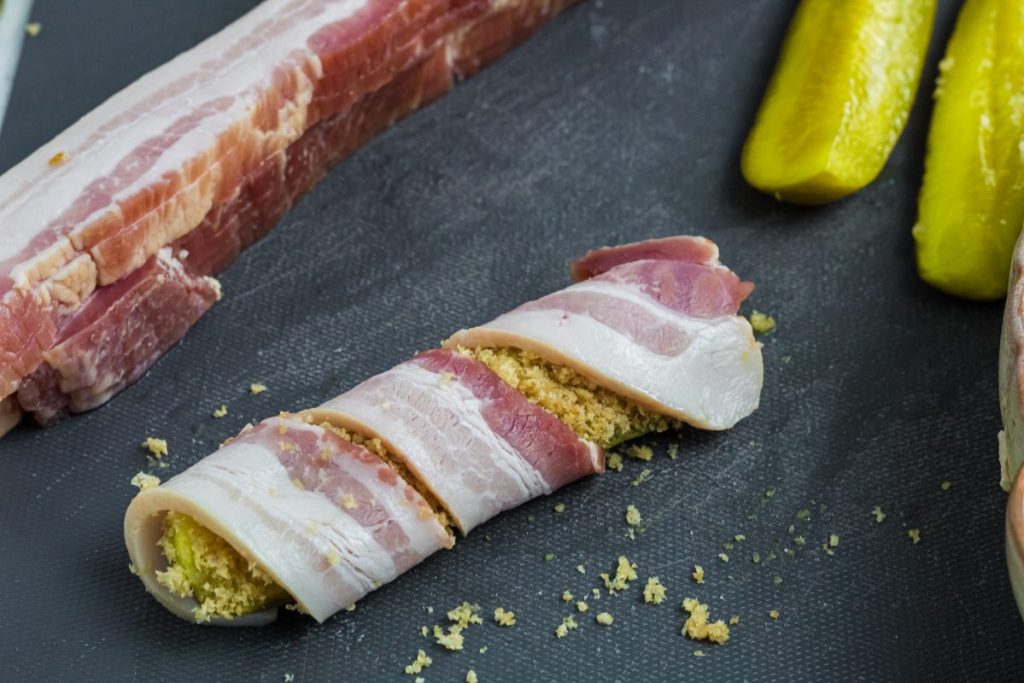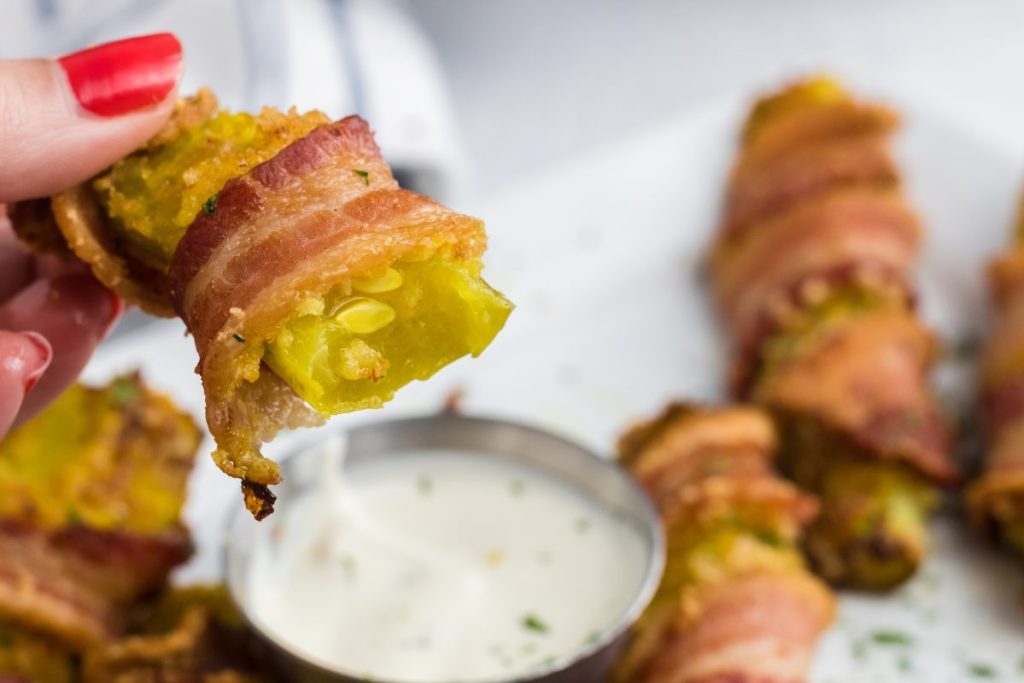 ---
Print
Keto Bacon-Wrapped Pickles
yield: 10 SERVINGS
prep time: 10 MINUTES
cook time: 20 MINUTES
total time: 30 MINUTES
This simple 3-ingredient recipe combines a salty trifecta of pickles, pork rinds, and bacon, as the perfect low carb appetizer or snack.
Ingredients
10 dill pickle spears (this is usually a whole jar)
1 cup crushed pork rinds
10 slices of bacon
Directions
1
Place finely crushed pork rinds in a bowl or in a shallow dish. Remove a pickle spear from the jar and roll in the crushed pork rinds.
2
Wrap one slice of bacon around the pickle spear and place in the air fryer. Repeat until all pickles are wrapped.
3
Cook the bacon-wrapped spears in the air fryer at 390 degrees for 17 minutes, or until the bacon is crispy. Depending on the size of your air fryer, you may need to make two batches like I did.
4
Removed fried pickles from the air fryer and let cool for 2 minutes before serving.
Nutrition Information
Yield: 10 spears, Serving Size: 1 spear
Amount Per Serving: 66 Calories | 4g Fat | 1g Total Carbs | 0g Fiber | 0g Sugar Alcohol | 6g Protein | 1g Net Carbs
---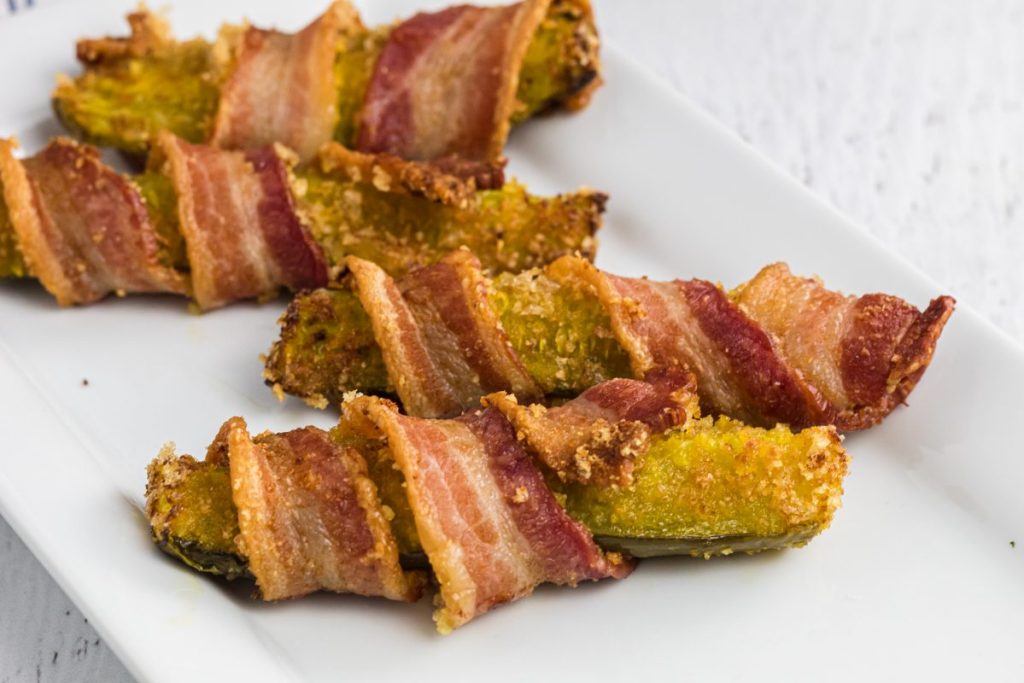 Bacon-wrapped pickles are a keto crowd pleaser!
Anything with bacon is basically a win, but bacon-wrapped around pickles is a WIN-WIN! I love how simple this snack comes together with just pickle spears, pork rind crumbs, and strips of bacon. YUM!
After making a couple of batches of these, you'll know the recipe by heart, and be ready to make another round at a moment's notice. And trust me, your friends and family will thank you!
---
Love bacon like me? Try out bacon-wrapped onion rings next!