2-Ingredient Bacon-Wrapped Onion Rings in the Air Fryer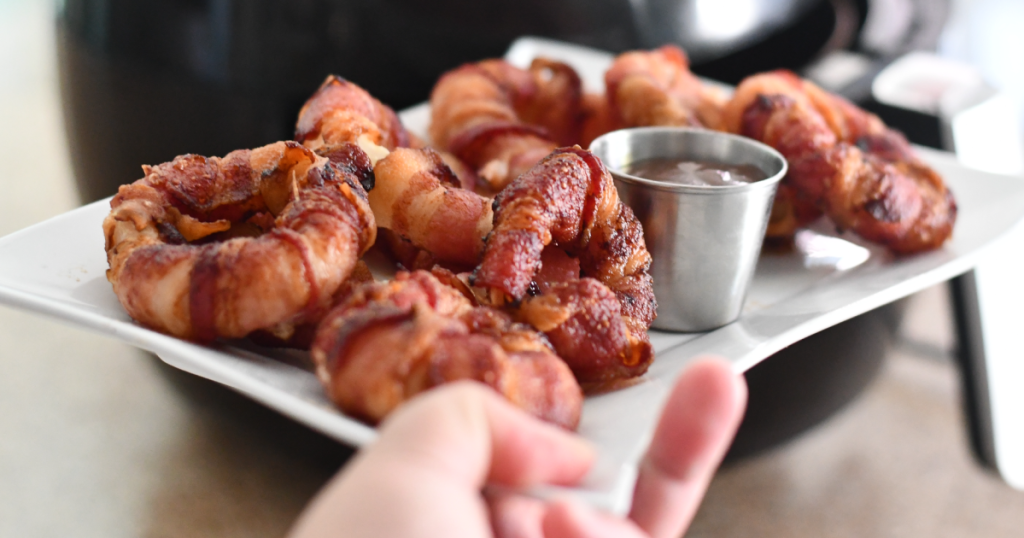 Hungry for crispy onion rings?
Skip the carb-filled breading and try them with BACON! Yep, I recently tried wrapping sliced onion with bacon, and I LOVED it. The result is a delicious and satisfying low-carb appetizer, perfect for keto snacking!
Trust me, you'll be craving these keto bacon-wrapped onion rings all the time.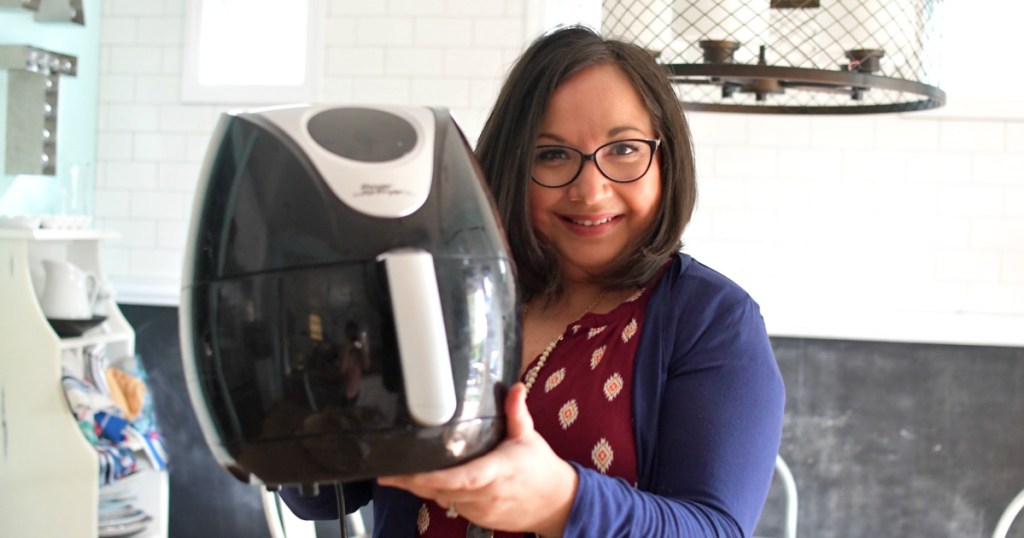 The air fryer is my favorite kitchen gadget!
I use my air fryer any chance I can, especially when it's warm outside and I don't want to heat up the house with the oven on, and I loved using it for this idea! The bacon cooks up nice and crispy while the onion gets tender. This is such an easy 2-ingredient idea that tastes great, too!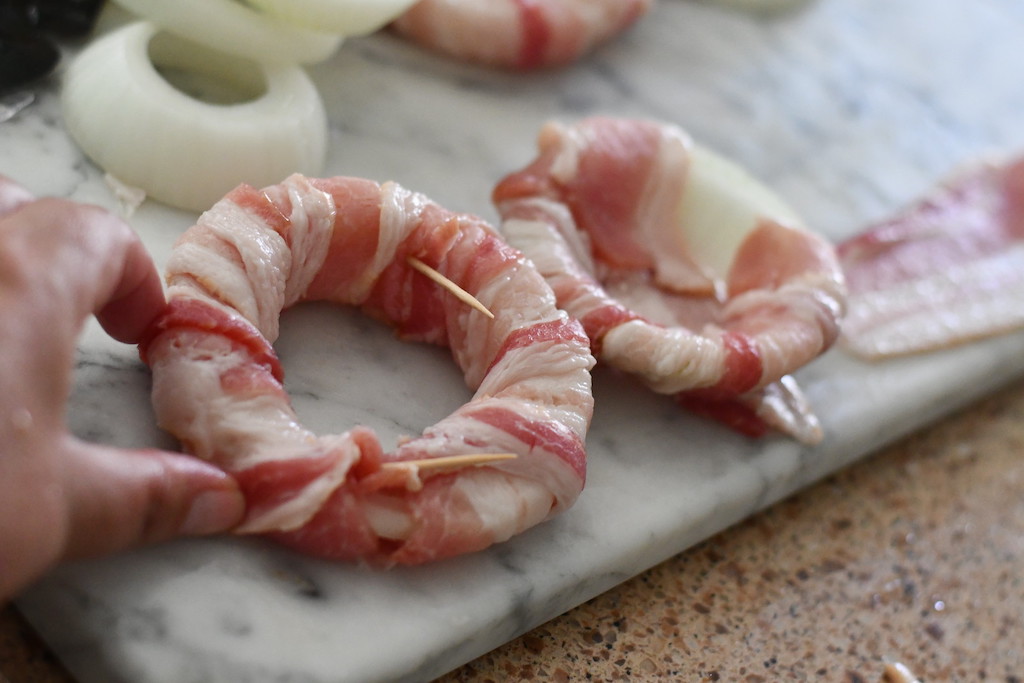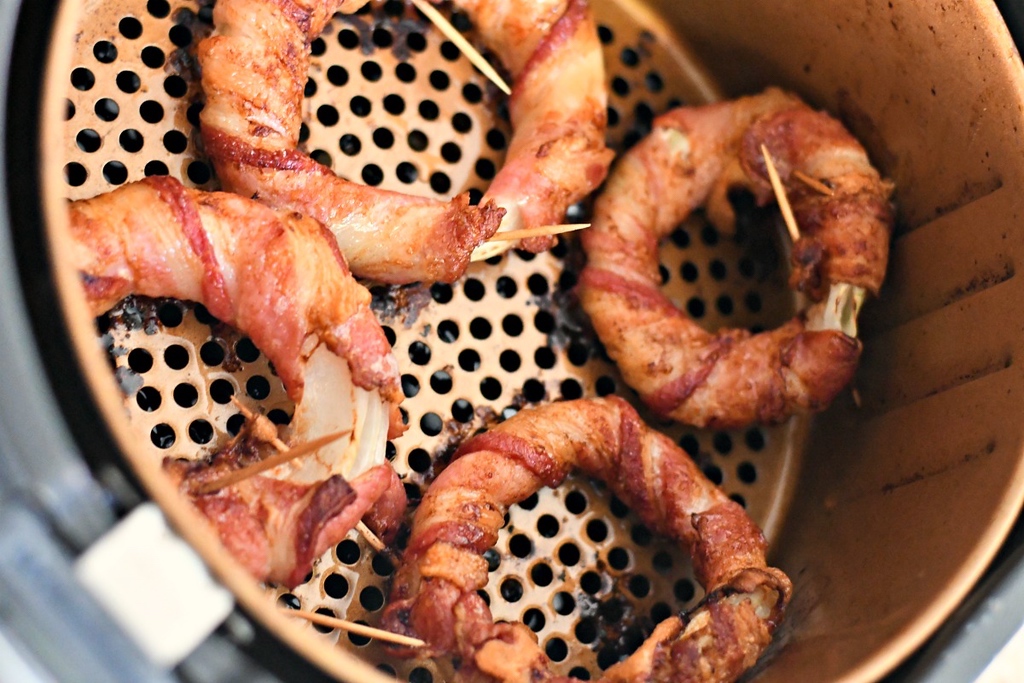 Tips for making the best keto bacon-wrapped onion rings:
To keep toothpicks from burning, throw them in a bowl and soak them in water for a few minutes before inserting them into the bacon-wrapped onion slices.
Use thinner cut bacon because it cooks faster and makes wrapping the onions easier.
You can use the largest rings from two onions and re-use the remaining parts in another recipe.
Don't have an air fryer? No worries, you can make this recipe using your oven!


---

To bake in a conventional oven: Place onion rings on a baking sheet pan covered in aluminum foil or parchment paper. Bake in the oven at 400 degrees for about 25-30 minutes until bacon is crisp and onions are tender.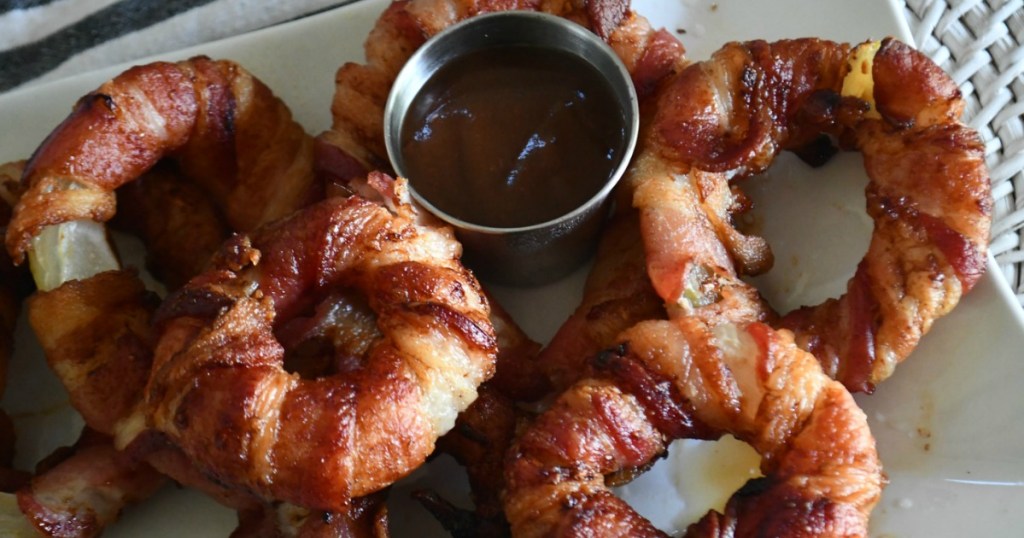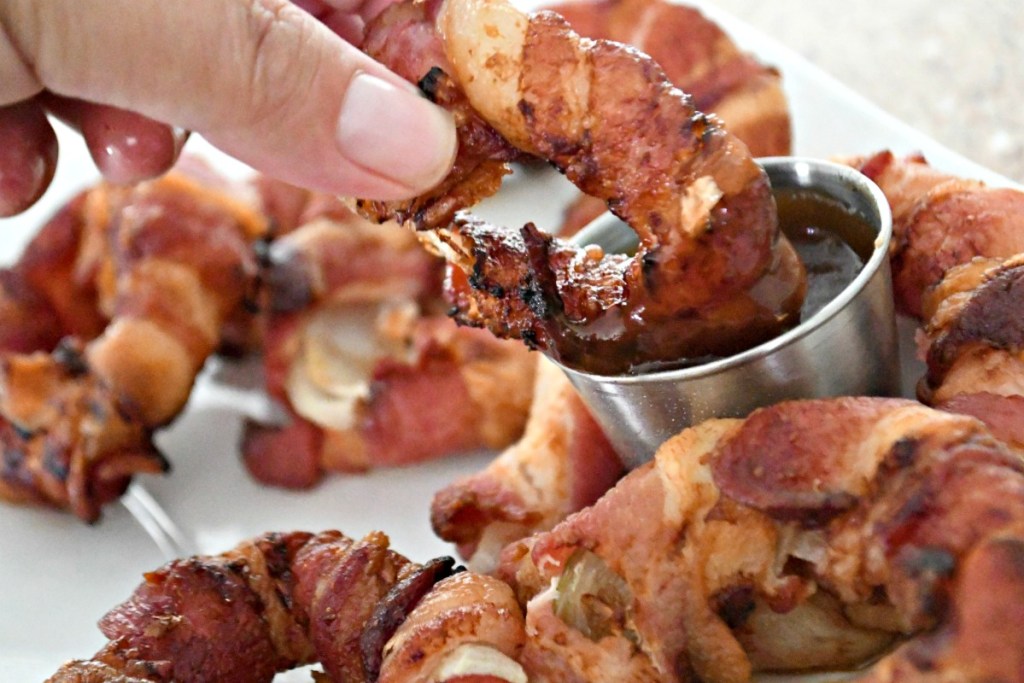 ---
Print
2-Ingredient Bacon-Wrapped Onion Rings
yield: 4 SERVINGS
prep time: 10 MINUTES
cook time: 14 MINUTES
total time: 24 MINUTES
Crispy bacon wrapped onion rings baked right in the air fryer as a yummy keto snack!
Ingredients
one large yellow onion
12 slices of thin cut bacon
Directions
1
Slice onion into about 1/2 inch rings. Separate them into rings with two layers. I set aside the super tiny rings to use in another recipe. 
2
Tightly wrap bacon around the onion, but try not to overlap too much so it will evenly cook. Each could take from 1 to 1-1/2 slices of bacon to completely cover.
3
Soak toothpicks in water for a few minutes, then use a couple to secure the bacon.
4
Place the bacon-covered rings in the air fryer in one layer. Note: You may need to cook two batches.
5
Set air fryer to 370 degrees and cook for 11-14 minutes, until bacon is done to desired crispness and the onion is tender.
Nutrition Information
Yield: 8 onion rings, Serving Size: 2
Amount Per Serving: 127 Calories | 8.5g Fat | 3.9g Total Carbs | 0.5g Fiber | 1.8g Sugar | 8.6g Protein | 3.4g Net Carbs
---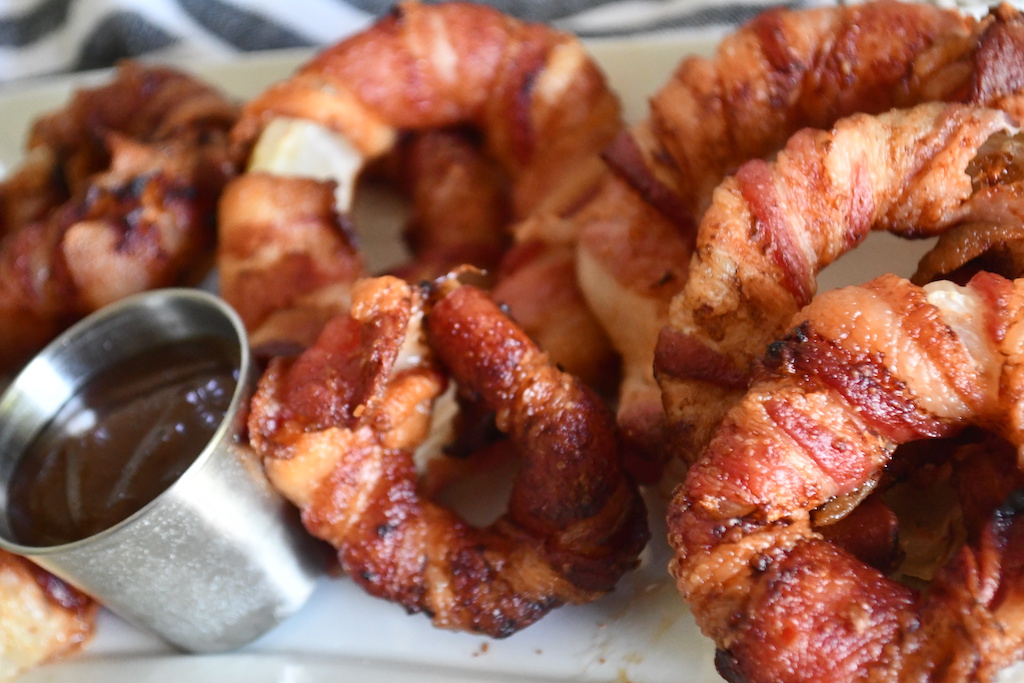 Wow, these are YUMMO!
In my home, we love basically anything wrapped in bacon, and these onion rings will not disappoint! This easy air fryer recipe would be great for entertaining, whether you're feeding your family or want to impress your friends on game day. I love making a batch for a quick late-night snack when I want something crunchy, but still wanna keep it keto!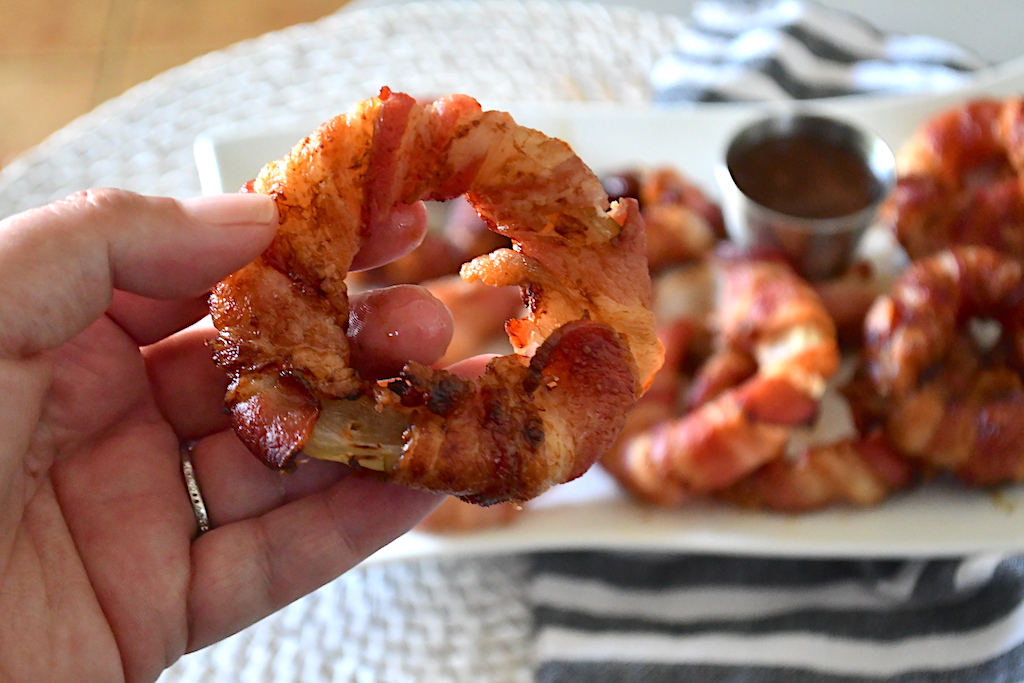 Check out what my teammate Jenna had to say after making these onion rings:
"This is officially my new favorite snack! As if onions rings couldn't get any better, let's replace the breading with bacon?! Yes, this is so good! Thanks to the easy-to-follow tips, this was simple to make a nice size batch too!
I did end up using thick-cut bacon (it's all I had) and it worked, but I think a thin cut as suggested would definitely be the better route as it's easier to work with and crisps up faster. For the dipping sauce, I mixed my favorite sugar-free ketchup with my favorite sugar-free bbq sauce! YUM!"
---