2-Ingredient Bacon-Wrapped Onion Rings in the Air Fryer
Hungry for crispy onion rings?
Skip the carb-filled breading and try them with BACON! Yep, I recently tried wrapping sliced onion with bacon, and I LOVED it. The result is a delicious and satisfying low-carb appetizer, perfect for keto snacking!
I use my air fryer any chance I can, especially when it's warm outside, and I loved using it for this idea! The bacon cooks up nice and crispy while the onion gets tender. This is such an easy 2-ingredient idea that tastes great, too!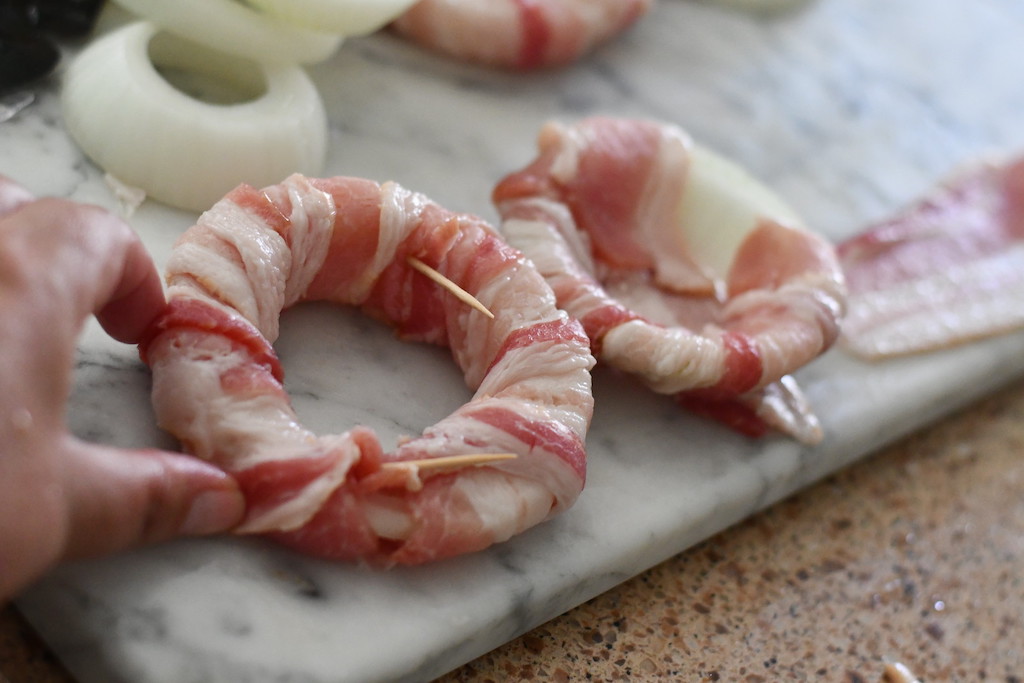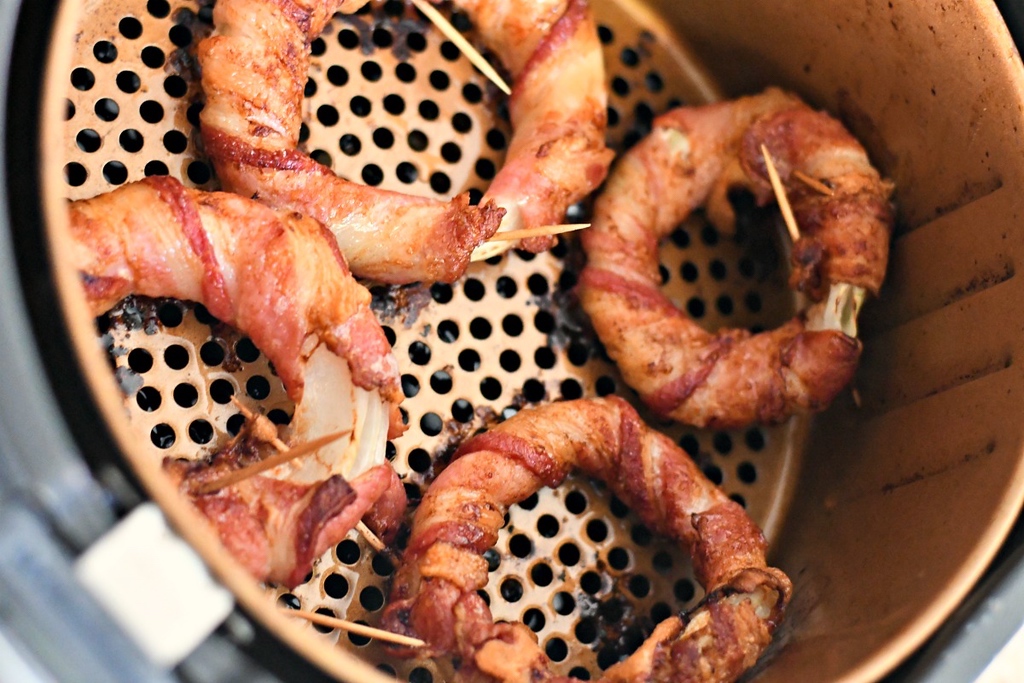 Hip Tips:
To keep toothpicks from burning, soak them in water for a few minutes.
Use thinner cut bacon because it cooks faster and makes wrapping the onions easier.
You can use the largest rings from two onions and re-use the remaining parts in another recipe.
We dipped our bacon onion rings in G Hughes Sugar-Free BBQ Sauce, but pick your own favorite condiment for dipping.
No air fryer? To bake in a conventional oven: Place onion rings on a baking sheet pan covered in foil or parchment paper. Bake in the oven at 400 degrees for about 25-30 minutes until bacon is crisp and onions are tender.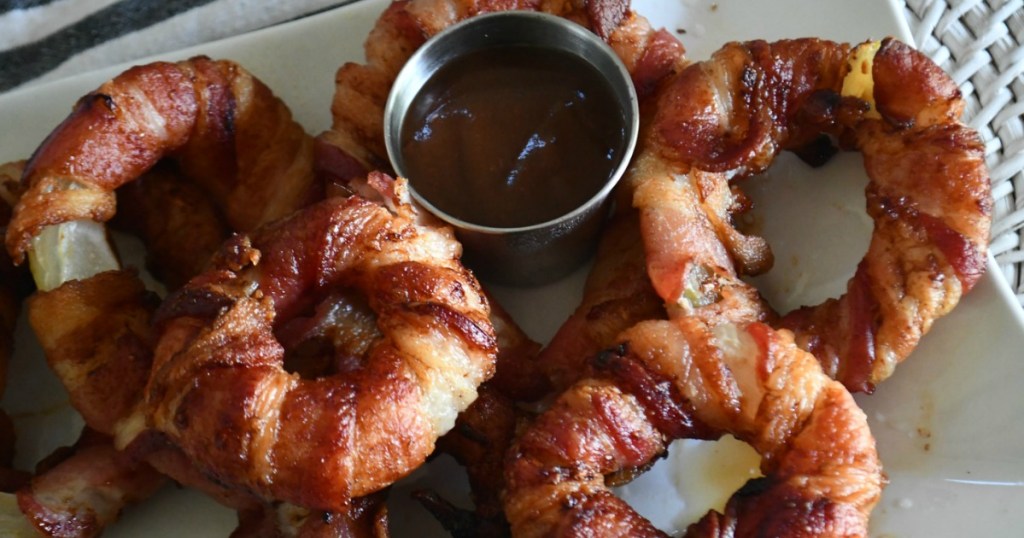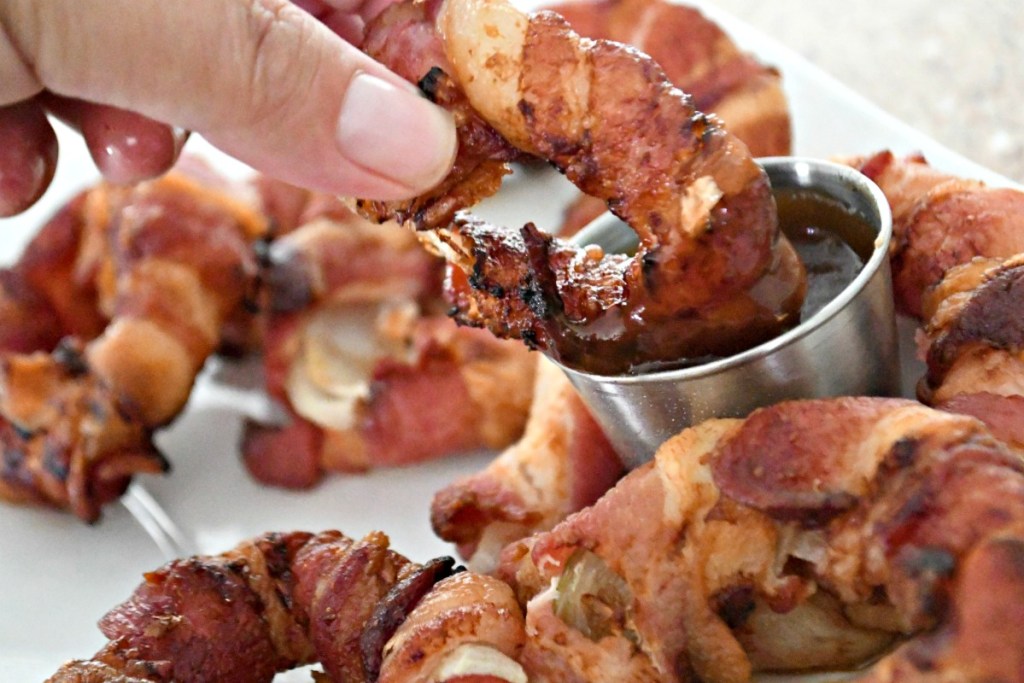 ---
Print
2-Ingredient Bacon-Wrapped Onion Rings
yield: 4 SERVINGS
prep time: 10 MINUTES
cook time: 14 MINUTES
total time: 24 MINUTES
Crispy bacon wrapped onion rings baked right in the air fryer as a yummy keto snack!
Ingredients
one large yellow onion
12 slices of thin cut bacon
Directions
1
Slice onion into 1/4 inch rings. Separate them into rings with two layers. I set aside the super tiny rings to use in another recipe. 
2
Wrap bacon around the onion. Each could take from 1 to 1-1/2 slices of bacon to completely cover.
3
Soak toothpicks in water for a few minutes, then use a couple to secure the bacon.
4
Place the bacon-covered rings in the air fryer in one layer. Note: You may need to cook two batches.
5
Set air fryer to 370 degrees and cook for 11-14 minutes, until bacon is done to desired crispness and the onion is tender.
6
Carefully remove from the air fryer, and place on a paper towel to drain. Remove toothpicks. Serve warm with any desired keto-friendly dipping sauce, like no sugar added BBQ sauce. (Please note: Nutritional values do not include dipping sauces.)
Nutritional Information
Yield: 8 onion rings, Serving Size: 2
Amount Per Serving: Calories: 135, Total Carbohydrates: 4g, Fiber: 1g, Net Carbohydrates: 3g, Total Fat: 11g, Protein: 8g
---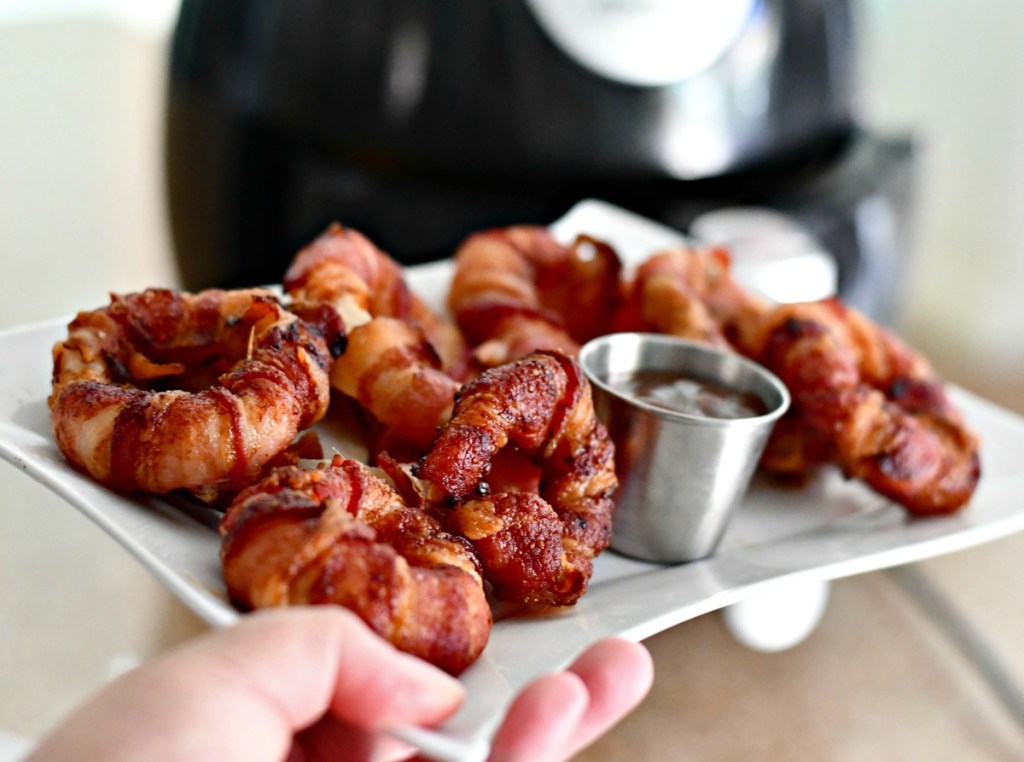 Wow, these are YUM!
We love basically anything wrapped in bacon, and these onion rings will not disappoint! This easy air fryer recipe would be great for entertaining as a brilliant low-carb food option, whether you're feeding your family or want to impress your friends on game day!
---
Check out 10 reasons to LOVE air fryers on a keto diet!