Bacon-Wrapped Cabbage Wedges Make the Best Dippers
Don't forget to eat your vegetables… and your bacon! 🥓

Vegetables don't always deliver the savory flavor you're seeking, especially in the case of ordinarily lifeless cabbage… but this bacon-wrapped cabbage recipe changes all of that. I've wedged a head of cabbage, slathered the pieces in butter, and then wrapped them in bacon.
This AMAZING keto side dish is SO EASY to make!
Yes to bacon and butter!
With 5 ingredients, you can throw this recipe together in under 40 minutes from start to ready-to-eat. Not only is it a great side dish, but it can also be a fun dippable appetizer or even an entree if you double up on the bacon. 🙌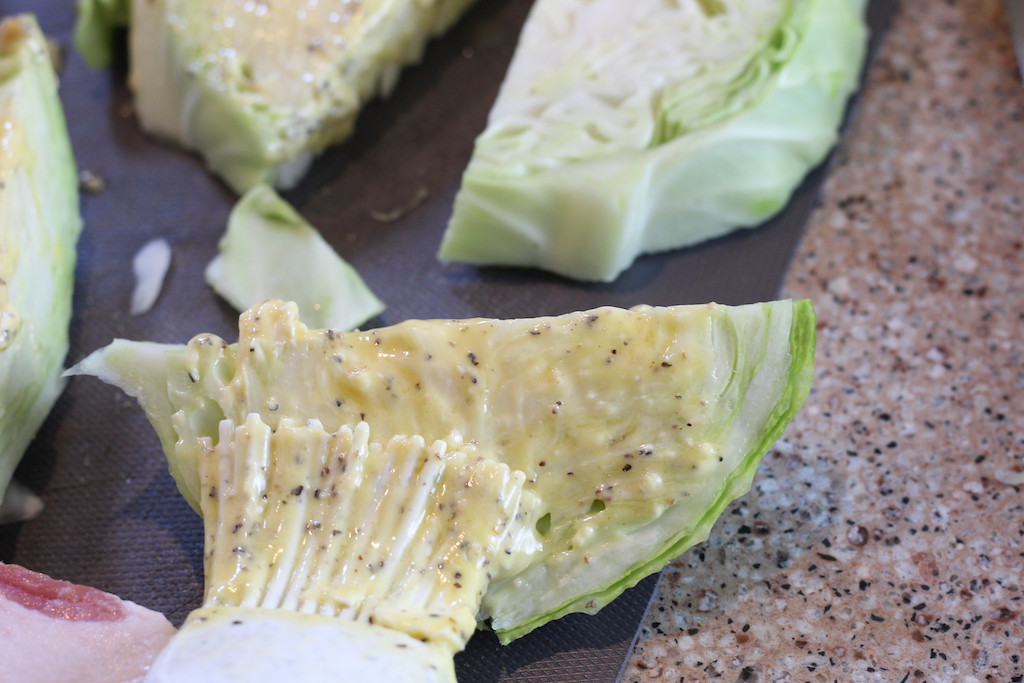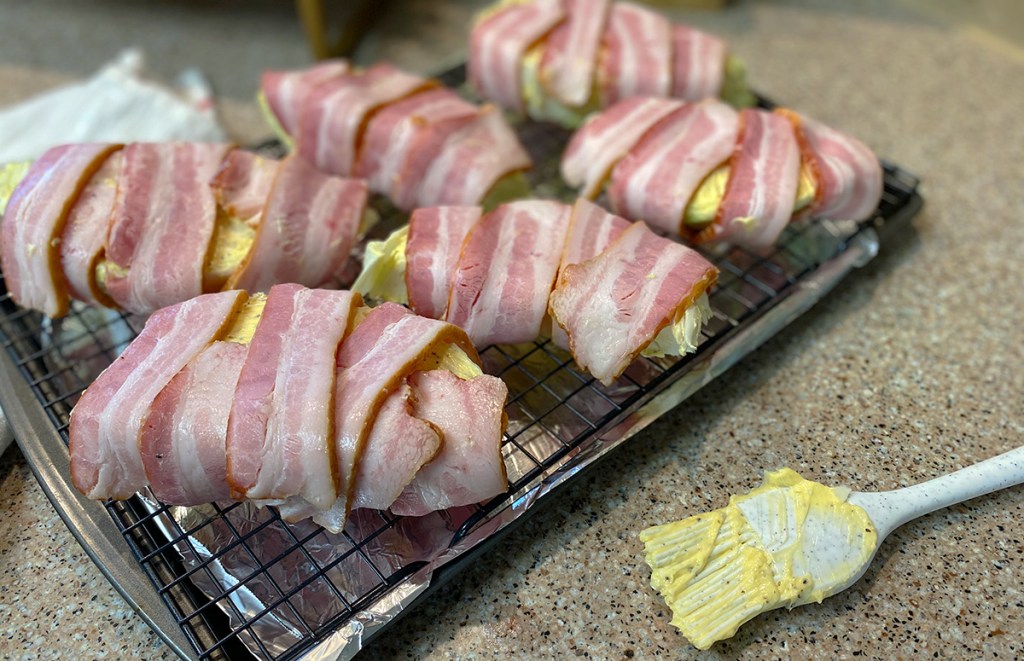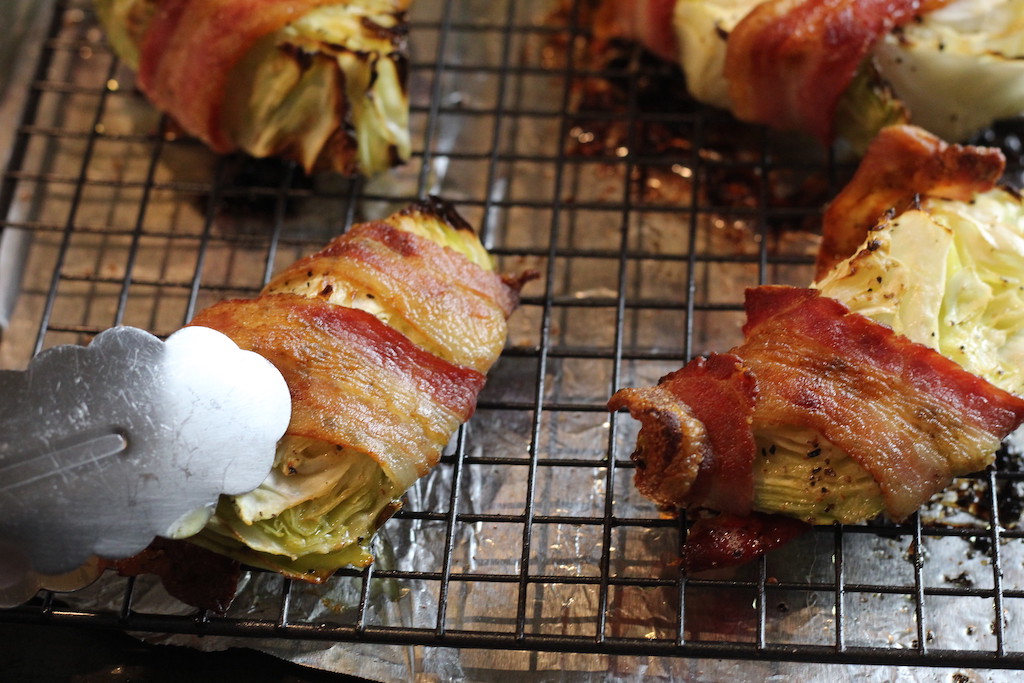 ---
Print
Keto Bacon-Wrapped Cabbage
yield: 5 SERVINGS
prep time: 3 MINUTES
cook time: 35 MINUTES
total time: 38 MINUTES
Bacon-wrapped cabbage wedges slathered with seasoned butter make the perfect side dish.
Ingredients
1 medium-sized head of green cabbage
8 tablespoons butter (1 stick)
1/2 teaspoon black pepper
1/2 teaspoon garlic powder
6-8 strips bacon
Directions
1
Preheat oven to 400 degrees. Line a large baking sheet with foil and place a rack on top and set aside.
2
Add butter into a small dish and place it in the microwave for 10-15 seconds. You want the butter softened, but not melted. Add in garlic powder and pepper and stir.
3
Slice cabbage about a 1/2 inch thick. Slather each slice with a good amount of the garlic pepper butter. Wrap each slice with a strip of bacon. Note that the bacon will shrink back when cooking so based on the size of your cabbage wedge, you may want to add another bacon strip if desired.
4
Place bacon-wrapped cabbage on baking sheet and bake for 30-35 minutes, or until bacon is crispy.
5
Best served right away. Feel free to serve with your fave keto dip, such as homemade ranch. Enjoy!
Nutrition Information
Yield: 8 slices, Serving Size: 1 slice
Amount Per Serving: 159 Calories | 13g Fat | 7g Total Carbs | 3g Fiber | 0g Sugar Alcohol | 4g Protein | 4g Net Carbs
---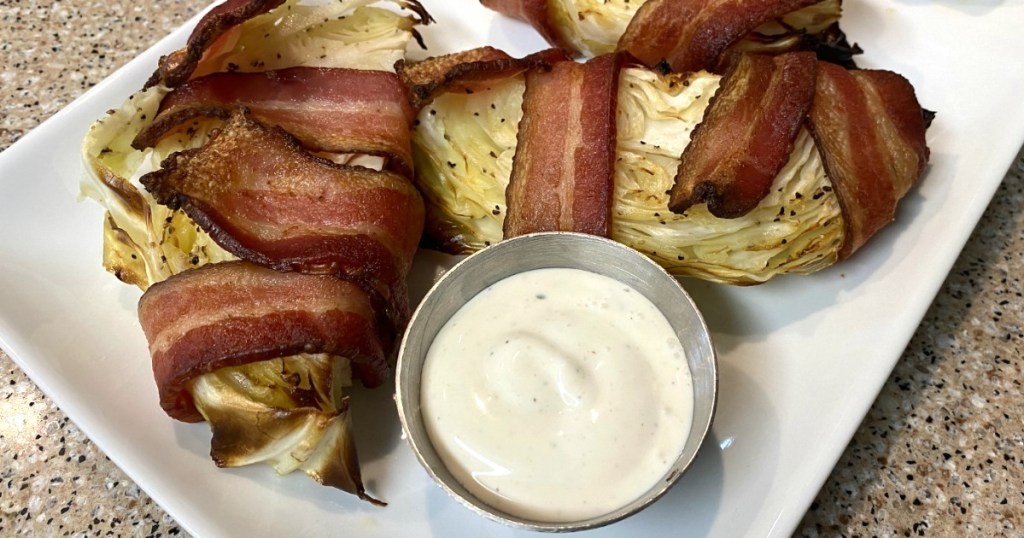 Here are a few tips when making these bacon-wrapped cabbage wedges:

Don't over melt your butter as you want this to be a paste-consistency. Once you slice your cabbage, you'll realize it will fall apart and can be a mess so the butter is your glue to keep all your bacon-wrapped cabbage layers together.
Pastry brushes are a kitchen lifesaver. They make basting so much easier.
If you really want to knock this dish out of the park, drizzle a little Keto Ranch Dressing over the top or serve in a dish for dipping.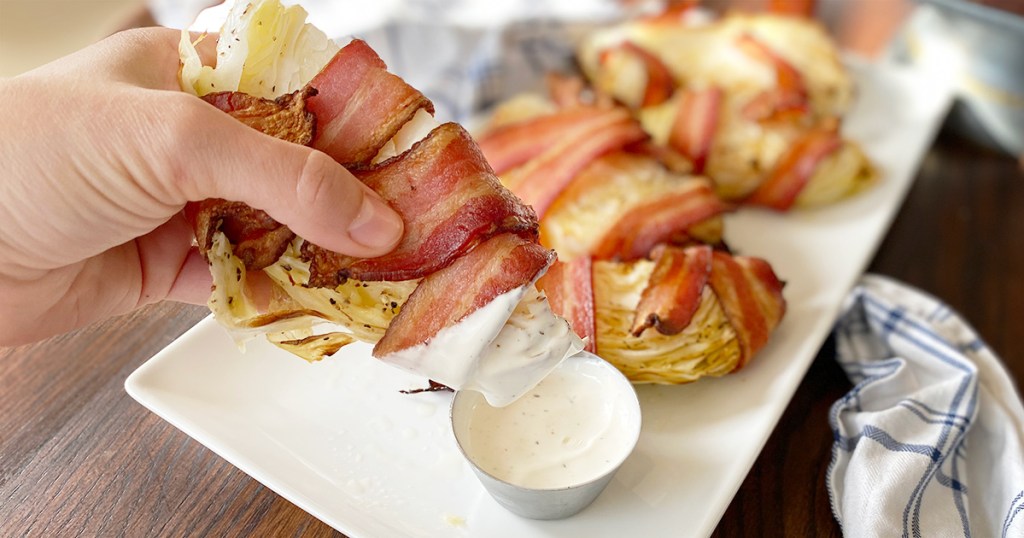 That first bite you take will knock your socks off!
The butter just melts and tenderizes the cabbage so perfectly, and the crunch of the bacon is so yum. It's the perfect combo I never knew I needed. This recipe will be a weekly hit even with the kiddos!
---
Needing another quick appetizer? These Keto Loaded Zucchini Skins are AMAZING!