Keto Loaded Zucchini Skins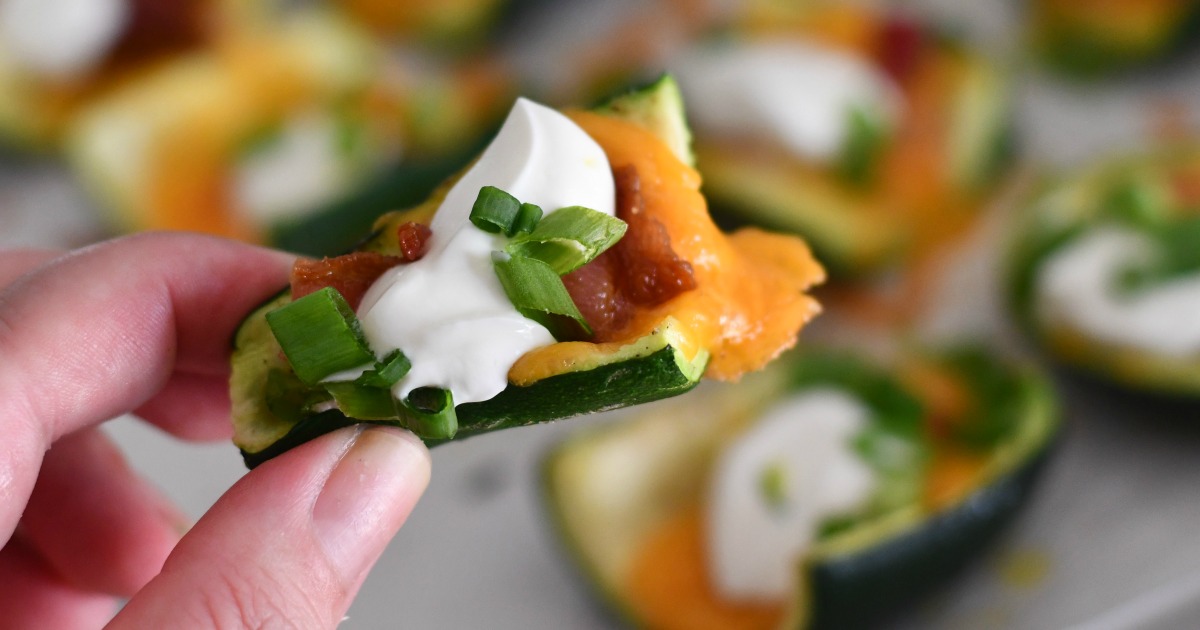 Love loaded potato skins?
You know the tasty ones with all that melted cheese, bacon, sour cream, and onions? If so, you need to try this keto loaded zucchini skins recipe!
This is a must-try appetizer that's both super easy to make and also insanely delicious! Plus, this would be an excellent party snack to share with friends. Just be warned – this tray of yummy-ness will disappear fast, so consider doubling the recipe for a larger (or hungrier) crowd!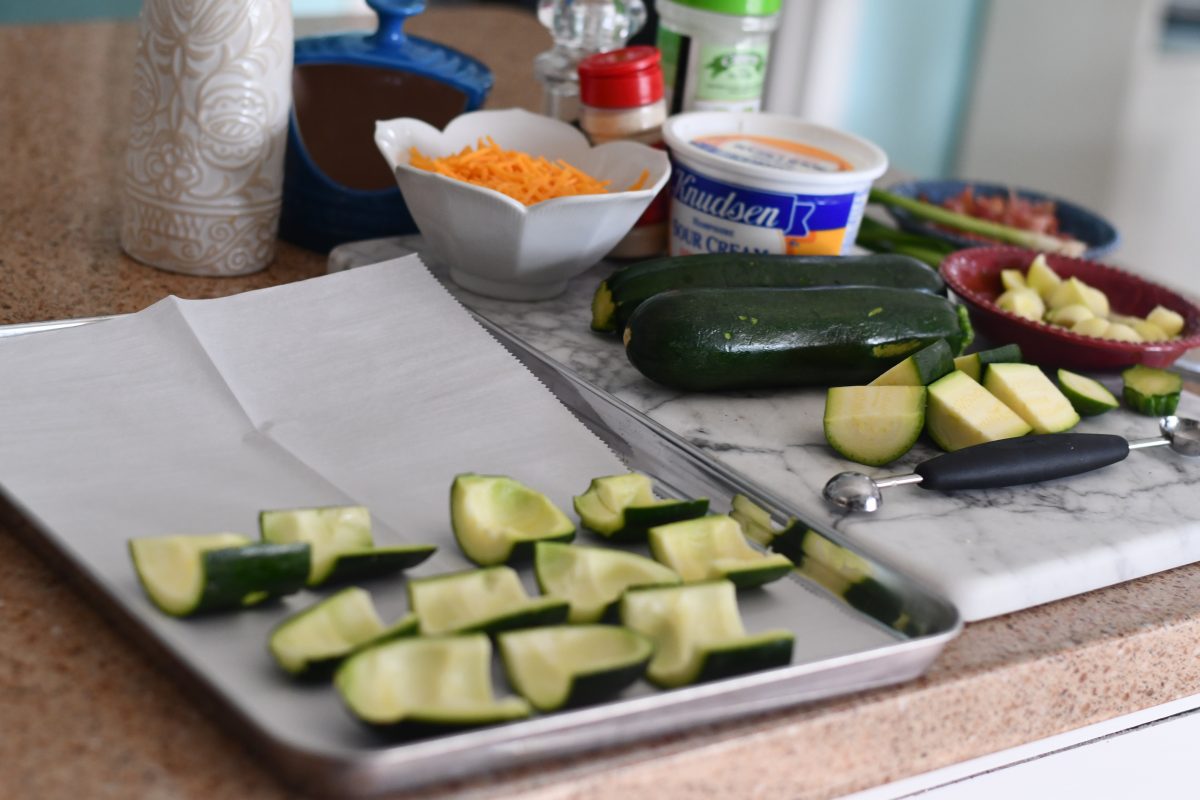 Easy ingredients & easy baking method!
We essentially want to use the skin portion of the zucchini. Simply hollow them out, bake in the oven, and then top with cheese and bacon. After another turn in the oven, top with sour cream and green onions, and you'll have some delicious melted bites of loaded zucchini heaven!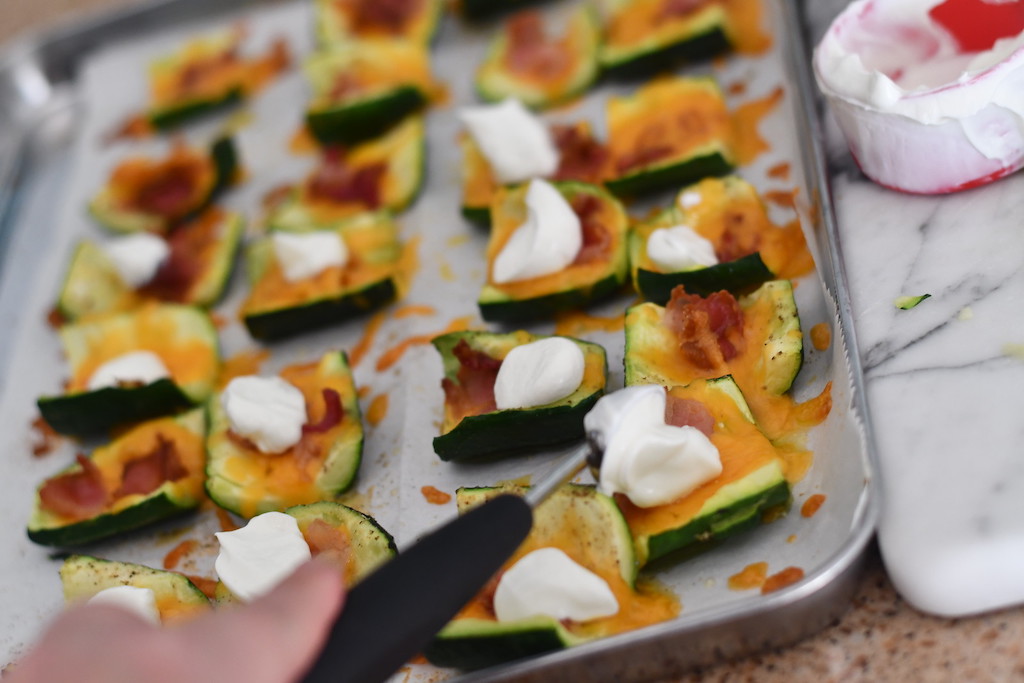 Hip Recipe Tips:
If you have one, try using a melon baller to remove the insides out of the zucchini. If not, just carefully use a spoon.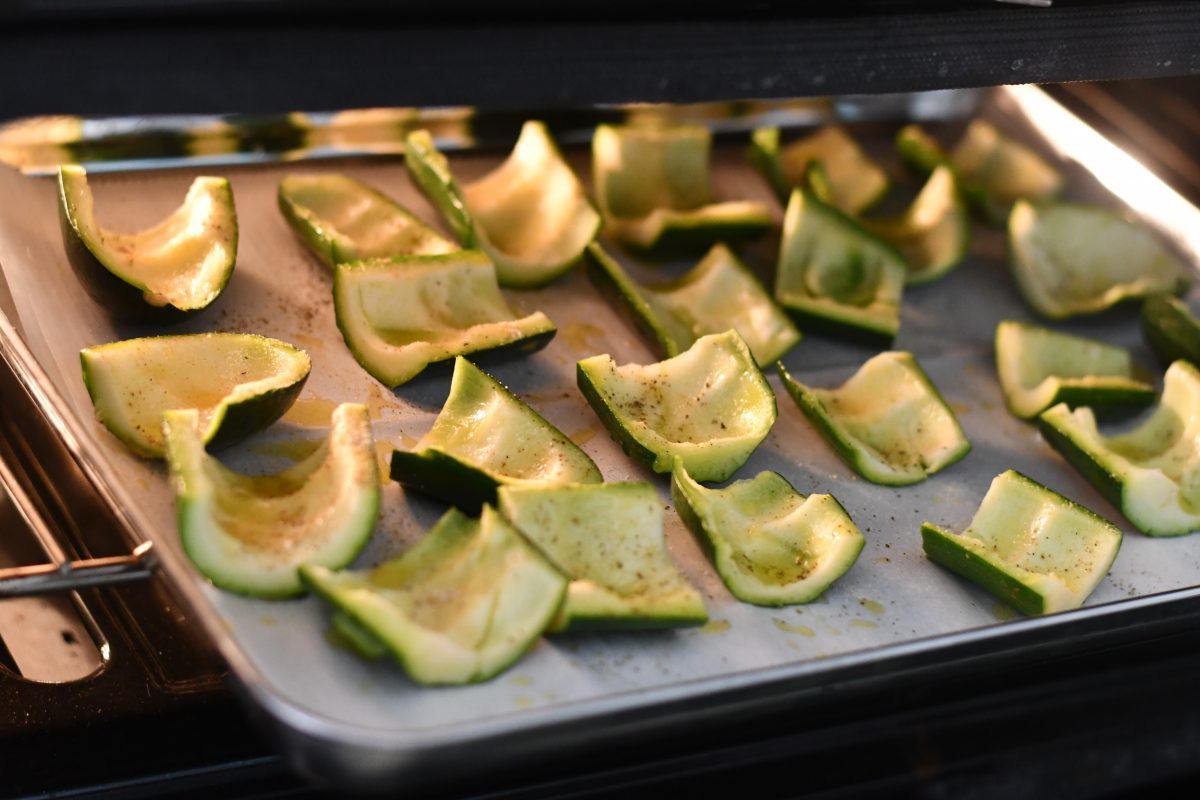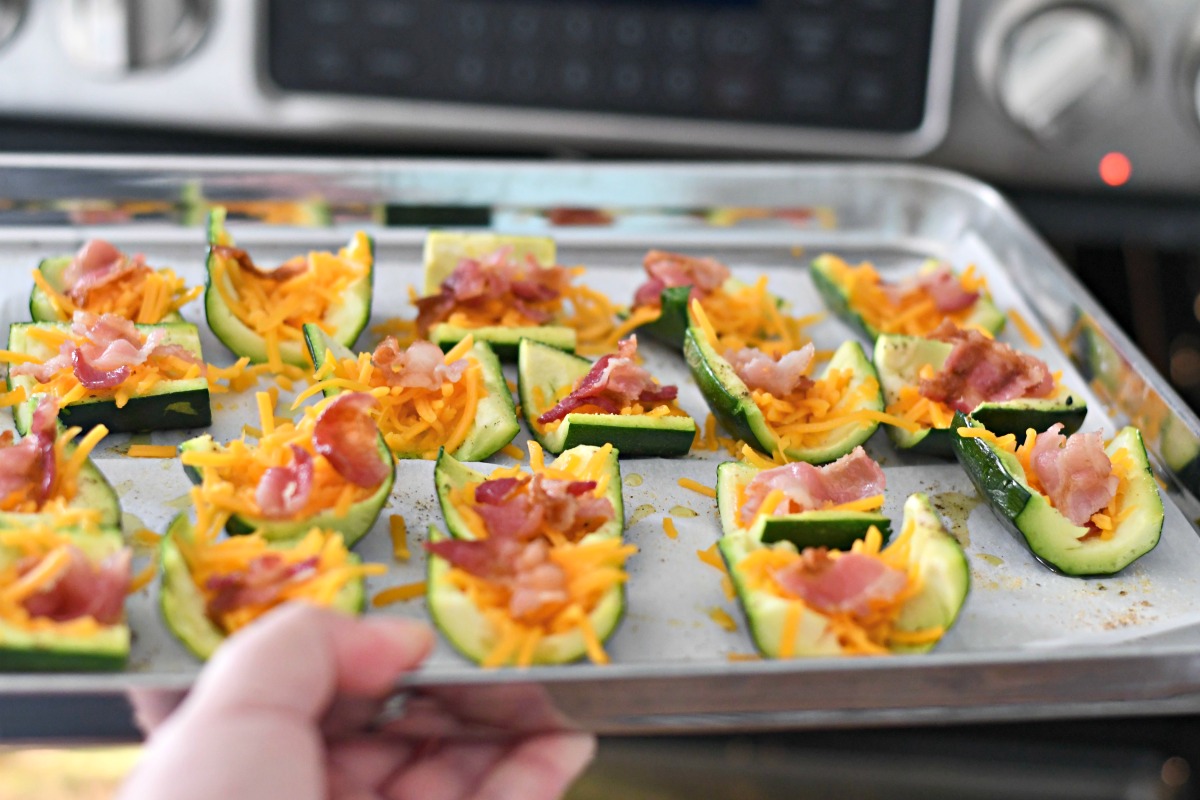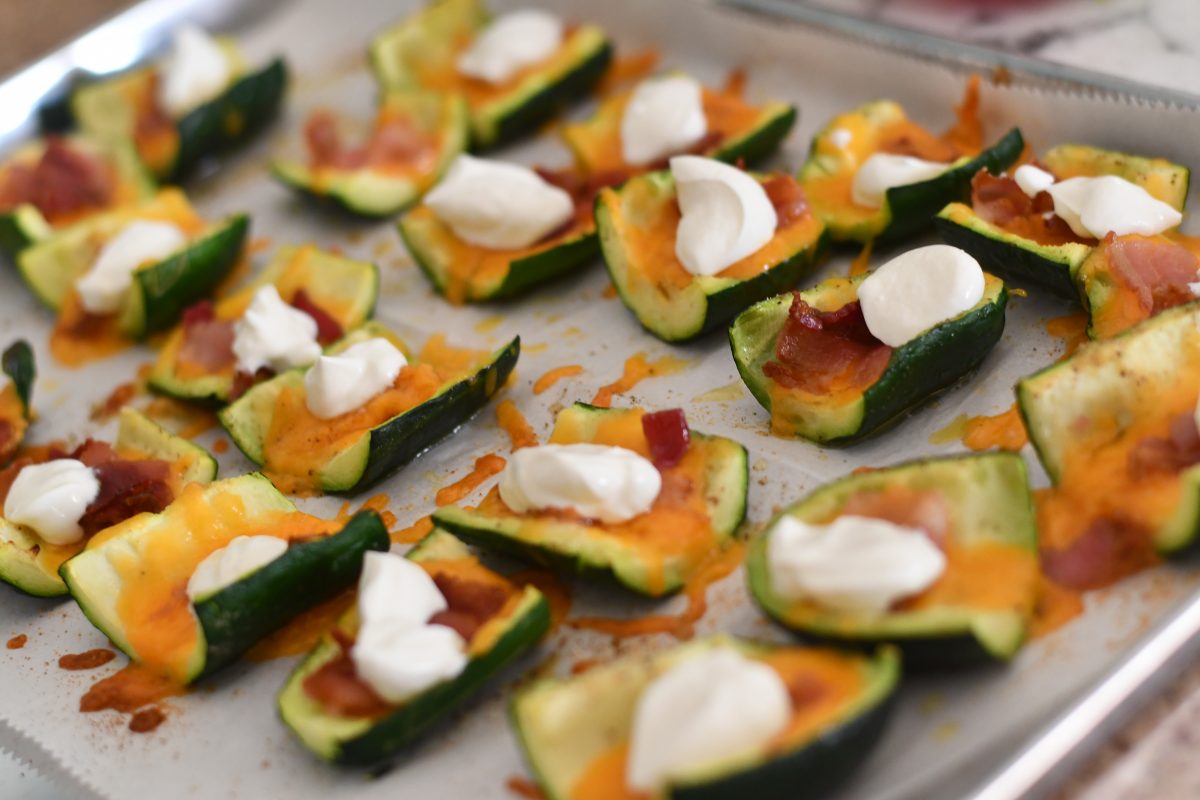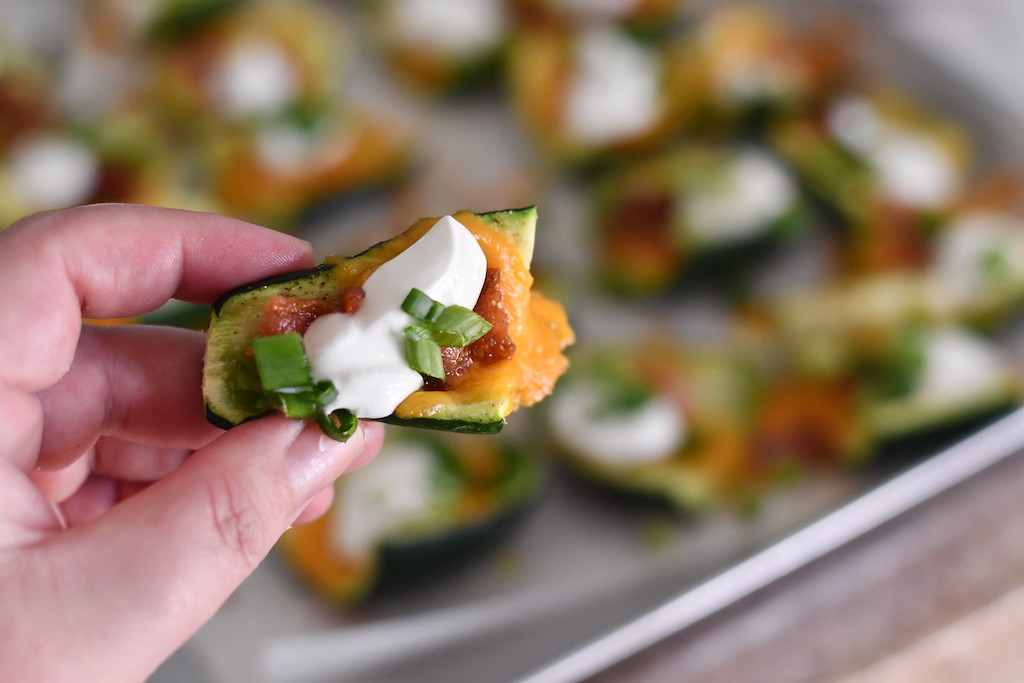 ---
Print
Loaded Zucchini Skins
yield: 6 SERVINGS
prep time: 15 MINUTES
cook time: 16 MINUTES
total time: 31 MINUTES
Swap zucchini for potato skins to make a DELICIOUS appetizer featuring bacon, cheese, and sour cream!
Ingredients
3 large fresh zucchini
1 tablespoon olive oil
1/8 teaspoon salt
pinch of pepper
1/2 teaspoon garlic powder
1/2 teaspoon onion powder
1 cup sharp cheddar cheese, shredded
5 pieces of bacon, cooked, chopped
2 green onions, thinly chopped
1/3 cup sour cream
Directions
1
Preheat oven to 400 degrees. Cut each zucchini in half lengthwise. Using a large metal spoon or melon baller, scoop out the insides, leaving the skins.
2
Cut each half into four pieces. Each zucchini will yield 8 skins. Place all on a sheet pan lined with parchment paper.
3
Coat skins in olive oil. Season them with salt, pepper, onion powder, and garlic powder.
4
Bake skins in the oven for 6 minutes. Remove, and place about 2 teaspoons cheese, and a few bacon pieces on each skin.
5
Place back in the oven for another 10 minutes, or until zucchini is cooked through and cheese is bubbly. Remove from oven. Top each with sour cream and chopped onion. Enjoy!
Nutrition Information
Yield: 24 pieces, Serving Size: 4 pieces
Amount Per Serving: 171 Calories | 13g Fat | 4g Total Carbs | 1g Fiber | 8g Protein | 3g Net Carbs
---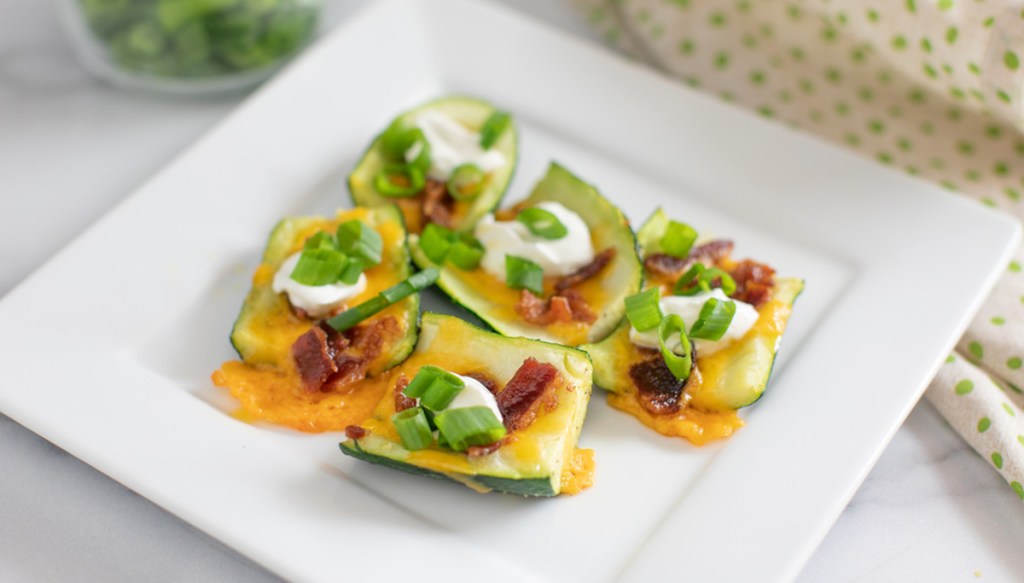 Brilliant bites of bacon, cheese, and zucchini!
There's nothing to not love here! Even my kids, who aren't huge zucchini fans, enjoyed these. Loaded zucchini skins would definitely appeal to both keto and non-keto eaters, in my opinion!
---