Have You Tried Cooking Bacon in the Air Fryer? It's a Game Changer!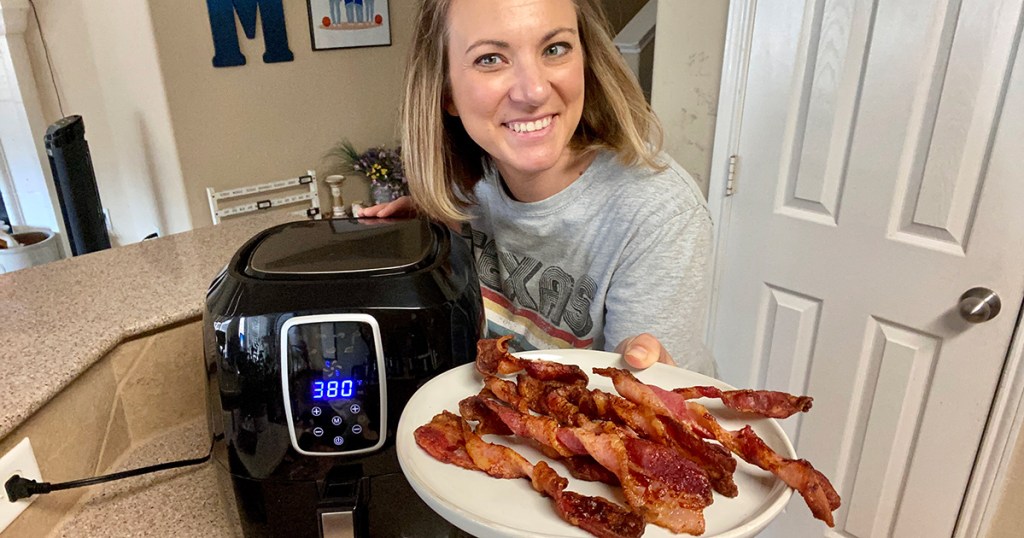 BACON! BACON! BACON! 🥓
We're all pretty much obsessed with bacon here at Hip2Keto. Bacon in my salad, bacon on my burger, bacon and eggs… oh the possibilities are truly endless! With the amount of bacon we eat, I like to keep it simple and make it as quickly and as mess-free as possible!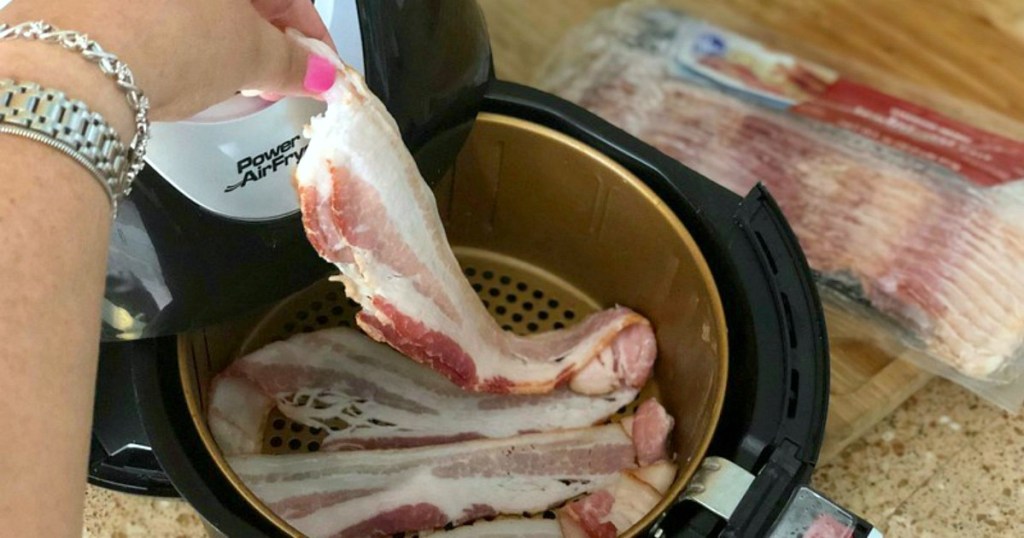 Break out the air fryer!
If you haven't hopped on the air fryer train by now, what are you waiting for?! Its ability to quickly make crispy, crunchy, delicious keto dishes is unrivaled, so it's a no brainer that cooking bacon in an air fryer is a must.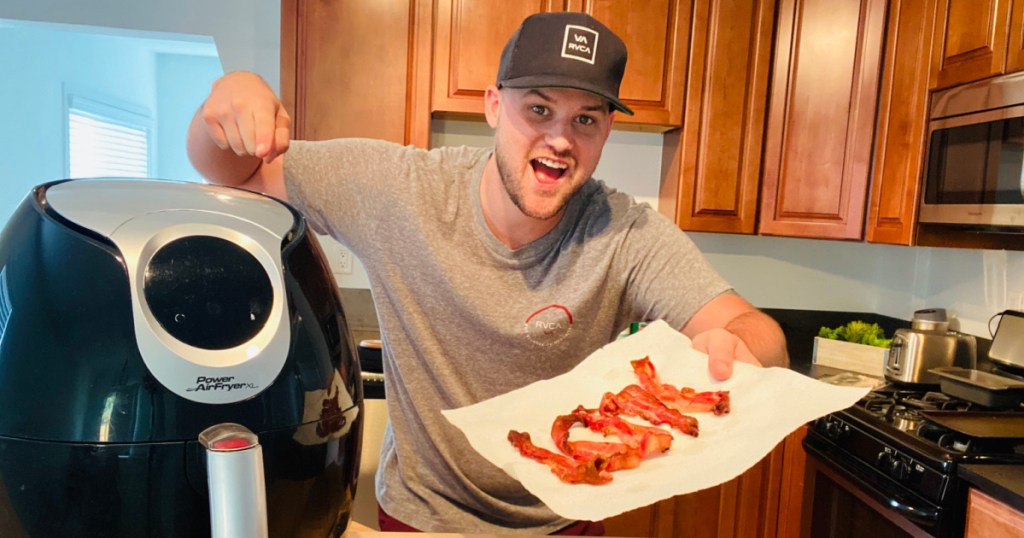 Air frying is super convenient, quick, and EASY! In fact, several of my Hip2Keto teammates (even Stetson!) have the Power Air Fryer XL and have said it's their favorite kitchen appliance. My air fryer has for sure earned its spot on my kitchen counter because of how often I use it.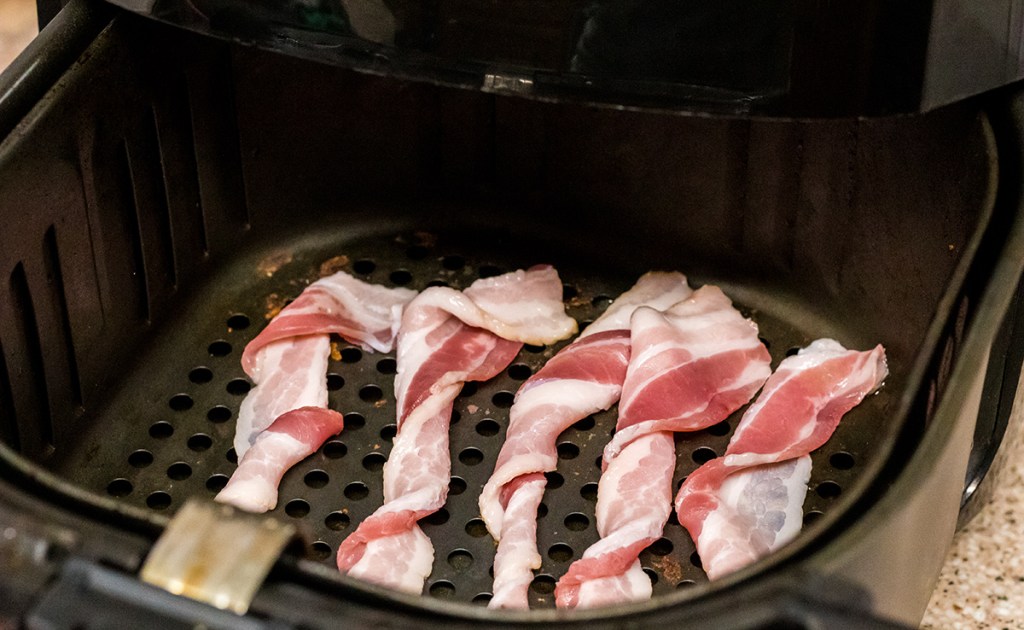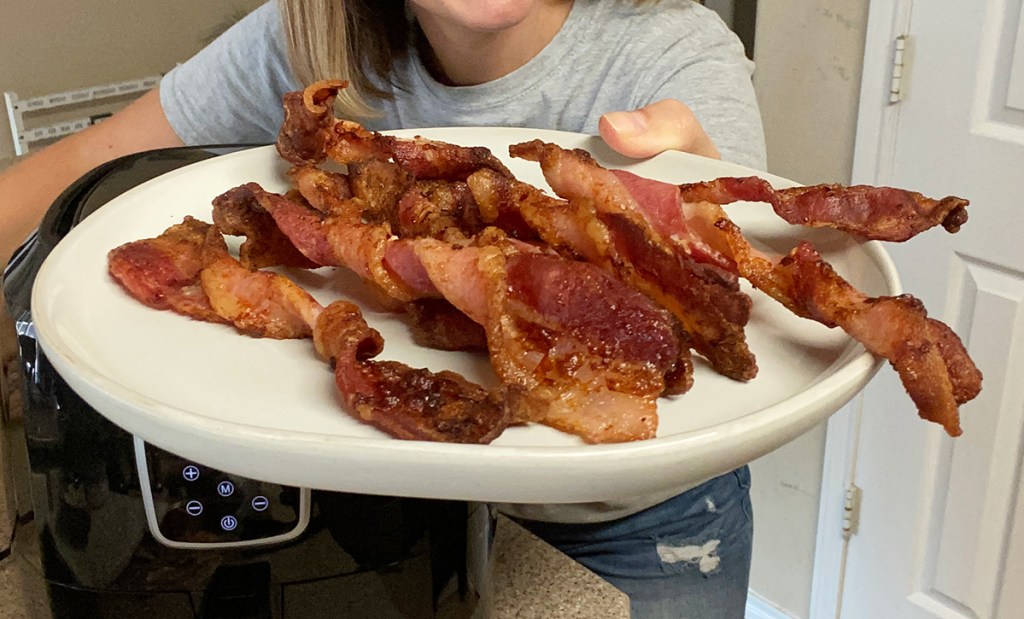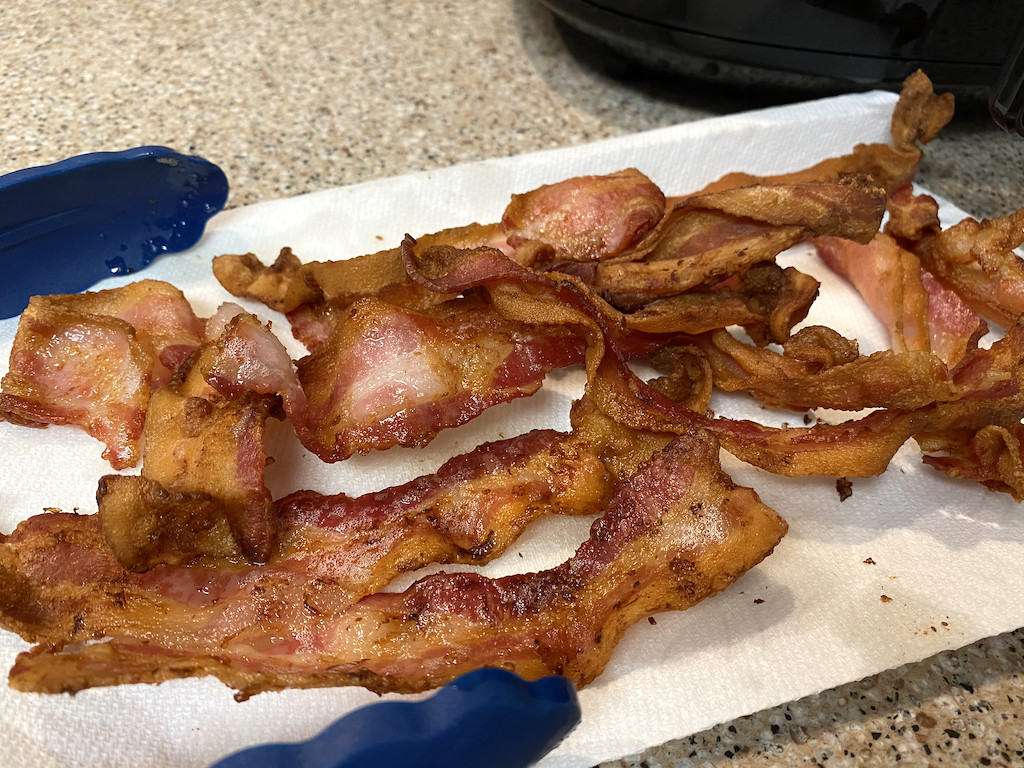 ---
yield: 1 SERVINGS
prep time: 2 MINUTES
cook time: 10 MINUTES
total time: 12 MINUTES
Cooking bacon has never been easier! Just use your air fryer for crispy and delicious bacon in minutes.
Directions
1
Set your air fryer to 380 degrees. Place bacon in the basket or rack making sure pieces are not overlapping. You can twist the bacon loosely to fit more strips!
2
Cook bacon for 8-10 minutes, or until crisped to your liking.
---
Here are a few tips to keep in mind when cooking bacon in your air fryer:
1. Save the bacon grease
Don't forget to add your bacon grease to your bacon container after cooking to save that precious flavor to use in other keto recipes! Simply pour the grease into your container while it's still hot.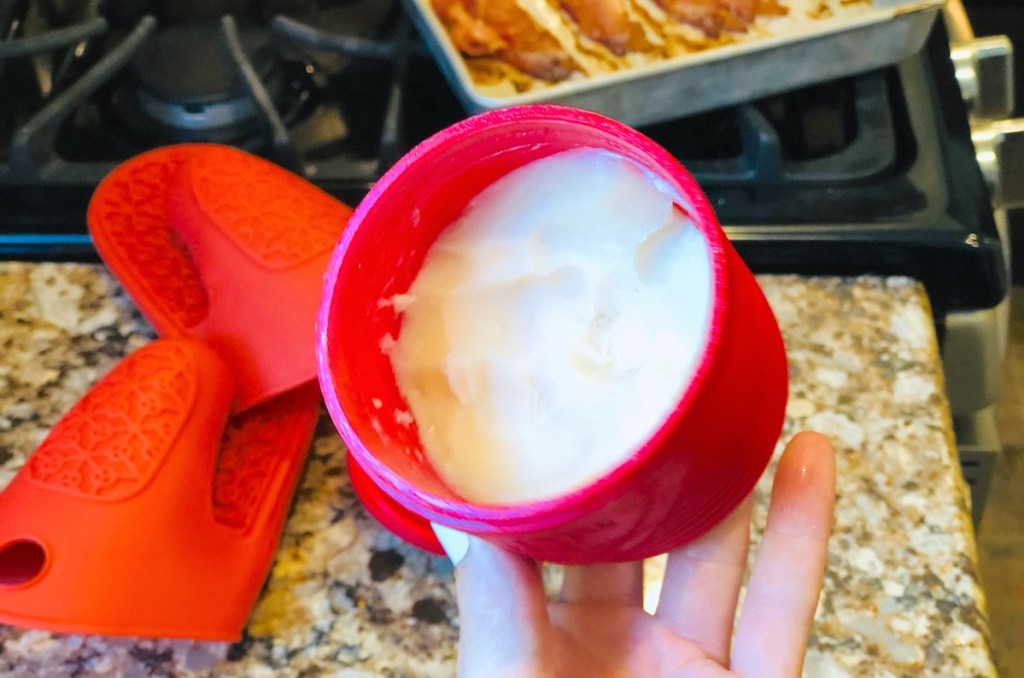 We're also all kinda obsessed with this super cute bacon bin that my team member Sara recently shared. How gorgeous is that pure bacon fat?! 😍
---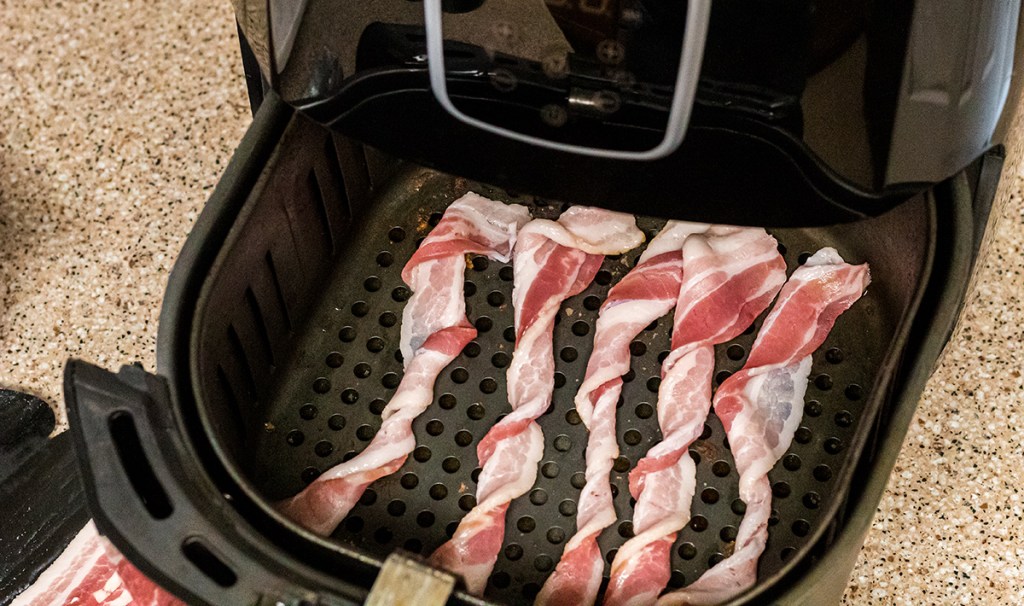 2. Twist the strips
If you twist the bacon, you can get more into the basket. Hello, bacon twisty goodness!😋🥓
---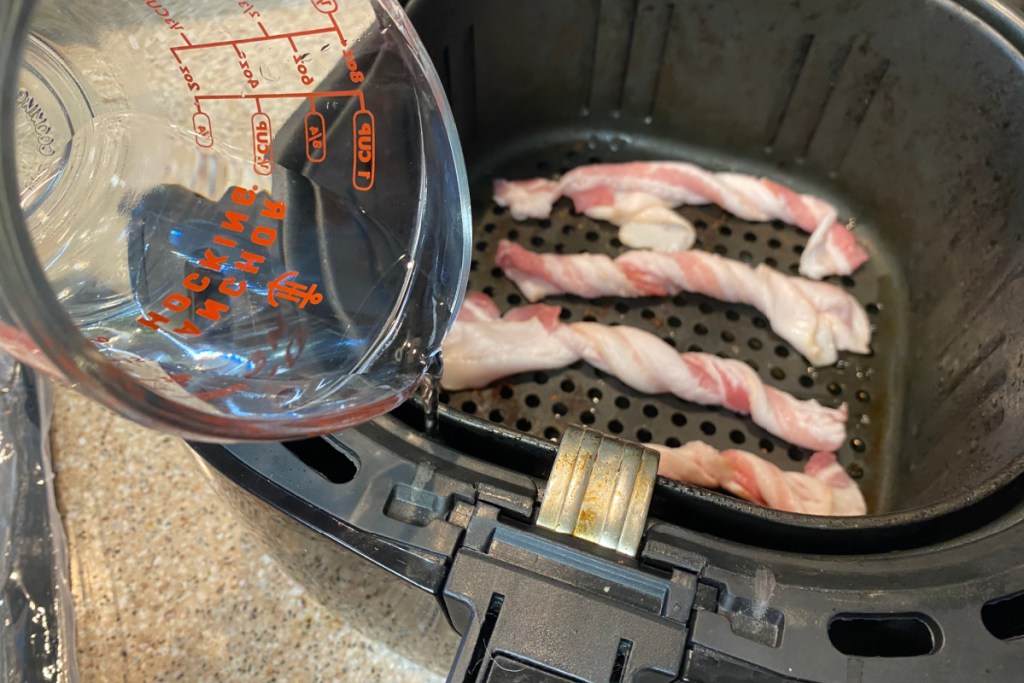 3. Add some water to the basket
I like to add a little bit of water to the bottom of my air fryer while cooking the bacon to keep it from smoking. I've found with fattier foods like bacon or burgers this is a must. This may not be the case with your air fryer, so feel free to skip this suggestion if you've already had success without.
---
4. Clean up immediately for less scrubbing
I like to immediately clean my air fryer basket so that the grease doesn't stick (trust me, it's sometimes tricky to get it really clean if you wait). I use Dawn Powerwash spray and it really helps to cut through the grease for a quick and easy cleanup!
---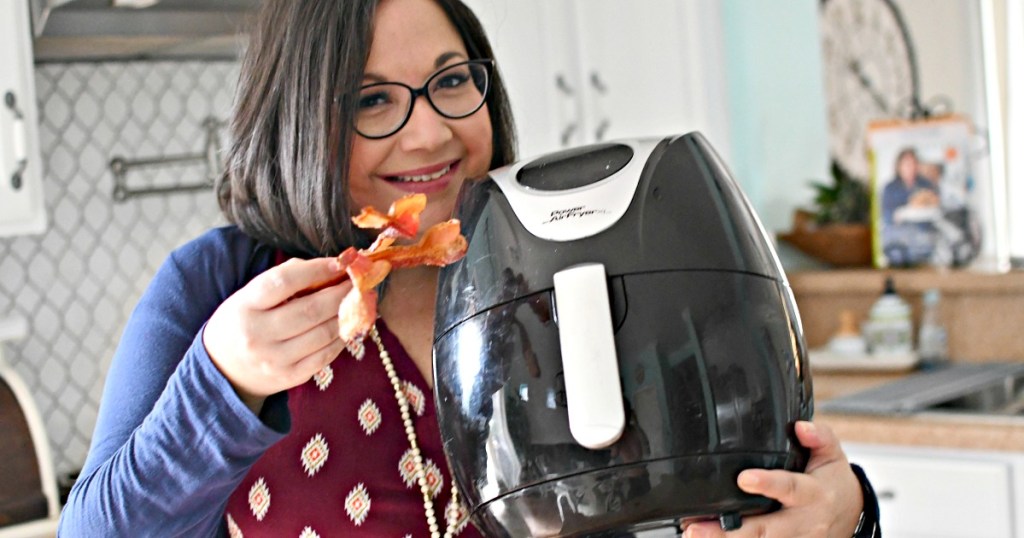 Bacon in the air fryer for the win! 🥓
As you can see, making bacon in the air fryer is so simple and even your teens can do it! It's quick and easy for even the busiest mornings, such a no brainer!
---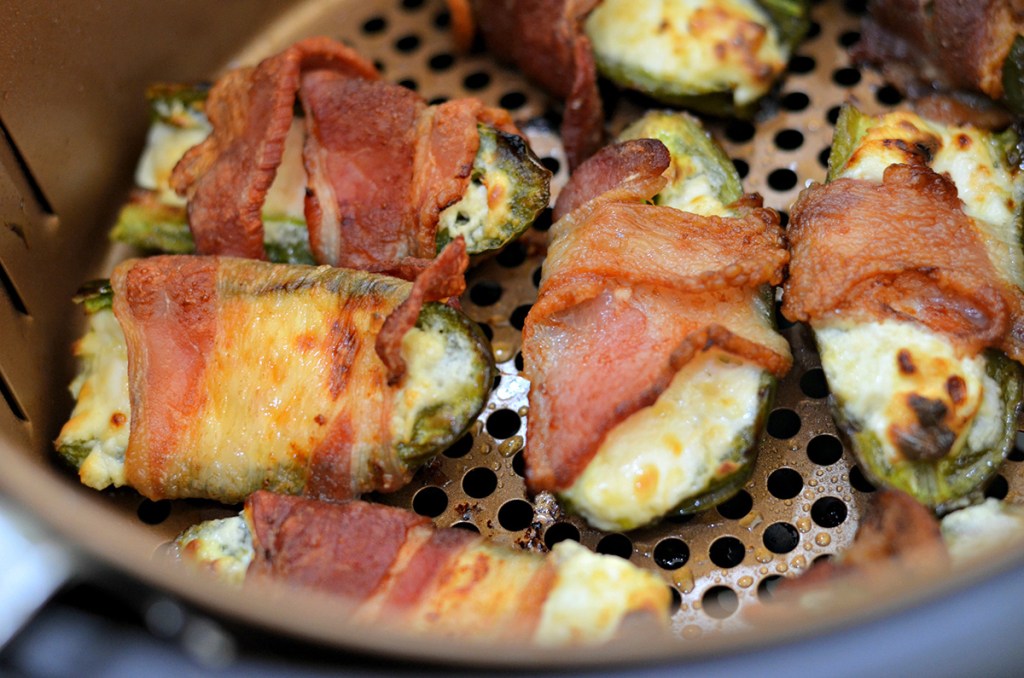 Looking for keto-friendly recipes with bacon? We've got ya covered!