HELP! I Can't Stop Eating This Keto Granola!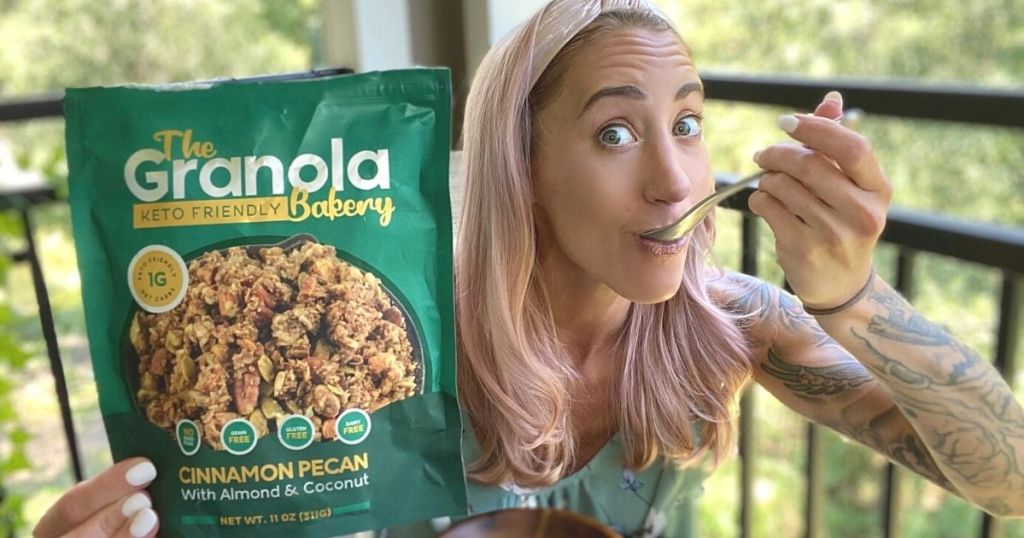 Meet the keto granola I literally have to hide from myself. 😲
Missing the morning crunch you used to enjoy in a big bowl of cereal? I know I was when I first started eating a keto diet. Granola wasn't just my favorite breakfast, it was my favorite snack, dessert, and also one of my favorite baking ingredients.
There aren't a ton of low-carb cereals out there, so when I discovered this delectable Cinnamon Pecan Keto Granola from The Granola Bakery, I was over the moon and my carb-heavy cereal FOMO vanished. If you've been craving something sweet, salty, and flavorful for breakfast, this treat awaits you.
---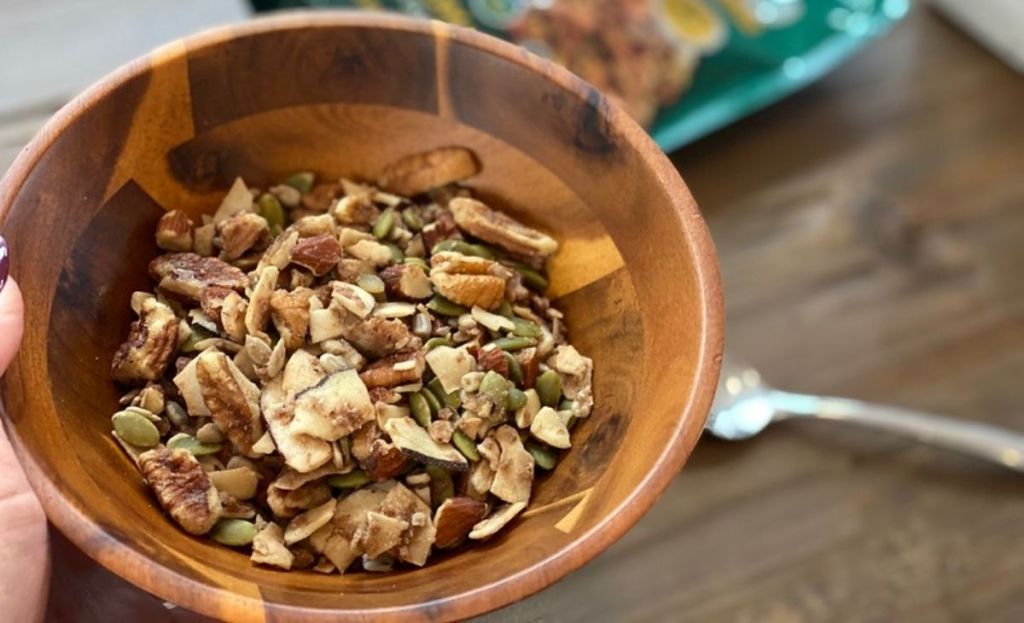 Meet the keto granola with the purest ingredients.
The more I've dived into keto ingredients and recipes, the more I've realized how many "dirty" keto ingredients there are in certain foods, and if you don't look at the nutrition label, your stomach will usually let you know in a matter of time that what you just ate wasn't very clean.
That's what I love so much about The Granola Bakery's low-carb granola. There aren't any suspicious ingredients that'll have you frequently visiting the toilet or feeling bloated all day. This is what I call a feel-good keto product!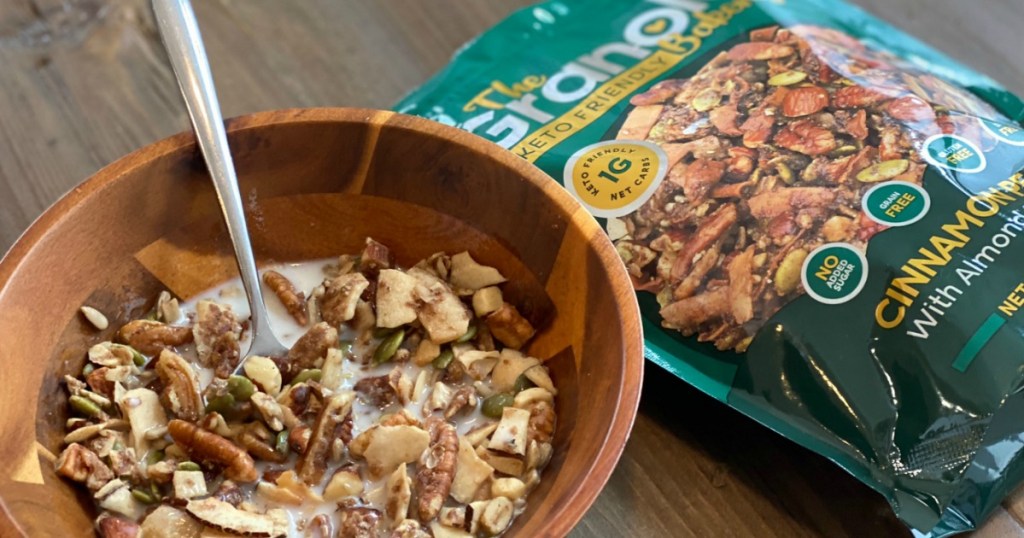 Serving Size: 1/3 cup | 160 Calories | 15g Fat | 8g Total Carbs | 5g Fiber | 1g Sugar | 2g Sugar Alcohols | 4g Protein | 1g Net Carb
Ingredients: Coconut chips, pumpkin seeds, almonds, pecans, sunflower seeds, unrefined coconut oil, erythritol, chicory root fiber, coconut milk, Ceylon cinnamon, French sea salt, monk fruit extract
"LOVE this granola!!! I've been on keto for a few years and this is by far one of the best keto-friendly options I have found. Crunchy and delicious – packed with excellent ingredients, grain-free, healthy fats, and only 1 net carb per 1/3 cup serving." – Amazon reviewer
---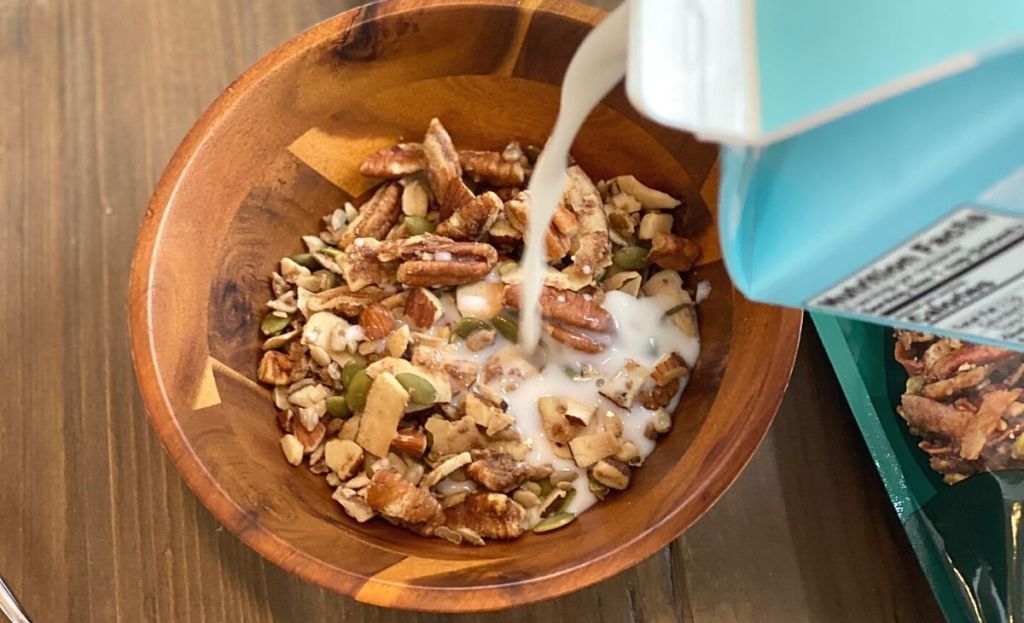 It's more than just a keto cereal.
Pour some unsweetened almond milk over your Cinnamon Pecan Keto Granola and you've got yourself a tasty low-carb breakfast, but this crunchy goodness also makes a great midday snack. The texture and the size of the granola pieces are actually very reminiscent of trail mix and taste just as delicious eaten alone.
My kids even love this low-carb granola and will eat it by the handful as an afterschool snack, and if I can keep them away from the sugary snacks, that's a mom win! 🙌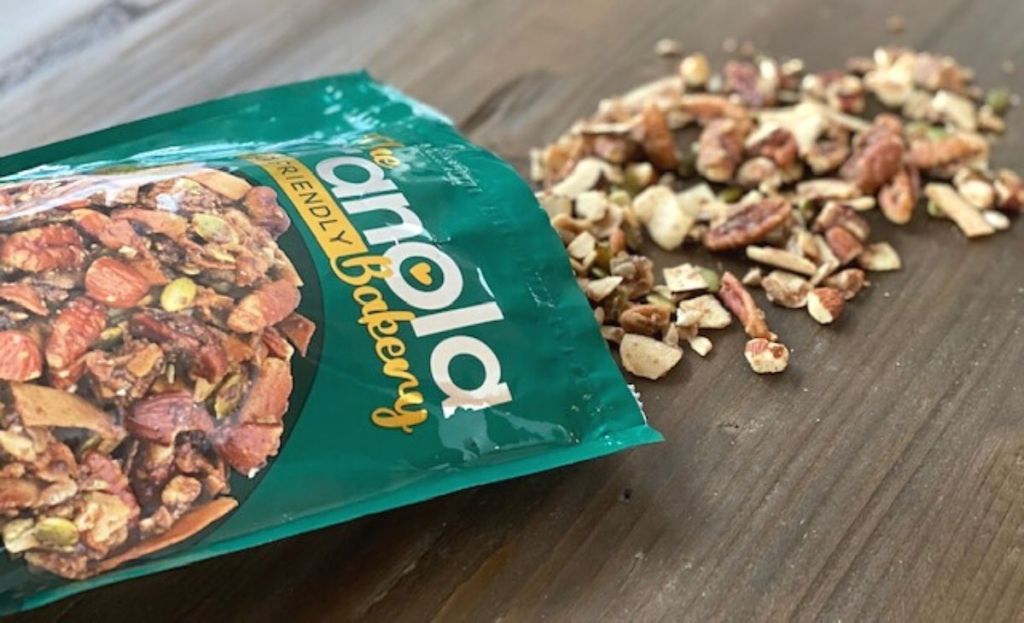 You can also bake with your low-carb granola and use it in cookie, pancake, and muffin recipes to add a little extra crunch or just sprinkle it over some keto ice cream for a super yummy dessert.
"This product is fresh and absolutely delicious! In the world of pre-made keto choices, this is my #1 favorite. A small amount in some plain yogurt is a decadent and satisfying dessert. The portion size is worth every penny." – Amazon reviewer
---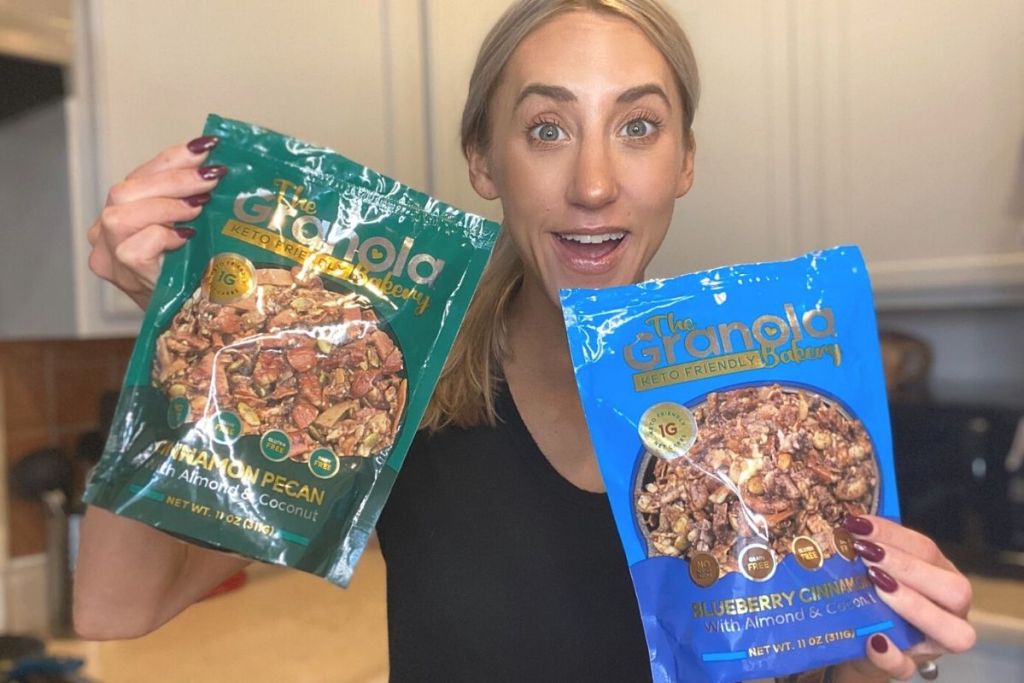 Why try one keto granola flavor when you can try three?!
That's right, The Granola Bakery has crafted not one, but three appetizing low-carb cereal flavors for us to enjoy and they all contain just 1 net carb per serving! Woohoo! I get a little excited about different flavors and these ones are YUMMY!
Choose from the highly-rated Cinnamon Pecan blend or go for one of their fruity flavors—Strawberry Vanilla or Blueberry Cinnamon (another favorite of mine).
And no, this is not a sponsored post. I just had to share my love for this keto granola!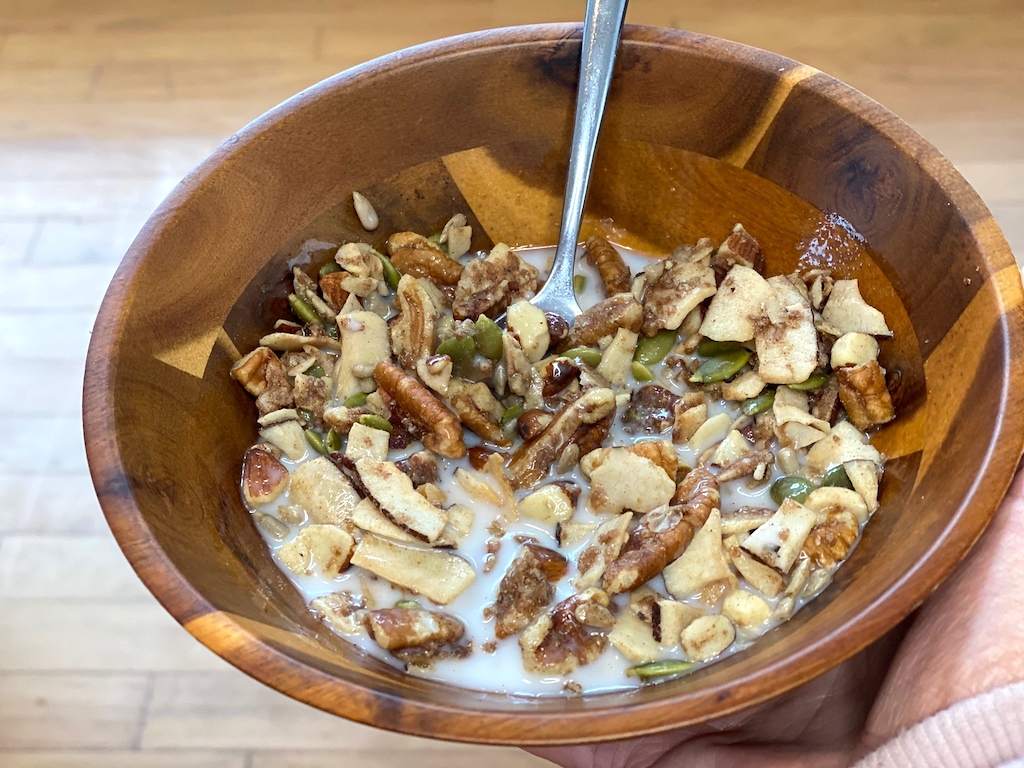 "Alright y'all, this is literally THE BEST keto snack I have ever had. I ate it with the low carb yogurt. Finally, a keto snack that doesn't taste eggy, like gritty almond flour, or have that gross stevia aftertaste. I'm in looovveeeeee- it's literally the best keto granola I have ever had hands down." – Amazon reviewer
---
Want more keto cereal? Check out these yummy Catalina Crunch flavors!