Catalina Crunch Has a New Keto Cereal Flavor… and It's Very Fruity!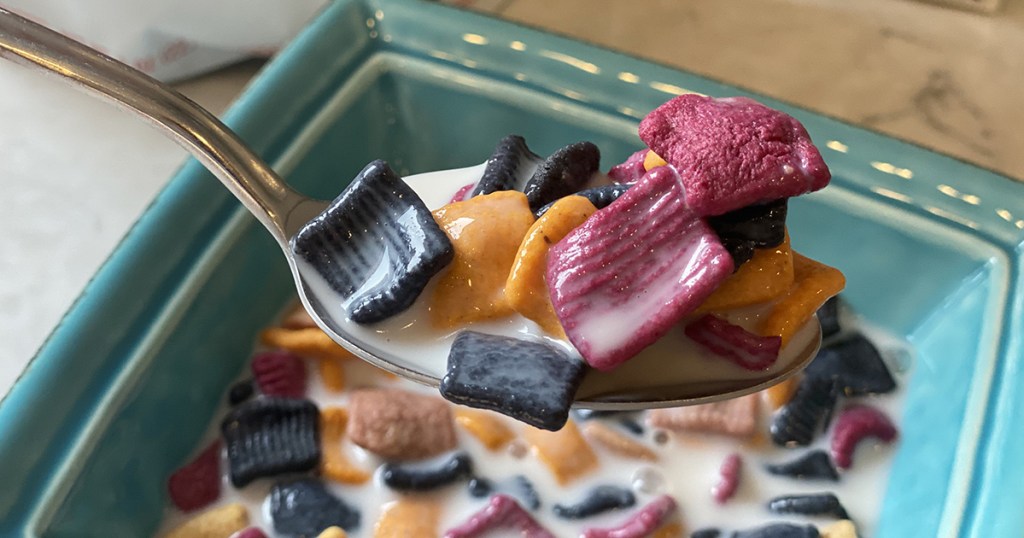 Keto cereal never tasted so good!
It's no surprise that cereal isn't something you can often enjoy on a ketogenic diet. It's loaded with carbs and sugar, and one bowl is enough to ruin your diet for the entire day. That's where Catalina Crunch Keto Cereal steps in to save the day (or at least the morning)!
We were already huge fans of this tasty low-carb cereal, but the new Catalina Crunch Fruity flavor is really something worth celebrating! Some say it tastes like fruity pebbles, while others say it tastes like fruit loops. Either way, it's fruity magic and we're forever grateful to the chefs over in the Catalina Crunch kitchen for making keto breakfasts more exciting for us! 💃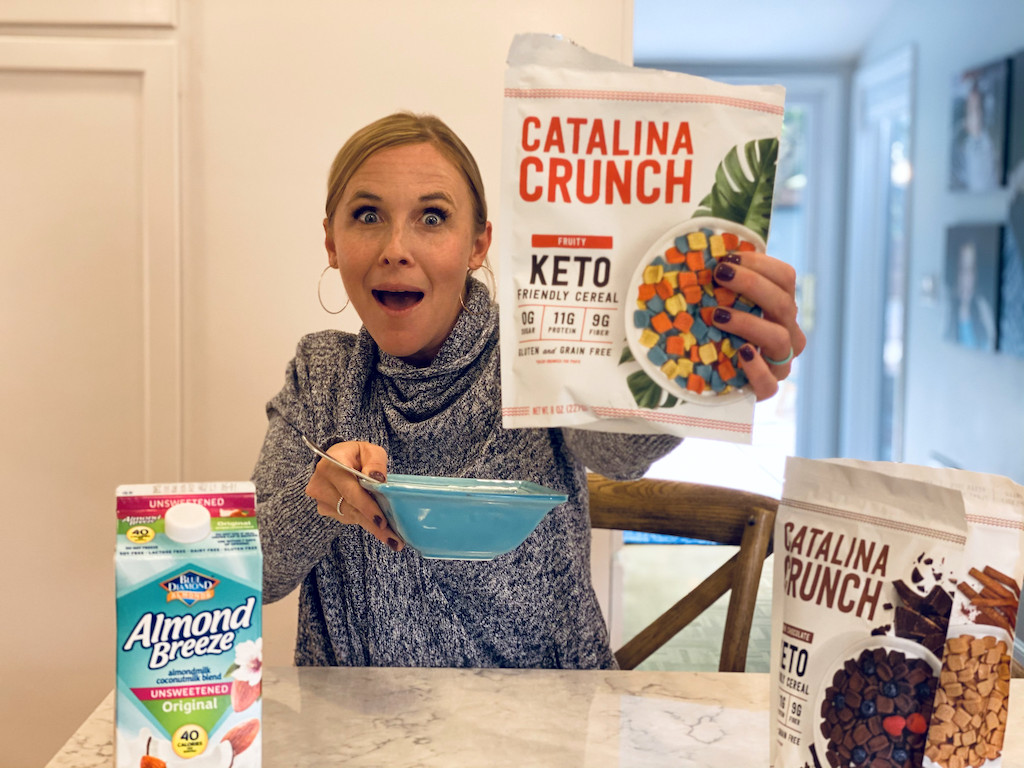 Catalina Crunch Cereal is keto-friendly and has zero added sugar, is grain-free, gluten-free, 100% vegan, and non-GMO.
"Oh how I love a good cereal crunch and this new fruity flavor is awesome! All the flavors are delicious, and I love how crunchy they stay even when swimming in a bowl of unsweetened almond milk. It's honestly just as delicious eaten by the handful!" – Collin
---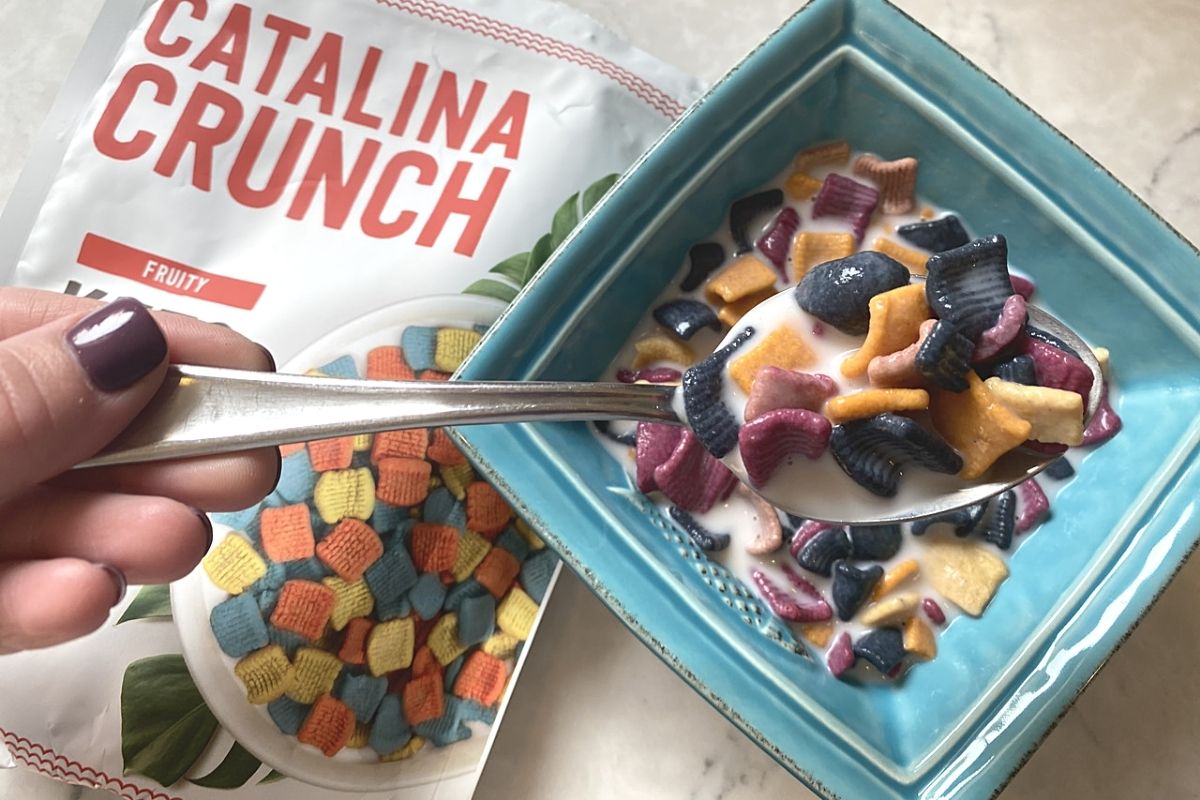 Catalina Crunch is a shameless sweet treat every low-carber needs in their life.
Believe it or not, this fruity keto cereal is just as delicious as it looks. It's got all of the crunch and none of the sugar. It's so good that Catalina Crunch enthusiasts have to hide it from themselves for fear of eating the whole bag in one sitting.
Start your morning with a bowl of fruity low-carb cereal or gobble it up as a midday snack or post-dinner treat. You really don't need an excuse to get your spooning on with this tasty stuff.
---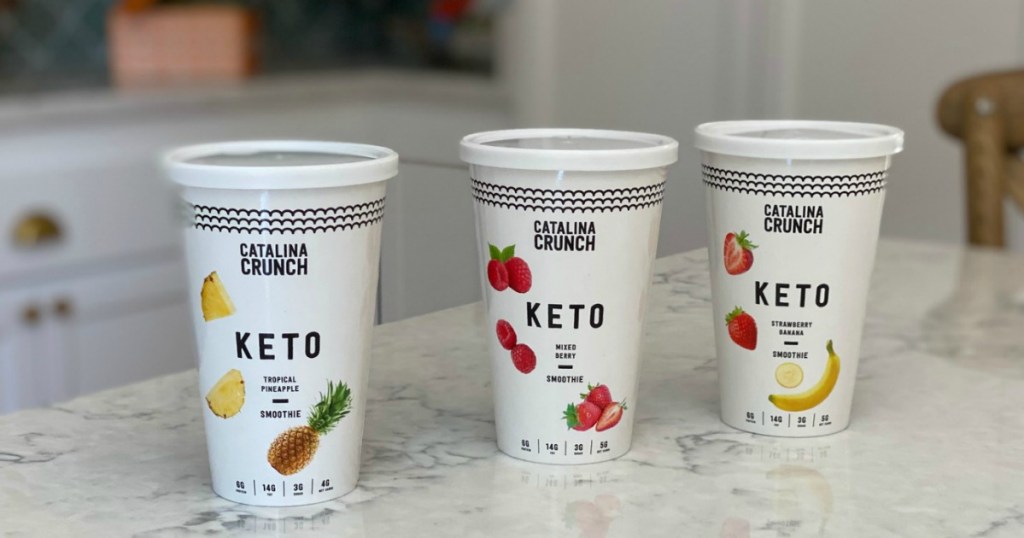 But wait, there's more Catalina Crunch goodness to enjoy!
Crunchy keto cereal isn't the only yummy thing that Catalina Crunch has in store for us. If you've been missing smoothies that are high in sugar, you can now get your fix with Catalina Crunch Keto Smoothies, too! These low-carb smoothies are great to have on hand for a quick breakfast on the go and are available in three delicious flavors.
Each Catalina Crunch Smoothie is packed with antioxidants, vitamins, and minerals that your body needs. Every smoothie has three cups of spinach and freeze-dried whole fruits and vegetables, plus brazil nuts. Whether you like to drink your breakfast or you need a little sustenance after a workout, these keto smoothies are sure to give you a good boost.
---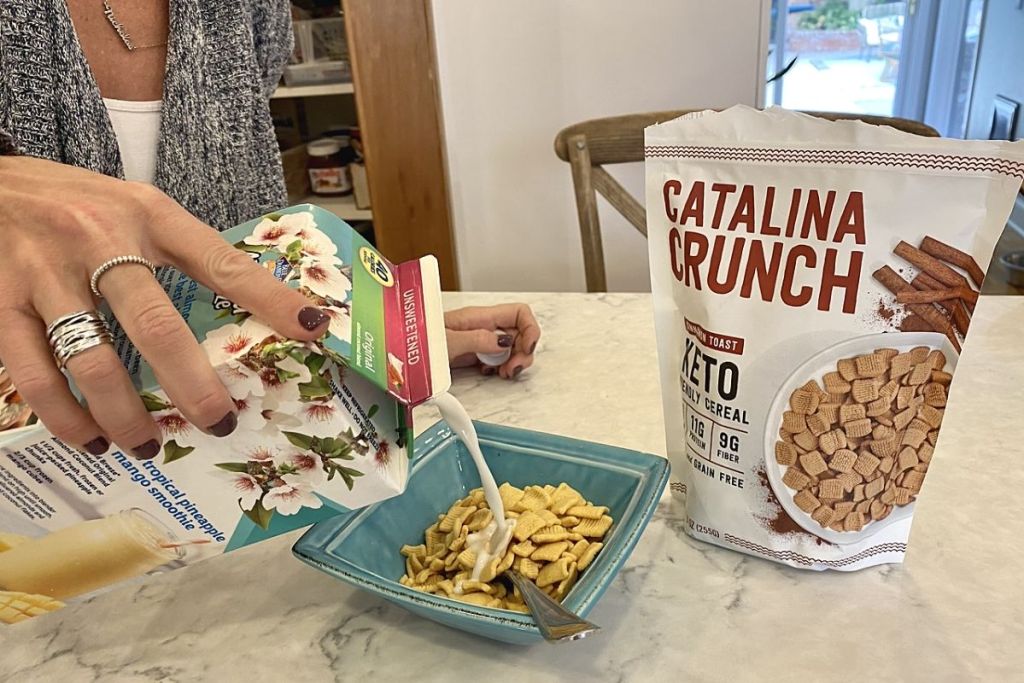 What's sweeter than keto cereal and smoothies?… A deal on keto cereal and smoothies!
For a limited time, you can save an additional 10% on Catalina Crunch products when you use our exclusive discount code HIP10 at checkout. Plus, this promo code can be combined with Subscribe & Save discounts for even more savings!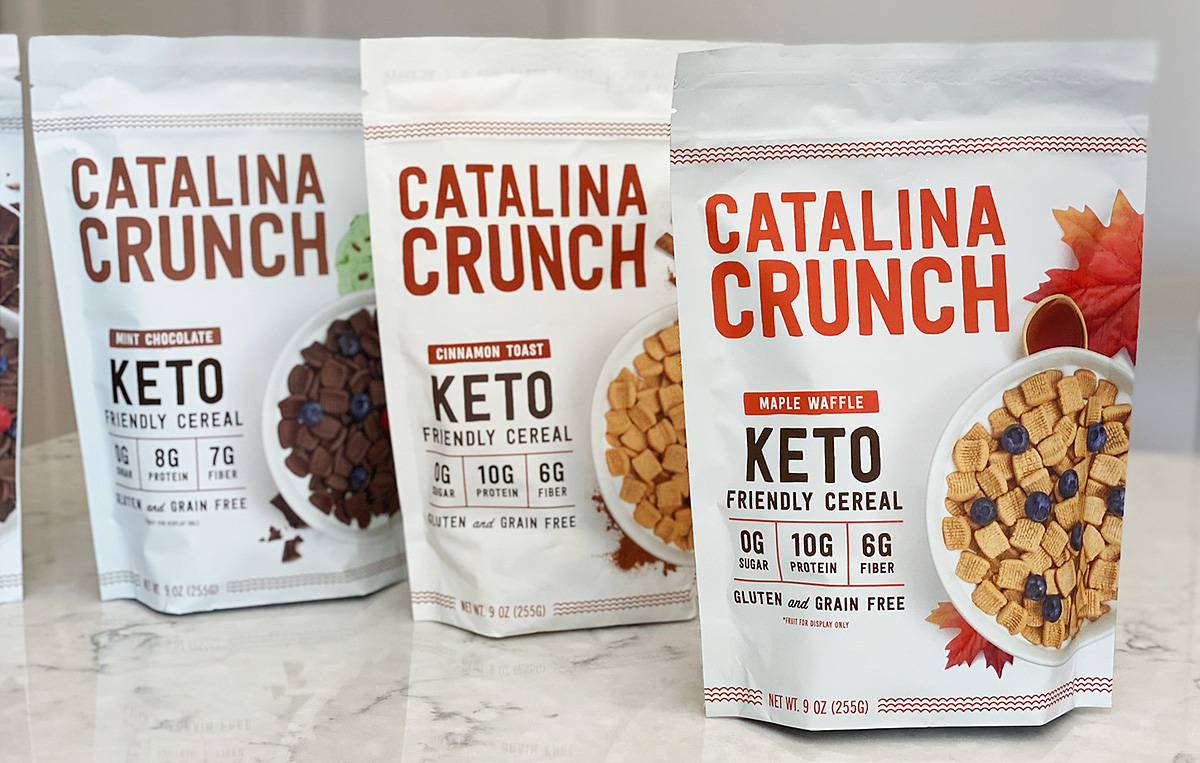 Catalina Crunch Cereal Nutrition: Serving Size: 1/2 cup | Calories: 110 | Total Fat: 6g | Total Carbohydrates: 14g | Fiber: 9g | Sugar: 0g | Protein: 11g | Net Carbs: 5g
---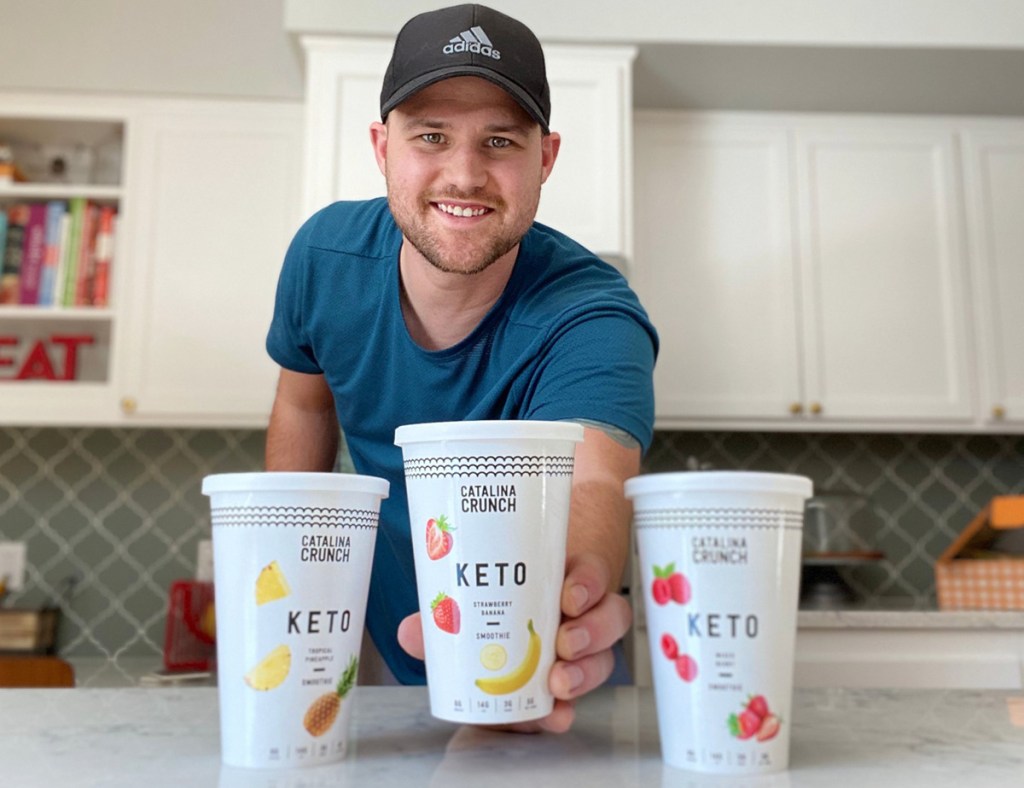 Catalina Crunch Keto Smoothie 12-Pack $99
Choose Subscribe & Save (10% savings)
Use promo code HIP10 (10% savings)
Shipping is FREE
Final cost only $80.10 shipped – just $6.68 per smoothie!
---
Simple ingredients, bursting with flavor!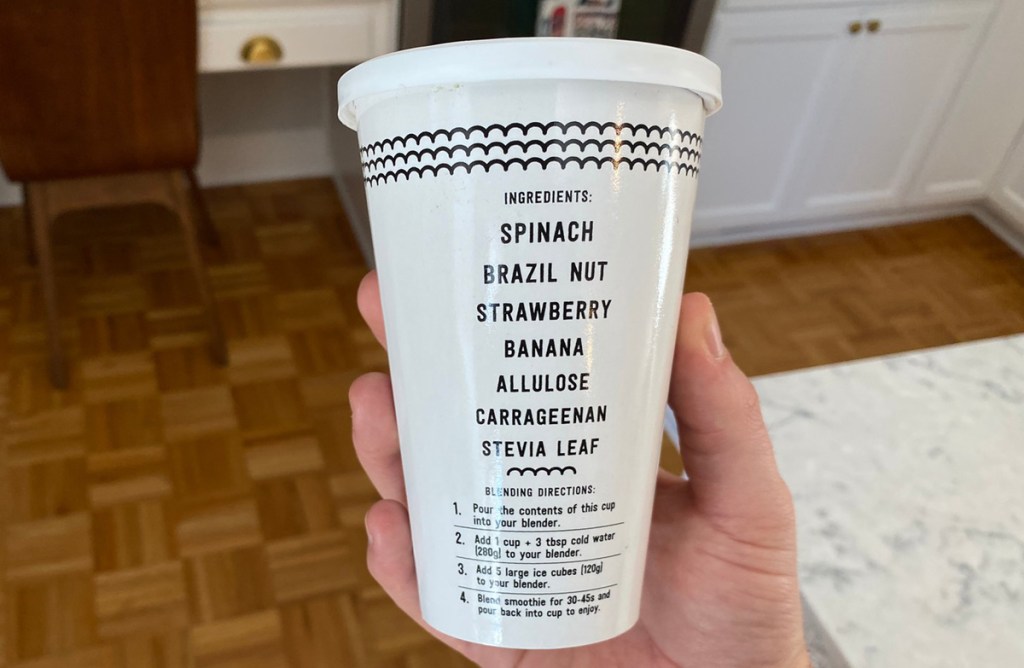 Catalina Crunch Keto Smoothie Nutrition: Serving Size: 1 Smoothie | Calories: 150 | Total Fat: 12g | Total Carbohydrates: 30g | Dietary Fiber: 7g | Sugar: 4g | Protein: 7g | Sugar Alcohols: 19g | Net Carbs: 4g
---
Check out these 10 foods that are surprisingly high in carbs!