I've Been Drinking This Mushroom Coffee for Months…& Here's Why (+ 20% Off Code!)
Renude makes rich, keto-friendly, and TASTY mushroom coffee with their Chagaccino! Don't knock it until ya try it…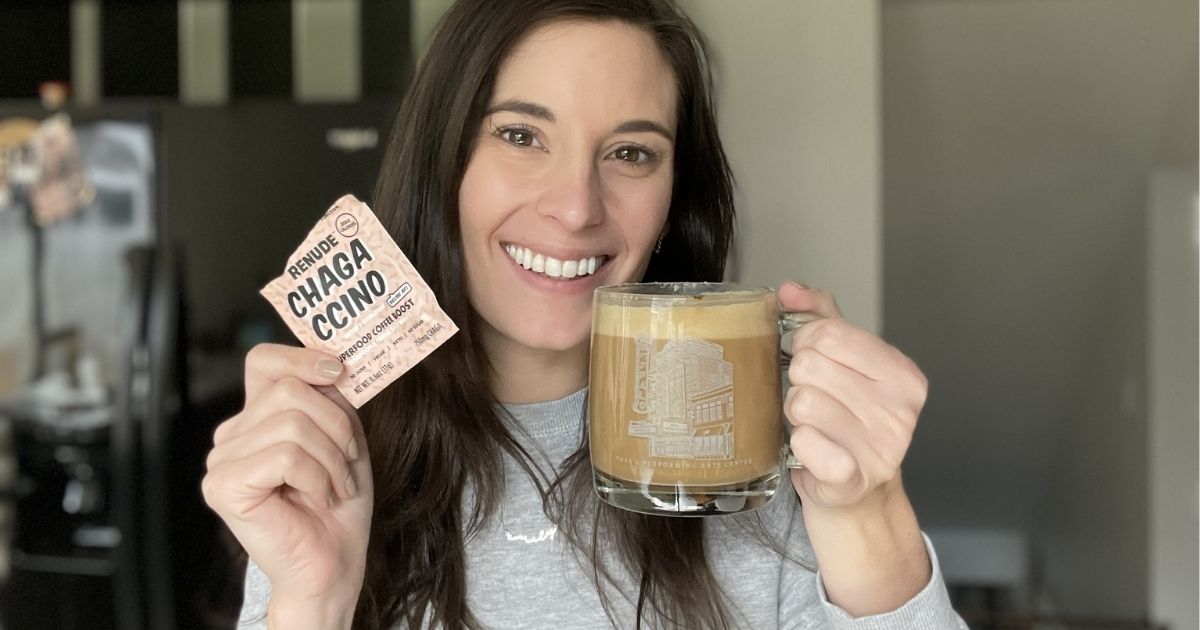 All aboard the Chaga train!
There's no denying that mushrooms are having a moment. Those mysterious little fungi are popping up in supplements, medicines, and health-enhancing tinctures everywhere you look–including your morning cup o' coffee!
The chaga mushroom in particular has been shown to provide some pretty cool health benefits to those who drink it, so I was super excited to try Renude's delicious take on a Chaga-ccino!
Better yet, you can save right now with our exclusive promo code HIP20 for 20% off their Chagaccino Coffee Booster Packets!
Renude Chagaccino 10-Pack $29.99
Use promo code HIP20 for 20% off at checkout
Final cost just $23.99!
*Flat rate shipping is $4.99
Or pick up this holiday bundle as a sweet gift idea!
Chagaccino Gift Bundle $49.99 (regularly a $74.99 value)
Use code RENUDE5 for 5% off at checkout
Get FREE shipping
Final cost just $47.49!
---
What is Chaga and why is mushroom coffee a thing?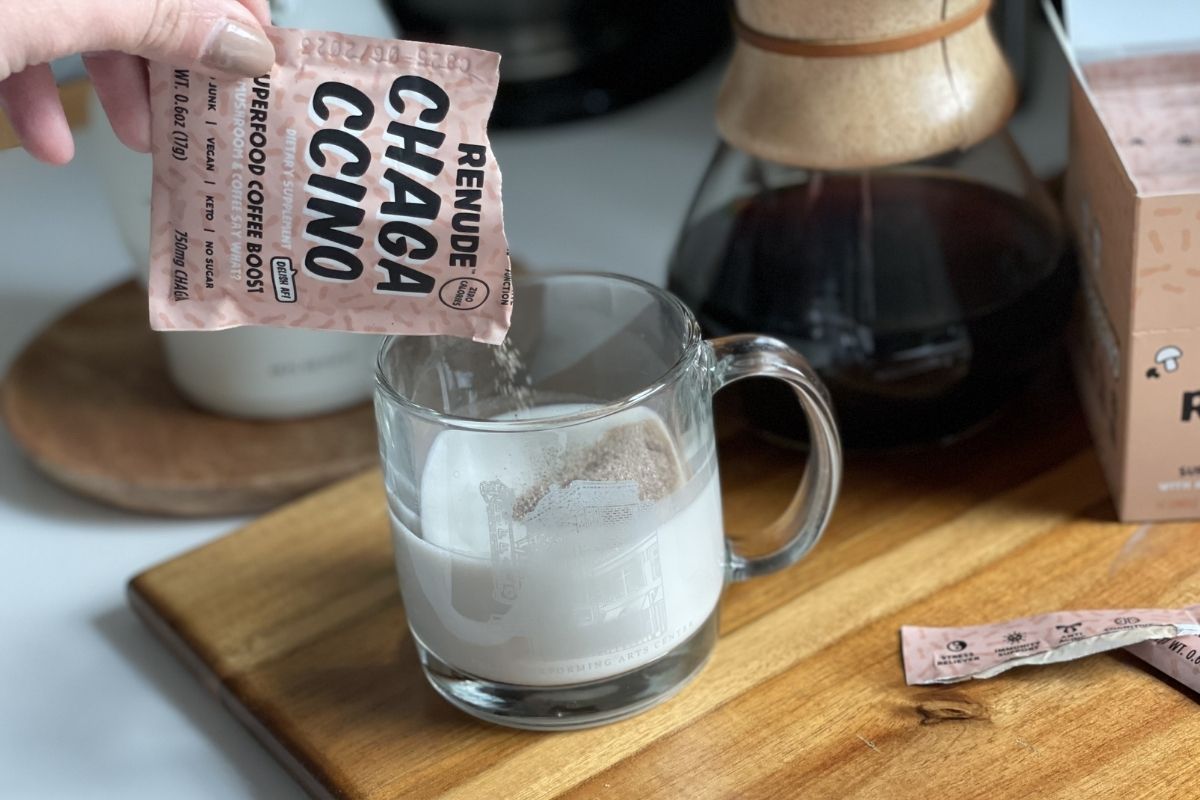 Chaga is a type of mushroom that's been used medicinally in other countries as an immunity booster for centuries. It's definitely not the prettiest mushroom–in fact, it sort of resembles a big lump of coal 😅–but don't let that fool you! It's actually packed with fiber and antioxidants.
Some of the potential benefits of Chaga include:
Boosting immunity & reducing inflammation. Some studies have shown that Chaga mushrooms can stimulate white blood cells and assist them in fighting off infections.
Lowering blood sugar. While there haven't been enough human studies to confirm anything, some experiments performed on mice showed a significant decrease in blood sugar levels in just a few weeks.
Reducing cholesterol levels. Again, we don't have enough evidence to 100% confirm that Chaga has the ability to lower cholesterol, but some studies have shown that it definitely has potential!
As of late, this mushroom has been finding its way into coffee, though the earthy nature can definitely leave that murky coffee mug looking a bit more murkier… and taste like it too. 🤢
Luckily, there's an easy, keto-friendly way to upgrade your morning coffee to not only an absolutely delicious drink, but also an inflammation-fighting caffeinated beverage, all thanks to the Chagaccino. ☕
---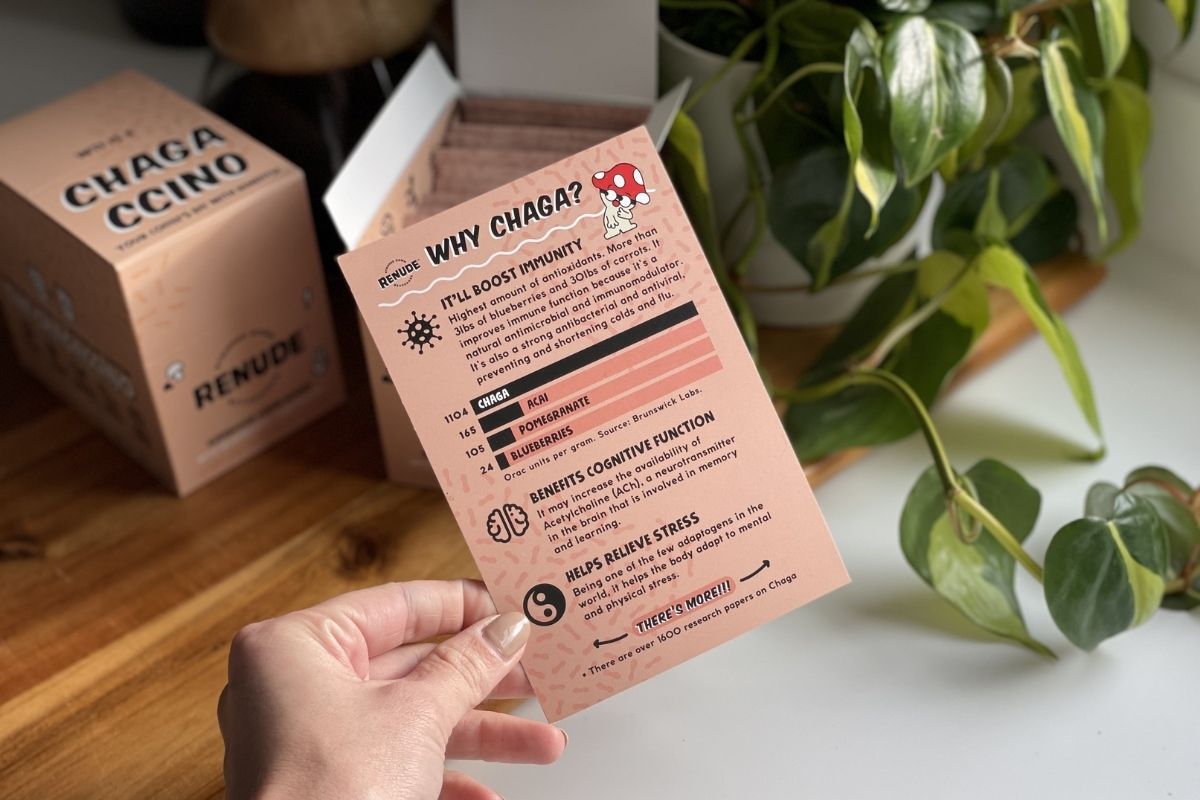 Super high-quality ingredients with no sugar, calories, or mystery ingredients? Ummm yes please, I'll have another cup of that!
Each Renude Chagaccino packet is flavored with Ceylon cinnamon, another blood-sugar-lowering superfood. It's also a little less intense than the Cassia cinnamon often found in the spice aisle and trades that "hot" taste for one that's a little more citrusy. This definitely brightens up the flavor of this mushroom coffee–and my mornings. 😉
You can read a little more about Ceylon cinnamon and check out our recipe for keto Snickerdoodle Fat Bombs here!
Better yet, Renude uses erythritol to sweeten their mushroom coffee mixture, so you don't have to worry about a blood sugar spike or upset stomach first thing in the morning. 🙌
Chagaccino Nutrition
(Can vary based on milk used)
Serving Size: 1 Sachet | 0 Calories | 0g Fat | 8g Total Carbs | 0g Protein | 0g Fiber | 0g Sugar | 8g Erythritol | 0g Net Carbs
Ingredients: Wild Foraged Chaga, Organic Peruvian Cacao, Organic Ceylon Cinnamon, Monk Fruit & Erythritol Sweetener Blend.
---
How do you make a Chagaccino?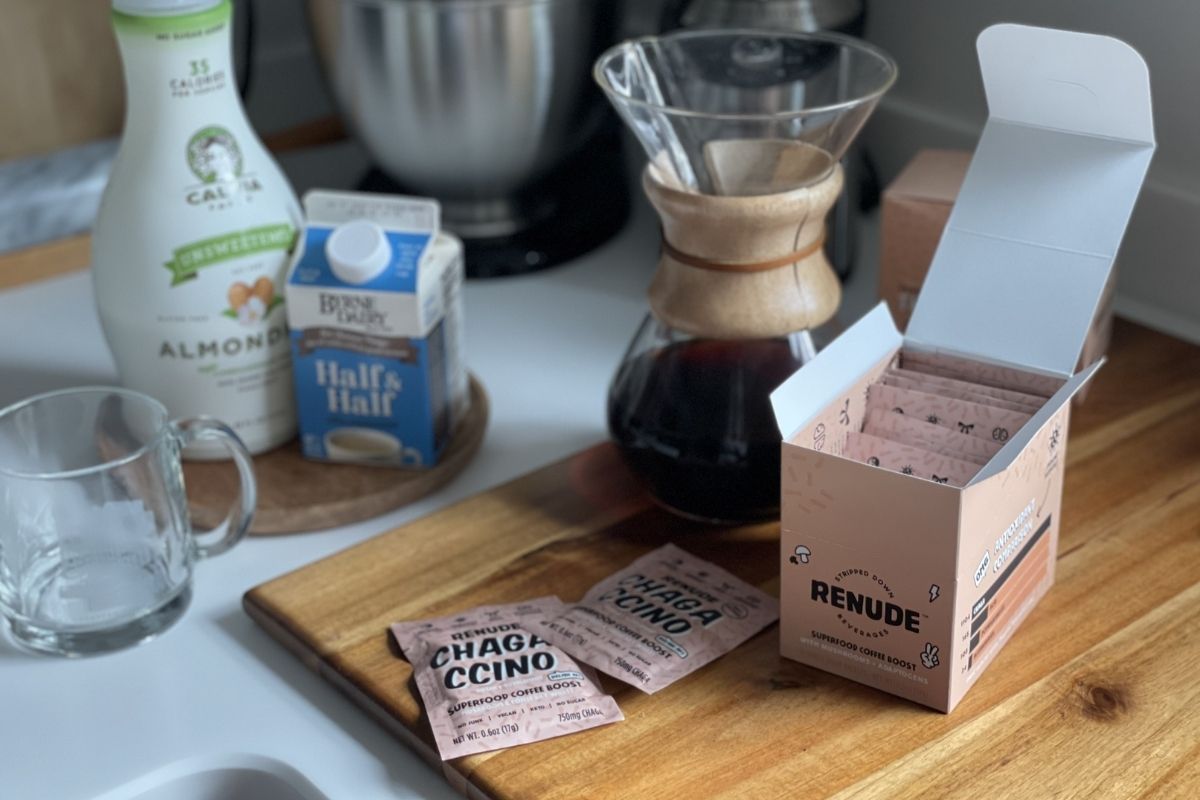 Everyone likes their coffee a little different, but you don't need anything too fancy to make a primo Chagaccino. We like to keep it simple after all, especially in the mornings! All you need to get started is a coffee or espresso maker, a Chagaccino packet, and your favorite type of milk.
---
Step 1. Brew coffee or espresso.
Before using the Renude Chagaccino, you'll first want to make some coffee. You can totally use drip coffee, but I LOVE my Chemex pour over coffee maker! It makes the smoothest cup I've tried yet, and I always look forward to my morning zen moment while slowly pouring the water over the coffee grounds. You could also make an Americano or Latte. Collin loves using her Breville espresso machine to make an Americano.
It's really up to you on this first step and comes down to how you prefer to brew your coffee (or espresso).
---
Step 2. Pour your milk in your cup & then add a Chagaccino packet.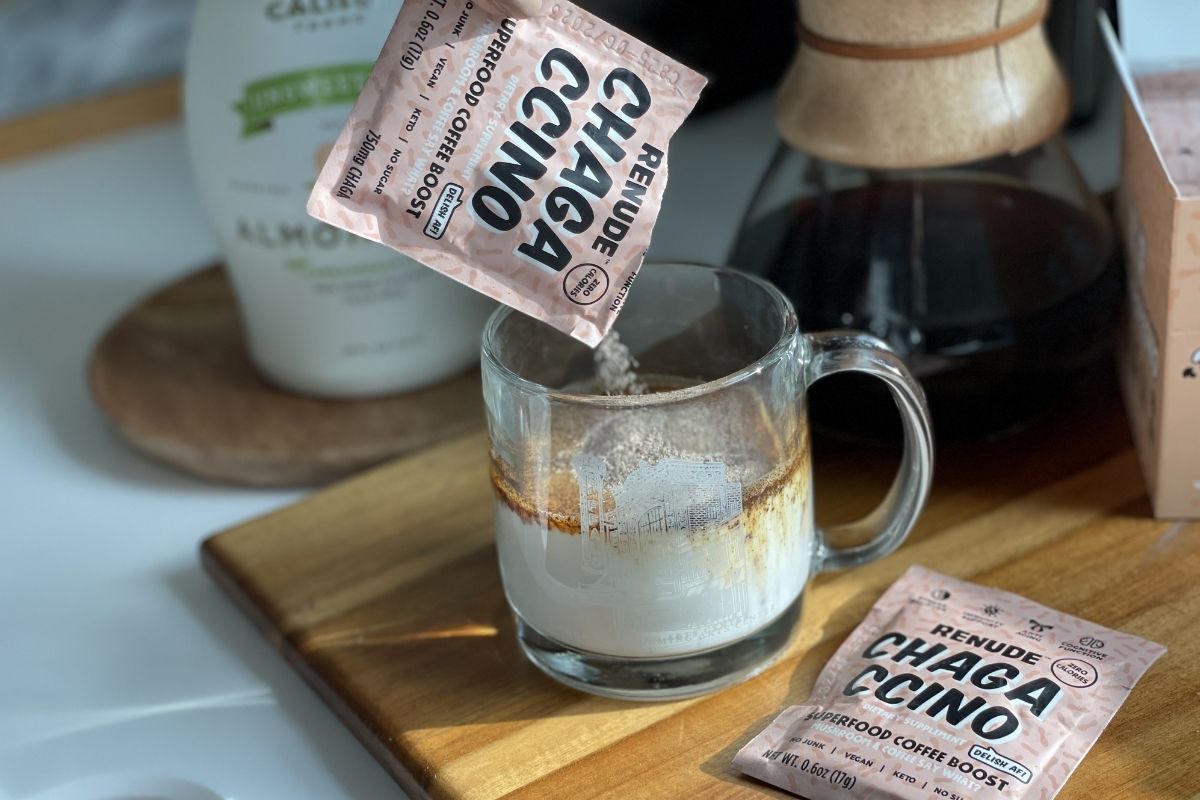 I think unsweetened vanilla almond milk goes really well with the flavors of the Chagaccino, but you can definitely use whichever keto-friendly milk you like. You can even throw in a splash of heavy cream if that's more your thing! I know Collin loves her steamed heavy cream. 🙌 Admittedly, I used a splash of half-and-half to thicken up some almond milk (I know, I know…not totally clean keto!).
After you pour the milk, just pour in a packet of the Chagaccino mix.
---
Step 3. Next, froth the mixture all together!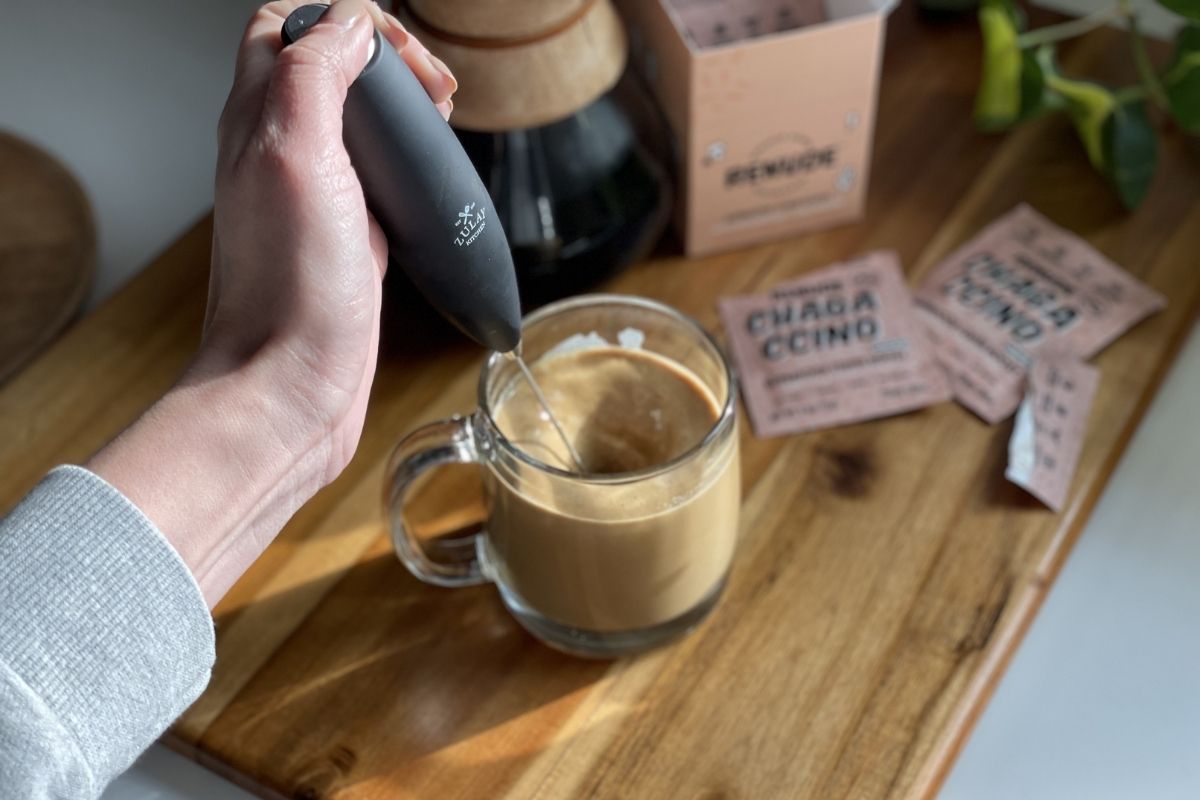 You can skip this step if you don't have a frother, but I find that it makes the Chagaccino extra blended & creamy! I use the Zulay milk frother from Amazon. To get a real cappuccino effect, I sometimes like to steam and froth the milk separately and then pour it over top. It is like… sinfully good.
---
Step 4. Add in some fresh coffee & you're good to go!
After I froth my milk and Chagaccino mix together, pour some fresh coffee over top, and that's it! It's so good and so easy to add to my morning coffee routine. 😋
---
So… how does the Chagaccino taste?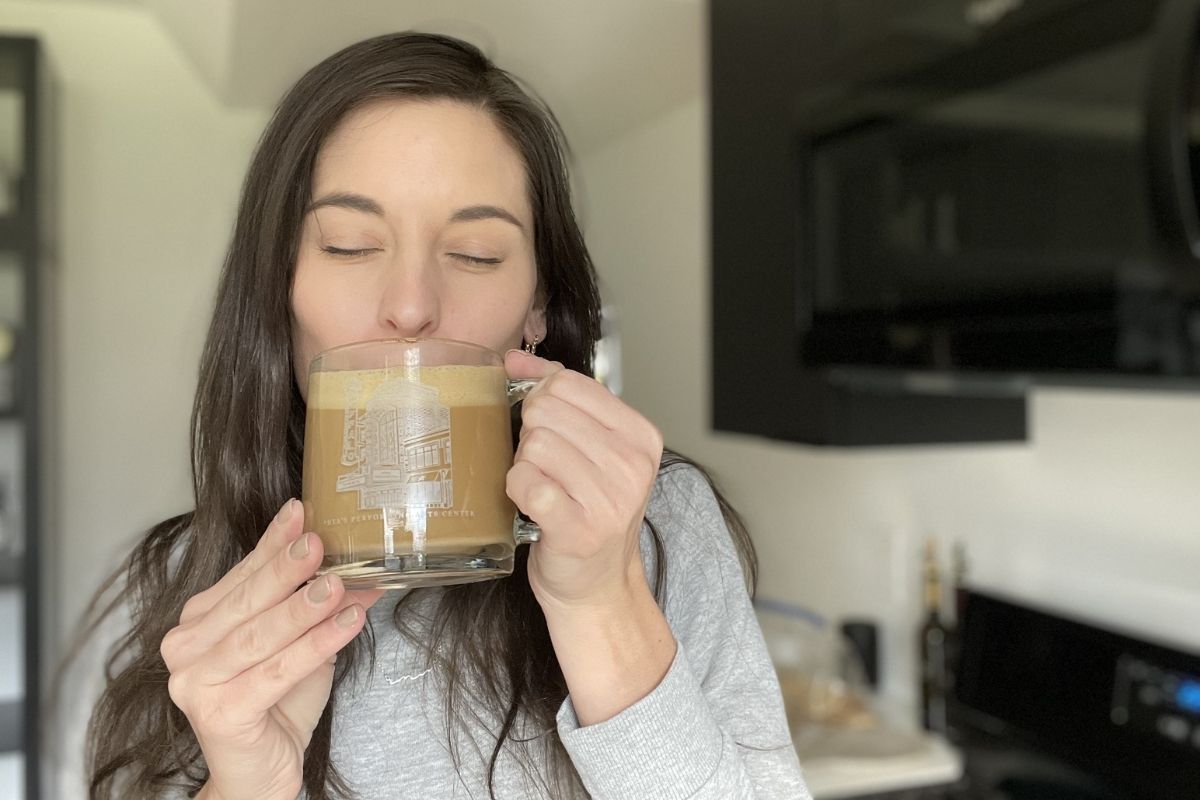 To me, the Chagaccino is like a warm cinnamon cappuccino and even for someone who prefers untouched black coffee in the morning, I've been drinking these mushroom coffees regularly. They can be made hot or iced, and while it seems like the brand promotes them typically iced, I have been loving them hot.
---
Does mushroom coffee really do anything?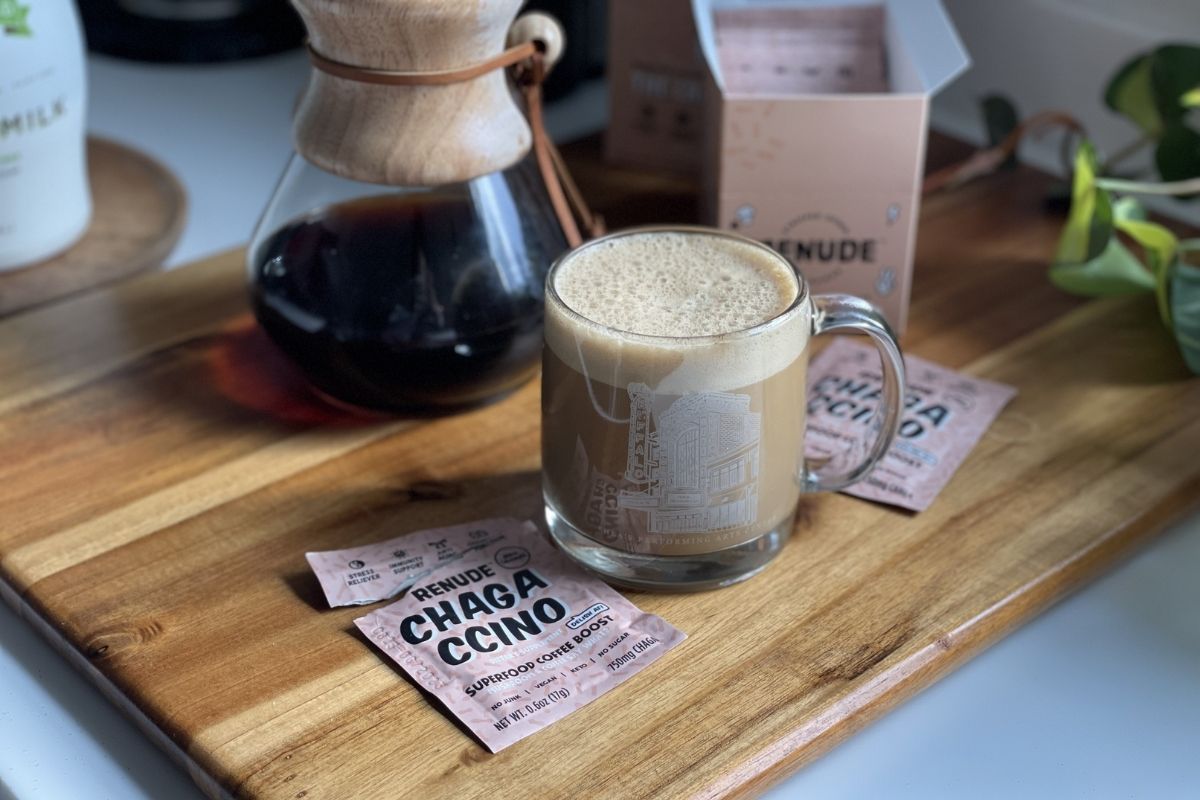 It could be a placebo effect, but I do honestly feel great on the days I have them! I'm someone whose mind can get very scattered through my day managing loads of projects and tasks, but when I have a Chagaccino in the morning, I feel like I'm much more focused.
Whether it's a placebo effect or not, it's really such a delicious treat and a nice change-up from my usual black coffee and could be great for someone who's tired of Bulletproof coffee too! That said, I could see this being a nice addition to a butter or coconut oil-fueled coffee by having the sweetness and spice from the Chagaccino packet. YUM!
---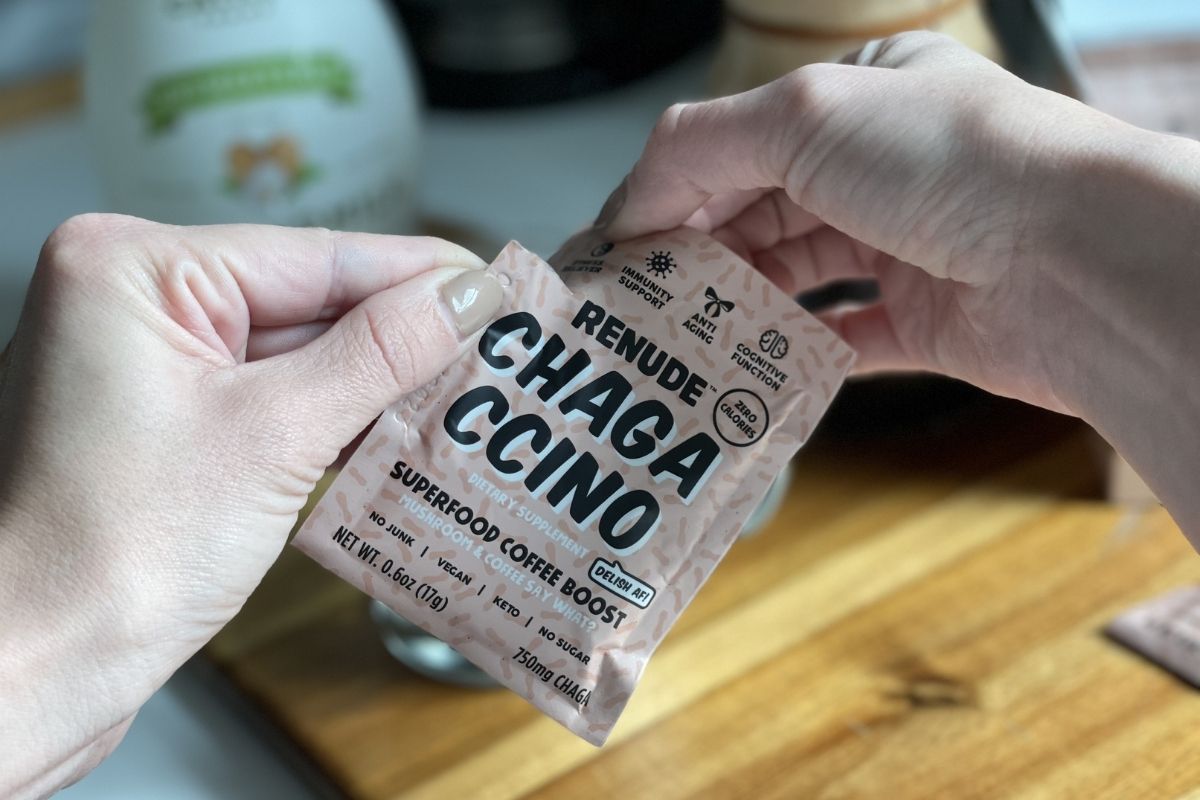 The best part? This is much more affordable and attainable than a Starbucks latte.
At under $3 per packet, not only do you save yourself a trip to the café, but you can customize it with the ingredients of your choice (i.e. no hidden sweeteners in your alt milk). Whatsmore, you're also saving about $2.50 vs buying a grande latte from the 'Bucks (which remember, isn't keto-friendly!) Now that's sweet!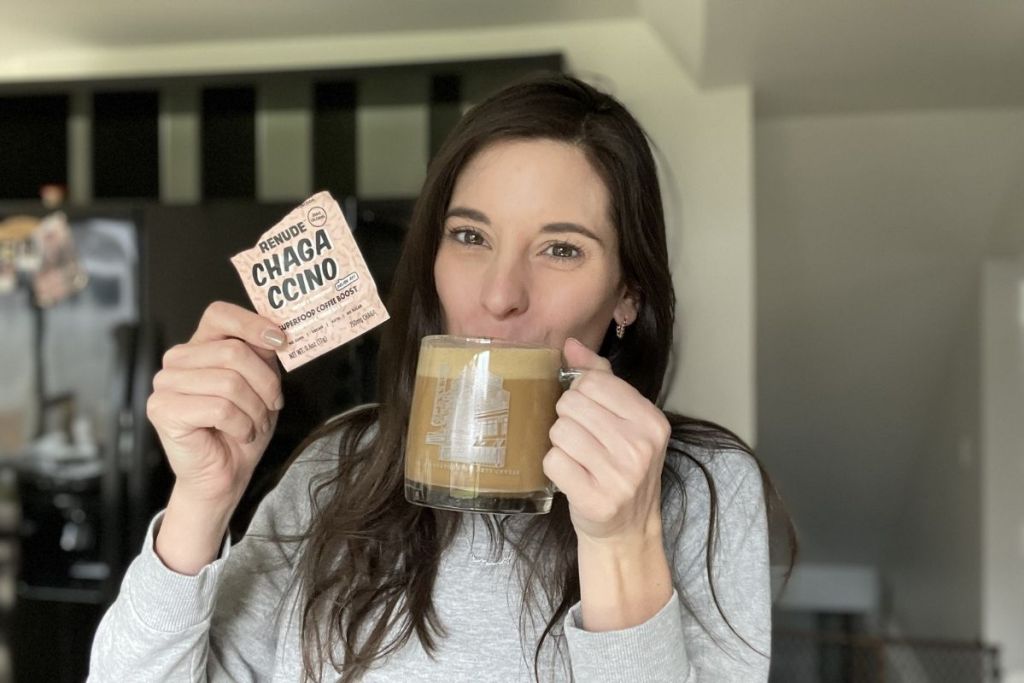 Sweet, affordable, healthy, and keto-friendly… what's not to love? Treat yourself to a Renude Chagaccino and let us know what you think!
Don't forget to use promo code HIP20 at checkout!
---
Make this homemade keto almond milk to add to your next Chagaccino!