Our Favorite Sugar-Free Pumpkin Spice Syrup Makes the Best Keto Lattes!
NuNaturals Sugar-Free Pumpkin Spice Syrup makes the absolute best keto pumpkin spice lattes!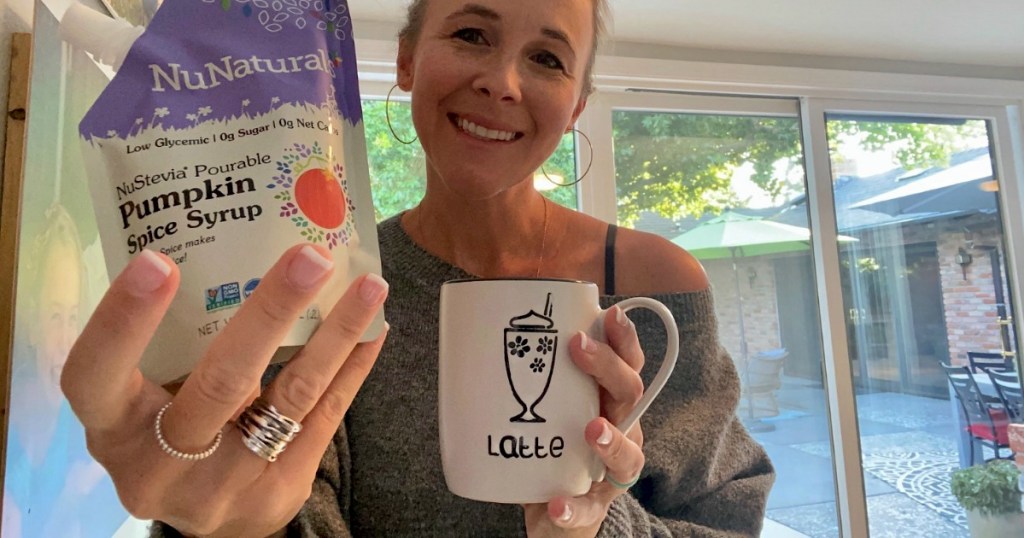 Me + this sugar-free pumpkin spice syrup = a match made in heaven.
This season's pumpkin products are off the charts, my friends! Every year, I get so excited when pumpkin goodies start making an appearance on store shelves (especially keto pumpkin goodies!) and let me tell you, this NuNaturals NuStevia Pumpkin Spice Syrup is one of my favorite things to enjoy this fall.
Just because you're eating a low-carb diet doesn't mean you have to suffer from pumpkin FOMO because this sugar-free pumpkin spice syrup is nothing short of AMAZING.
Heads up: I'm not being paid to say any of this. My team and I just happened to come across this syrup a little while ago and now we're hooked! 😍
---
You can score some awesome deals on this syrup too!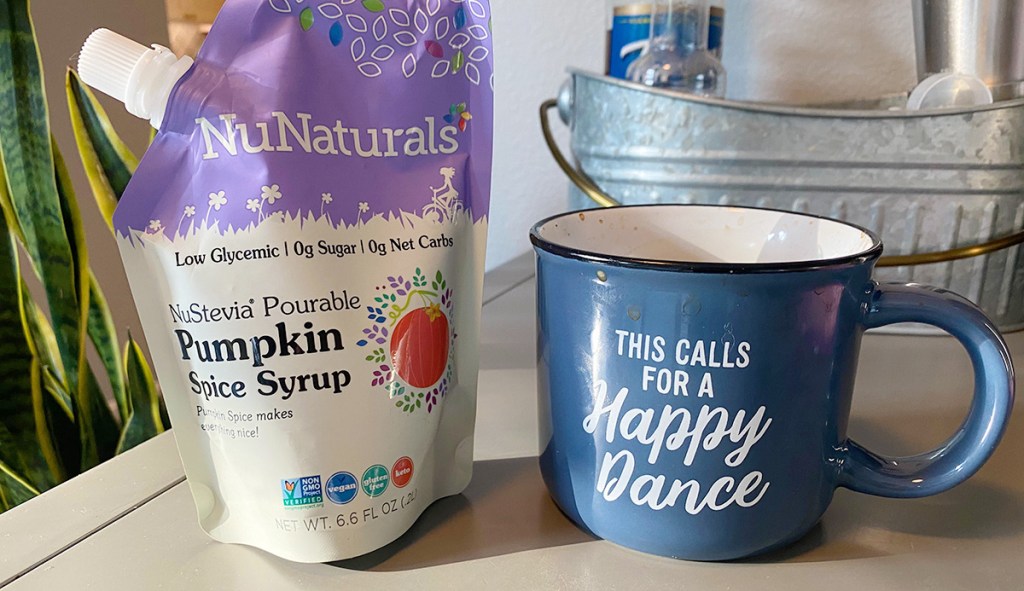 Or score the bottles from Pure Formula!
---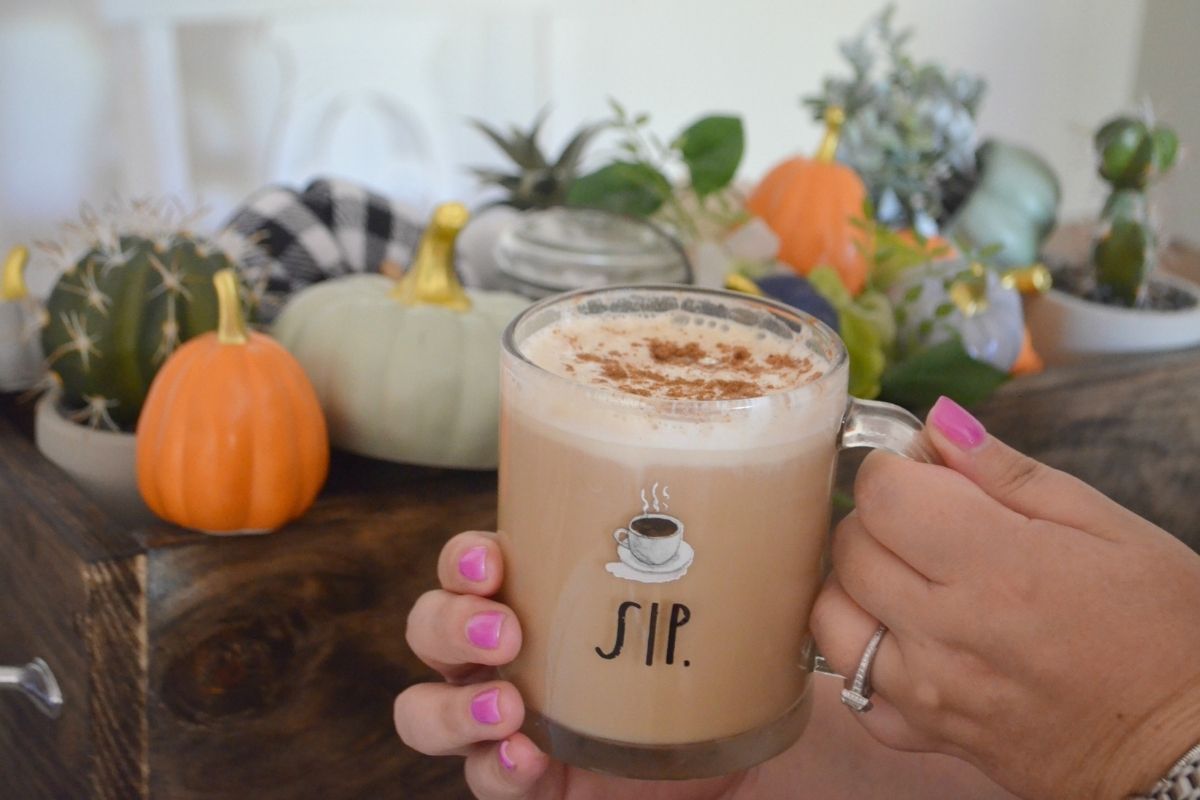 NuNaturals Pumpkin Spice Syrup Nutrition Info
Serving Size: 1/4 tsp. | 0 calories | 0g Fat | <1g Total Carbs | 0g Fiber | 0g Sugar | 0g Protein | <1g Net Carbs
Ingredients: Glycerin, water, stevia extract, extracts of cinnamon, ginger, nutmeg, allspice, clove, organic acacia gum, organic guar gum, and xanthan gum.
If that serving size looks small to you, don't worry! The syrup is super concentrated so a little really does go a long way. According to the NuNaturals website, 1/4 teaspoon of NuNaturals Pumpkin Spice Syrup is equal to 2 teaspoons of regular sugar.
---
I was skeptical about the flavor at first, but now I can't get enough of this keto-friendly syrup. 😍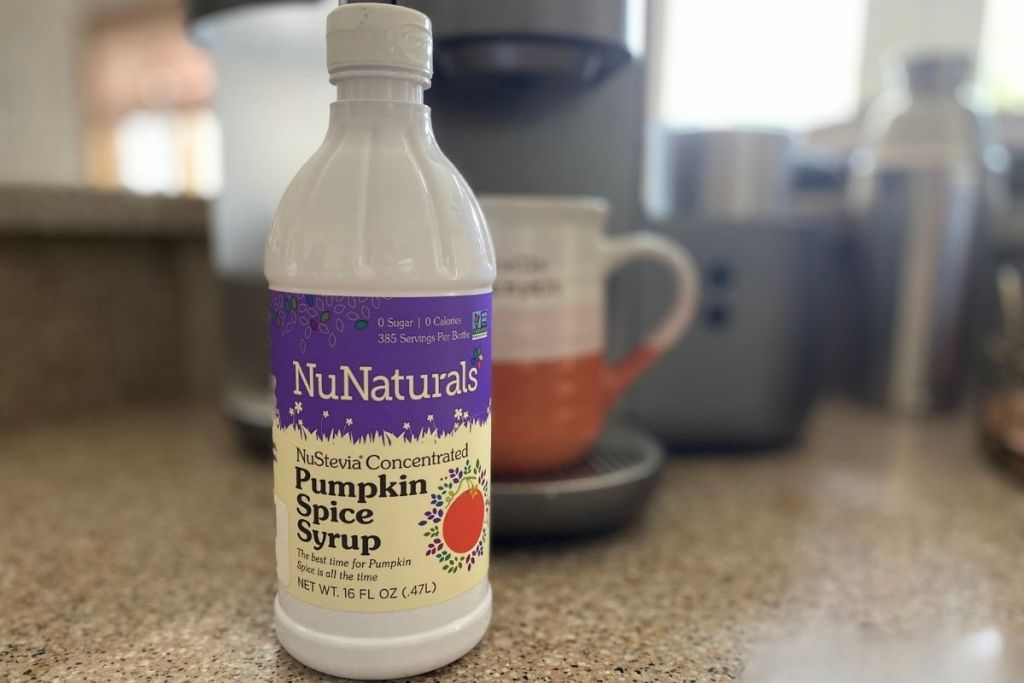 I'll always keep it real with you guys and let ya know when something misses the mark on texture or flavor, but I have absolutely no complaints about this keto pumpkin spice syrup!
A lot of sugar substitutes leave you with a less-than-desirable aftertaste, but that is not the case here. There are no weird or artificial flavors lingering in your mouth afterward thanks to the smart ingredient selection. 🙌 The blend of spices and extracts really captures the authentic flavors of the season and it's something to savor!
I'm usually envious of those who are enjoying their Starbucks pumpkin spice lattes, but not anymore! I love that I can enjoy a very similar pumpkin spice latte at home this fall, but with NO sugar!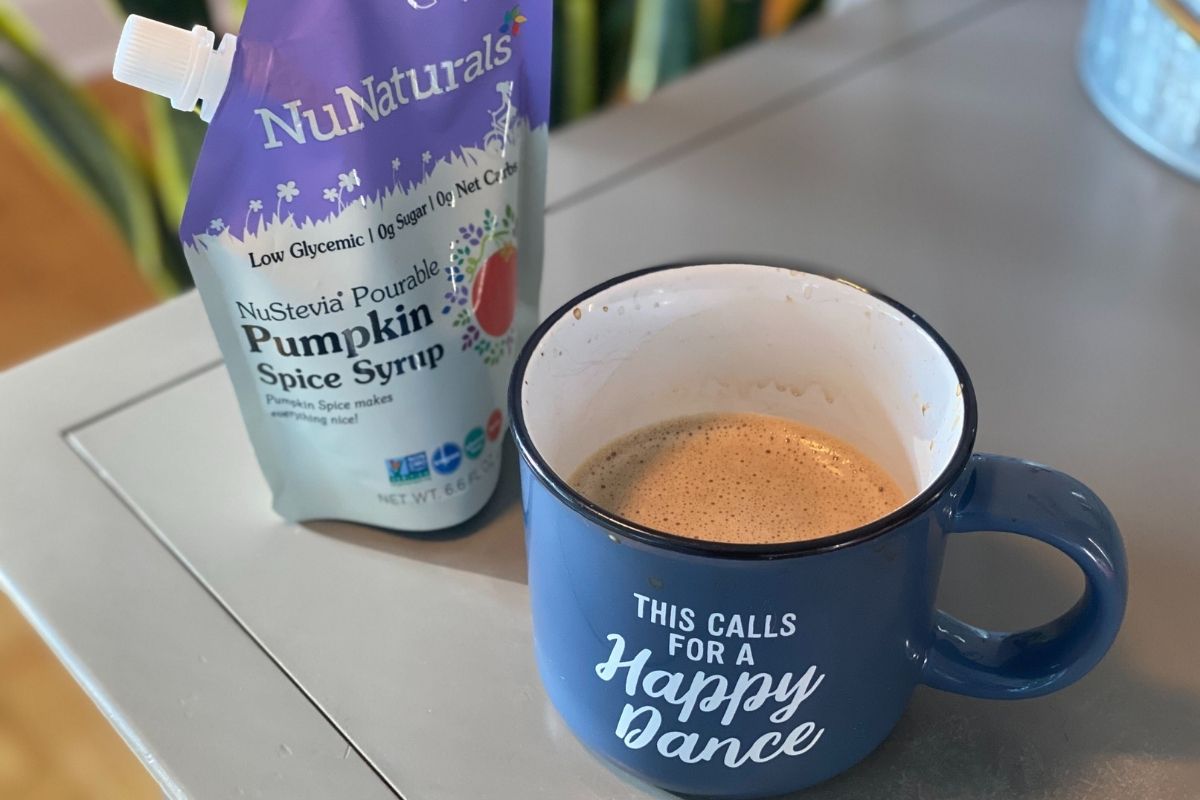 You already know I love a good keto pumpkin spice latte, and this syrup makes the absolute best Starbucks copycat that's also super easy to make! I like to whip up an Americano with my beloved Breville Espresso Machine, but you could also just make a regular cup of coffee. After that, all I do is add a little bit of steamed heavy cream, about 1 teaspoon of the sugar-free pumpkin spice syrup, and then – because I like things really sweet, I also add in a few drops of liquid monk fruit sweetener.
That's it, and within minutes, I'm transported to pumpkin-spice heaven. ❤️
For the sake of your taste buds, I hope you get yourself some of this stuff so you can experience for yourself how delicious it is!
---
Our Hip team loves this stuff, too!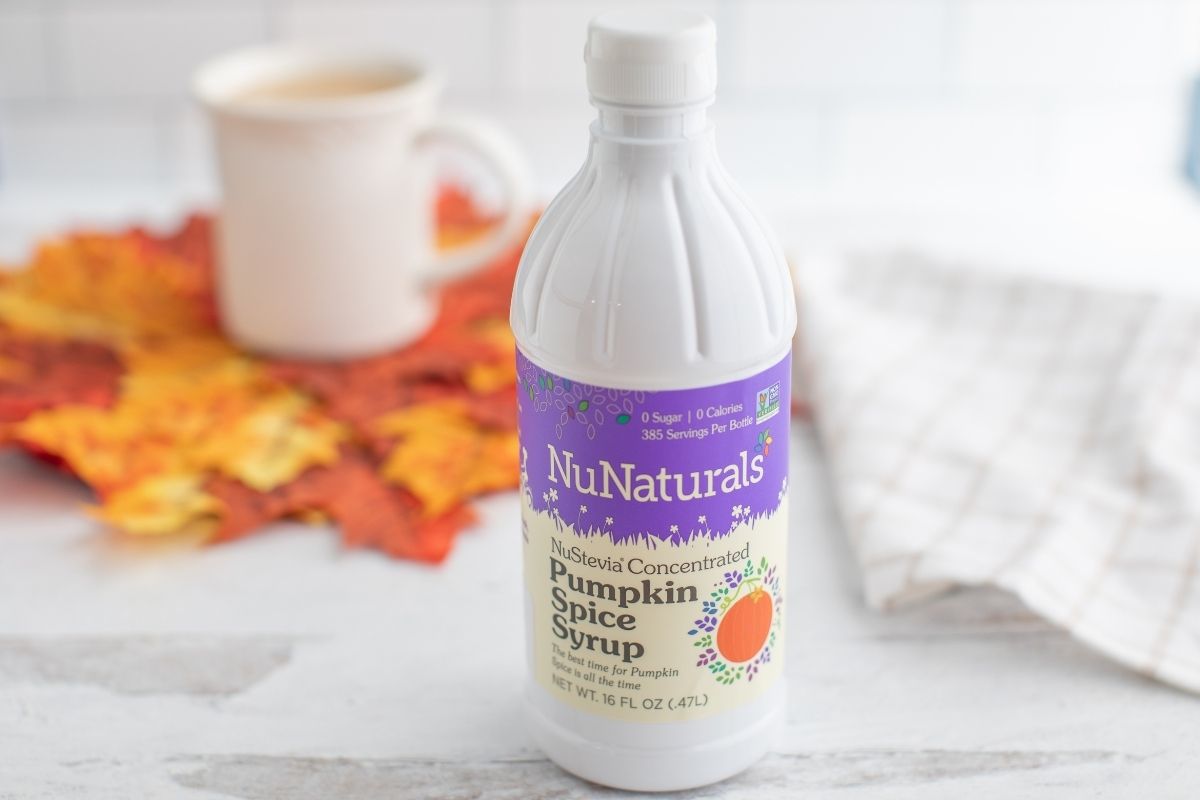 I'm not the only one that's crazy about this syrup. It's become a fast favorite amongst a couple of our other Hip team members and I wouldn't be surprised if the whole Hip family is pouring it in their coffee by the end of the season!
"I love this stuff! I've been guilty of buying the 'sugar-free' syrups in the past that aren't so good for you… the ones with the not-so-great artificial sweeteners. I'm so glad that there are other options out there. Also, I'm loving how big the bottle is — I have used it quite often and there is plenty left." – Jenna, Hip sidekick
---
Ready to add this sugar-free pumpkin spice splendor to your cart?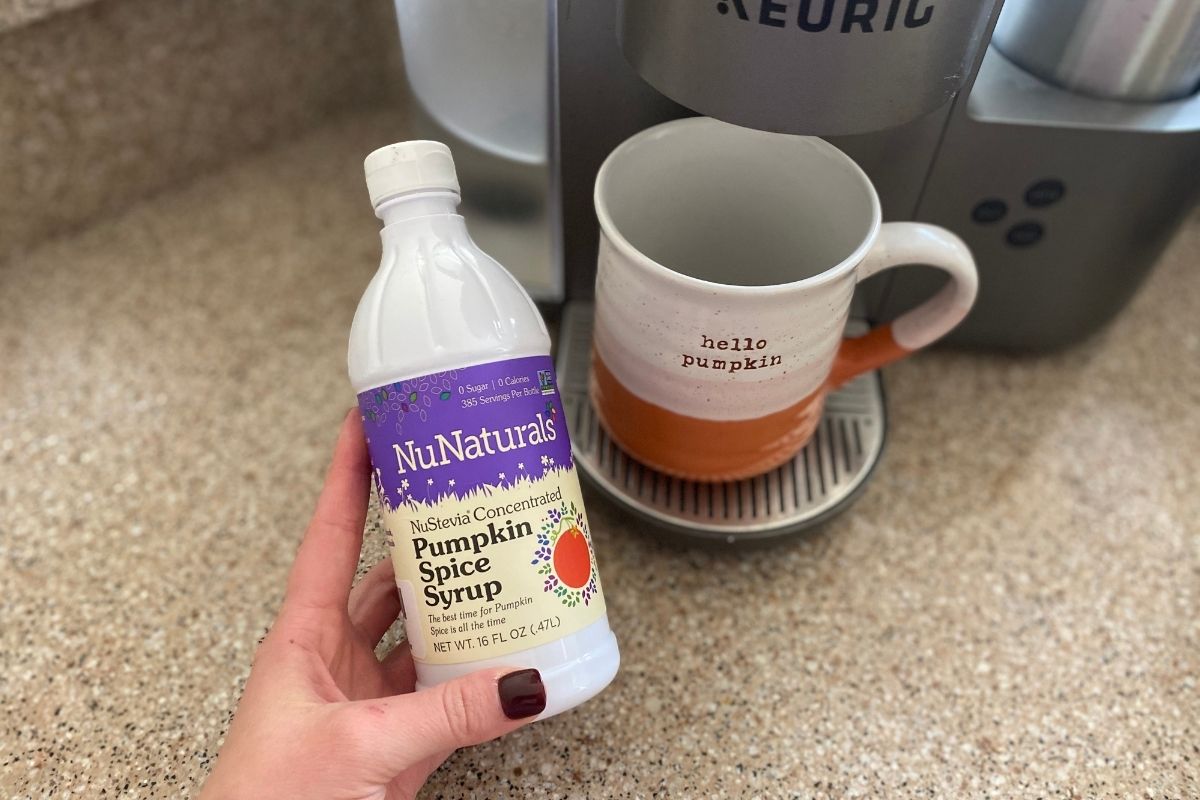 You can currently find the NuNaturals NuStevia Pumpkin Spice Syrup on sale at Amazon, but it's also available on these other sites if you prefer them!
Pssssst! If you've never ordered from Vitacost before, right now you can create a free account, subscribe to their newsletter, and score 20% off your first order + FREE shipping on orders over $49!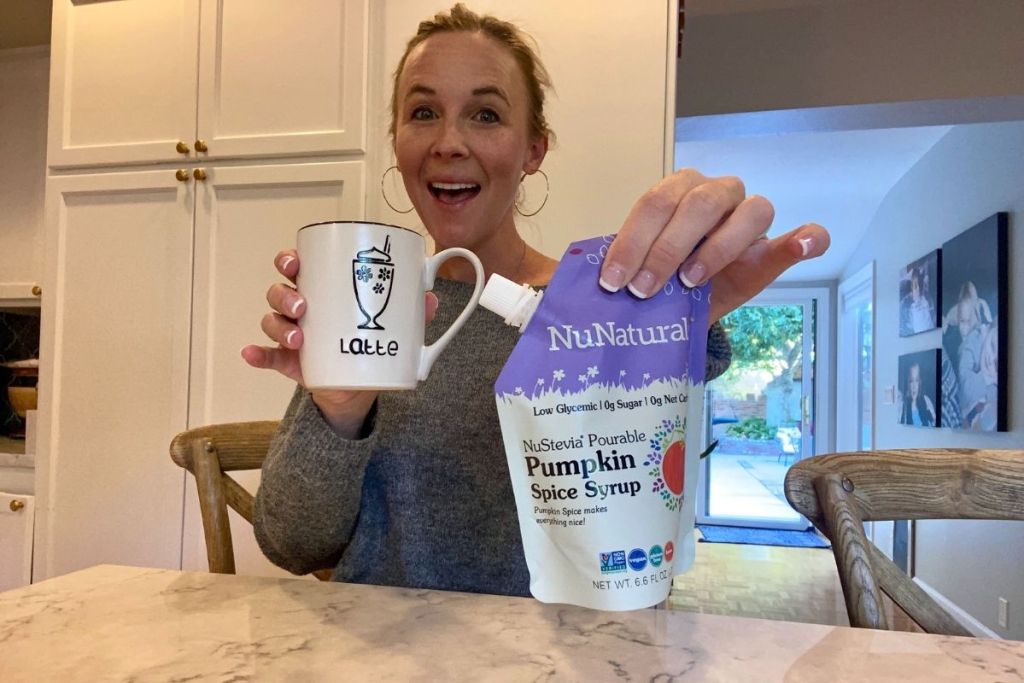 Hurry and order this syrup before your fellow pumpkin fanatics over here snatch it all up! 😆
---
Can't get enough pumpkin? Try this amazing keto pumpkin cheesecake!