Lily's Has New Chocolate Chips for Your Baking & Keto Snacking!
New keto Lily's chocolate chips have hit the shelves, and the latest flavors are so good!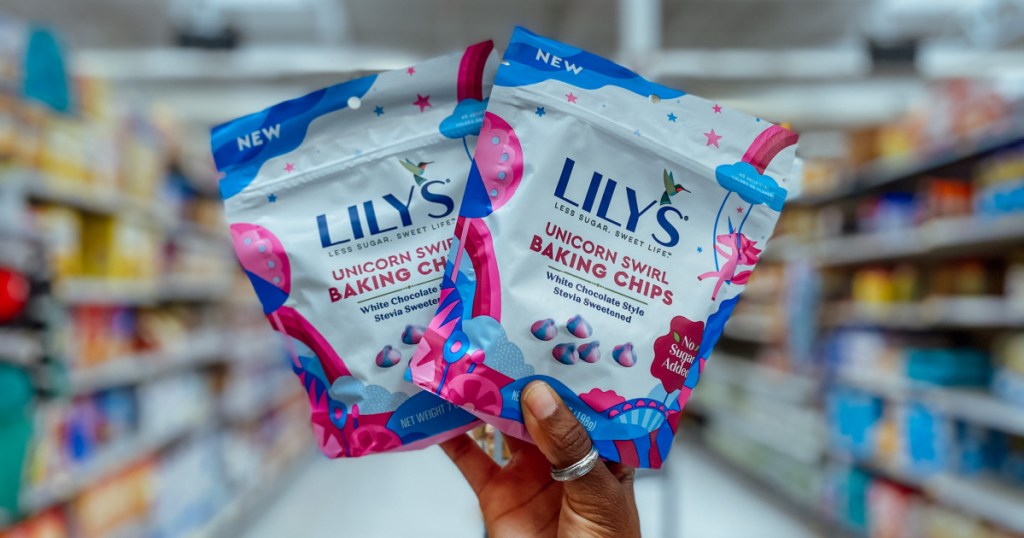 Keto chocolate lovers, this post is for you!
Want to indulge in chocolate without feeling guilty? You totally can! Lily's new seasonal-flavored baking chocolate chips will have you enjoying guilt-free chocolate this holiday season.
I don't know about you, but usually, right after dinner, I'm always craving something sweet. However, I often don't necessarily feel like making a keto dessert from scratch, so here is a little trick I learned from Collin.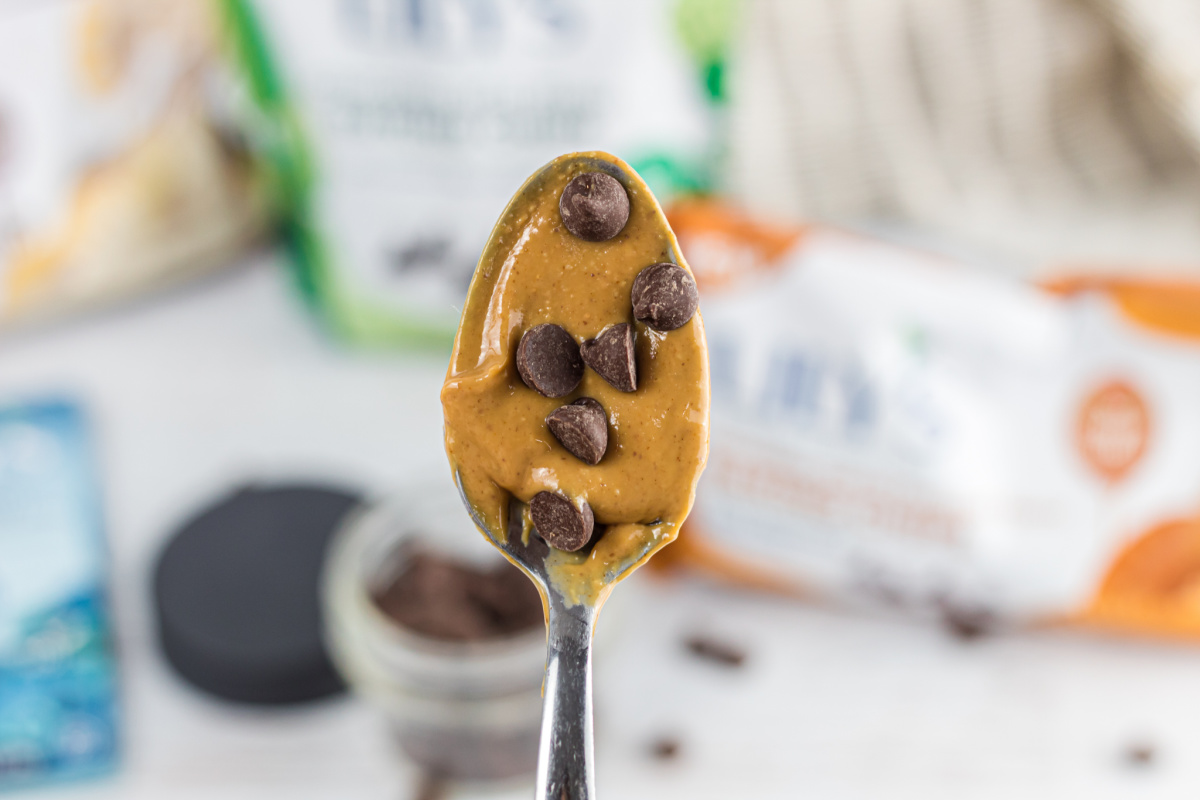 Lily's chocolate baking chips + peanut butter = easy treat heaven!
I just grab my keto-friendly peanut butter (or other nut butter) out of the pantry, scoop a spoonful out, throw some Lily's baking chips on the peanut butter spoon – and it is so satisfying. A spoonful of peanut butter and chocolate chips always does the trick. It's like you've created a homemade peanut butter cup in seconds. YUM!
Out of all the flavors that have been recently released, I think the Lily's Salted Caramel Baking Chips are the best for this hack. The flavors taste so good together.
Side note, Lily's is not paying for this product review. We truly love their baking chips and wanted to share them with you all!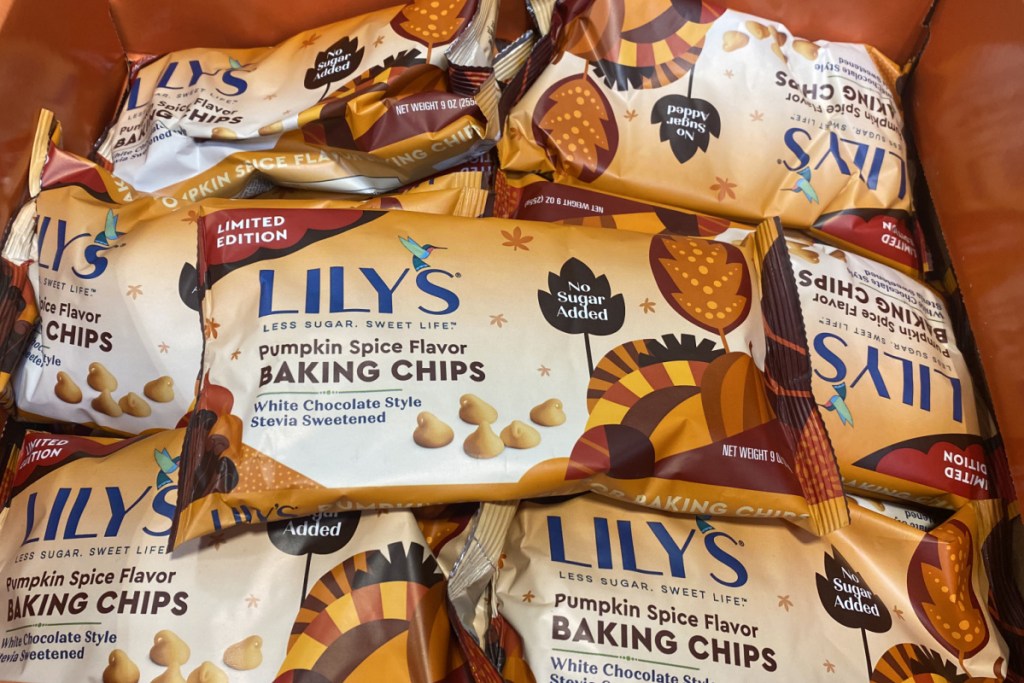 Try this limited-edition Lily's pumpkin spice flavor to embrace the fall season!
These pumpkin spice baking chips are the perfect treat for fall! There are so many fun recipes you could bake these with or even enjoy them as is. They're a seasonal flavor, so if you see them on your next shopping trip at Walmart, grab them while they're still available!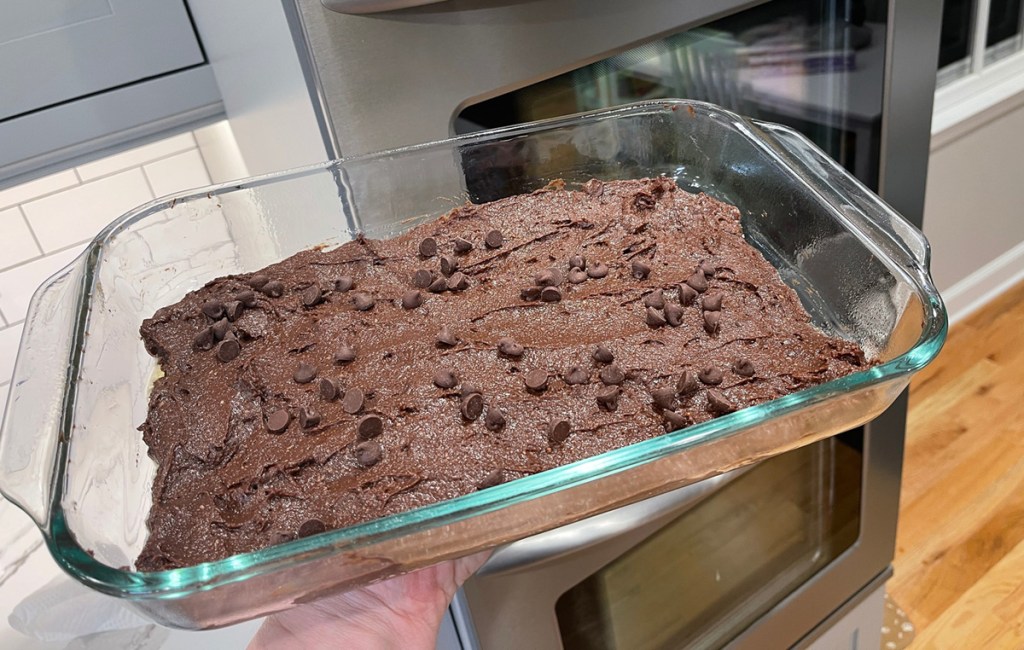 Add them to your favorite recipes!
My Hip Sidekick Angela has used the Salted Caramel chips with her keto Duncan Hines brownie, and they came out delicious. Just think about all the delicious keto cookies you can make, including our famous keto chocolate brownie cookies, that can be jazzed up when adding Lily's chocolate chips to them, too! 😋
Want more reasons to enjoy these chips? They are botanically sweetened with Stevia (so no sugar added), they're gluten-free, and also made with non-GMO ingredients! Nothing makes me happier than a clean product. 🙌
Here are some of the yummy Lily's baking chip flavors: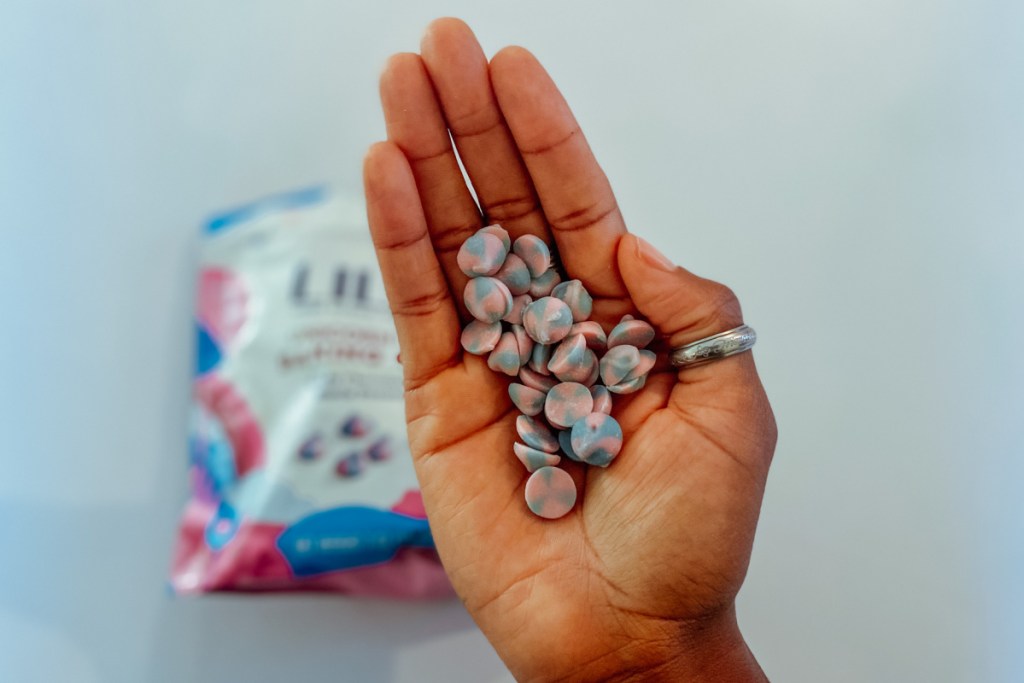 ---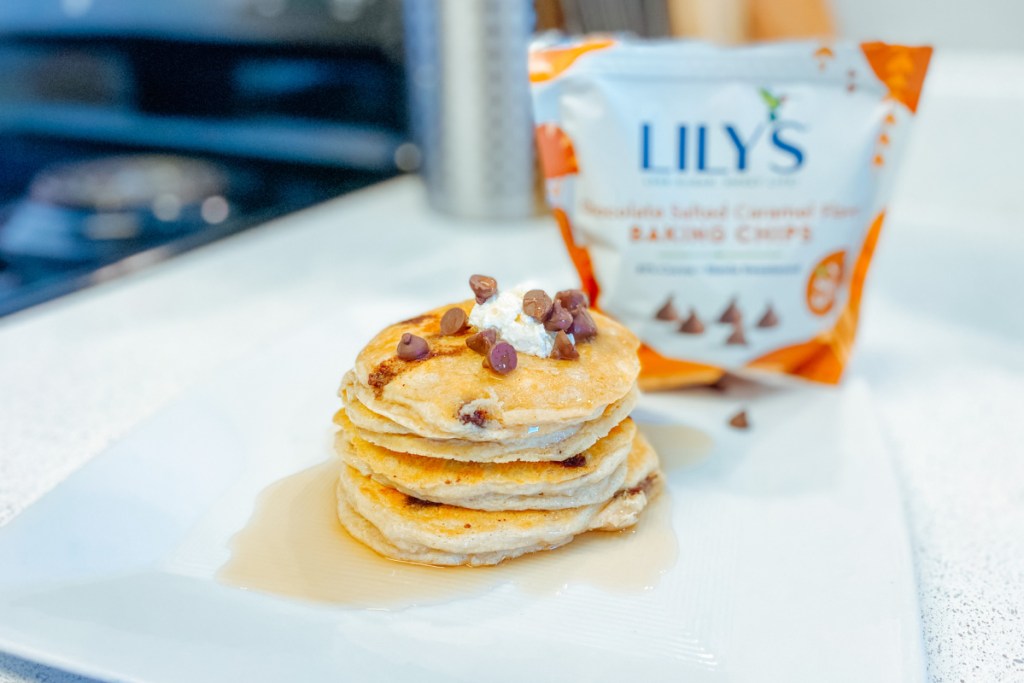 Lily's Chocolate Salted Caramel Flavor Baking Chips, 7 oz $4.98
Serving Size 26 chips | 55 Calories | 4g Fat | 8g Total Carbs | 4g Fiber | <1g Sugar | 3g Sugar Alcohols | 1g Protein | 1g Net Carb
---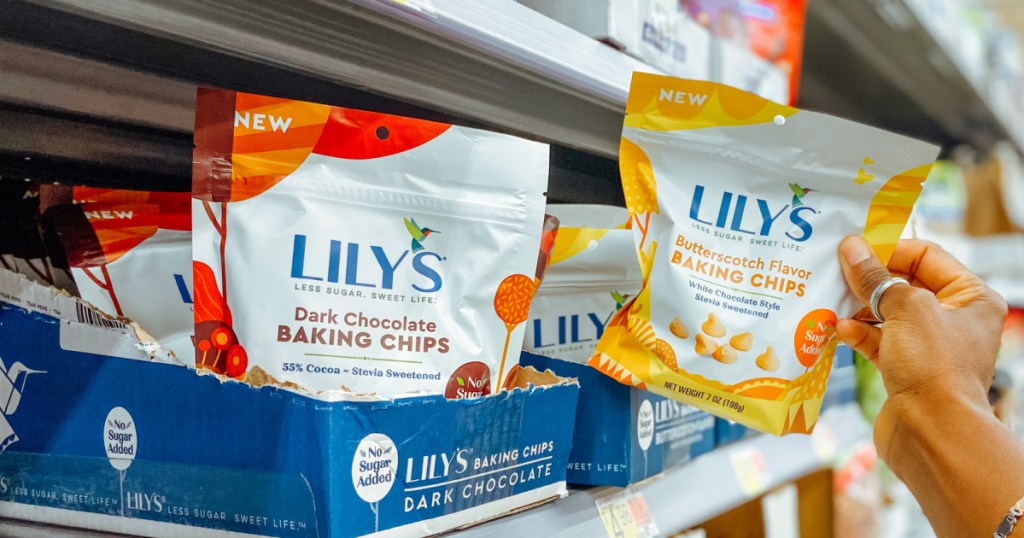 Lily's Dark Chocolate Baking Chips, 7 oz $4.98
Serving Size 24 chips | 50 Calories | 4g Fat | 8g Total Carbs | 5g Fiber | 0g Sugar | 3g Sugar Alcohols | 1g Protein| 0 Net Carbs
---

---

Lily's Pumpkin Spice Chips $4.98
Serving Size 33 chips | 60 Calories | 4g Fat | 9g Total Carbs | 3g Fiber | 1g Sugar | 4g Sugar Alcohols | <1g Protein | 2 Net Carbs
---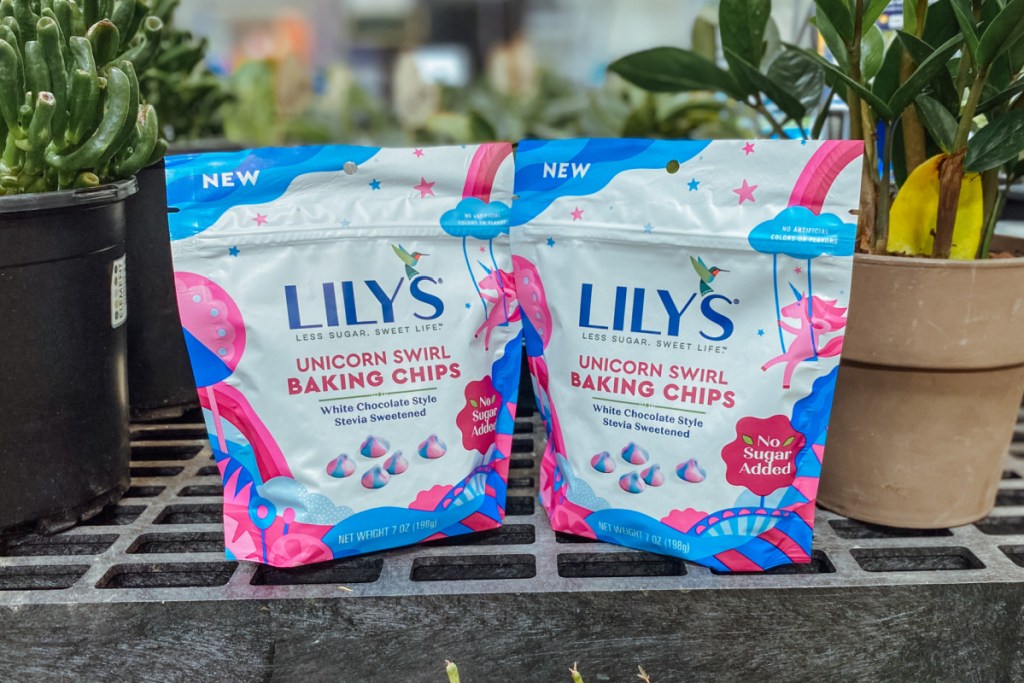 Where to buy Lily's new flavors of their chocolate chips:
---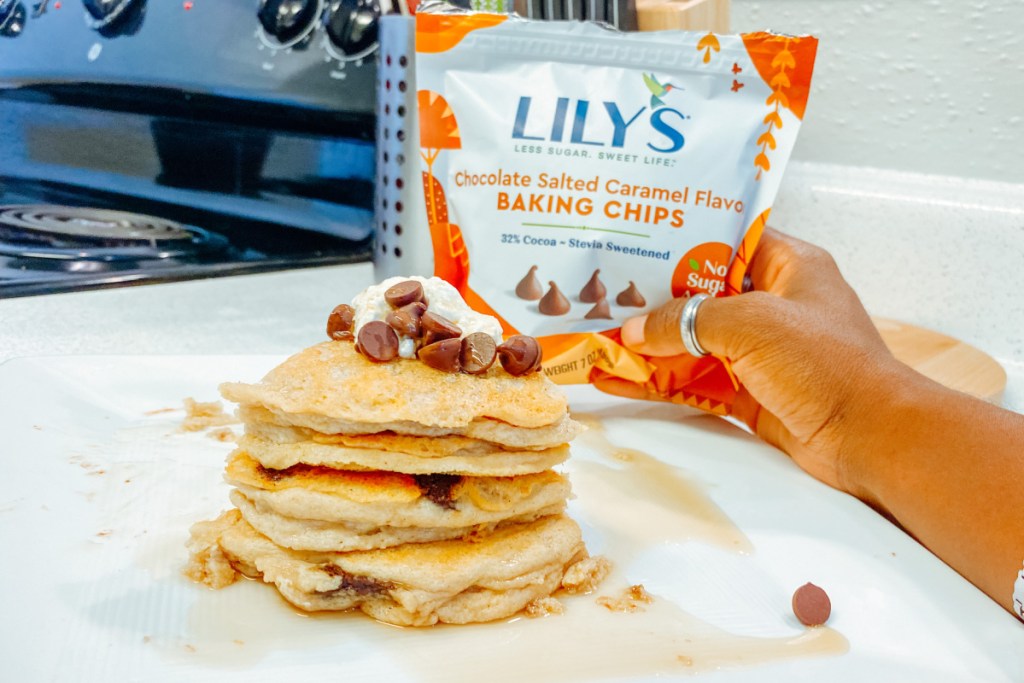 Our Hip Sidekick Cam made these mouth-watering pancakes using the Salted Caramel baking chips! Here's what she had to say about it:
"These salted caramel chips are banging!! There's a pinch of salt but also that sweet taste and flavor, so, for anyone with a sweet tooth like me, this is a 10/10. Mix them with your pancakes, muffin, or with a spoonful of peanut butter – Collin loves to do that!"
---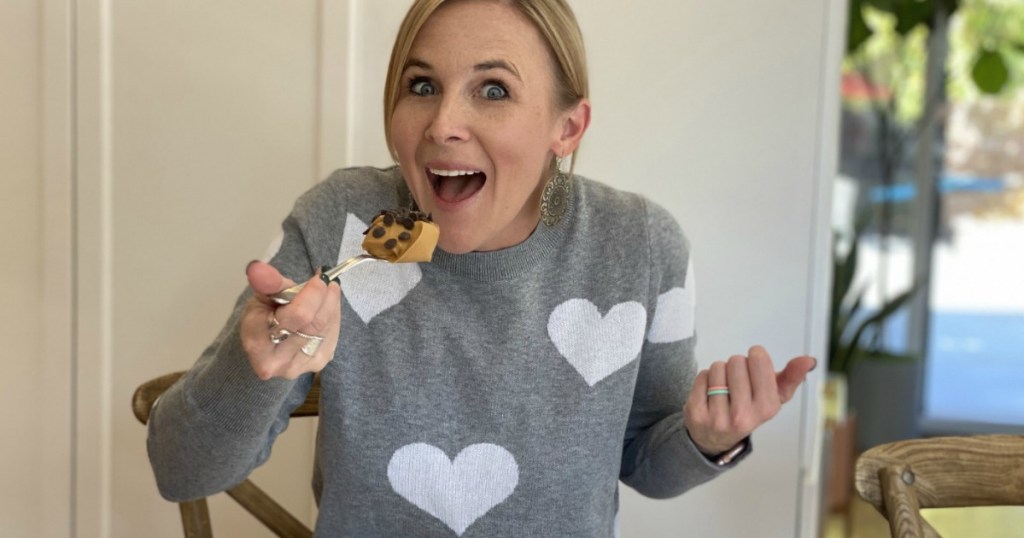 This is the easiest and tastiest treat!
Next time you are craving something sweet but don't feel like dirtying up the kitchen with a full-on keto dessert, try this little trick with Lily's chocolate chips! It's SO good. Thanks, Collin!
---
Check out all of our honest keto product reviews right here!