This Keto Pizza Crust Is Easy to Make, Has 41g of Protein, & ZERO Carbs (+ Score 15% OFF!)
Missing pizza on keto? 🍕
We're about to make those Friday night cravings possible with this zero-carb keto pizza crust! Better yet, it's incredibly easy to whip up, 100% guilt-free, and keeps you in ketosis so every keto pizza-lover out there can hop back into enjoying their favorite dish. 🙌
Plus, we've even got a deal on it for ya to make this keto-find even more satisfying!
---
Ever tried the ZeroCarb Lyfe Pizza Crusts?! 🤩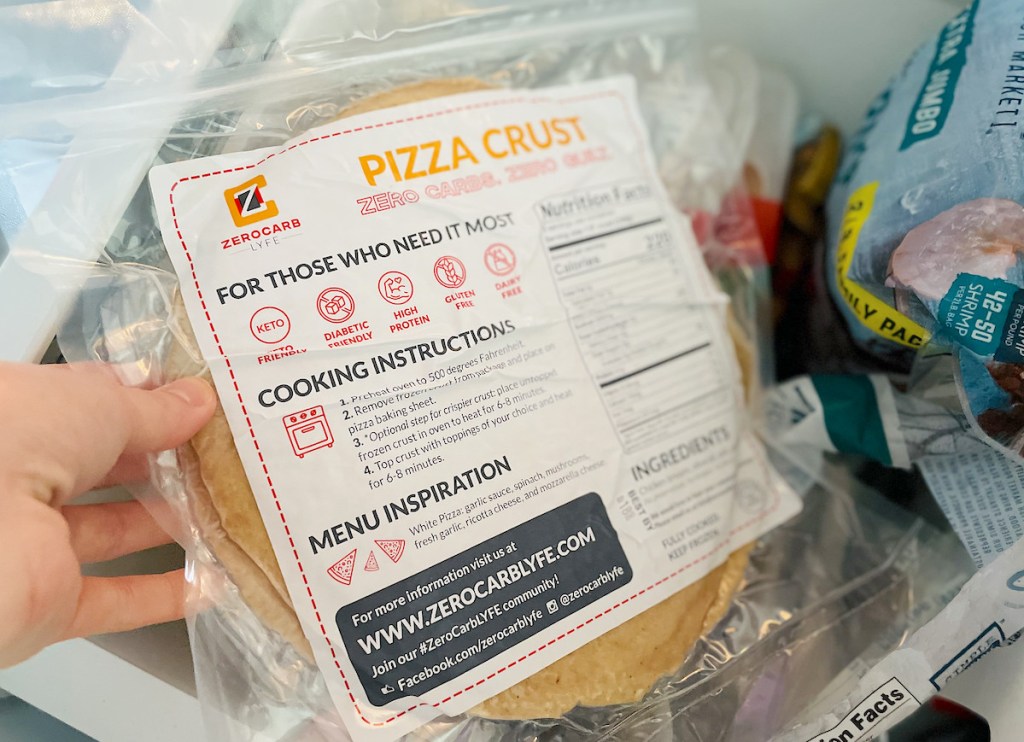 We know missing your favorite foods (like pizza) is hard some days and while we recently shared a similar keto pizza crust recipe, treating yourself to some ZeroCarb Lyfe Pizza Crust saves you a whole lot of time & energy! Plus, who doesn't want to make a delicious keto dinner as simple as possible?!
It comes frozen and is super easy to thaw out before baking. I set mine out, went for a beautiful walk around my neighborhood, and when I got home it was thawed enough to separate my crusts and start whipping up some yummy keto pizza!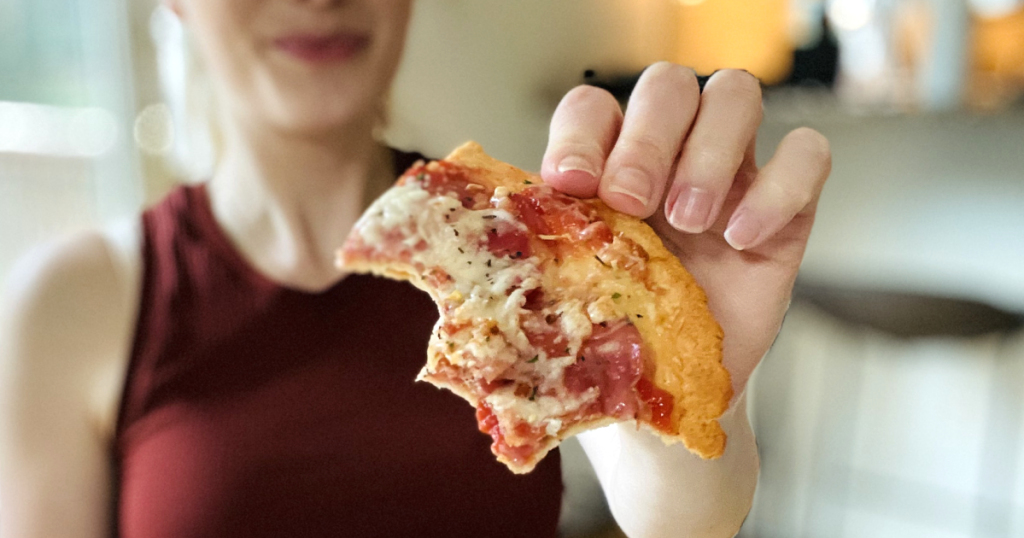 My favorite part about this keto pizza crust is how clean it is! It's literally only made up of 4 ingredients: chicken, salt, olive oil, and spices! WHAT?! 😱🤯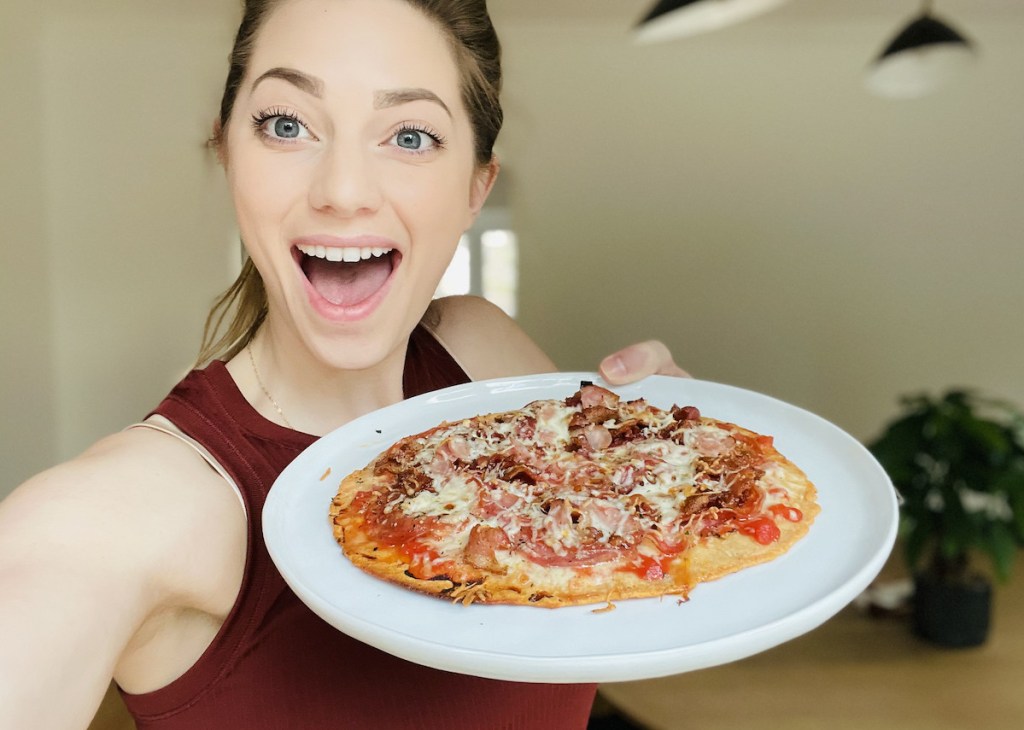 Even more mind-blowing, it's jam-packed with so much protein, I never thought I'd get to enjoy pizza like this…like EVER. Plus, it's gluten-free, dairy-free, and diabetic-friendly so it's literally ideal for ANYONE & EVERYONE!
I'll let the nutritional value for just ONE 8″ ZeroCarb Lyfe Pizza Crust speak for itself:
Serving Size: 1 Crust | 220 Calories | 5g Fat | 0g Total Carbs | 0g Fiber | 0g Sugar | 0g Sugar Alcohol | 41g Protein | 0g Net Carbs
Yes, you read that right. Just ONE of these chicken crust pizzas has FORTY-ONE GRAMS of PROTEIN! 👏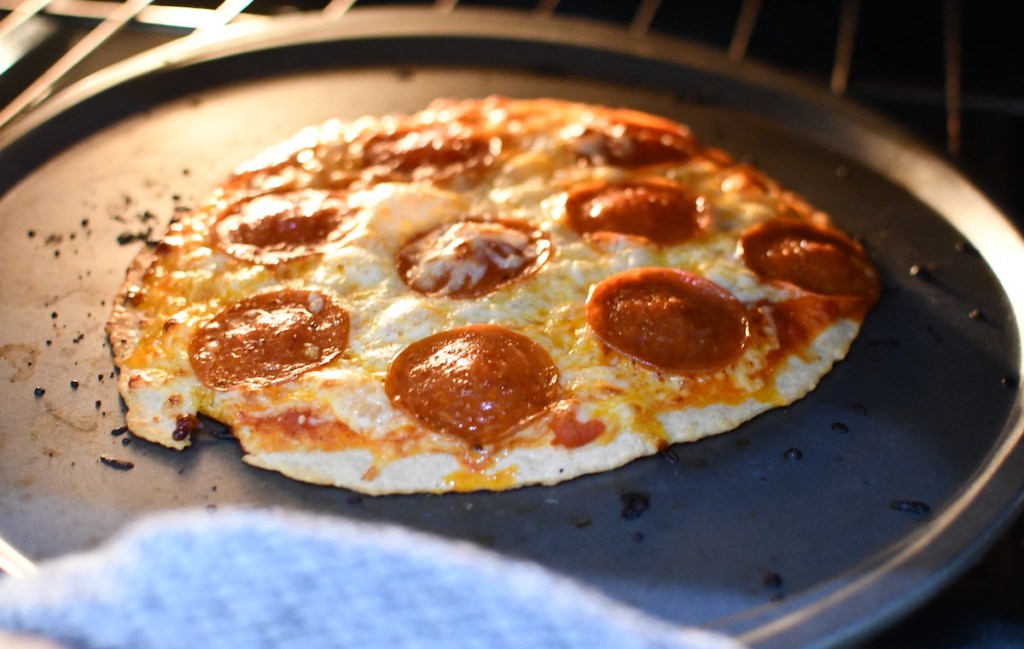 Aside from the clean ingredients, this keto pizza crust is also even easier to make! Simply throw it on your sheet pan and bake it by itself for 6-8 minutes, take it out, add your toppings, and bake again for another 6-8 minutes!
It's literally that simple!
The best part is that you don't even need to coat your pan with any type of cooking spray or paper because this keto pizza crust doesn't stick to the pan at all! 🙌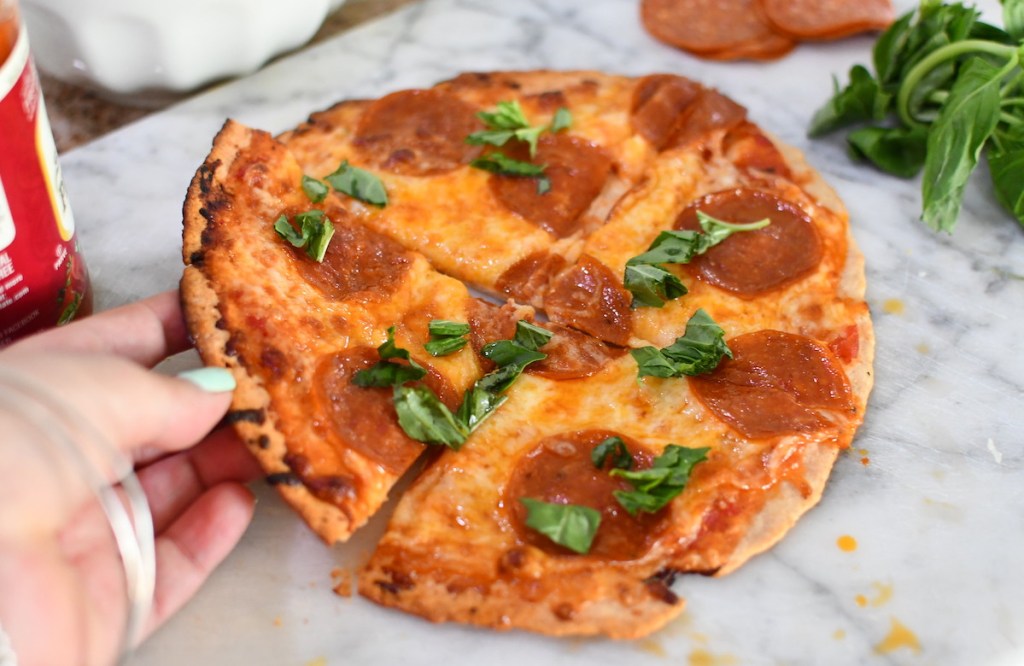 Within minutes you'll have a perfectly crispy keto pizza! 👏 But I'm sure you might be thinking…But will it fill me up? 🤔
YES, my friends!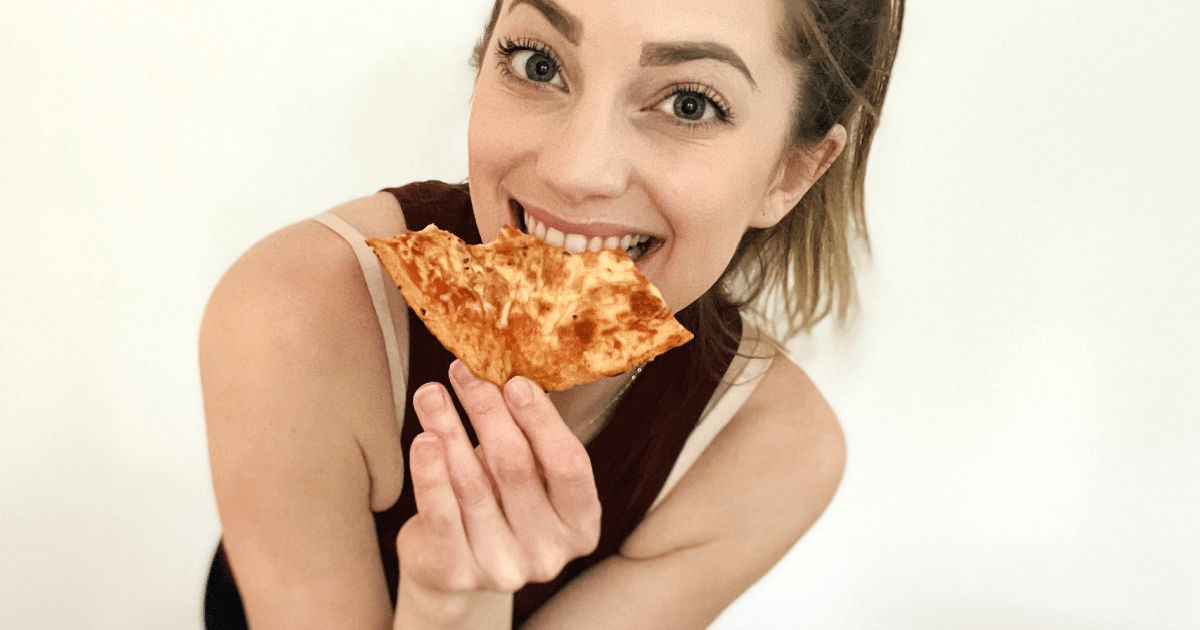 I was totally blown away at how filling the ZeroCarb Lyfe Pizza Crust is! In fact, I couldn't finish a whole one for dinner and was able to save two slices for my lunch the next day. Even though they're only 8″, they'll fill you right up unlike any other pizza on the market.
The possibilities are now endless too! 🙌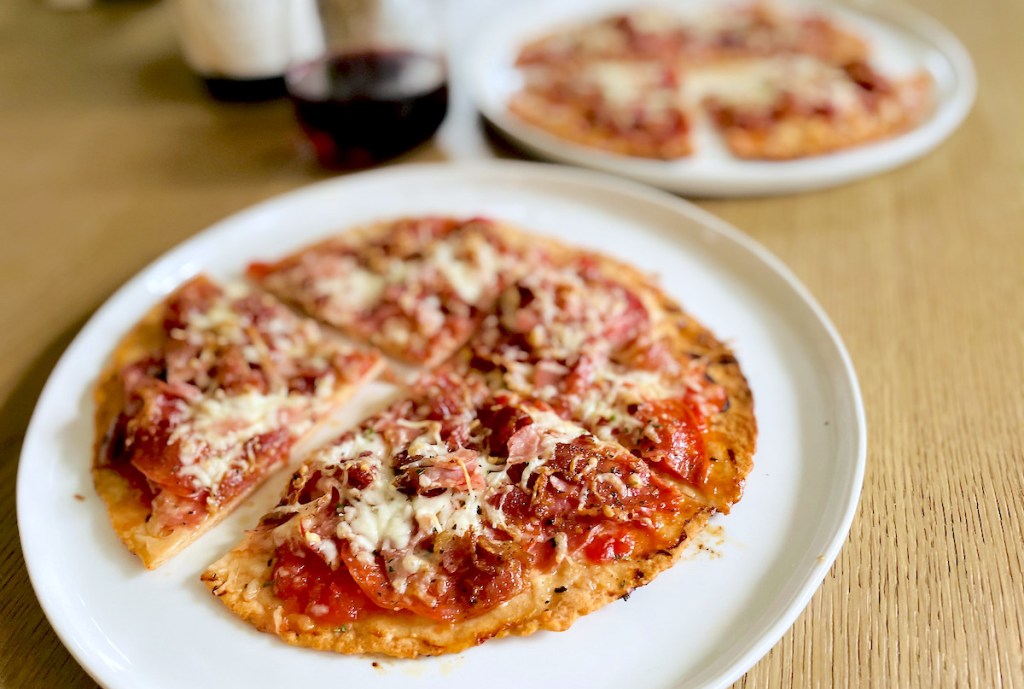 Whether you want a white pizza, plain white cheese, or you want to totally pack on the protein, you can make whatever pizza you've been craving!
For my meat lovers, I used some fresh crushed tomatoes for my sauce, mozzarella cheese, and added tons of meats like hot capocollo, salami, hot calabrese, ham, and bacon! Paired with some keto wine, I was in keto heaven and the flavors were phenomenal! 👏
Here's what my Hip sidekick, Lina, had to say about her ZeroCarb Lyfe Pizza Crusts: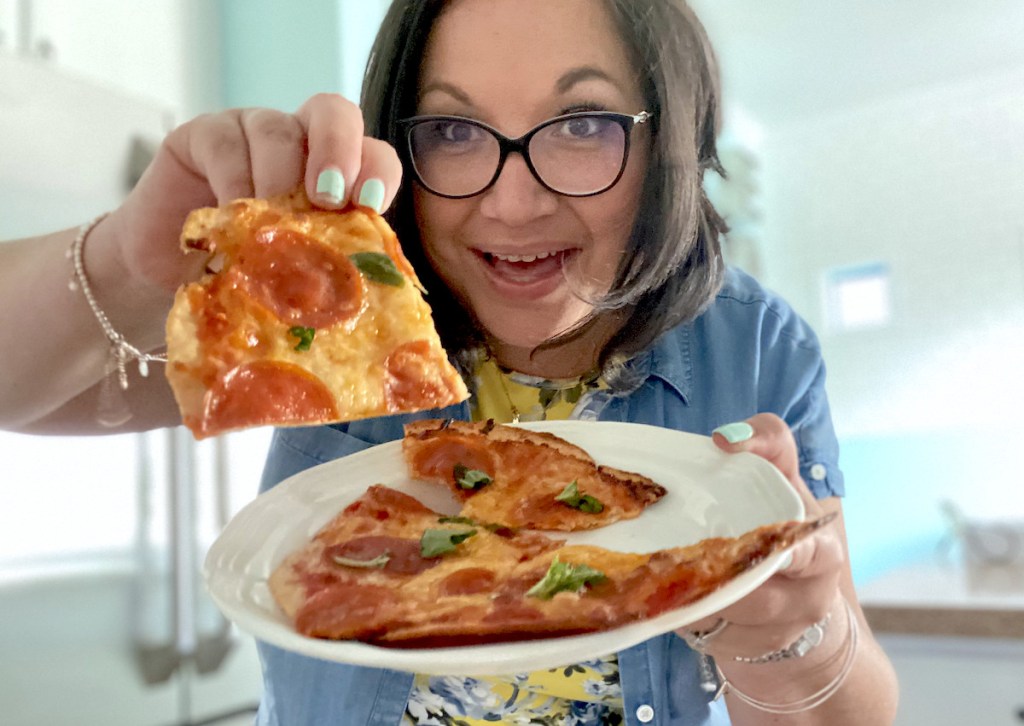 "Okay, these do not even taste keto! It's a yummy thin crust that gets nice and crispy and is brilliant for low-carb pizzas! I am super picky about baked keto goods, and this crust is delicious and so convenient to pull out of the freezer and bake! We really enjoyed ours!
Just a little tip, we tried to get a little fancy also making them in our pizza oven, but we actually preferred them in the regular oven! So easy to make!"
So where can you grab these keto chicken pizza crusts & how much are they?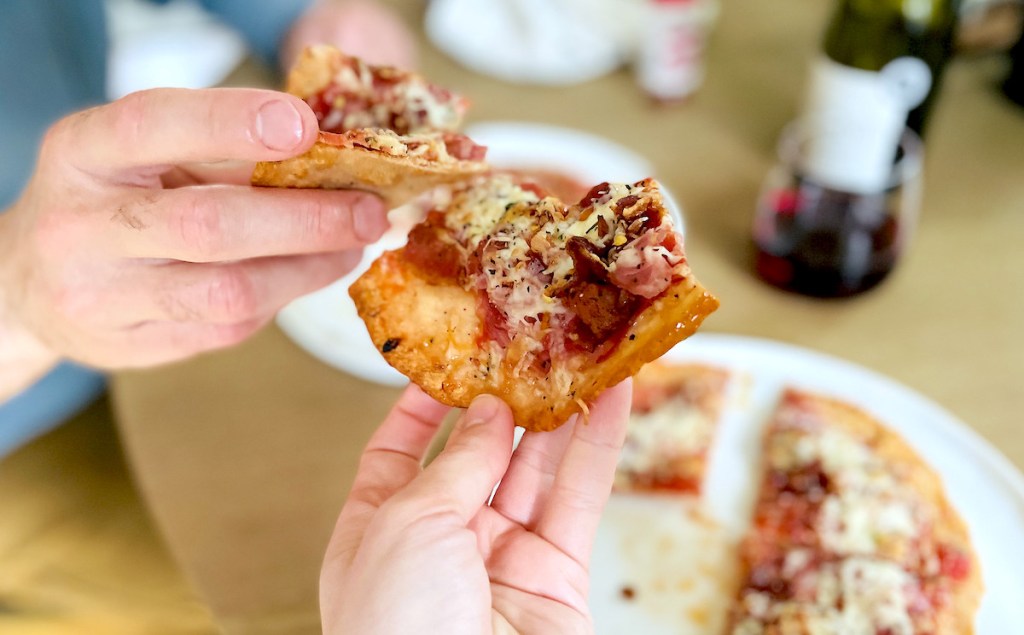 You may be able to find these crusts in select stores when searching your location or you can also score them online where you'll get 6 8-inch crusts for $59.99 – that's just under $10 per crust.
Plus, you can stay home & score this deal instead:
---
Get some keto pizza inspiration over here!