This is the Best Keto Granola to Buy!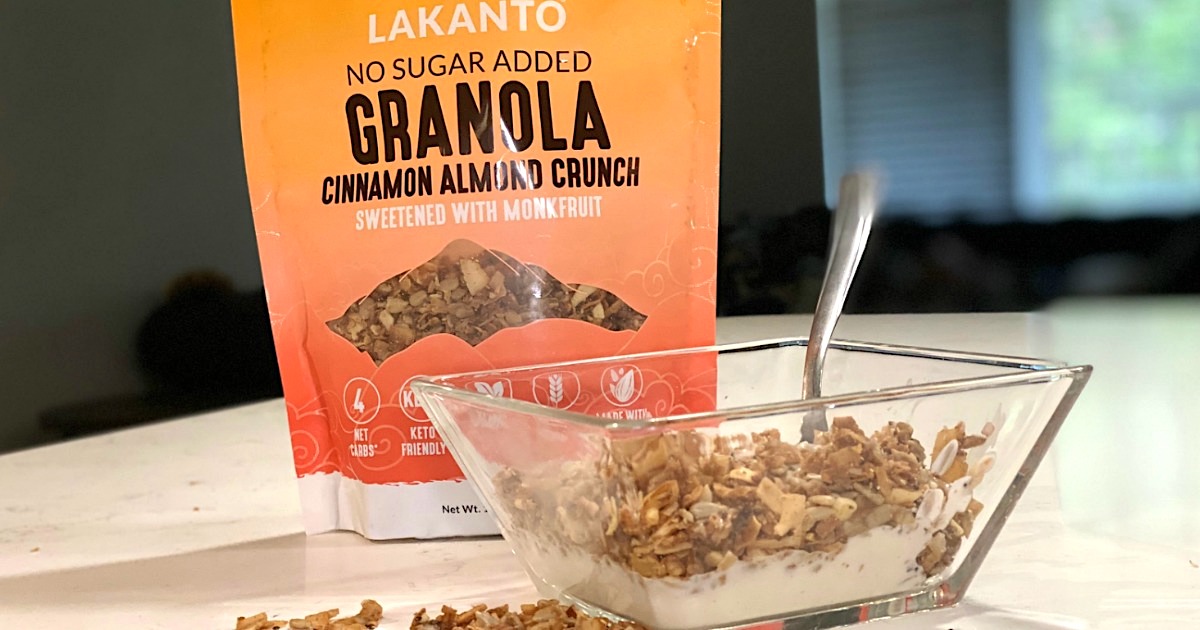 Lakanto granola is my new favorite keto breakfast treat!
Missing crunchy granola? You don't have to anymore! Lakanto Granola is so darn tasty, it's hard to believe it's keto. Honestly, I'd reach for a bowl of this stuff over a lot of regular granola any day. And the good news is that you can enjoy it guilt-free at only 1 net carb per 1/2 cup!

Sweet, salty, and flavorful keto granola… at last. 🙌
I'm not kidding when I say my pantry will never be without a bag of the Cinnamon Almond Crunch Lakanto Granola. I've been wondering how good low-carb cereals like this one are for some time and after one bite, my taste buds were jumping for joy!
And no, this is NOT a sponsored post. I just love this stuff so much that I had to share. 😋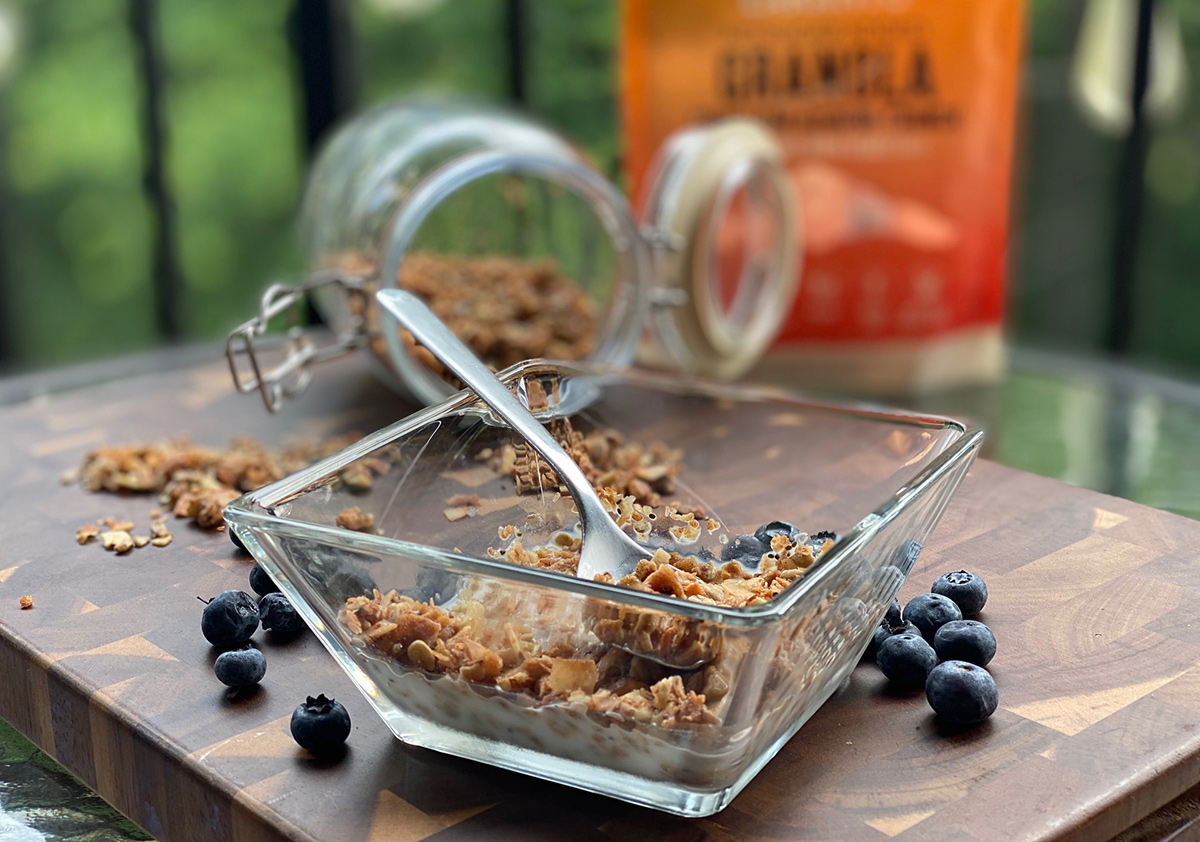 It's sweet like most granola is and doesn't have the bitter aftertaste that some low-carb sweetened products can have. The saltiness brings out the natural flavor of the coconut and almonds, without it being too overpowering. Just thinking about this crunchy cereal makes me want to eat some right now!
With a bit of unsweetened almond milk or yogurt, it feels almost too delicious to eat for breakfast, but who says you can't eat it for lunch or a late-night snack, too?!
I also don't remember the last time I had a yogurt parfait so I did not hesitate to whip one up with some Lakanto Granola and let me tell you, it was straight-up dessert. 🤤 It can also be used as a topping for ice cream and desserts looking for an extra crunch.
Plus, only 1 net carb per 1/2 cup serving is definitely something worth celebrating! 💃
Collin also loves this granola!
"This granola is delicious – crunchy, sweet, and so good with almond milk. I can't believe it's low carb. I love the cinnamon flavor, probably my fave keto granola! 😋" – Collin
---
Lakanto Granola nutrition info:
Serving Size: 1/2 Cup | 160 calories | Fat: 14g | Total Carbs: 10g | Protein: 3g | Fiber: 4g | Sugars: <1g | Sugar Alcohols: 5g | Net Carbs 1g
Sometimes keto products that taste exceptionally delicious can be too good to be true. Thankfully that's not the case with this granola as I checked out the ingredients and nutritional information to make sure it was legitimately keto-approved. And it is! Woohoo, pour me another bowl, please!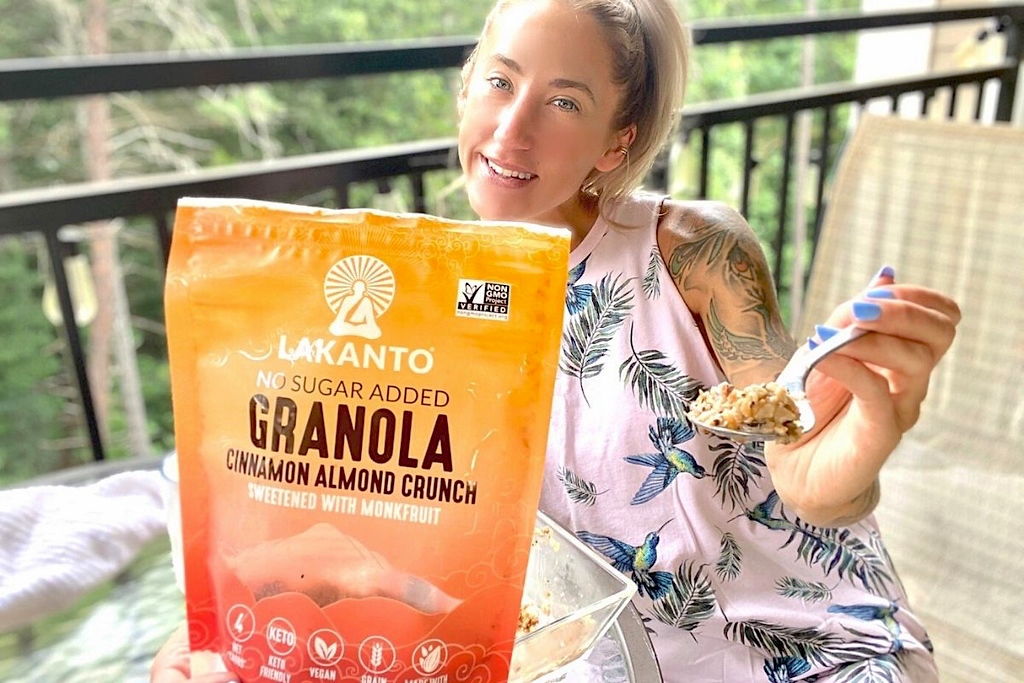 This granola gets a 10/10 on the crunch-factor scale!
The sunflower seeds, almonds, and coconut make this low-carb granola extra crunchy, and the chia seeds add a little something extra to the texture, too.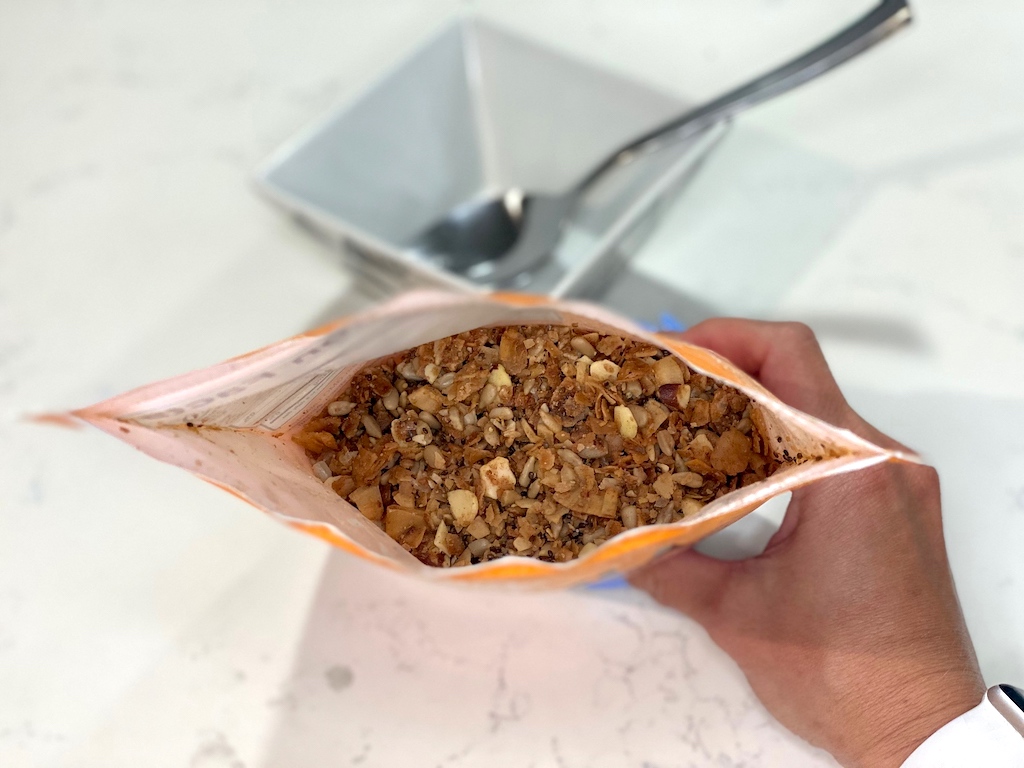 I promise Lakanto Granola is worth the price.
While this keto-friendly granola costs more than normal cereal ($11.99/bag), it's 100% worth it to me and once you taste it too, you'll see why. Like I mentioned before, it really doesn't taste as low carb as it is and it can be tough to find sweet keto snacks you REALLY like sometimes.
Oh, and I know I mentioned this above, but in case you missed it and are thinking, "Taylor, you're just saying that because this probably a sponsored post." NOPE! I legitimately can't get enough of this granola and even though it's a pricier product, I still felt compelled to share it with our Hip2Keto community!
You can grab this Granola directly from Lakanto and save 15% off your order when you use promo code HIP2KETO at checkout!
---
Here's what a few keto cereal lovers have to say about Lakanto Granola:

"I absolutely love this granola mix! It is delicious and filling. I highly recommend it. I tried granola mix by another brand and it didn't even come close!"
---
"I have always loved cereal, and when I went on keto I was missing it, so I tried other products and they were horrible tasting and the texture was all wrong.. But today I tried this granola and it was everything that I have wanted and missed… soooo delicious, crunchy and not too sweet. LOVE, LOVE, LOVE IT!!!! Ordering more right now to have a stockpile."
---
"This granola is to die for! No joke. I've never loved granola like I do this one! The flavor is perfect. It tastes great over yogurt or even alone with some milk. Heck! It's so good you can eat it by itself!"
---
Have you tried our keto oatmeal recipe yet? It's so savory and satisfying!