I Almost Gave Up on Keto… Until I Tried the Keto Mojo
Here's how the Keto Mojo blood glucose + ketone meter kept me from giving up on keto!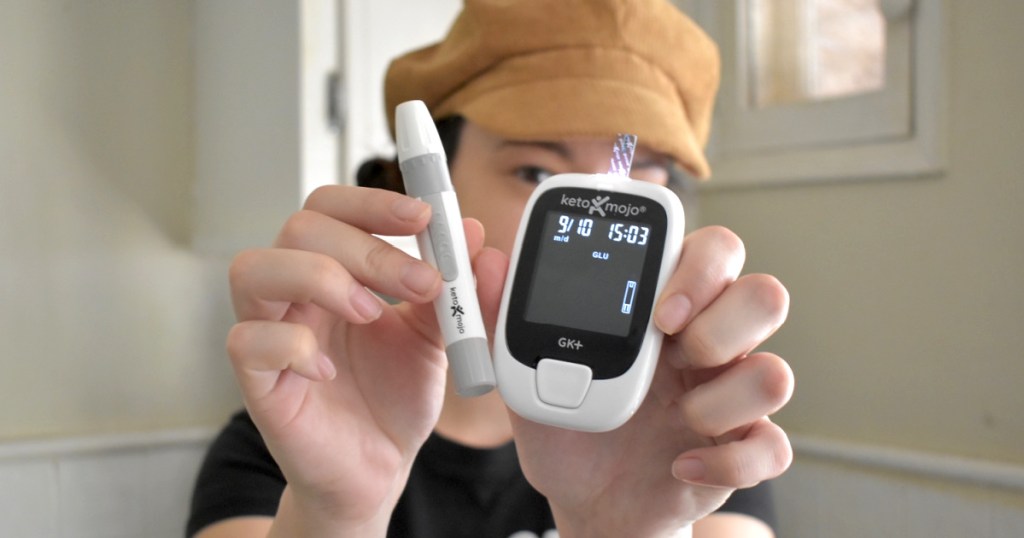 "So is this even working?"
That's a question that I'd wager anyone on the keto diet has asked themselves at one point or another. Of course, by asking "is this working," we're really asking "am I in ketosis," which can actually be sort of tricky to figure out.
Aside from experiencing keto flu symptoms (and maybe some dragon breath 🙃) & then following with an increase in energy and mental clarity, it's impossible to know whether we're reaping the full benefits of the keto diet unless we actually test whether or not we're in ketosis.
There are several ways to test ketone levels. But today, I'm only going to talk about the Keto Mojo blood glucose + ketone monitor, because after you try it out, you won't want to use anything else!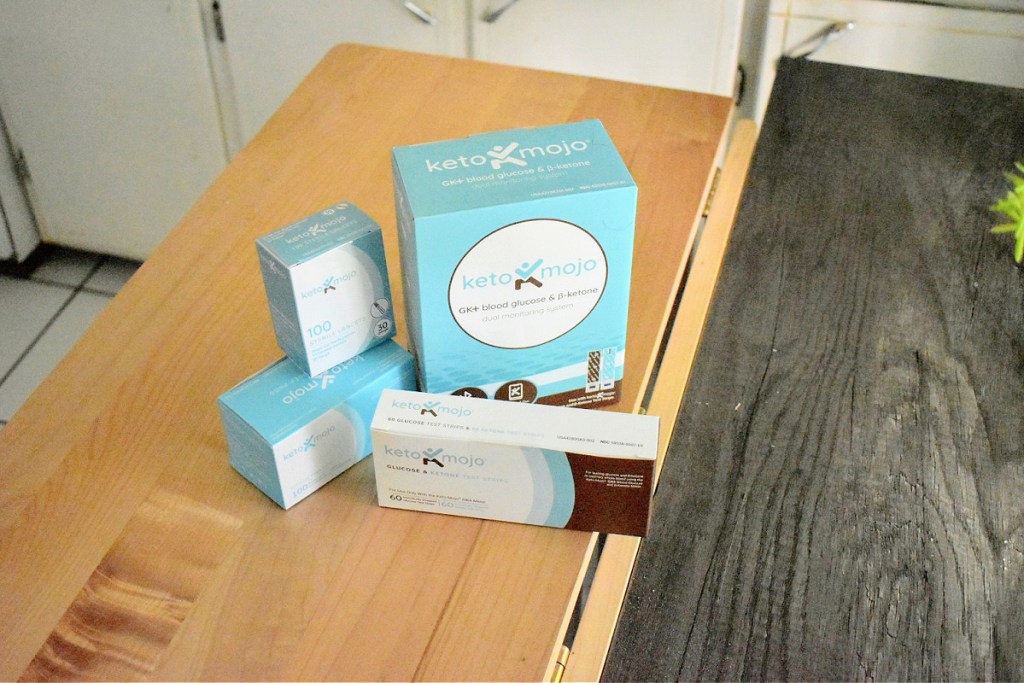 The Basic Starter Kit includes the Keto-Mojo ketone and glucose meter, 10 ketone strips, 10 glucose strips, and the accessory bag with a lancet device and 20 lancets.
The Promo Bundle includes the Keto-Mojo ketone and glucose meter, 70 ketone strips, 70 glucose strips, 100+ page Keto Kickstart Guide ebook, and the accessory bag with a lancet device and 20 lancets.
---
Now let me be real with you guys for a moment…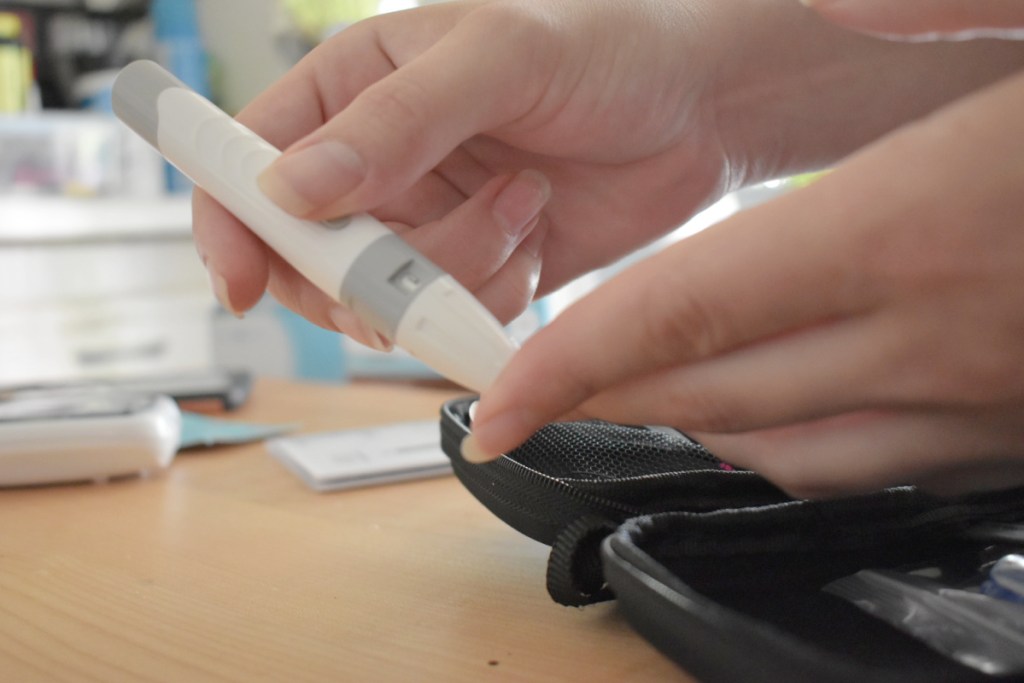 The keto diet is hard. I don't think that even the most long-term keto dieters would deny that–especially in the beginning! Not only do you have to give up your obvious non-keto faves (sourdough bread…how I miss you!), but you also have to become somewhat of an investigator. Even foods you thought were keto may, in fact, not be keto at all. So you have to be super diligent about checking ingredients, carb counts, fat content, and even protein amount.
It's tough, y'all! And to top it all off… how do you even know it's working?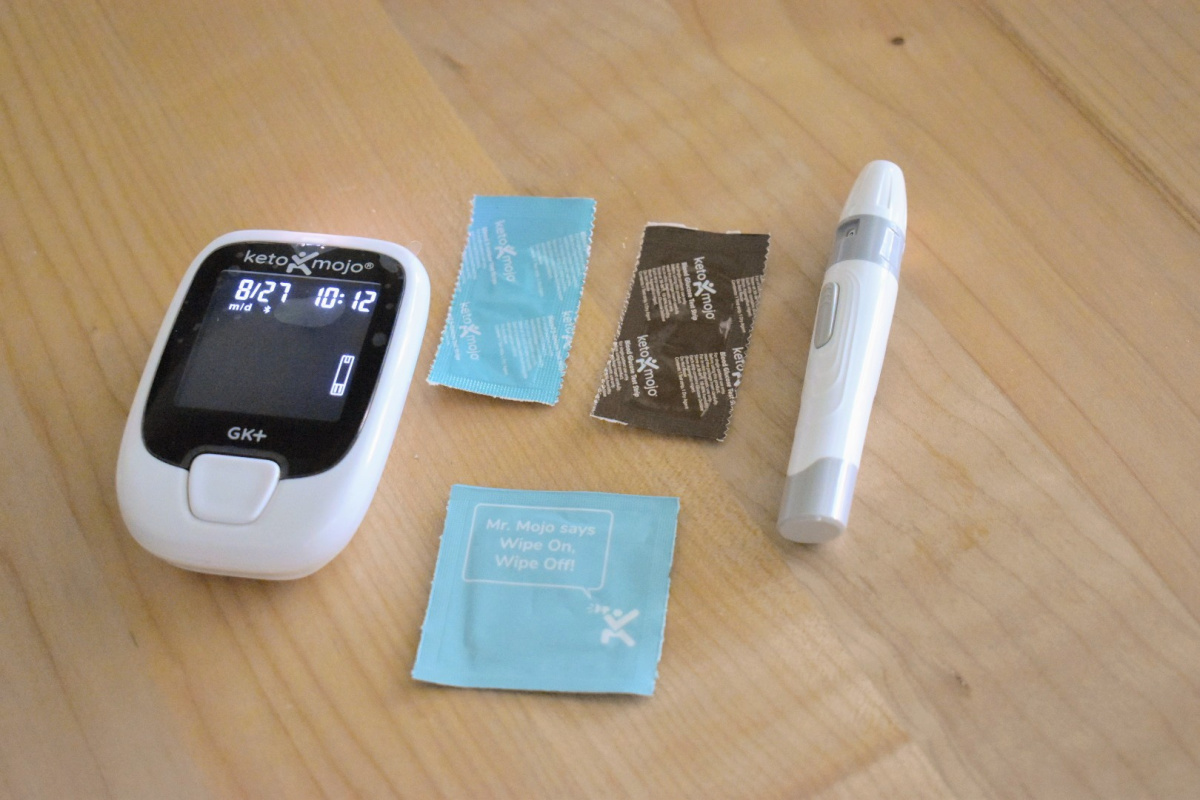 Before I tried the Keto Mojo monitor, I was using some test strips to determine whether or not I was in ketosis. Little did I know that these are actually pretty inaccurate.
Picture this: You and your friend/acquaintance/significant other both went on the keto diet at the same time. You guys are eating the same foods & have generally the same level of physical activity. Except, according to test strips, your partner-in-keto is clearly in ketosis after a few days while you are clearly not. What the heck, right!?
That's what happened to me. And I'm not gonna sugarcoat it… it made me think about totally giving up.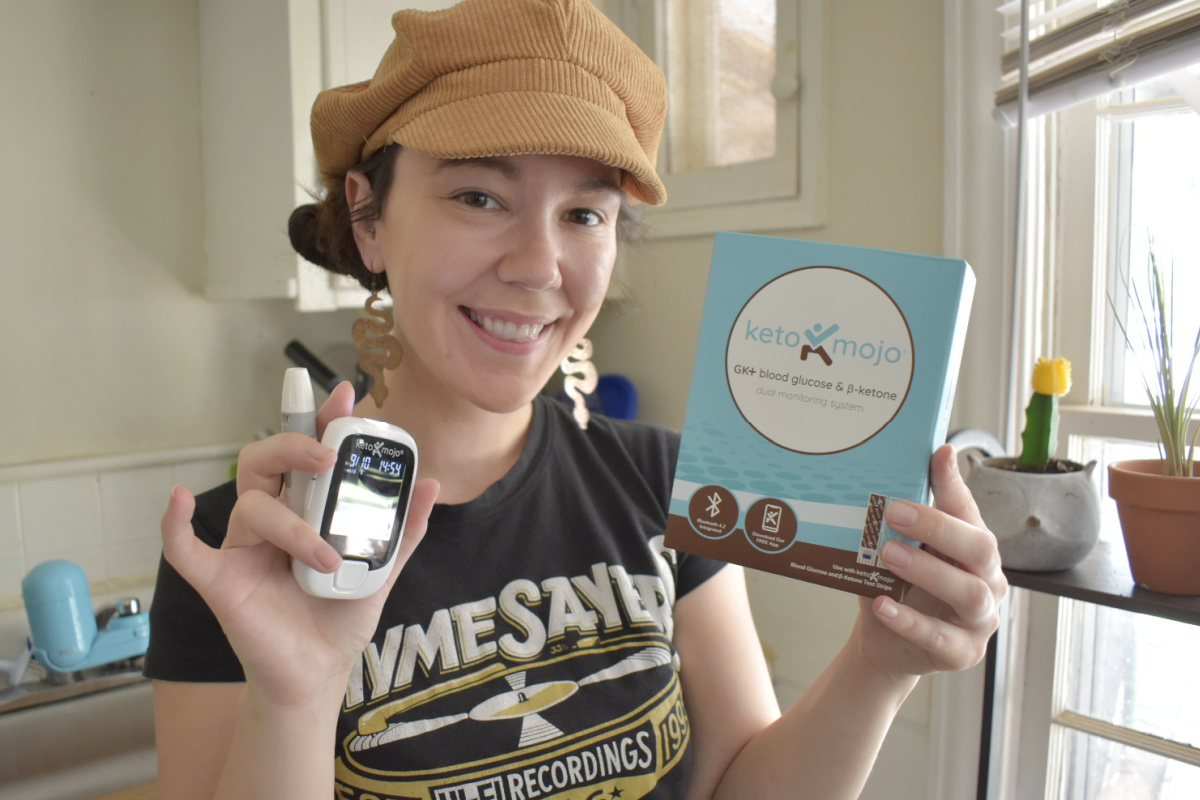 Were it not for the absolutely amazing sleep I've been experiencing since giving up carbs (is this anyone else or just me? 😂) or the noticeable improvement in my workouts, I would have deemed my efforts unworthy and gone back to eating carbs covered in carb sauce with a side of carbs, also known as spaghetti with garlic bread. 😆
However, a short while after this struggle of mine, I was able to test out the Keto Mojo blood glucose and ketone monitors. And I'm not exaggerating when I say that everyone–that's right, everyone–who's on the keto diet needs one for themself.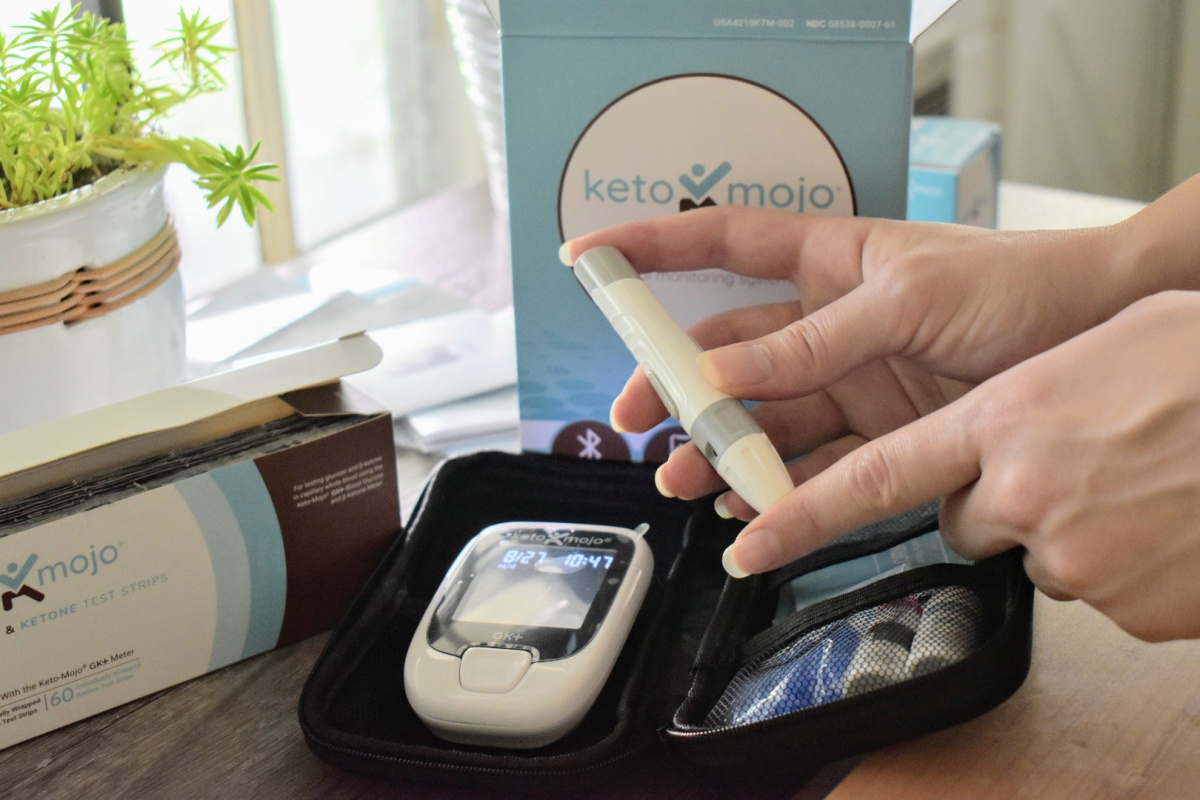 As someone still new to keto and who's experienced not only the physical cravings, but also the mental & emotional ups-and-downs of starting the keto diet, I can absolutely say that you need the Keto Mojo monitor to help you along the way.
---
So you might be wondering why the Keto Mojo blood ketone meter is so much better than the other testing methods.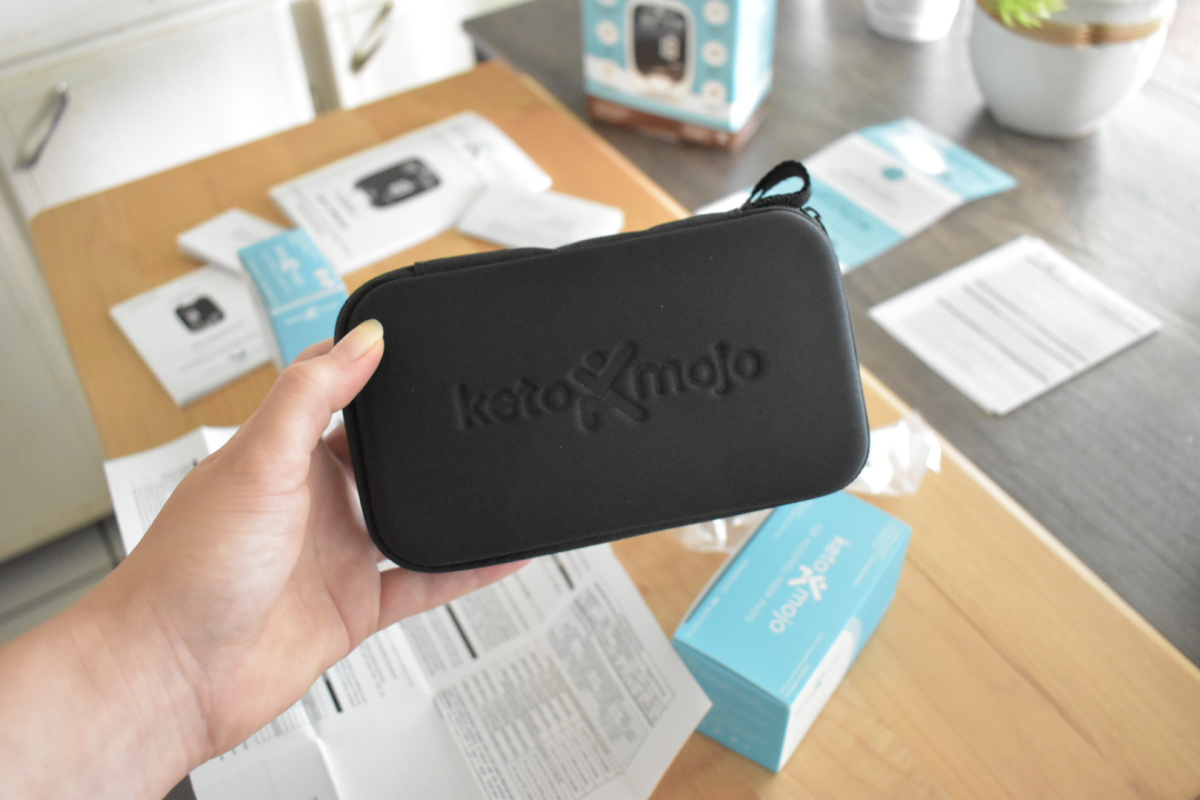 I totally get it since I wondered that myself! As I mentioned earlier, I had previously been using some testing strips to measure my ketone levels. While those totally work for some people, they totally didn't work for me & actually just made me feel discouraged.
Here's why Keto Mojo's the best & why the alternatives just can't compete:
You need hard numbers & data to determine ketosis. I know, the sciencey stuff behind ketone levels can be a little intimidating. It definitely is for me. But to quote Keto Mojo, "You can gauge ketosis by how you feel, you can gauge it by how you look in the mirror, but until you see a number, it's all just a little bit of guesswork." Unfortunately, guesswork doesn't get results when it comes to keto. But Keto Mojo makes understanding the numbers easy–more on that later! 😉
Keto Mojo takes bio-individuality into consideration. The biggest problem with other testing methods? Our own bodies! We're all so darn different that it's impossible to get accurate results unless you take bio-individuality into account. And if you test frequently, you'll be able to identify the trigger foods (or even the exercises!) that kick you out of ketosis. These vary from person to person, so it's important to explore what affects you individually. You can check out Keto Mojo's website for some great guidance in this area.
Your data is digital so you can see it anywhere! The Keto Mojo app is like…the coolest thing I've ever seen, for real. The data stored in your ketone & glucose monitor goes directly to your Keto Mojo app via Bluetooth, and from there right on to your personal MyMojoHealth profile via the cloud. So you have all your testing data totally at your fingertips wherever & whenever you want to access it.
---
Now let's talk science: numbers, testing, and GKI.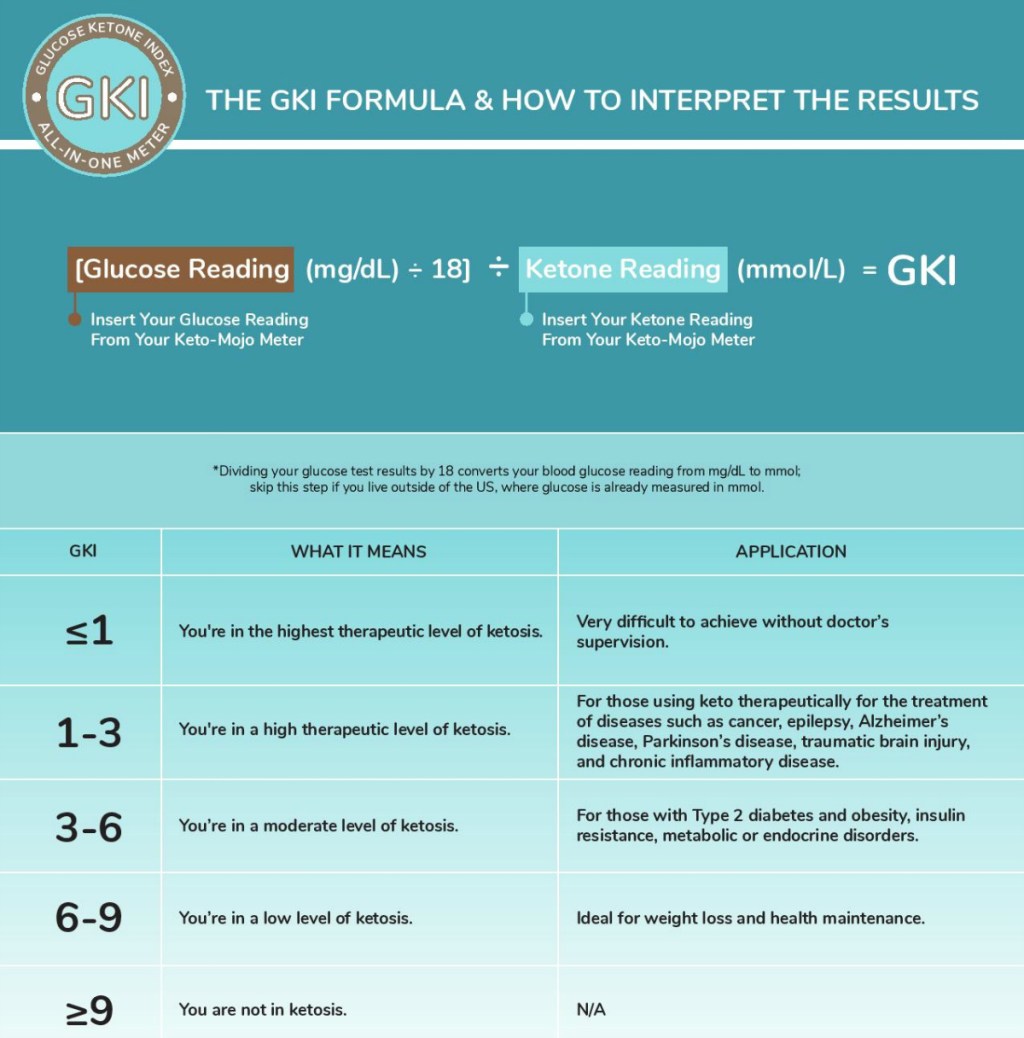 GKI stands for Glucose Ketone Index, which is found by dividing your blood glucose level (mmol/L) by your blood ketone level (mmol/L). The result is a single number to indicate your metabolic state, aka your GKI. The results range from <1 (the highest therapeutic levels of ketosis) to >9 (not in ketosis at all).
See? I promised they made it easy! 😉
On their own, glucose or ketone readings give you a snapshot of where you are at this exact moment, which means they can be independently influenced by immediate variables, such as stress (which heightens blood glucose) or a fat-rich meal (which heightens ketones). The GKI gives you a better overall view of your metabolic status and state of ketosis because its calculation takes into account the variables and thus normalizes them, resulting in a more accurate, stable picture of your status.
Not only does the Keto Mojo blood ketone meter provide the most well-rounded picture of your keto profile, but it's also easy to use!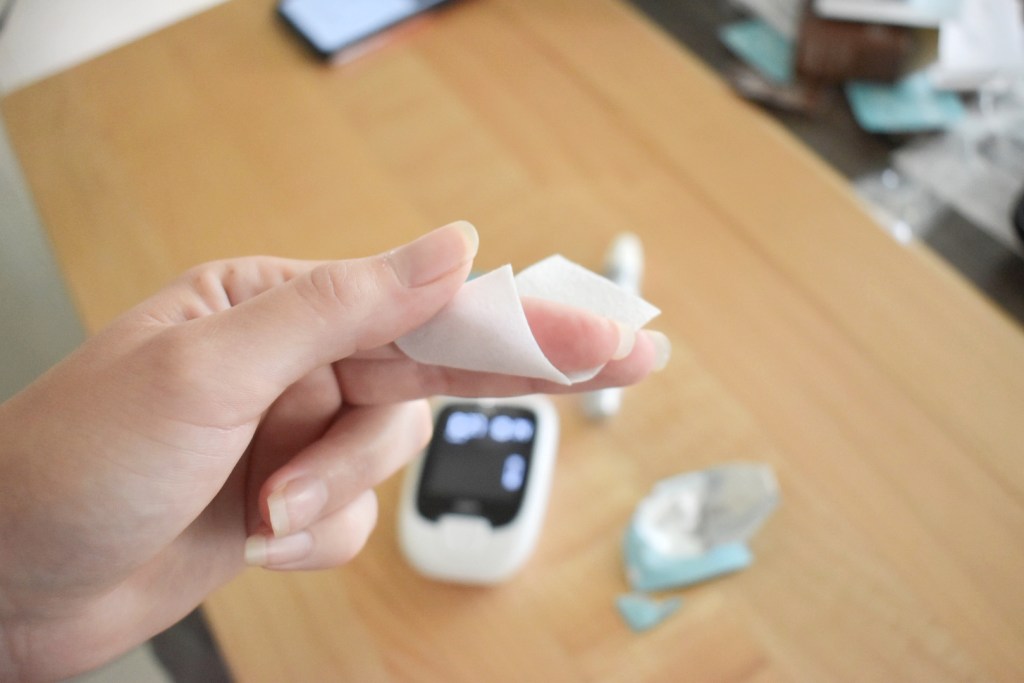 Just insert the ketone or blood glucose strip into your monitor. Then, use an alcohol pad to sterilize the tip of your finger or thoroughly wash your hands.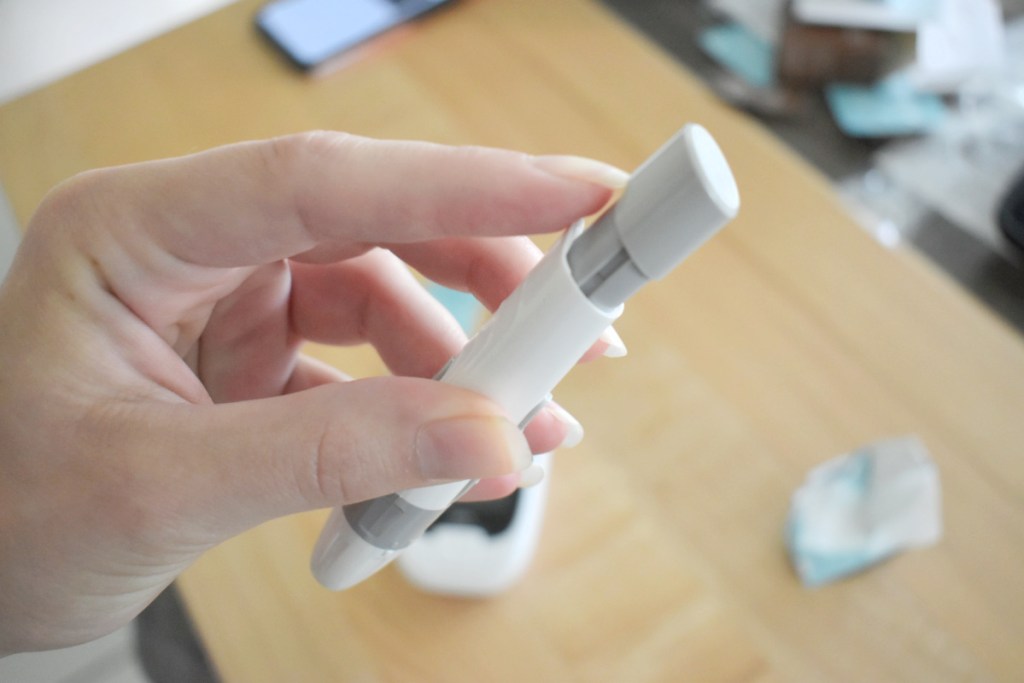 Attach the lancet to the lancing device and remove the blue topper. Pull the back of the lancing device and press the tip against your finger. Hit the side trigger to release the lancet into your fingertip (yep, you do need to prick your finger, but I promise you'll barely even feel it!) and wipe away the first drop of blood. Then, massage your fingertip until you have another blood droplet form, and press the end of the ketone or glucose strip into your blood.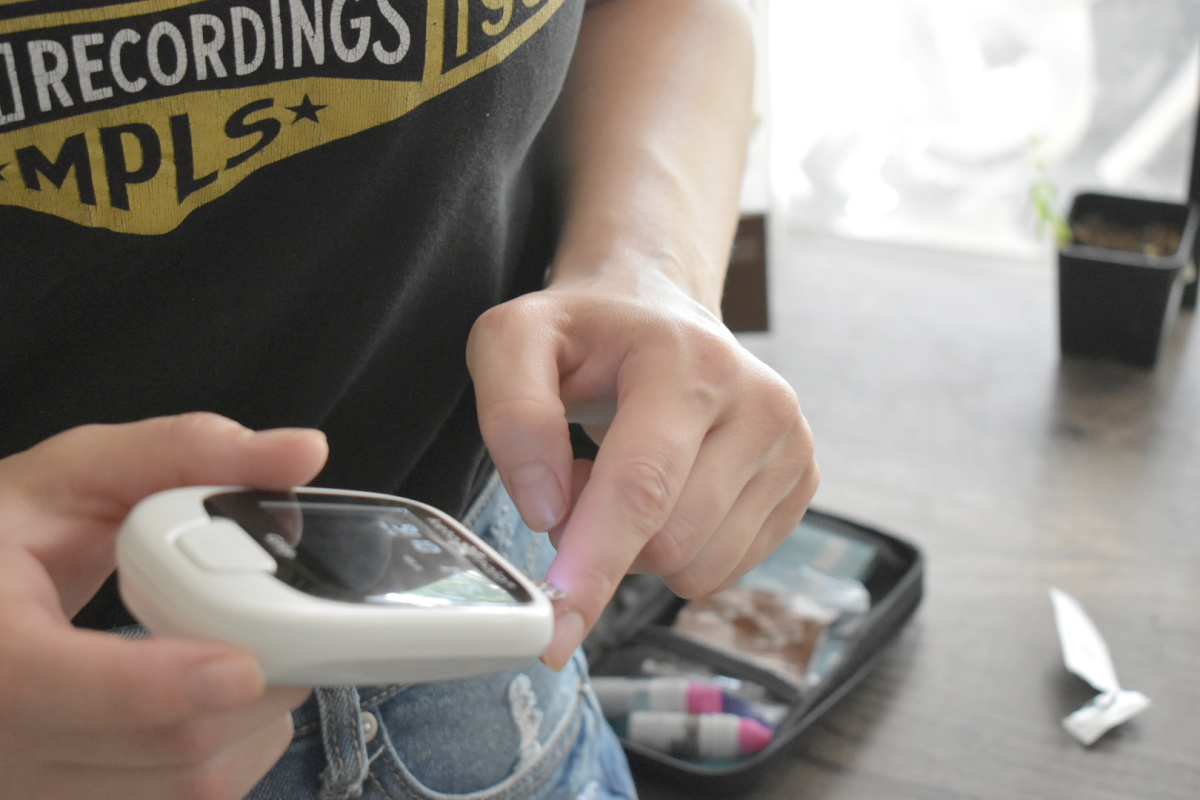 You'll see the blood being sucked up into the strip, and voila, your results will appear after the short countdown!
Note: If you're a visual learner like me, Keto Mojo has a super easy-to-follow video guide on how to use the monitor and lancet.
---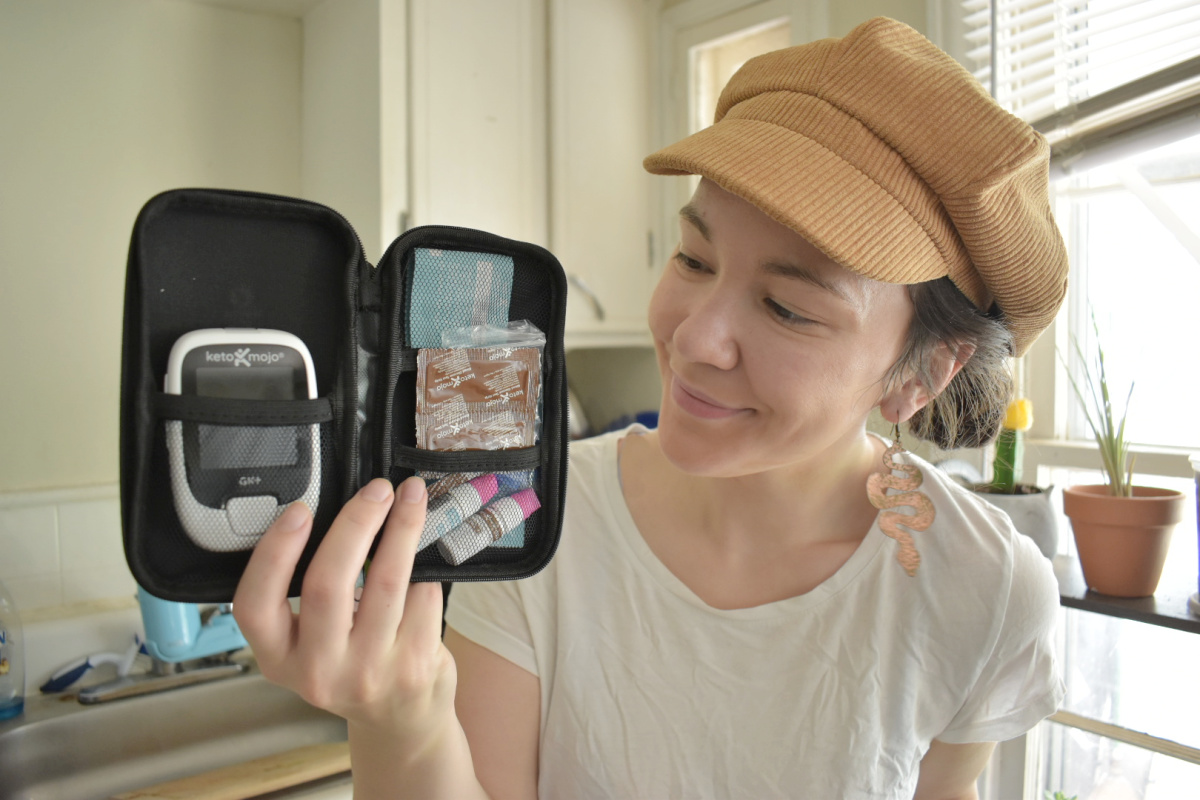 Keto Mojo's monitor is now the only ketone-testing method I'll really trust. It showed me that I actually was in ketosis, even though the strips I was using said otherwise (probably due to hydration levels & several other factors).
There's nothing I want more than for y'all to succeed on keto, and I would be so happy to help others avoid the discouragement of inaccurate test results like the ones I experienced!
Their crazy sales are only going on for a limited time, so to scoop up a testing kit at the lowest price possible, head over to Keto Mojo and buy one now! You guys are all amazing for sticking with keto & you absolutely deserve the best results possible. ❤️
---
Sticking to the keto diet is tough, but these tips make it so much easier!