We Taste Tested 4 Keto Hot Dogs And We've Got a Winner…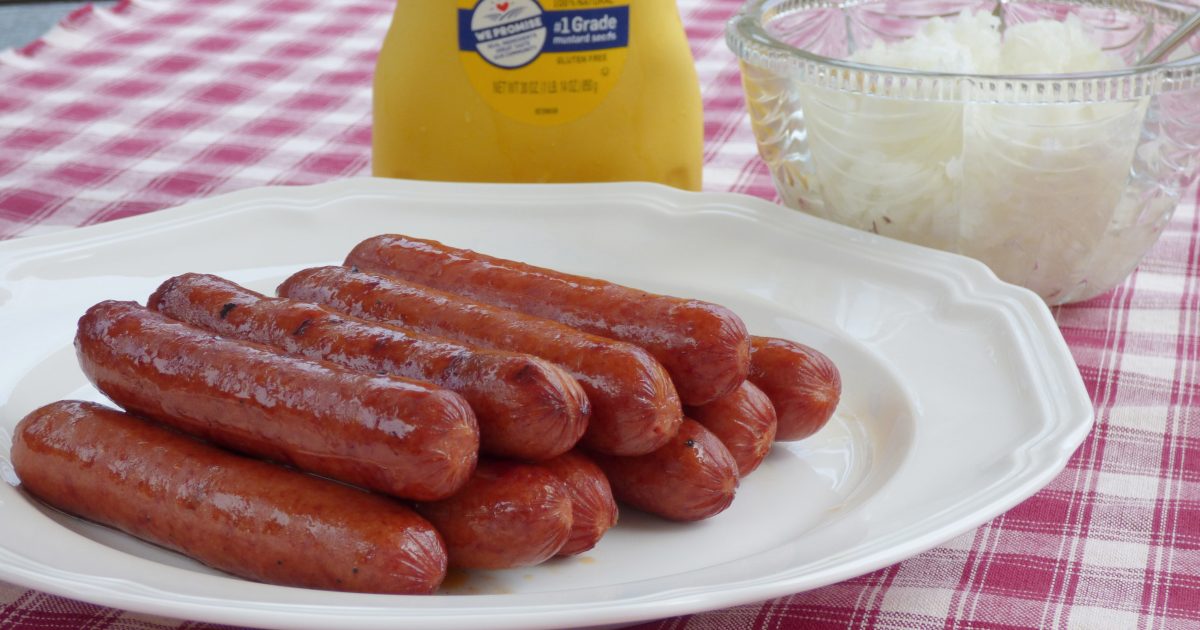 Franks, wieners, tube steaks…
No matter what you call your hot dogs, they can be a simple and delicious source of protein for your ketogenic lifestyle. I regularly build them into my meal planning because they're affordable, they're sold everywhere, and they're something the whole family can enjoy!
For this hot dog taste test, we tested four brands of uncured, all-beef hot dogs and limited ourselves to only the most widely available brands (all our hot dogs came from retailers like Walmart, Target, and Aldi).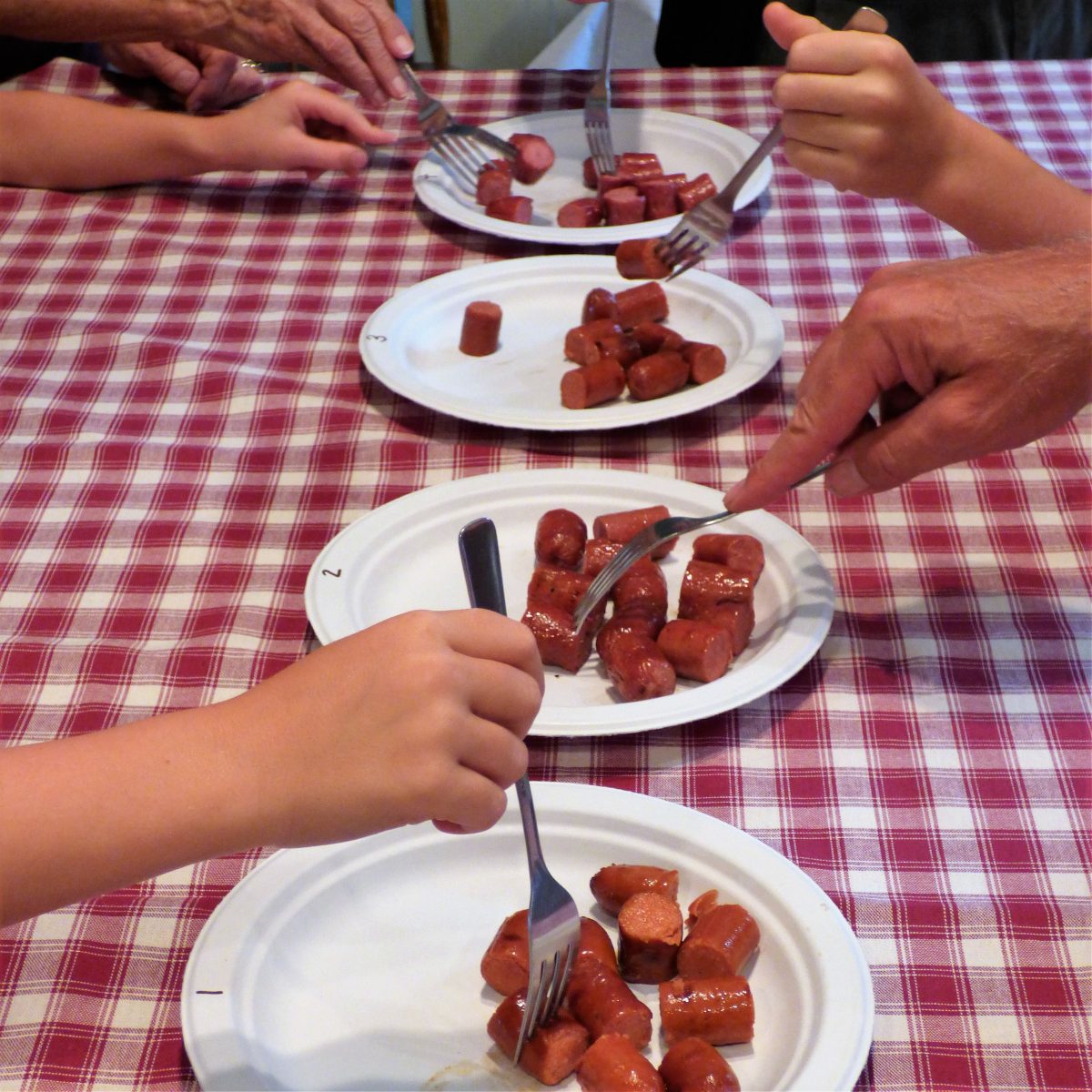 Our taste test spanned three generations of hungry frank fans who were eager to help you find the most crowd-pleasing hot dog for your next cookout. Here are our honest opinions:
---
1. Oscar Meyer Natural Selects – Uncured Angus Beef Franks

While the flavor of this hot dog was exactly what you'd want in a wiener ("It tastes like a baseball game!"), the texture was pretty disappointing. It had absolutely no "snap" upon biting into it, and it was so mushy that it just fell apart when I tried to cut it into chunks for the taste test.
This Oscar Meyer frank was also so salty that we thought for sure it would have the highest sodium content of the bunch. Surprisingly, it actually contained the least amount of sodium of any hot dogs we tested (350 mg).
Another strange observation: These hot dogs were resistant to grill marks during cooking. Check it out: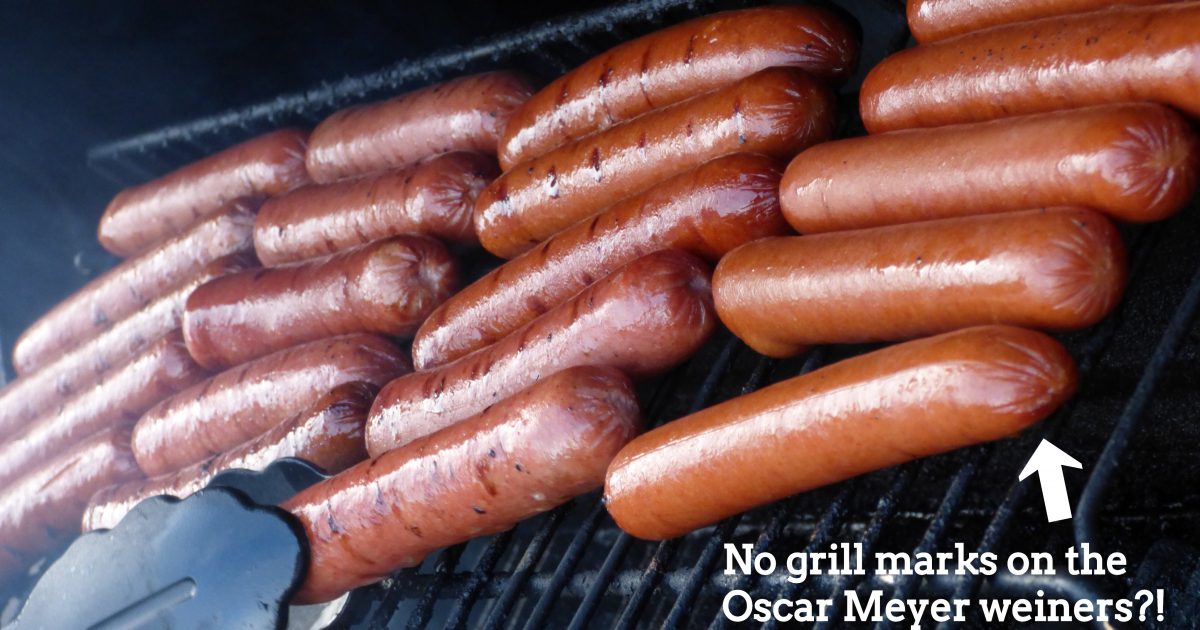 We even tried moving them around to hotter areas of the grill, and they remained free from grill-marks. I'm sure there's a scientific reason for this, but we had all sorts of fun offering our own theories! Could it be something with the skin, or maybe a difference in fat content?
One wise tester guessed that these hot dogs would have the highest fat content based on how oily they felt in her mouth, and she was right on.
Nutrition: 14 g Fat | 1 g Carbs | 6 g Protein | 130 Calories
---
2. Simply Nature Organic – Uncured Beef Hot Dogs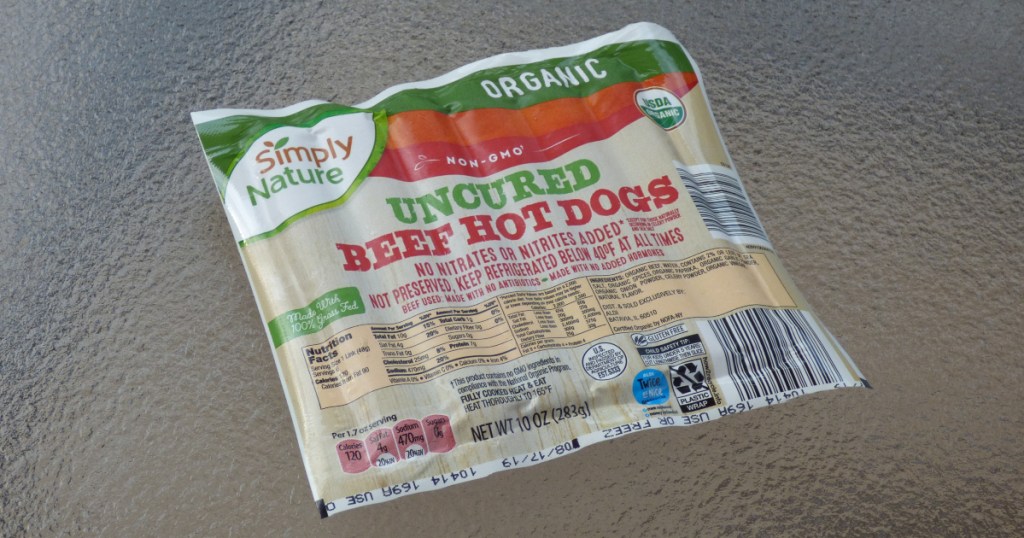 The Simply Nature Organic hot dog (available at Aldi) plumped up nicely on the grill and curled up a bit at the ends (like an optimistic little hot dog smile). This brand was sort of the inverse of Oscar Meyer. While the texture was great, the flavor was just OK. These franks offered the perfect bite and great snap, but not quite the taste that you would expect from a hot dog.
There was a pleasant, mild smokiness, but also some unexpected (and rather unwelcome) notes of Old Bay. While all of the hot dogs we tasted contained some element of celery seasoning, this was the only one where it really stood out as being a prominent flavor.
Nutrition: 10 g Fat | 1 g Carbs | 7 g Protein | 120 Calories
---
3. Hebrew National – All Natural Uncured Beef Franks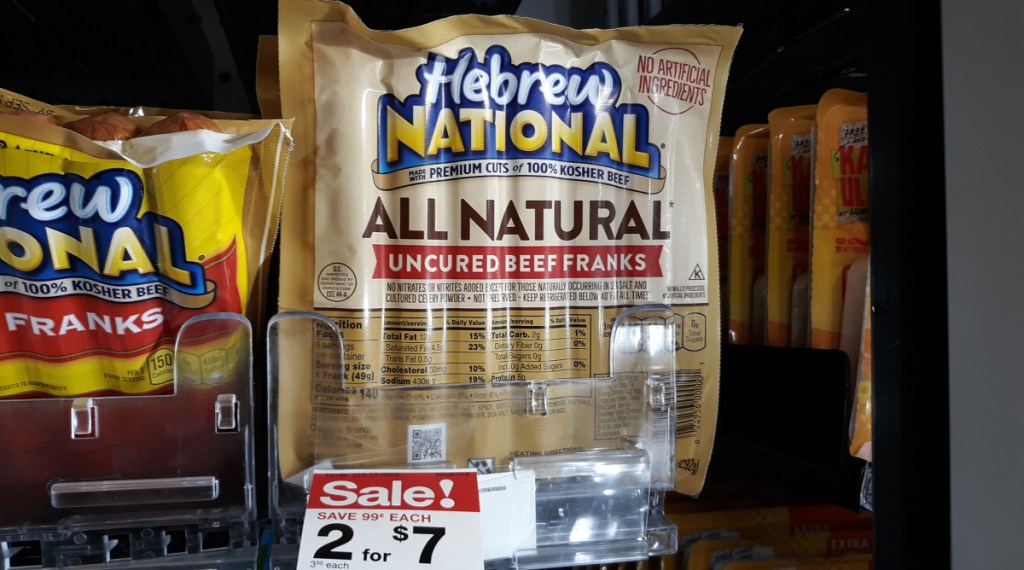 These Hebrew National uncured beef franks tasted great and their texture was spot on. There wasn't much of a plumping effect on the grill though, and these were definitely the skinniest of all the dogs we tested. Those of us eating hot dogs without the bun were hoping for something with a little more girth.
Other than its slim build, this brand was well-received by the adult testers. It should be noted that these were the clear kid favorite, and the first sample to disappear from the taste-testing area. "These taste regular," said one of our young testers. And when you're a picky 6-year-old, "regular" is high praise!
Nutrition: 12 g Fat | 2 g Carbs | 6 g Protein | 140 Calories
---
4. Applegate Natural – Uncured Beef Hot Dogs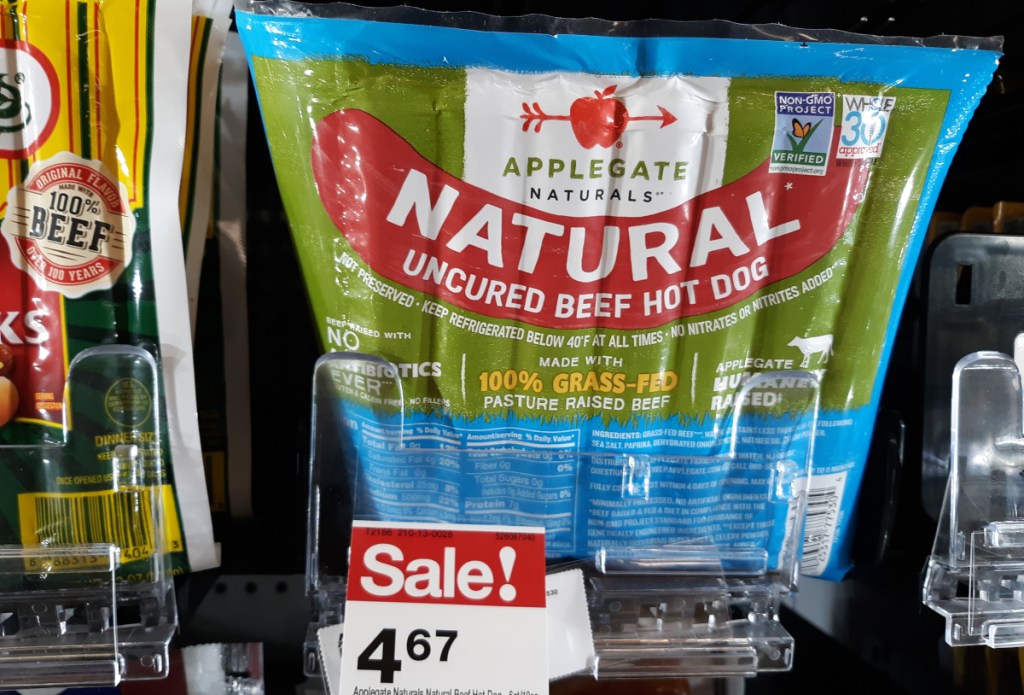 A favorite among our grownups, the Applegate Naturals hot dogs had a smoky, almost sausagey, taste. They plumped up well on the grill and provided the firm but juicy texture we've come to expect from a good dog.
We loved the fact that Applegate Naturals uses 100% grass-fed, humanely-raised beef with NO antibiotics ever. We were equally excited to discover that the best tasting hot-dog also contained zero carbohydrates, giving it the most keto-friendly macros of the bunch!
Of all the franks we tested, this was the only one to develop a crunchy skin on the outside, which can be a rather divisive feature of hot dogs. In our family, the adults loved it but the kids did not.
Nutrition: 9 g Fat | 0 g Carbs | 7 g Protein | 110 Calories
---
Our Winner: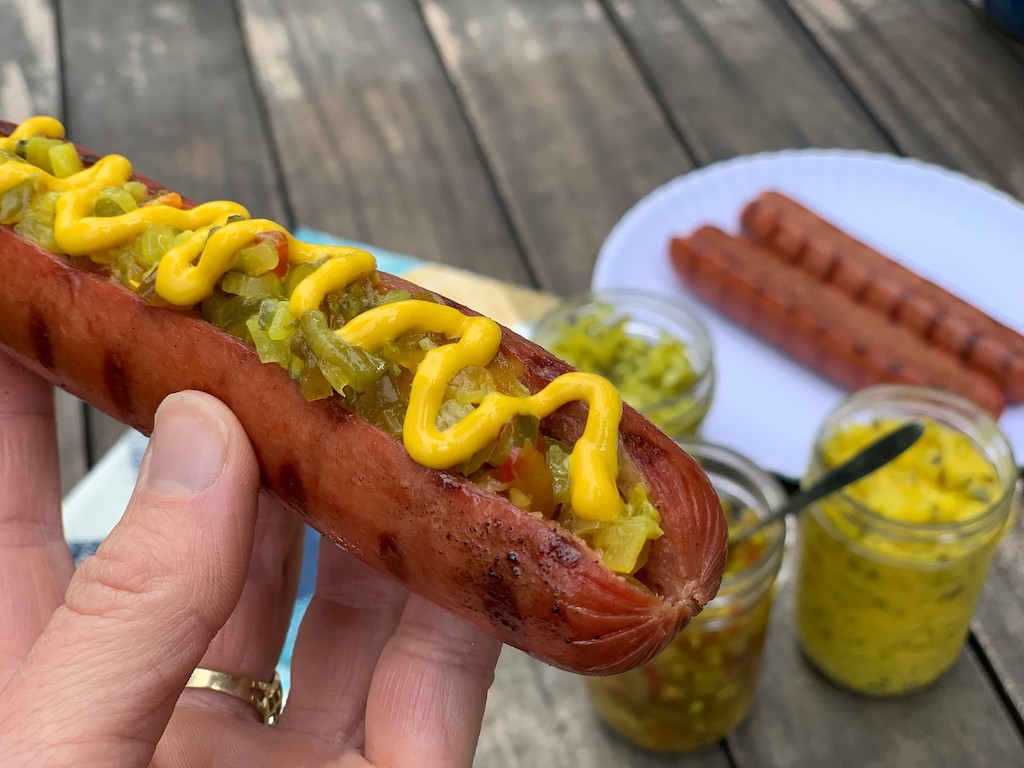 Applegate Naturals took the title of keto-friendly top dog. Its robust flavor, sturdy texture, and zero-carb macros made this frank the clear winner among our adult testers, with Hebrew National as a close runner-up.
For future cookouts, we'll probably keep the Hebrew Nationals on hand for the kiddos since they'll be eating their hot dogs with buns and won't mind their skinny shape. I may also try boiling the Applegate brand for the kids because they might like them better without the crispy skin.
---
You'll frank us later for these keto hot dog recipes, tips, and dinner ideas!