Insulin & Weight Gain Go Hand in Hand | Review of The Obesity Code Book (Part 3 & 4)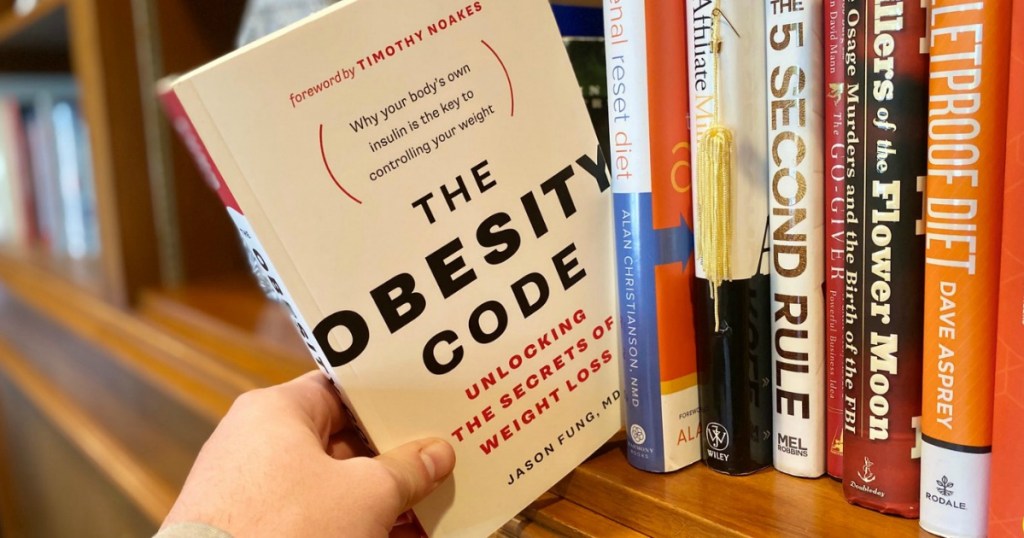 🚨WARNING: SPOILERS AHEAD! 🚨
WOWEEE! The Obesity Code just keeps on getting better and better! Even for a slow reader like me, it's a page-turner filled with a lot of lightbulb a-ha moments! I honestly thought it couldn't get better than last week's assignment but boy was I wrong. Read on to find out what this week's assignment covered.
---
So… let's dive into the Week 2 reading assignment:
Week 2
Part 3: A New Model of Obesity – Chapters: 6, 7, 8, 9, 10
Part 4: The Social Phenomenon of Obesity – Chapters: 11, 12, 13
Part 3 of The Obesity Code goes in-depth with explaining how cortisol, insulin, stress, leptin, and sleep all play major roles in weight loss and weight gain. As someone who maybe gets about four hours of sleep tops every night, it sure was an eye-opener. "A single night of sleep deprivation increases cortisol levels by more than 100 percent." 😱

And if you haven't gotten that far, increased cortisol levels = weight gain, so yes, we all need to get more sleep. Anyone else feel like they're going to have to put their phone in another room in order to achieve this? 🙋🏻‍♀️
The discussion regarding insulin levels and the correlation between weight gain with elevated levels is sort of mind-boggling when you think about it. Type 2 diabetics are often given insulin to control their diabetes, but according to Dr. Fung's research, it's also contributing to rapid weight gain among those individuals. Part 3 also talks about the Atkins low carb revolution and the studies of Dr. Robert Atkins. I think we've all either tried or know someone that has tried the Atkins diet at some point.
Part 4 tackles food issues, poverty and childhood obesity, and how they play a role in the obesity epidemic. The underlying message that seems to be prevalent in both parts of this week's assignment is that insulin is really tied to it all. The ideas he shares about passing along obesity to our children before they're even born is absolutely food for thought and makes a lot of sense in the way he explains it.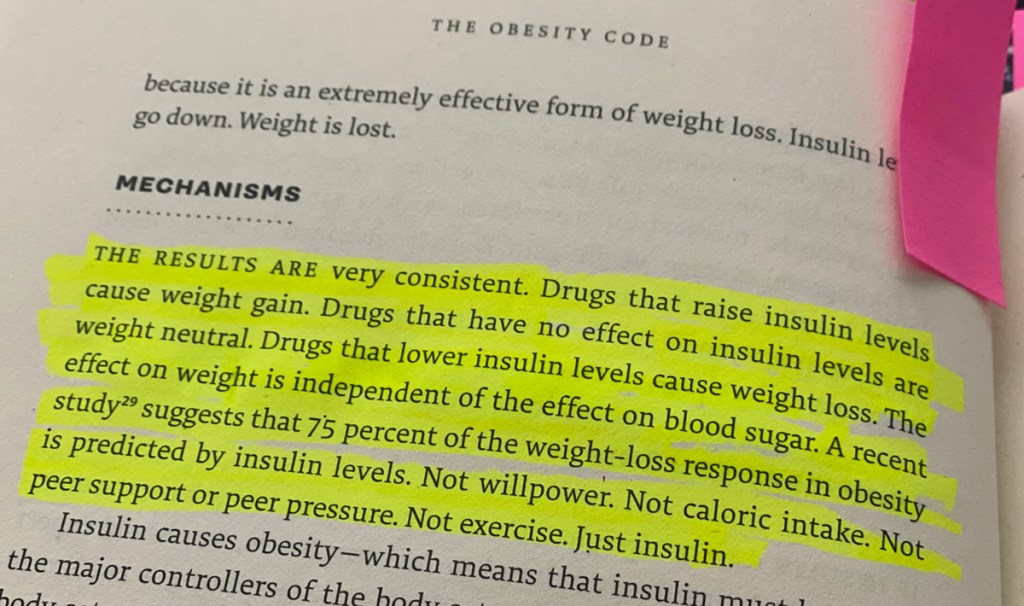 Here are some of my favorite quotes from this week's assignment. To be honest, I really had a hard time choosing just which ones to include, every page is filled with so much amazing (and often mind-blowing) information!
"Excess calories did not cause obesity, so reduced calories could not cure it. Lack of exercise did not cause obesity, so increased exercise could not cure it. The false gods of the caloric religion had been exposed as charlatans."

---

"Obesity develops over decades. Yet hundreds of published studies consider only what happens to us in less than a year. Thousands more studies last less than a week. Still, they claim to shed light on human obesity."

---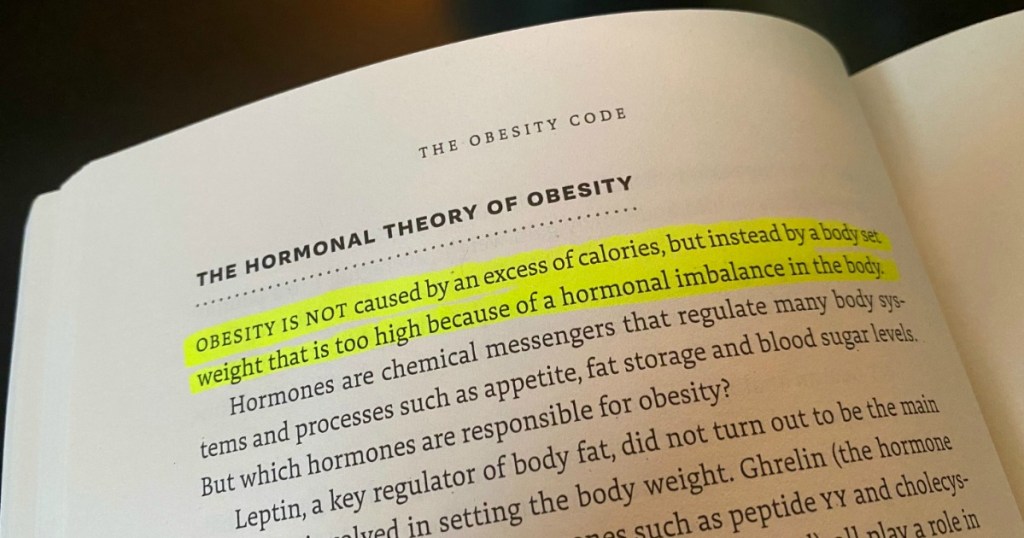 "OBESITY IS NOT caused by an excess of calories, but instead by a body set weight that is too high because of a hormonal imbalance in the body."

---

"Insulin is a key regulator of energy metabolism, and is one of the fundamental hormones that promote fat accumulation and storage."


---

"Insulin is a storage hormone. Ample intake of food leads to insulin release. Insulin then turns on storage of sugar and fat. When there is no intake of food, insulin levels fall, and burning of sugar and fat is turned on."

---

"Increased calories in and decreased calories out (eating more and moving less) does not cause obesity, but is instead the result of obesity."

---

"Drugs that raise insulin levels cause weight gain. Drugs that have no effect on insulin levels are weight neutral. Drugs that lower insulin levels cause weight loss."

---

"A recent study suggests that 75% of the weight-loss response in obesity is predicted by insulin levels. Not willpower. Not caloric intake. Not peer support or peer pressure. Not exercise. Just insulin."

---

"The undeniable fact remains that excess cortisol causes weight gain."
---

Are you ready for Week 3? Here's your assignment!
Part 5: What's Wrong with our Diet? – Chapters: 14, 15, 16, 17, 18
If you've already finished week one and two, continue on with our week 3 assignment which is roughly around 55 pages. If you're a little late to the game, no worries, just catch up when you can, we'll have all the information here waiting for ya! This book is a game-changer for anyone, even those not living a keto lifestyle.
Feel free to post your thoughts in the comment section of this post for the week two assignment or in our exclusive Hip2Keto Facebook Group. Let us know your biggest takeaways from each week's chapters and chat with other Hip2Keto readers to compare notes.
---
Still don't have The Obesity Code book yet?
You can grab the paperback book, the Kindle version, or the Audible version of the book to join in on the fun!
---