If Your Santa's Keto, Bake Sugar-Free Snowball Cookies
Love Christmas cookies?
I know I do! Yep, these keto sugar-free snowball cookies have many names like Mexican Wedding Cookies and Russian Tea Cakes. Well, whatever your family calls them, they're insanely good and addicting.
These yummy nut and crumbly shortbread kind are my very favorite cookies – and this one's NOT filled with carbs! It's definitely tempting to eat them ALL (you've been warned).
For more keto cookie recipes, bookmark this page.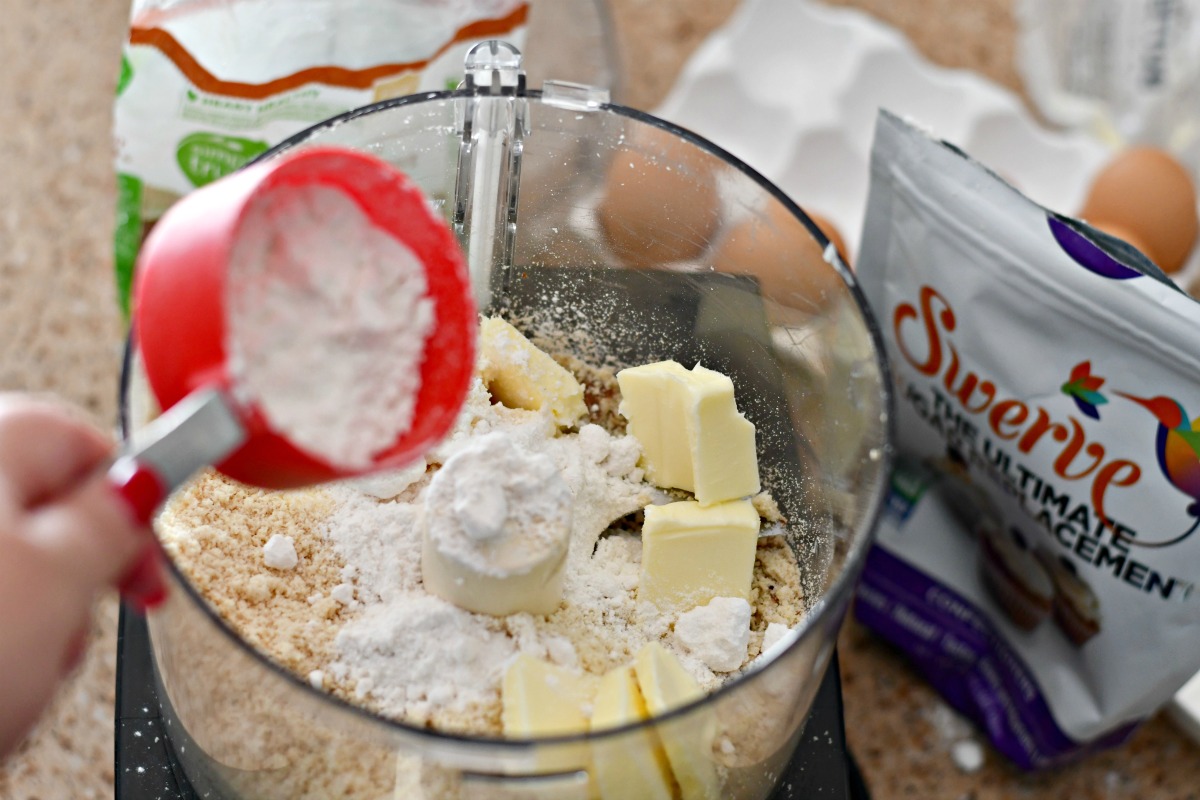 Bake an easy keto sugar-free version of snowball cookies!
Yep! You heard me correctly! With just a few important keto swaps like a powdered sugar substitute such as Swerve confectioners, and almond flour instead of traditional flour, you can make these delicious Christmas staple cookies grain-free and sugar-free!
Plus, I love that you can just place all the ingredients in the food processor to quickly whip up an easy dough!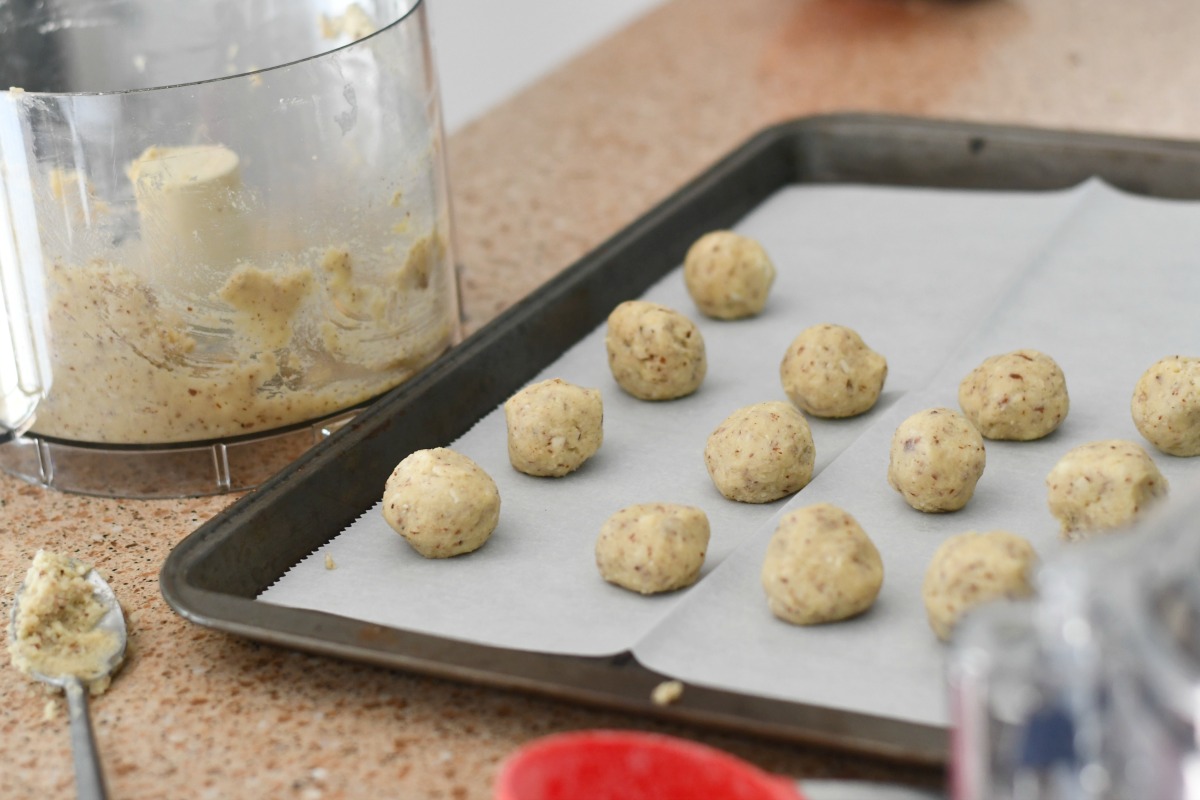 These cookies are easy to roll up into balls, bake, and then roll through a little extra sugar-free powdered sugar! For best results, freeze cookies for about 30 minutes before baking so they stay in their ball shape.
Feel free to customize this cookie recipe to your individual tastes. For instance, you can use a different sweetener for the cookie batter. See our Keto Sweetener Conversion Guide for helpful info on alternative sweeteners. Also, feel free to use other nuts like pecans or walnuts. I just happened to have almonds in my pantry, and they were yummy!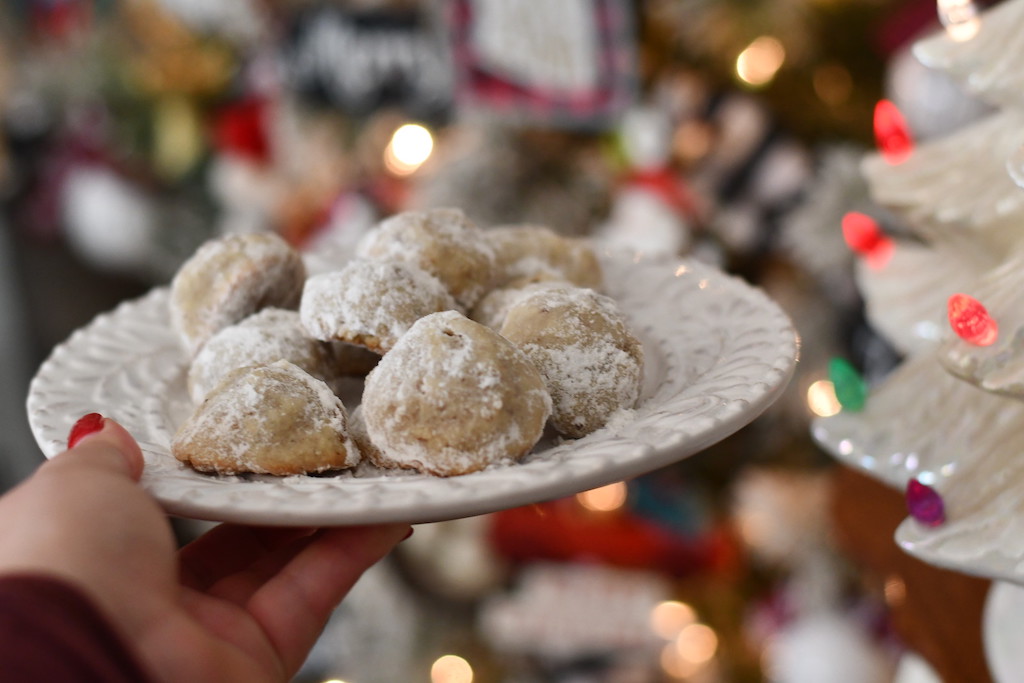 ---
Print
Sugar-Free Keto Snowball Cookies
yield: 20 SERVINGS
prep time: 30 MINUTES
cook time: 15 MINUTES
total time: 45 MINUTES
This easy, low-carb version of snowball cookies doesn't disappoint! Yum!
Ingredients
Cookie Dough:
1 cup almonds, chopped
1 1/2 cups almond flour
1/2 cup cold butter, in slices
1 teaspoon vanilla
1/2 cup Swerve confectioners or more (depending on how sweet you'd like these)
1 large egg
pinch salt
Cookie Topping:
1/4 cup Swerve confectioners (to roll cookies in after baking)
Directions
1
Pre-heat oven to 350 degrees.
2
Line a baking pan with parchment paper.
3
Using a food processor, pulse nuts a few times to chop them. Add the remaining cookie dough ingredients to food processor, and then pulse a few times until a dough forms.
4
Use a teaspoon and roll 20 balls of dough and place them on a cookie sheet. Freeze for about 30 minutes for best results so they keep a ball shape.
5
Bake for about 15-17 minutes until slightly browned. Take them out and let cool before rolling them in additional Swerve confectioners sweetener. Cookies can be stored in an air-tight container for up to several days.
Nutrition Information
Yield: 20 servings, Serving Size: 1 cookie
Amount Per Serving: 149.0 Calories | 12.5g Fat | 26.8g Total Carbs | 1.8g Fiber | 23.4g Sugar Alcohol | 3.7g Protein | 1.6g Net Carbs
---
Don't be alarmed by the high total carb count!
Fiber and erythritol (the main ingredient in Swerve) do not affect blood sugar in the same way that regular carbs do, so we subtracted them from the total carb count. You'll see that the net carbs are much lower once you remove the sugar alcohols and fiber.
Bites of powdered sugar heaven!
Oh my goodness…. this is a great rich and buttery cookie! As written, it's not super sweet, so adjust sweetener to taste if you feel it may need more, but I loved them. The texture is a little crumbly compared to the traditional full carb cookies, but I still feel like they're a great substitute!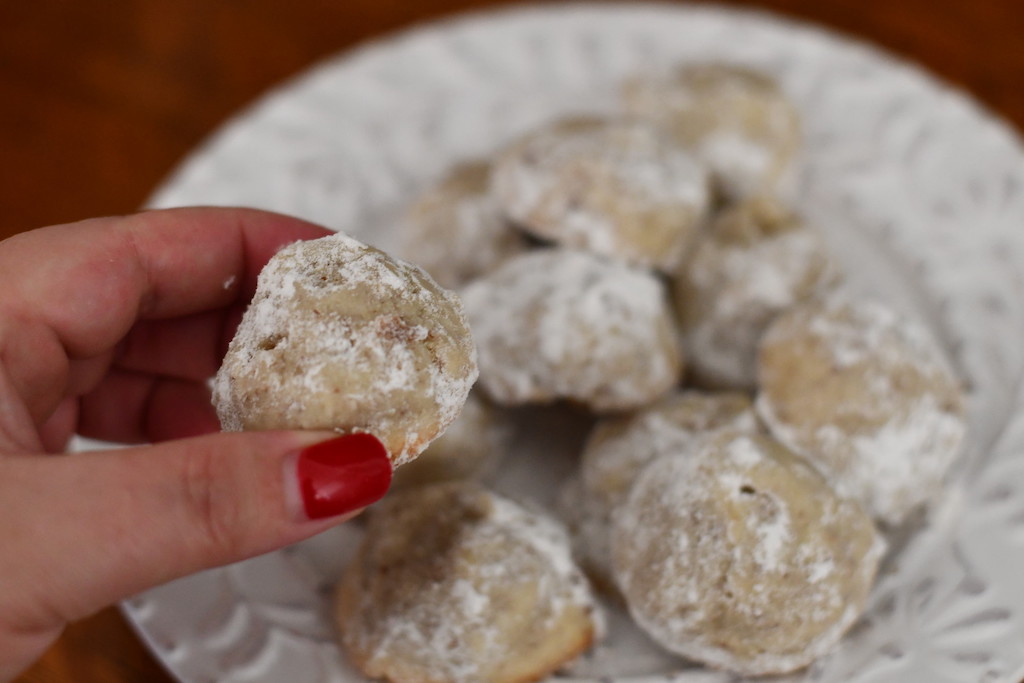 If you're craving Christmas cookies, bake these as a yummy alternative to keep you on track this holiday season!
---
This keto Christmas "crack" pecan toffee is so delicious, too!