We're Drooling Over This 3-Cheese Scalloped Cabbage Casserole Recipe
Move over potatoes, scalloped cabbage is taking the spotlight!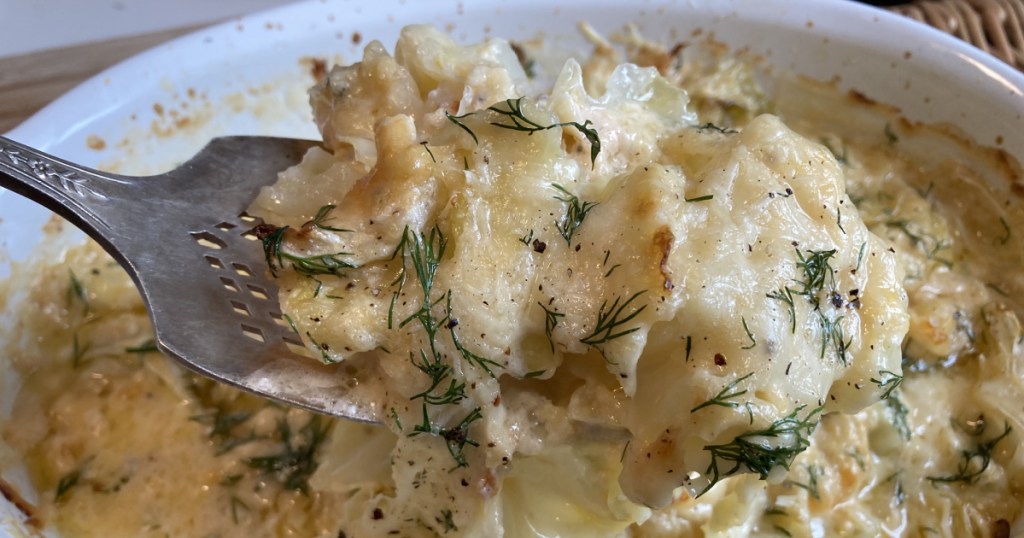 I swear this cozy casserole recipe is just like the real deal, but low-carb AND keto-friendly!
Your family will love this scalloped cabbage casserole, and I just can't wait to share it with you! This dish is an interpretation of that classic box recipe you know and love, but instead of starchy potatoes, cabbage is the star of the show — a very underrated vegetable I might add!
A creamy cheese sauce is blanketed over tender cabbage, then baked until bubbly. So this casserole does not skimp on decadence! 😋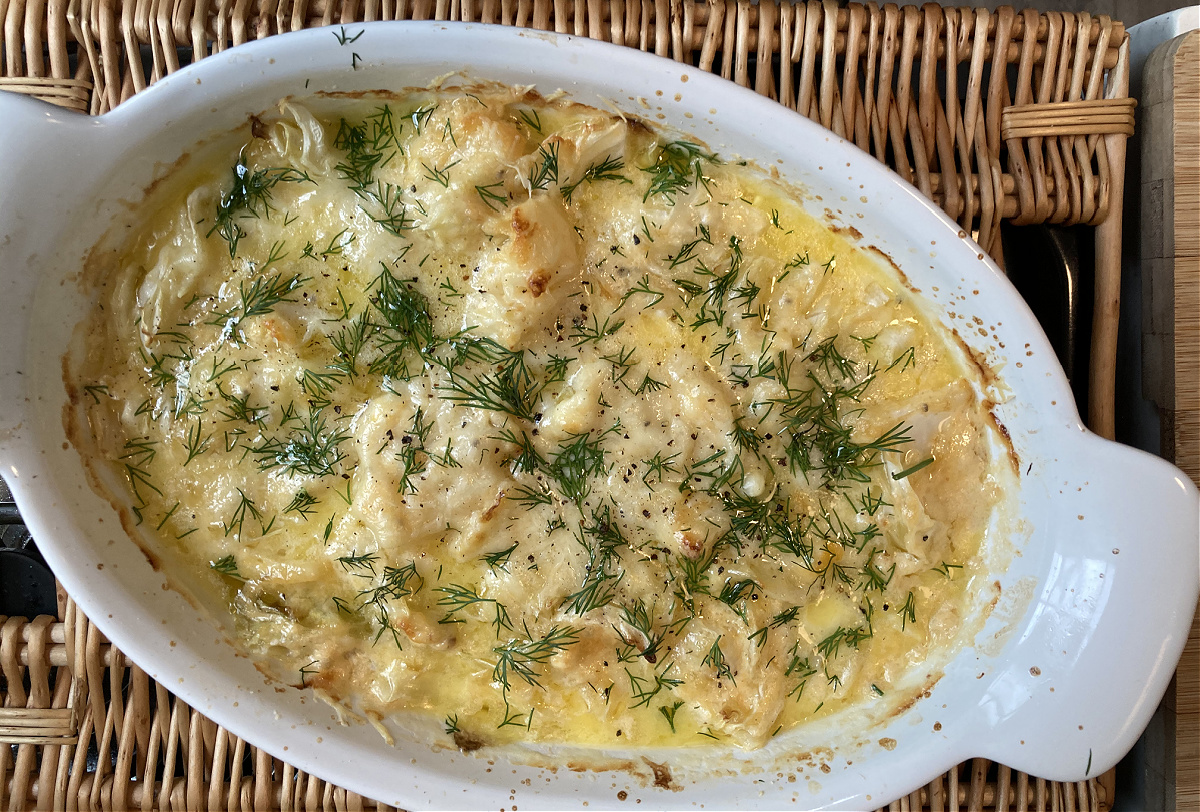 What makes a truly great casserole you ask?
First off, you obviously need a whole lot of cheese, that goes without saying! Swiss and cheddar are a winning pair in this scalloped cabbage casserole, but it's the parmesan crust that will make your family request this weekly!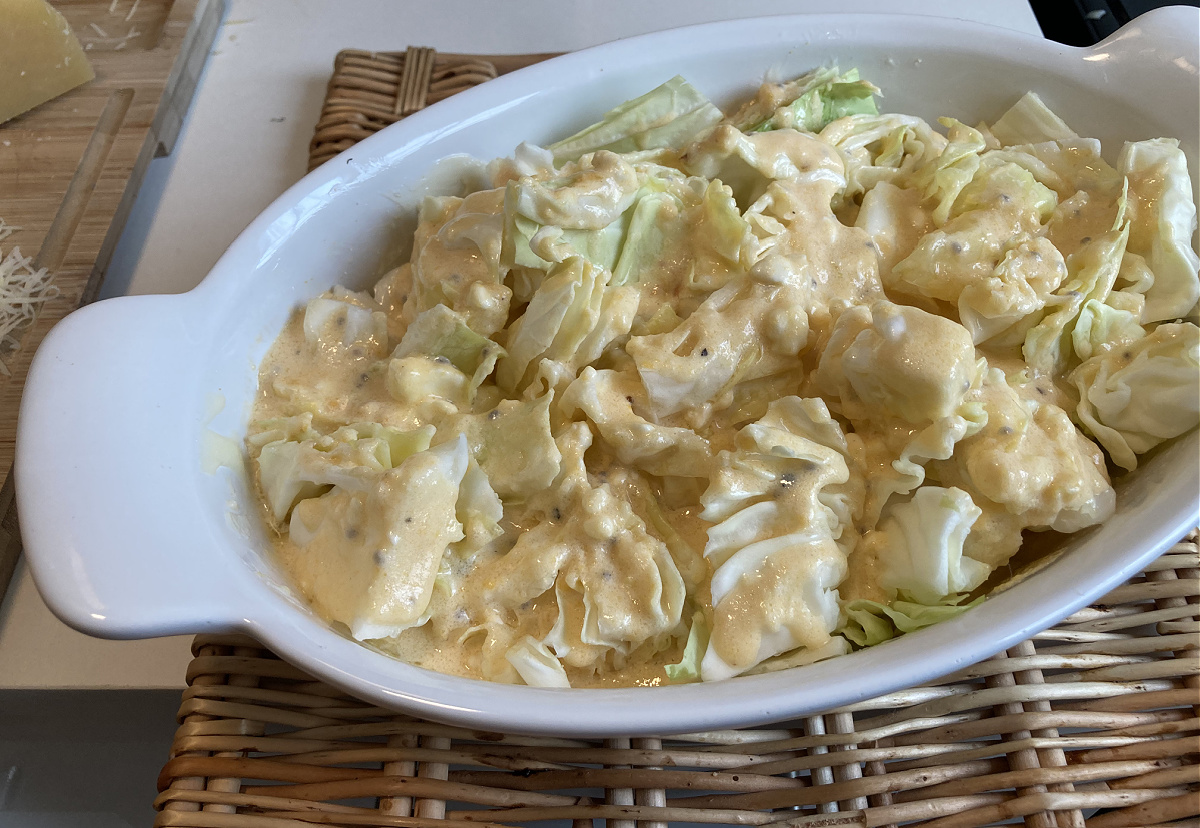 Grab a fork, this keto scalloped cabbage is so flavorful!
It's made with three kinds of cheese and the flavor profile is creamy, savory, and has a zip of tang from dijon mustard. The nuttiness from the Swiss cheese makes this low-carb version unique.
You will want to serve this as a side or main dish all season long.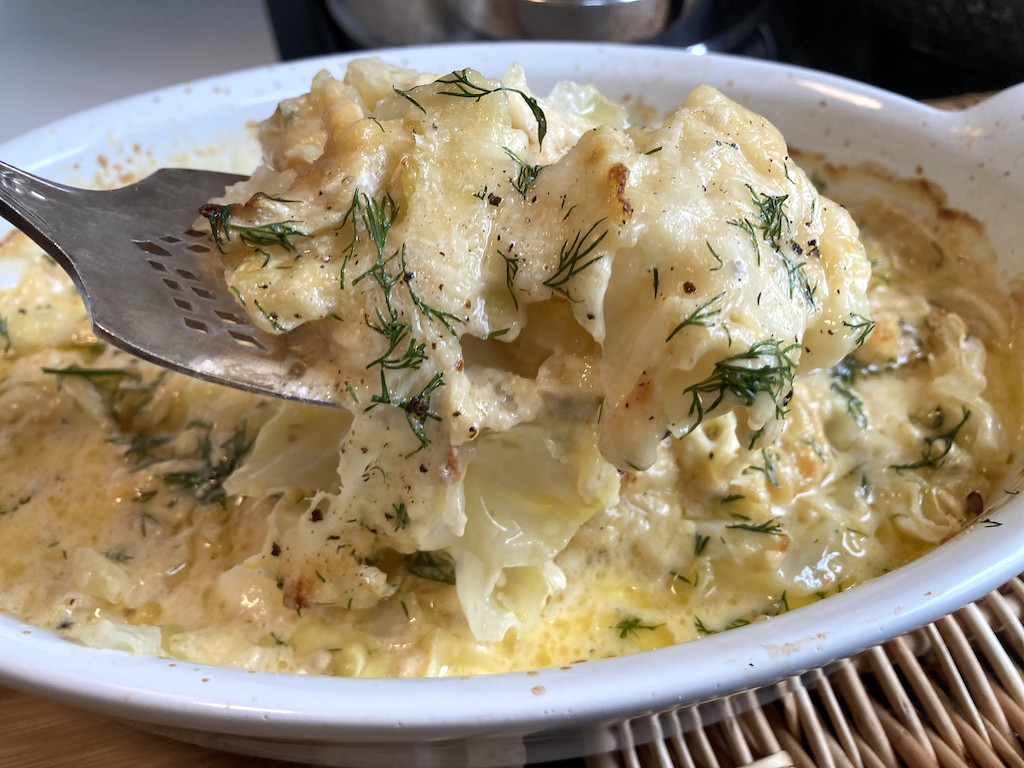 Tips for making the best keto scalloped cabbage recipe:
This dish is such a classic, right down to the combination of cabbage and dill. If you don't have dill, you can use any bright green herb – fresh or dried, whatever you have on hand. I suggest using freeze-dried herbs, they are just as flavorful and inexpensive. Parsley and chives are other ideas that would work well in this casserole.
Use caution when removing the tough stem of the cabbage, be sure to cut away from yourself on a sturdy surface.
I found that scalloped cabbage is the perfect marriage with roasted meats. I highly recommend serving it with pork tenderloin!
I recommend using a box-grater for shredded cheeses – make course shreds, fine shreds, or slices all in one nifty tool!
Speaking of cheese, swapping the varieties to better suit your's or your family's taste is always available. My Hip sidekick Jenna recently tried sharp cheddar in hers and loved it!
When swapping out the flour for a keto-friendly thickening agent, I suggest using chia seeds. They are an antioxidant-rich superfood with so many health benefits. Also, almond flour, xanthan gum, or flaxseed meal all work wonders.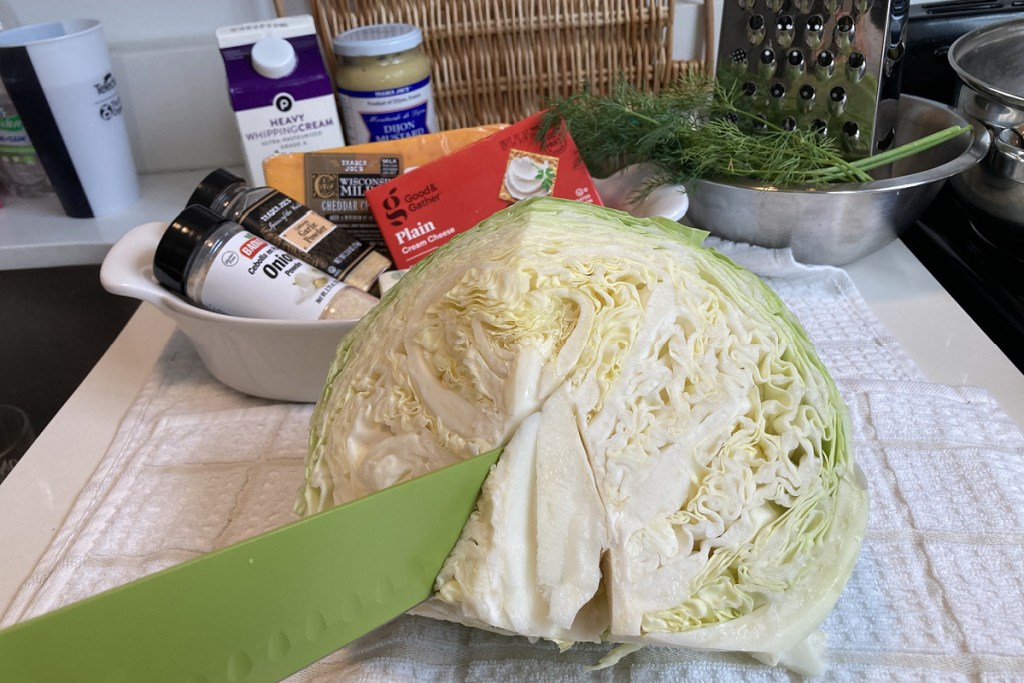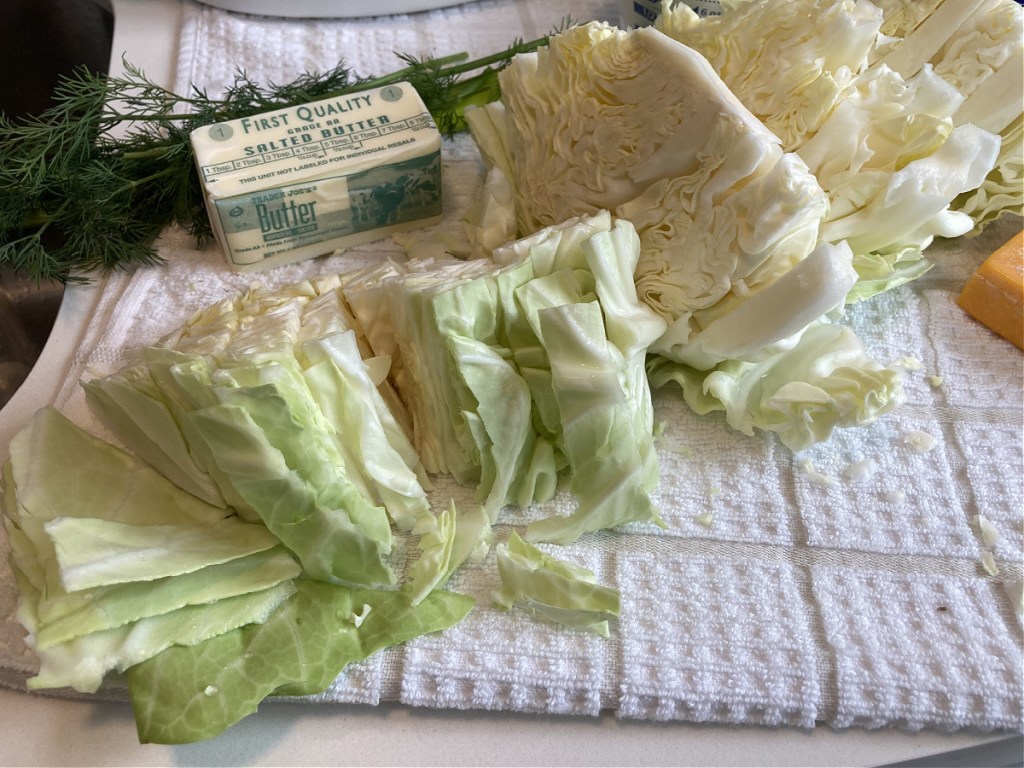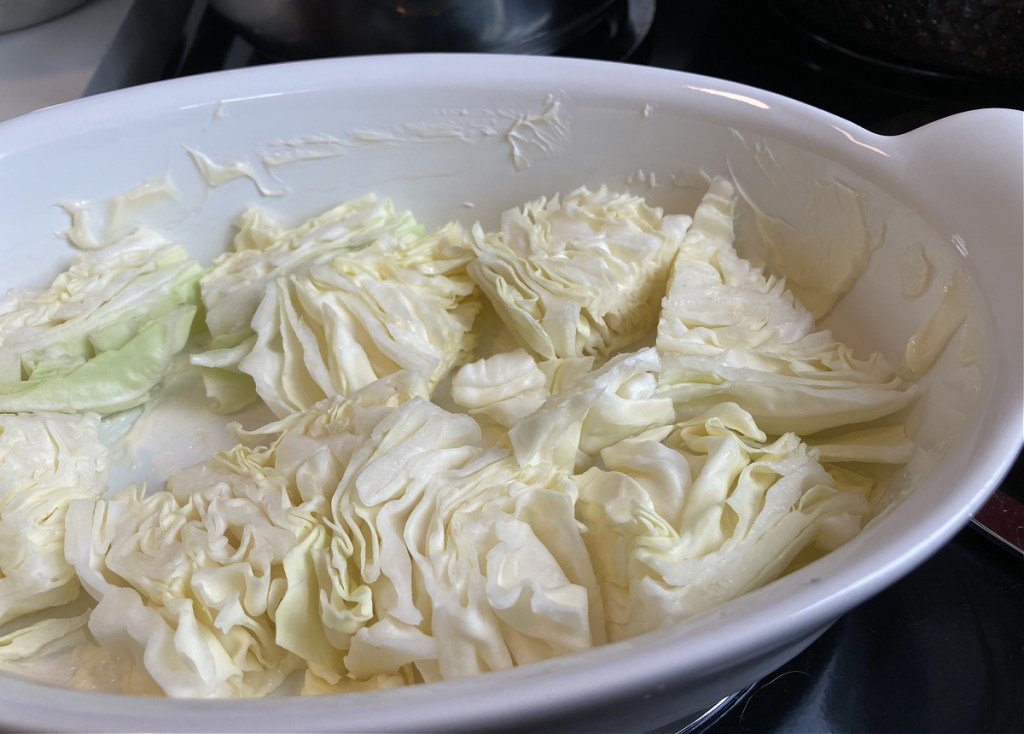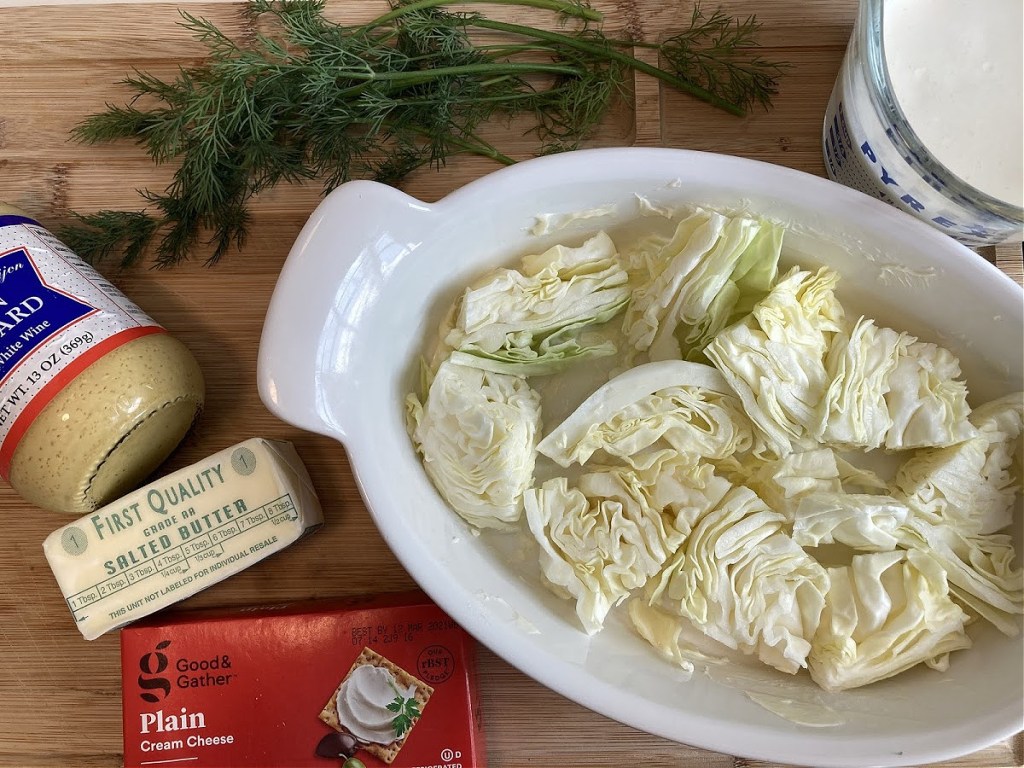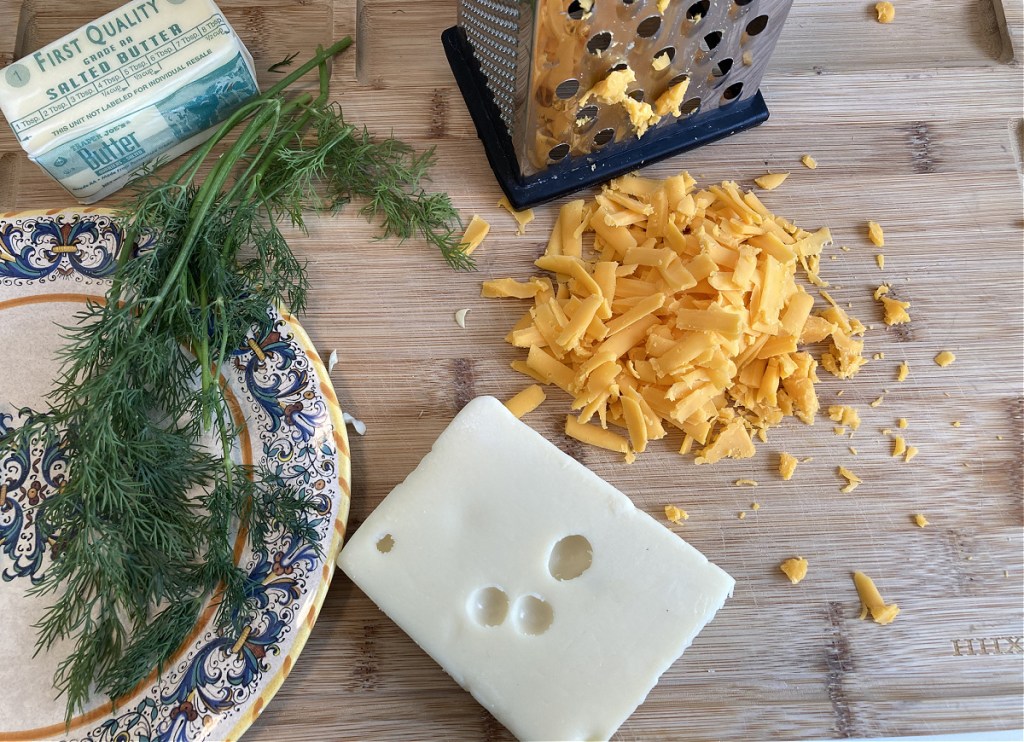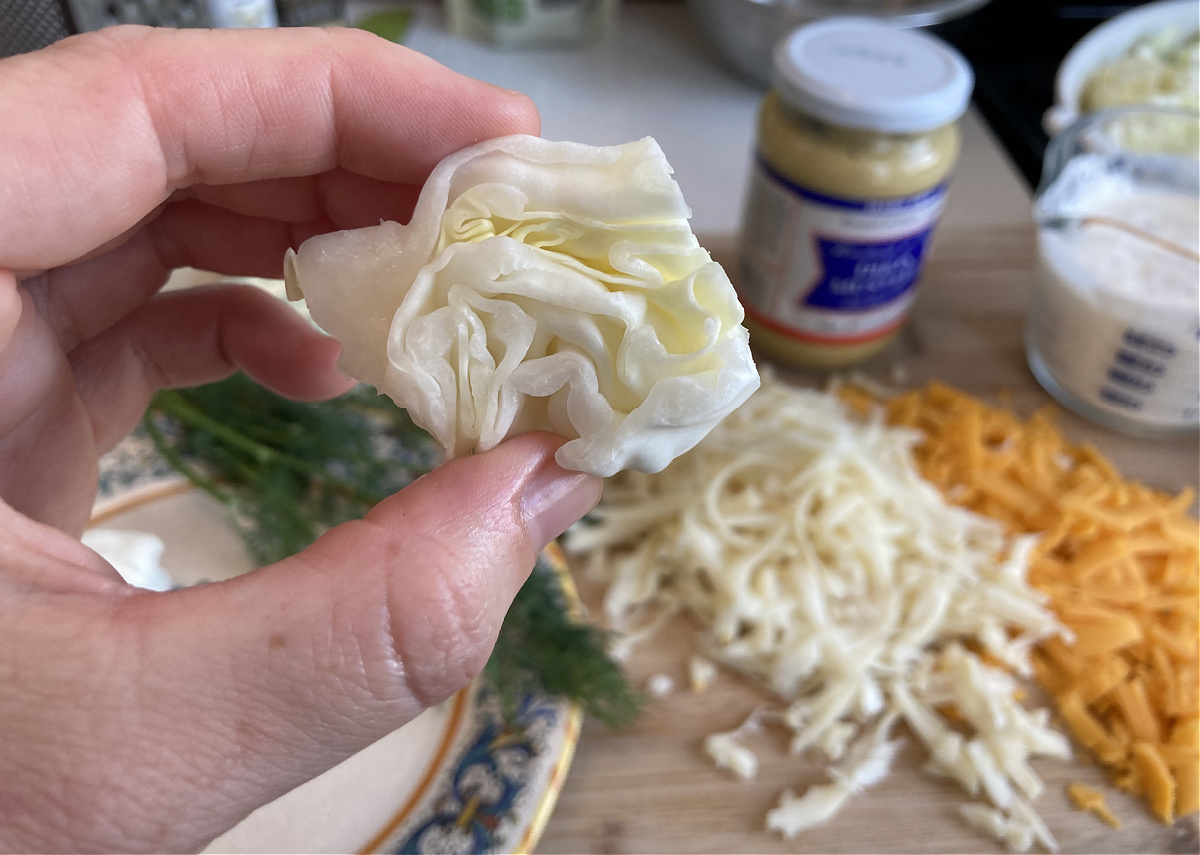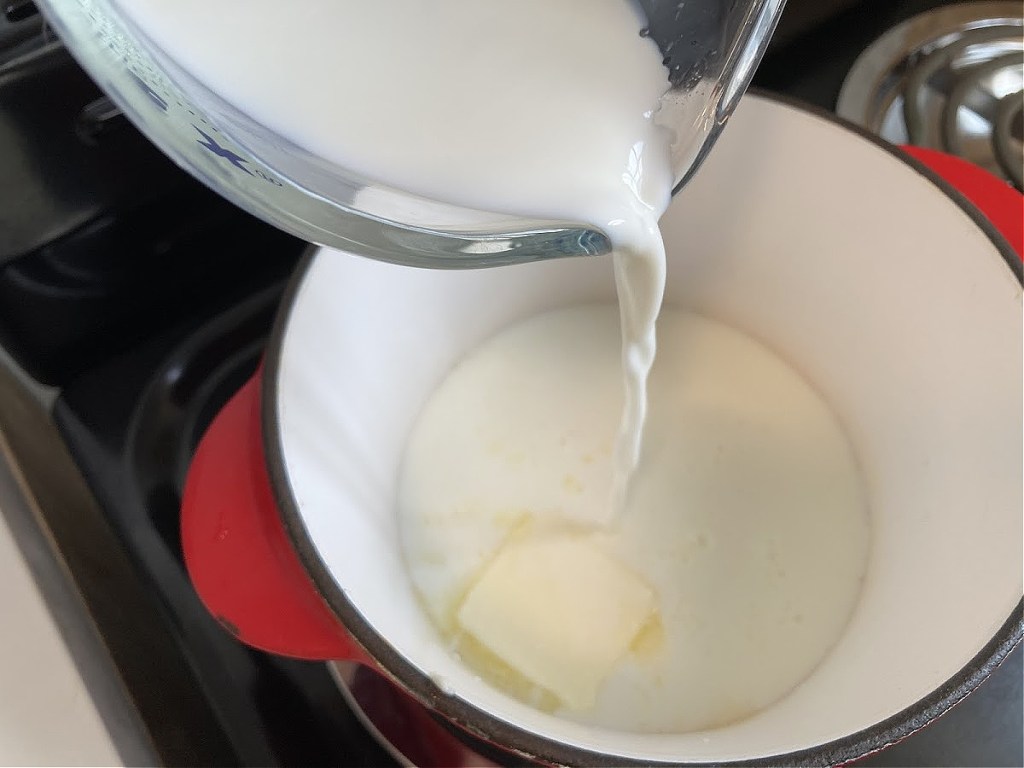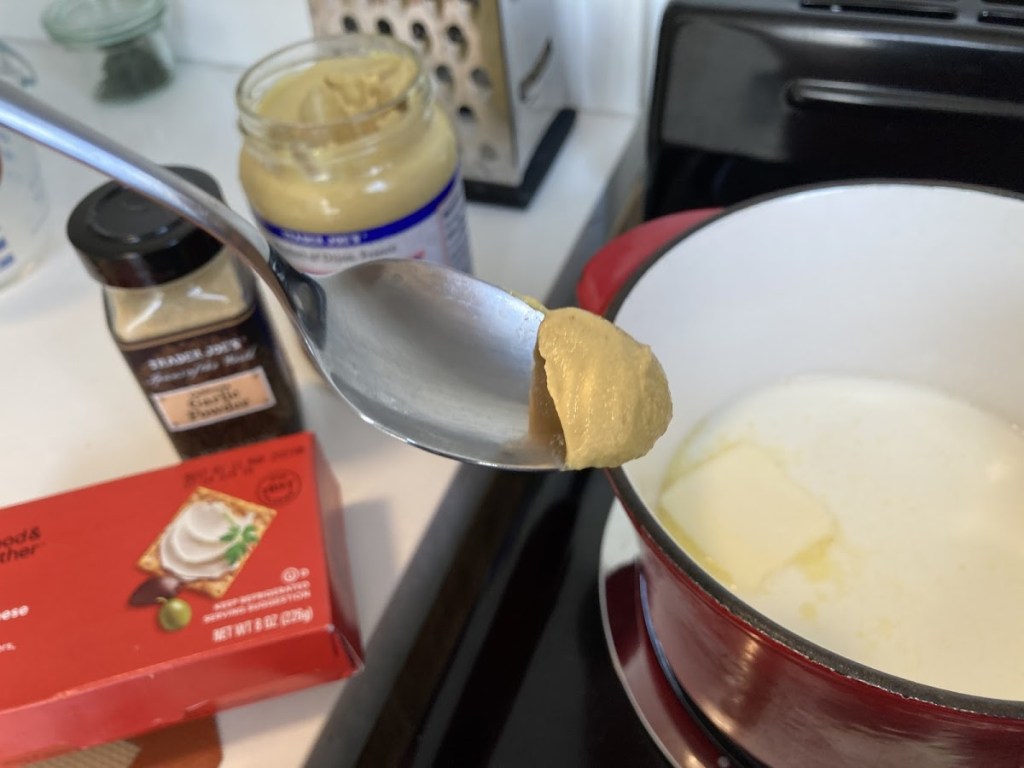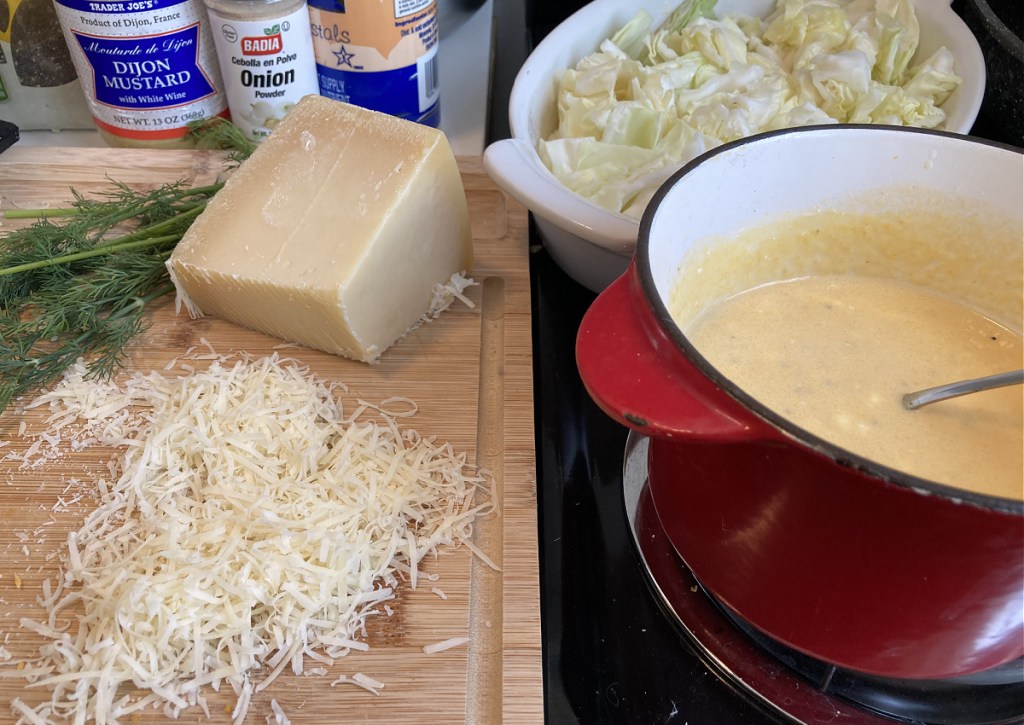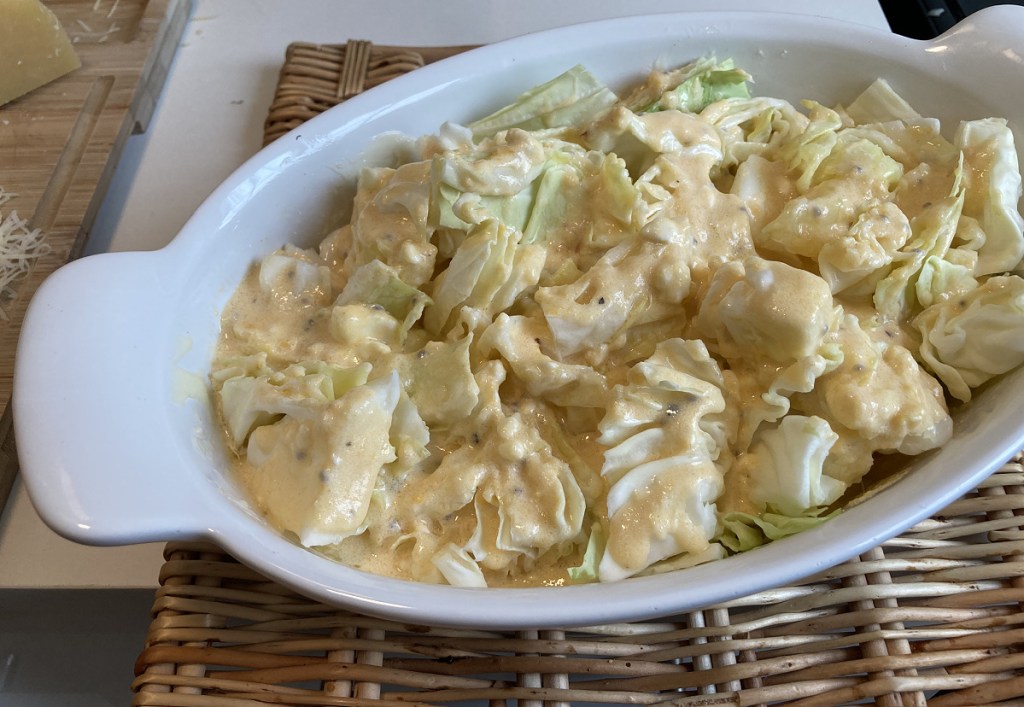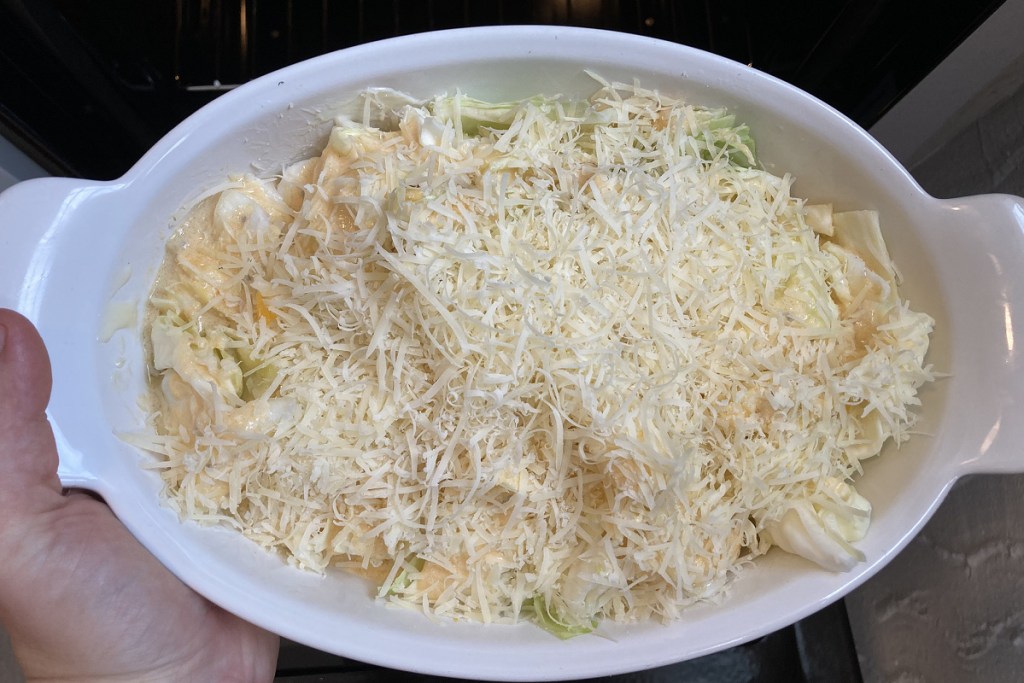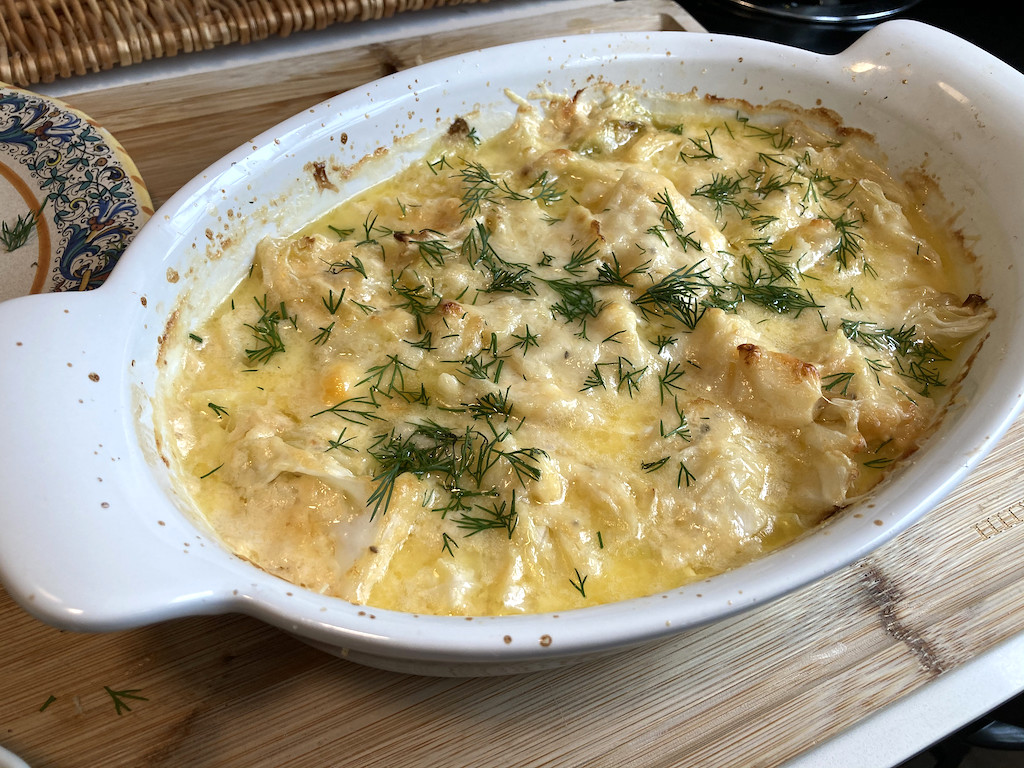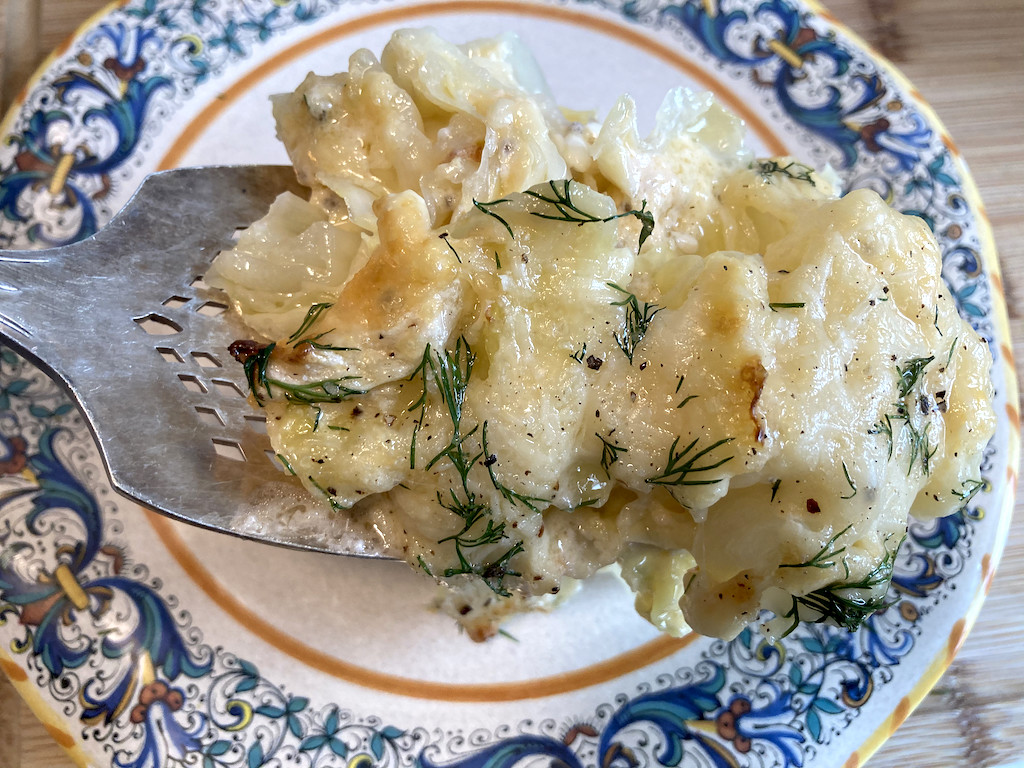 ---
Print
Keto Scalloped Cabbage
yield: 6 SERVINGS
prep time: 20 MINUTES
cook time: 40 MINUTES
total time: 60 MINUTES
A low-carb keto twist on a traditional recipe, starring cabbage, a creamy cheese sauce, and a parmesan crust.
Ingredients
small head of cabbage, about 3 cups chopped
2 tablespoons butter, divided
1 cup heavy cream
1/2 cup Swiss cheese, coarsely shredded
1/2 cup mild (or sharp) cheddar cheese, coarsely shredded
2 oz. cream cheese, softened
1 teaspoon dijon mustard
1/4 teaspoon chia seeds
1 teaspoon garlic powder
1/2 teaspoon onion powder
1 teaspoon salt
1 teaspoon pepper
1/3 cup Parmesan cheese
1/2 teaspoon dill, dried or fresh
Directions
1
Prep your cheeses by grating the Swiss cheese and cheddar cheese. Set out your cream cheese to soften.
2
Preheat the oven to 375 degrees. Using a large kitchen knife, slice a small head of cabbage in half, then remove the stalk, then cut into quarters, so you have 4 equal wedges. Slice each wedge into 1/2 inch thick pieces, about 2 inches wide.
3
In a medium saucepan, make the cheese sauce by adding 1 tablespoon of butter, heavy cream, Swiss cheese, cheddar cheese, cream cheese, mustard, chia seeds, garlic powder, and onion powder. Bring to a boil, then reduce to simmer for about 5 minutes. Add the salt and pepper.
4
Coat a medium baking dish evenly with the remaining butter. Then add half the cabbage pieces and cover with half the cheese sauce. Repeat with a second layer.
5
Using the fine shred on a box grater, grate Parmesan over the casserole, coating in an even layer, then bake for 35 minutes, or until cheese begins to turn golden brown. Let cool for about 10 minutes. Garnish with dill and serve!
Nutrition Information
Yield: 6, Serving Size: 1/2 cup
Amount Per Serving: 328 Calories | 29.1g Fat | 8.9g Total Carbs | 2.4g Fiber | 4.6g Sugar | 10.1g Protein | 6.5g Net Carbs
---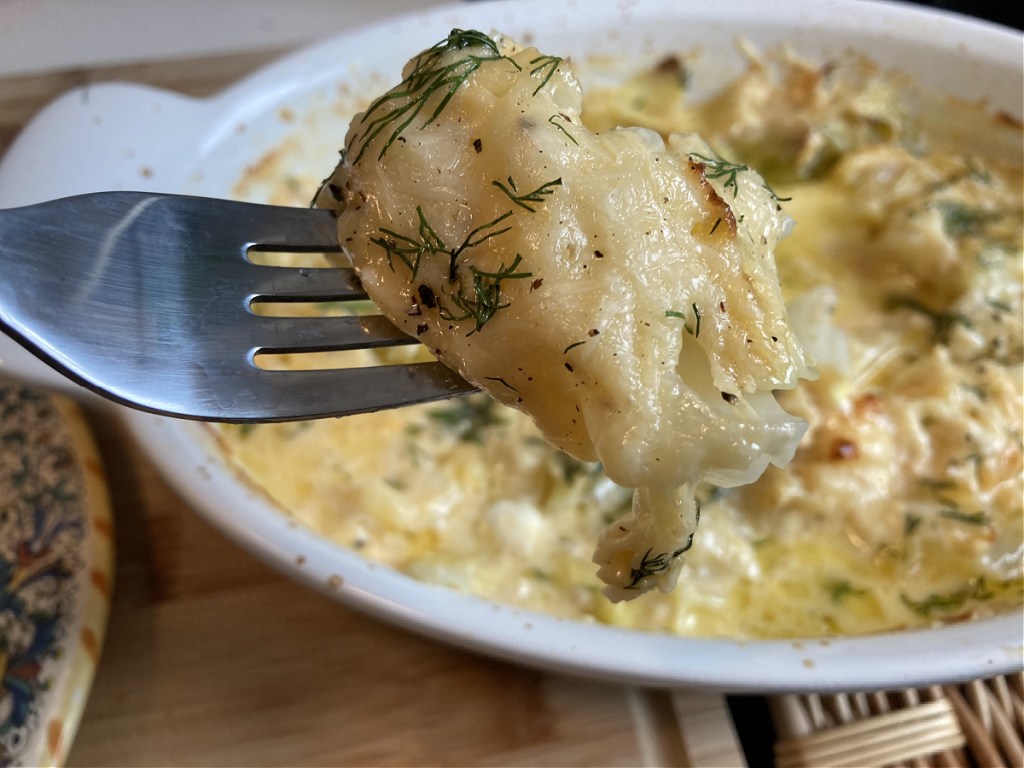 You will love this creamy, herby, scalloped cabbage as much as I do!
So simple, budget-friendly, and the perfect side to add to your table. Not to mention it is the ULTIMATE comfort food, sans carbs!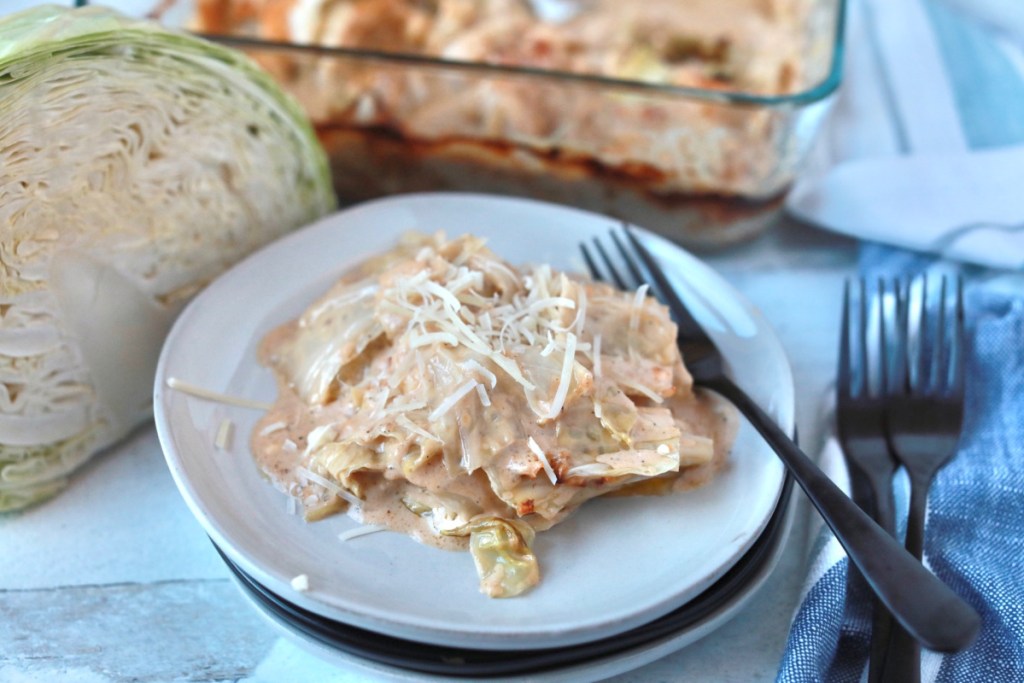 Here's what my Hip sidekick Jenna thought about this scalloped cabbage recipe:
"I am a huge fan of this dish! I have made it a few times now and I cannot get enough! More recently, I switched up the cheddar for sharp instead of mild (hence why the sauce in my pic is slightly a bit more orange than the others). I love how versatile this recipe is and I suggest switching up the cheeses to try new variations if you end up making this dish frequently!
In general, this casserole pairs well with just about any dinner entree and I have actually eaten it for a lunch a few times. That sauce is just to die for, I think I could eat it with a spoon right out of the saucepan. 😅 This is so easy to throw together and I will definitely make it again!"
---
If you love veggie comfort food as much as I do, try this delicious keto broccoli cheddar soup next!