Enjoy the Sweet & Salty Layers of this Keto Raspberry Jello Dessert
It sounds like a mouthful, but our keto raspberry Jello dessert is a surprisingly balanced sugar-free treat!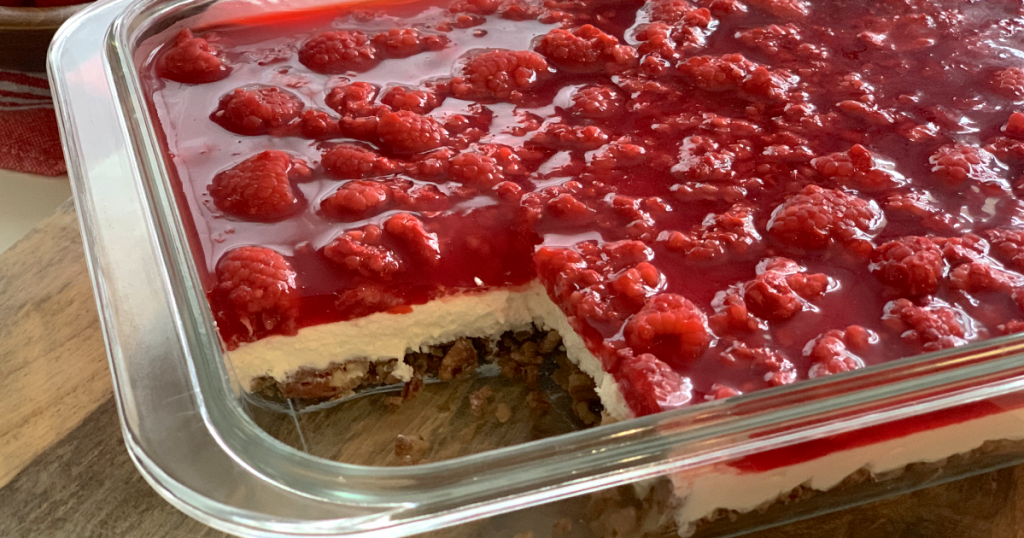 Say hello to this Jello delight!
Over the holidays, my boyfriend's family makes this Pretzel Jello Salad, and as amazing as it is, I've never seen a keto variation. I thought it'd be fun to tweak the recipe into a keto raspberry pecan jello dessert! This is a very light and refreshing dessert that is going to be an instant hit among any crowd. 😋
Naturally, with any carb or bread-related recipes, my go-to switch is to use nuts. I'm using pecans because I feel like it really compliments the cream and Jello, but you can really use any nut you enjoy. The same goes with the fruit flavor as this recipe is super versatile and easy to swap different gelatin varieties.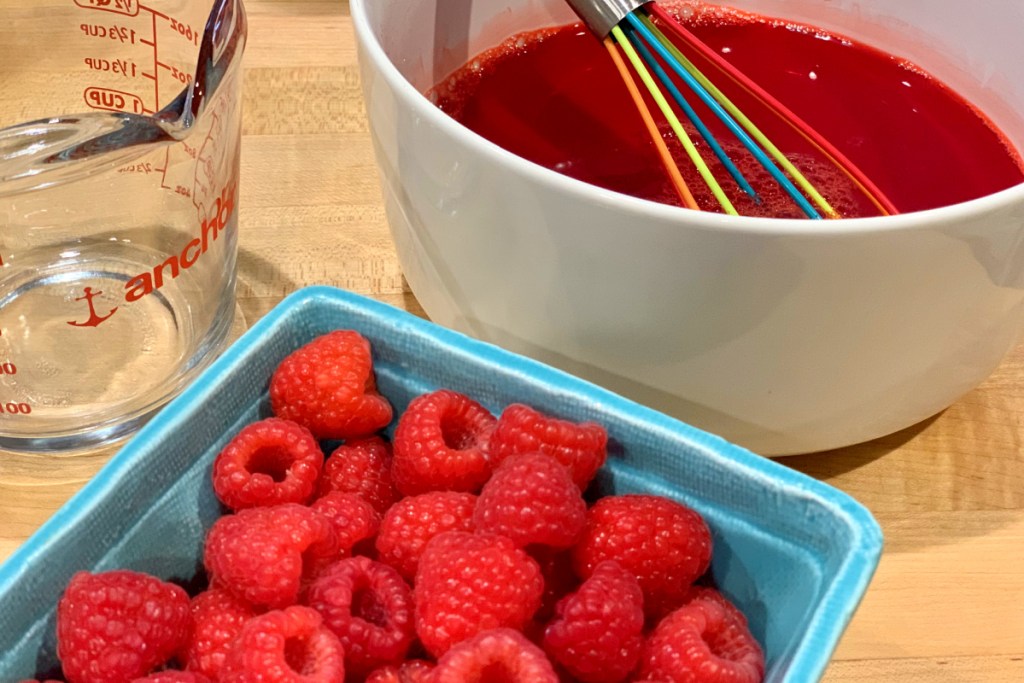 Tips for making this Keto Raspberry Pecan Jello Dessert:
Make sure your pecan pieces are as small as possible before cooking (smash if necessary), especially since you transfer the pecans to the pan while they're still hot. This way, the pecans will hold together better, creating a more solid base.
When applying cream, be gentle and add in sections so the pecans don't move around, otherwise the layers won't look pretty!
Completely cover pecans and seal edges with the cream layer to avoid the Jello leaking down through to the base layer, which would probably make the pecans soggy when all is said and done.
Not nuts for nuts? No worries, this recipe is delicious with or without the pecan layer. A keto graham cracker crust would be really yummy, too!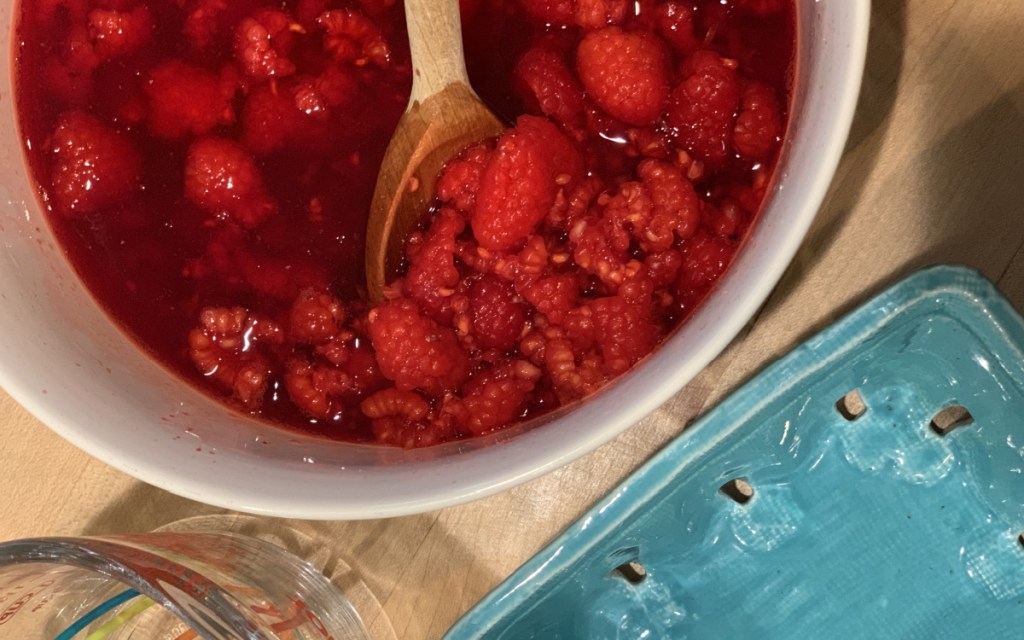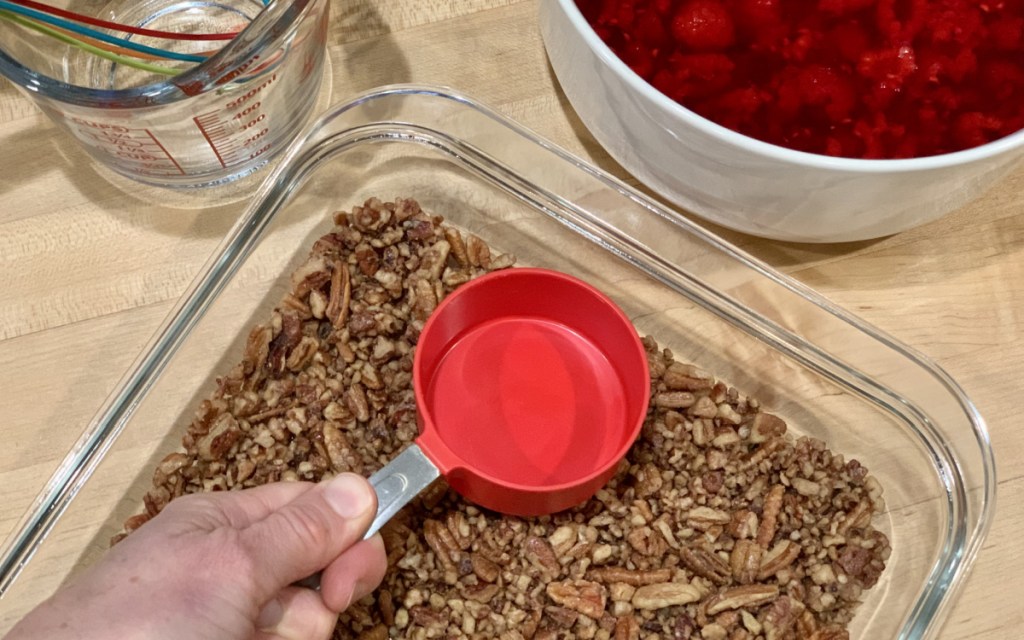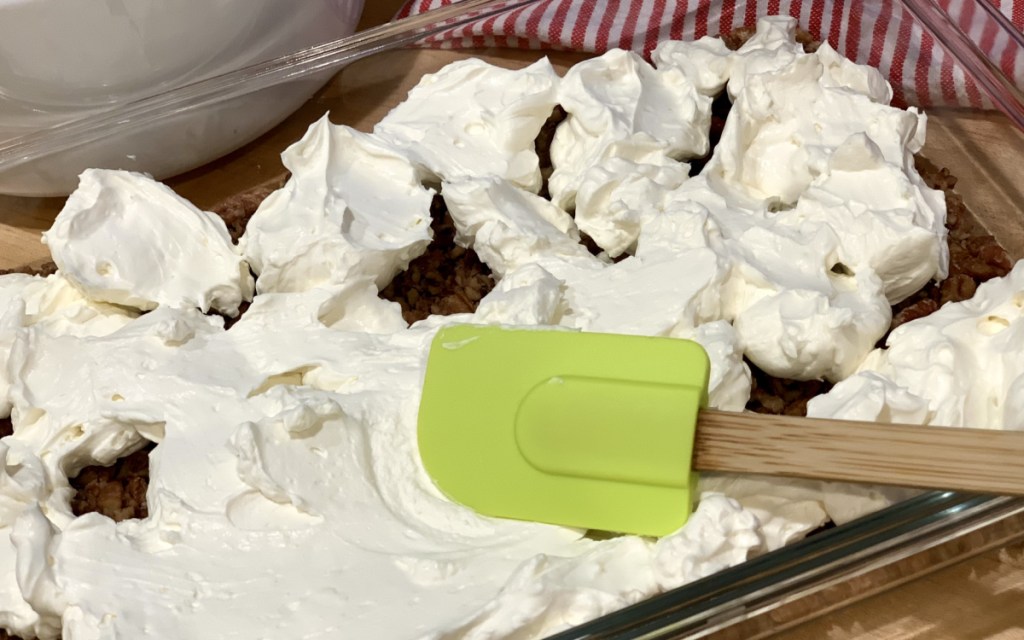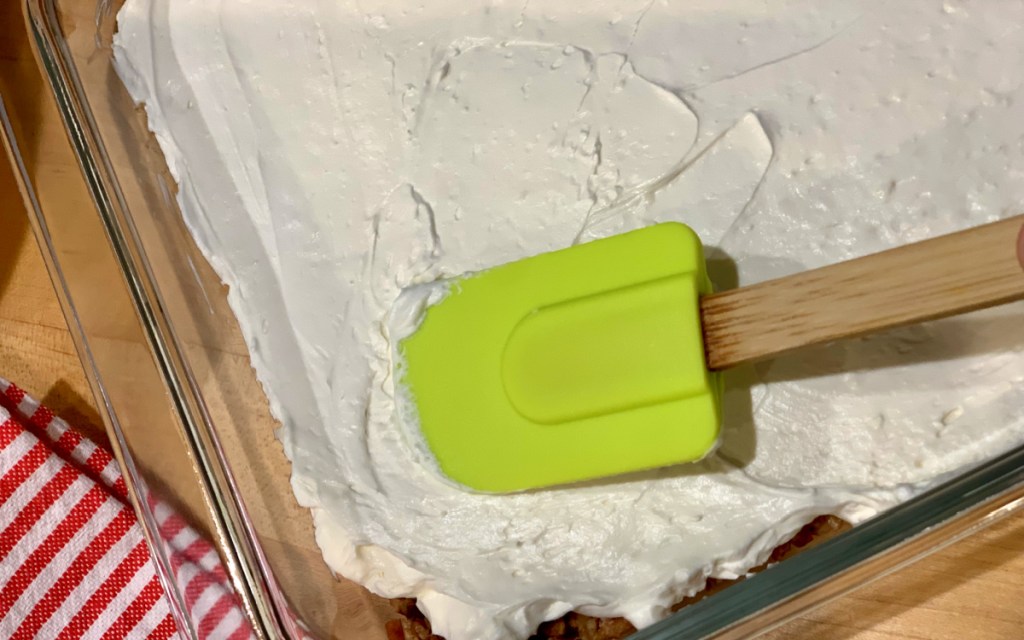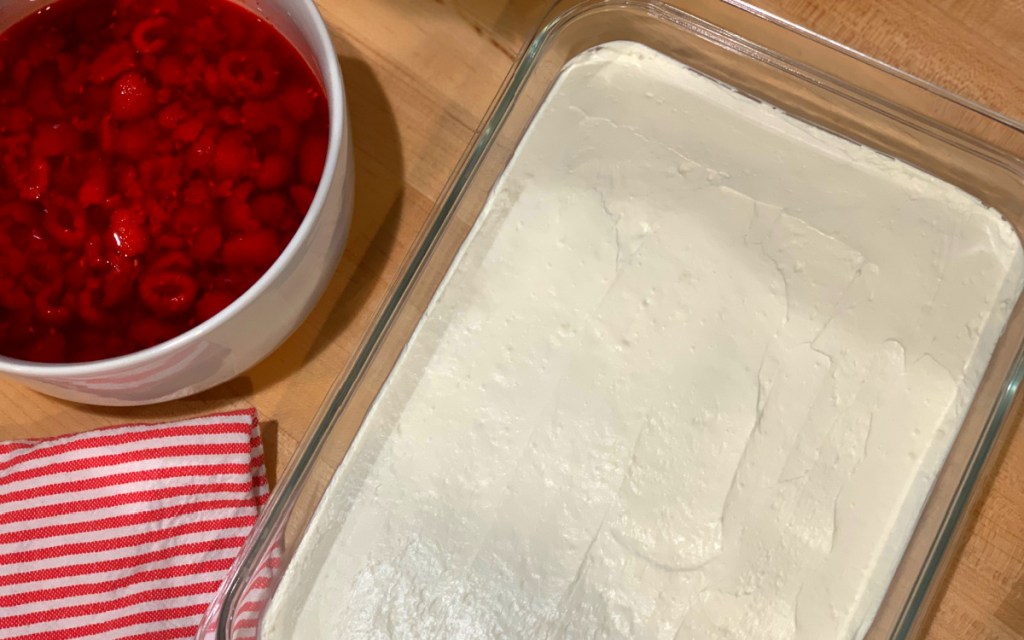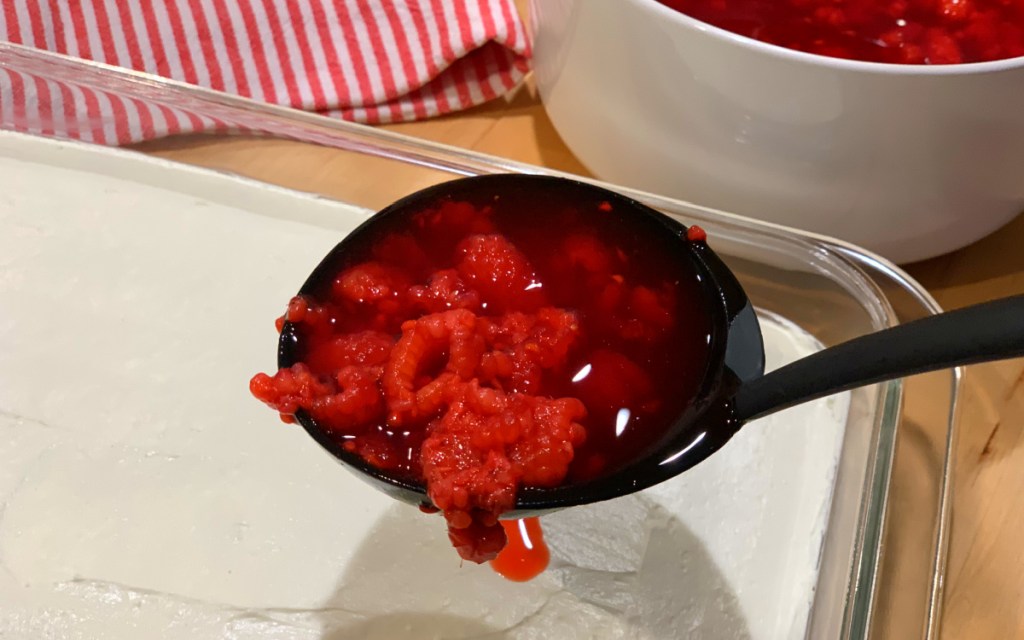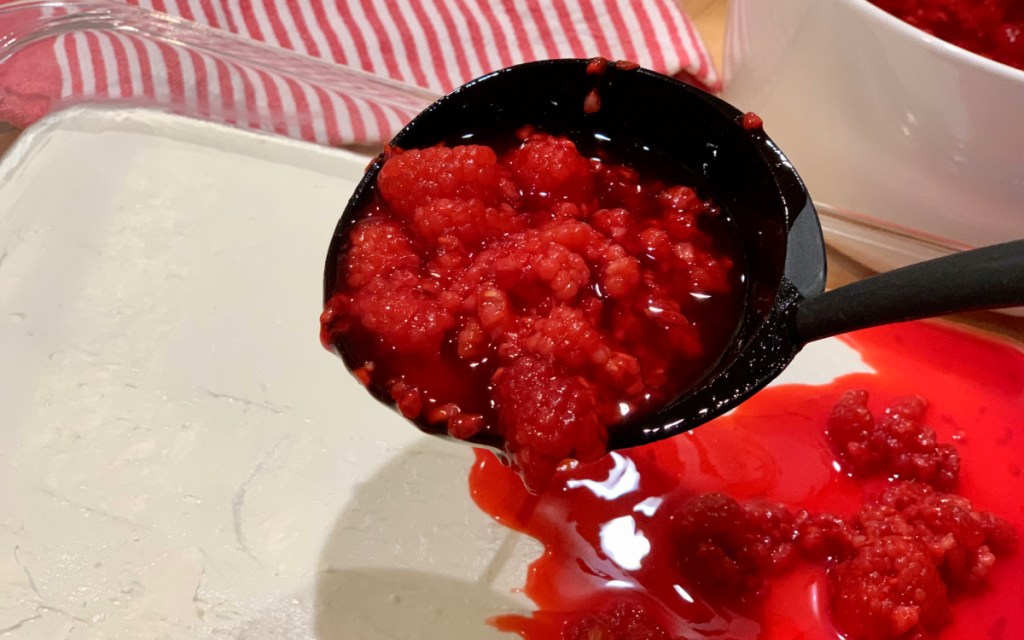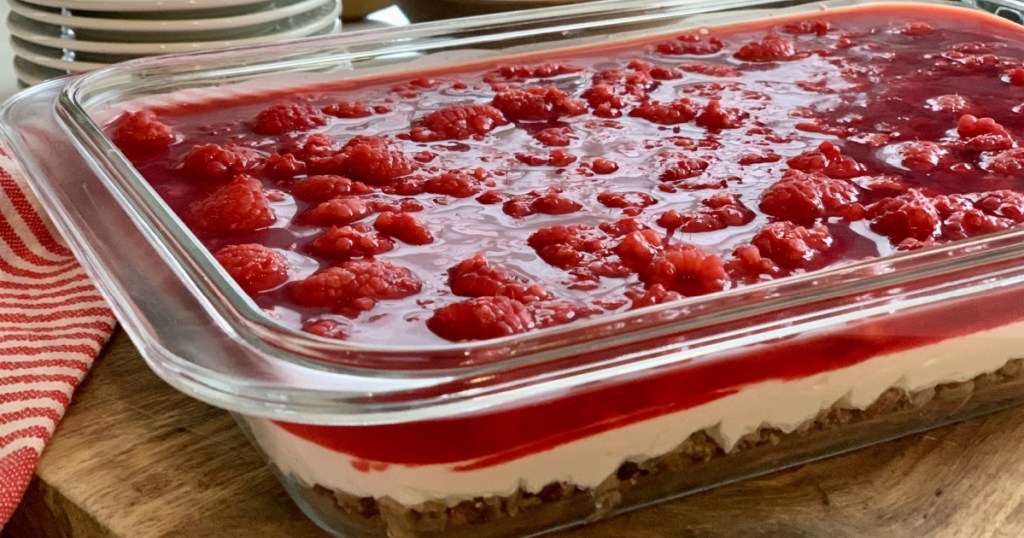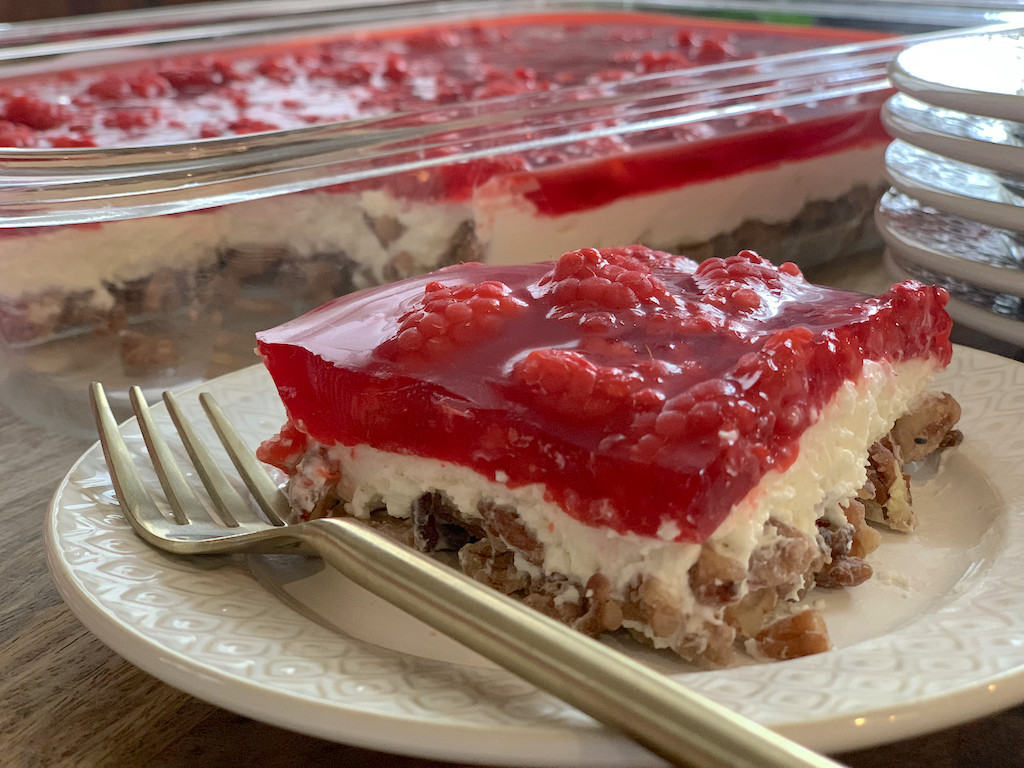 ---
Print
Raspberry Pecan Jello Dessert
yield: 12 SERVINGS
prep time: 40 MINUTES
cook time: 10 MINUTES
total time: 50 MINUTES
Ingredients
Jello layer:
2 (.3 oz) boxes sugar-free raspberry Jello
2 cups of boiling water
12 oz. fresh raspberries (about 2 1/2 - 3 cups)
Pecan Layer:
2 tablespoons water
2 tablespoons of butter
3/4 teaspoon of salt
Whipped Layer:
8 oz. of cream cheese, softened at room temperature
1 1/2 cups of heavy whipping cream
1/2 teaspoon pure vanilla extract
Directions
1
For the Jello layer:
In a medium bowl, whisk together the Jello mix and boiling water until the granules are fully dissolved. Stir in the raspberries. Use a wooden spoon to gently crush the whole raspberries into smaller pieces. Set off to the side and allow to cool for later.
2
For the pecan layer:
Heat a large skillet over medium heat. When hot, add water, butter, and 1/2 cup of Swerve. Stir for 2 minutes. Add pecans and salt. Toss pecans around in the butter mixture to evenly coat the nuts. Continue stirring occasionally, until the liquid is completely absorbed and the pecans begin to clump together when stirred (about 5 minutes).
3
Remove from heat and immediately transfer to an 8x12 baking dish. I recommend a clear glass dish as this allows a nice view of the layers once the recipe is complete. Use the back of a measuring cup to firmly press the pecans into an even layer. Crush the larger pieces as needed to create a good solid layer for the following step. Do this quickly while the nuts are still hot.
4
For the cream layer:
In a medium bowl with an electric mixer (stand mixer or handheld), whip together the softened cream cheese and 1 cup Swerve until smooth, scraping down the sides of the bowl as needed. Add the heavy cream and vanilla. Mix for 2-3 minutes until creamy and smooth. The mixture will resemble thick whipped cream when done.
5
To assemble the layers:
Gently drop spoonfuls of the cream mixture over the cooled pecan layer as evenly as possible. Try your best not to disturb the pecan layer as you do so. Using a spatula, slowly and delicately smooth out the cream mixture until all of the pecans are covered and the layer looks even. Make sure to spread all the way to the edges and into the corners to create a "seal" using the cream layer. This will keep the Jello from leaking down the sides.
6
Finally, ladle the Jello mixture over the top so that the raspberries are evenly distributed. Refrigerate until firm and set (about 4-6 hours). Enjoy!
Nutrition Information
Yield: 12 servings, Serving Size: 1 slice
Amount Per Serving: 377 Calories | 36g Fat | 26.7g Total Carbs | 4.3g Fiber | 2.4g Sugar | 18g Sugar Alcohol | 5.5g Protein | 4.4g Net Carbs
---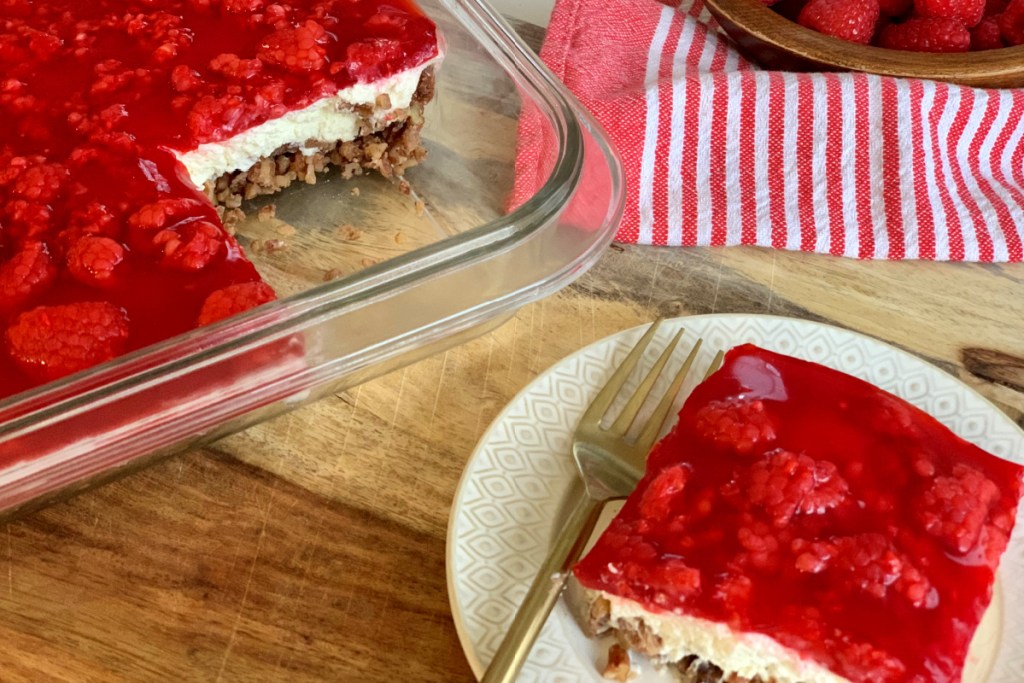 Grab a slice before it's gone!
Seriously, this dessert is a hit and completely kid-approved! Some even said they preferred this version over the traditional one. It's the perfect combination of a sweet, refreshing dessert that contains the perfect crunch! 🤤
---
My Hip teammate Jenna tried this keto Jello delight recipe, and here's what she had to say:
"Wow, what an amazing dessert! This crust gives me pretzel crust vibes but is even better! It's so good, and the whole family loved it. I love the fresh raspberries in this, and that cream layer is to die for! The layers are super impressive, and this sets up so nicely too."
---
If you like this dessert, you'll love our easy keto cheesecake too!