Pollo A La Crema is a Rich And Creamy One Pot Keto Dish
This keto Pollo a la crema recipe is the ultimate Mexican keto dish!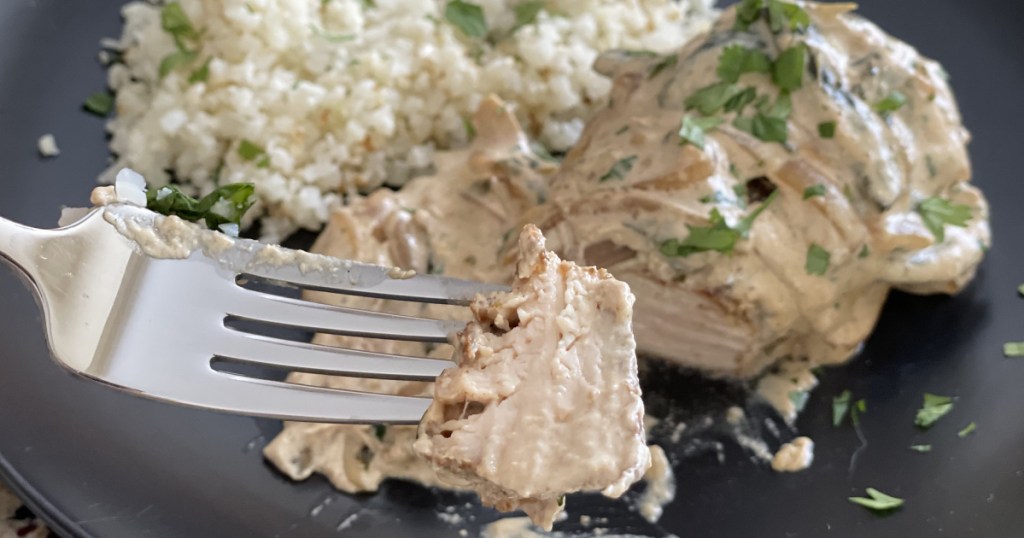 This keto Pollo a la crema will have you rethinking your typical order at Mexican restaurants.
Did you know that Pollo a la crema is naturally a keto dish? I typically go for fajitas at Mexican restaurants to stick with my keto diet, but this recipe made me change my mind. So now I'll just stay home, save some money, and make it myself!
In any case, I now have another Mexican dish to add to my list of favorite keto Mexican recipes.
This recipe is surprisingly easy to make.
To make this keto Pollo a la crema, you'll need poblano peppers, an onion, garlic, chicken breasts, seasonings, and the star ingredient – Crema Mexicana.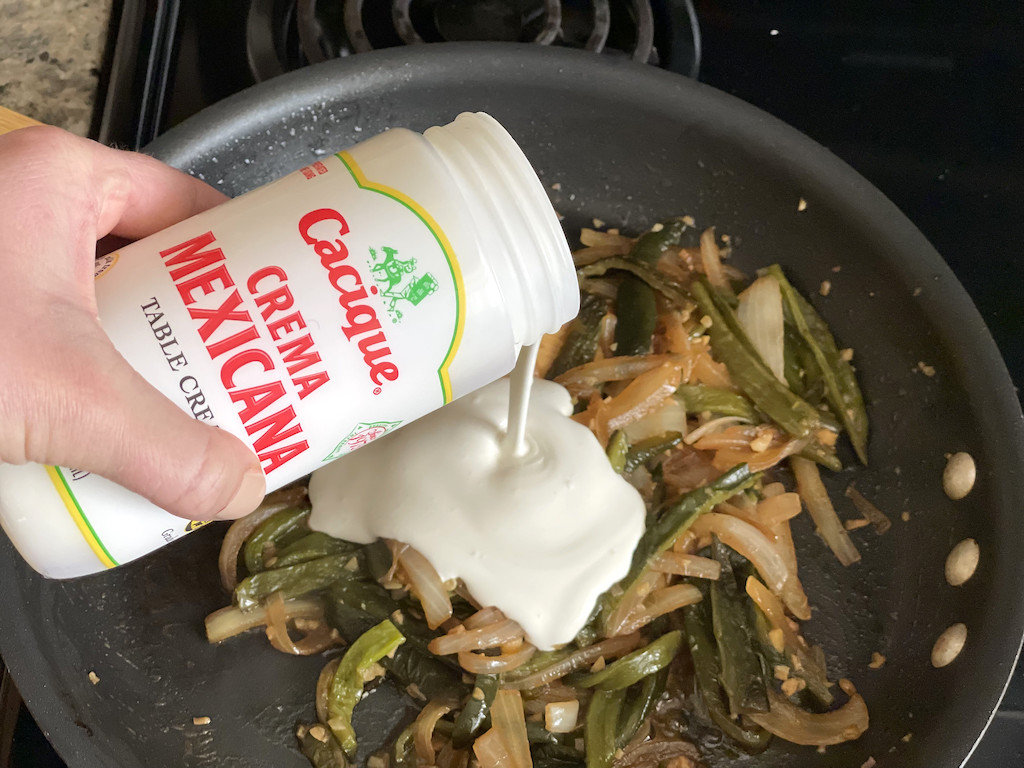 Crema Mexicana is Mexican sour cream. It's a little thinner than regular sour cream with a milder flavor that is less sour tasting to me. I usually find Crema Mexicana near the refrigerated salsa and Mexican cheeses, like cotija and queso.
If you can't find Crema Mexicana, you can use regular sour cream instead.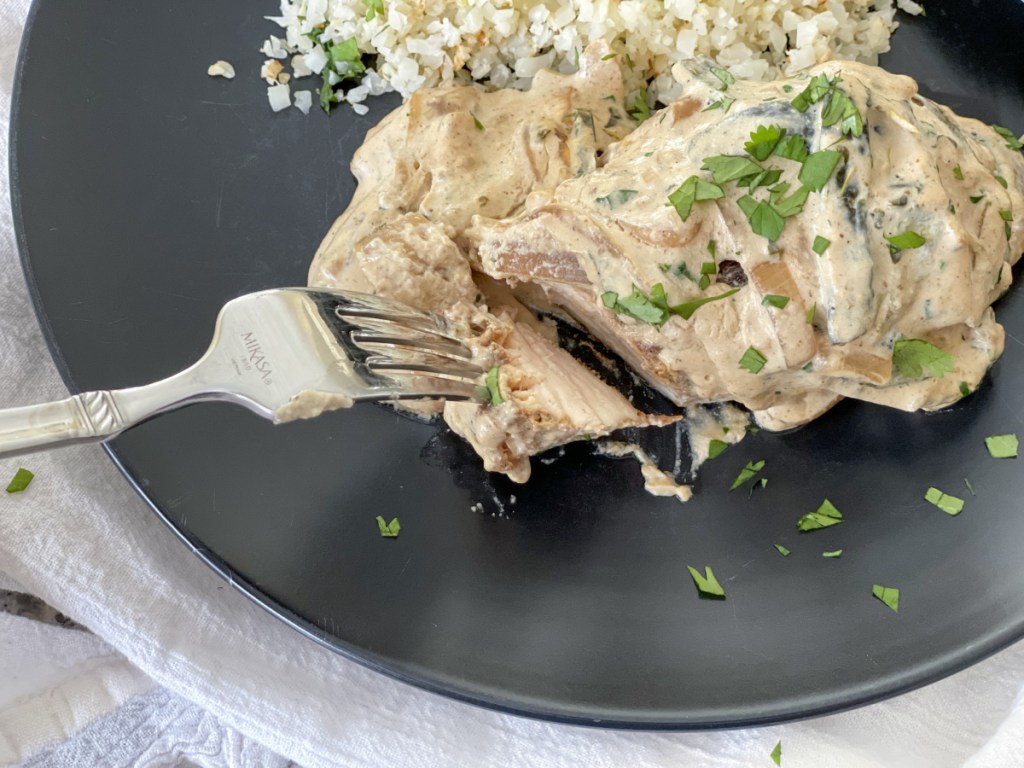 Tips for making the most delicious keto Pollo a la crema:
The roasted poblano peppers really make this dish so don't skip that step! You can start cooking the chicken and sautéing the onions and garlic while you roasted the poblanos.
I like keeping the chicken breast whole in this recipe but you could also dice the chicken into 1-inch cubes or cut the chicken into strips.
Feel free to add in other veggies. Button mushrooms or red bell peppers would be a delicious addition to this recipe. This dish pairs great with cauliflower rice, too!
Don't be too concerned about the carb count for this recipe. The carbs are from the Crema Mexicana, onion, garlic, and poblano peppers. There is enough fat and protein in this meal that it's not going to kick you out of ketosis.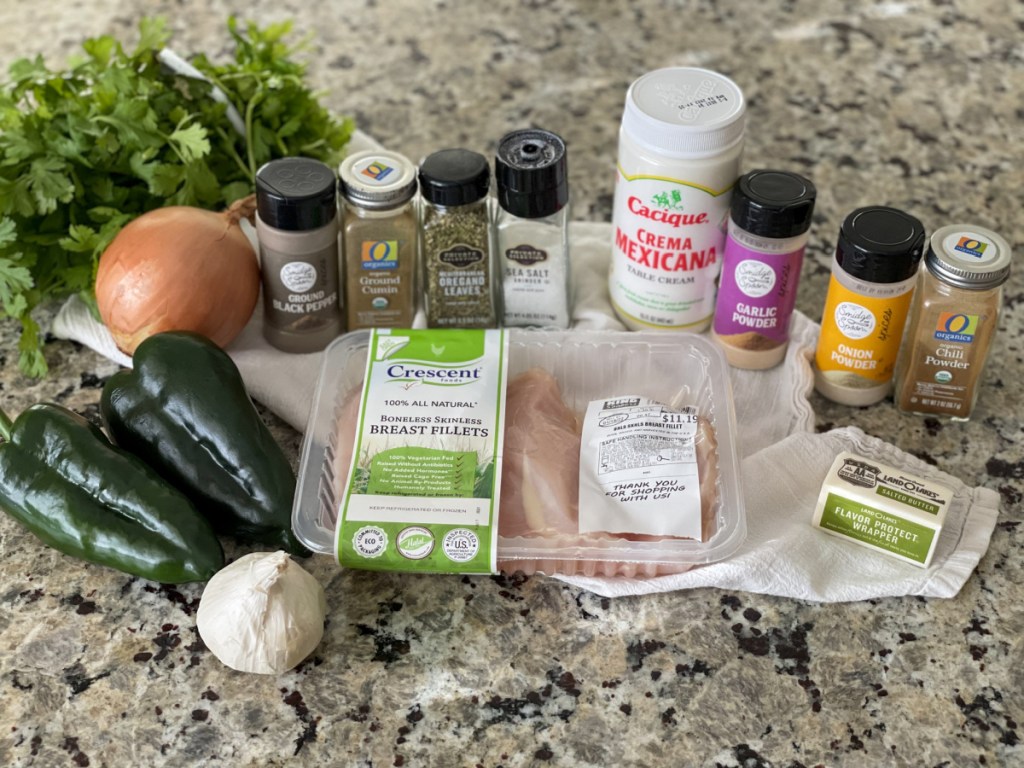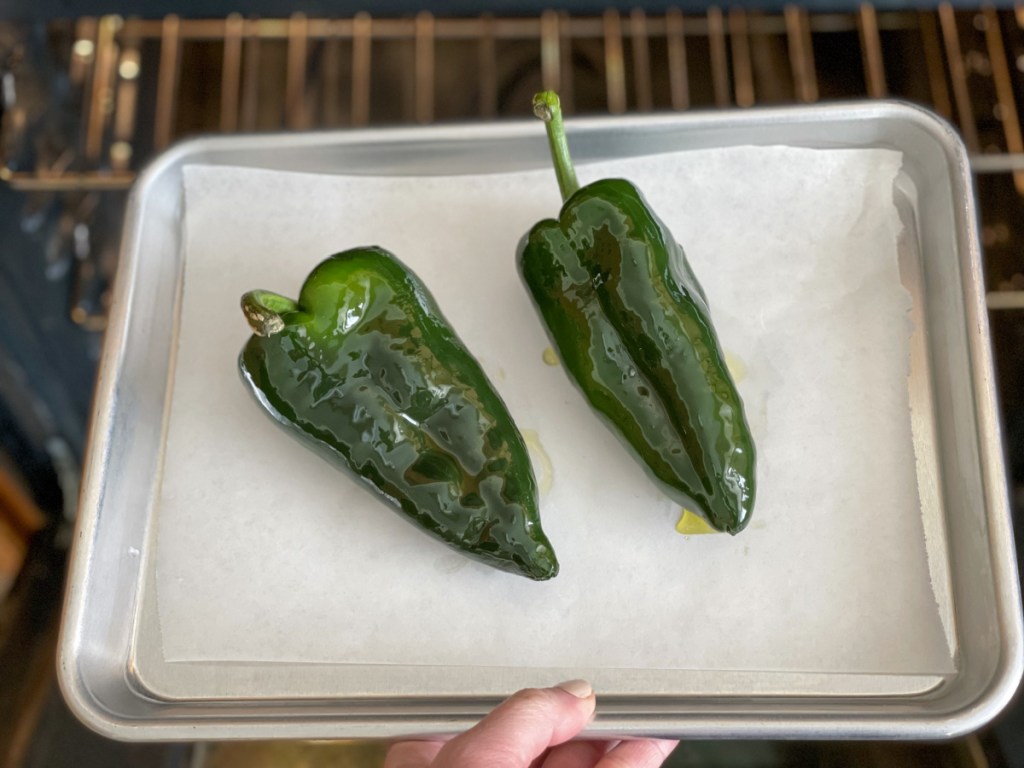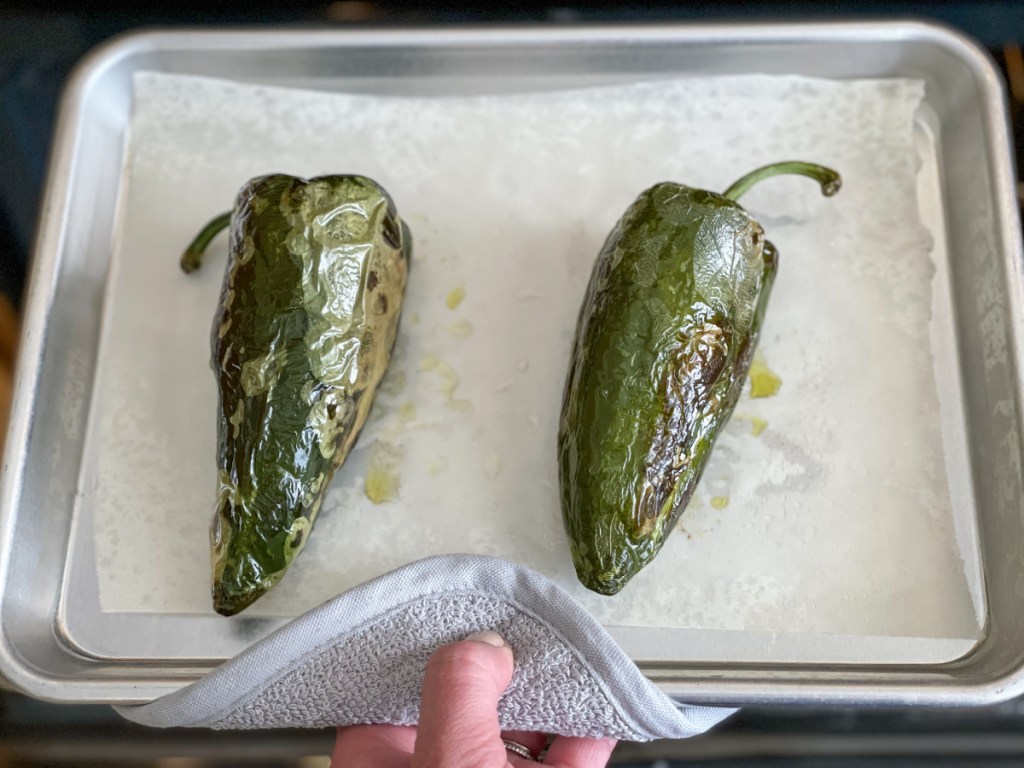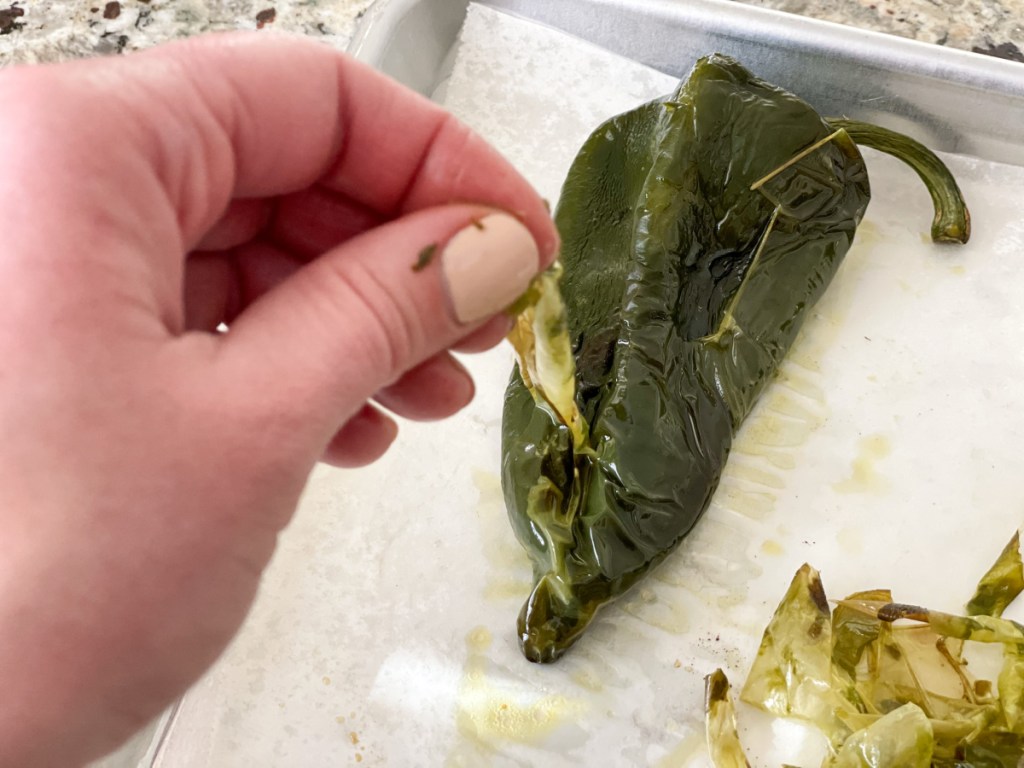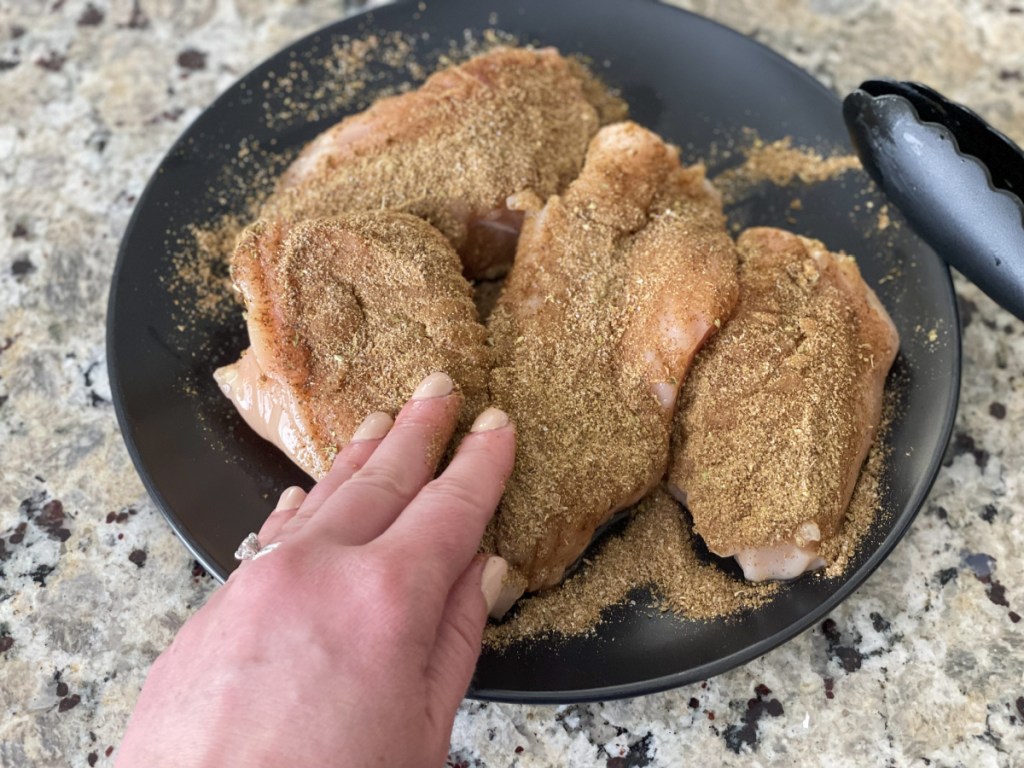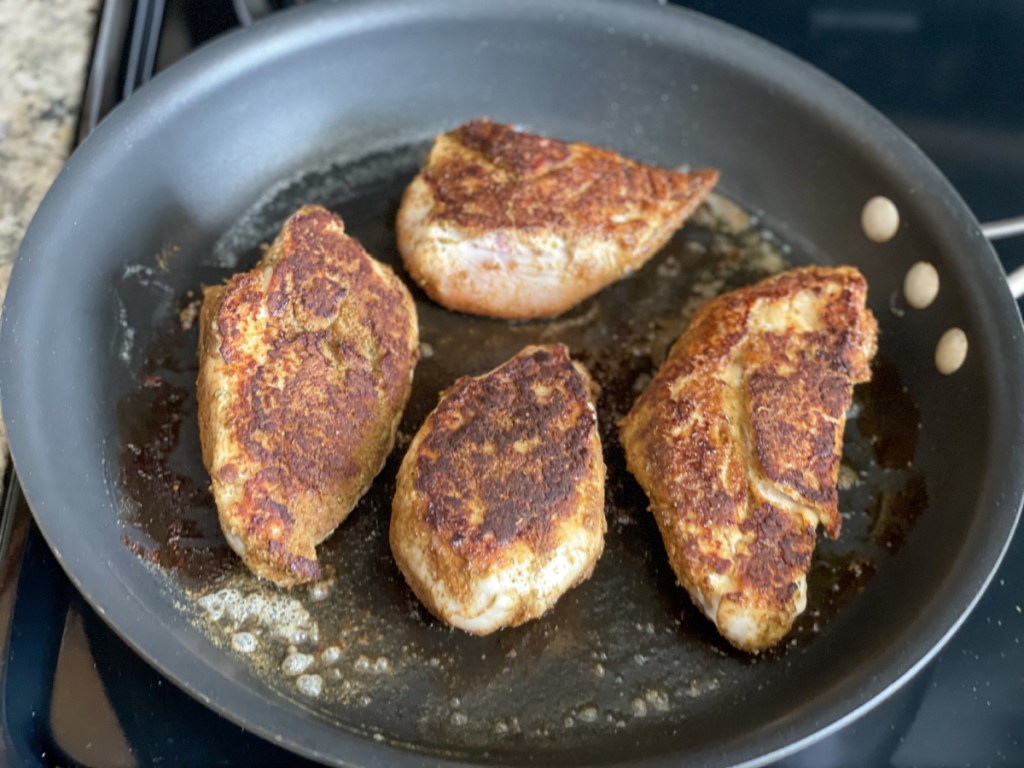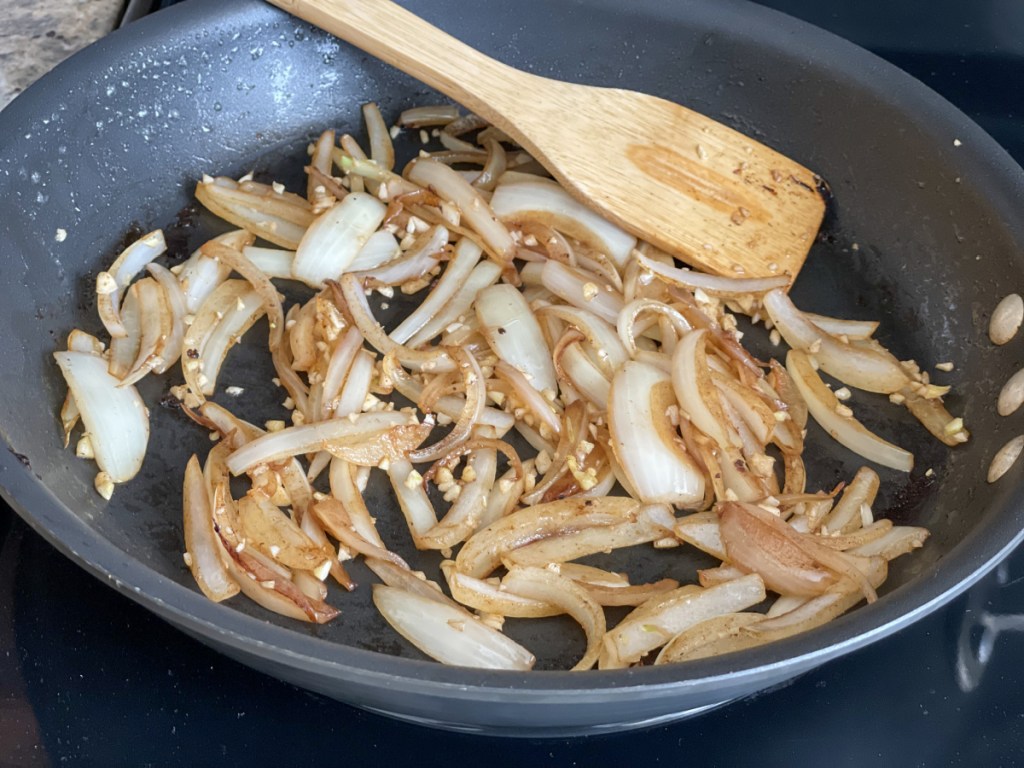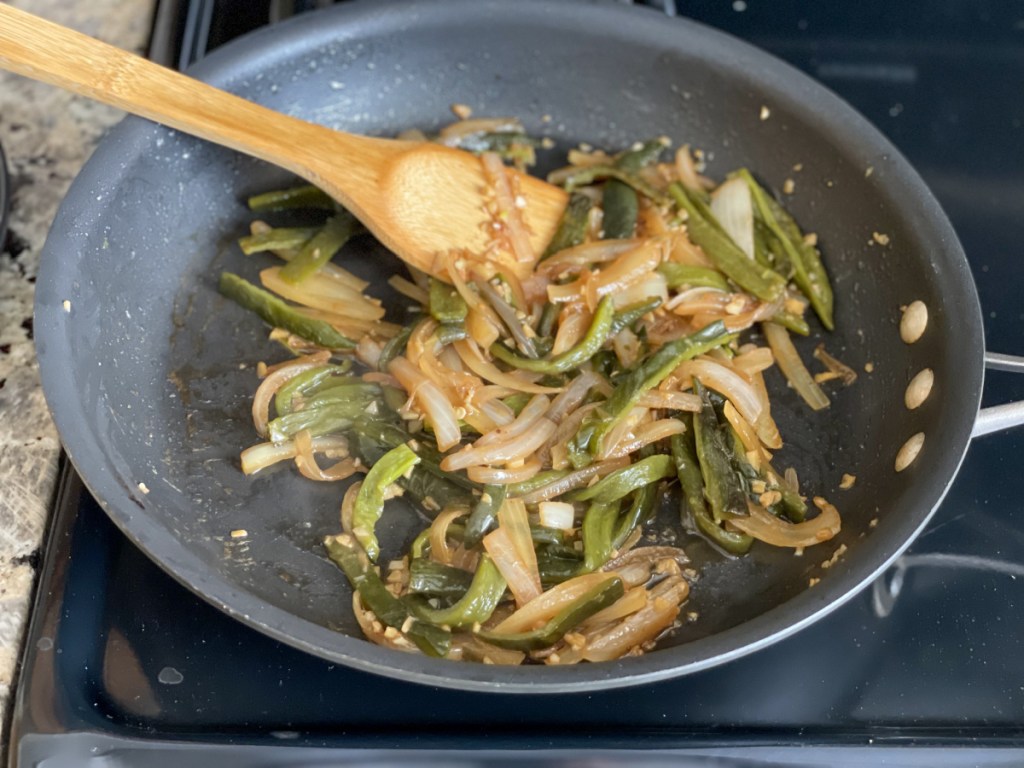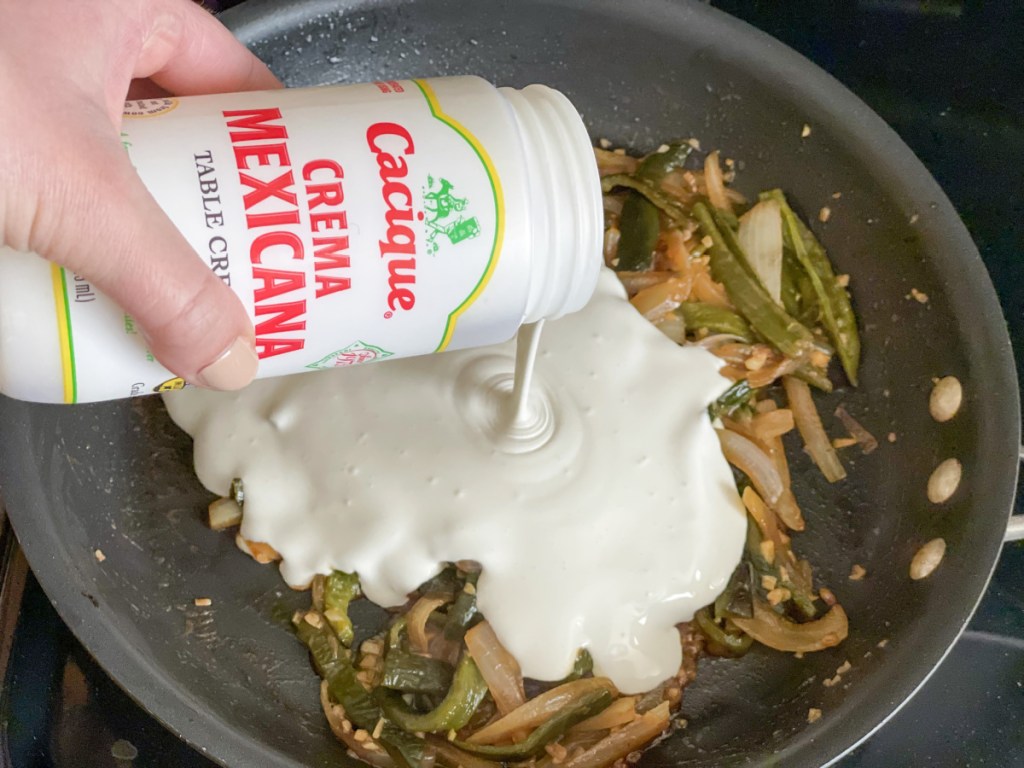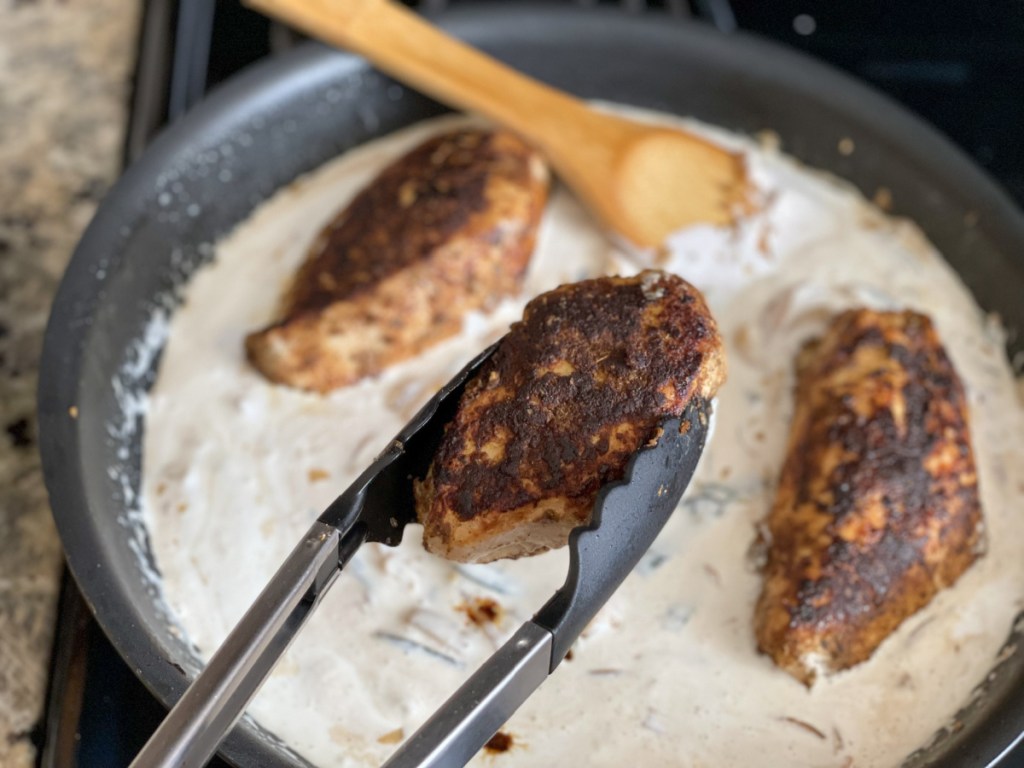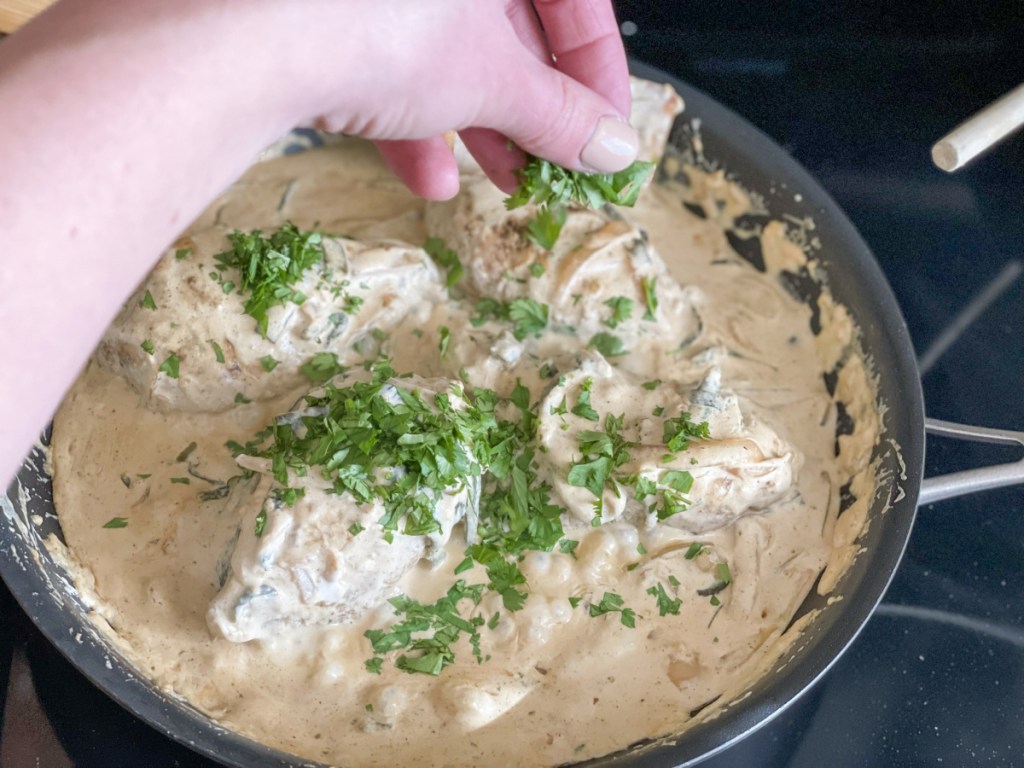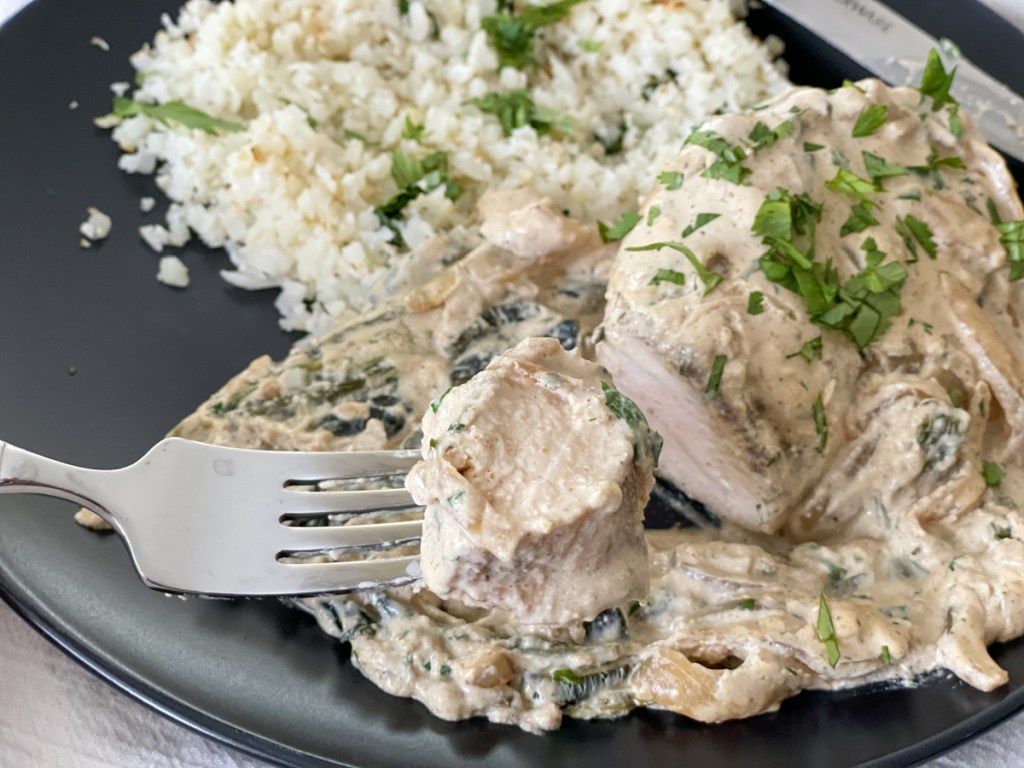 ---
Print
Mexican Pollo A La Crema
yield: 4 SERVINGS
prep time: 5 MINUTES
cook time: 25 MINUTES
total time: 30 MINUTES
Pan-seared chicken sautéd with onions, garlic, roasted poblanos, and then simmered to perfection with Crema Mexicana.
Ingredients
2 medium poblano peppers
1 tablespoon olive oil
4 chicken breasts
2 teaspoons cumin
2 teaspoons chili powder
1 teaspoon garlic powder
1/2 teaspoon onion powder
1/2 teaspoon dried oregano
1 teaspoon salt
1/4 teaspoon pepper
2 tablespoons butter, divided
1 medium onions, sliced
4 garlic cloves, minced
4 tablespoons fresh cilantro, chopped
2 - 10 oz. bags cauliflower rice, optional
Directions
1
To roast the peppers:
Preheat oven to 425 degrees. Line a baking sheet with parchment paper. Place the poblano peppers on the baking sheet and coat with olive oil. Bake for 6 to 8 minutes per side, until the skin starts to boil. Remove from the oven and loosely cover with aluminum foil. Set aside for 15 minutes.
2
While the poblanos are roasting, in a small bowl mix together the cumin, chili powder, garlic powder, onion powder, oregano, salt, pepper. Coat all sides of the chicken breasts in the seasoning mixture.
3
In a large skillet, melt 1 tablespoon of butter over medium heat. Once melted, add the chicken breasts to the skillet and cook for 4 to 5 minutes on each side (until cooked through, which depends on the thickness of the chicken). Then remove the chicken breasts from the skillet and set them aside on a plate.
4
Melt the other tablespoon of butter in the skillet and then add the onions and garlic to the pan. Sauté for about 5 minutes, until the onion is soft.
5
Meanwhile, the poblano peppers should be ready for you to remove the skin. Either using your hands or a paper towel, remove the skin from the peppers. It should come off fairly easy, and it doesn't have to be perfect. After removing the skin the best you can, cut the peppers in half to remove the stem and seeds. Slice the peppers into thin strips and then add them to the skillet with the onions and garlic.
6
Add the jar of Crema Mexicana to the skillet and stir to combine. Add the chicken breasts back to the skillet and simmer for about 5 minutes, until the chicken is reheated. (If serving with cauliflower rice, start heating)
7
Add the cilantro to the skillet and cook for another 2 to 3 minutes.
8
Serve with cauliflower rice if desired. Dish up 1 chicken breast and about a 1/2 cup of the sauce with the vegetables per serving. Enjoy.
Additional Notes
*Nutrition information does not include cauliflower rice.
Nutrition Information
Yield: 4 servings, Serving Size: 1 chicken breast with 1/2 cup sauce and vegetables
Amount Per Serving: 416 Calories | 29.7g Fat | 13.1g Total Carbs | 1.2g Fiber | 9.6g Sugar | 38.9g Protein | 11.9g Net Carbs
---
Quick and flavorful dinner!
Your whole family will love this keto Pollo a la crema. It comes together in about 30 minutes too, which makes it even better! Leftovers reheat great as well and make for a very impressive lunch the next day.
I hope you love this meal as much as I do, and that you found a new favorite keto Mexican dish!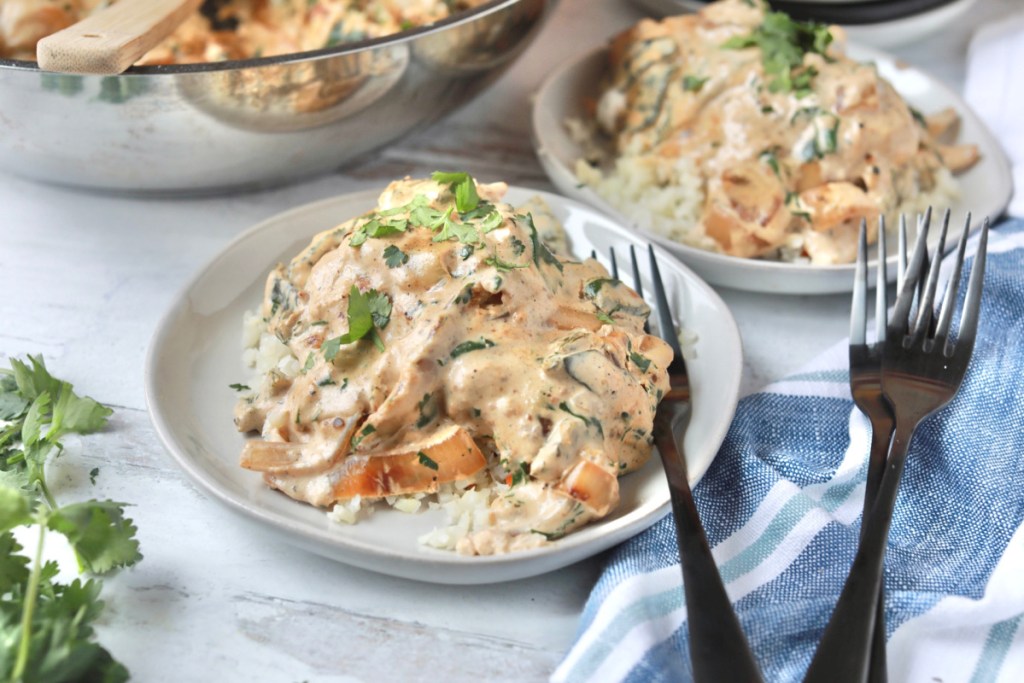 Here's what my Hip sidekick Jenna had to say about this keto Pollo a la crema:
"This dish blew my mind. I often make a roasted poblano and corn chowder, so I knew I'd just love the flavors in this recipe. And I can't believe how easy it was to make that sauce (I want it on everything)! This was a delicious and filling one-pot recipe that was easy to throw together. The slight kick from the roasted peppers and the creamy flavorful sauce make this dish a new favorite!"
---
Check out this easy keto chicken fajita casserole next!