Cheesy Low Carb Pizza Bowl: An Easy Weeknight Skillet Meal!
Compile a quick keto pizza bowl using ground meat and delicious pizza toppings as a low-carb dinner recipe!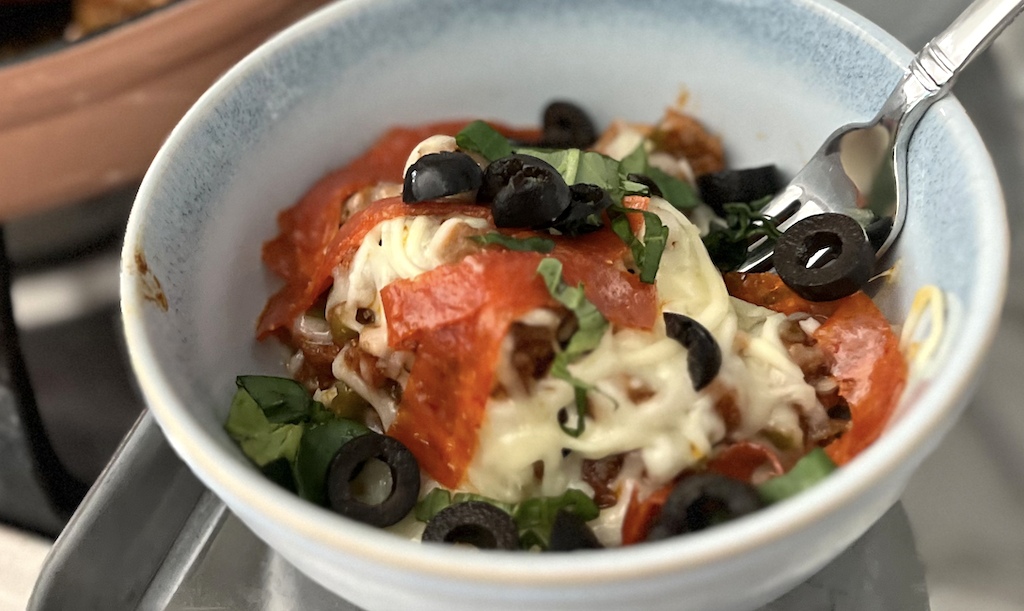 Pizza is on the menu again, this time in a low-carb bowl!
We've got a genius way to serve pizza toppings with melted cheese for dinner by making pizza bowls! Chopped veggies and ground sausage get cooked together in a skillet first. Then you can build your own protein-heavy pizza bowl with cheese, pepperoni, olives, fresh basil, and any other toppings you'd like.
Feast your eyes all on of the best keto pizza recipes!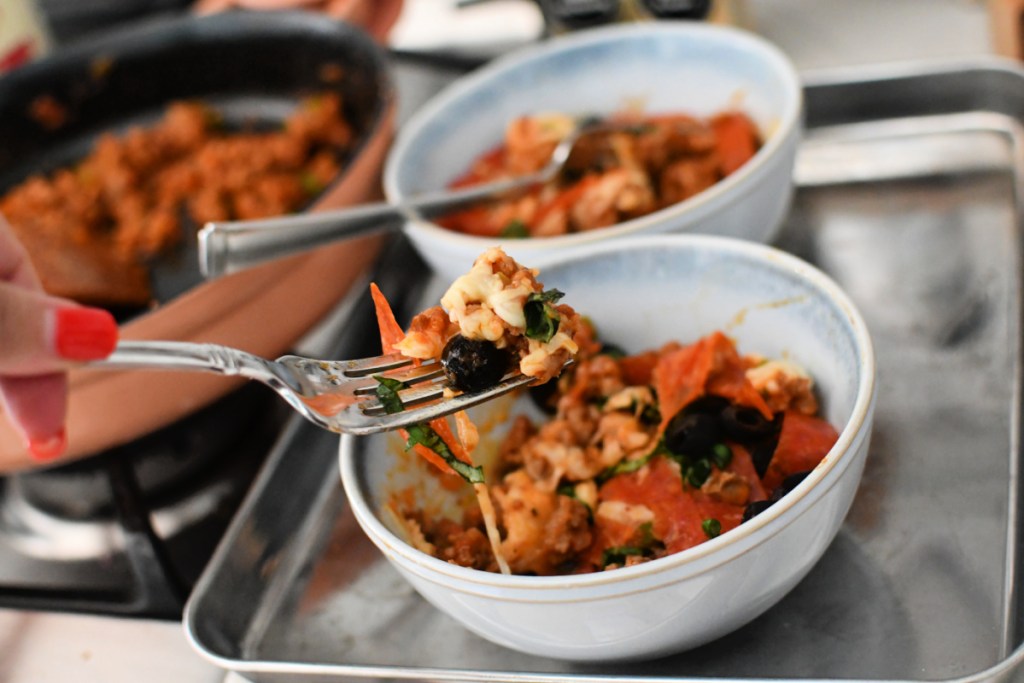 The result is a mouthwatering hearty bowl of pizza toppings and ground sausage! YUM! My family was super excited to dive into this easy weeknight meal. It's amazing how it tasted so much like pizza and I didn't even really miss the crust.
I spotted this idea on Instagram, and am so glad I decided to try it at home!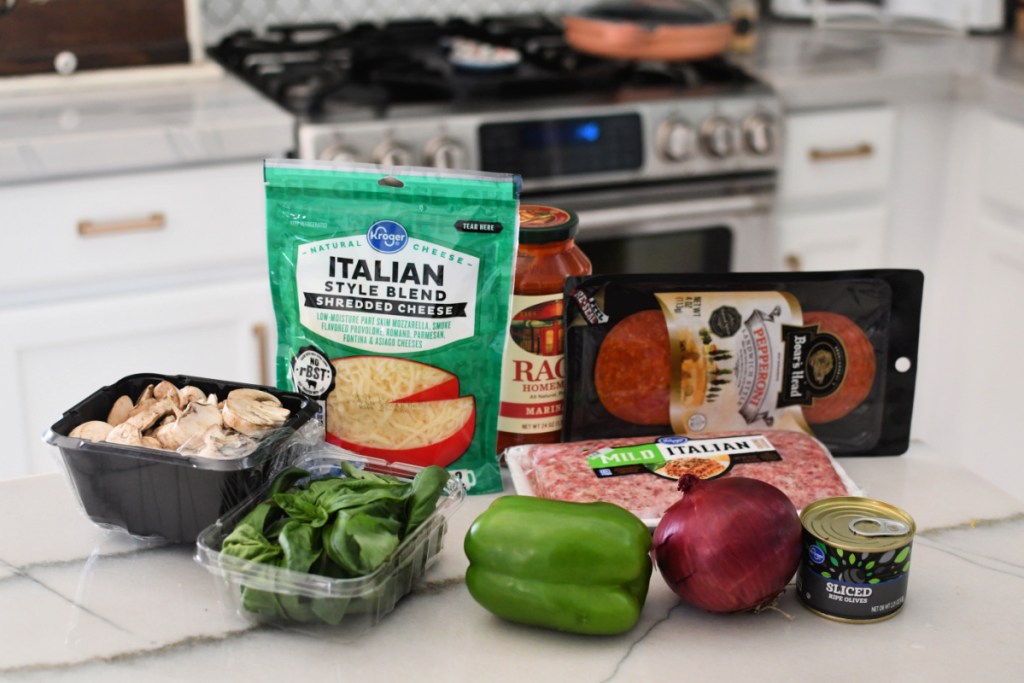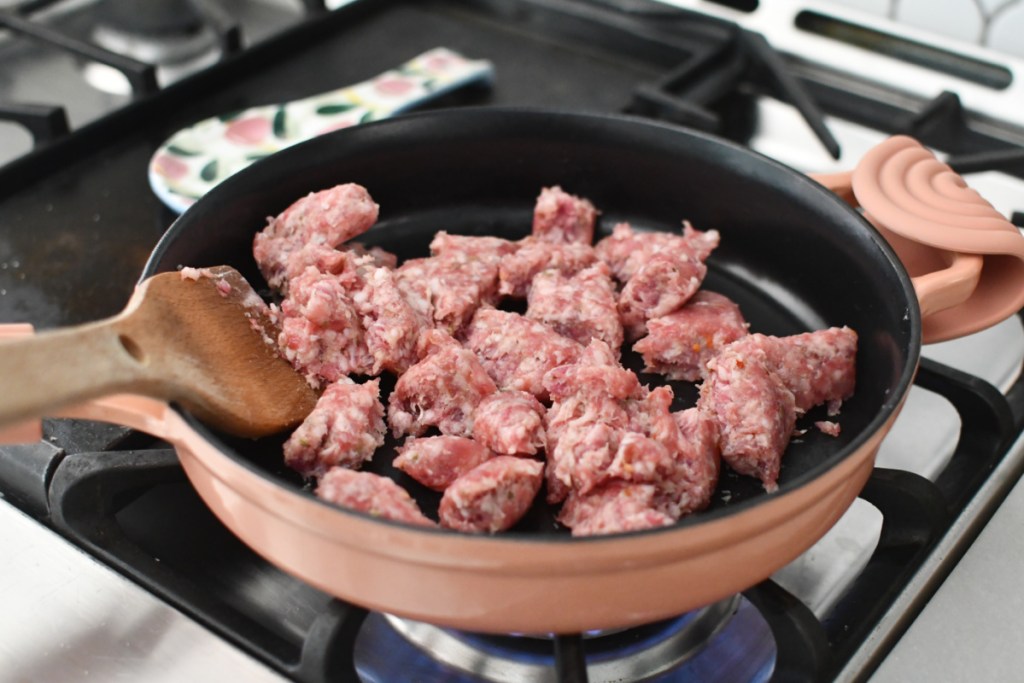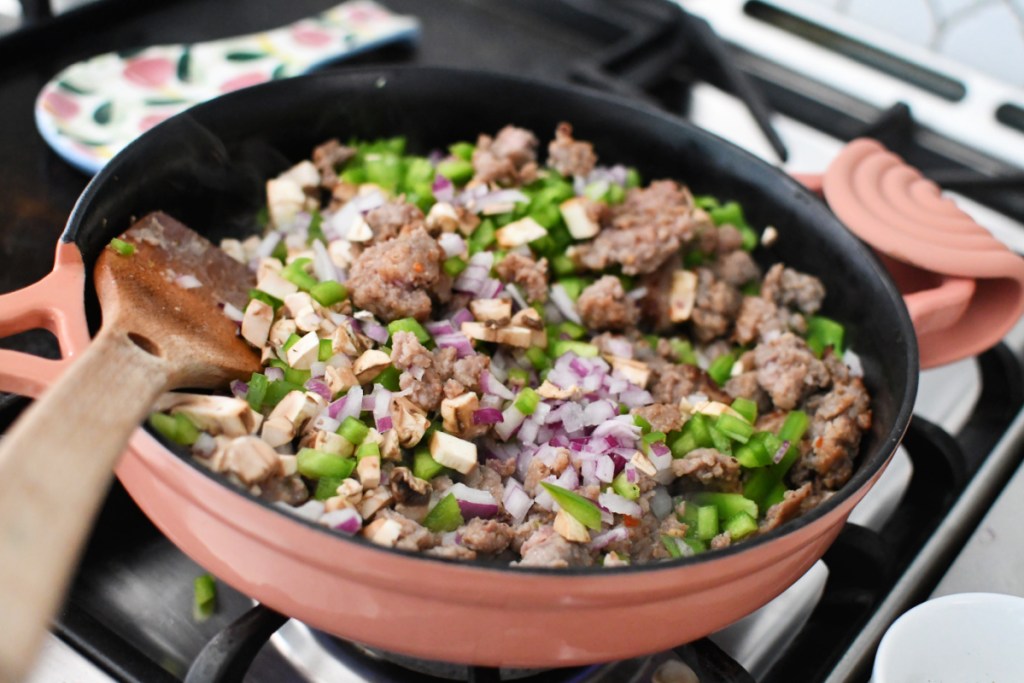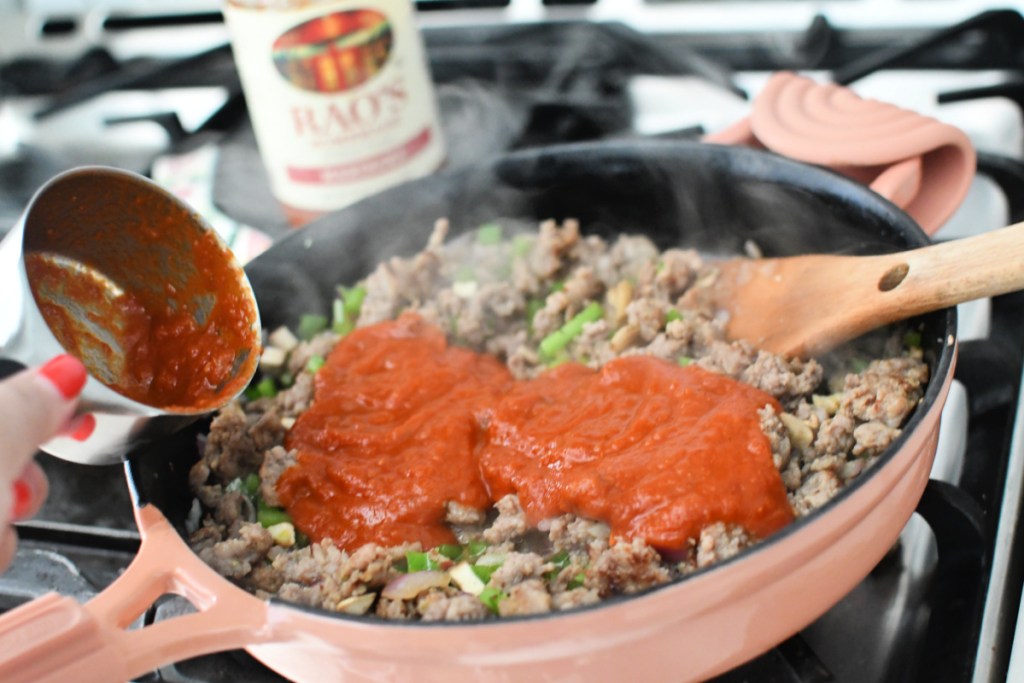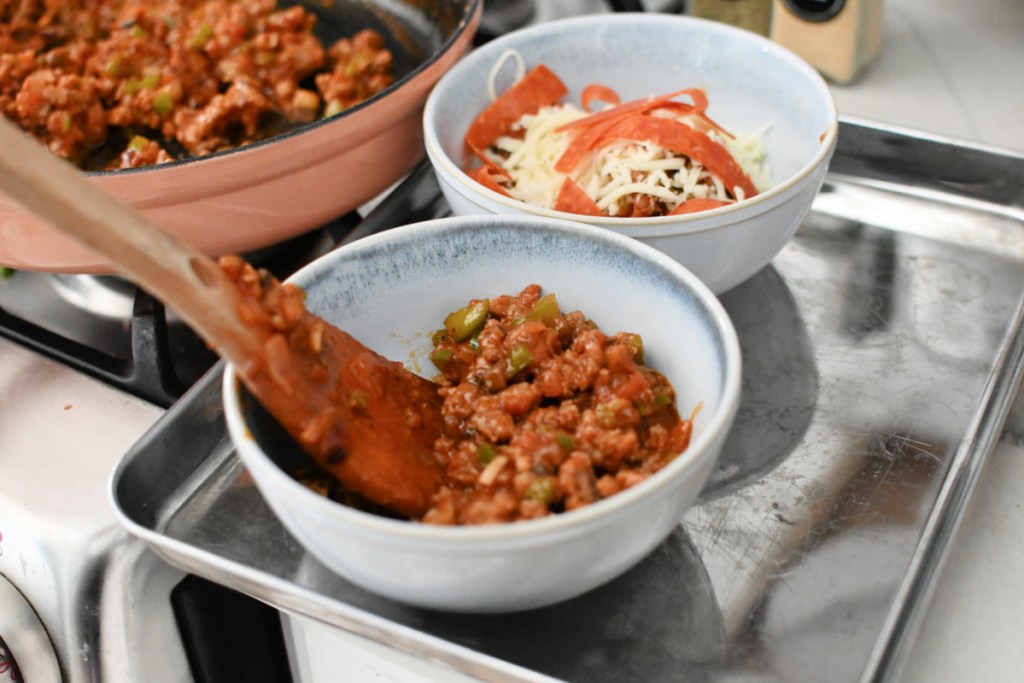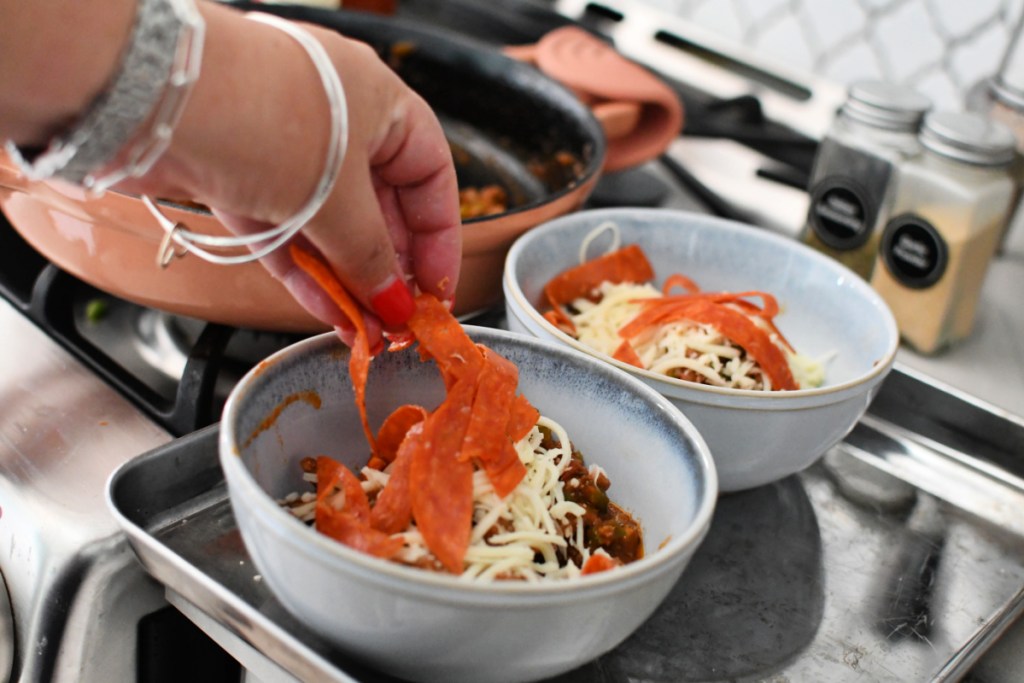 ---
Print
Sausage and Veggies Pizza Bowls
yield: 4 SERVINGS
prep time: 20 MINUTES
cook time: 20 MINUTES
total time: 40 MINUTES
Ground sausage and veggie bowls with melted pizza toppings as a hearty meal.
Ingredients
1 bell pepper, chopped
1 cup white mushrooms, chopped
1/2 a medium onion, chopped
4 tablespoons sliced olives
1/2 teaspoon garlic powder
pinch of salt & pepper
8 large slices pepperoni, cut into slices
1 cup shredded Italian blend cheese
1/4 cup chopped fresh basil
1/2 teaspoon Italian seasoning
Directions
1
Preheat the oven to 400 degrees. On the stove, heat up a skillet to medium heat and add the sausage. Crumble and let it cook for a couple of minutes.
2
Add the chopped bell pepper, mushrooms, and onions. Sauté until the meat is cooked and the veggies are soft. Drain off any extra grease if there is any.
3
Add in the marinara and seasonings. Spoon the cooked sausage and veggies mixture into 4 oven-safe bowls. Add the cheese and pepperoni. Pop the bowls in the oven for a few minutes until the cheese is melted. Top with fresh basil and olives. Enjoy!
Nutrition Information
Yield: 4 bowls, Serving Size: 1/4 of mixture and toppings
Amount Per Serving: 38.0g Fat | 12.7g Total Carbs | 1.0g Fiber | 5.1g Sugar | 28.9g Protein | 11.7g Net Carbs
---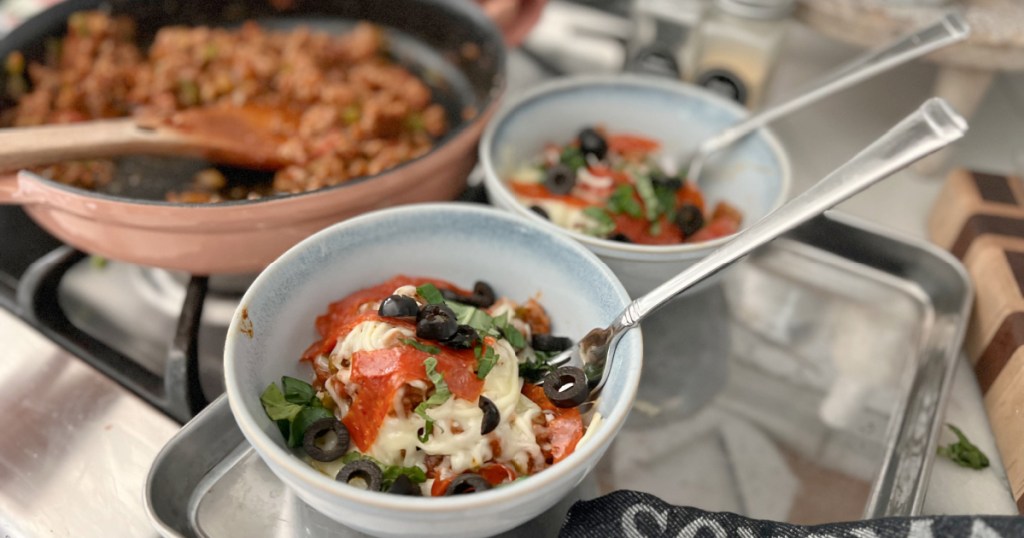 Tips for making this easy pizza bowls recipe:
Any ground meat will essentially work for this yummy idea. Next time I am going to try this with ground chicken or ground beef for variation in the protein.
This would be a great low-carb meal prep idea for weekday lunches or dinners. Have the veggies and meat mixture cooked and build a bowl during the week!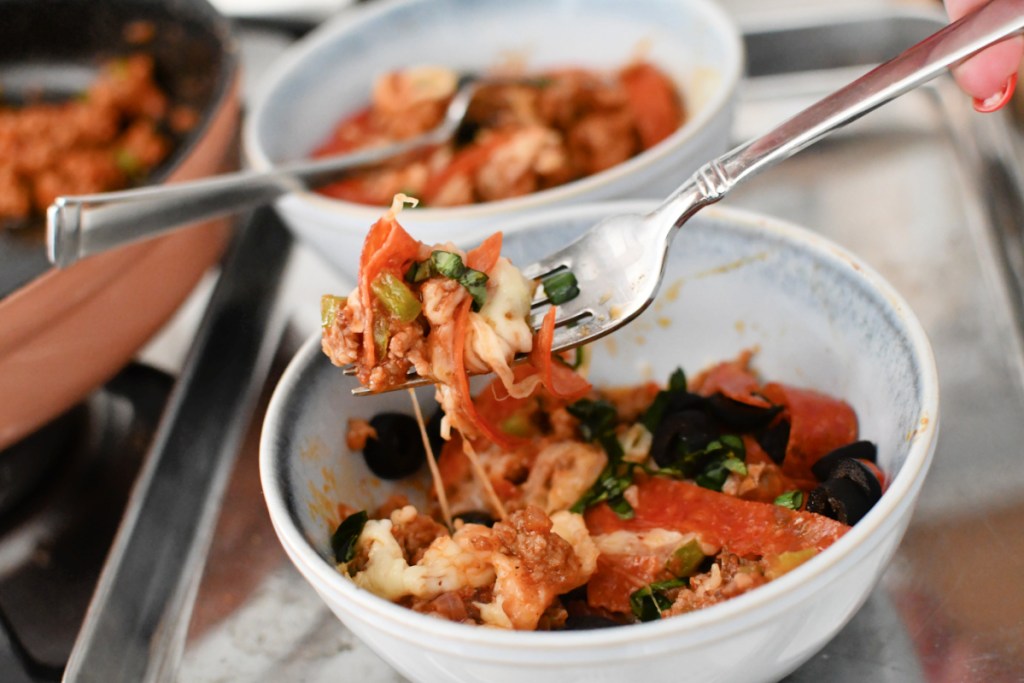 Yum! This tastes like a crustless pizza, and I am here for it!
I love that you can customize your bowl with veggies and odds and ends from your fridge. Next time I may add some feta cheese or jalapenos. This is honestly one of the best and easiest meals I have fixed in a while!
---