Keto Pizza Salad w/ Homemade Italian Dressing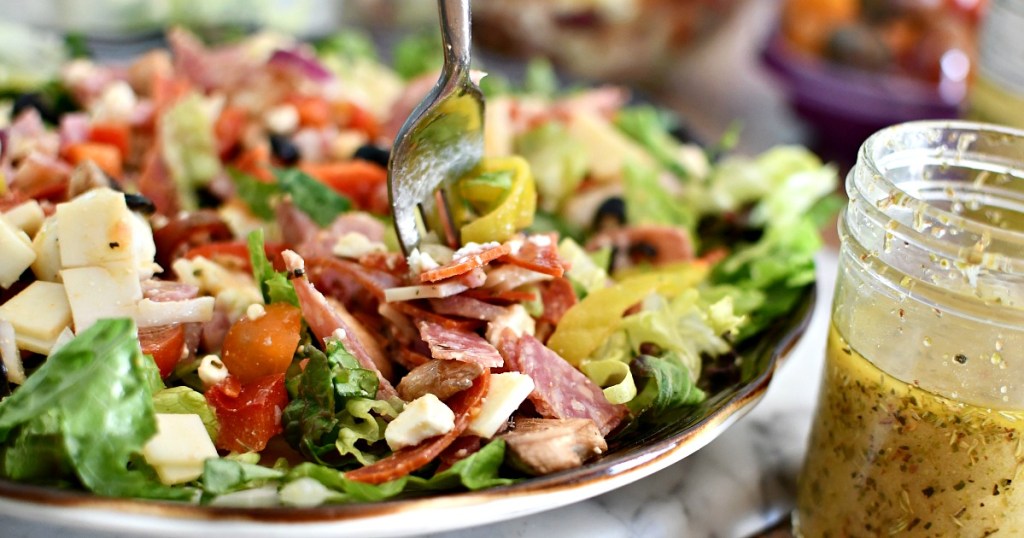 We love a good salad with lots of toppings as an easy keto dinner idea!
This hearty pizza salad is full of delicious meat, cheese, and bright veggie toppings, and bursting with lots of bold flavors from our 5-minute homemade keto Italian vinaigrette dressing.
All of these low carb toppings like pepperoni, mushrooms, olives, and mozzarella cheese are popular pizza toppings, which is why I'm calling it a pizza salad!
Really the beauty of a large salad like this is you can omit or add any keto ingredients YOU love. These are suggestions and can also be a great opportunity to use up odds and ends in the fridge you may have on hand, as well as use the cheese and meat combos you enjoy.
If you're newer to keto, check out our keto veggie guide to find out which ones are best.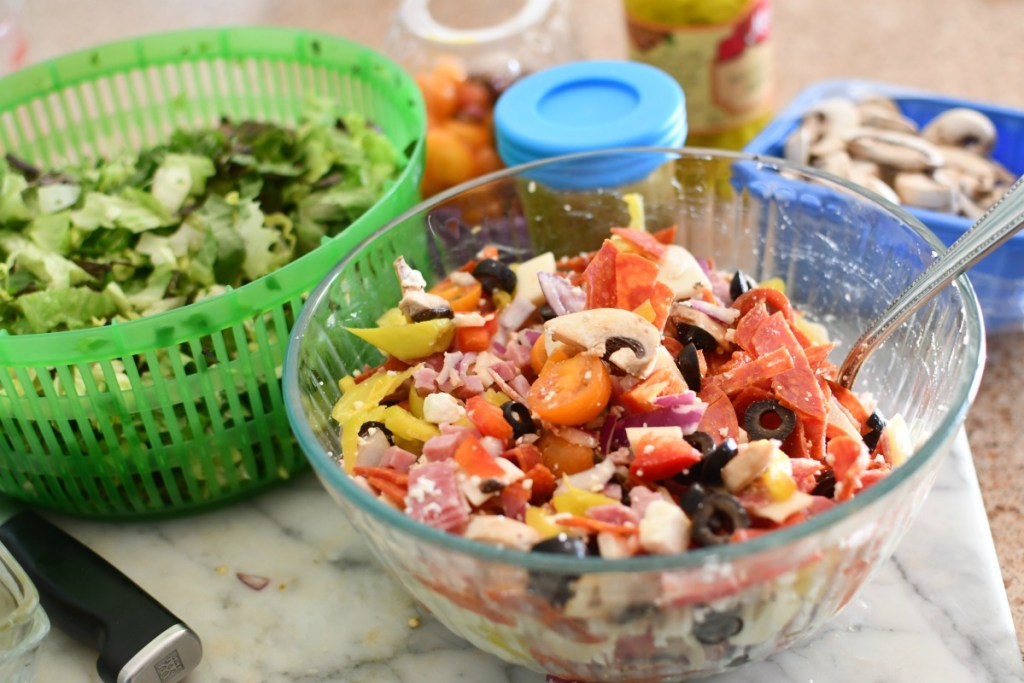 Hip Recipe Tips:
The key to a great salad is chopping everything well, including the lettuce, so you get multiple items in one bite. Make sure to run the lettuce through a salad spinner to get the moisture out so it'll be nice and crispy.
You'll need a keto sweetener to balance the apple cider vinegar and dijon mustard in the salad dressing. I used Swerve granular and it turned out great. Feel free to use your favorite sweetener to taste. Remember: salad dressing is easy to taste and tweak to your taste buds!
This recipe makes a 5 oz jar of salad dressing so you may have some leftover. It can be stored in the fridge for up to a week. Just shake well before using.
In fact, salad dressings taste even better over time, so consider making the dressing a little ahead of time for optimum flavor (though, it's not required).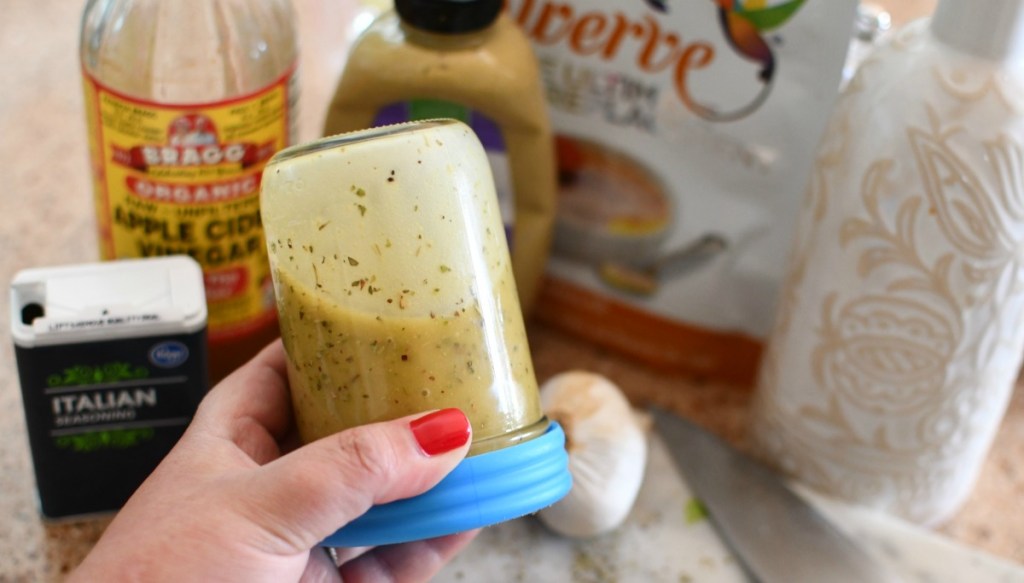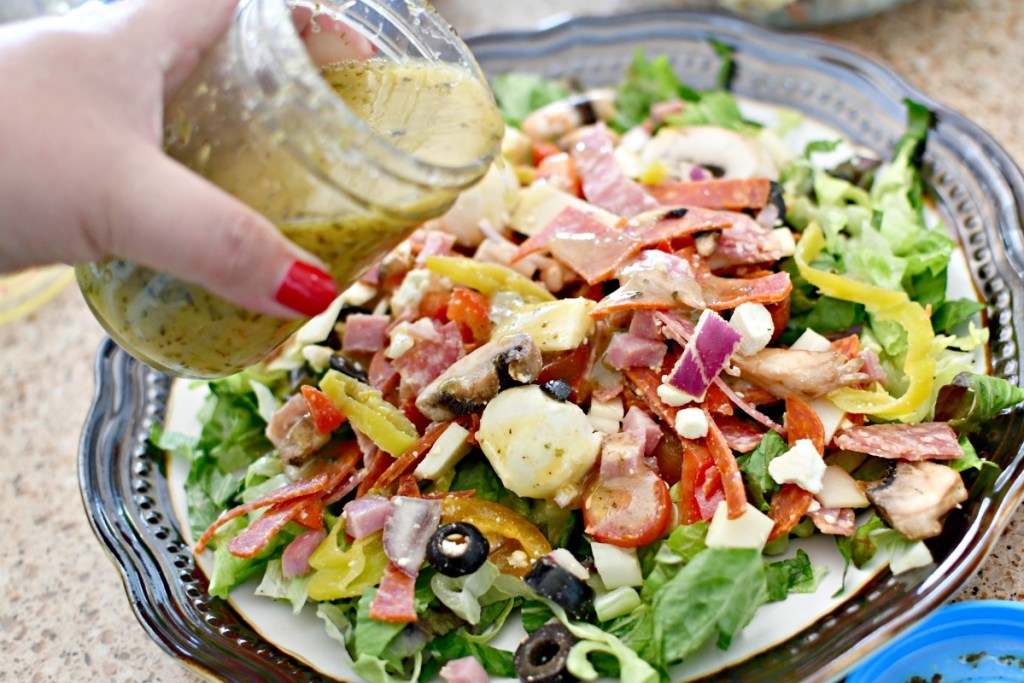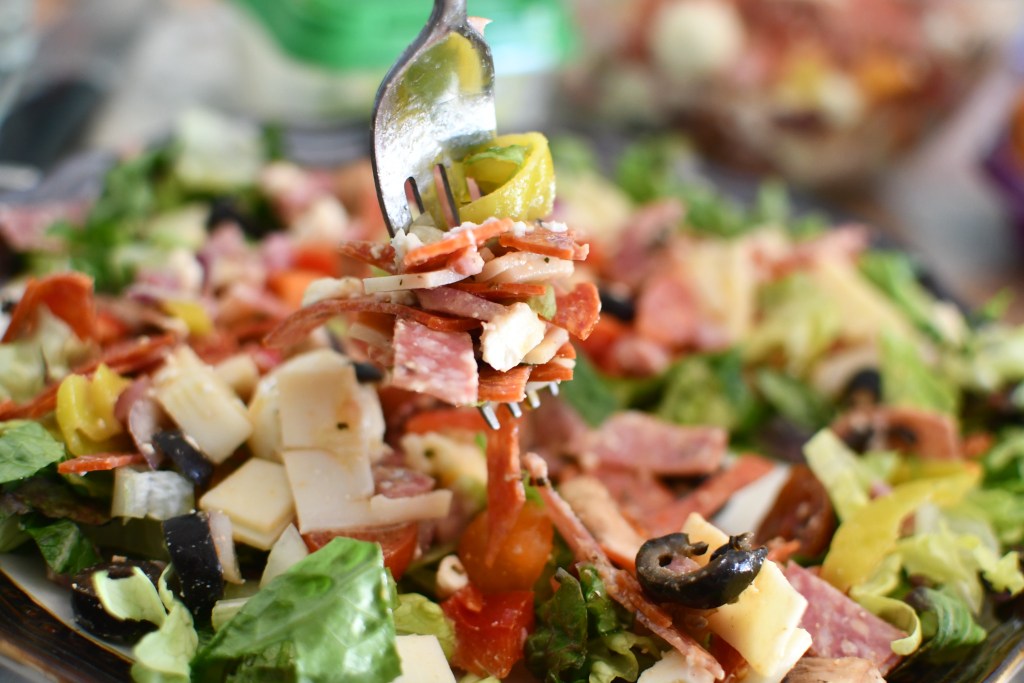 ---
yield: 4 SERVINGS
prep time: 25 MINUTES
total time: 25 MINUTES
This hearty salad is a filling meal with lots of pizza toppings like meats, cheeses, and an assortment of yummy keto veggies!
Ingredients
For the Salad Dressing:
1/2 cup olive oil
3 tablespoons apple cider vinegar
1 tablespoon dijon mustard
2 cloves garlic, minced
1 teaspoon Swerve granular
1/2 teaspoon Italian seasoning
1/2 teaspoon salt
pinch of black pepper
For the Salad:
1 bundle red leaf lettuce, chopped
1 bundle romaine lettuce, chopped
3 oz. pepperoni, sliced
3 oz. dry salami, sliced
1/2 of a red bell pepper, chopped
1/2 cup mushrooms, chopped
1/2 cup red onions, chopped
5 slices mozzarella cheese, chopped
4 oz. ham, diced
2.25 oz. can sliced black olives
3 tablespoon sliced pepperoncini, from the jar
1/3 cup feta cheese
12 grape tomatoes, sliced
8 small fresh mozzarella balls
Directions
1
Mix all the salad dressing ingredients into a small jar and shake well, and set aside. Optional step: For even better results, chill the mixed dressing in the fridge for a couple of hours. 
2
Wash, chop, and spin lettuce in a salad spinner, set aside. Chop up the remaining salad ingredients and add to a large bowl. Mix so all elements are incorporated.
3
To plate the salad, add about 3 cups of lettuce to each dinner plate and pour 1/4 of the toppings on top. Add salad dressing to taste to each plate as desired. Alternatively, you could add everything, including the lettuce, to a very large bowl and toss with the desired amount of salad dressing—it's up to you.
Nutrition Information
Yield: 4 dinner plates of salad, Serving Size: about 4 cups
Amount Per Serving: 698 Calories | 60g Fat | 11g Total Carbs | 2g Fiber | >1g Sugar Alcohol | 34g Protein | 9g Net Carbs
---
Now here's a salad that doesn't leave you hungry!
I love all the flavors and textures here. It's a lot of different ingredients, but the result is so worth it! This is one of those meals that's easy to throw together and so satisfying for the whole family – enjoy!
---
Make this homemade raspberry cheesecake keto ice cream for dessert!