Pan-Seared Halibut with Lemon Butter Caper Sauce (This No-Fail Recipe is a Must Try!)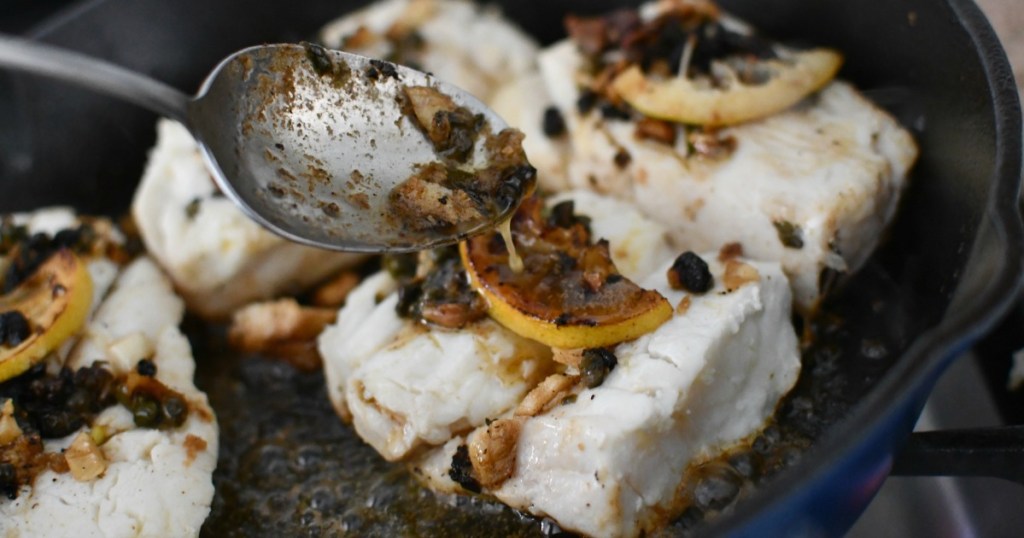 Ready to make an outstanding keto fish dinner for your fam?!
You have to try making this lemon caper halibut dish that tastes like it came out of a fancy restaurant, but is very easy to create at home in your kitchen! I sometimes feel intimidated to cook fish at home thinking it will be a fail, but this idea is so yummy, satisfying, and overall a real winner. You've gotta try it!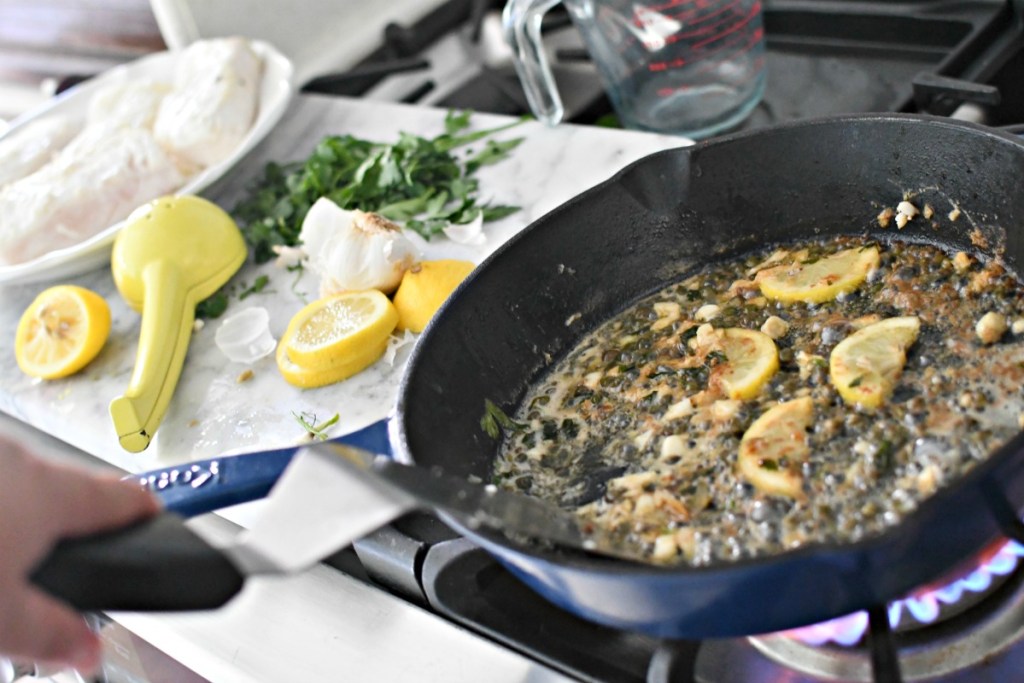 Hooray for an easy one-pan meal perfect for any day of the week!
The result is a flaky light piece of fish with a buttery lemon caper sauce that is full of flavor and over the top delicious! This tastes like you've spent all day in the kitchen, however, the simple three-part process makes it an easy one-pan meal that comes together pretty quickly.
The cooking process involves browning all sides of the fish, creating a buttery sauce, then you just finish cooking the fish, and spoon the sauce over top to serve. Yum!
---
Are you a visual learner? I made a video to show how easy the process is when making this no-fail fish dinner!
---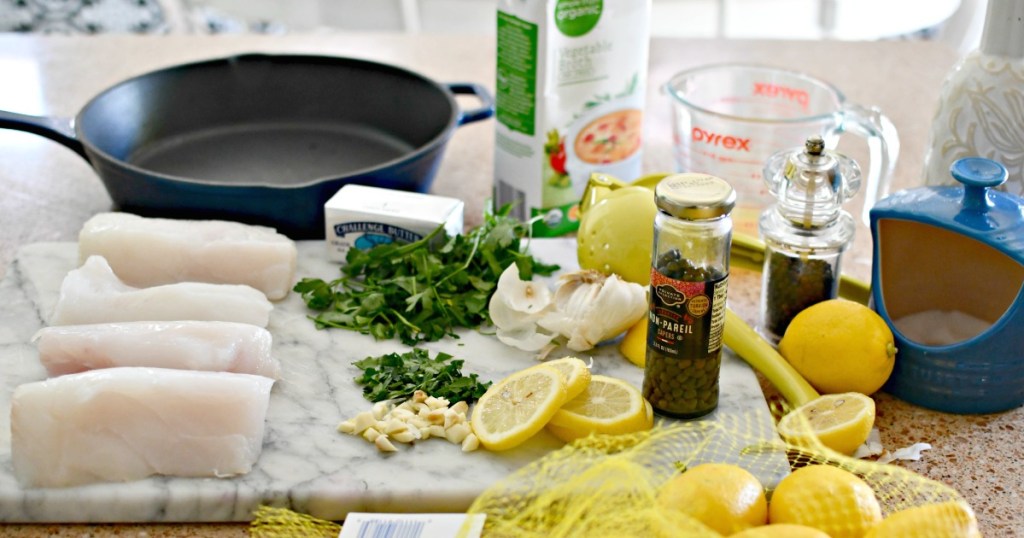 Tips for cooking this delicious pan-seared halibut:
Can't find capers or don't want to make a special trip to the grocery store? Try chopping some green olives instead. They will also taste delicious in this dish.
When making this dish, I use a large 12 inch cast iron skillet and love the yummy seared result as it browns so nicely. I also love using this metal spatula for turning the fish because it's strong enough to grab all the browned bits.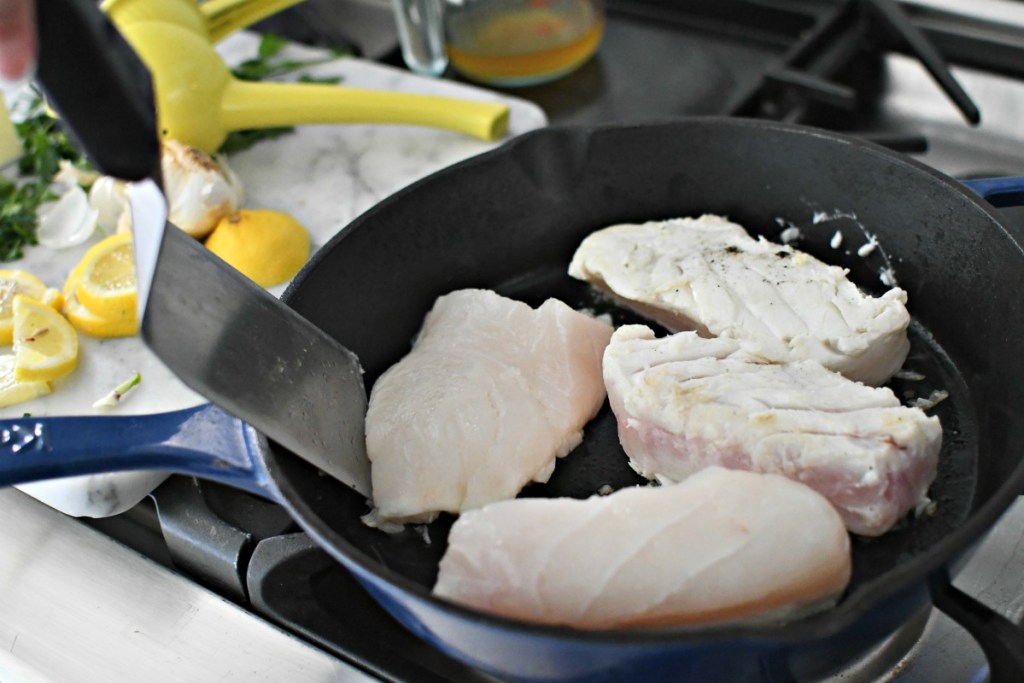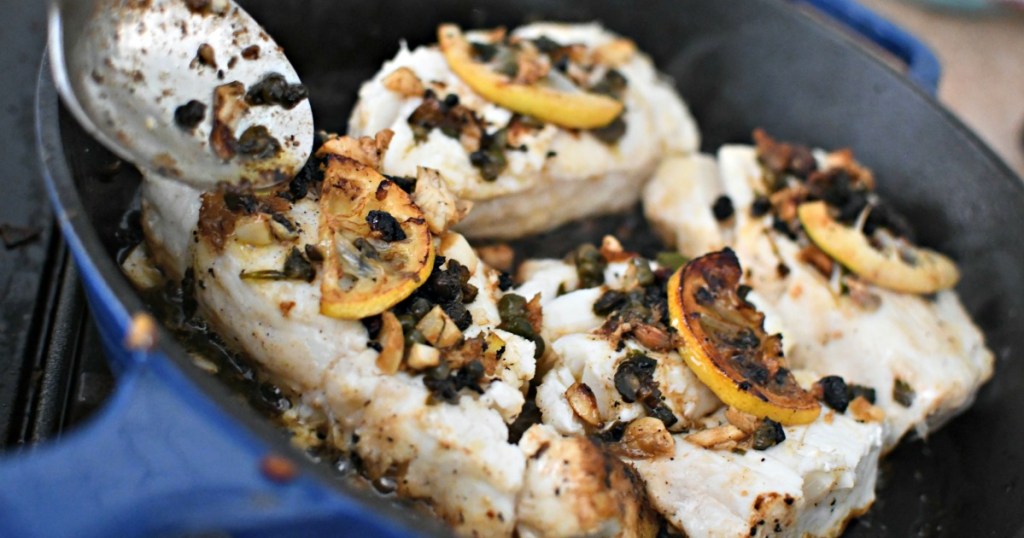 ---
Print
Pan Seared Lemon Caper Halibut
yield: 4 SERVINGS
prep time: 15 MINUTES
cook time: 10 MINUTES
total time: 25 MINUTES
Flaky halibut served with a browned butter garlic lemon sauce with capers!
Ingredients
4- 6 oz. halibut steaks, skin off
pinch of salt & pepper
2 tablespoons olive oil
1/3 cup butter
juice from 1/2 a lemon
3 cloves fresh garlic, chopped
1 tablespoon parsley, chopped
2 slices of lemon cut in half
3 tablespoons capers with the liquid
1/3 cup vegetable broth
Directions
1
Heat up a skillet to medium heat with olive oil on the stove. Pat the fish dry with a paper towel, and then sprinkle a pinch of salt and pepper on both sides.
2
Place the fish in the skillet and briefly sear all sides, in total about 2-3 minutes. Remove the fish from the pan, and set aside.
3
Add the butter and melt it in the same pan. Then add garlic, fresh parsley, capers, and lemon juice. Move the capers and garlic around the pan, scraping the bottom with a spatula a few times.
4
Add the lemon slices to the pan and let brown for a minute. Pour in the vegetable broth, letting it simmer and reduce for a couple more minutes.
5
Add the fish back to the pan and finish cooking it through, until flaky as desired. 145 degrees is a good internal temperature for halibut. Carefully tip pan forward to let the sauce gather in one section, and use a spoon to ladle back over the fish.
6
Plate the fish and serve while hot. Enjoy!
Nutrition Information
Yield: 4 pieces of halibut, Serving Size: 1 piece of halibut
Amount Per Serving: 356 Calories | 24g Fat | 1g Total Carbs | 0g Fiber | 32g Protein | 1g Net Carbs
---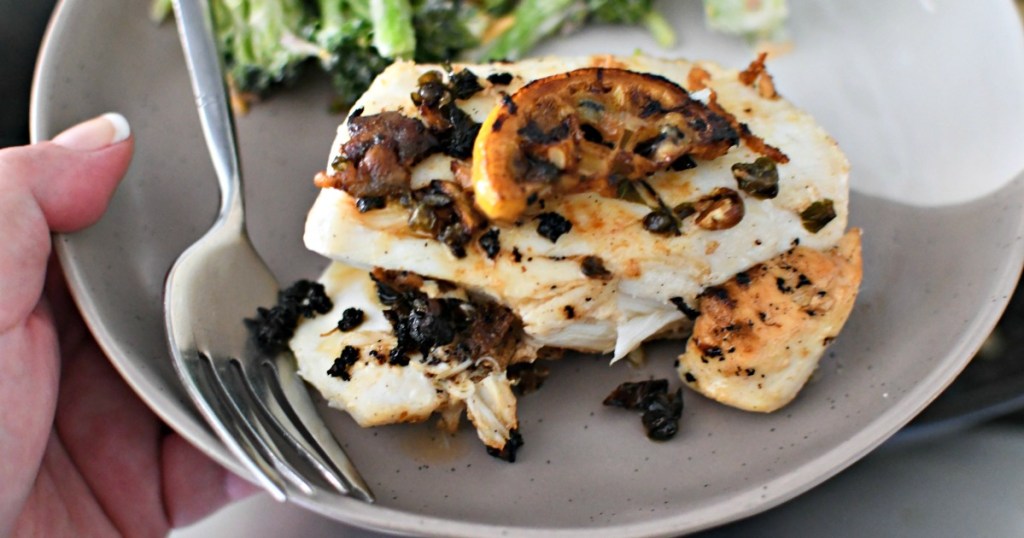 This is honestly one of my favorite fish dishes EVER!
The combination of the capers with butter and lemon is so tasty and this fish is so light and mild tasting. I love how it's seared around the edges and then flaky and tender in the middle.
On this night, I served the pan-seared halibut alongside my favorite keto broccoli salad for an overall AMAZING meal!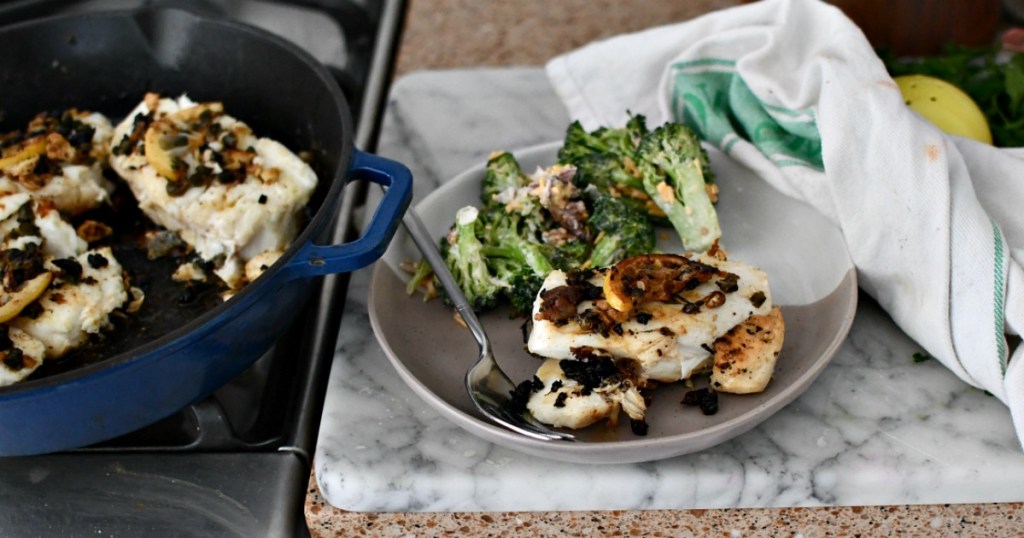 I shared this no-fail fish recipe with my sidekick, Jenna, and here's what she had to say –
"This is so totally the most amazing fish recipe I've ever made! I have to be honest, I've never pan-seared fish before! I always bake my salmon and fry cod. My dad is a chef who is known for his fish and I know this dish would impress him! I wish I would have bought twice as much fish so I could have more tomorrow! The flavors in this dish are so amazingly perfect! What a great combo!"
---