Low-Carb Olive Garden Zuppa Toscana Soup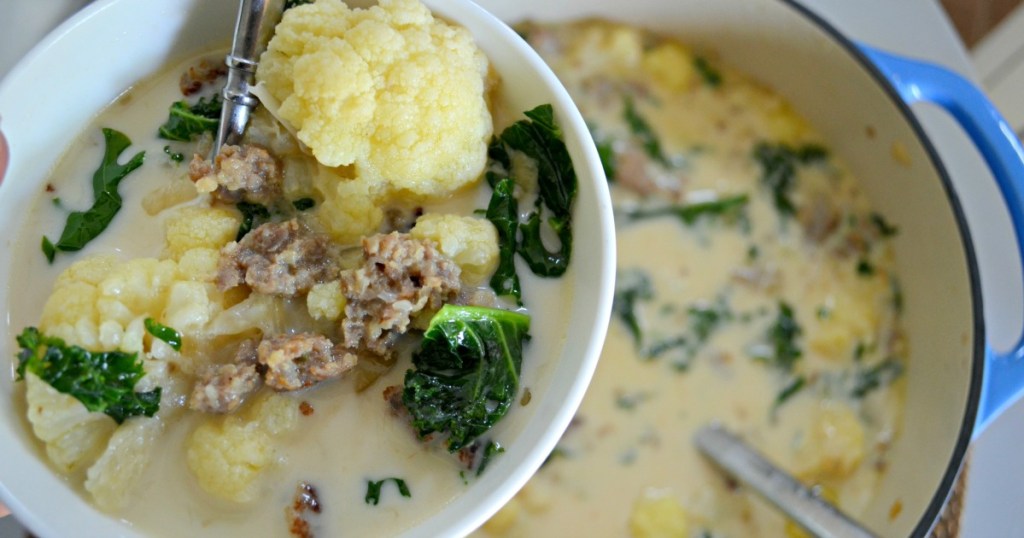 Are you a fan of Olive Garden's Zuppa Toscana soup?
Zuppa Toscana has been a long-time menu favorite at Olive Garden. The restaurant version features a creamy broth made with spicy Italian sausage, fresh kale, and russet potatoes. Sadly, those potatoes make this soup off-limits for anyone eating keto. Just one bowl could be enough to potentially knock you out of ketosis!
Luckily, Olive Garden's Zuppa Toscana recipe is easily adapted for a ketogenic diet. It's a simple matter of swapping out those starchy potatoes for cauliflower! Today, we're sharing our low-carb Olive Garden Zuppa Toscana soup recipe, and it's so flavorful, you won't even miss the carbs – we promise!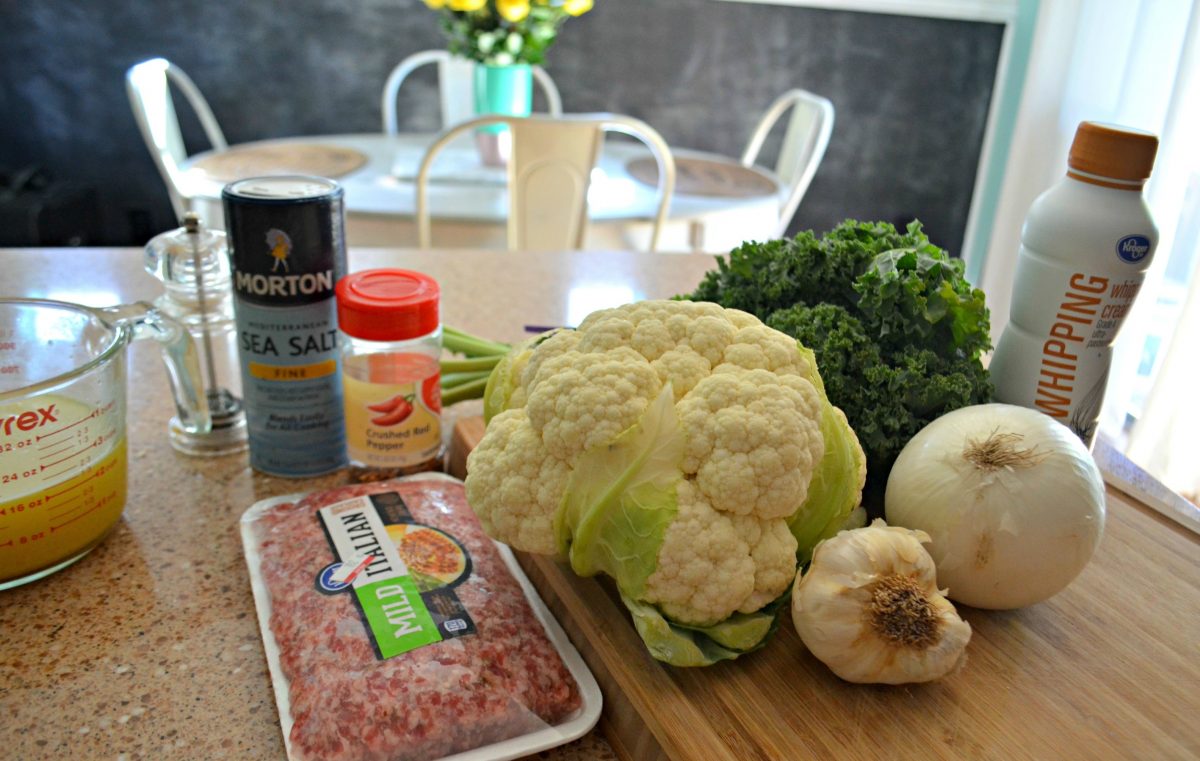 Want to try this low carb Olive Garden Zuppa Toscana soup recipe out in the slow cooker?
It's totally possible to adapt this recipe for the Crock-Pot! First, brown the meat with the onions and garlic, then place the browned ingredients inside the slow cooker along with the water, the broth, and the cauliflower. Cover and cook on HIGH for 4 hours or LOW for 6-8 hours. Stir in the kale and cream at the very end of your cooking time and serve hot. Easy peasy!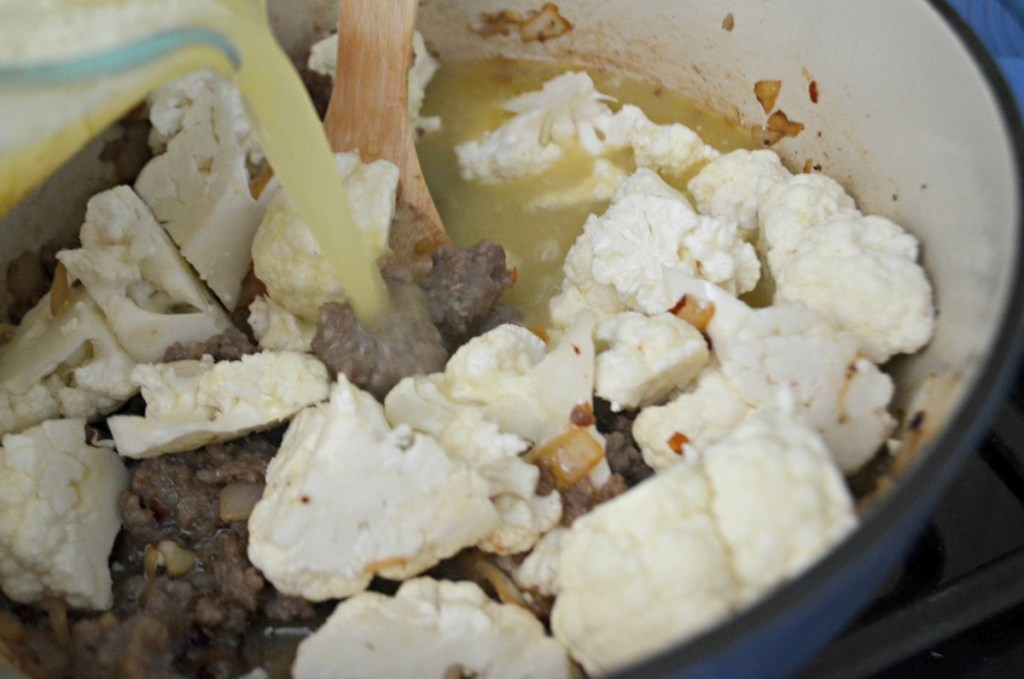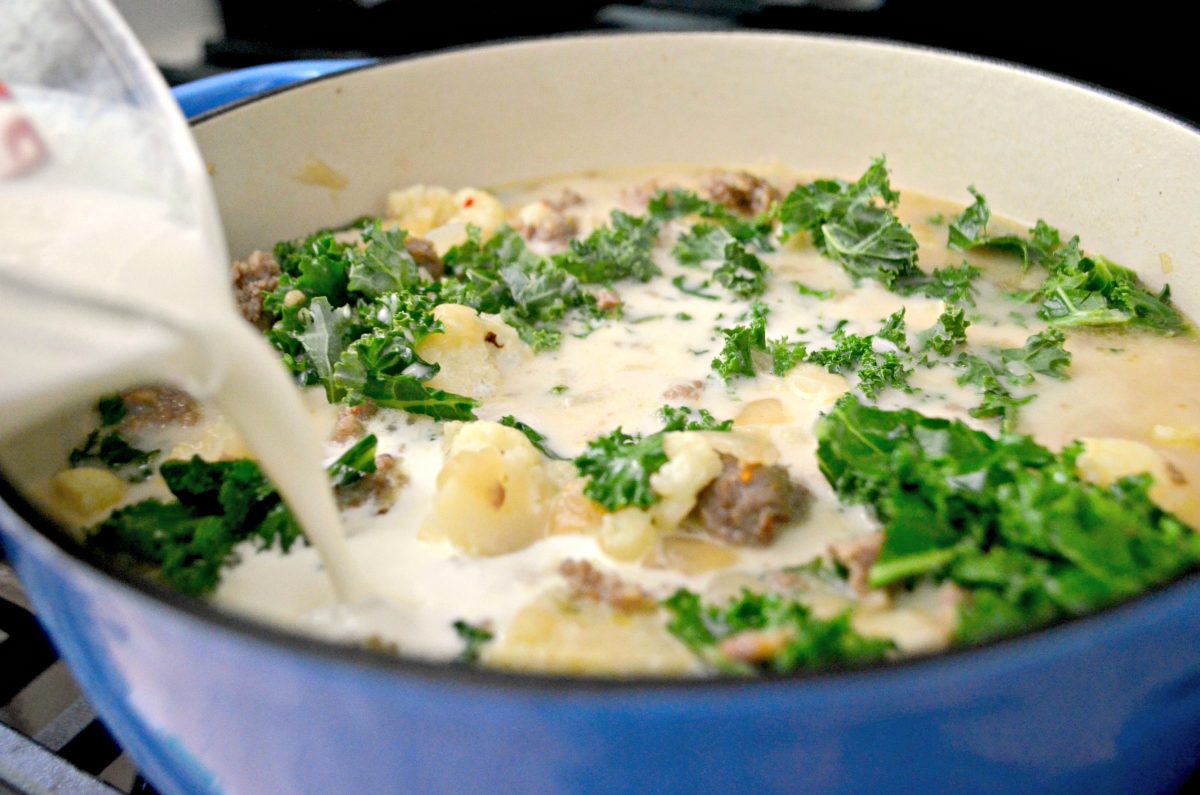 ---
Print
Low-Carb Zuppa Toscana Soup
yield: 6 SERVINGS
prep time: 20 MINUTES
cook time: 20 MINUTES
total time: 40 MINUTES
Delicious, creamy low carb Zuppa Toscana soup with hearty florets of cauliflower in place of starchy potatoes.
Ingredients
1 pound Italian sausage (I used mild)
1 onion, chopped
3 cloves garlic, minced
1/2 teaspoon red pepper flakes
1/4 teaspoon black pepper
1/2 teaspoon salt or more to taste
1 head cauliflower, cut into florets
16 oz. chicken broth
1 quart water
1 teaspoon chicken bouillon (if desired for extra flavor)
3 cups kale or Swiss chard, chopped
1 cup heavy cream
Directions
1
In a soup pot on the stove, crumble and brown sausage over medium-high heat.
2
Add onion and garlic and cook until translucent in color. Season with salt, pepper, and red pepper flakes.
3
Reduce heat to medium and add cauliflower florets, broth, and water. Stir and add bouillon, if desired.
4
Cook on medium heat until cauliflower is tender, about 15-20 minutes.
5
Reduce heat to low and sprinkle in chopped kale. Pour in cream and stir well. Serve hot.
Nutrition Information
Yield: 6 servings, Serving Size: 1 serving
Amount Per Serving: 382.7 Calories | 30.6g Fat | 9.1g Total Carbs | 2.6g Fiber | .1g Sugar Alcohol | 17.5g Protein | 6.4g Net Carbs
---
This soup is AMAZING!
Don't you just love a hearty, satisfying soup served on a cozy night in? Zuppa Toscana has long been my favorite dish at Olive Garden, and I love that I can easily throw together a homemade, low-carb version at home. This recipe tastes so similar, maybe even better!
If you're looking for a keto-friendly dinner idea that your non-keto family members will enjoy too, this soup will not disappoint. My family truly loved this meal. In fact, my husband said that he liked the cauliflower more than the potatoes, and my kids actually ate the cauliflower without complaining! The leftovers are great the following day as well.
---