Keto Thin Mints (Girl Scout Cookies Copycat)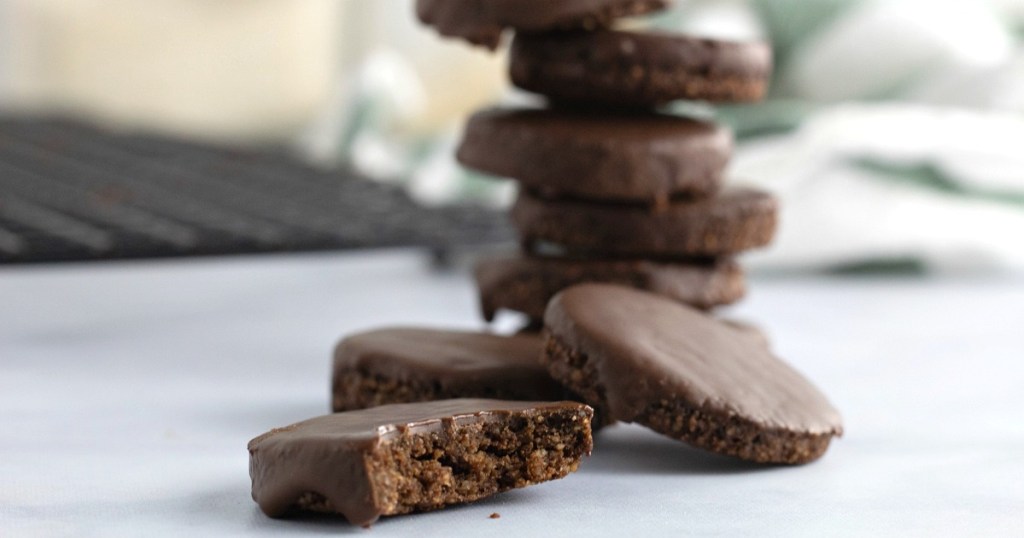 Who can say no to keto cookies, especially when they look like these?! 😋

Missing out on those delicious Girl Scout Thin Mints Cookies? Then you need to try these magical keto cookies you can enjoy without worrying about loads of sugar!
My goal in this recipe was to create a wafer-like texture rather than creating a soft cookie center in order to stay true to traditional Thin Mints cookies.
If you love Thin Mints cookies, prepare to be amazed at how much this keto version tastes just like the real thing! Plus, they're actually pretty easy to make, have only 1 net carb per two cookies, and will impress even the non-keto eaters in your family—I know they fooled mine!
Hip Tips:
You'll see I used salted butter in my recipe but unsalted would work just fine. It's all a matter of personal preference!
I love using these cookie cutters with a safety grip making them perfect for kiddos. You can flip the scalloped edge to use the side with a nice clean circle shape (which is what I used for these little cookies). If you do not have a round cookie cutter, you can also use a small glass to achieve the same circle cut-out shape.
To avoid sticking, roll out the dough between two pieces of parchment paper. It eliminates the need to add extra flour when rolling.
If the dough is sticking or too delicate to move when trying to transfer the cookie sheet, try freezing the rolled out dough for 1 hour, and then cutting out the circles.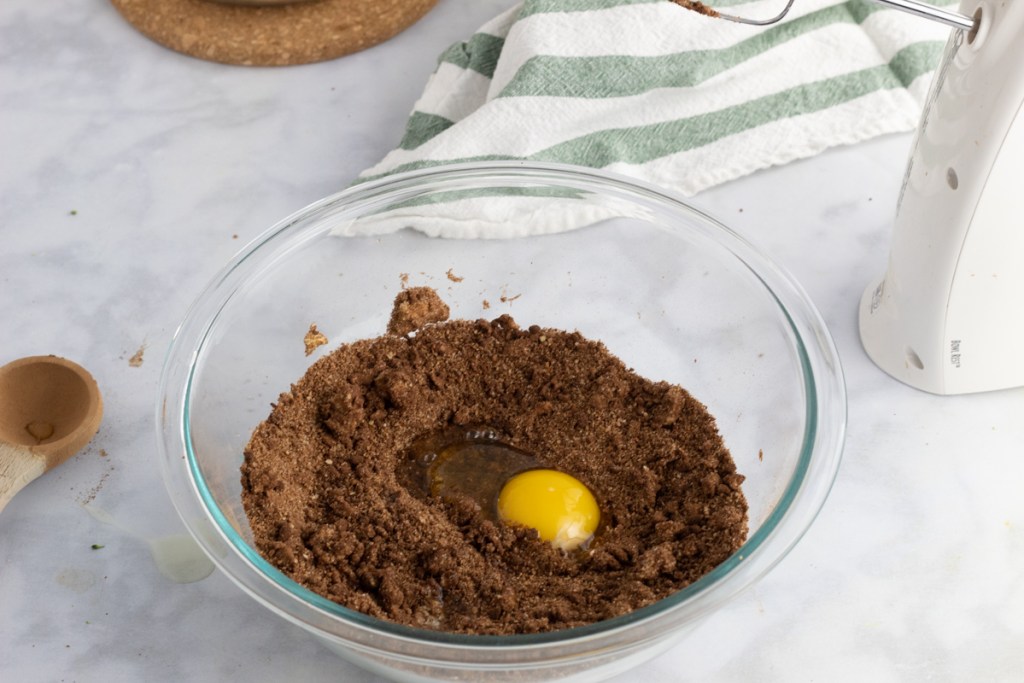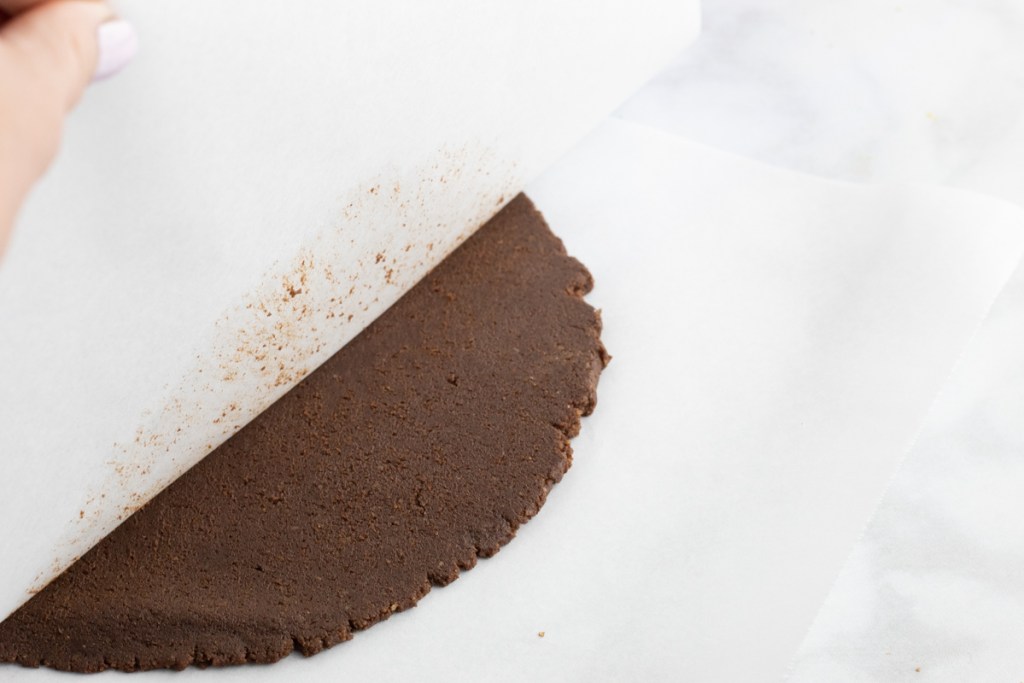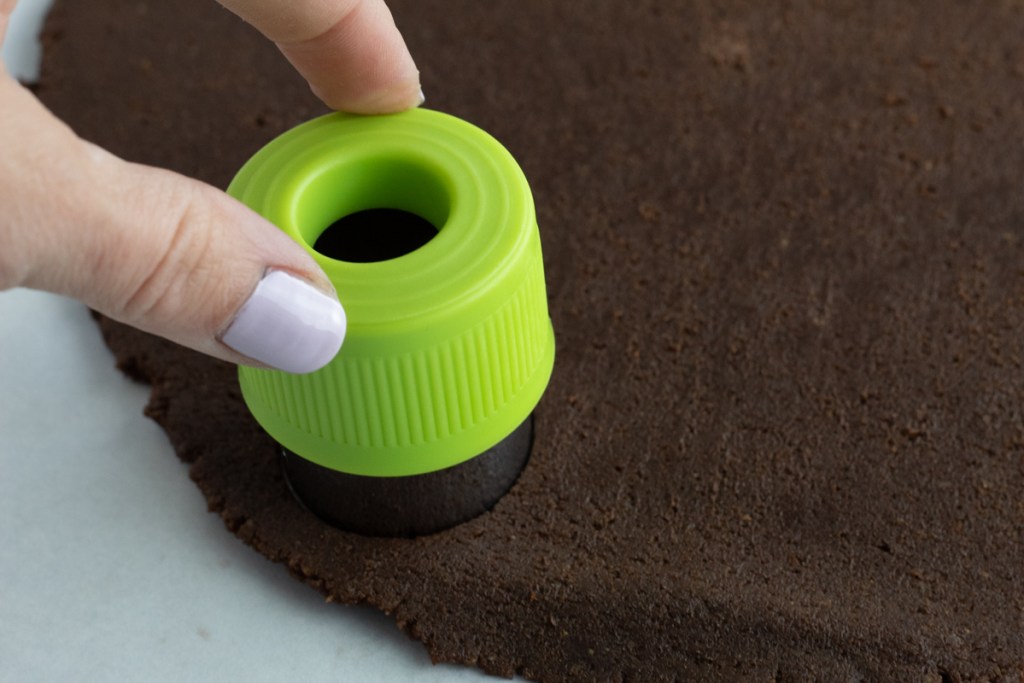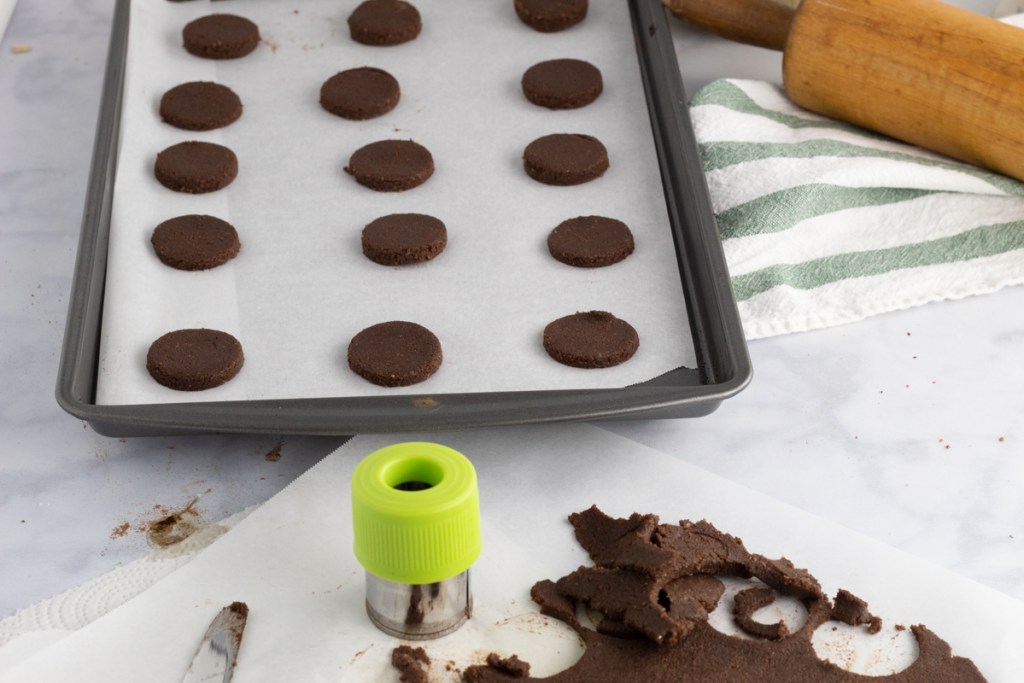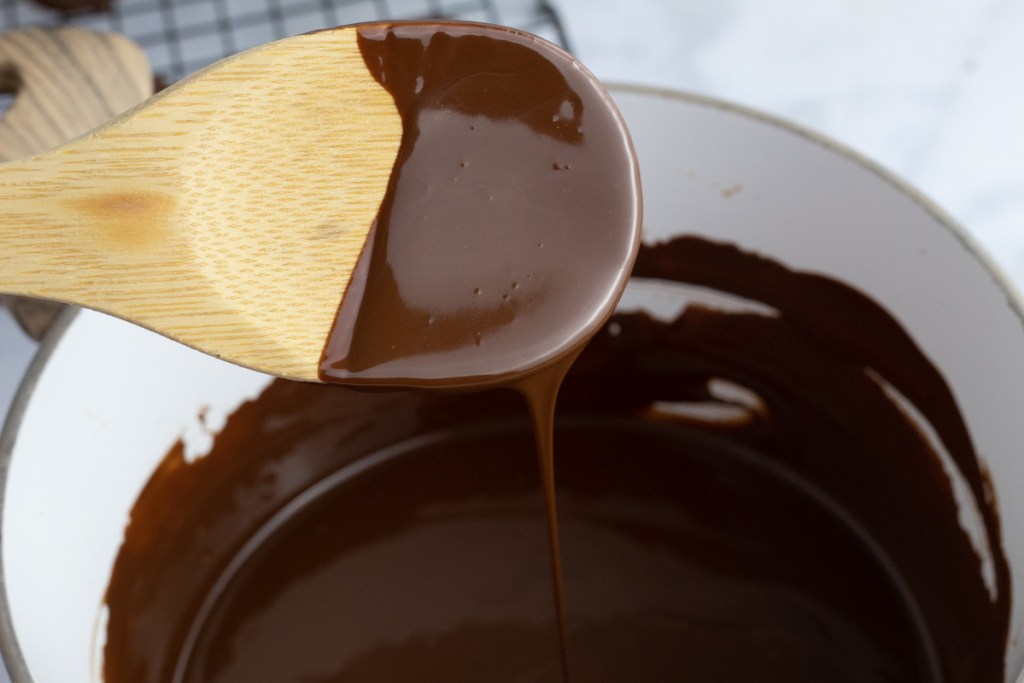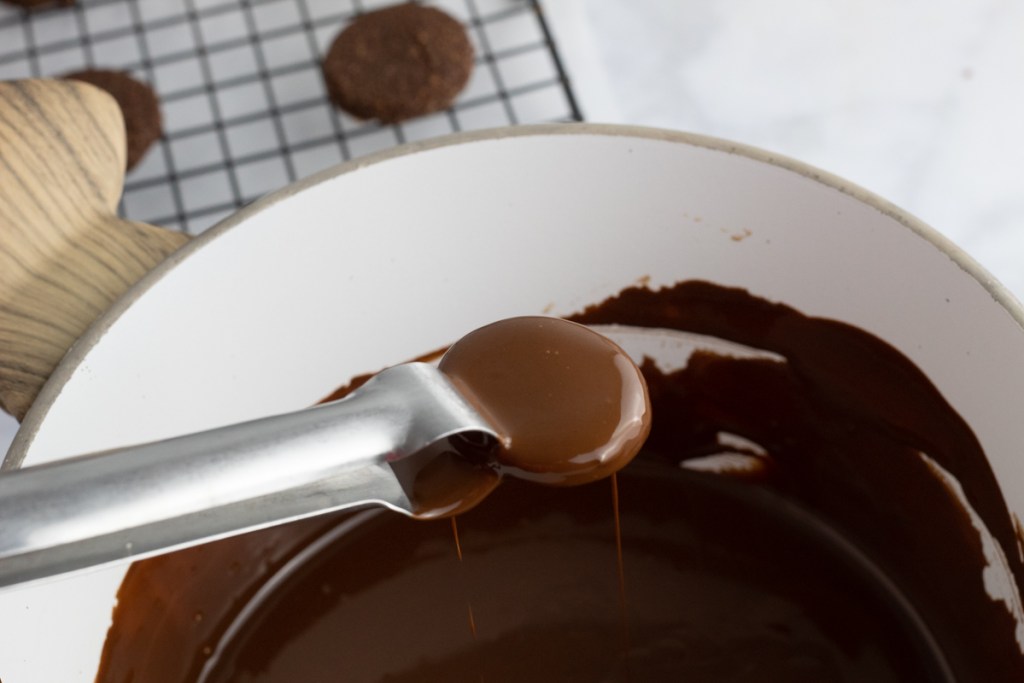 ---
Print
Keto Thin Mints Cookies
yield: 24 SERVINGS
prep time: 1 HOUR 15 MINUTES
cook time: 8 MINUTES
total time: 1 HOUR 23 MINUTES
Crisp, mint chocolate wafer cookies coated in rich chocolate that taste nearly identical to Girl Scout Thin Mints.
Ingredients
Chocolate Wafer Cookie:
1 cup almond flour
3 tablespoons unsweetened cocoa powder
1/4 cup Swerve granular
1 teaspoon vanilla extract
1 teaspoon peppermint extract
3 tablespoons salted butter, room temperature
1 egg
pinch of salt
Chocolate Coating:
1 cup no sugar added chocolate chips
2 teaspoons coconut oil
1/4 teaspoon peppermint extract
Directions
1
To make the wafer cookies, combine flour, cocoa powder, Swerve, and a pinch of salt in a large bowl and mix together.
2
Add in vanilla extract, peppermint extract, softened butter, and egg. Mix with a handheld mixer until dough is in a ball form.
3
Wrap dough in plastic wrap and chill for 1 hour.
4
Preheat oven to 350 degrees. Line cookie sheet with parchment paper and set aside.
5
Remove dough from plastic wrap and place between two pieces of parchment paper. With a rolling pin, roll out dough to a 1/4" thickness.
6
With 1 1/2" round cookie cutter, cut out cookies. If you've had a Thin Mints Girl Scout cookie before, you'll know this is a thin, crisp cookie, so the dough will be a little delicate. Use a butter knife to gently pick up the cookie dough cut-outs and place cookies on a parchment-lined cookie sheet.
7
Bake for 8-10 minutes on the middle rack in the oven. With the cookies being small and thin, these do not take long to bake - so the longer they are in, the crunchier they will be—but keep an eye on them to avoid burning!
8
Remove cookies from the oven and let cool ON the cookie sheet before transferring to a cooling rack.
9
To make the chocolate coating, add the chocolate chips, coconut oil, and peppermint extract to a small saucepan over low heat. Melt the chocolate until it's smooth and creamy. Remove from heat.
10
Using a pair of tongs, dip cookies into melted chocolate and place back on the cooling rack. Once all cookies are dipped, place in refrigerator until the chocolate coating has hardened.
11
Store in a sealed container in a cool area. Enjoy!
Nutrition Information
Yield: 24 bite-sized cookies, Serving Size: 2 bite-sized cookies
Amount Per Serving: 21 Calories | 2g Fat | 2g Total Carbs | 0 Fiber | 1g Sugar Alcohol | 1g Protein | 1g Net Carbs
---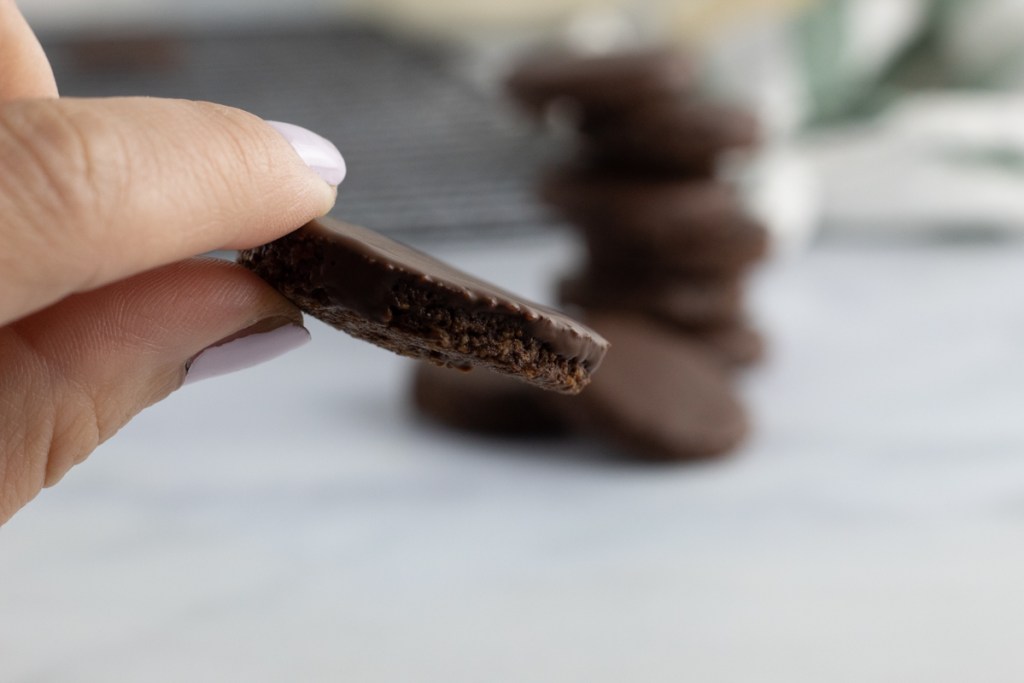 This Thin Mint cookie is just too perfect!
Enjoy this minty sweet treat next time you need your Girl Scout cookie fix—just try not to eat the whole batch! 😆
---
Love the classics? Try these Keto Chocolate Chip Cookies.