Make This Keto Strawberry Pie While Fresh Berries are in Season
Delicious keto sugar free strawberry pie is here.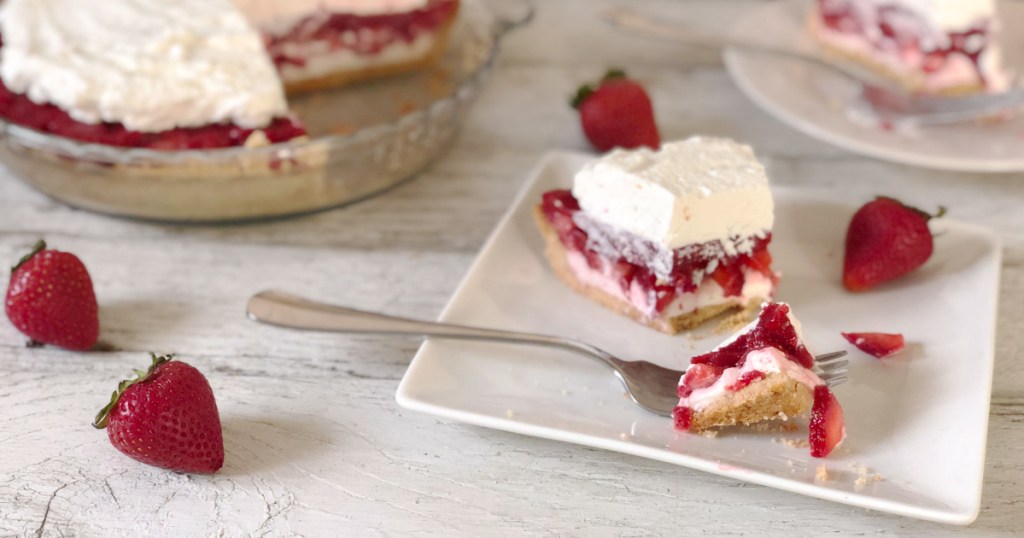 Your daily dose of sugar-free sweetness is here!
This keto sugar-free strawberry pie recipe is all things a keto dessert should be: simple, sweet, and stunning! It was devoured and definitely is on the list to make again soon. In fact, you might as well double the recipe and make two pies because everyone in your house will go crazy over it!
The pie has no added sugar and only 6.4g net carbs per slice, with the majority of the carbs coming from the strawberries, cream cheese, heavy cream, and almond flour.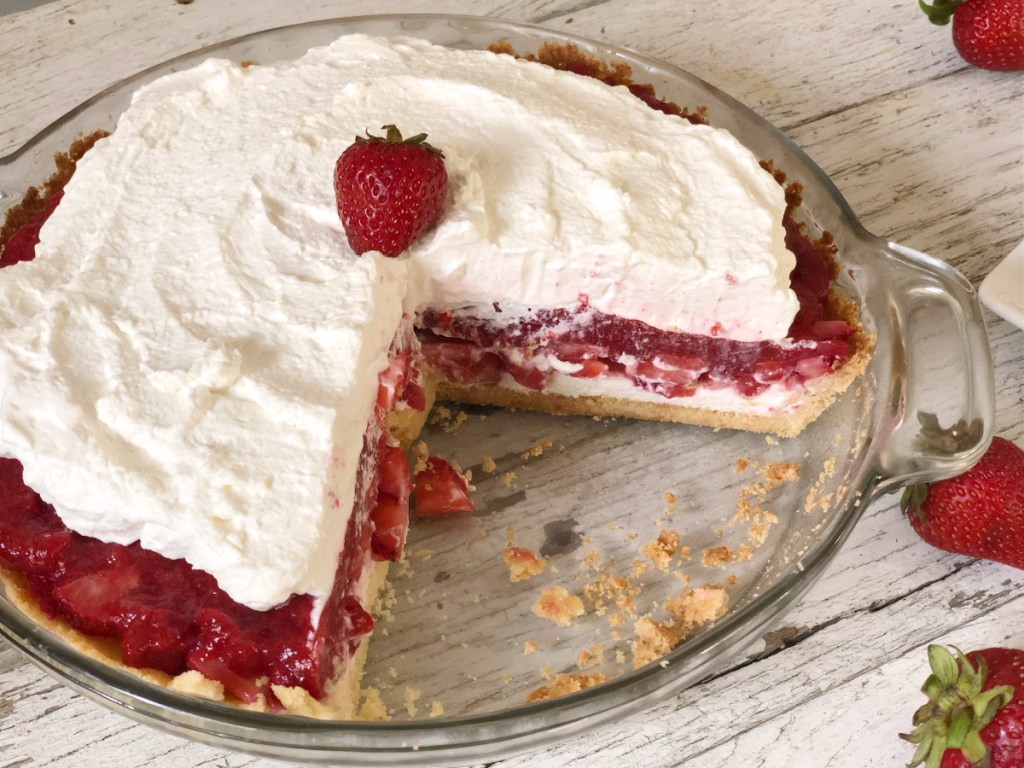 Talk about a punch of strawberry flavor. 🍓
The flavors of this sugar-free strawberry pie meld together beautifully and are perfect as a summer treat. It also makes a wonderful presentation with the visible layers showing… a golden crust, bright berry filling, and light luscious whipped topping. It literally tastes as good as it looks. 🤤
To keep the carbs low, this pie has the same easy almond flour crust as our popular keto pumpkin pie, which is topped with a simple filling of full-fat whipped cream cheese, sliced fresh strawberries, and a layer of sugar-free strawberry gelatin mixed with puréed fresh strawberries. And you can't have dessert without topping it with some homemade whipped cream. Yum!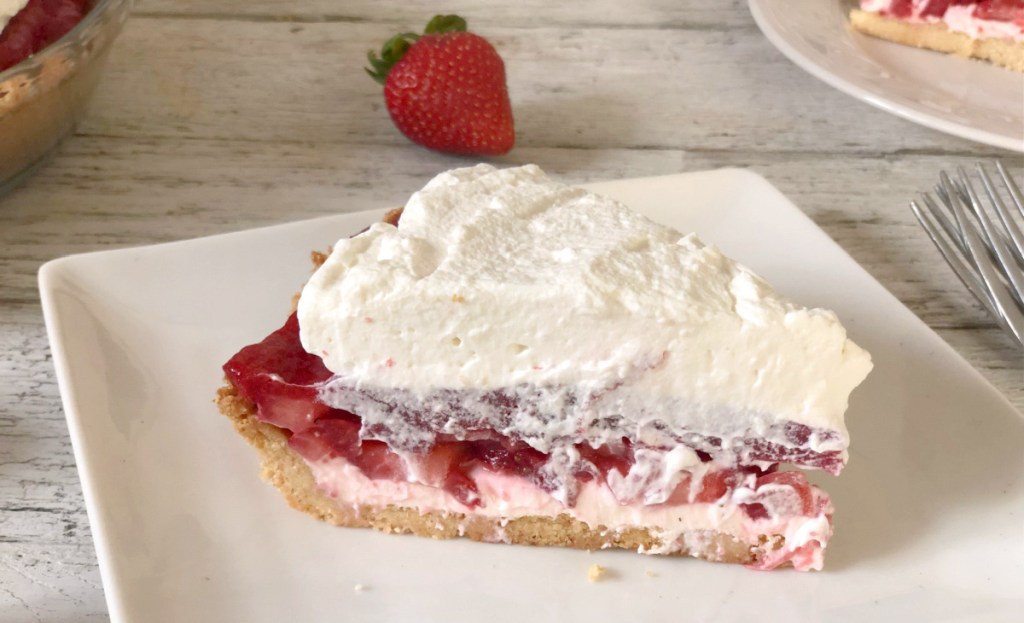 Tips for making the best sugar-free strawberry pie:
When making the dough, it's easiest to press it out in the pie pan with your fingers or a small ramekin for even distribution.
Cover the edges of the crust with aluminum foil to prevent it from browning too quickly while baking.
Plan ahead when making this pie as you'll need to let the gelatin-strawberry purée mixture chill for at least 30 minutes before adding it as a filling.
Serve this sugar-free strawberry pie right after making it or let it chill in the fridge for about 30 minutes. You can also make this the day before you serve it, and it will keep in the fridge for up to five days… well, if it lasts that long in your household!
You can try making this with raspberries, blueberries, or blackberries instead of strawberries. Any sugar-free berry-flavored gelatin will work as well.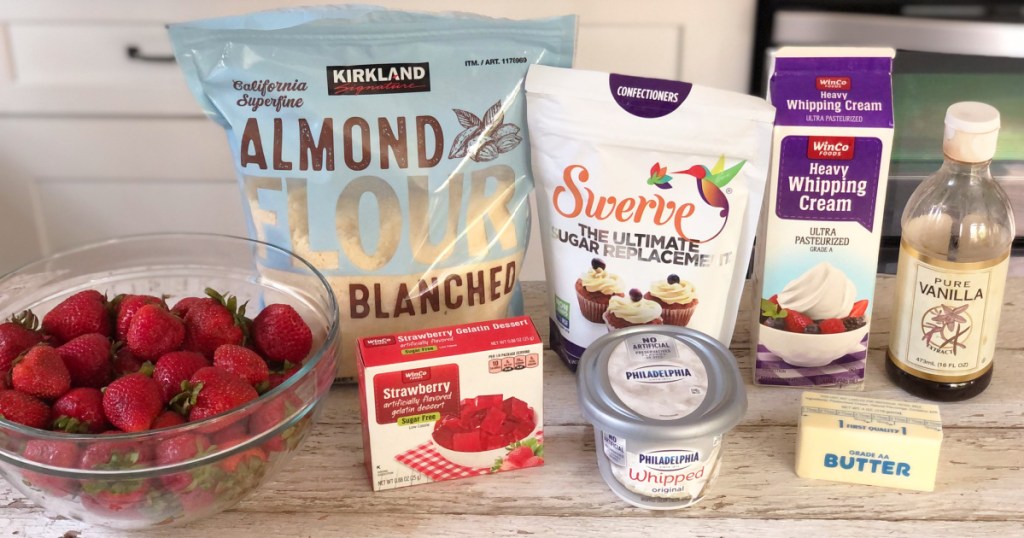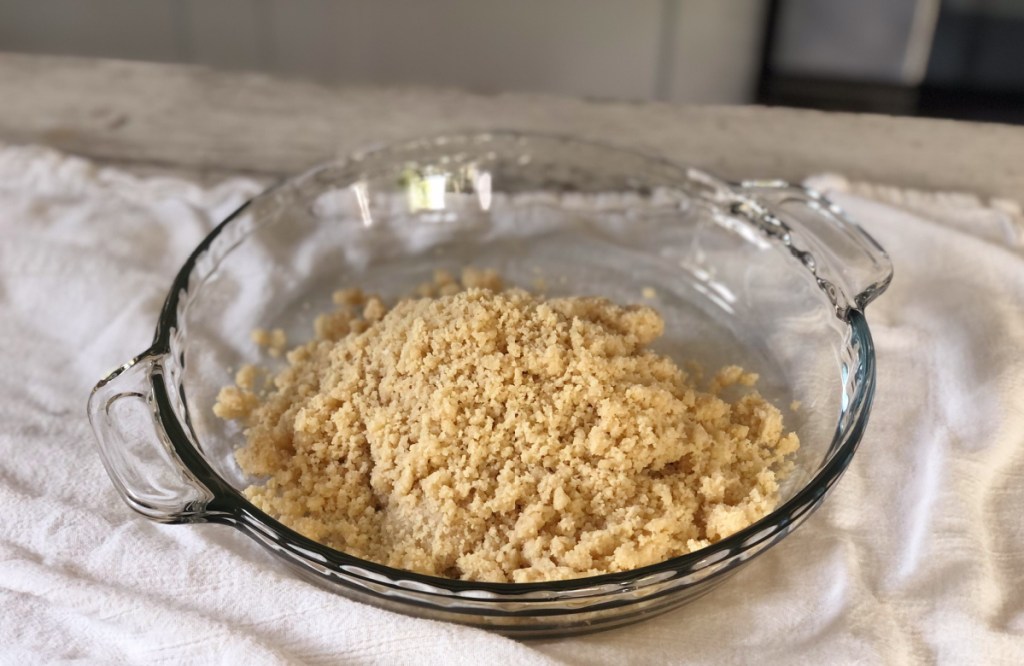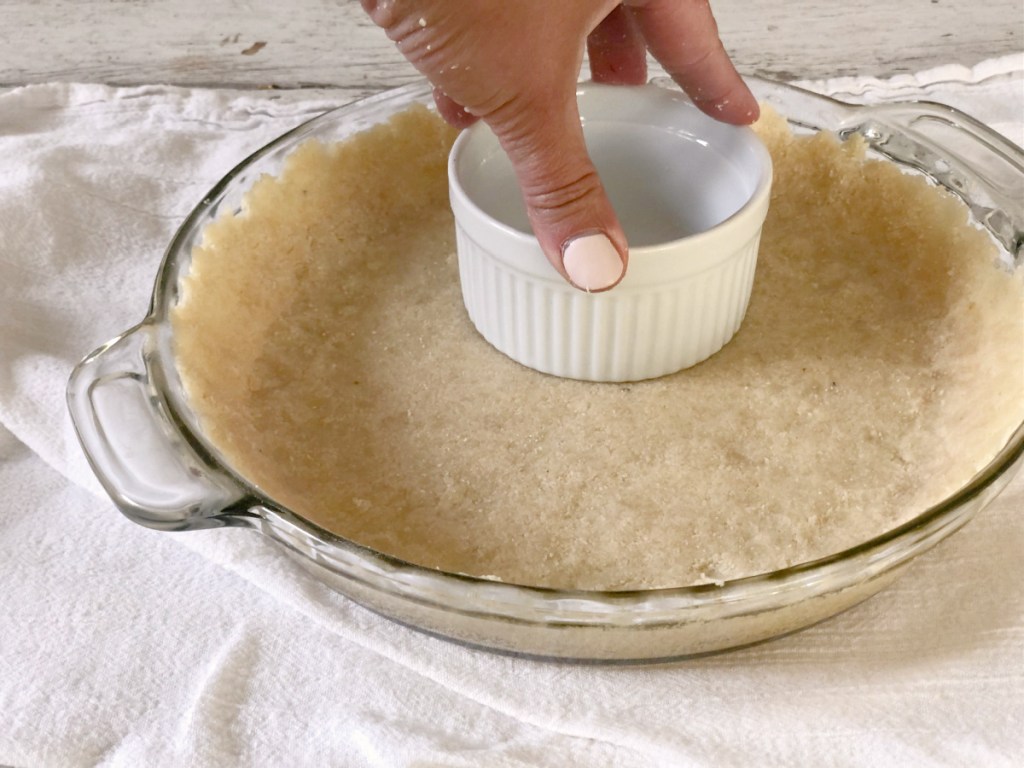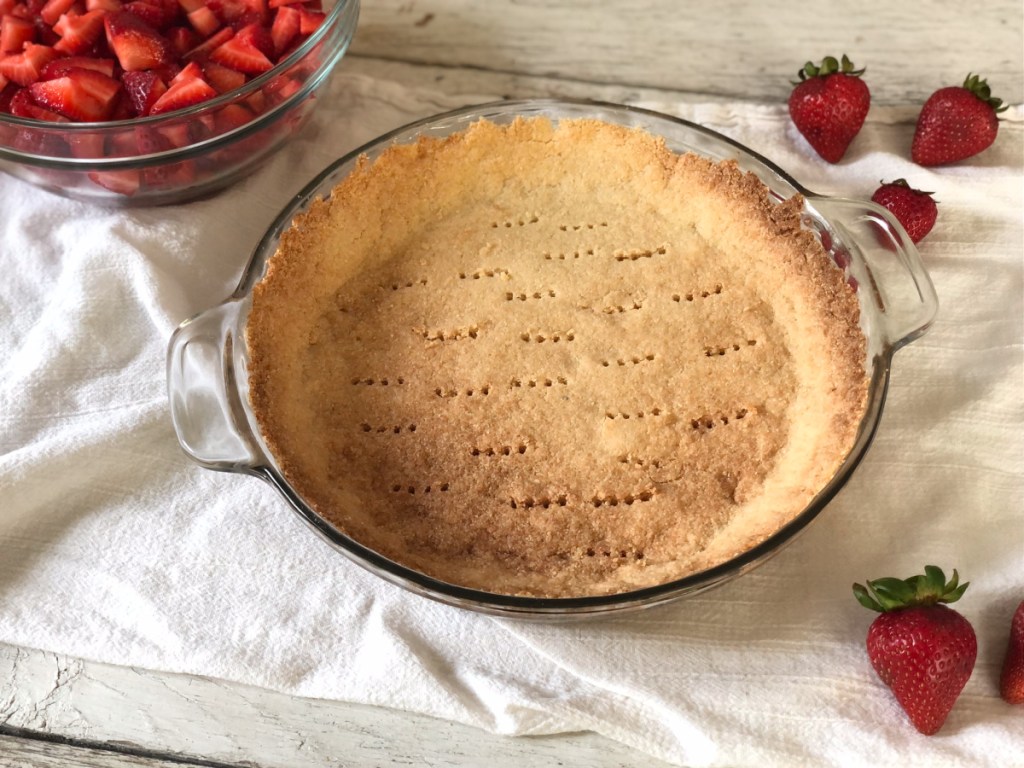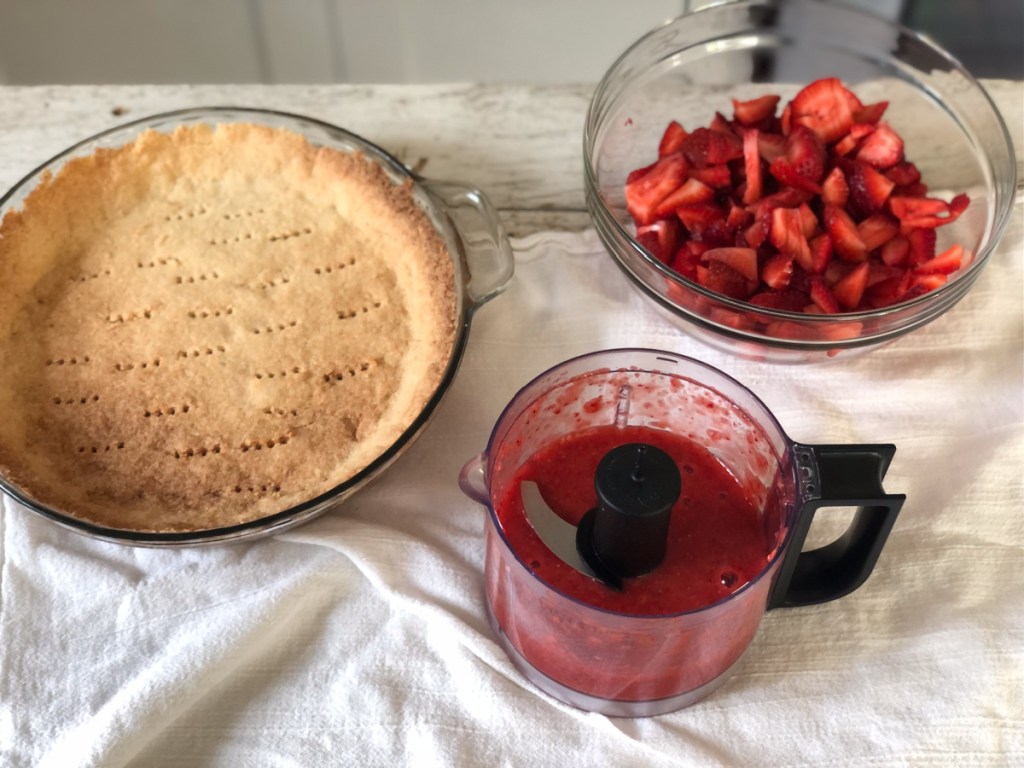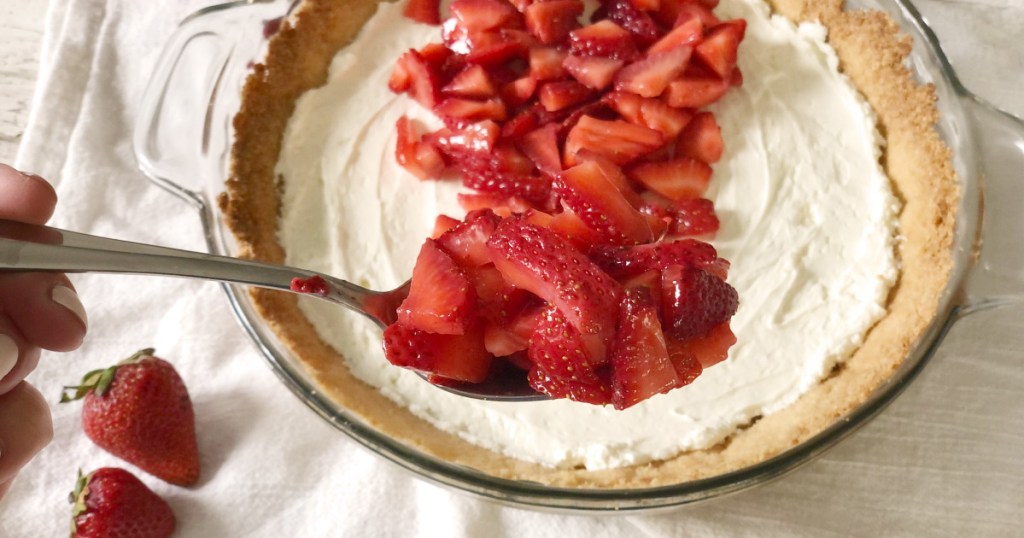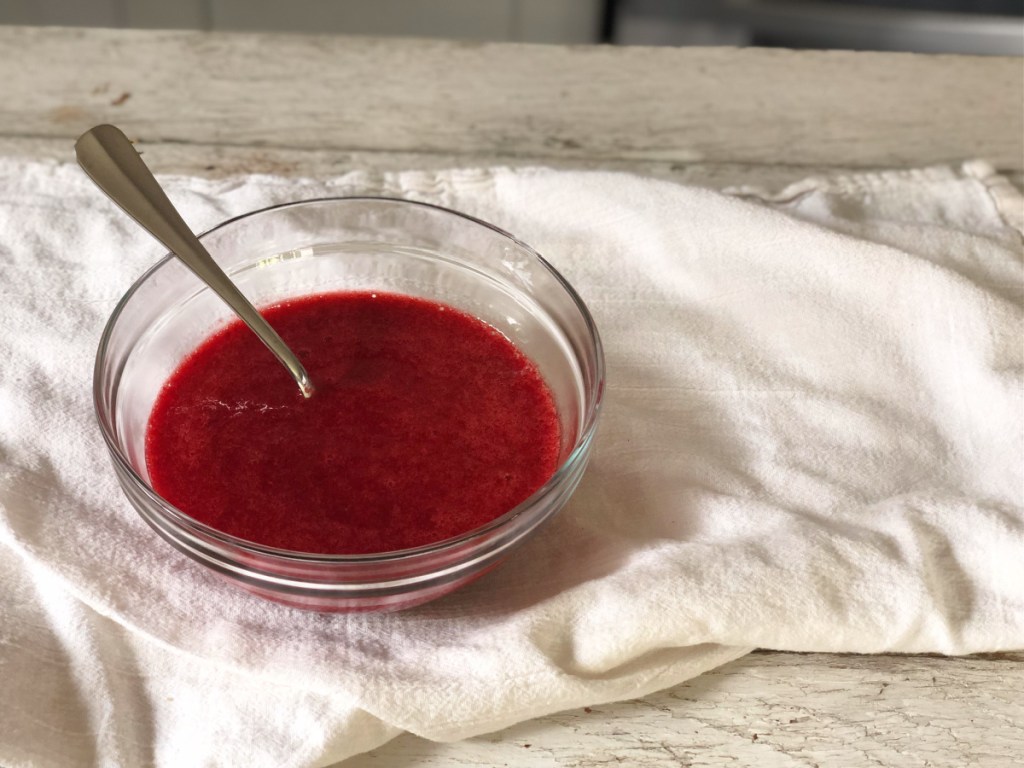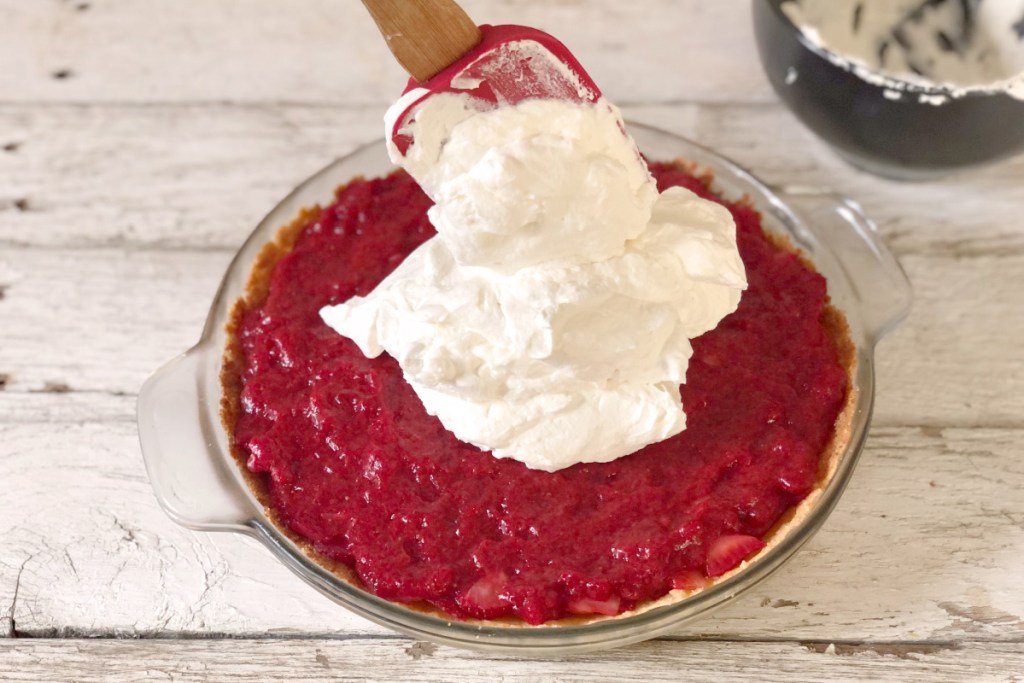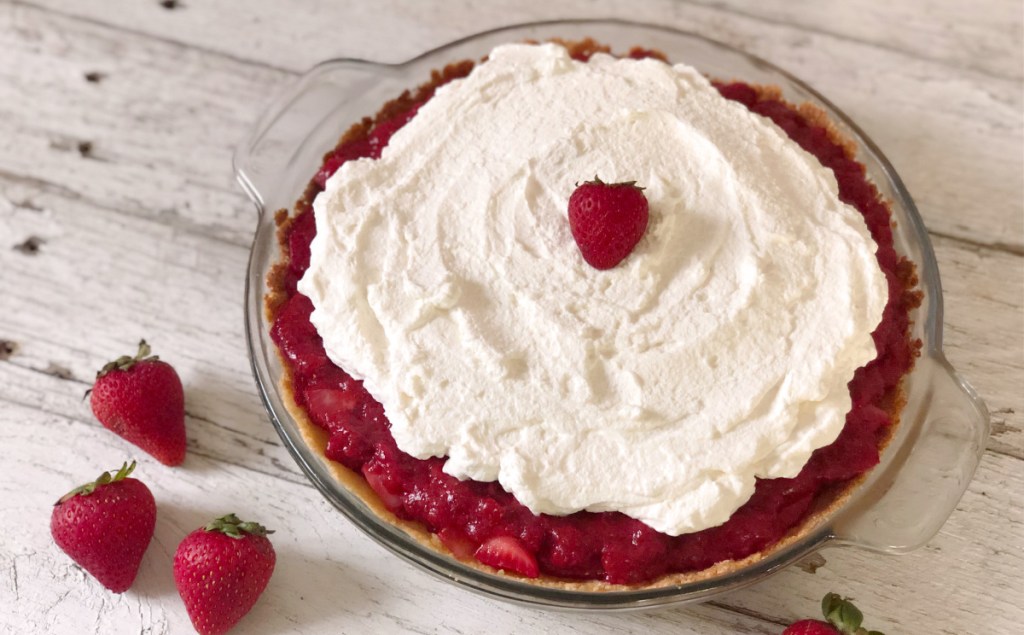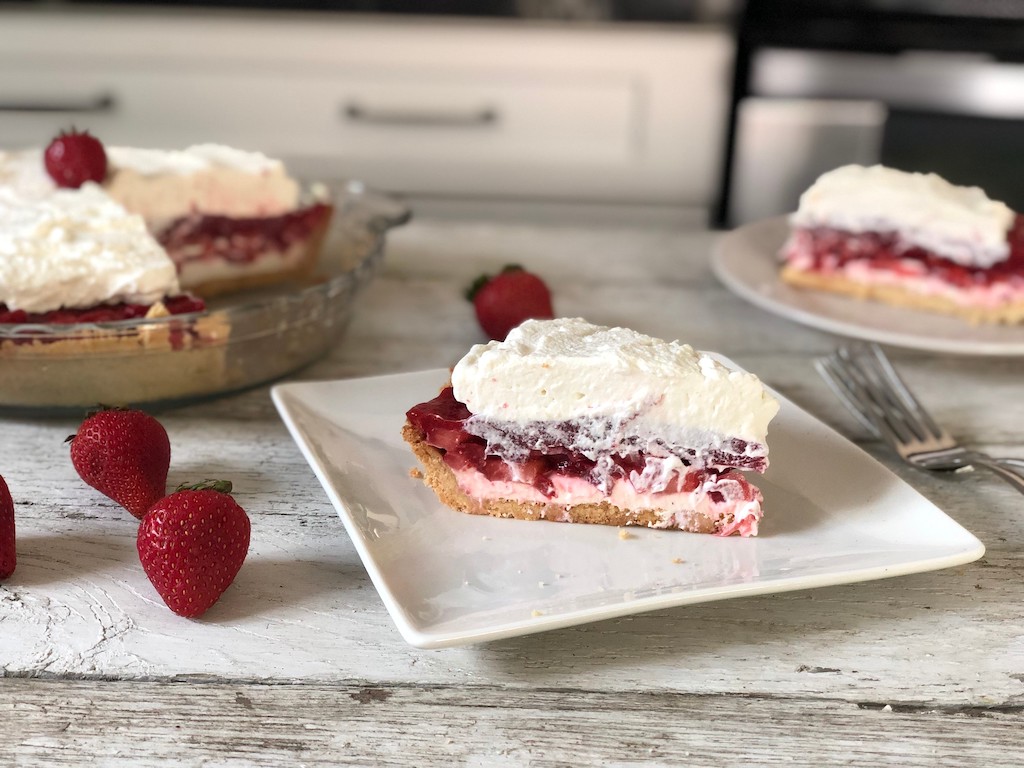 ---
Print
Sugar-Free Strawberry Pie
yield: 12 SERVINGS
prep time: 30 MINUTES
cook time: 30 MINUTES
total time: 60 MINUTES
Keto-friendly strawberry pie made with almond flour crust, cream cheese, fresh strawberries, sugar-free gelatin, and whipped cream.
Ingredients
Crust:
1/4 cup butter, salted, melted
Strawberry Filling:
8 oz. full-fat whipped cream cheese
2 pounds strawberries, sliced
0.88 oz. package of sugar-free strawberry gelatin (8 servings)
1 cup water
Whipped Cream Topping:
1 cup heavy whipping cream
1 teaspoon vanilla extract
Directions
1
To make the crust:
Preheat the oven to 325 degrees. In a medium-sized bowl, mix together almond flour, melted butter, and keto confectioners sweetener until well combined. Pour the mixture into a pie dish and firmly press with fingers or use the bottom of a measuring cup or ramekin to flatten and form crust.
2
Place aluminum foil around the edges of the crust and pierce the crust in various spots with a fork. Bake for 15 minutes or until lightly browned. Let cool.
3
For the filling: 
Purée 1 1/2 cups of sliced strawberries in a food processor to make approximately 1 cup of strawberry purée.
4
In a small saucepan, dissolve gelatin for 1 minute in 1 cup of cold water. Then add in strawberry purée and heat over medium heat until it barely boils. Then remove from heat and place in the freezer for 30 minutes, stirring once halfway through.
5
While the gelatin-strawberry purée mixture is cooling, spread the whipped cream cheese evenly over the cooled pie crust. Then top with the remaining sliced strawberries.
6
Once the Jello-strawberry purée mixture has cooled, remove it from the freezer and pour it over the sliced strawberries in the crust. Place the pie in the refrigerator. You can then make the whipped cream topping for the pie or keep the pie in the refrigerator and make the whipped topping just prior to serving.
7
To make the whipped cream topping:
Place the heavy whipping cream, keto confectioners sweetener, and vanilla extract in a stand mixture and mix on high until stiff peaks form. Top the pie with the whipped cream. Serve immediately or keep the pie in the refrigerator until ready to serve.
You can also wait and make the whipped cream topping just prior to serving and add it to the pie right before slicing. Enjoy!
Nutrition Information
Yield: 12 slices, Serving Size: 1 slice
Amount Per Serving: 264 Calories | 22.6g Fat | 13g Total Carbs | 2.8g Fiber | 4.6g Sugar | 3.8g Sugar Alcohol | 4.8g Protein | 6.4g Net Carbs
---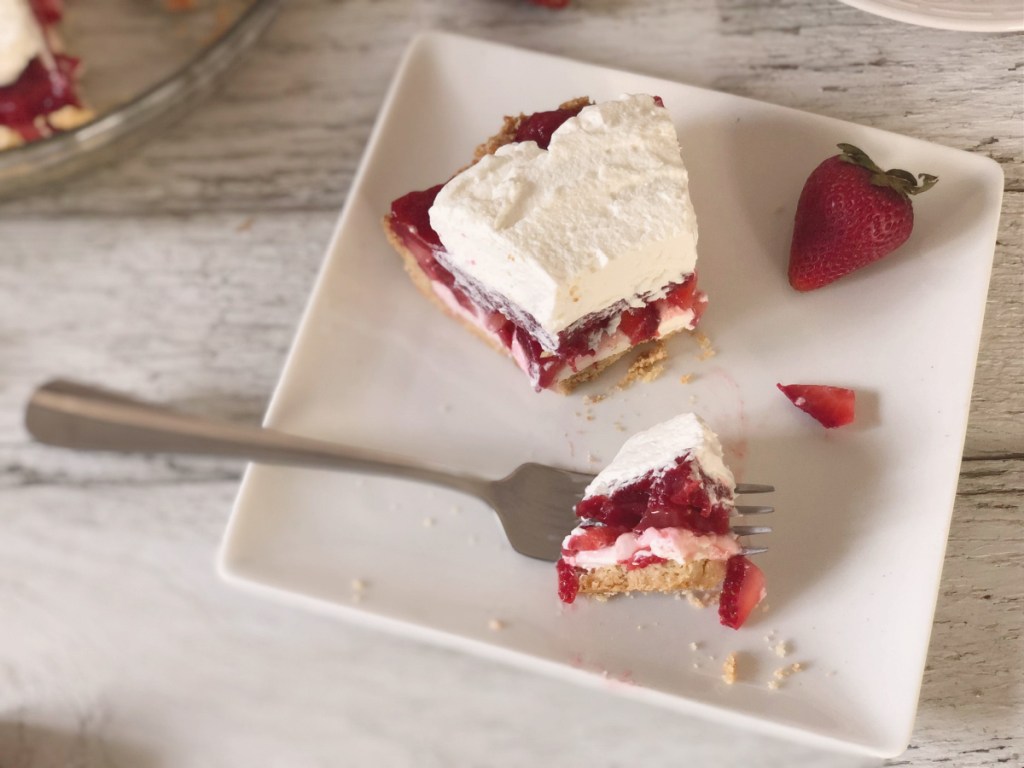 Strawberry sweetness galore!
Slice on into the most berrylicious pie you'll have all summer, without any sugar added! This crowd-pleasing keto dessert deserves a spot at your next get-together, so don't hesitate to head to the store ASAP to stock up on those seasonal berries.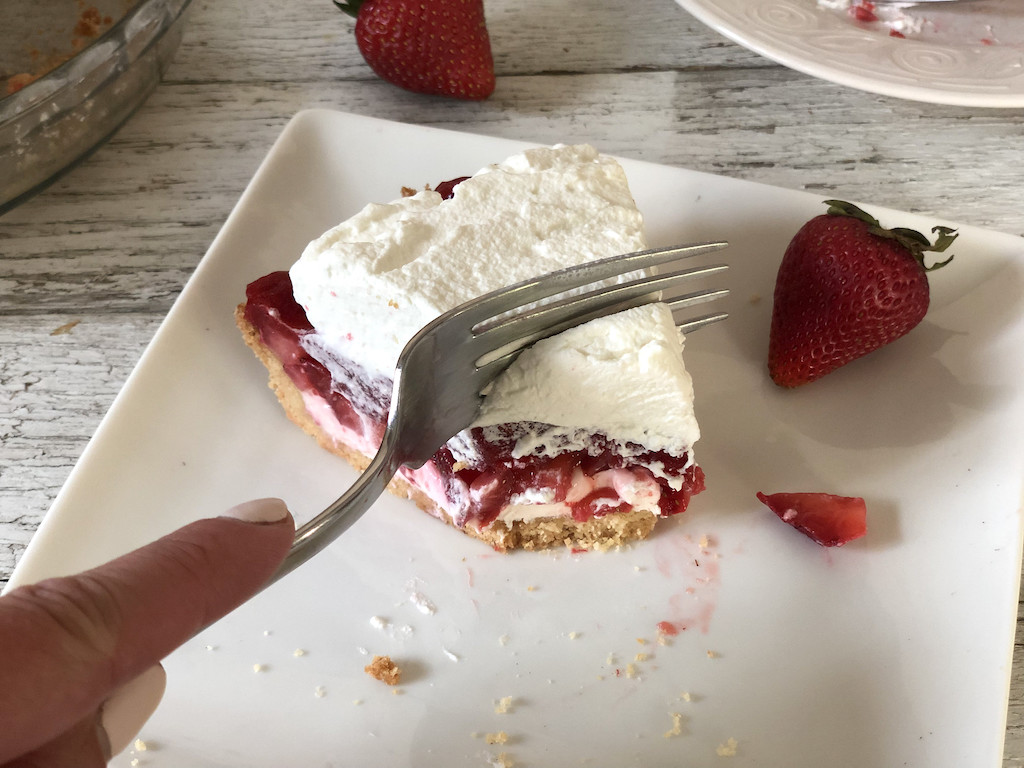 My Hip sidekick Jenna tried out this sugar-free strawberry pie and here's what she had to say:
"I love finding new dessert recipes that the whole family will love that are not only keto but also low in sugar! I will be adding this recipe to my family's favorites. Just from the smell of the pie crust cooking, I knew this was going to be an amazing pie (and I'm super picky about pie crust). And that strawberry filling using REAL strawberries is so tasty! This was easy to make but looked super impressive, and I was so excited to serve it to my family."
---
Are strawberries your jam? Check out these keto cheesecake stuffed strawberries!