Starbucks-Inspired Keto Double Chocolate Chip Frappuccino Recipe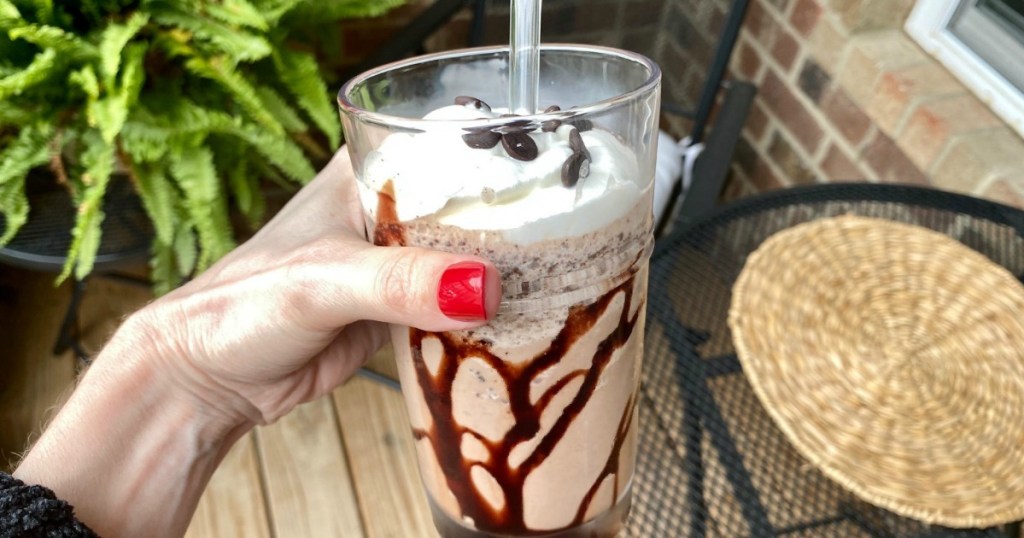 Treat yo' self to an ice-cold, creamy, chocolatey keto frappuccino!
Forget driving to Starbucks for your morning or midday pick-me-up, try this keto double chocolate chip frappuccino drink hack instead.
If you're a Starbucks addict, you'll be pleased to know that this recipe will not only save you from spending a good chunk of change on pricey drinks at the coffee shop, but it'll also save you from a boatload of carbs.
Want all the latest and greatest keto diet tips and recipes? Follow our Hip2Keto Instagram and sign up for our Newsletter to get all the good stuff delivered right to your inbox!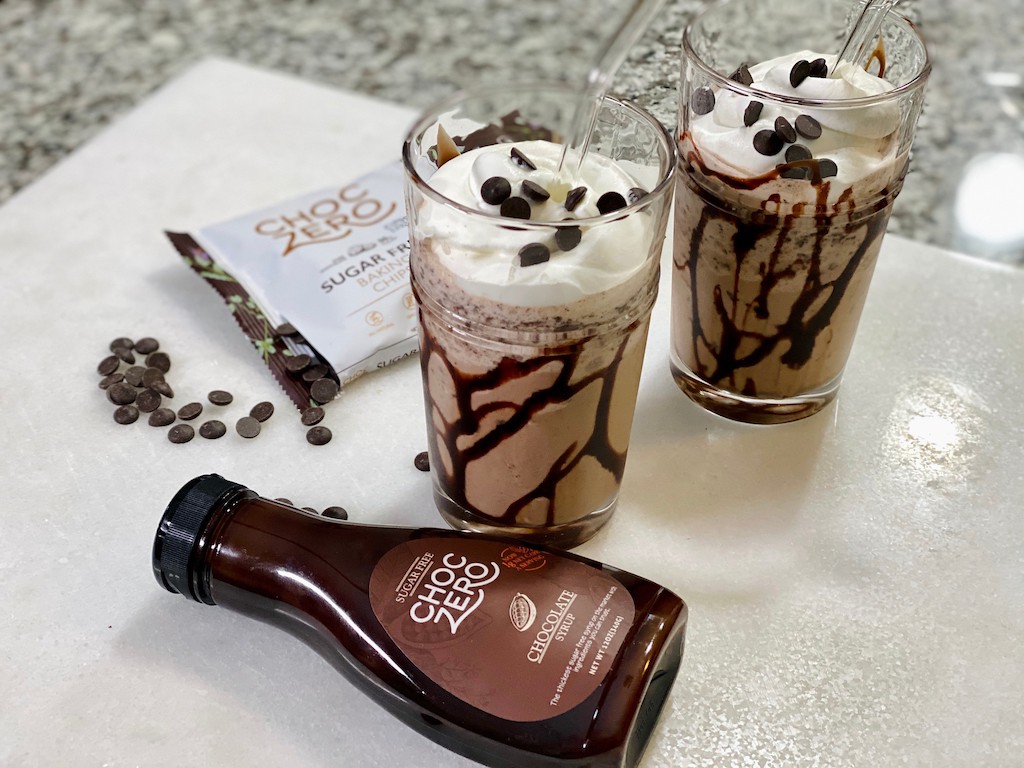 We've created a low-carb version of Starbucks Double Chocolate Chip Frappuccino for you to enjoy while sticking to your keto diet. When the sugar cravings hit, this tasty dessert beverage will satisfy your sweet tooth and give you an ice-cold boost!
Warning: If you consume this keto frappuccino in less than 60 seconds (believe me, you'll want to), you WILL get a brain freeze!
Pssst! Have you seen all the other yummy desserts on our Hip2Keto Instagram? Follow us for more tasty recipes like this one!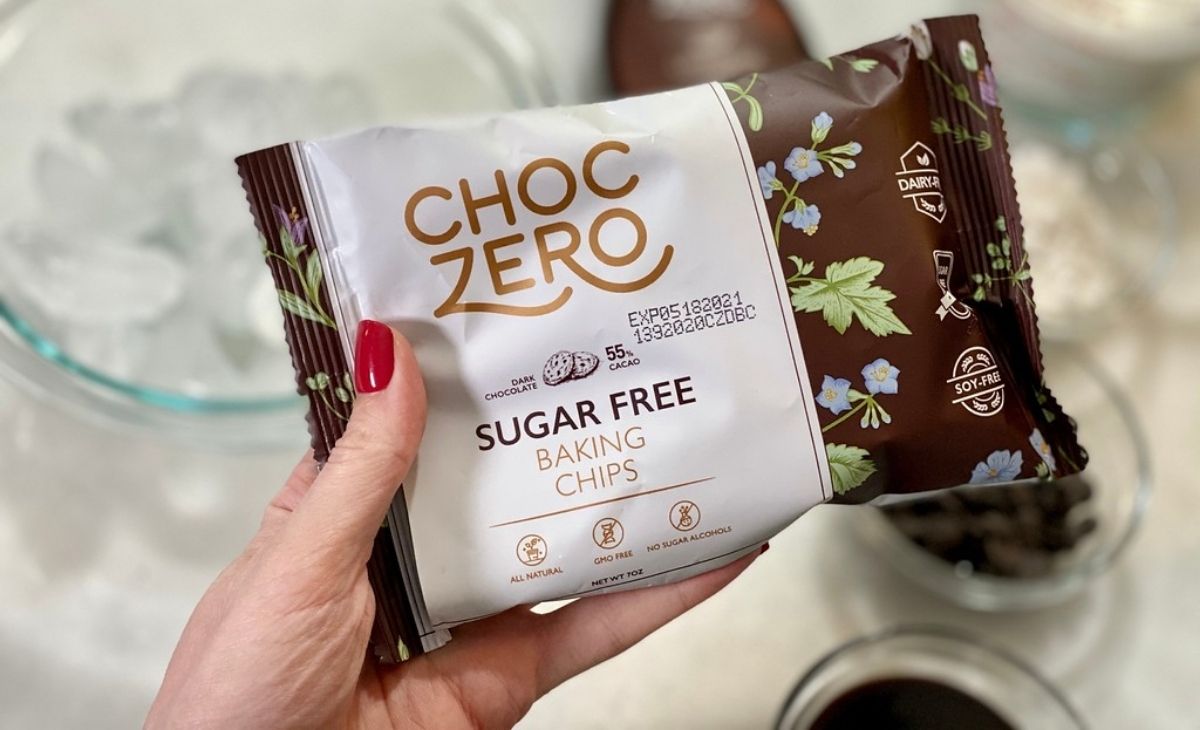 For this keto frappuccino Starbucks hack, we'll be using a few of our favorite low-carb ingredients that you might already have at home. The decadent chocolate flavors couldn't get any better thanks to ChocZero's Chocolate Syrup and Sugar-Free Baking Chips.
Don't be surprised if you feel like you're indulging in the real thing!
Hip tips for perfectly crafted a keto double chocolatey chip frappuccino:
Blend your keto frappuccino on the ice crush setting or the highest speed so the texture is nice and smooth without any large ice chunks.
Drizzle chocolate syrup on the sides of your cup prior to pouring the frappuccino so you have rich chocolate ribbons throughout the drink. It makes the glass look too pretty to drink!
Want to get creative with the flavors? Swap out the vanilla extract for almond or coconut extract for a unique twist.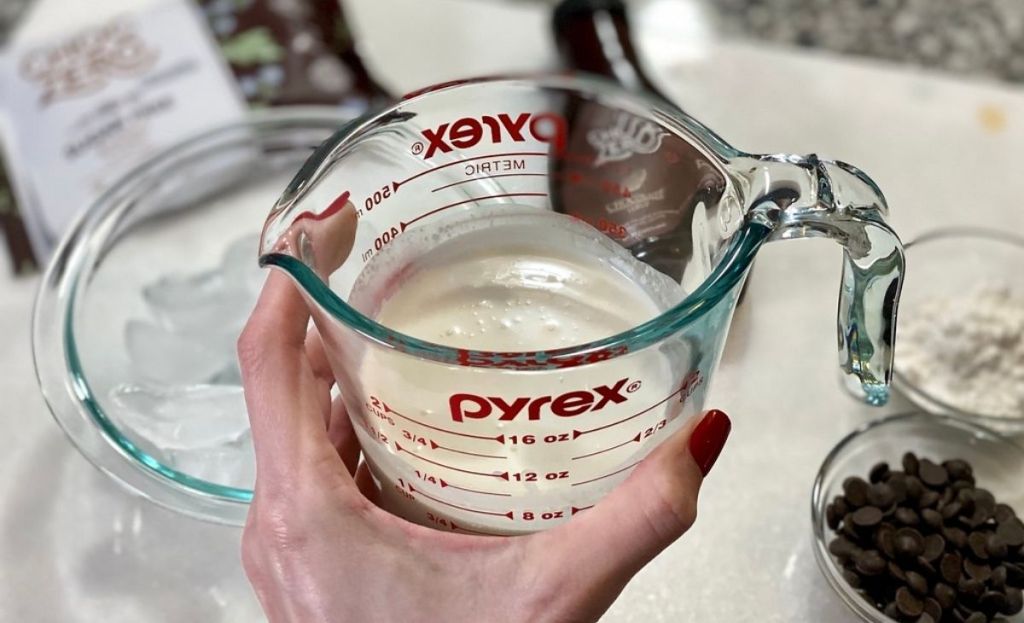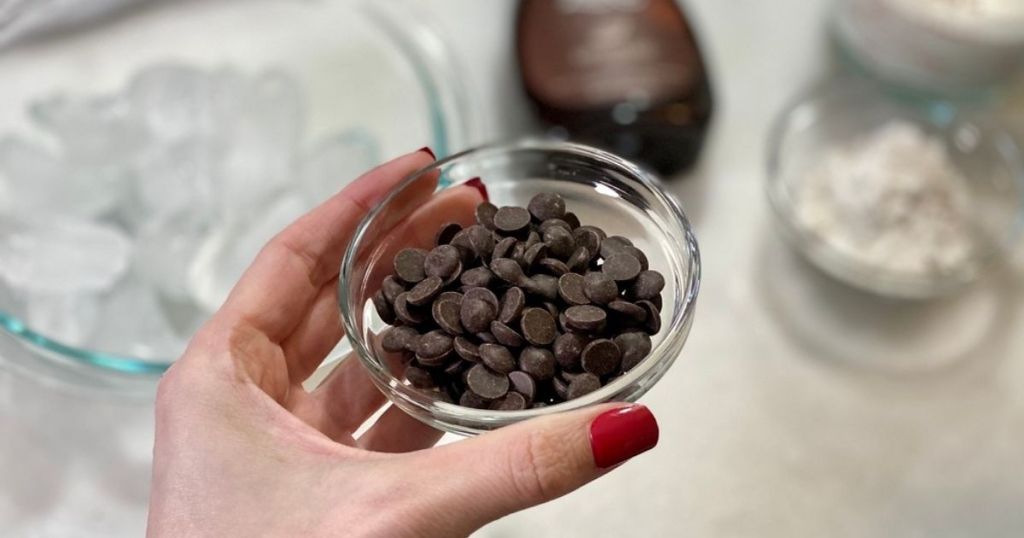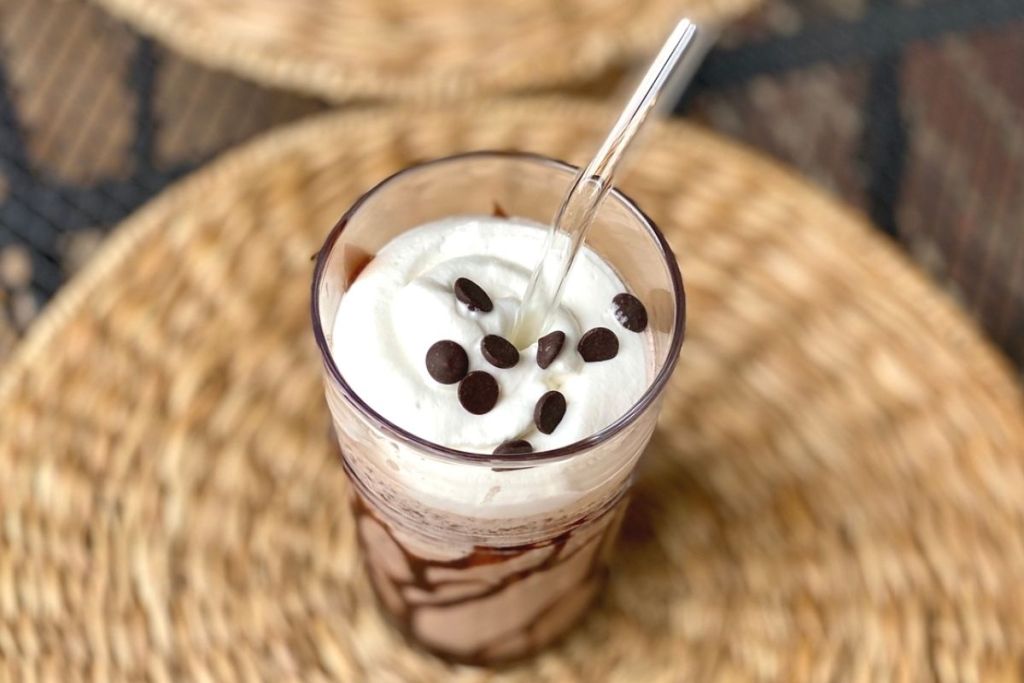 ---
Print
Starbucks-Inspired Keto Double Chocolate Chip Frappuccino
yield: 2 SERVINGS
prep time: 5 MINUTES
total time: 5 MINUTES
This creamy, chocolatey frappuccino taste like the Starbucks version, but without all the carbs!
Ingredients
Keto Double Chocolate Chip Frappuccino:
2 cups of ice
1/4 cup heavy cream
3/4 cup unsweetened almond milk
1/3 cup ChocZero sugar-free chocolate baking chips
3 tbsp. ChocZero chocolate syrup
2 tbsp. Swerve confectioners
1/8 tsp. vanilla extract
Keto-friendly whipped cream:
1/4 cup heavy whipping cream
1/2 tsp. vanilla extract
1 tsp. Swerve confectioners
Directions
1
To make keto whipped cream:
Using a hand mixer, whip 1/4 cup heavy whipping cream with 1/2 tsp. vanilla extract and 1 tsp. Swerve confectioners.
2
To make the frappuccino:
In a blender, combine ice, milk, heavy cream, chocolate syrup, chocolate chips, Swerve confectioners, and vanilla extract. Blend on high speed for 30-60 seconds or until it reaches a smooth and creamy consistency.
3
Drizzle chocolate syrup around the inside of your glass and pour in the blended frappuccino. Top with keto whipped cream and a few chocolate chips - and drink up!
Additional Notes
Don't be alarmed by the high carb count! Fiber and erythritol, the main ingredients in both Swerve and ChocZero, do not affect blood sugar in the same way that regular carbs do, so we subtracted them from the total carb count. You'll see that the net carbs are much lower once you remove the sugar alcohols and fiber.
Nutritional Information
Yield: 2 servings, Serving Size: 16 oz
Amount Per Serving: Calories: 281, Total Carbohydrates: 58g, Fiber: 35g, Sugar Alcohols: 18g, Net Carbohydrates: 5g, Total Fat: 23g, Protein: 0g
---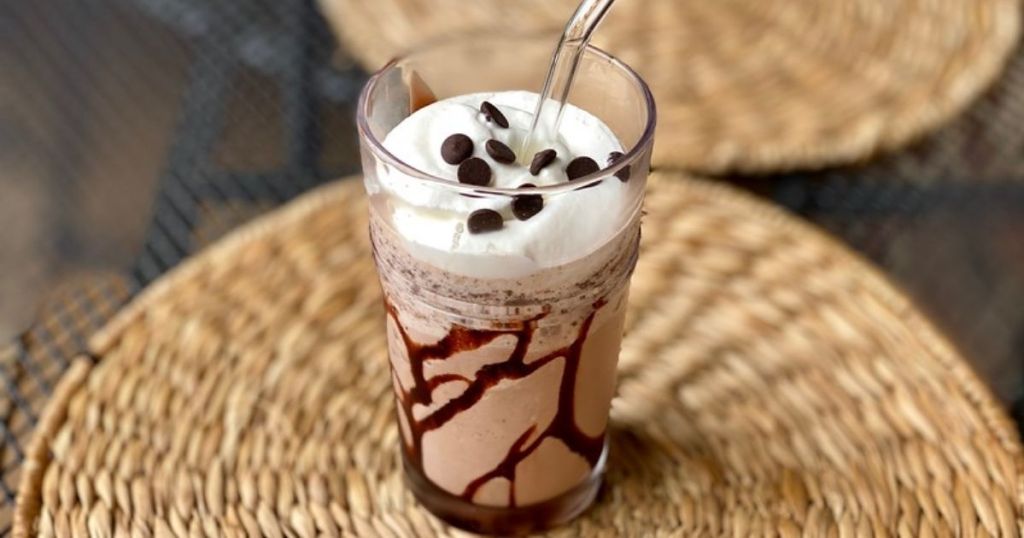 Sugar-free double chocolate chip frappuccino? That's double delicious!
Get a load of that chocolatey goodness! If you're not drooling yet, you definitely will be when you try this keto double chocolate chip frappuccino copycat at home! It's creamy, dreamy, delicious, and oh-so-sweet.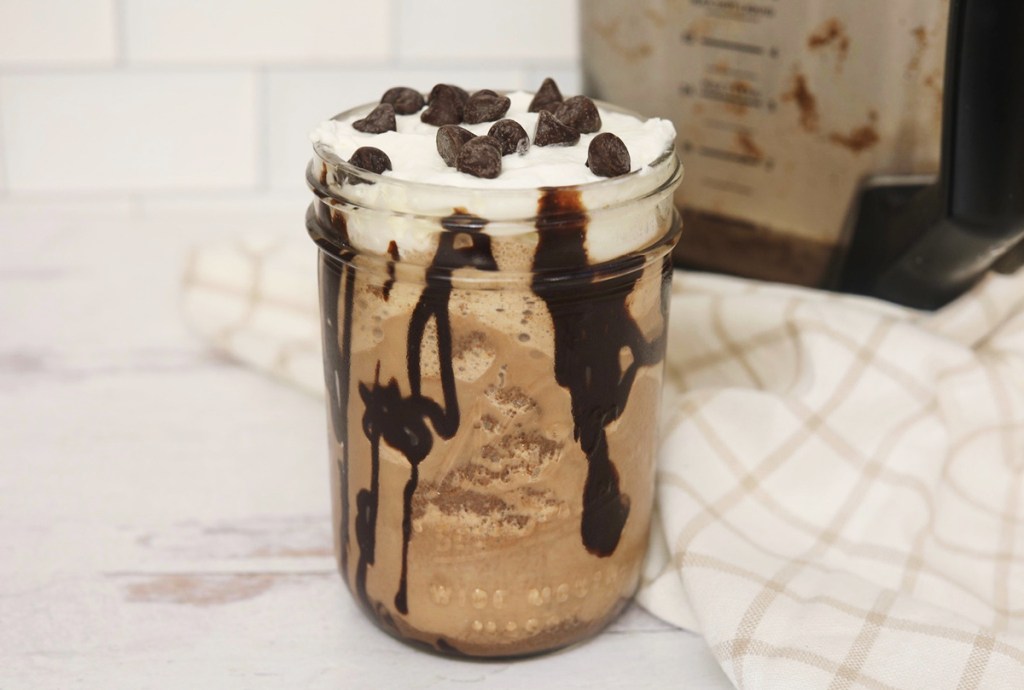 My Hip sidekick Jenna tried out this recipe… and had to make a second batch by request!
"I still cannot believe this was low-carb and completely sugar-free! The ChocZero chips MADE this recipe! It had the most perfect Frapp flavor, and that whipped topping? YUM! I ended up making a second batch so the kids could have their own, too — I drank the first batch without sharing! 😂" – Jenna
---
Love drink hacks? Try this keto Dalgona coffee next!