Keto Snickerdoodle Fat Bombs (Curb Cookie Cravings!)
Love cinnamon & sugar? Keto Snickerdoodle Fat Bombs are here!

Fat bombs can fill you up fast and satisfy any sweet craving that might catch you by surprise. These energy bites are perfect for those living the keto life and can come in sweet and savory forms, but today we're focusing in on a classic cookie flavor so many love – Snickerdoodle!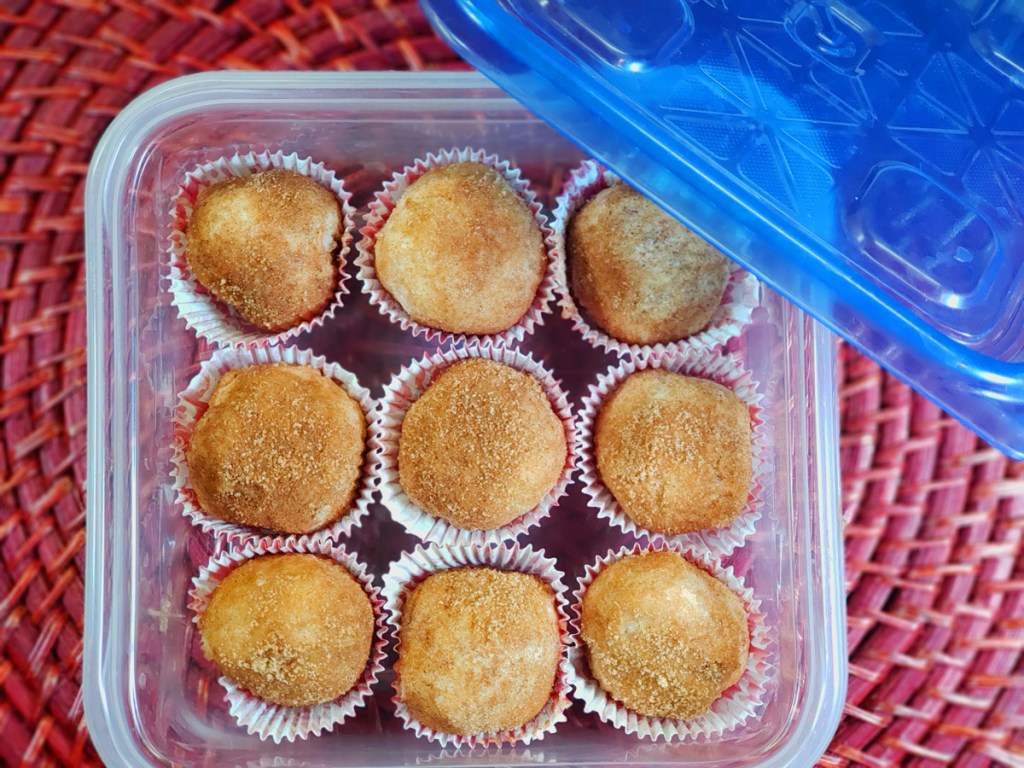 Who doesn't love sweetness with a touch of spice?
Now you can enjoy that brown sugar and cinnamon goodness in a keto fat bomb! With less than 1g net carbs per serving, you can grab a couple for a quick low-carb snack without falling off the keto train.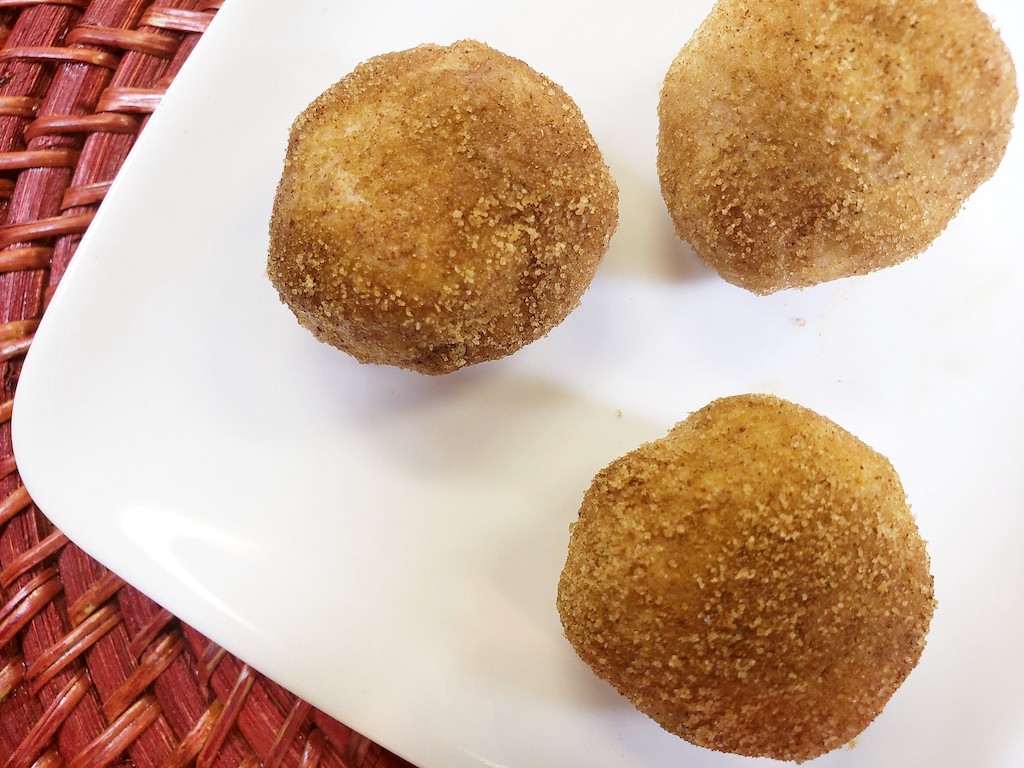 Let's talk about the star of the show here – cinnamon!
There are basically two kinds of cinnamon: Ceylon cinnamon (only grown in Sri Lanka) and Cassia or Chinese cinnamon. The cinnamon that you purchase at the supermarket is Cassia cinnamon, and most likely what you have in your spice cabinet. It is darker in color and spicier than Ceylon cinnamon. Ceylon cinnamon is mild and sweet and has a tan color.
The sure-fire way to tell them apart is by smell, but of course, you can't open the bottle in the grocery store aisle to take a whiff. If you see Ceylon cinnamon available at a good price, give it a try, as it is better for your health than Cassia – the more you know! 😋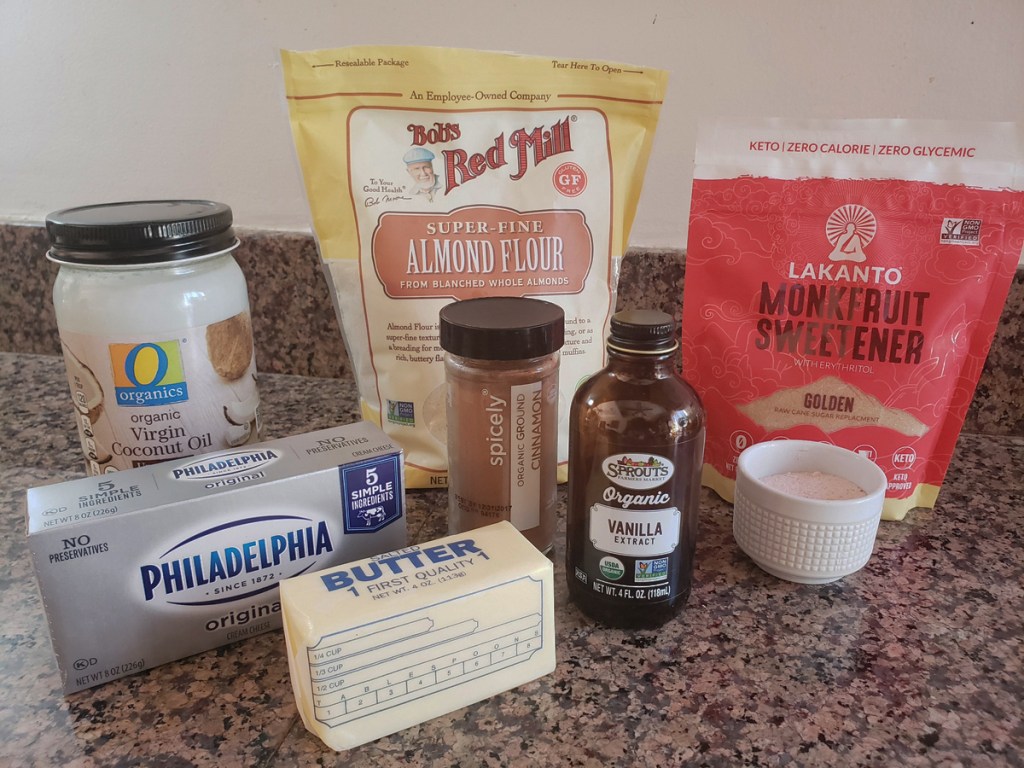 Tips for making the best keto Snickerdoodle fat bombs:
Be sure to have all ingredients at room temperature so they blend evenly. If any of the fats are too firm to work with, remove the wrappers and place them in the microwave in 5-10 second increments.
The almond flour helps to hold the fat bombs together and provides a bit of texture.
After you have scooped the fat bombs, and before rolling into balls, chill the mixture in the freezer for 20 to 30 minutes. This will make rolling much easier.
If desired, freeze the balls on a sheet pan when completed. When they are frozen/firm, you can put them into a sealed container and they won't stick together.
You can store these in the fridge, but I prefer to freeze them. They will stay fresh in the fridge for five to seven days, and up to three weeks in the freezer. When you're ready to enjoy, set them out for 15 minutes to slightly soften.
I typically use a small ice cream scooper or melon baller to make my fat bombs. It's the perfect size to create individual fat bombs. They don't need to be perfect because you'll hand-roll them at the end of the process.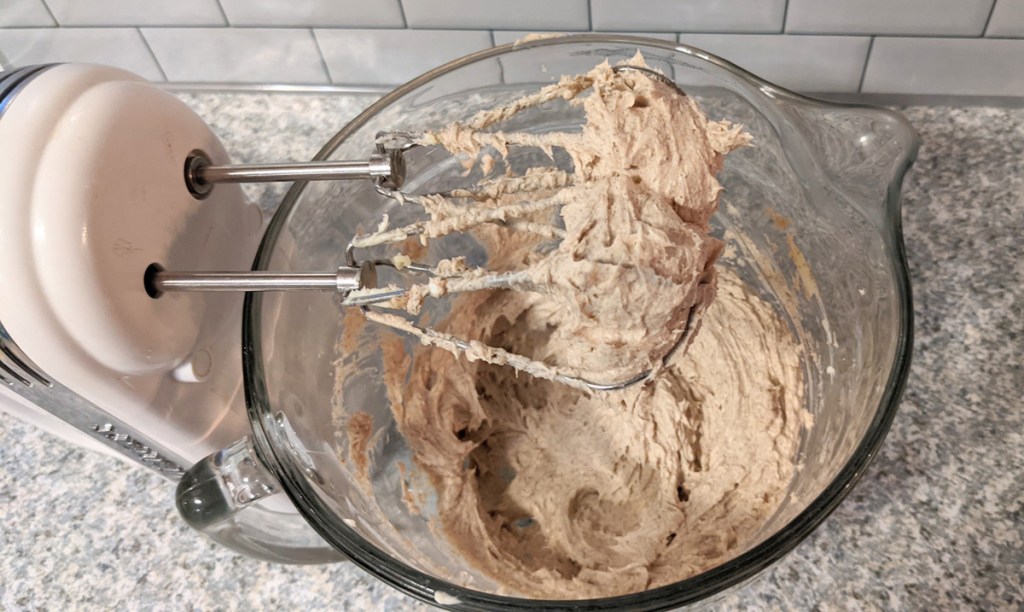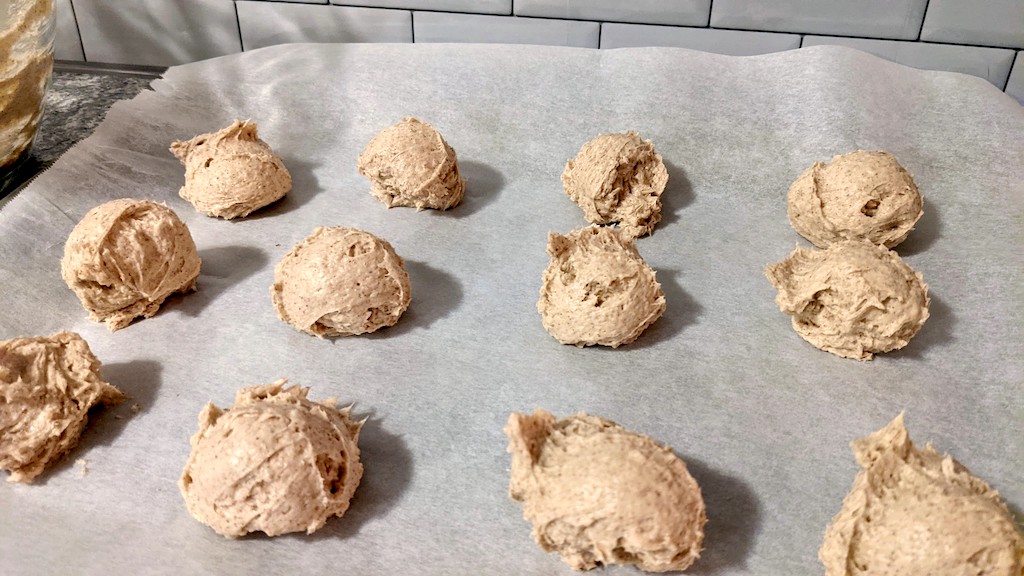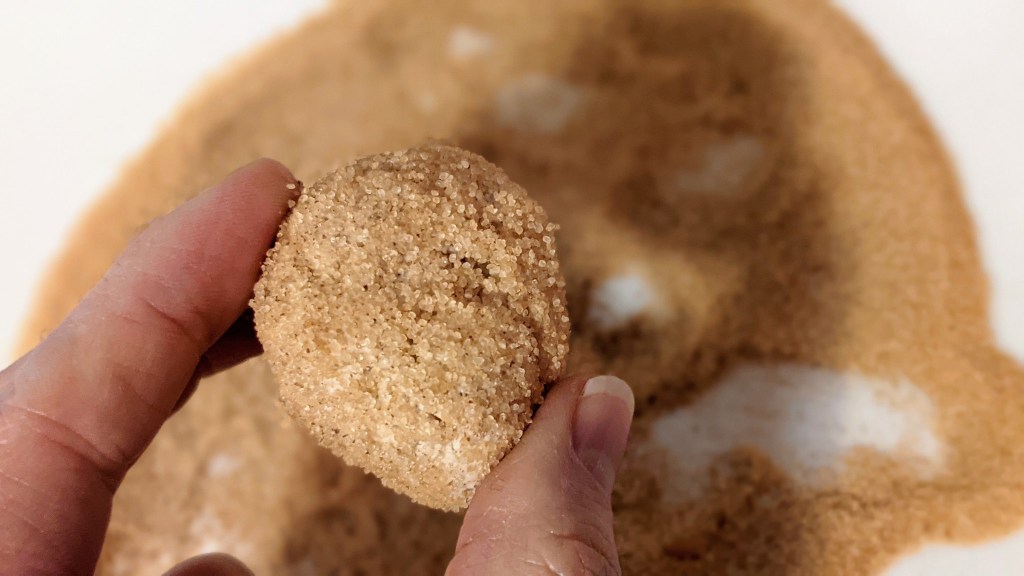 ---
Print
Keto Snickerdoodle Fat Bombs
yield: 16 SERVINGS
prep time: 20 MINUTES
total time: 20 MINUTES
Creamy, sweet, cinnamon-spiced fat bombs are a great energy booster and dessert when you're living the keto lifestyle.
Ingredients
Fat bomb mixture:
8 oz. cream cheese, room temperature
1/2 cup (1 stick) butter, room temperature
1/2 teaspoon vanilla extract
2 teaspoons cinnamon
Coating mixture:
1/2 teaspoon cinnamon
Pinch of salt
Directions
1
Be sure all ingredients are at room temperature. Combine cream cheese, butter, coconut oil, keto brown sugar sweetener, almond flour, vanilla, and cinnamon. Mix with a hand-held mixer or a stand mixer for about 2 minutes.
2
Line a sheet pan with parchment paper. Using a small scoop or melon baller, scoop the fat bombs and place them on a prepared baking sheet. Freeze for 20-30 minutes.
3
While the fat bombs are chilling, sift all coating ingredients together onto a dinner plate.
4
After about 20-30 minutes, when the fat bomb mixture is solid enough to easily handle, use your hands to roll into small balls, followed by rolling them in the coating mixture.
5
Place the finished cinnamon roll fat bombs in a sealed container and store them in the freezer or refrigerator. If you plan to freeze them, be sure to allow a little bit of thawing time prior to eating.
Nutrition Information
Yield: 16, Serving Size: 1 fat bomb
Amount Per Serving: 120 Calories | 12.3g Fat | 7.1g Total Carbs | .2g Fiber | 0g Sugar | 6g Sugar Alcohol | .9g Protein | .9g Net Carbs
---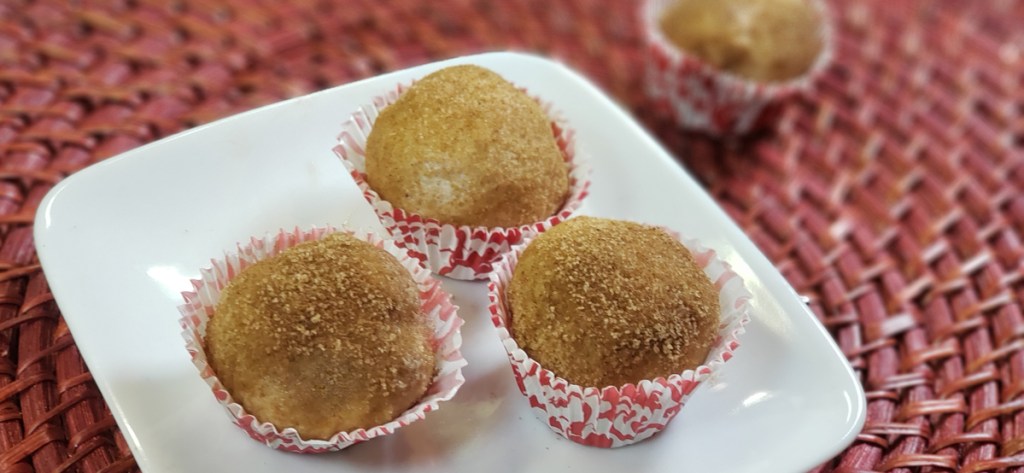 I made these for a friend who just switched to a keto lifestyle, and she absolutely loved them!
When she asked if she could have these Snickerdoodle fat bombs for dessert every day, I referred her to what our keto nutritionist has to say about fat-fueled delights. As with anything, moderation is always key. I also really enjoyed these fat bombs and I for sure couldn't tell they were low carb!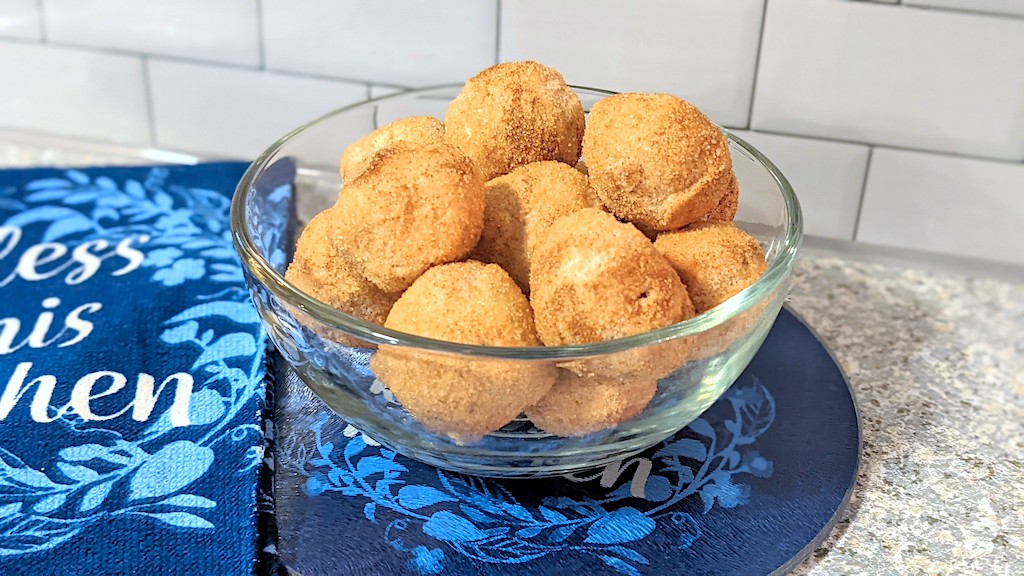 My Hip sidekick Jen gave this Snickerdoodle fat bomb recipe a try and here's what she thought:
"Calling all Snickerdoodle lovers! You are going to love this keto fat bomb! It tastes just like those snickerdoodle cookies we've been missing while living the keto life. The cream cheese and cinnamon are divine! They are super smooth and yummy, and they really help with those cookie cravings. My whole family loved them and I thought they were easy to make. The only problem you might have with these is eating too many!"
---
Craving more fat bombs? Make these yummy Chocolate Covered Cherry Fat Bombs next!