These Keto Skillet Steak Nachos are EXCELENTE!
Want a quick Mexican-inspired dish to try?
If you're craving all the bold flavors of cheesy keto nachos, try creating them on the stove as a one-skillet steak nachos meal! It's an easy low-carb weeknight meal I just know you're gonna LOVE!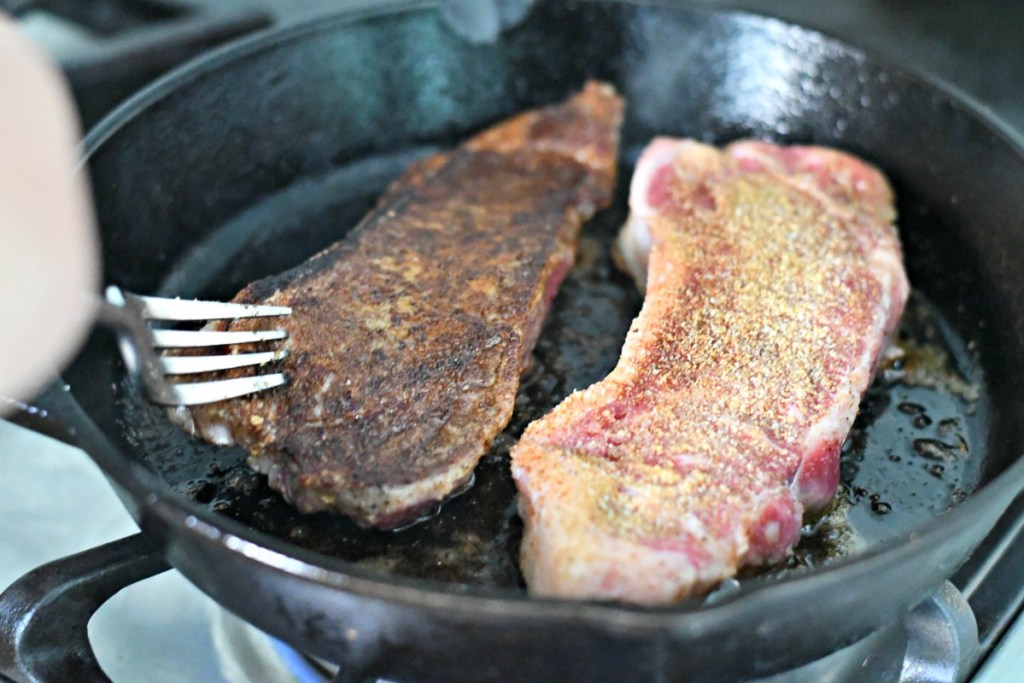 The idea is to first season and cook the steak on the stove using a hot cast iron skillet (it's a great way to get that awesome crust, yet will still be tender on the inside). Then you'll slice the steak and melt some cheese and jalapenos on top of the steak slices using the oven for a few minutes. Once melted, you can top your steak nachos with a little cilantro, fresh onion, avocado, and salsa as desired.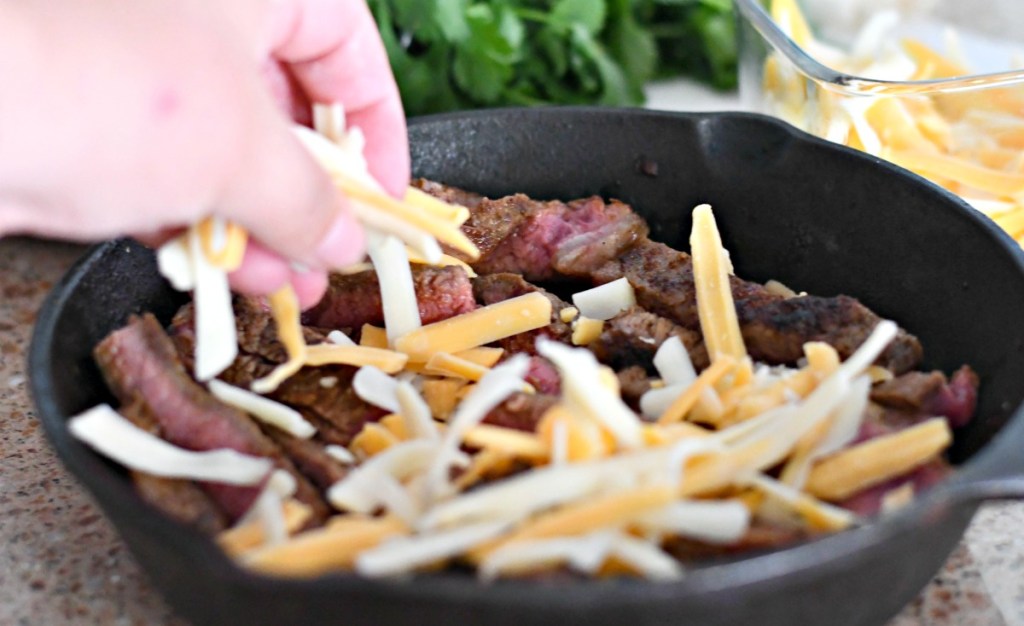 Hip Tips:
Cooking steak on a cast-iron skillet is brilliant, but you can always grill or cook how you prefer, then slice and melt cheese, and add toppings.
Try using your cast iron on your outdoor grill and cover the pan with foil to melt the cheese.
To achieve a deep brown crust without overcooking, let your uncooked steak come to room temp. Set it out for about 30 minutes before cooking.
Customize for your taste, including the type of cheese and all the topping ideas. Feel free to create your own nacho masterpiece, using keto ingredients of course!
Change up the meat, too. If steak isn't preferred, chicken would taste great instead.
Feel free to serve this as is, or even on a bed of fresh shredded lettuce.
You can also make your own crispy cheese tortilla chips as I did in my Microwave nachos recipe!
---
Print
Keto Steak Skillet Nachos
yield: 2 SERVINGS
prep time: 10 MINUTES
cook time: 20 MINUTES
total time: 30 MINUTES
A mexican seasoned steak cut into strips with melted cheese and nacho toppings, as a perfect quick and easy keto dinner!
Ingredients
1 pound steak (such as NY strip), room temp
1 tablespoon butter
1 teaspoon ground cumin
1/2 teaspoon garlic powder
1/2 teaspoon chili powder
1/4 teaspoon salt
pinch of black pepper
1 cup shredded cheese, Mexican blend
10 slices jalapenos, from the can
1/2 cup chopped cilantro
1/4 cup pico de gallo salsa
2 green onions, sliced
3 slices of fresh avocado
Directions
1
Preheat oven to 450 degrees. Preheat a cast iron skillet to high heat on the stove for about 4-5 minutes. Pat steak dry with a paper towel, and season it with salt, pepper, garlic, cumin, and chili powder.
2
Add butter to pan, and sear steak for a couple minutes on each side. Turn down heat to medium and let cook for a couple more minutes until desired doneness.
3
Remove steak and slice into thin slices on a cutting board.
4
Return the steak to skillet, and top with cheese and jalapenos. Place the skillet back into the oven until cheese melts, which will take about 5 minutes.
5
Remove the skillet from the oven and top with onion, cilantro, salsa, and avocado. Serve warm. Enjoy!
Nutrition Information
Yield: 2 servings, Serving Size: 1/2 of skillet
Amount Per Serving: 957 Calories | 70g Fat | 9g Total Carbs | 3g Fiber | 73g Protein | 6g Net Carbs
---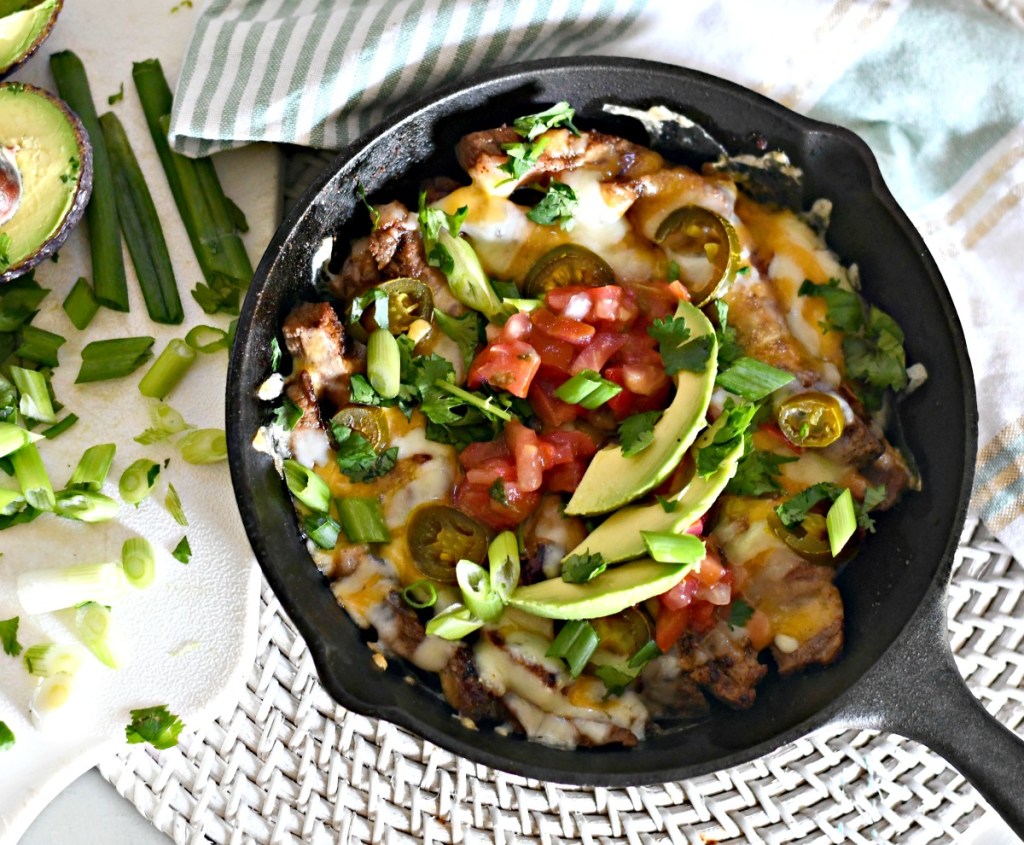 Any kind of nachos are my favorite, and these steak ones are awesome!
I love a well-seasoned steak with lots of flavors, and this one is super tasty! The melted cheese and toppings throw it over the top delicious, and I love the simplicity of this easy-to-make skillet meal. So yum!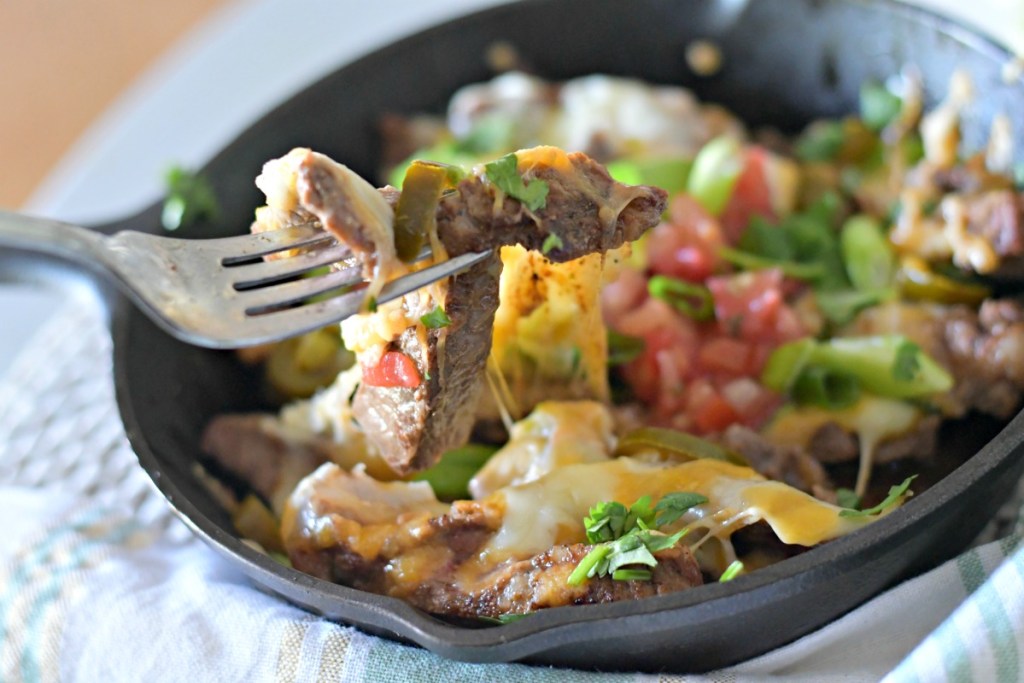 ---
Learn the best way to take care of cast iron pans here!