Keto Sheet Pan Cheesy Chicken Quesadillas (Genius Dinner Idea!)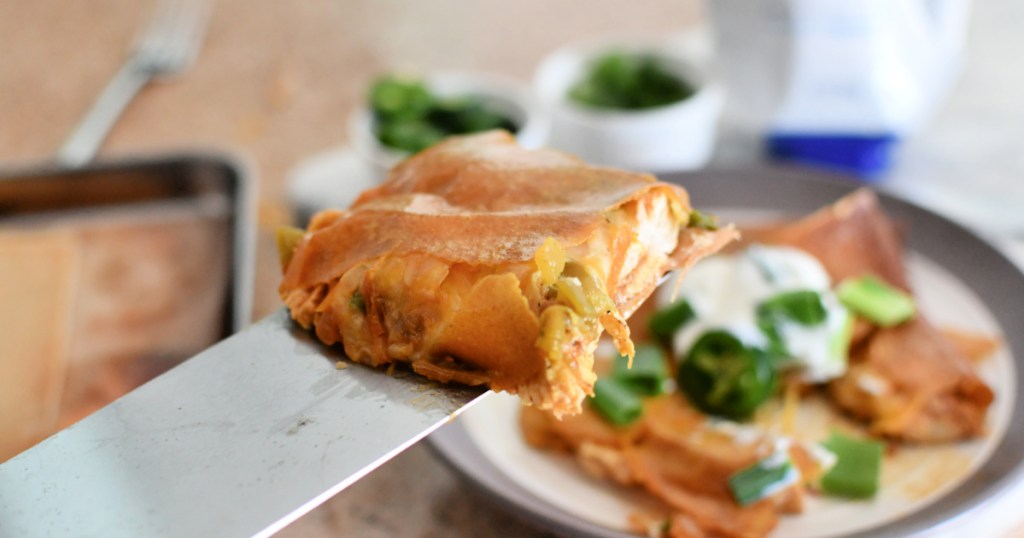 You had me at "cheesy"!

Looking for a genius dinner idea? Make a whole sheet pan of cheesy chicken quesadillas sliced into squares and garnished with your favorite toppings. You'll love them for breakfast, lunch, dinner, snacks, or anytime!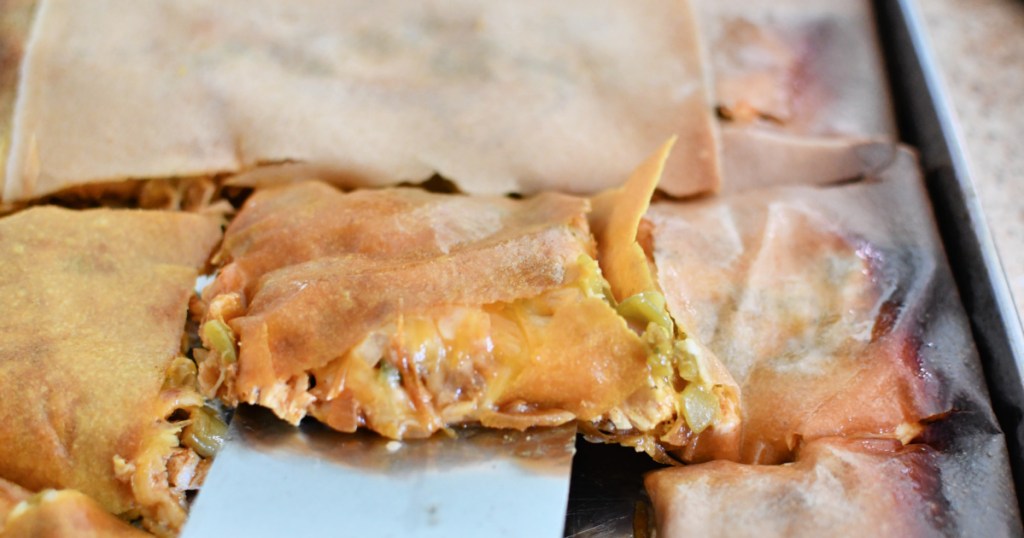 Why didn't I think of this before? Everything is quicker and easier in a sheet pan.

Making an entire meal in a sheet pan saves time… for both prep and clean-up. It seems like life has become so busy, so anything I can do to save time and get a great meal for the whole family on the table is a mom win, and this fits the bill on all accounts. You can't help but love it!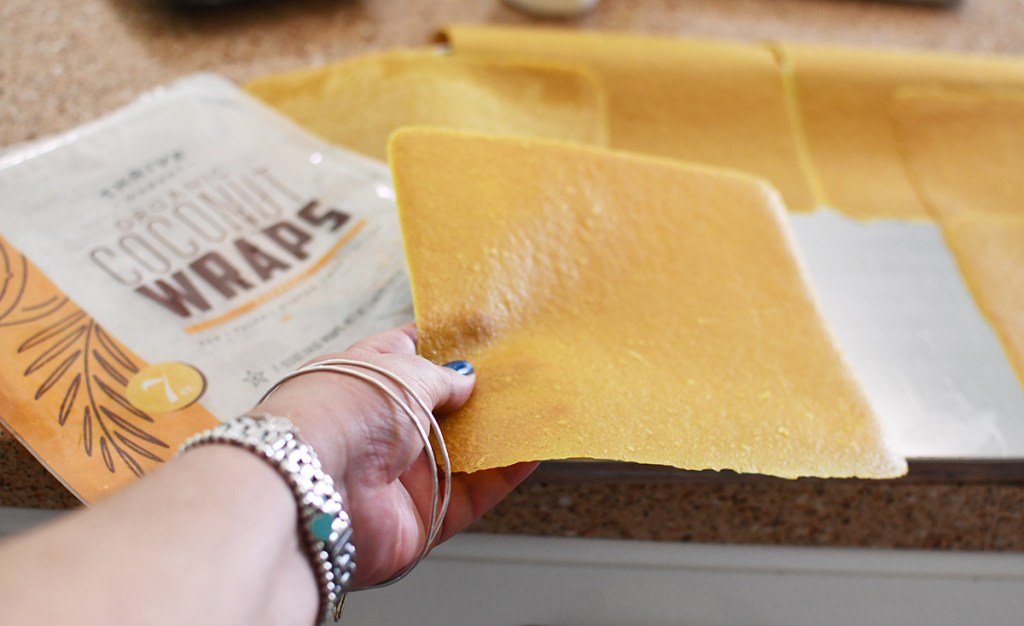 This recipe starts by layering low-carb coconut wraps on a sheet pan to create one great big & cheesy chicken quesadilla. I used 12 coconut wraps to make this quesadilla and they usually come in 7 packs, so put 2 packages on your shopping list. The wraps I used, Thrive Turmeric Coconut Wraps, are about 7 1/2-inches each. I actually mixed in the plain ones too in order to use what I had on hand.
You can also find similar wraps on Amazon or at a natural grocery store such as Sprouts or Whole Foods. Make note if the wraps are sized differently, as you will need to determine how many you'll need to make a full sheet pan of quesadillas.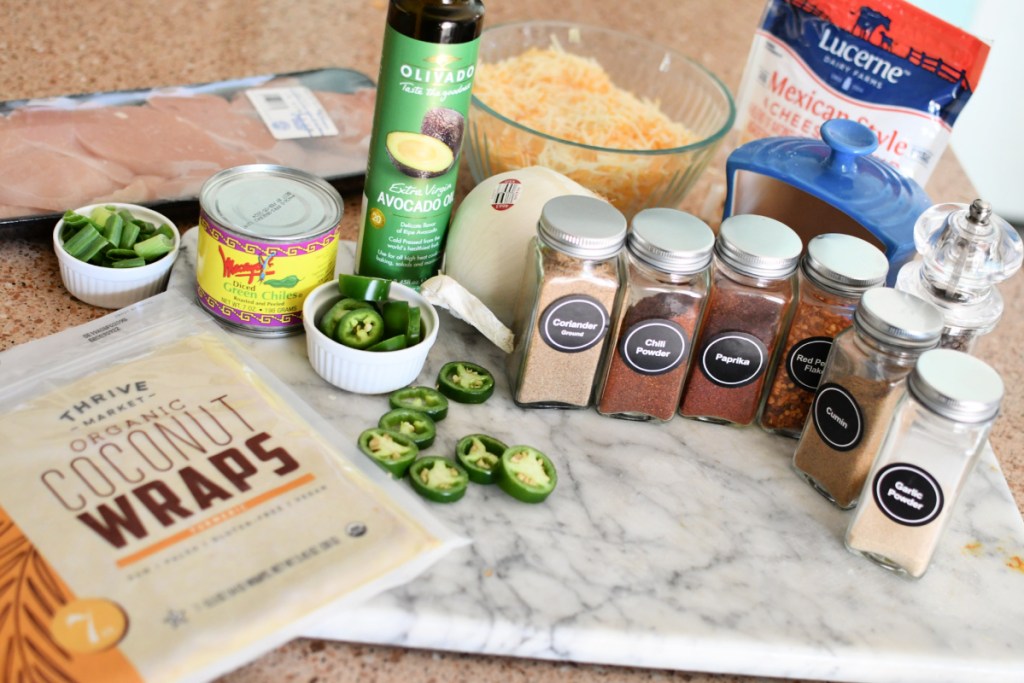 Tips for making the best keto sheet pan cheesy chicken quesadillas:
The spice mix in this recipe also makes a great rub for meat. Use it for taco seasoning or enhancing another south-of-the-border or Tex-Mex inspired dish.
If you're curious about the size of the sheet pans I used, they are 16″ x 12″ x 1″. You will need to have two to stack when baking so the quesadilla will stay flat.
There are a number of yummy keto toppings you can serve with the quesadillas. They're great just as they are, but toppings are fun because everyone can customize their quesadilla. You could try green or red salsa, pico de gallo, sliced black olives, sour cream, jalapeño peppers, scallions, diced onions, hot sauce, sliced avocado, etc. – I love to top mine with salsa verde, sour cream, and sliced scallions.
I wouldn't recommend freezing leftovers, but you can store them in the refrigerator for about 5 days and warm them in a microwave or oven. The air fryer works awesome here too to reheat!
Jalapeño peppers add great flavor and a bit of heat. I remove the seeds to keep the heat moderate, but if you love hot and spicy, use the seeds too.
Canned green chiles are very mild and a great compliment to chicken and cheese. You'll find them in most well-stocked grocery stores in the Hispanic food aisle.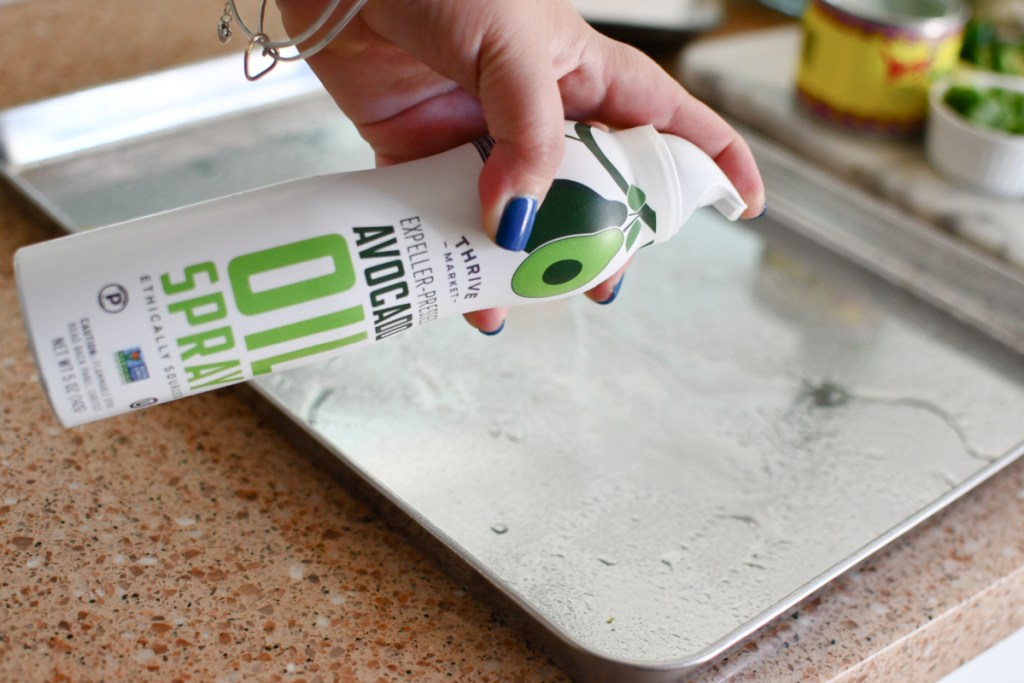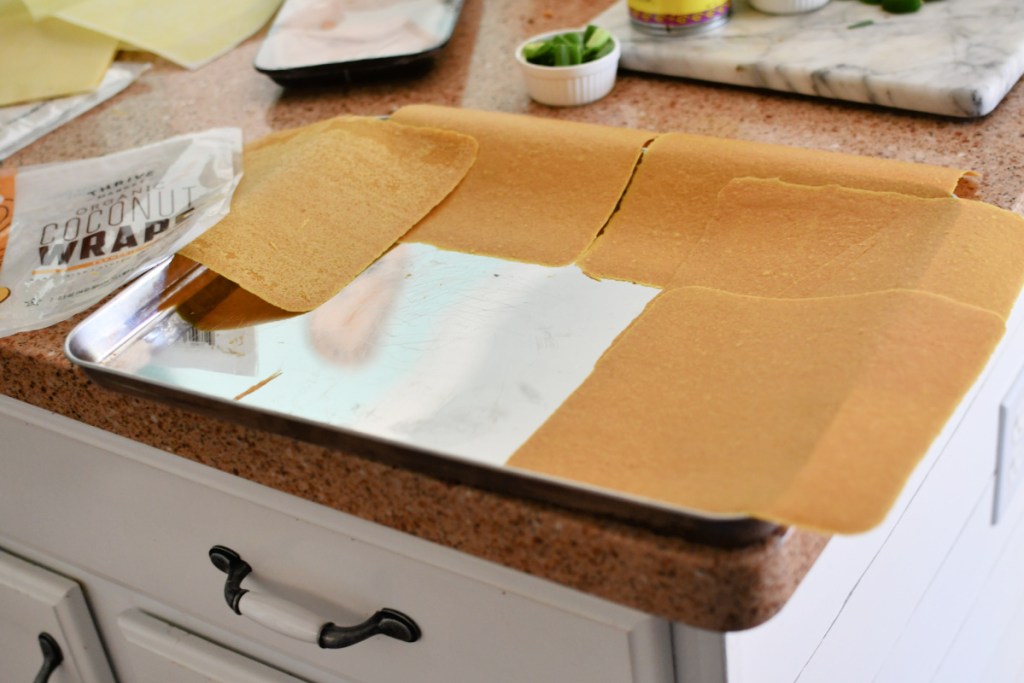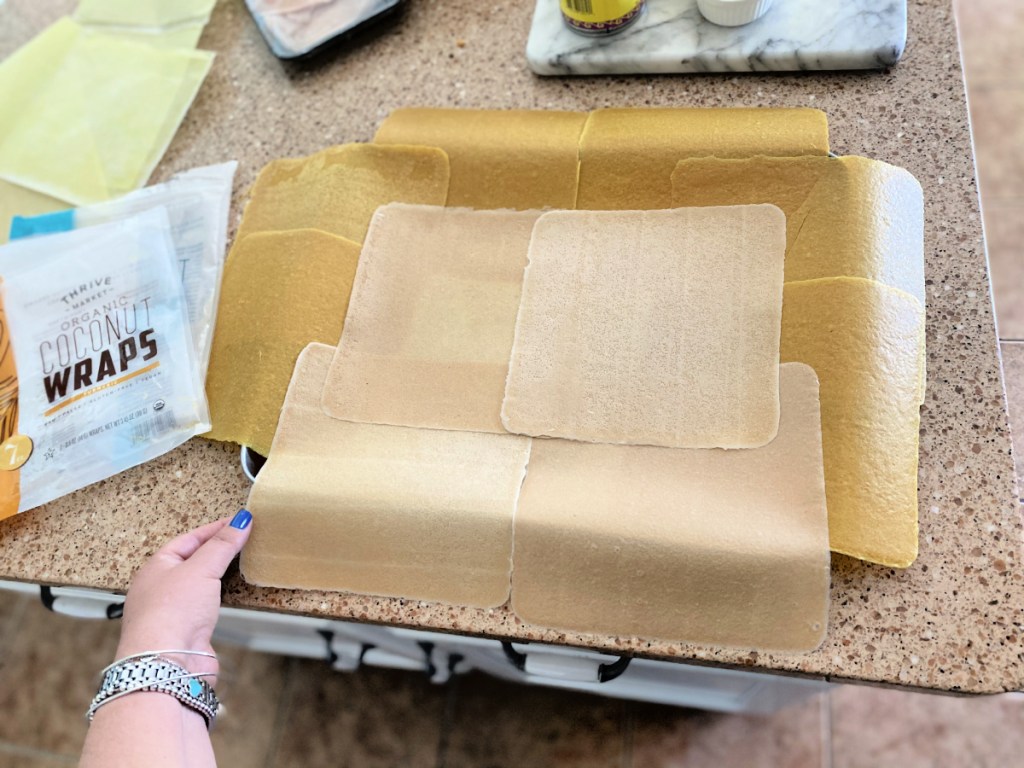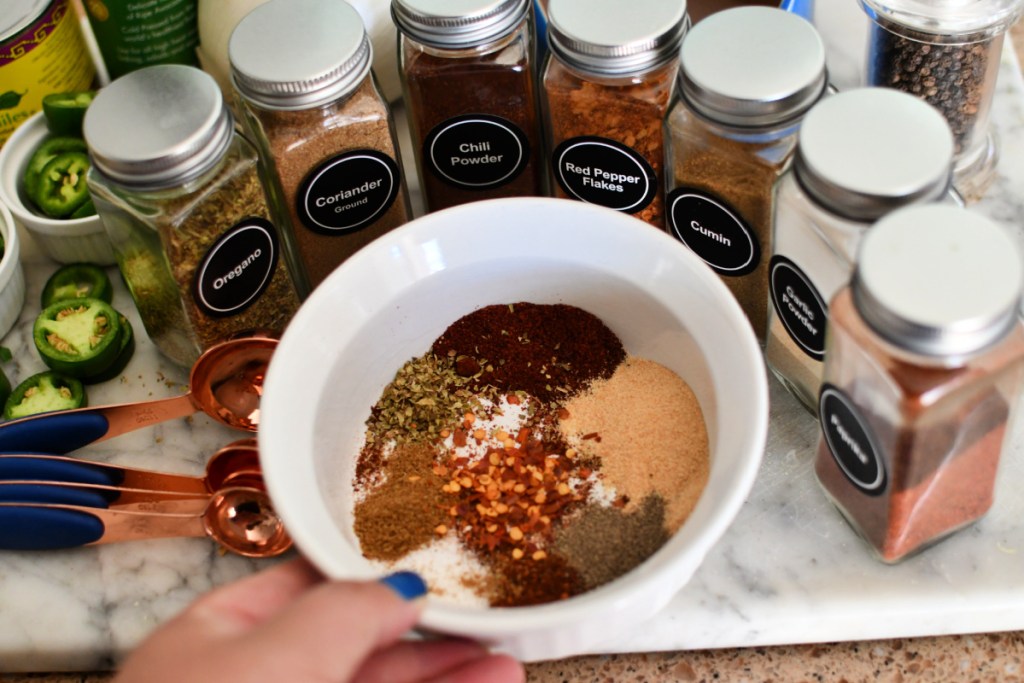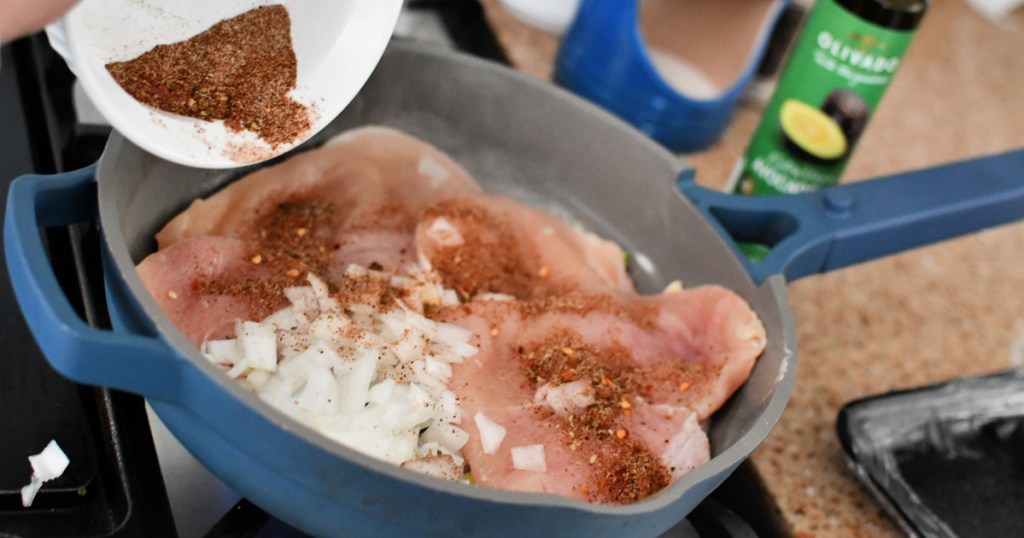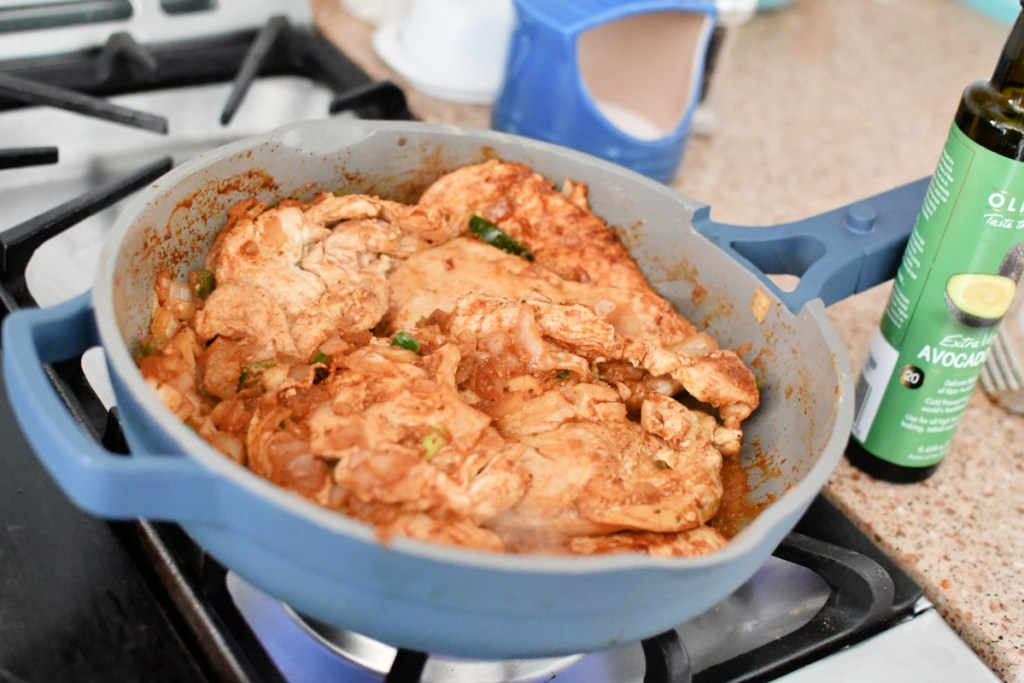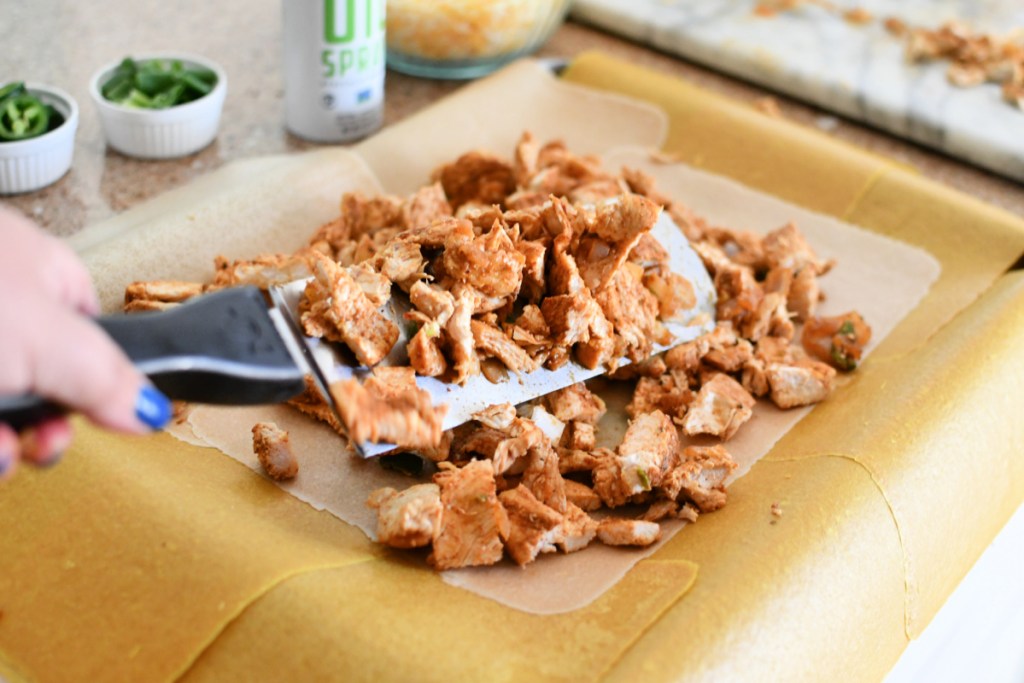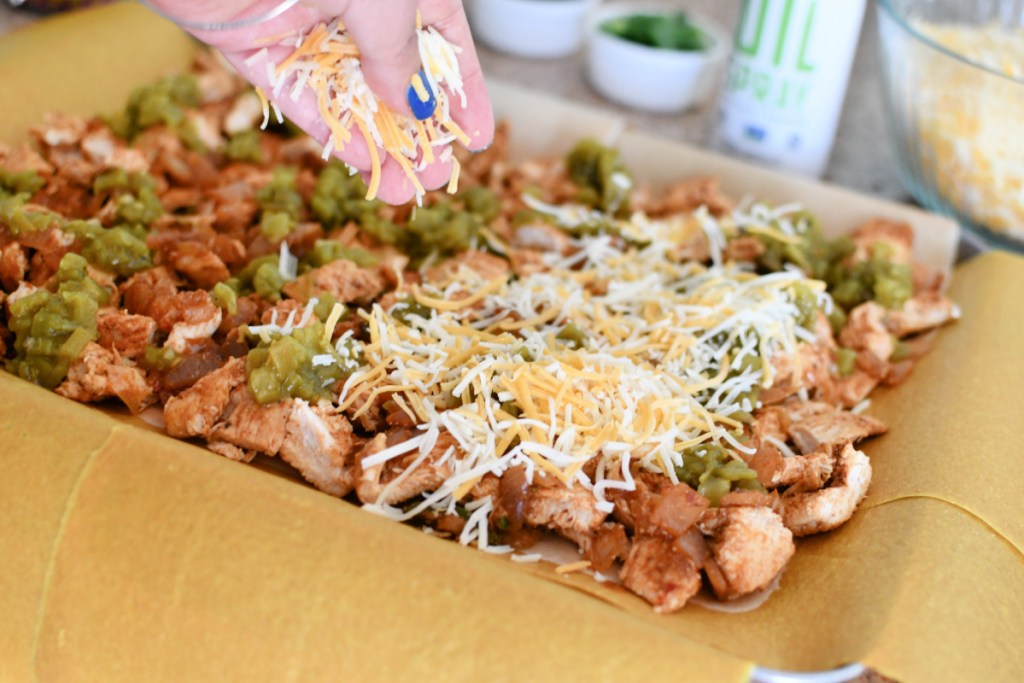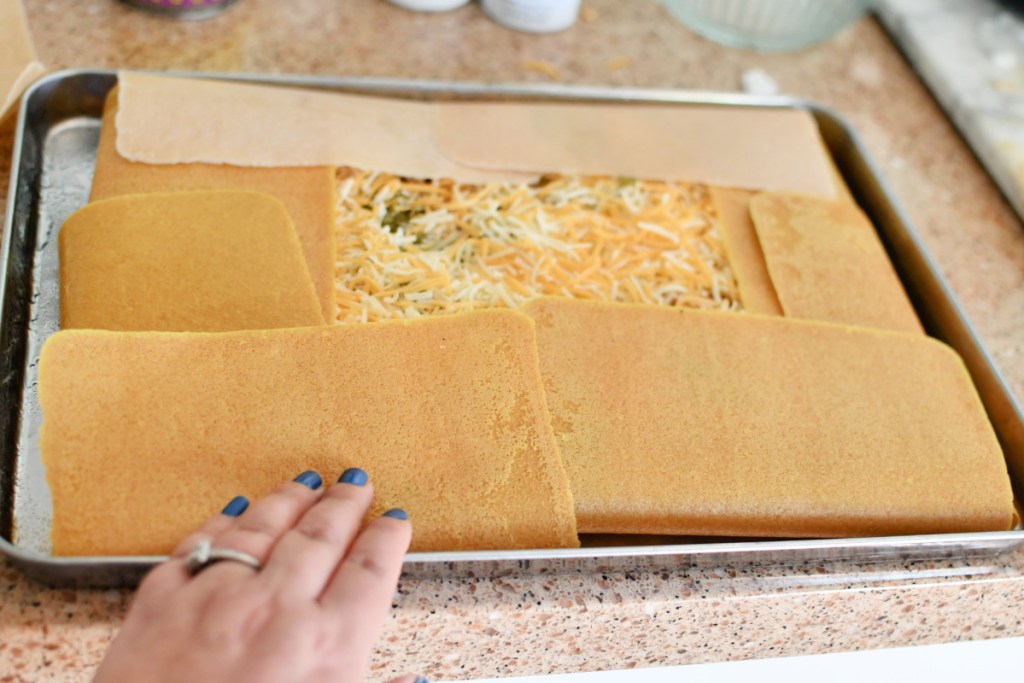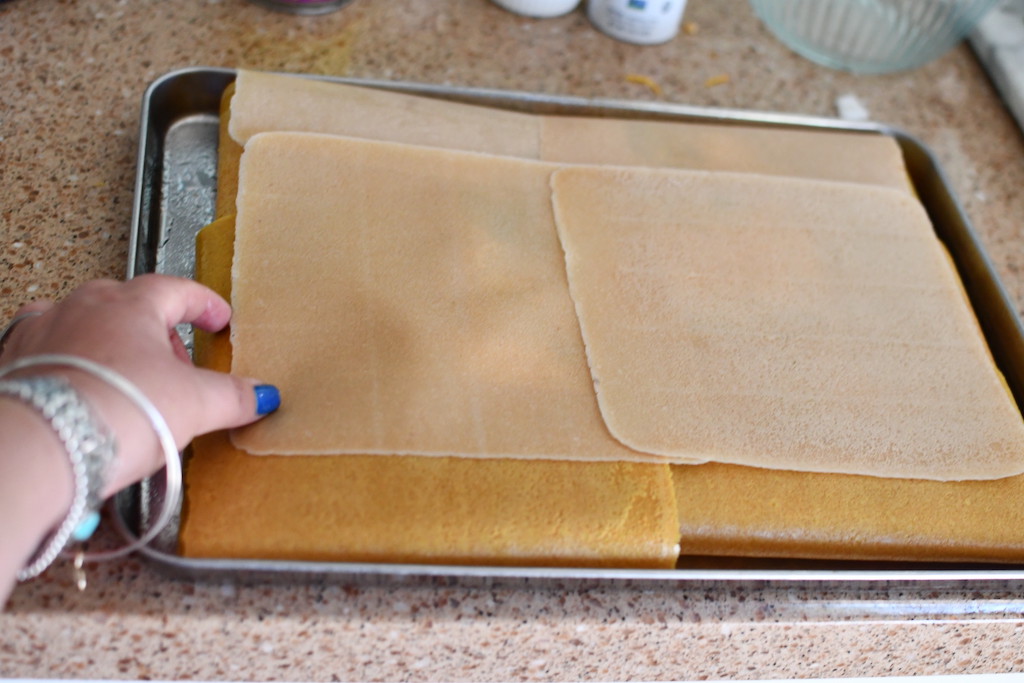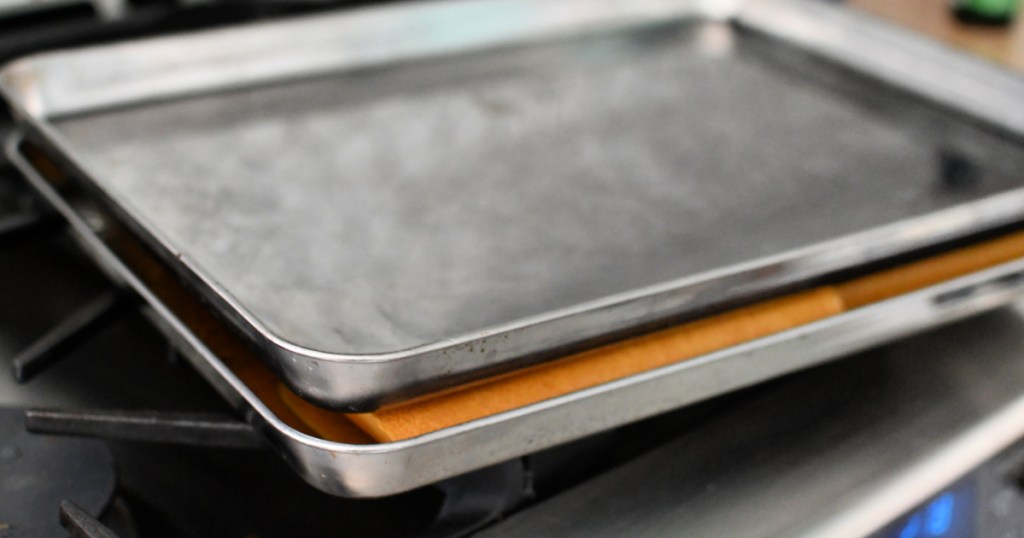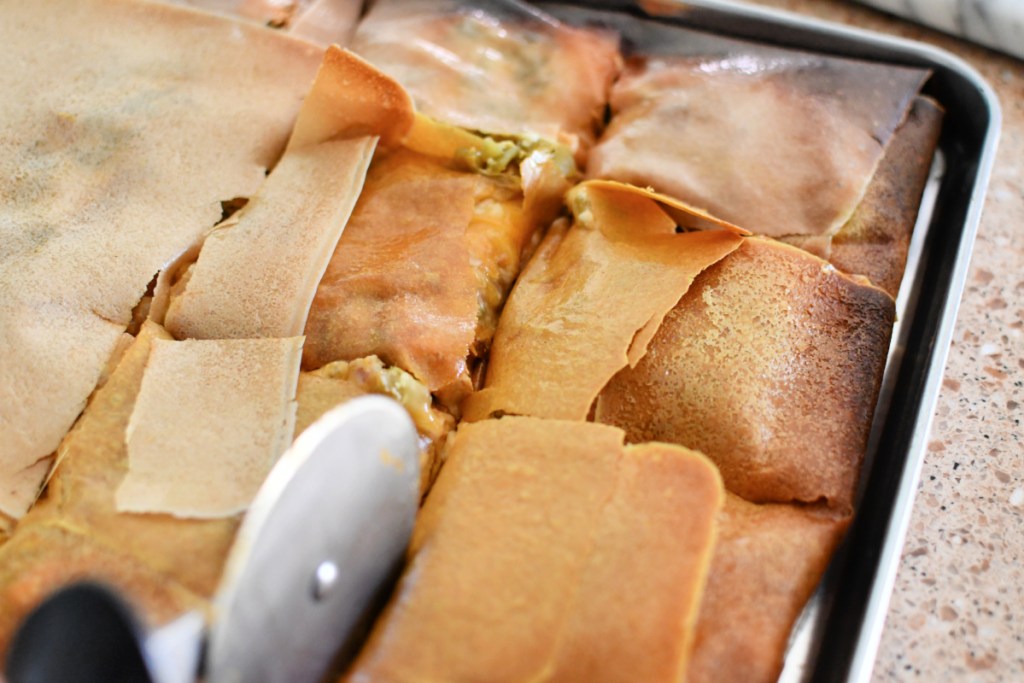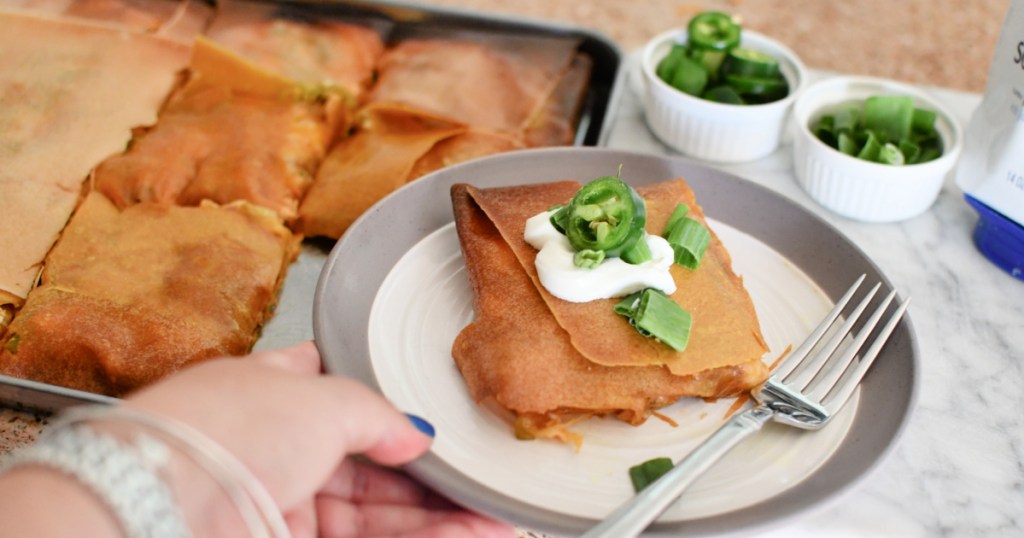 ---
Print
Sheet Pan Chicken Quesadillas
yield: 12 SERVINGS
prep time: 20 MINUTES
cook time: 30 MINUTES
total time: 50 MINUTES
Make 12 cheesy chicken quesadilla squares on a sheet pan! A quick and easy recipe for a fun and delicious Mexican-inspired meal.
Ingredients
1 teaspoon paprika
3/4 teaspoon chili powder
1/2 teaspoon dried oregano
1/2 teaspoon salt
1/2 teaspoon cumin
1/2 teaspoon garlic powder
1/2 teaspoon ground coriander
1/4 teaspoon black pepper
1/8 teaspoon red pepper flakes
2 pounds boneless, skinless chicken breasts
1 large onion, diced, about 2 cups
1 small jalapeño, seeded and minced (optional, for more flavor and heat)
Directions
1
Layer the sheet pan with coconut wraps:
Spray sheet pan with avocado oil spray. Starting on the short end of the sheet pan, overlap 2 coconut wraps so they are about half in the pan and half outside of the pan. Repeat on the other short end.
2
Next, do the same thing on the two long sides of the pan. Then place two wraps over the center of the pan that is not yet covered. You will have 2 wraps left for the center of the pan after the other 10 wraps are folded over the filling. Follow the photos in the post to see the placement of the wraps. Set aside until ready to fill.
3
Make the spice mix:

Combine paprika, chili powder, oregano, salt, cumin, garlic powder, coriander, black pepper, and red pepper flakes in a small bowl.
4
Prepare the chicken:
Heat a 12-inch skillet over medium-high heat and add the avocado oil. When the oil shimmers, add the chicken, diced onions, spice mix, and minced jalapeño (optional). Reduce the heat to medium and sauté for 4 to 5 minutes on each side depending on the thickness of the chicken. Cook to an internal temperature of 165 degrees F.
5
When done, remove the pan from the heat and let the chicken rest for a few minutes until it's cool enough to handle. Dice seasoned chicken into 1/2-inch pieces.
6
Compose & cook the sheet pan quesadilla:
Preheat the oven to 425 degrees F.
7
Spread the diced chicken evenly over the prepared coconut wrap sheet pan. Spread the diced green chiles evenly over the chicken, followed by the shredded cheese.
8
Fold the coconut wraps on the short sides over the filling. Do the same with the wraps on the long sides of the pan. Then place the 2 additional coconut wraps over the center of the filling so the entire quesadilla is encased in coconut wraps.
9
Place another sheet pan on top of the quesadilla to ensure the edges of the wraps stay in place.
10
Bake for 20 minutes, remove the top sheet pan and bake for another 3 to 5 minutes.
11
Remove from oven and let cool on a wire rack, or on the sheet pan. Cut into 12 equal pieces and serve with desired toppings.
Nutrition Information
Yield: 12, Serving Size: 1 slice
Amount Per Serving: 344 Calories | 19.8g Fat | 10.9g Total Carbs | 2.6g Fiber | 4.2g Sugar | 0g Sugar Alcohol | 30.8g Protein | 8.3g Net Carbs
---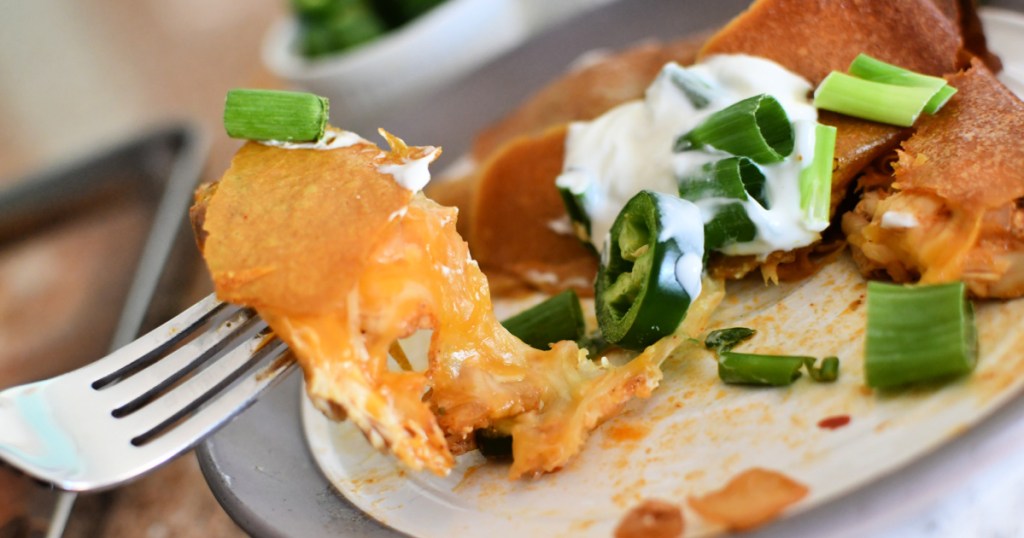 These cheesy chicken quesadillas are a great party food!
I made two full-sheet pans and served these at a gathering of family and friends. They literally flew off the table! Several people commented on how much they liked the subtle coconut flavor. I do too!
Easy peasy, totally keto, utterly delicious, fun to serve, and a sure-fire crowd-pleaser. You can have it all!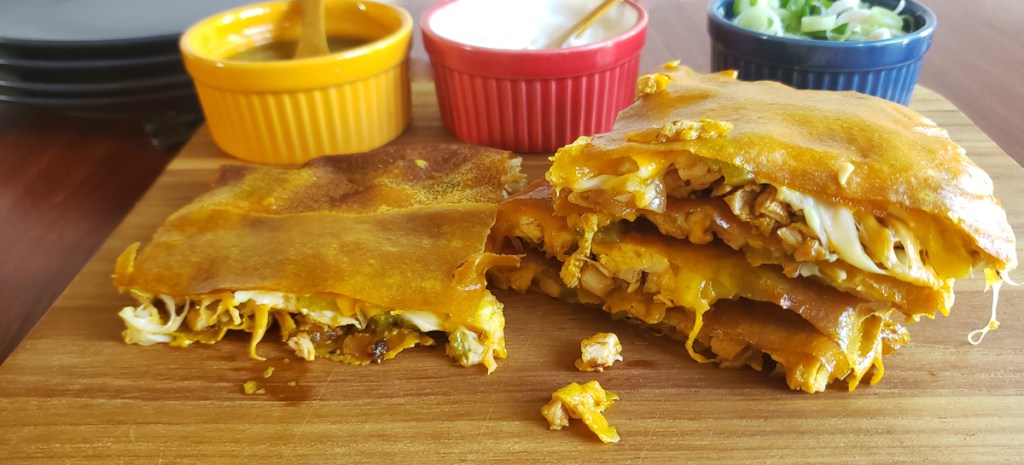 My sidekick Jenna gave this recipe a try and here's what she thought:
"What a yummy & hearty meal! If you're craving Mexican food, definitely make this. These coconut wraps are so awesome, and making a giant quesadilla is such a genius way to use them! I loved how yummy the chicken turned out, as it's seasoned perfectly and the green chiles are delicious here. I heated up leftovers using the air fryer and they turn out YUM."

---
Need more meal ideas? I love these keto tamales and our fabulous keto chicken fajita casserole, too!