Make Authentic Keto Tamales Using Your Instant Pot!
After rounds of testing, we're excited to introduce keto tamales!
I know, I know you're probably thinking I'm crazy even talking about tamales in relation to the keto diet, but I've tested this recipe a few times and sent it through to our test kitchen for reassurance. It was so, so worth it. I can say it really does taste like a traditional tamale!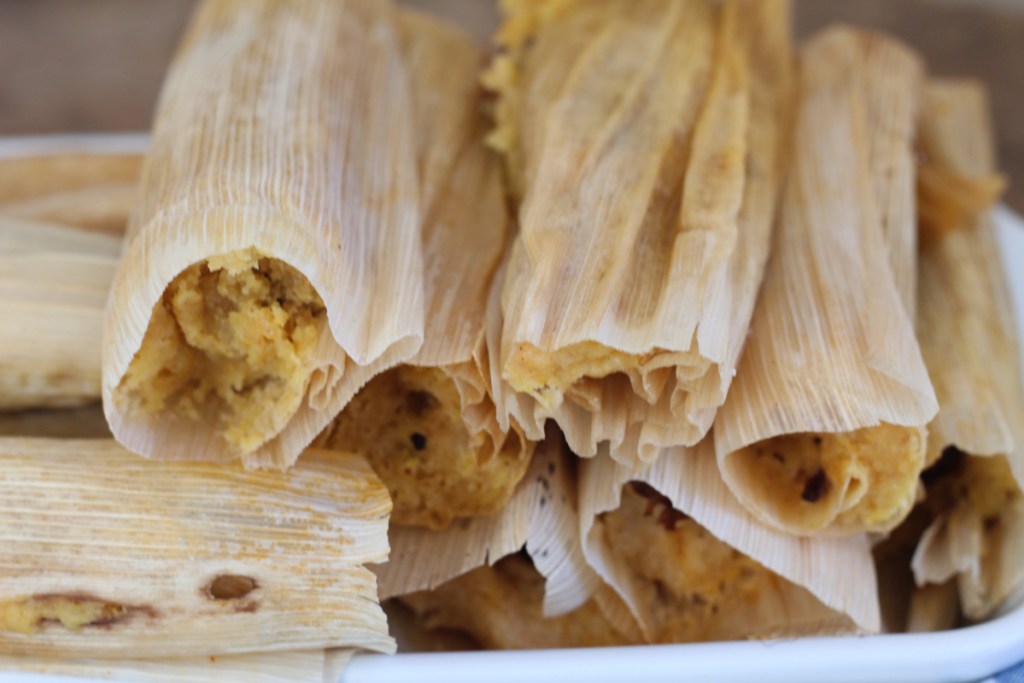 What is a tamale?
A traditional tamale is made with a corn base dough (masa) that is filled with different types of meats or vegetables, such as chicken, pork, beef, or jalapeños. It is then cooked in a corn husk that is removed before eating. Tamales are usually served with salsa, guacamole, or my favorite, sour cream!
Tamales can be labor-intensive for sure but we cut the time in half by using the Instant Pot. You get the melt in your mouth meat from the high-pressure cooking minus the long hours of cooking the tamales the traditional way. I've already saved you five hours off the bat with this Instant Pot method! 🙌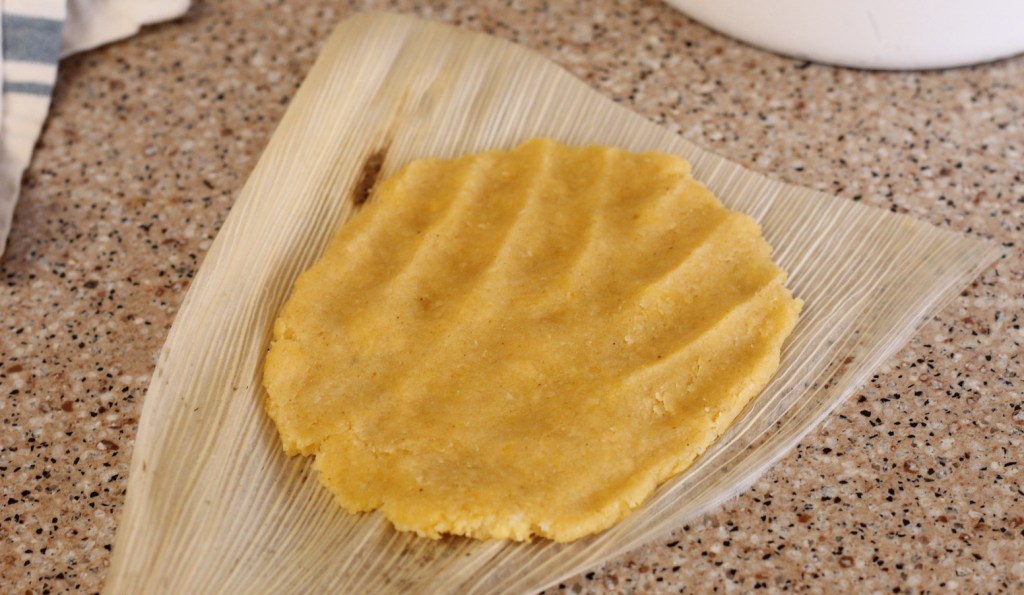 Let's talk masa!
Masa is the magic component that holds it all together, but it's usually packed with carbs that we all try to avoid on keto. I replaced the flour with almond flour and I used beef tallow but any lard will do when making your masa. I was actually surprised by how simple it was to make and how close in flavor it was to the traditional favorite.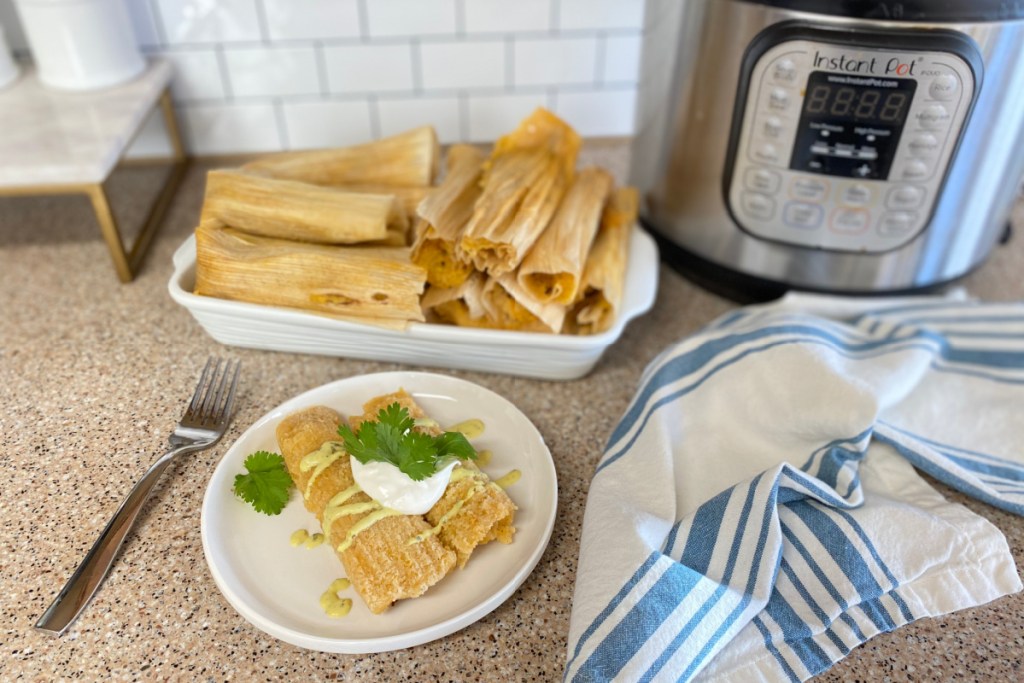 A few tips for making the best keto tamales:
I did cheat a little by not making my own red sauce. I purchased keto-friendly Herdez salsa and Herdez enchilada red sauce to save time. You can use your favorite brands for these components if you have a preference.
Cooking your meat in the Instant Pot saves so much time. I even made my meat the day before for faster assembling when it was time to cook!
Make sure to soak corn husks first to soften them up so they are easy to work with.
Scoop out masa with a large spoon and roll up into a ball shape. I roll all my masa first then roll them all out in the corn husks to batch the process.
Reheating tamales the next day for lunch? Wrap them in a damp towel and place in the microwave for 30 seconds. Super easy!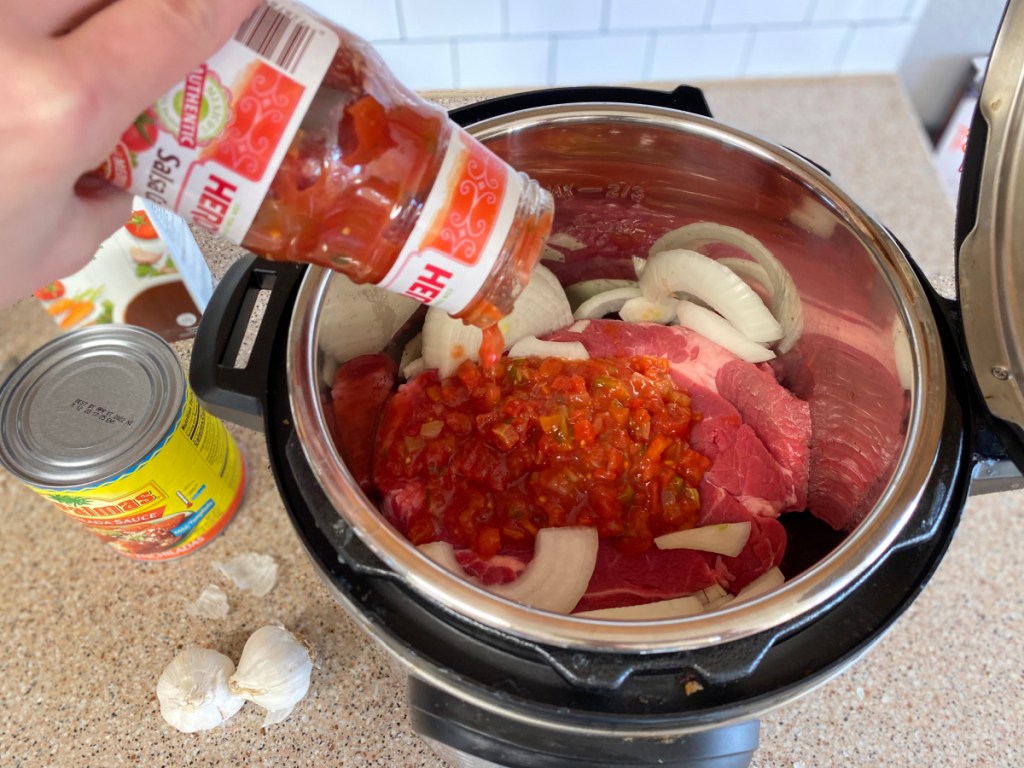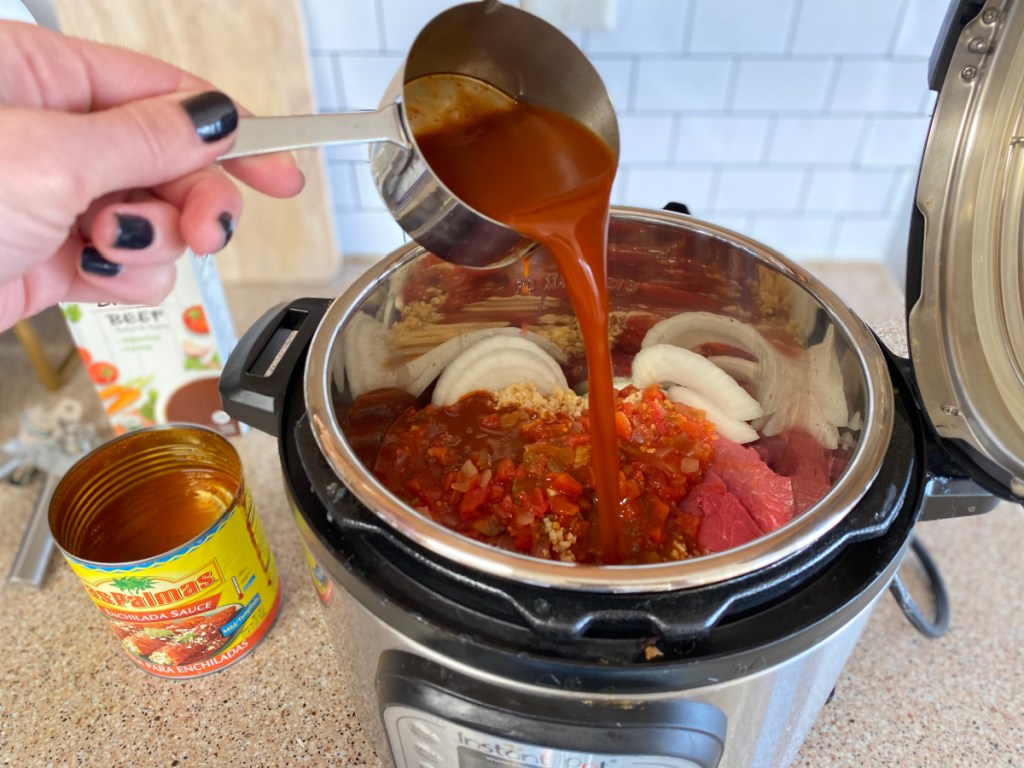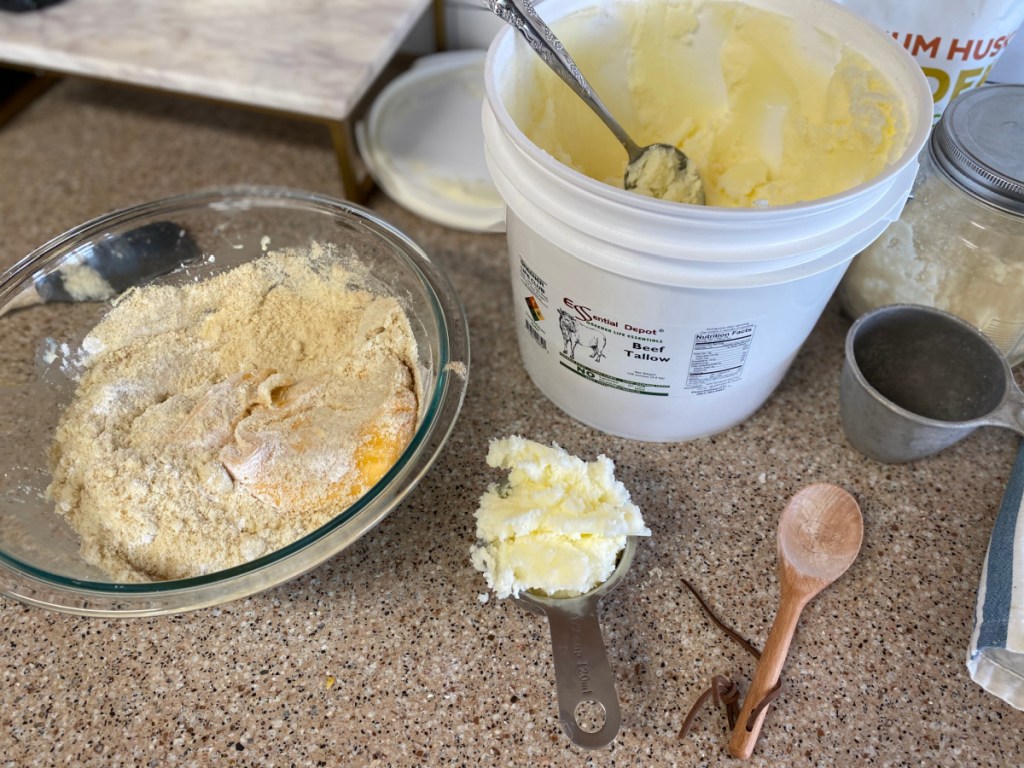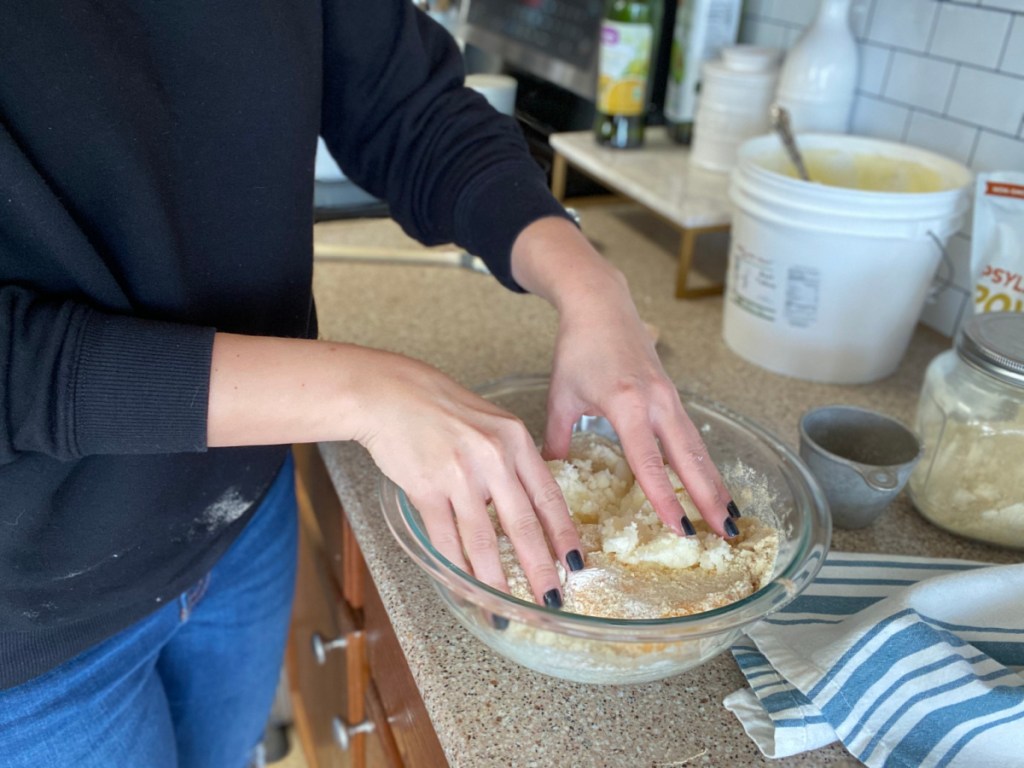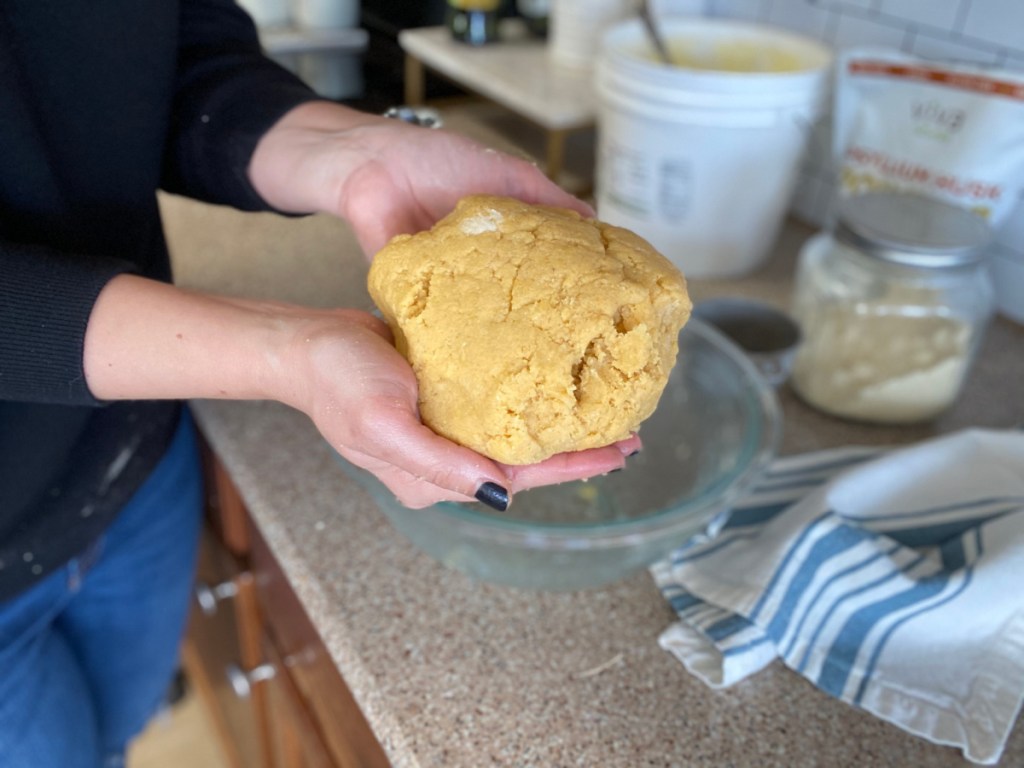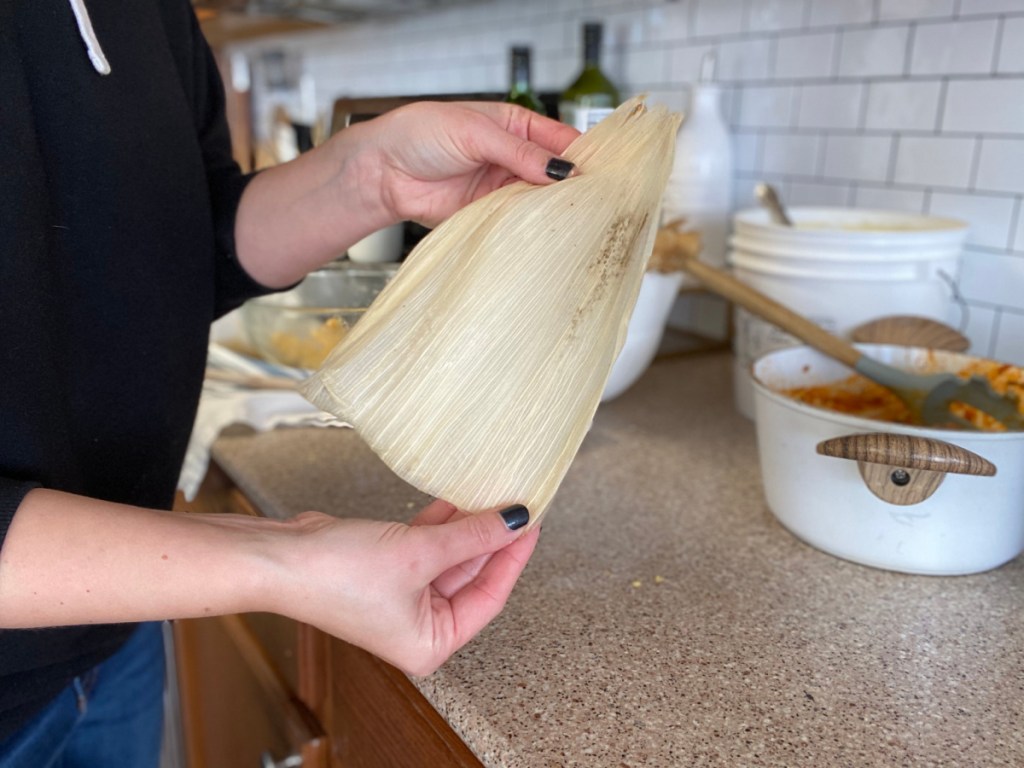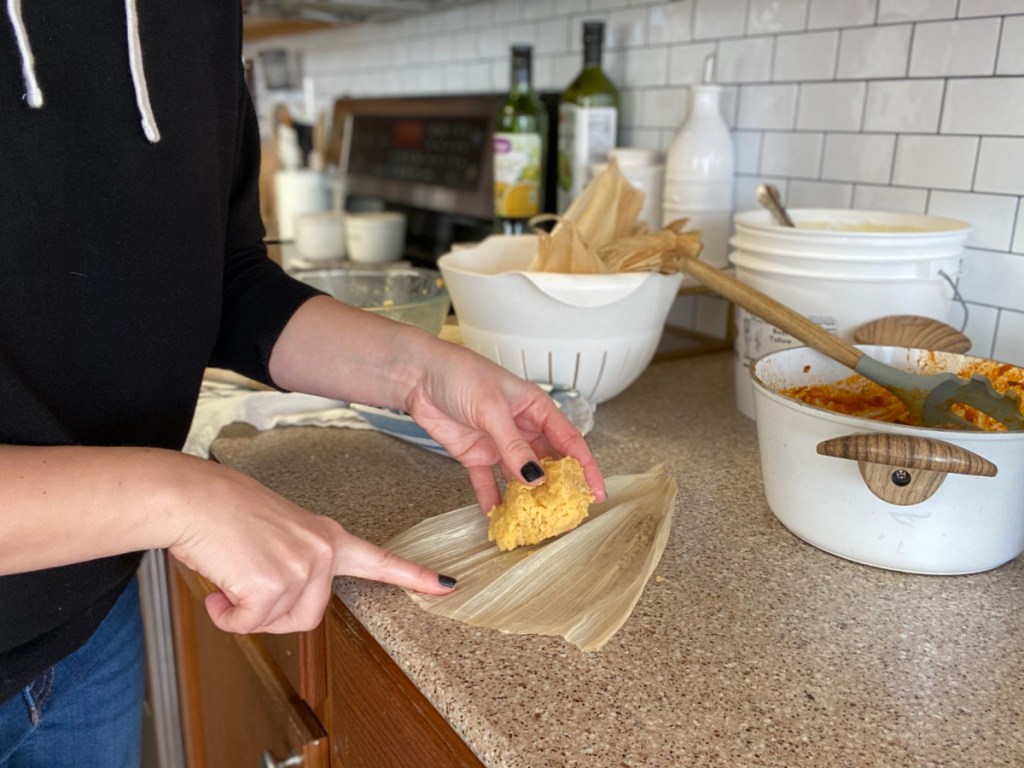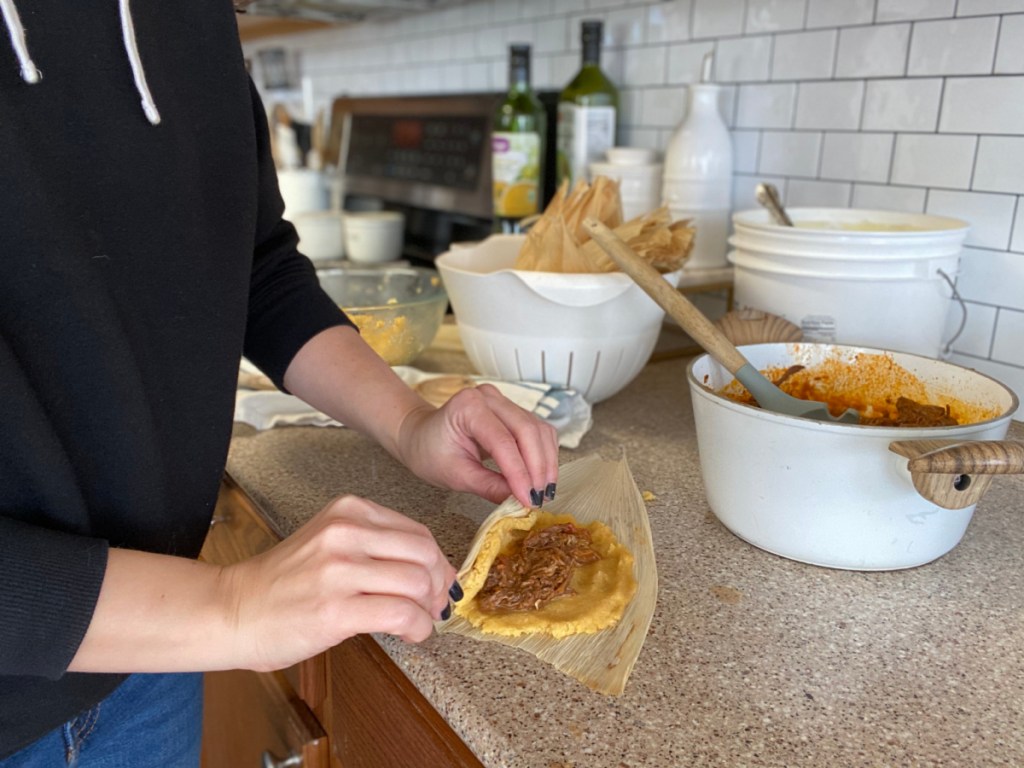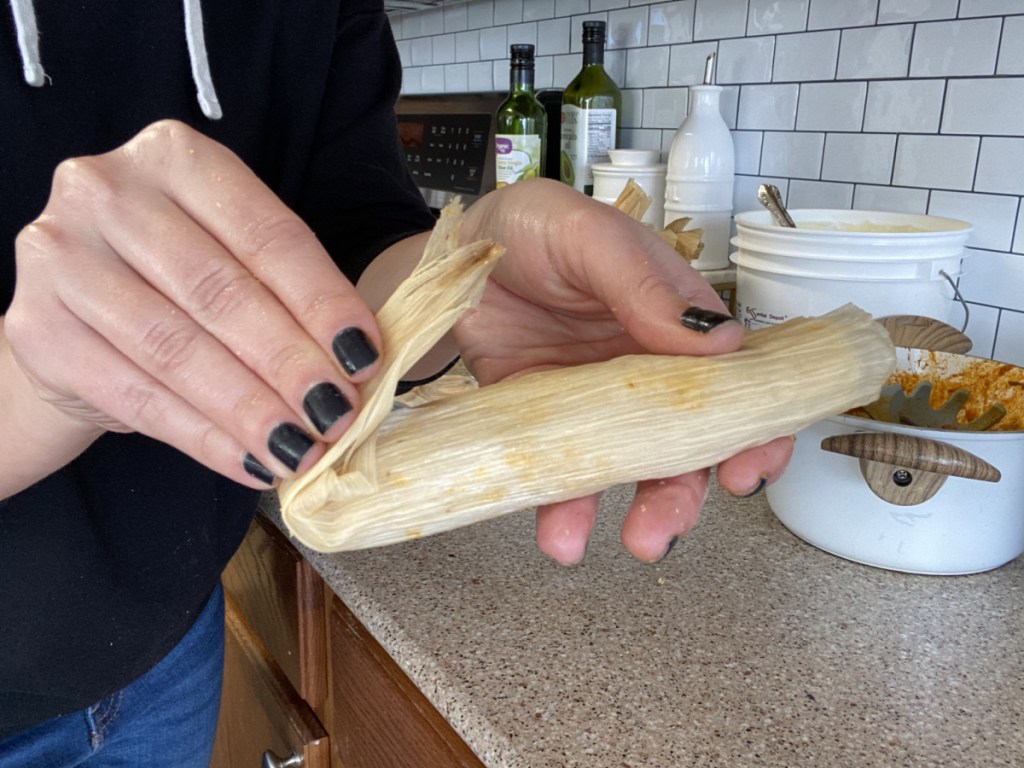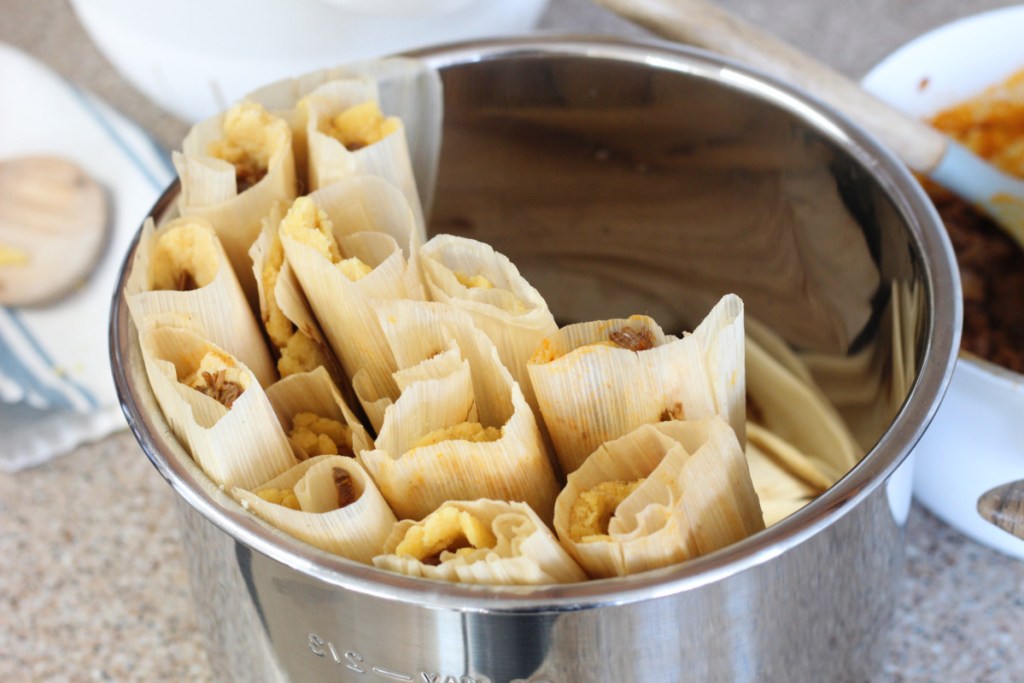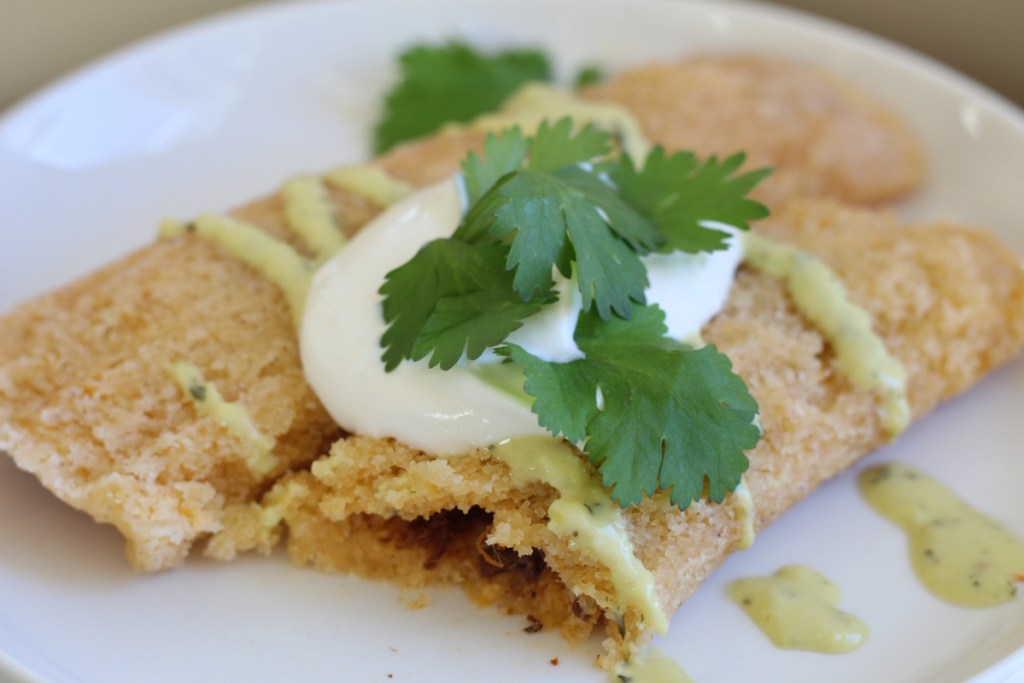 ---
Print
Keto Tamales with Beef
yield: 20 SERVINGS
prep time: 40 MINUTES
cook time: 3 HOURS
total time: 3 HOURS 40 MINUTES
This beef tamale recipe is a low carb take on the classic Mexican favorite using almond flour and other keto-friendly swaps!
Ingredients
Beef Filling:
2 pounds beef shoulder roast
1 cup beef broth
1 onion, thinly sliced
2 tablespoons garlic, minced
2 teaspoons salt
1 teaspoon black pepper
Keto Masa:
2- 8 oz. bags fiesta or Mexican blend cheese, shredded
6 oz. cream cheese
1 tablespoons baking powder
1/2 teaspoon cumin
Directions
1
To make the beef filling:
Add in all beef filling ingredients to your Instant Pot and cover with the lid.
2
Press the MANUAL button, select HIGH, and set the time to 40 minutes. Don't forget to make sure the steam release handle is facing the sealed position. After the meat has finished cooking, allow the natural pressure to release before opening the lid.
3
Remove meat from the Instant Pot while keeping the liquid inside. Add meat to a large bowl and shred with two forks or a hand mixer. Add 1 cup of liquid into the bowl and make sure all meat is completely coated in the sauce without it being too runny.
4
Discard remaining liquid and sliced onions.
5
Preparing corn husks:
Soak corn husks in a pot of hot water. Place a plate or bowl over the husks to keep them underwater for 1 hour or until softened.
6
Making keto masa: 
In a large microwavable bowl, add shredded cheese and cream cheese. Microwave in 30 second intervals until cheese has completely melted.
7
Add remaining masa ingredients to melted cheese and mix together. You can do this with your hands or use a spatula. Make sure all ingredients are mixed together well. You will get a dough that will look like a thick ball of peanut butter. Roll into about 2" size dough balls and set aside.
8
Assembling the tamale:
I set this up in a station to make the process easier, so you'll want to have your husks, masa, and beef ready and organized.
Grab a corn husk with the glossy side down on the counter or table. Add a keto masa dough ball and place it on the center of the corn husk. Spread the keto masa out with the back of a spoon or a spatula. Spread out to create a round flat disc.
9
Place a spoonful of meat filling in a line down the center of the masa.
10
Take one side of the corn husk and use it to guide the masa over the beef filling. Peel back the corn husk and repeat with the other side so that the beef mixture is fully surrounded by the masa. From there, fold one side of the corn husk over the beef-filled masa and continue rolling to the other edge of the husk. Fold up the bottom and leave the top open. Set aside and repeat until all tamales have been made.
11
Steaming tamales:
Add 1 cup of water to your Instant Pot. Place steam rack on the bottom and lay a few corn husks flat over the rack. Add tamales standing up with the folded bottom end down so the open tops are facing up. Cook on MANUAL for 20 minutes. Let the Instant Pot naturally release for 10 minutes, then quick release by turning the valve.
12
Remove tamales from the Instant Pot and serve. Remove corn husk before eating. Enjoy!
Nutrition Information
Yield: 20, Serving Size: 2 tamales
Amount Per Serving: 799.5 Calories | 66.7g Fat | 14.9g Total Carbs | 6.2g Fiber | 3.2g Sugar | 35.9g Protein | 8.6g Net Carbs
---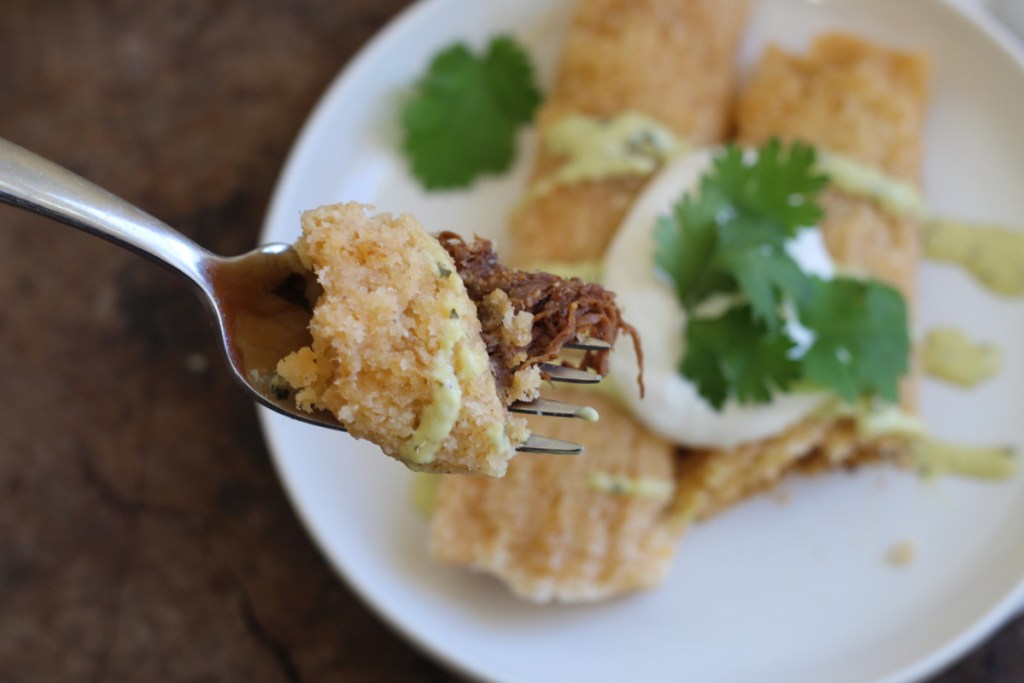 A new dinner favorite!
These keto tamales do take more time to make than our typical easy keto dinner recipes… but they are so worth it. Tamales are one of my favorites and I'm so excited to now have a low carb option when the craving strikes.
Next time I'm going to make a big batch and freeze them so I can pop a few in the microwave or air fryer to heat up when I need a quick lunch or dinner option.
Give this recipe a try and let me know what ya think!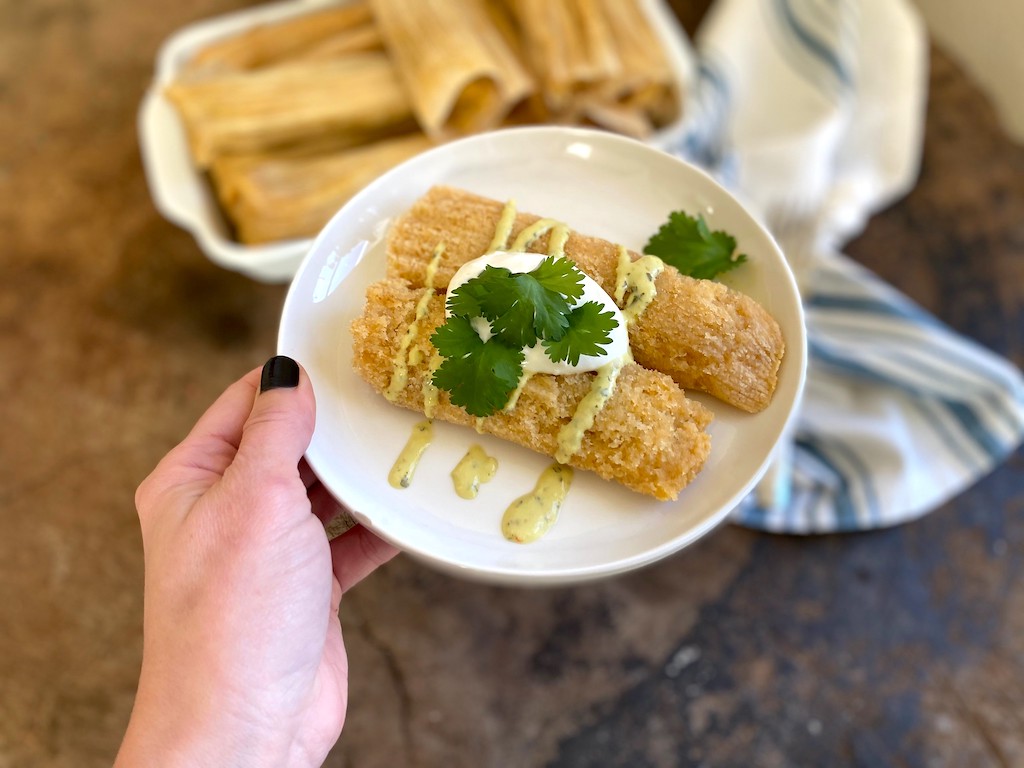 Here's what my teammate Jenna had to say after making these keto tamales:
"I've never made tamales before and have always considered it to be a little intimidating. I absolutely love tamales and buy them by the dozen at the local farmer's market in the spring. I have to say, I feel a lot more confident about it now! No one in the house even asked if it was keto, no one knew or cared, they are *that* good!"
---