Keto Sausage Recipe with 3-Ingredient Tangy Apricot Mustard Glaze
It's all about the sauce in this keto sausage recipe!
Looking for an easy way to dress up dinner?
Here's a simple and flavor-bursting recipe! It's just kielbasa sausage, sugar-free apricot preserves, yellow mustard, and apple cider vinegar. That's it! One of our awesome Instagram followers sent in this wonderful suggestion and we were so excited to try it. 😋
This keto sausage recipe is pretty versatile too. You can make it as a meal or serve it up as an appetizer. I baked the sausage with the apricot mustard glaze but it could also be done in a slow cooker. To make it a full meal, I served this with roasted cabbage and our low-carb mashed potatoes. YUM!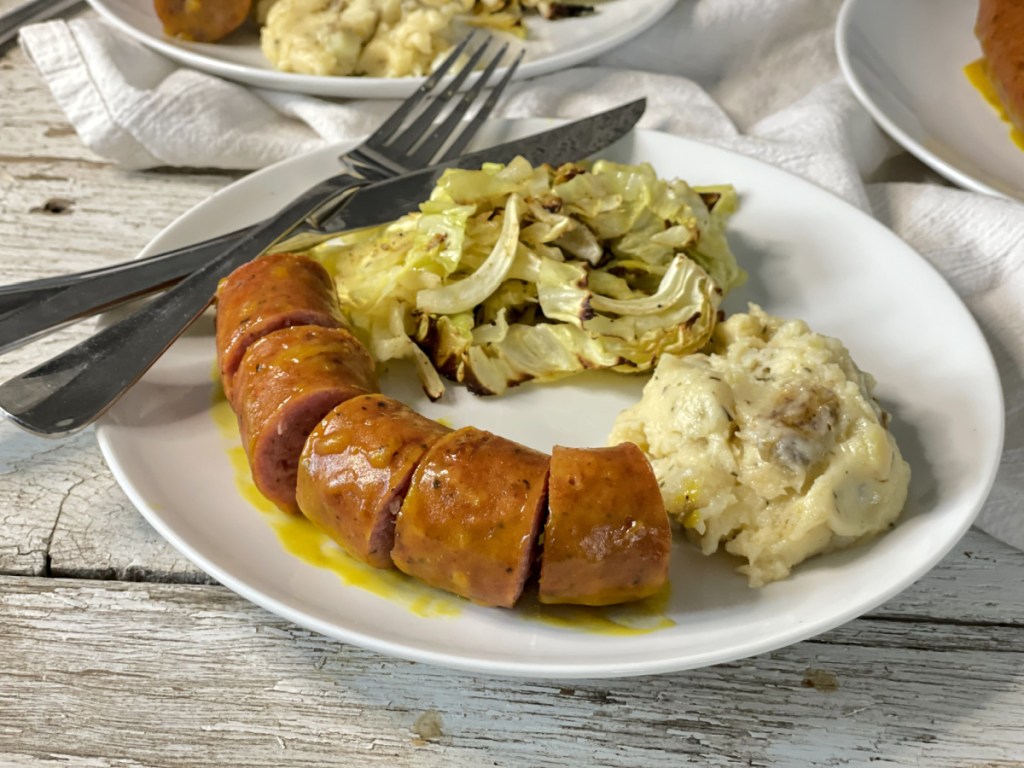 The apricot preserves totally make this keto sausage recipe the bomb!
To keep the carbs low with the apricot mustard glaze, I used sugar-free apricot preserves. That said, shop around with caution! I found that the carb count varies widely when it comes to sugar-free preserves. Some brands have 1 gram of carbs per serving and others were all the way up to 5 or more grams of carbs per serving.
Look for Smucker's sugar-free apricot preserves or Good Good Keto-Friendly Sweet Apricot Jam. If you're worried about any extra carbs, keep in mind that you probably won't end up eating all of the sauce. It's very flavorful and I found that having just enough to coat the sausage was perfect. 🙌
* For this recipe, I used Smucker's to calculate the nutrition information. It has 3g of carbs per serving.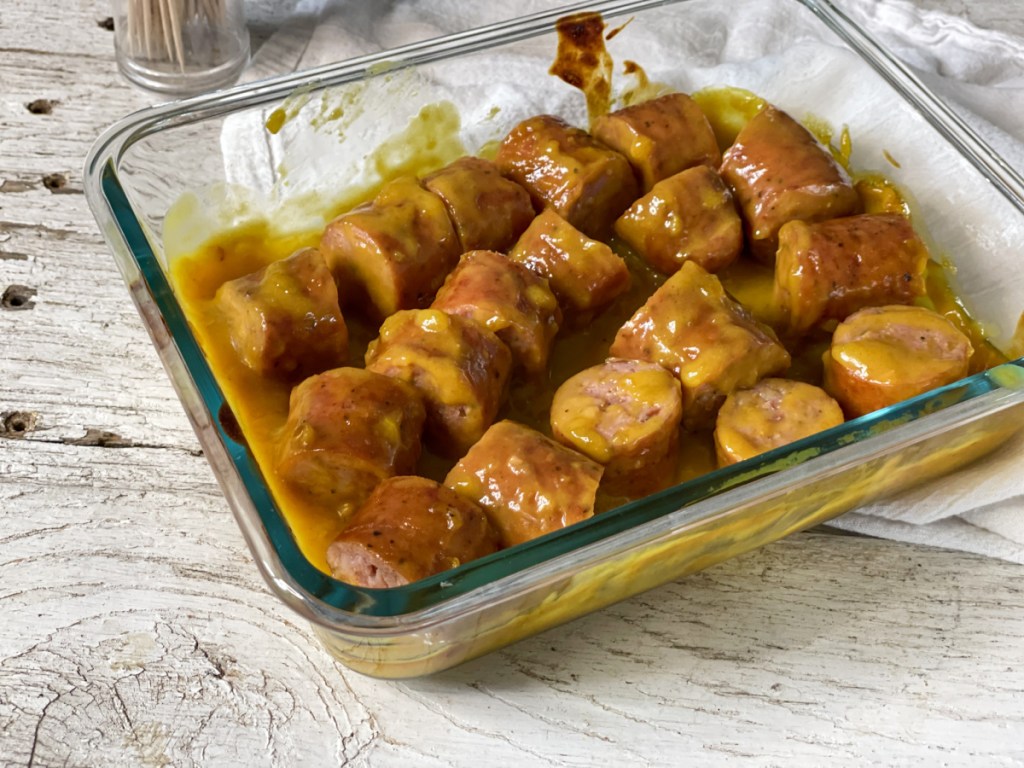 Tips for making the best keto sausage with apricot mustard glaze:
This makes for a great appetizer as well as a meal. If making it for a party, I suggest at least doubling the recipe, maybe even tripling it, and then cooking it in a slow cooker for 2 to 3 hours on low. After that, keep the slow cooker on warm and serve the sausage directly from the slow cooker with toothpicks. Easy peasy!
You can mix up the type of sausage you use for this recipe. I'd stick with precooked sausage for the convenience factor though!
This recipe is so simple and you can use what you have on hand or varieties you prefer. Another twist would be making this with Dijon or ground mustard instead of traditional yellow. Get fancy! 😉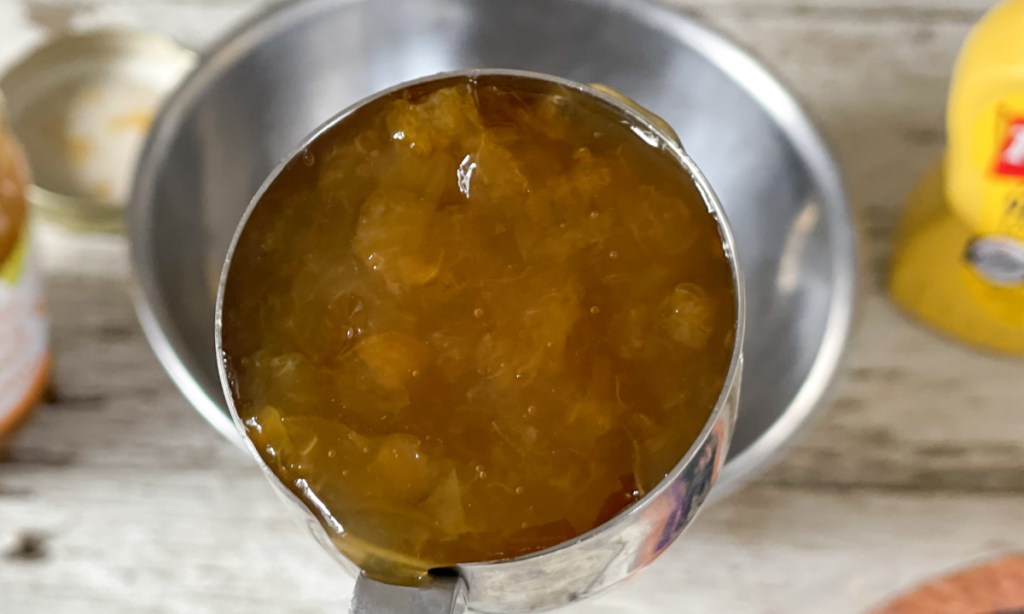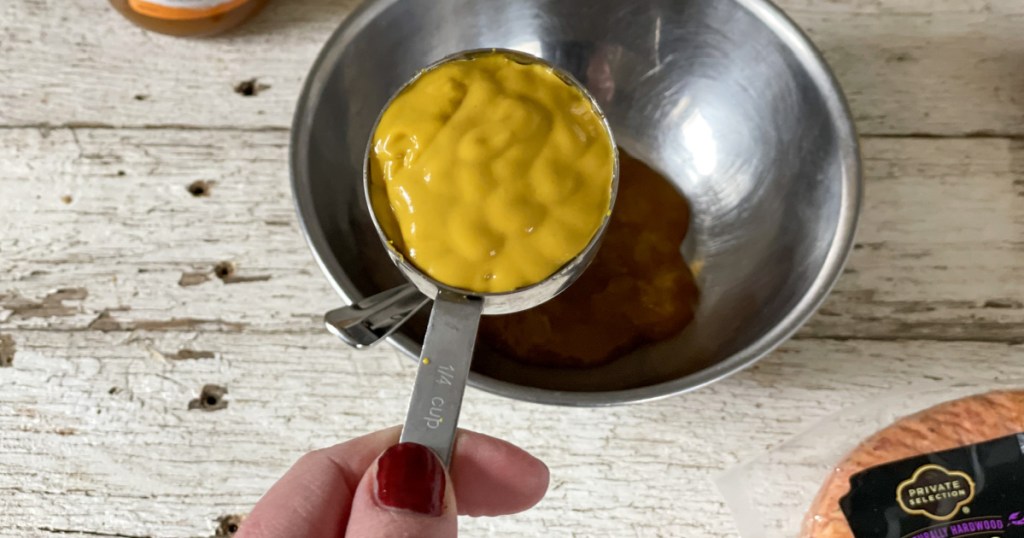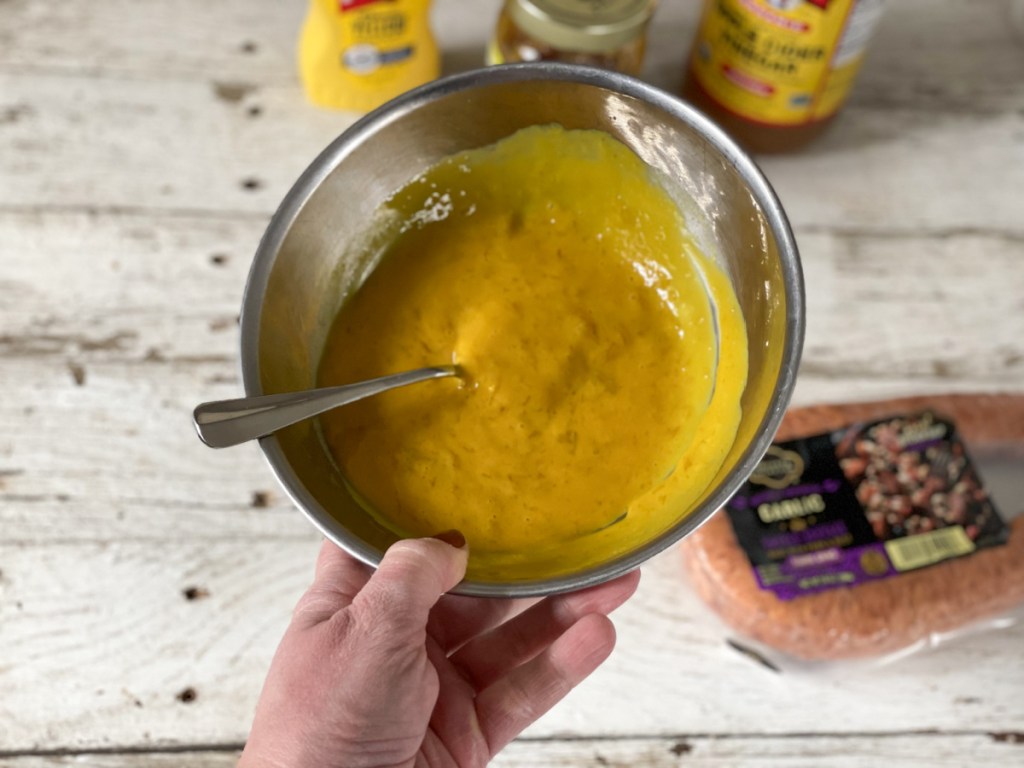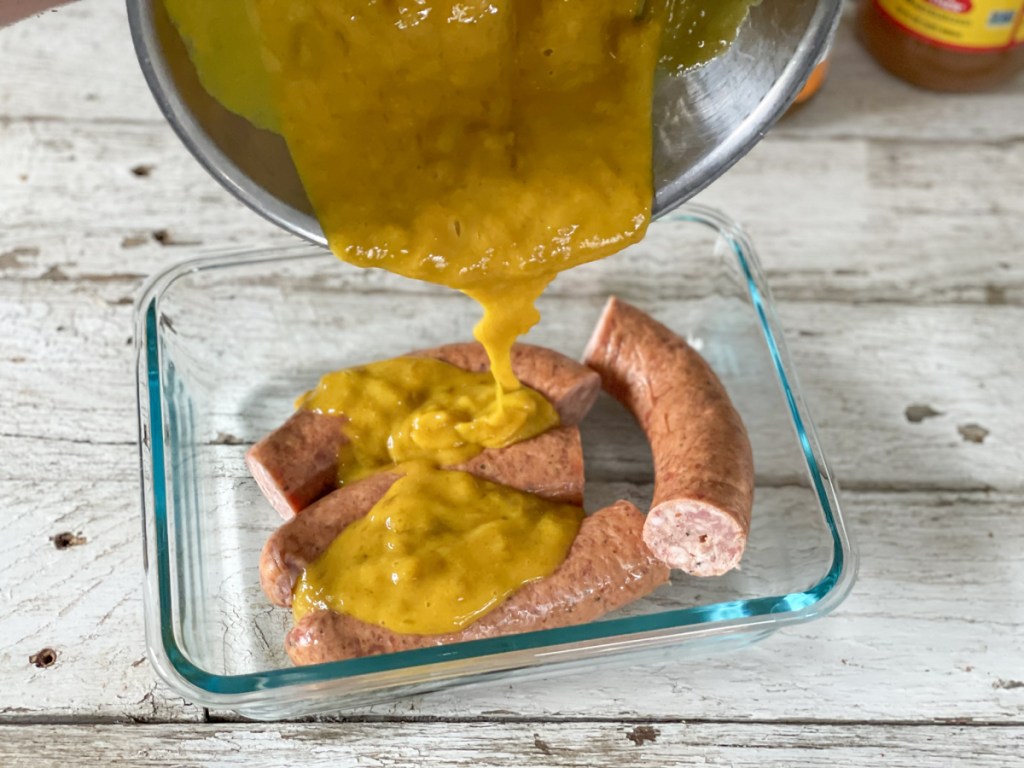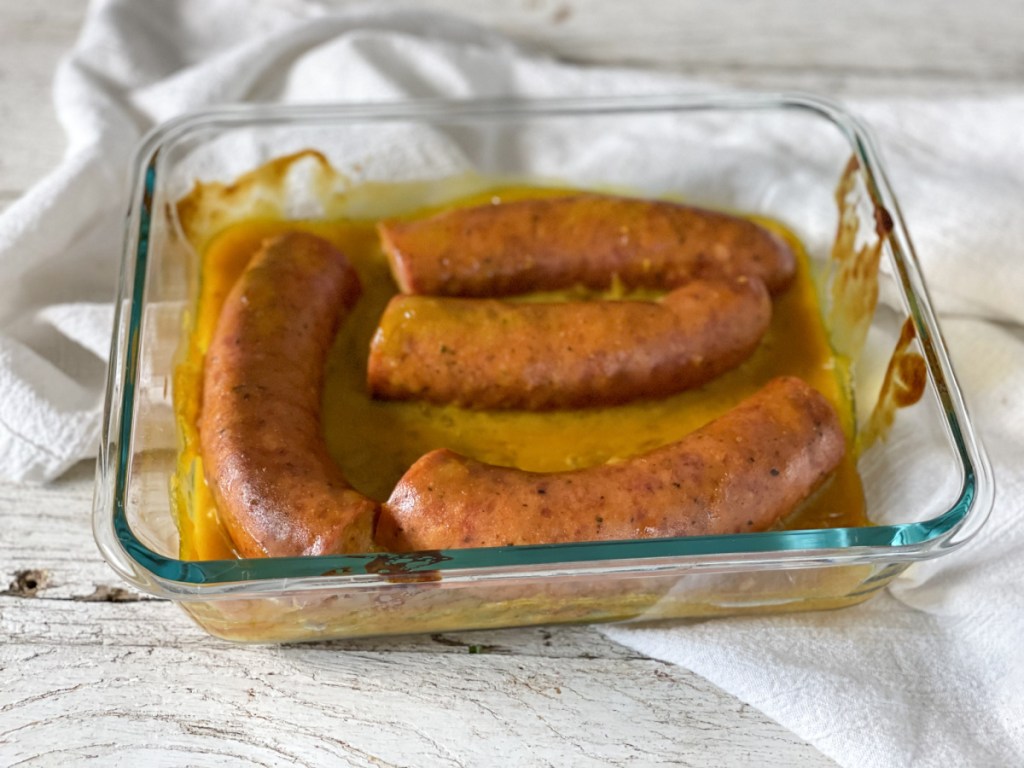 ---
Print
Keto Sausage with Apricot Mustard Glaze
yield: 4 SERVINGS
prep time: 5 MINUTES
cook time: 30 MINUTES
total time: 35 MINUTES
Kielbasa sausage cooked with a simple glaze made with sugar-free apricot preserves, yellow mustard, vinegar.
Ingredients
14 oz. kielbasa sausage
1/4 cup yellow mustard
1 tablespoon apple cider vinegar
Directions
1
Preheat oven to 350 degrees. In a small bowl, mix together sugar-free apricot preserves, mustard, and apple cider vinegar.
2
If making this for dinner, cut the kielbasa sausage into 4 equal pieces. If making this for an appetizer or snack, cut the sausage into bite-sized pieces, about 20 pieces.
3
Place the sausage in a small baking dish and cover it with the apricot mustard glaze. Bake for 30 minutes. Serve as a meal or with toothpicks as an easy appetizer. Enjoy!
Nutrition Information
Yield: 4 servings, Serving Size: 1/4 kielbasa coated in glaze
Amount Per Serving: 328 Calories | 28g Fat | 8.4g Total Carbs | 2.7g Fiber | 1.8g Sugar | 14g Protein | 5.7g Net Carbs
---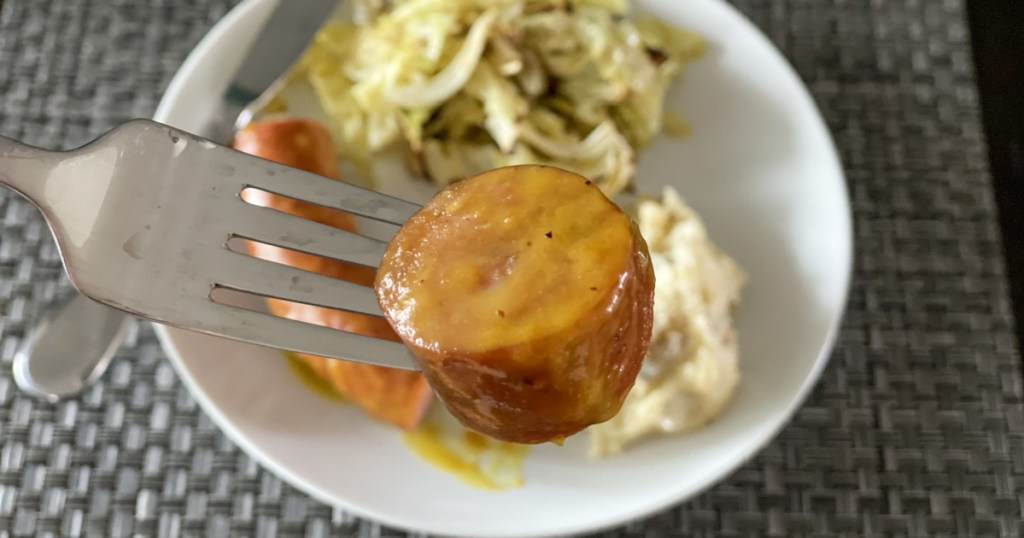 You wouldn't think that apricot and mustard are a match made in heaven, but trust me, they are for this keto sausage recipe!
The flavor of this apricot mustard glaze with the sausage is so good while also being so easy to make! This will definitely find its way to my table next time I have people over. It's a hit without a huge amount of effort!
Here's what my Hip sidekick Jen had to say about this keto sausage and apricot mustard glaze recipe:
"These apricot & mustard glazed sausages are so easy to make, plus they are super tasty! They are sweet with a tangy zip to them! You could even use the leftover sweet & sour glaze to spoon over spaghetti squash or cauliflower rice.
I love that you can use these as appetizers, too. It would be easy to make up and bring to a party or the office. Just add toothpicks and you are done!"
---
Looking for another simple appetizer? Try these easy pizza keto roll-ups next!