Best Keto Quiche Recipe | Perfect for Breakfast, Lunch, or Dinner
This keto quiche recipe might look basic but it is packed with flavor from the flaky crust to the three-cheese overload.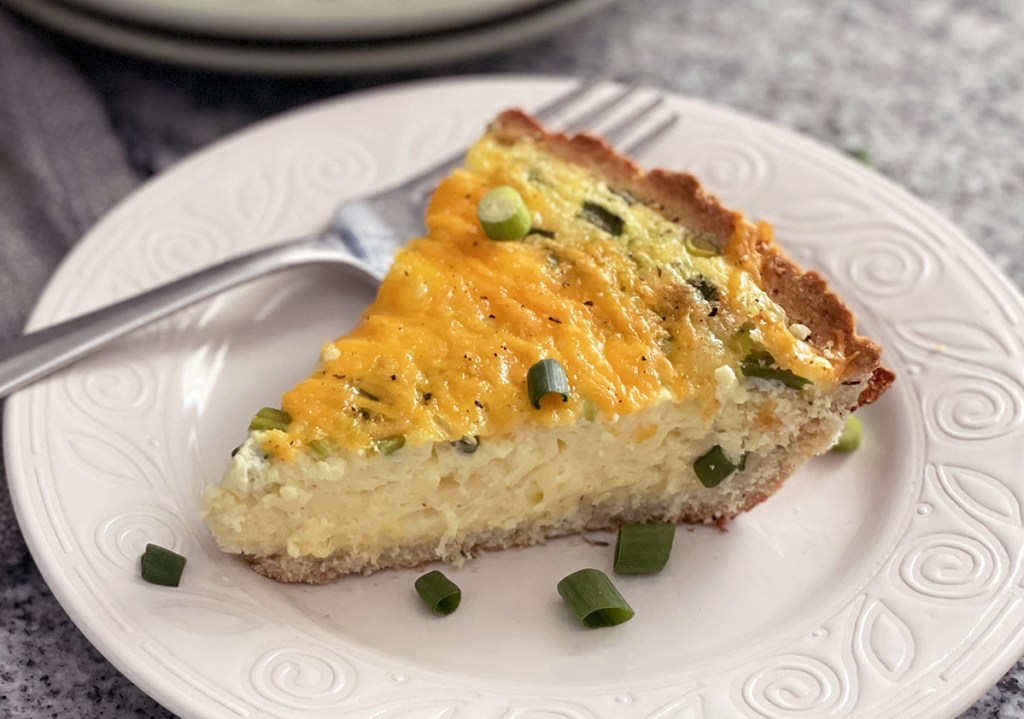 I love a good keto quiche recipe for any meal of the day!

This keto quiche might not look like much but it is bursting with flavor from the perfect, flaky crust to the cheesy filling. You will not want to miss eating a slice of this low-carb quiche. It's so good, you'd never guess the crust is keto-friendly.
I like to make this on Sundays and then have a slice for breakfast during the week. It makes my mornings super easy. It's also a great brunch recipe! For more ideas, check out all of our keto breakfast recipes.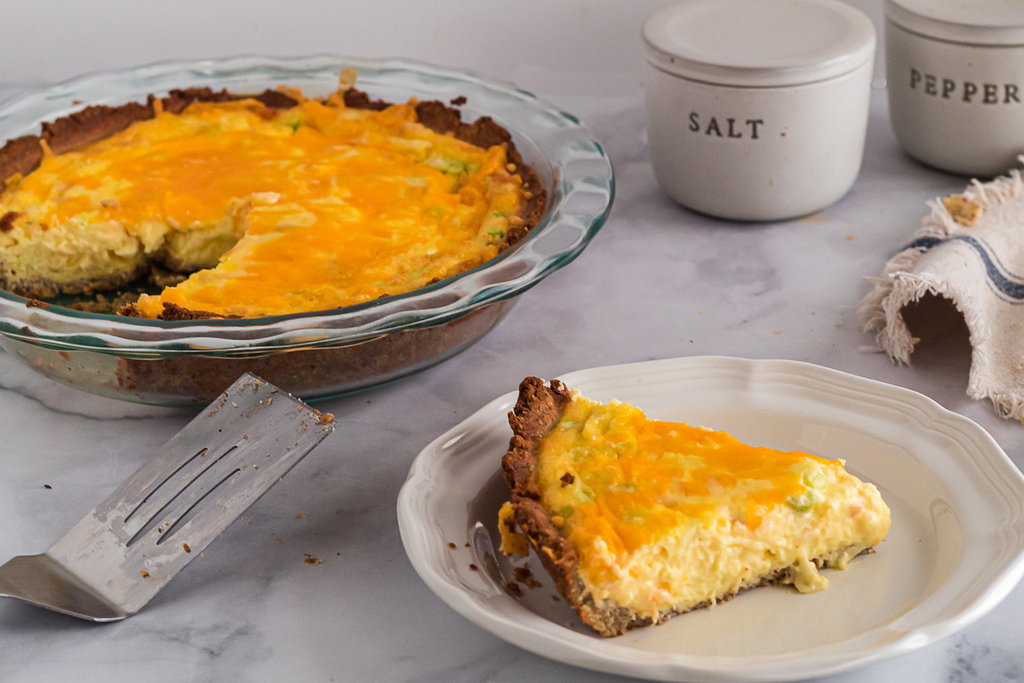 Everyone loves quiche!
You really can't go wrong with quiche, especially a good keto quiche recipe! It actually works great for a lazy dinner. And there are so many different add-ins you can do to mix up the flavor. Save this basic keto quiche recipe and then mix it up by getting creative with different cheeses, proteins, and/or veggies.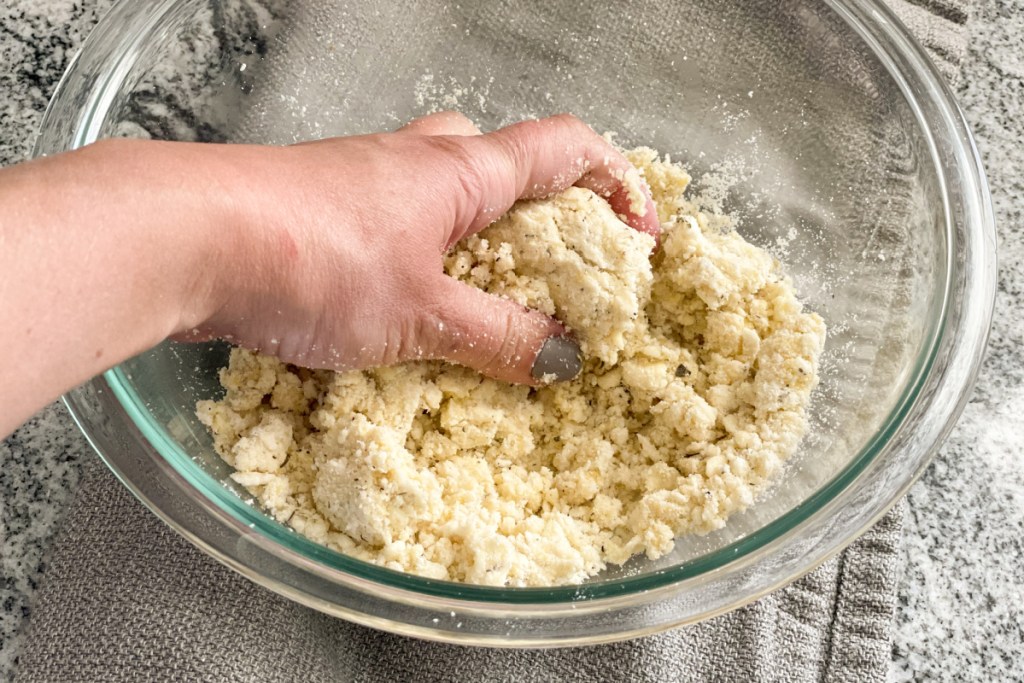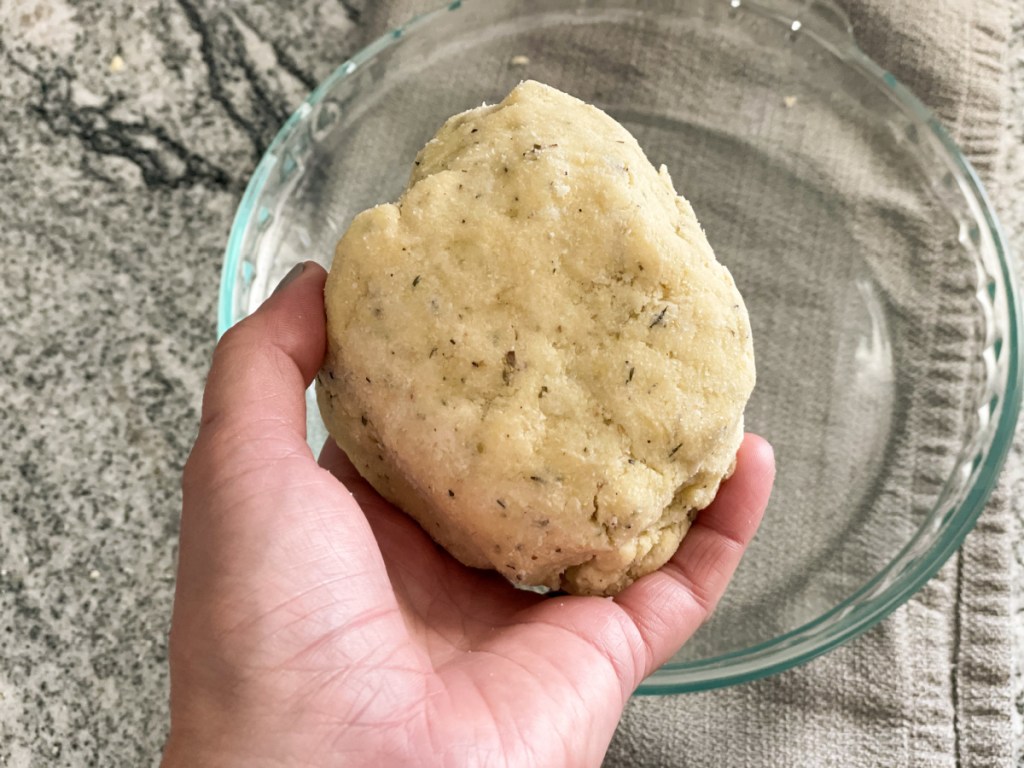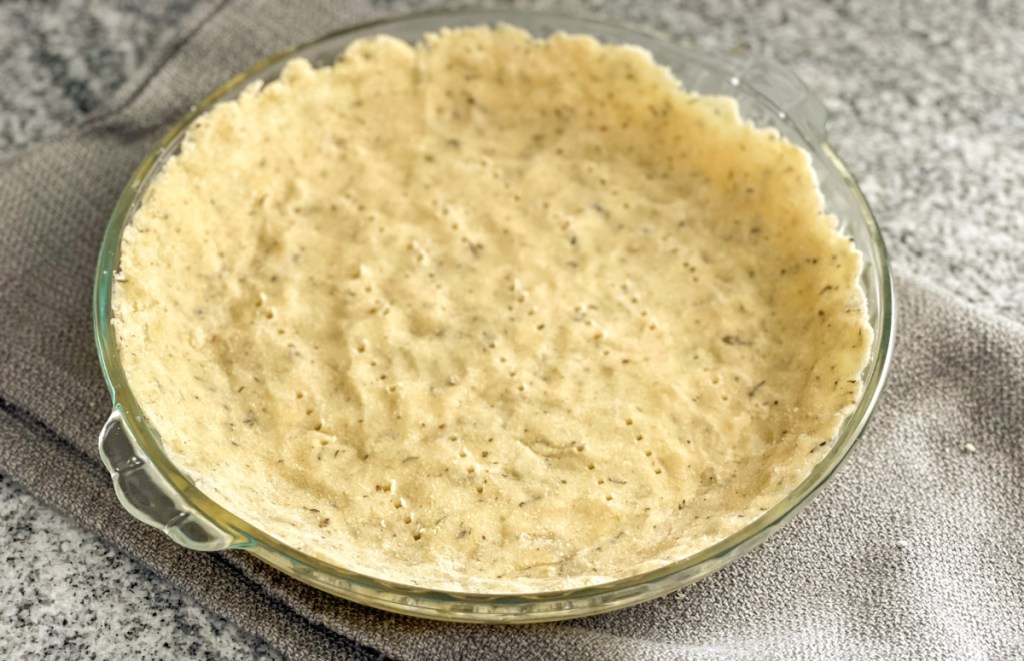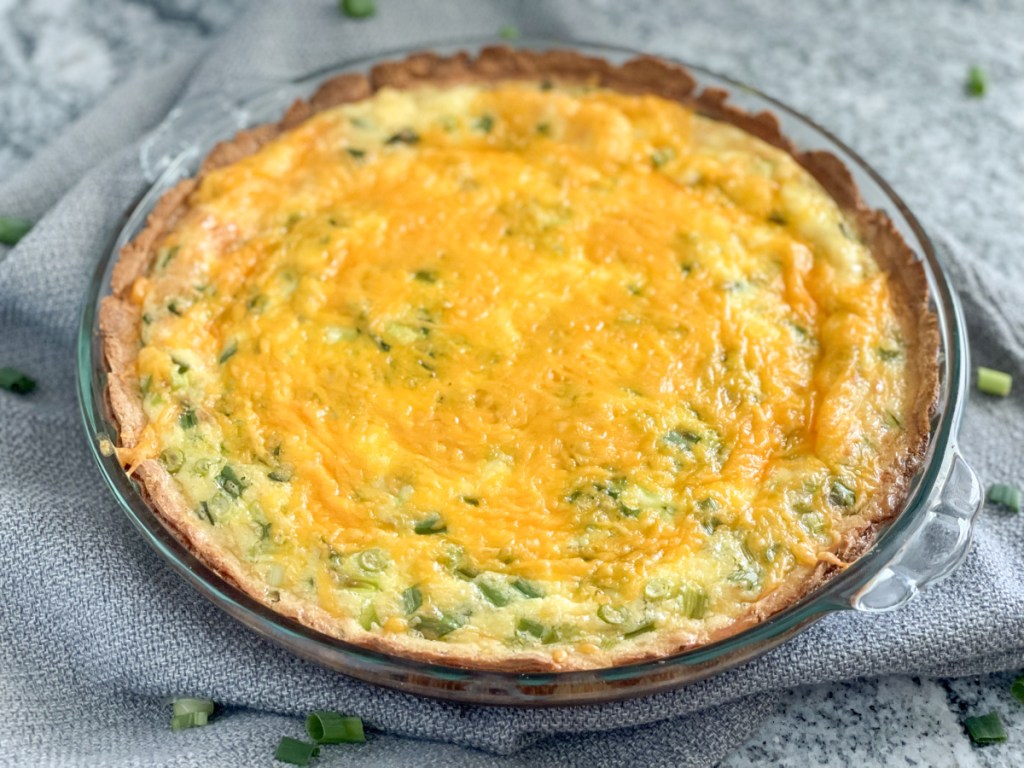 ---
yield: 8 SERVINGS
prep time: 20 MINUTES
cook time: 45 MINUTES
total time: 1 HOUR 5 MINUTES
This 3-cheese quiche might look basic but it is packed with flavor from the flaky crust to the ooey-gooey cheese overload.
Ingredients
Crust:
1/2 teaspoon salt
1/2 teaspoon pepper
1/2 teaspoon oregano
1/2 teaspoon thyme
4 tablespoons butter
2 tablespoons cream cheese
1 egg
Filling:
7 eggs
1 cup heavy whipping cream
1 cup smoked gruyere cheese, shredded
1 cup mozzarella cheese, shredded
1/2 chopped green onions
1/2 cup cheddar cheese (for topping), shredded
Directions
1
Preheat oven to 375 degrees.
2
In a large bowl add flours, salt, pepper, oregano, thyme, butter, and cream cheese. Use handheld mixer or a pastry blender to mix ingredients.
3
Add in egg and mix until you form a dough ball.
4
Place dough in a 9-inch pie dish and press with your fingers until the pie dish is evenly covered with the dough. Grab a fork and add a few air holes to make sure you are not allowing any pockets.
5
Bake in the oven for 8 to 10 minutes, until slightly browned. After the crust is done baking, lower the oven temperature to 350 degrees.
6
While the crust is baking, in a large bowl whisk together eggs and heavy whipping cream.
7
Add in Gruyere, mozzarella cheese, and green onions. Stir to combine.
8
Pour the filling into the crust. Place on the middle rack of the oven to bake evenly at 350 degrees for 40 to 45 minutes. Top with cheddar cheese at the 30-minute mark. If your crust is starting to look dark brown, you might want to cover it at this point as well.
9
Bake until the cheddar cheese fully melts (40-45 minutes total). The center will be just slightly jiggly when done.
10
After removing the quiche from the oven, let it sit for about 5 minutes to continue cooking the center of the quiche.
11
Slice into 8 pieces. Enjoy!
Nutrition Information
Yield: 8 pieces, Serving Size: 1 slice
Amount Per Serving: 475 Calories | 39.5g Fat | 10.7g Total Carbs | 5.9g Fiber | 3.5g Sugar | 21g Protein | 4.8g Net Carbs
---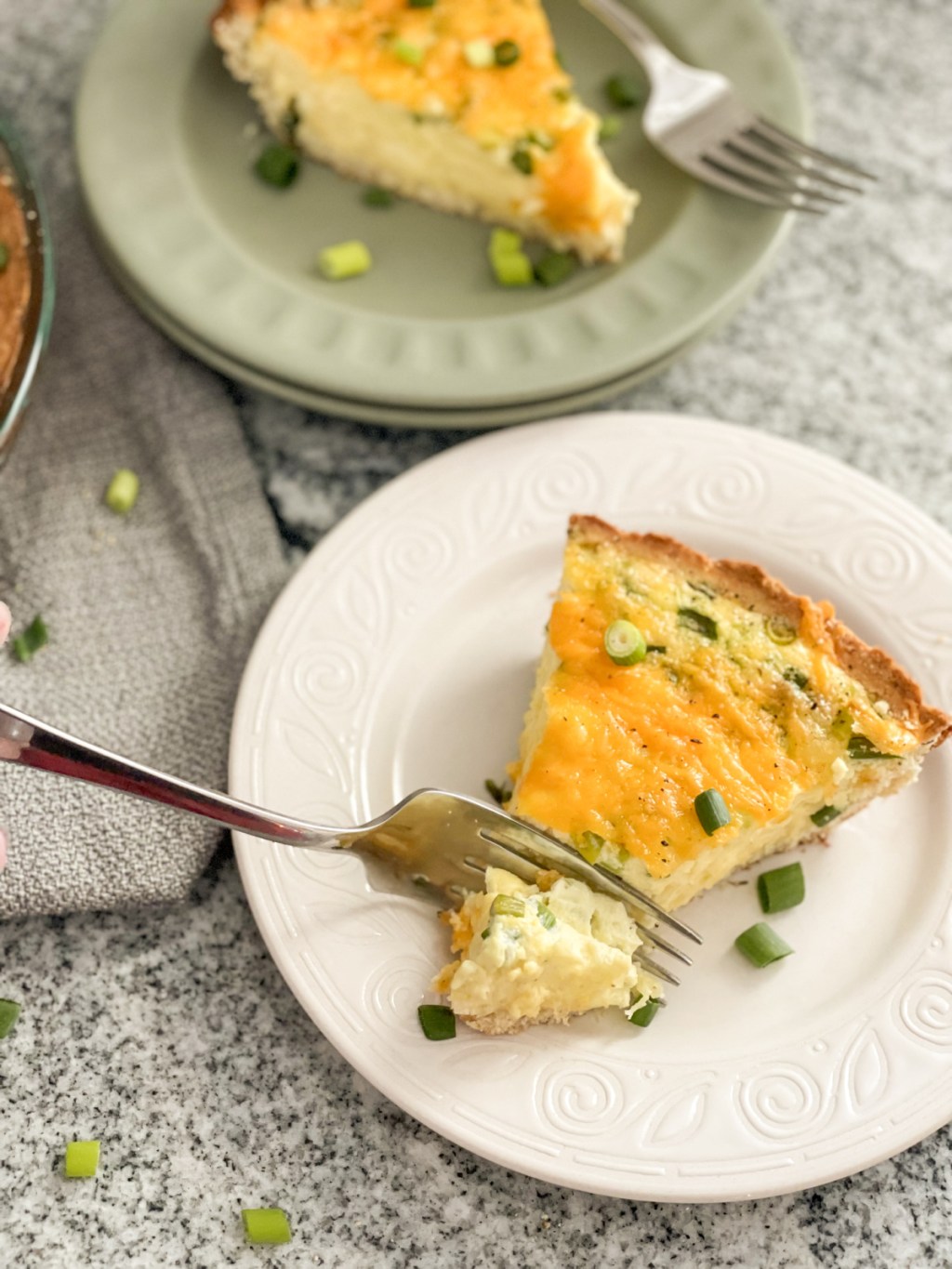 Tips for making the best keto quiche recipe:
There are endless quiche possibilities! You can try adding bacon, spinach, mushrooms, or even broccoli to create a broccoli and cheese quiche. You really have the freedom in a quiche to make it into anything you desire. Use this recipe as a platform and build from it.
Poke holes in the crust before baking to prevent any air pockets your egg mixture could get into.
Bake on the center rack of the oven to ensure every inch gets cooked slowly and the crust doesn't get burned.
You will want the center of your quiche to be a little "jiggly" when removing it from the oven. Don't worry, let it sit on the stove, it will continue to cook the center. You want the center to be fluffy and not an overcooked scrambled egg.
If the crust starts to get too brown around the edges, cover the edges with aluminum foil or a pie crust shield.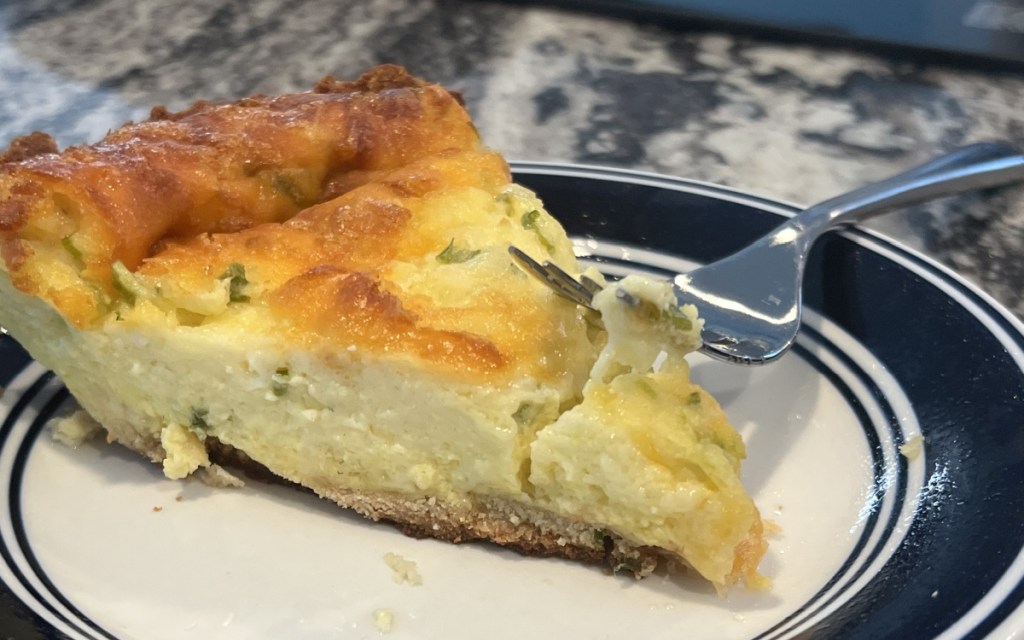 Here's what Collin thought of this keto quiche recipe:
"This was SOOOOO yummy – such great comfort food! I truly loved it and it's a great meal if you're vegetarian or just trying to have options for less expensive keto meatless meals on occasion."
---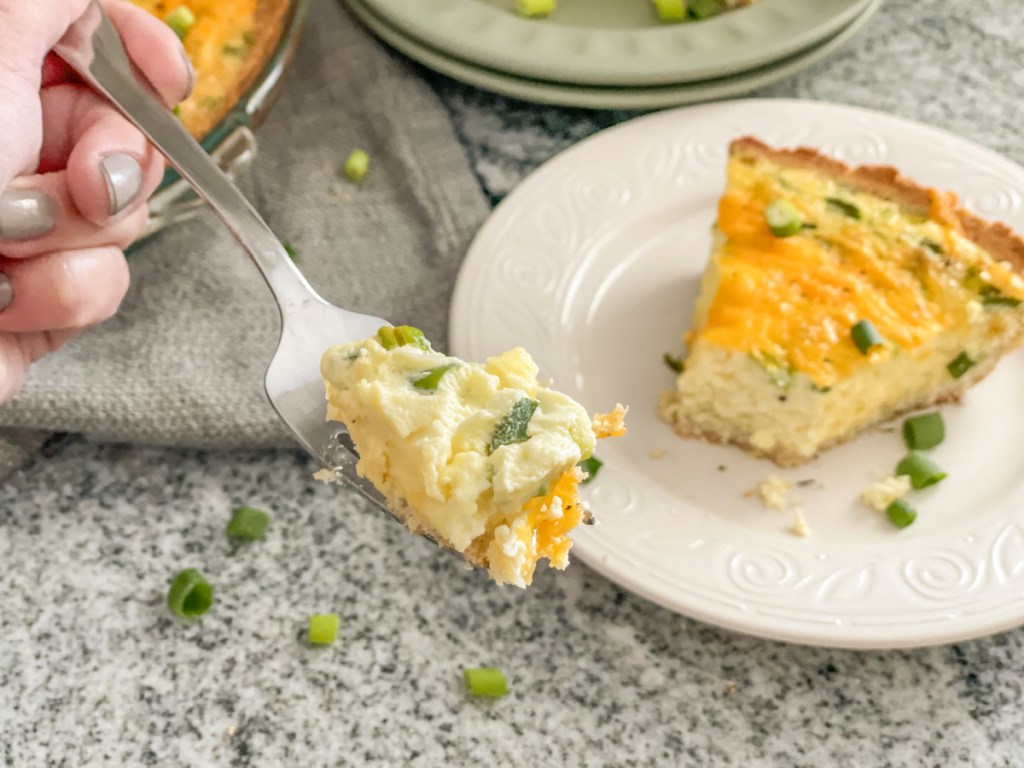 Here's what my Hip sidekick Emily thought of this keto quiche recipe:
"This is the perfect base quiche recipe. I love the three kinds of cheese, so tasty! The green onions also add just the right amount of texture and mild onion flavor! It also reheats beautifully. I've been eating it for breakfast and lunch all week!"
---
These keto breakfast sausage muffins use fathead dough and are so yum!