Whip Up This Easy Keto Pumpkin Mousse
This creamy keto pumpkin mousse takes just a few minutes to make!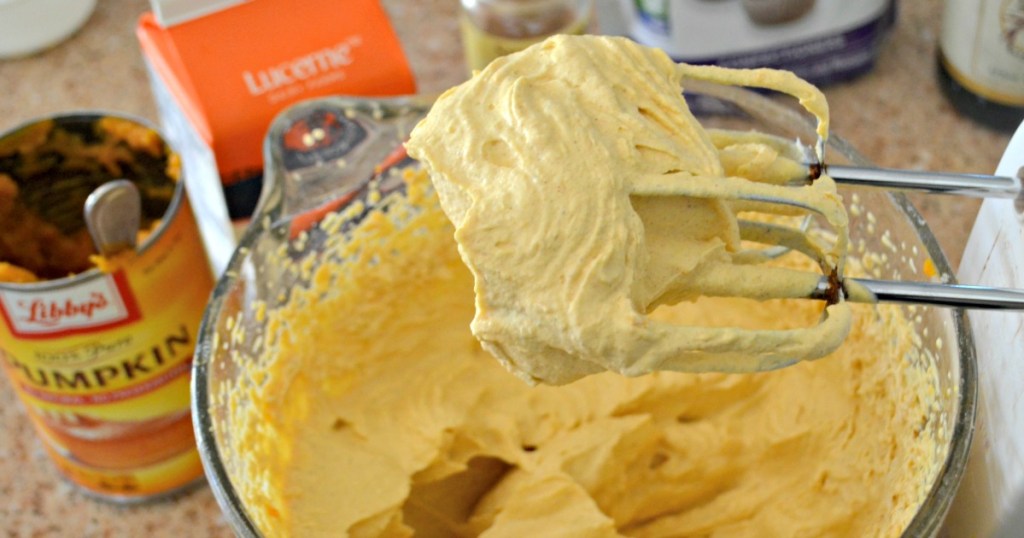 Think you have to skip pumpkin desserts to stay keto? Nope!
If you're looking for a delicious, low-carb dessert option this fall, check out this creamy no-sugar-added keto pumpkin mousse! It's a rich and luscious dessert that only tastes naughty.
The process could not be easier!
I love that there's no cooking involved, and all you do is whip up all ingredients with a hand mixer. It takes just a few minutes to make, and your effortless keto dessert will be ready to enjoy!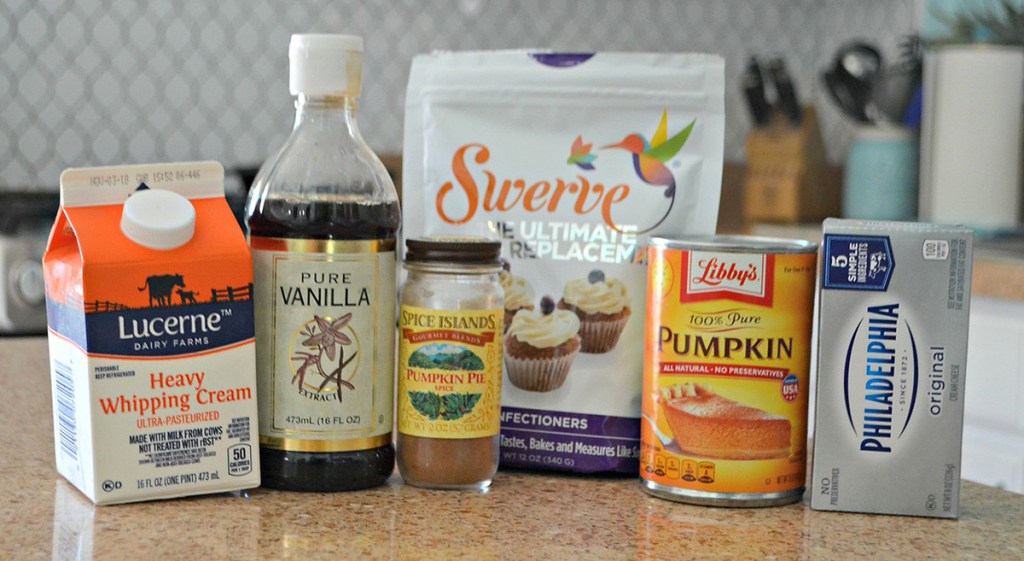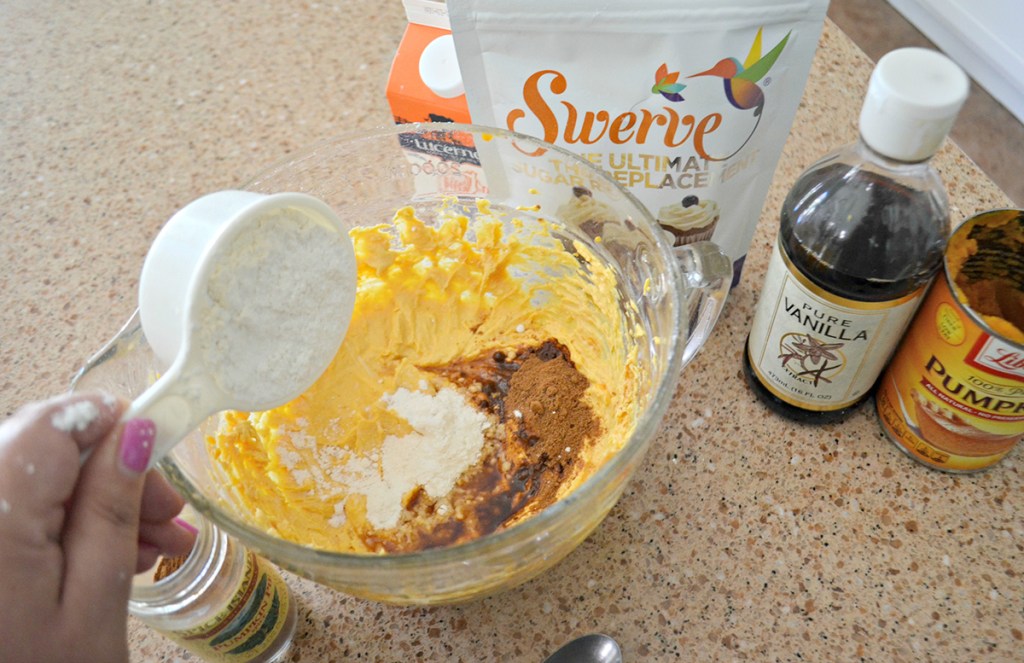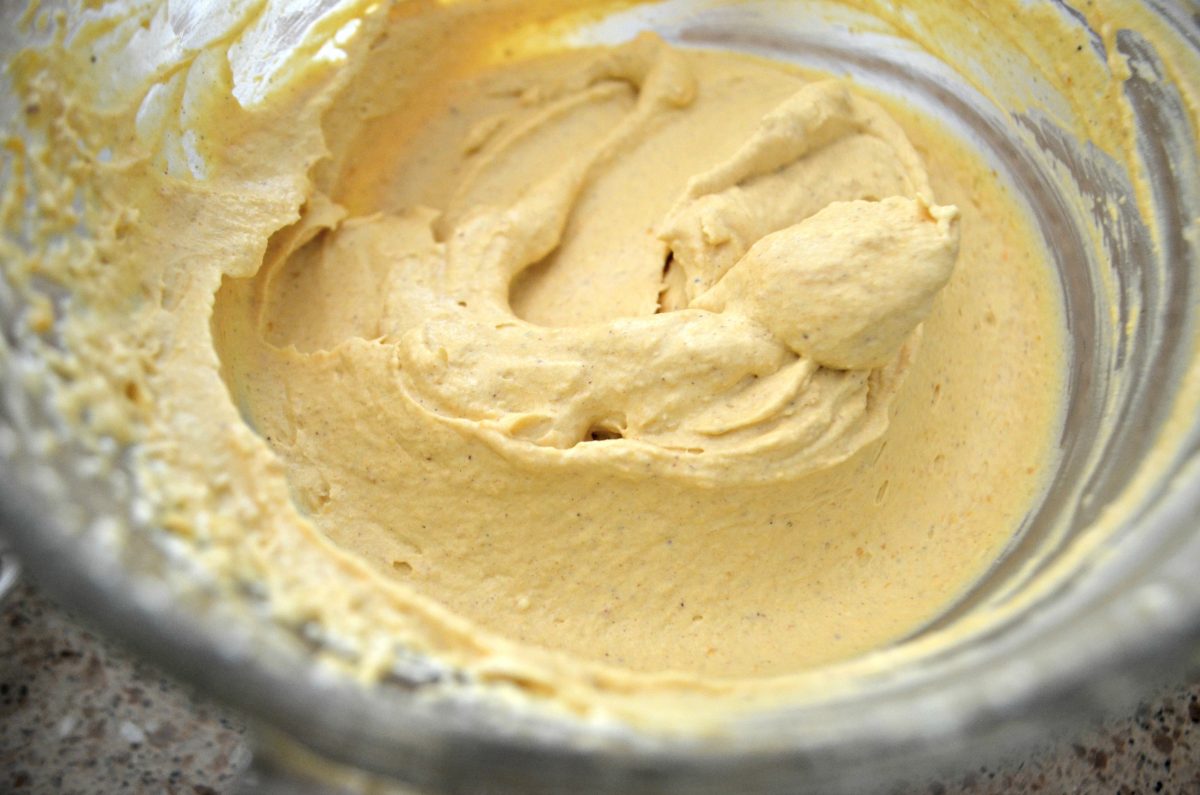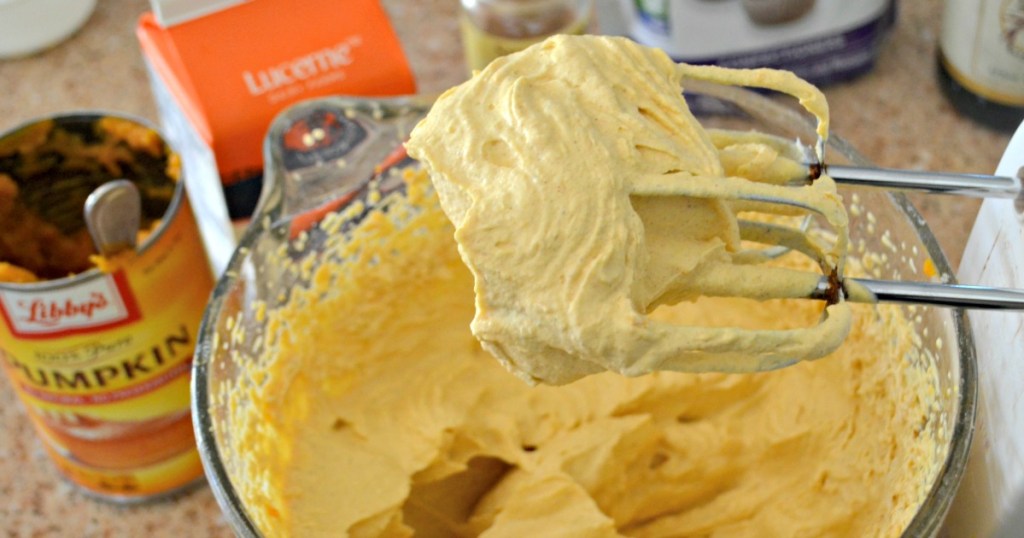 ---
Print
Keto Pumpkin Mousse
yield: 6 SERVINGS
prep time: 10 MINUTES
total time: 10 MINUTES
This luscious and creamy keto pumpkin dessert looks elegant, but takes just a few minutes to make.
Ingredients
8 oz cream cheese, softened
3/4 cup heavy whipping cream
Directions
1
In a mixing bowl, use a hand mixer to beat together cream cheese and pumpkin puree until smooth.
2
Add remaining ingredients and whip up until smooth, fluffy, and somewhat stiff for several minutes. Do not over beat.
Nutrition Information
Yield: 6 servings, Serving Size: 1/2 cup
Amount Per Serving: 253 Calories | 23.5g Fat | 29g Total Carbs | 1g Fiber | 3.1g Sugar | 24g Sugar Alcohol | 3g Protein | 3.9g Net Carbs
---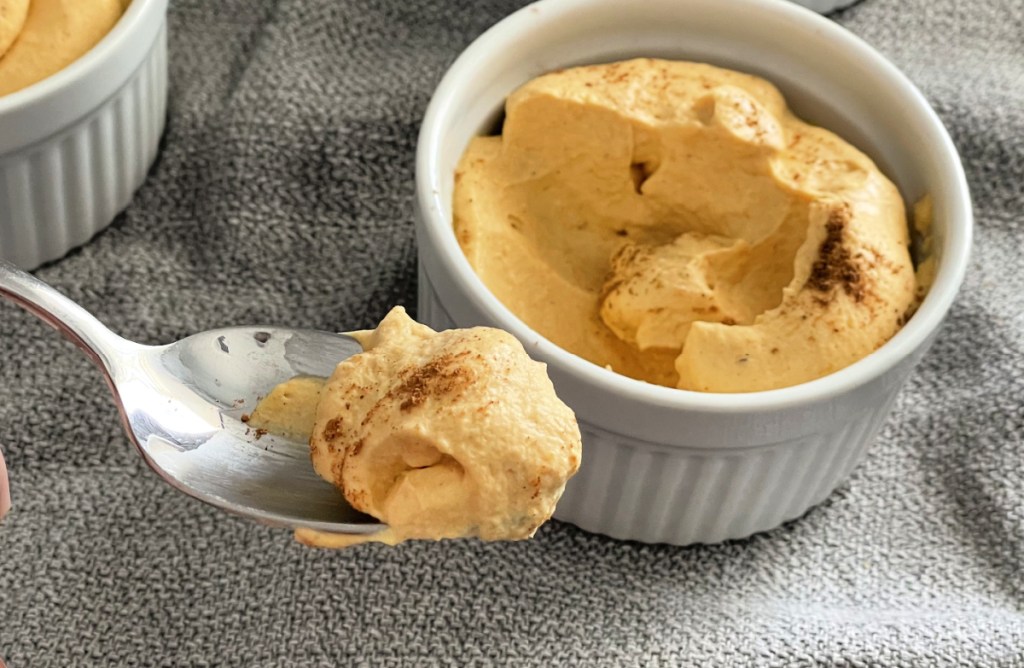 Tips for making this delicious keto pumpkin mousse: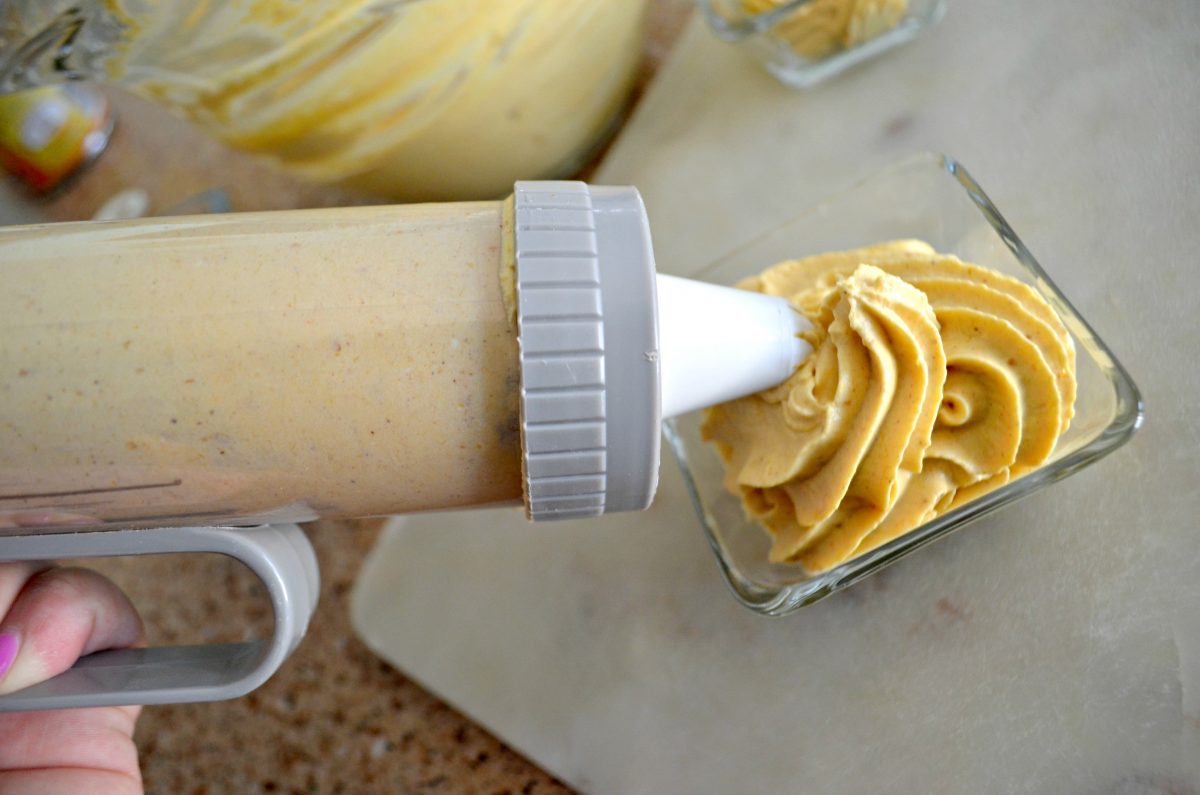 This keto pumpkin mousse looks elegant but it's super EASY to whip up!
Now, you definitely don't have to do this, but I took it a step further and piped the pumpkin mouse into little bowls using my Wilton decorator. You can also place all the mousse in a large freezer bag and cut the tip to pipe it as well.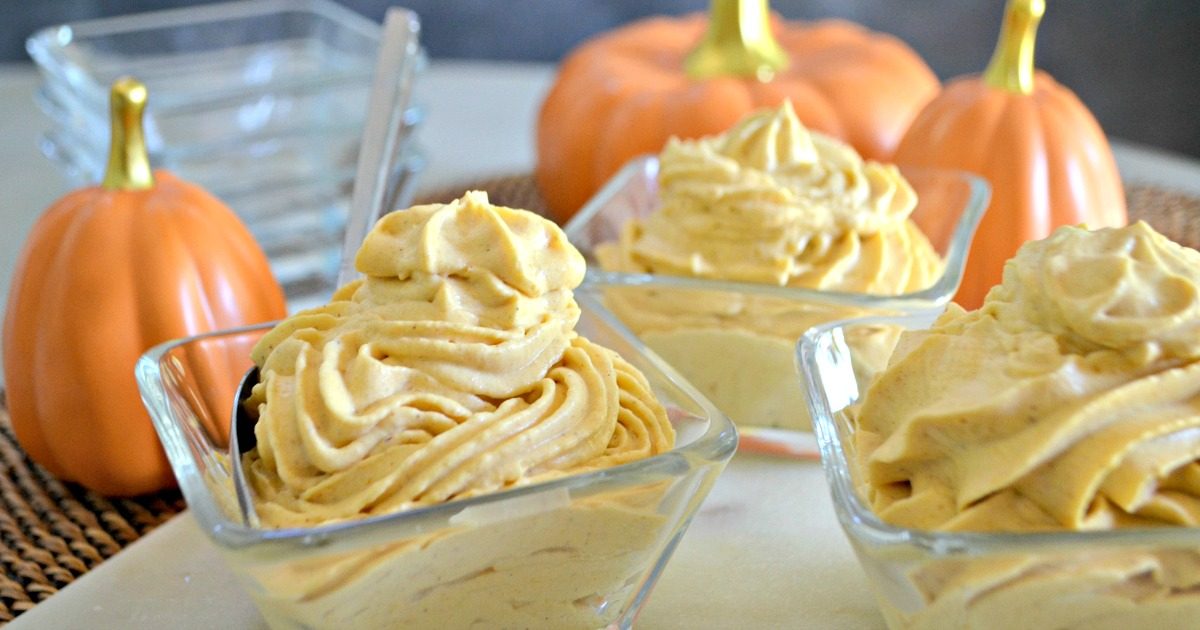 I'm making these for Thanksgiving this year!
I cannot wait to make this fluffy keto pumpkin mousse again, and am actually considering this as an easy homemade Turkey Day dessert idea to share with my extended family! It would be an easy recipe to double for larger groups.
You can also make this the day before and store it in the fridge, and if it starts to separate a little, just whip it up a bit more before serving.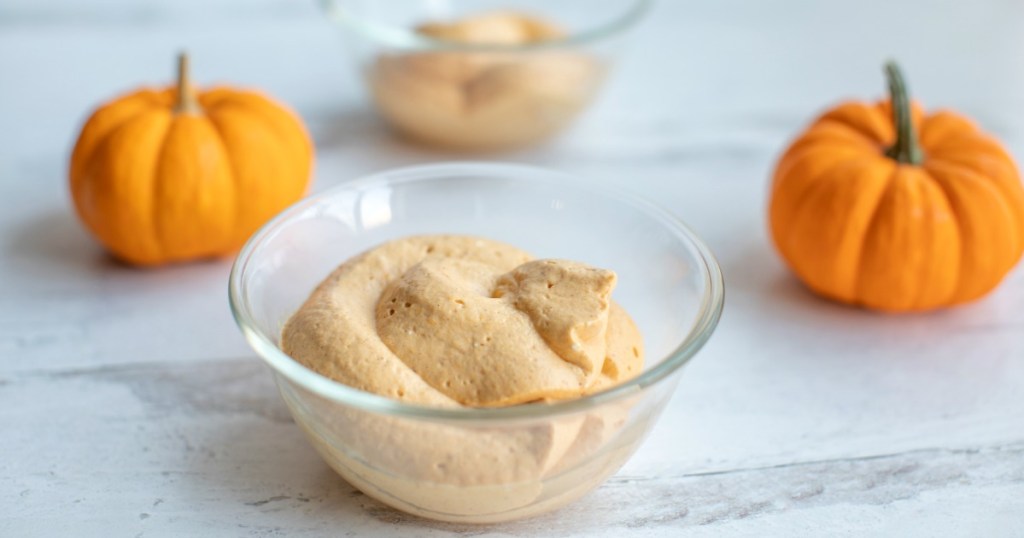 Check out what my teammate, Jenna, had to say after making this keto pumpkin mousse:
"This recipe turned out great! The flavor and consistency are awesome, and it really tastes like pumpkin pie filling. I ate way too much in one sitting – it's that good! I love that it's super simple to make and the directions are easy to follow."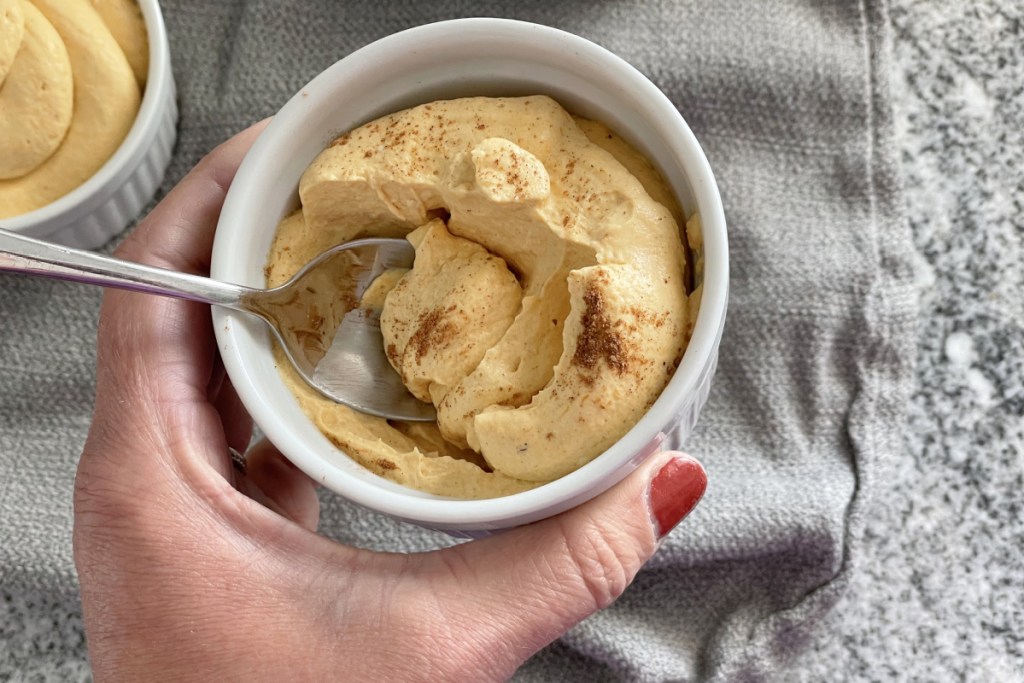 Here's what my Hip sidekick Emily had to say about this keto pumpkin mousse:
"I love pumpkin anything and everything and this dessert is by far the easiest pumpkin dessert I've ever made. The flavor is absolute perfection. I think I'd take this over pumpkin pie any day. It's so rich, too! I had to force myself to stop eating it."
---
Love pumpkin? Try this keto pumpkin pie next!