Add This Keto Pumpkin Chaffle to Your Breakfast Lineup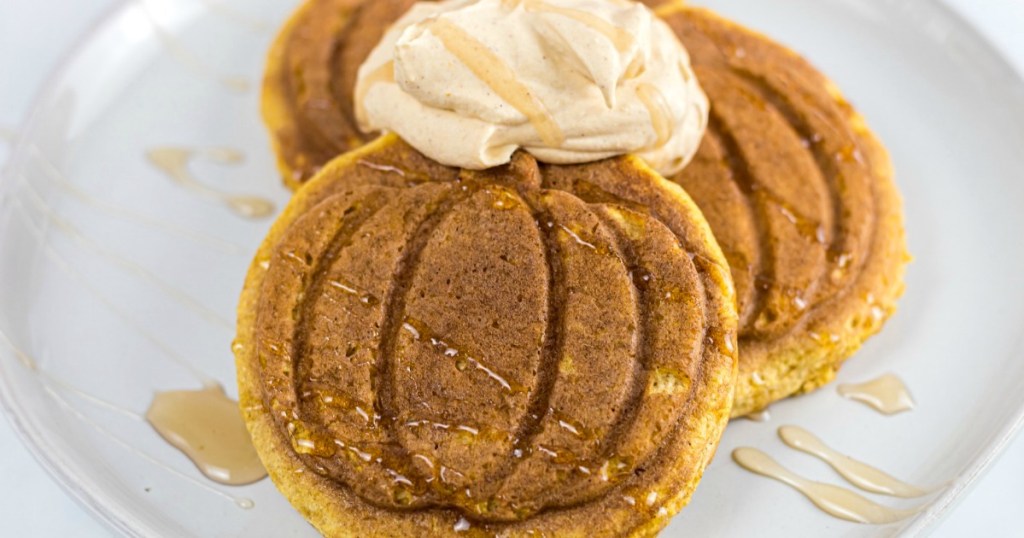 Full of fall flavor!
Fall is almost here, and at Hip2Keto, we love all things pumpkin! I've been dying to use my super cute Dash Pumpkin Mini Waffle Maker so I came up with the perfect keto recipe with a fun fall flavor!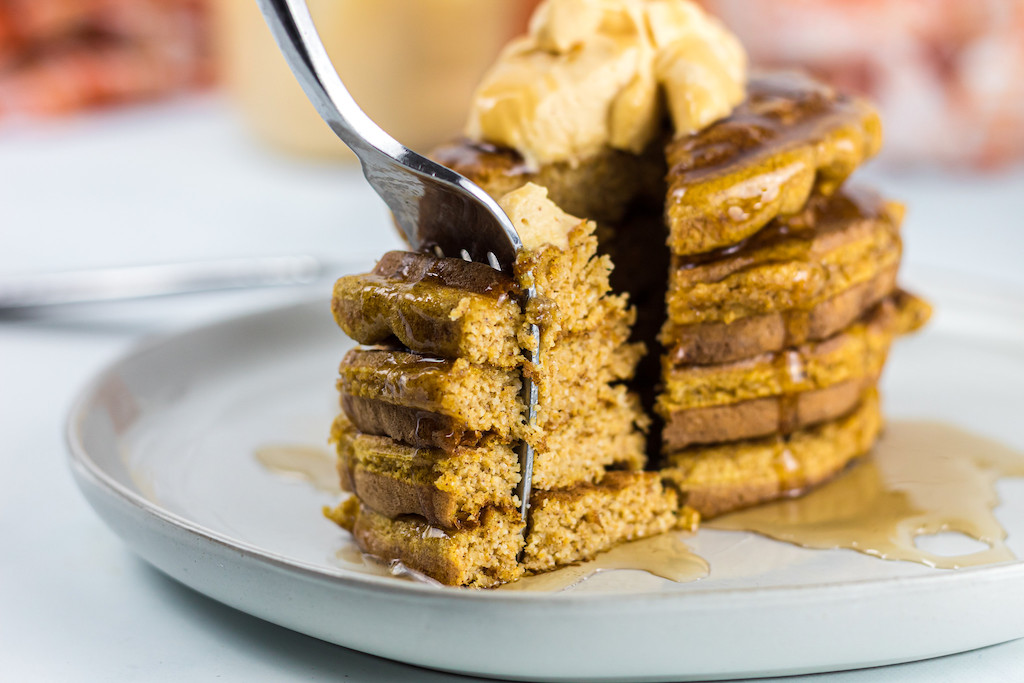 Introducing the Keto Pumpkin Chaffle!
Nothing says fall quite like pumpkin-flavored foods and this keto pumpkin chaffle recipe delivers those comforting flavors that we're all craving this time of year.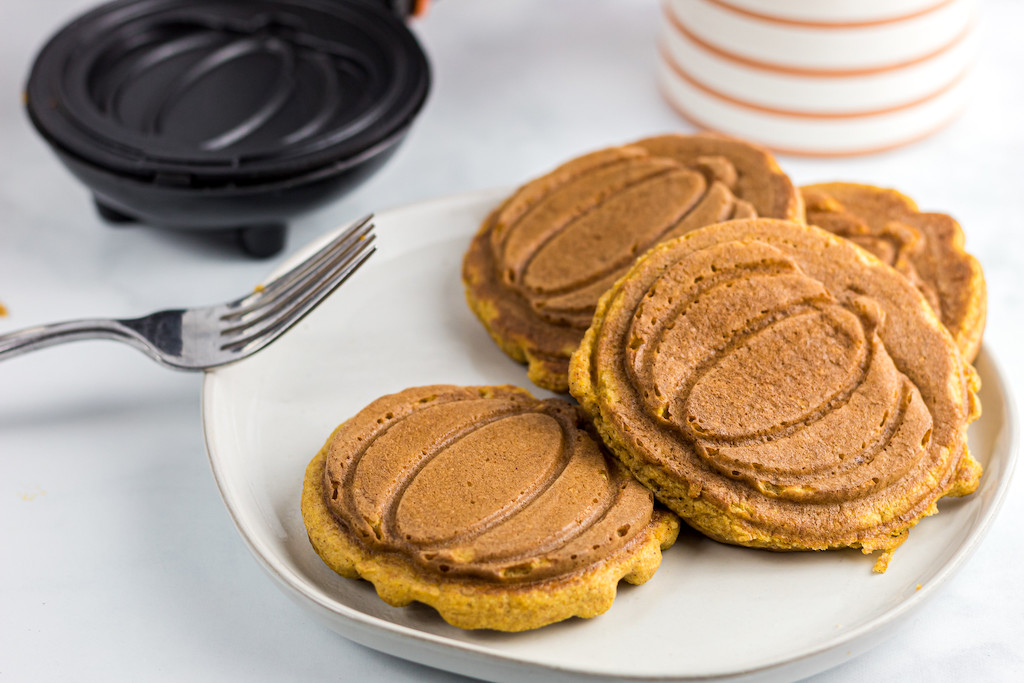 Plus, how cute are they when you use this mini pumpkin waffle maker? If you don't have the pumpkin-shaped one, you can always use your regular mini waffle maker, but this is just so fun I couldn't resist.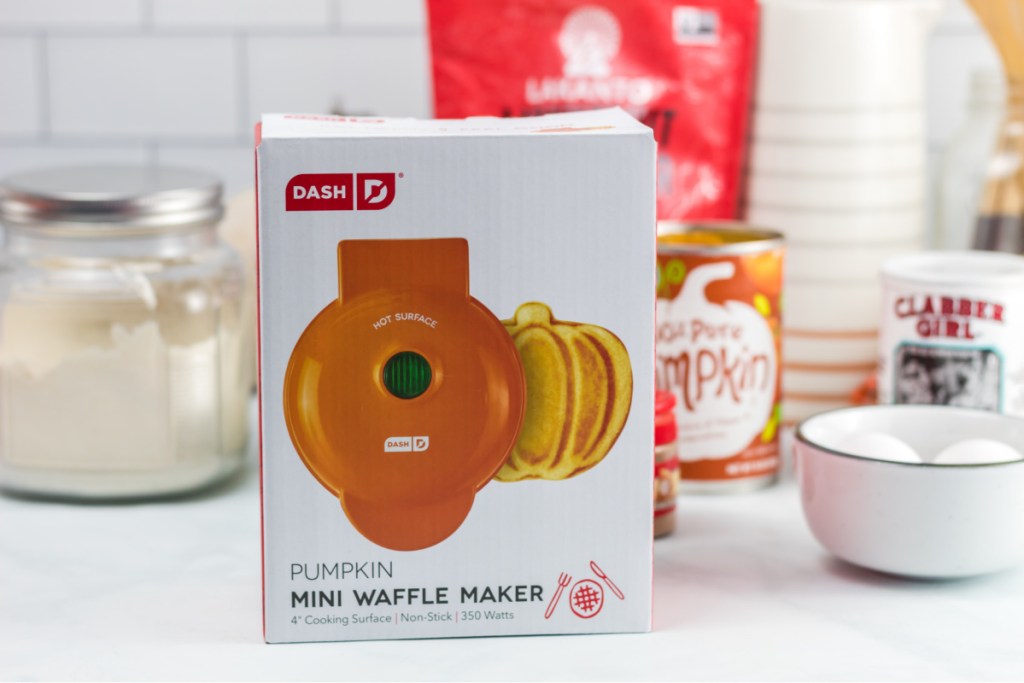 Tips for making the BEST keto pumpkin chaffles:
This recipe makes two chaffles, so I would double or triple if you are serving your family.
Save yourself time searching the stores for the most popular small kitchen appliance on the market right now, and buy this Dash mini pumpkin waffle maker from Amazon. This popular small appliance is literally selling out everywhere. It seems like there is a design for every season, and I want them all! Here's another mini waffle maker option, too.
No need to spray your waffle maker with oil as the waffle maker has a nonstick coating.
Need a recommendation for syrup? I love using ChocZero syrups as a yummy chaffle topping in addition to the homemade pumpkin whipped cream. 😋 We also have a keto maple syrup recipe that's definitely worth trying, too!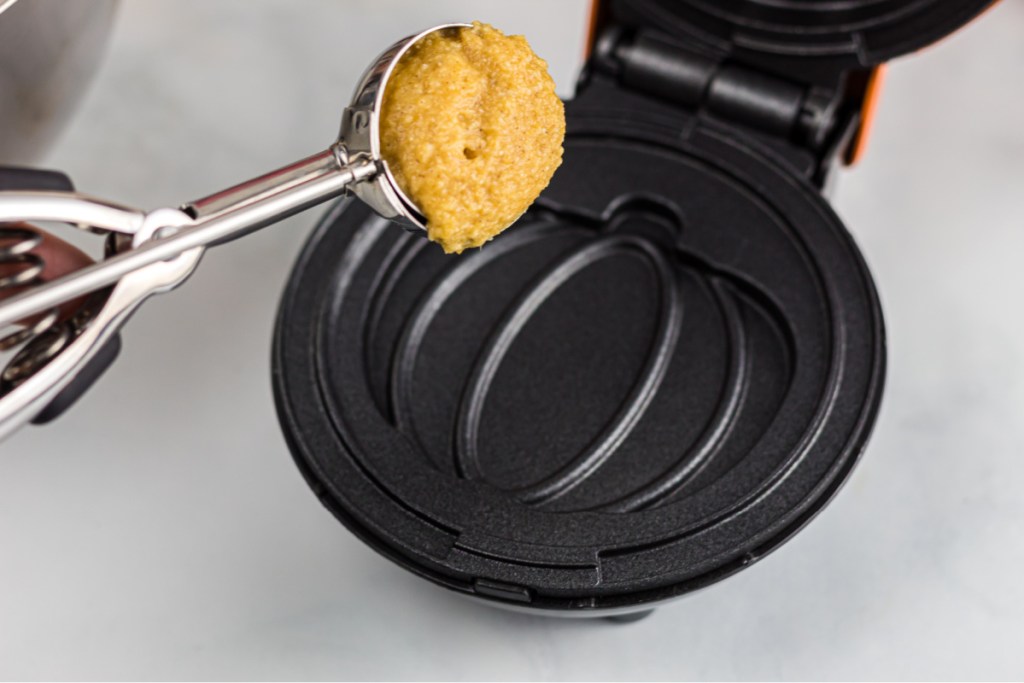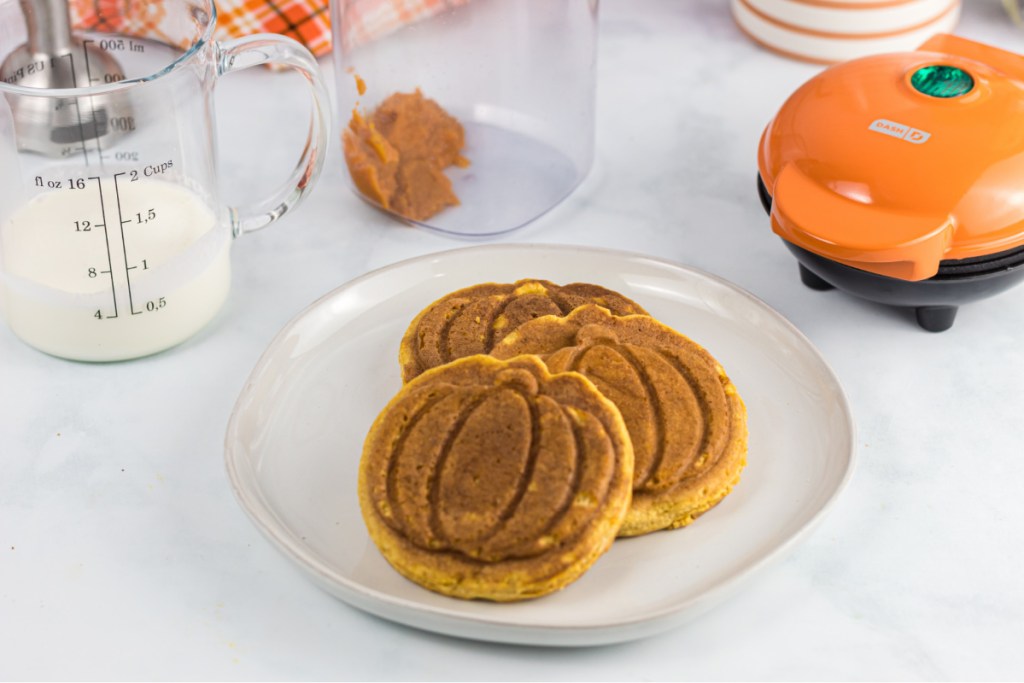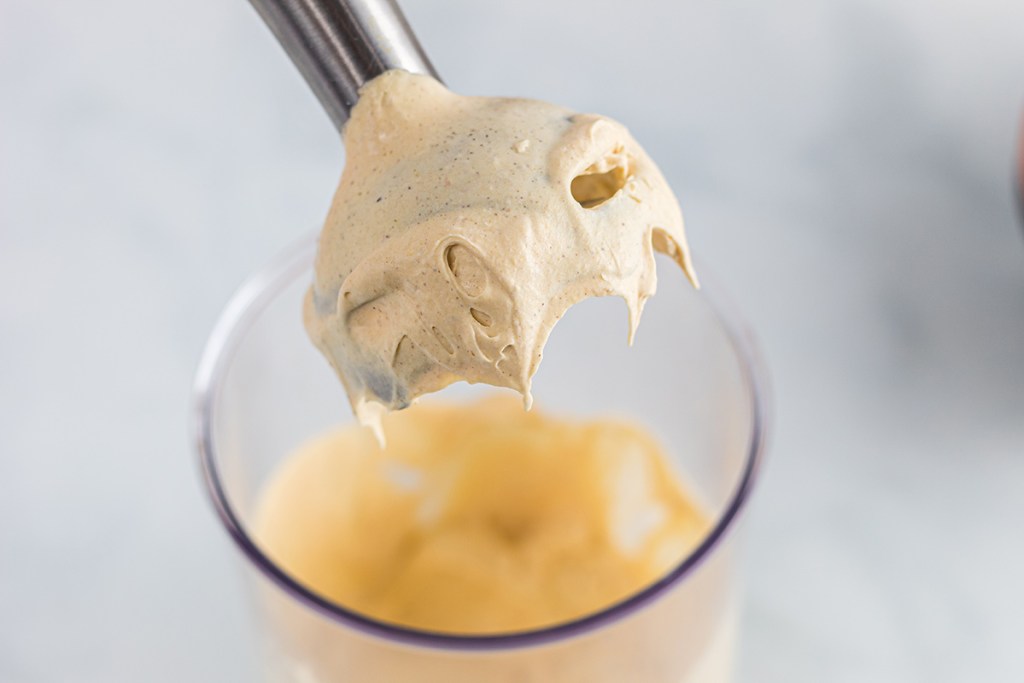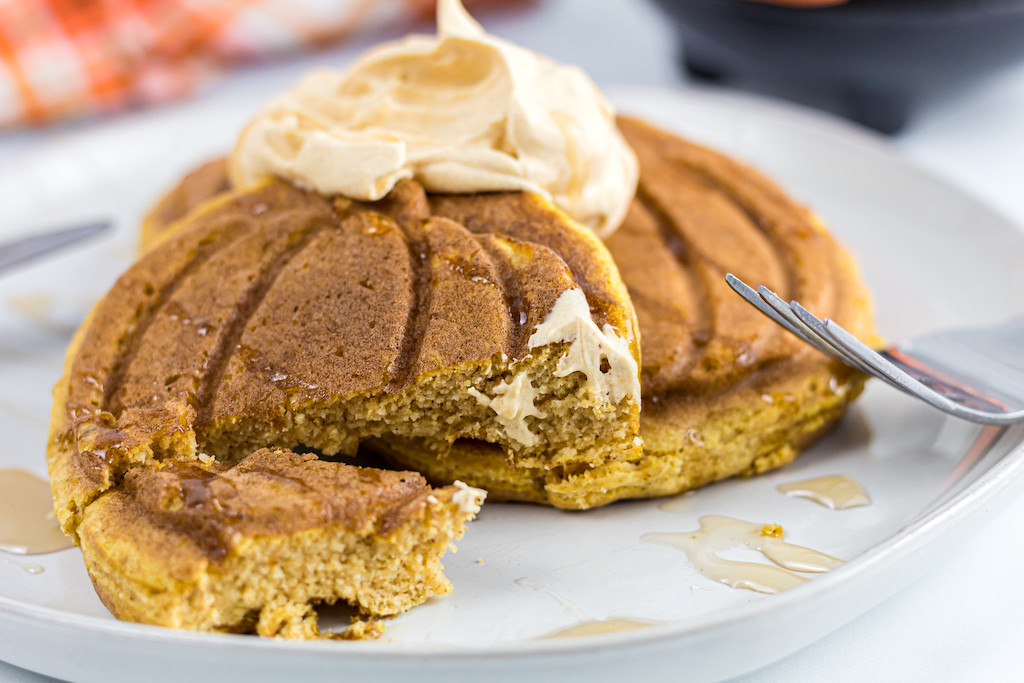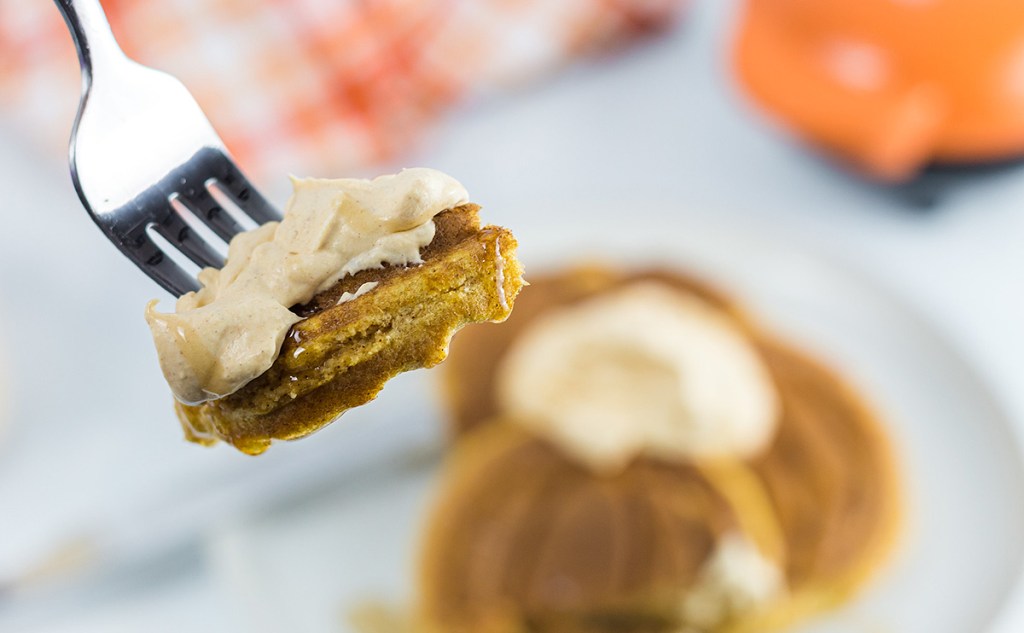 ---
Print
Keto Pumpkin Chaffle
yield: 2 SERVINGS
prep time: 5 MINUTES
cook time: 3 MINUTES
total time: 8 MINUTES
This delicious pumpkin-flavored low carb chaffle will be your new favorite fall morning recipe.
Ingredients
Pumpkin Chaffle:
1 egg
2 teaspoons pumpkin puree
1/2 teaspoon vanilla extract
1/2 teaspoon baking powder
1/2 teaspoon pumpkin spice
1/2 teaspoon cinnamon
Pumpkin Whipped Cream (optional... but delicious!):
1 tablespoon pumpkin puree
1/4 cup heavy cream
Directions
2
In a separate bowl whisk together almond flour, baking powder, pumpkin spice, and cinnamon.
3
Combine dry and wet ingredients together and whisk.
4
Spoon half of batter into Dash Mini Waffle Maker and cook for 2-3 minutes, then repeat with the rest of the batter.
5
If desired, make pumpkin whipped cream by using an electric beater to whip together heavy cream, pumpkin puree, and sweetener until soft peaks form.
6
Serve your chaffles with 1-2 tablespoons of pumpkin whipped cream and/or sugar-free syrup. Enjoy!
Nutrition Information
Yield: 2 chaffle, Serving Size: 2 chaffle
Amount Per Serving: 100.4 Calories | 7.1g Fat | 10.6g Total Carbs | 2.1g Fiber | 6.0g Sugar Alcohol | 4.8g Protein | 2.5g Net Carbs
---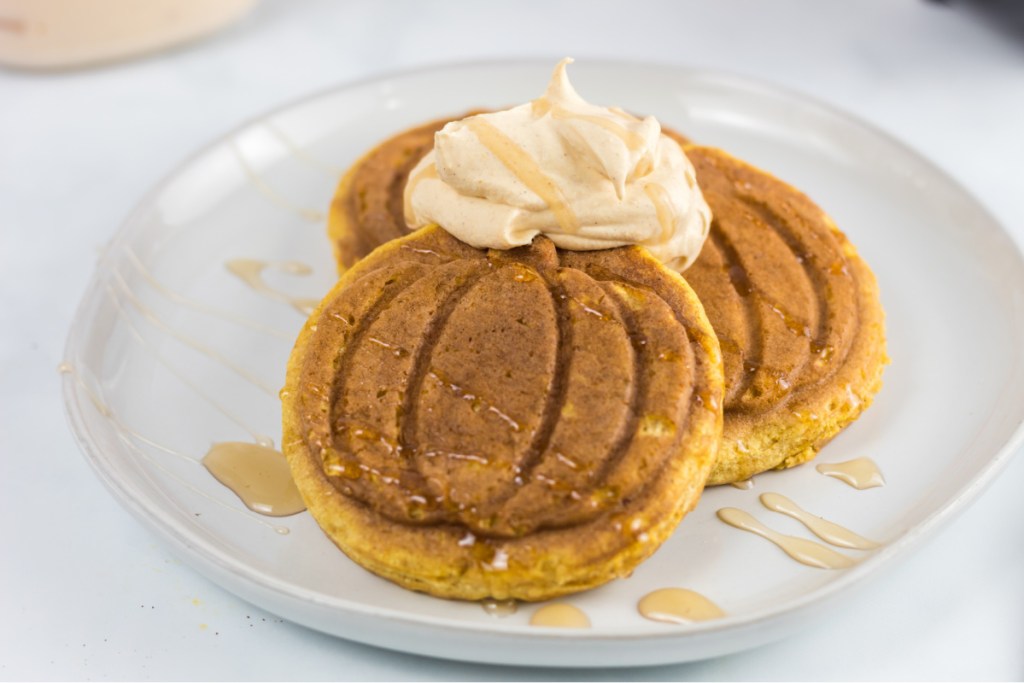 These are the cutest keto pumpkin chaffles you'll ever eat!
This simple recipe is ready in just minutes and will be a hit with your family! I love how easy chaffles are to make and the fact that they are oh so keto makes them even better. I feel like I'm cheating on keto!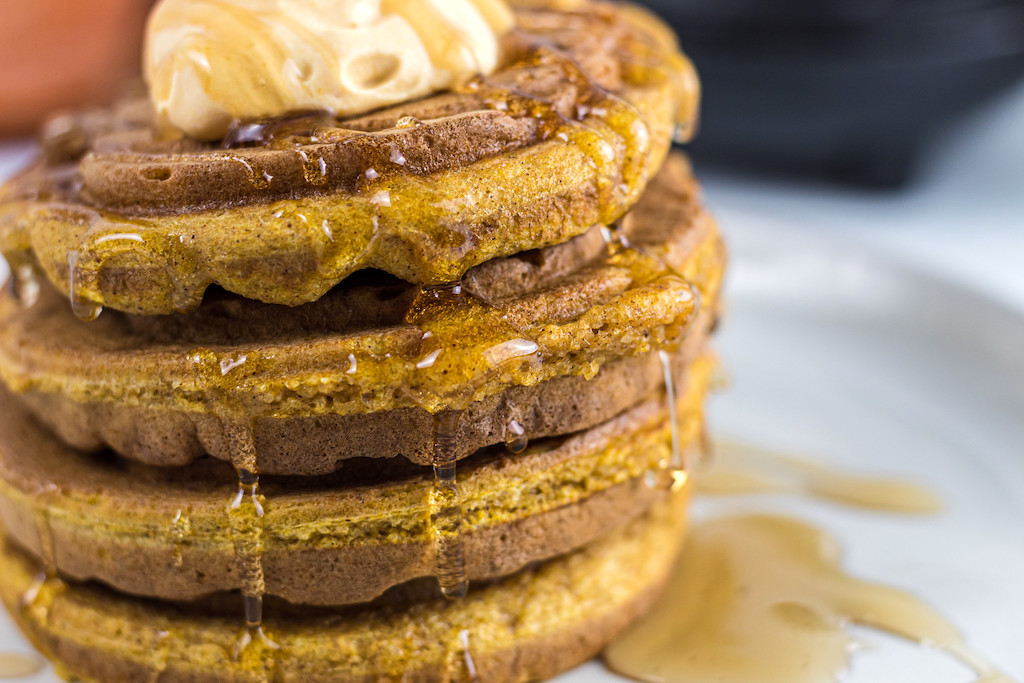 Here's what my teammate Jenna had to say after making these keto pumpkin chaffles:
"This gave me an excuse to use my super cute Dash Pumpkin Mini Waffle Maker. These chaffles have such a tasty pumpkin spice flavor to them, and are so easy to make. I've had a lot of chaffles over the last few months and these may be the best yet, it's like fall on a plate!"
---
Love pumpkin? Try our sugar-free pumpkin cheesecake mousse next!