Philly Cheesesteak, Meet Keto Ravioli
If you find yourself craving pasta and sandwiches, this mash-up of Philly cheesesteak and keto ravioli is a win-win!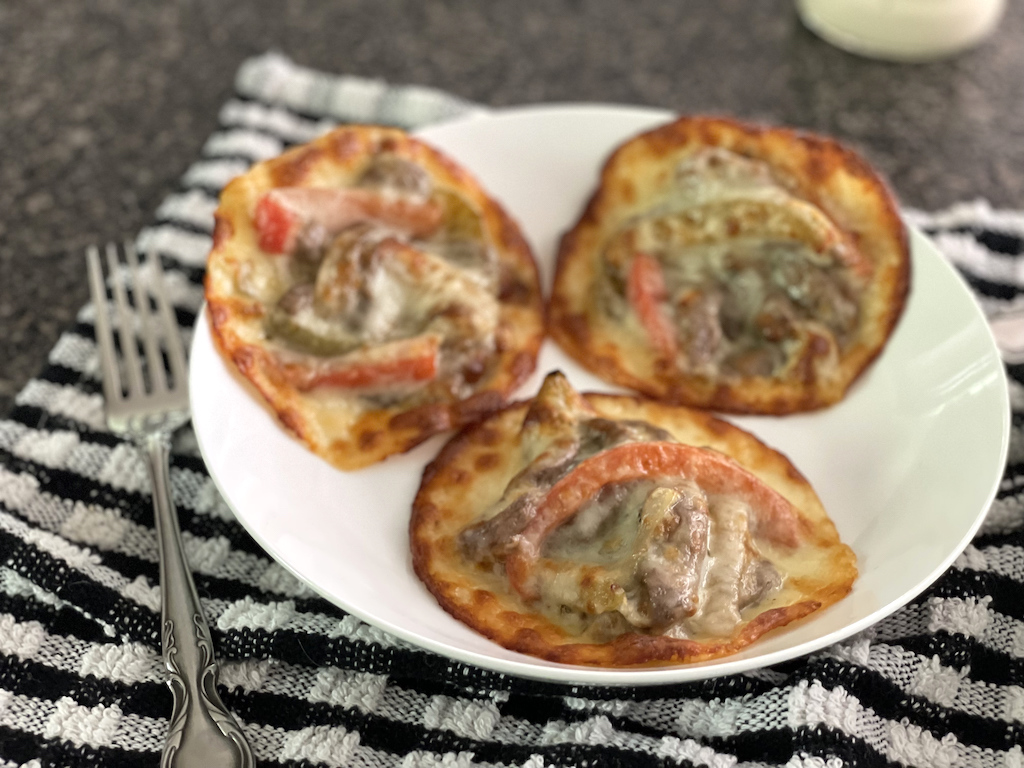 One of our most creative dishes!
For starters, let's talk about keto ravioli. All you do is melt provolone cheese, top it with your fave filling, cover with a second slice of provolone, and then back in the oven to melt the two slices of cheese together around your filling. Easy, peasy!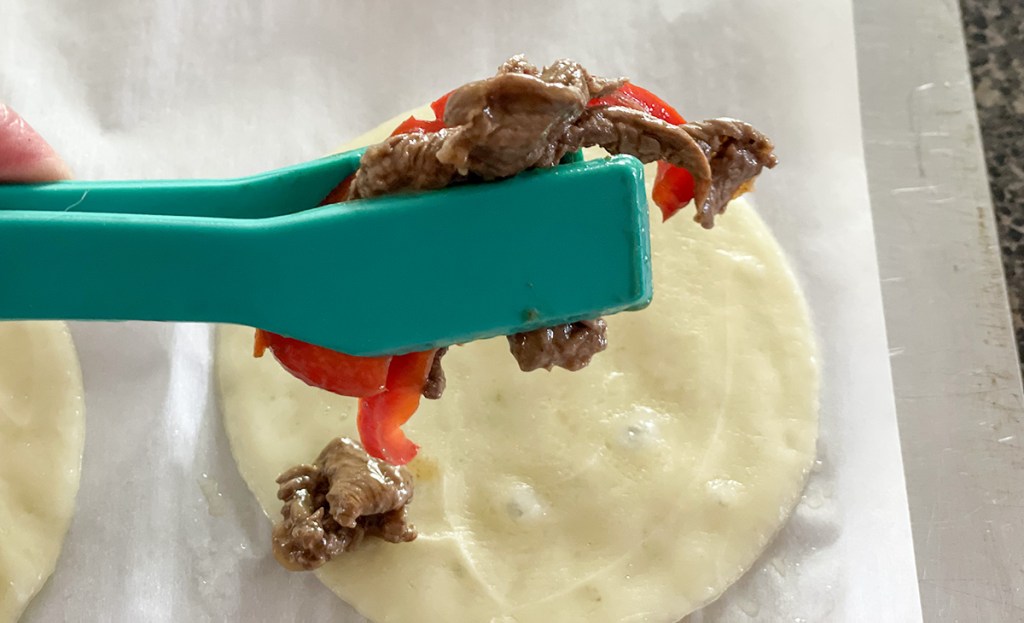 Check out our original keto ravioli recipe.
Now, add Philly cheesesteak ravioli to the mix and it's pure bliss. It's like Philly cheesesteak was made to be turned into keto ravioli. Did you know that provolone cheese is what you traditionally use on the sandwich? Absolute perfection!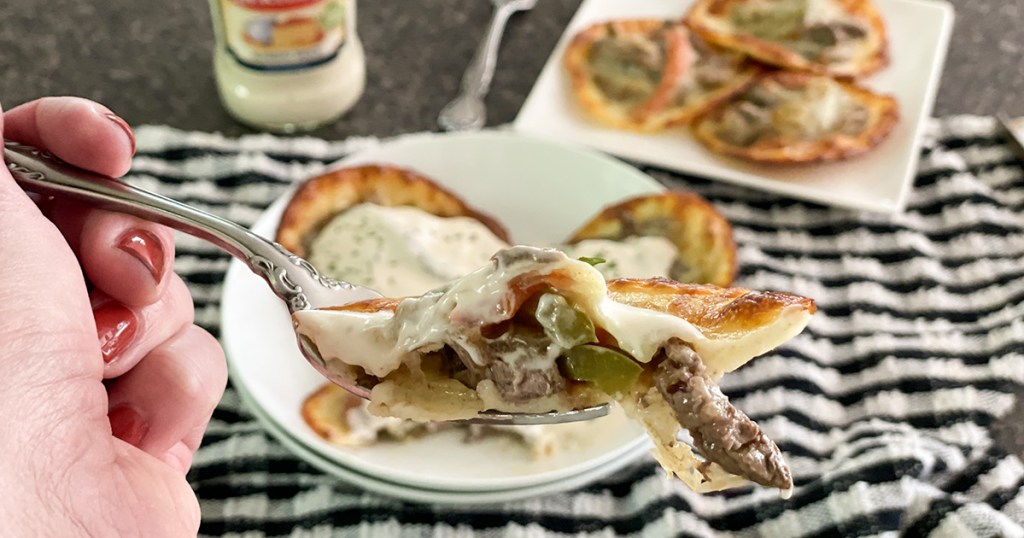 Is Philly cheesesteak keto?
The filling of Philly cheesesteak is definitely keto, but you have to ditch the bread. That said, you won't even miss it when you're eating thinly sliced ribeye with sautéed peppers and onions and melted provolone cheese. 🤤
I may be biased, but turning Philly cheesesteak into ravioli is a genius way to have all the same ingredients, just without the carby loaf of bread!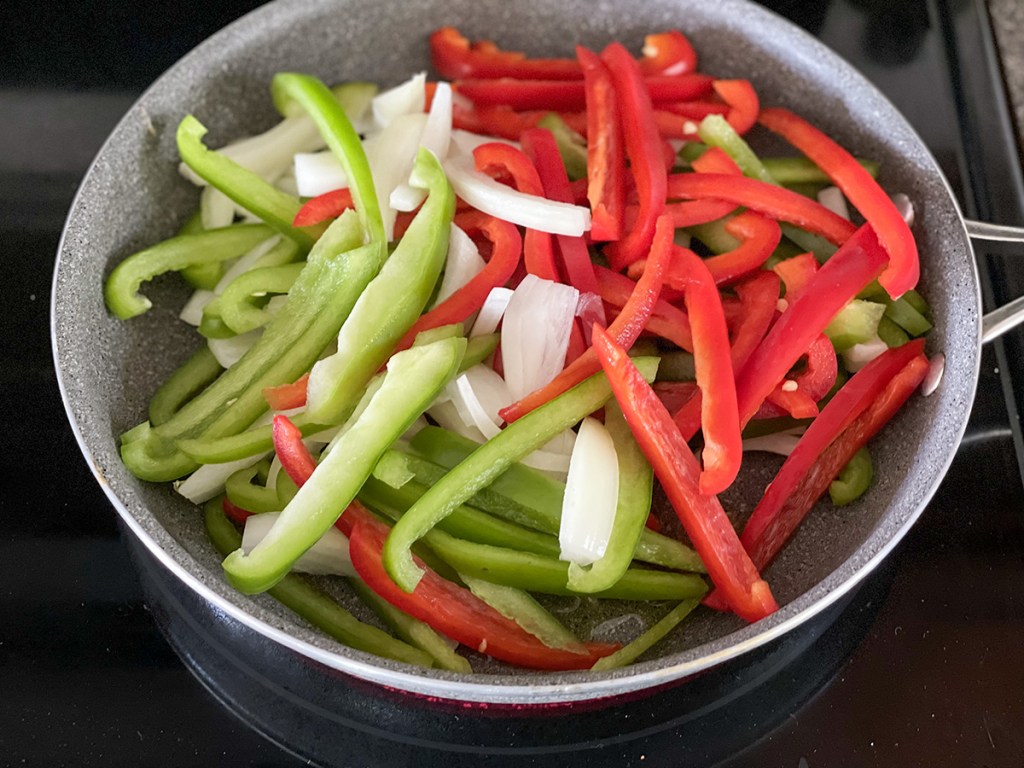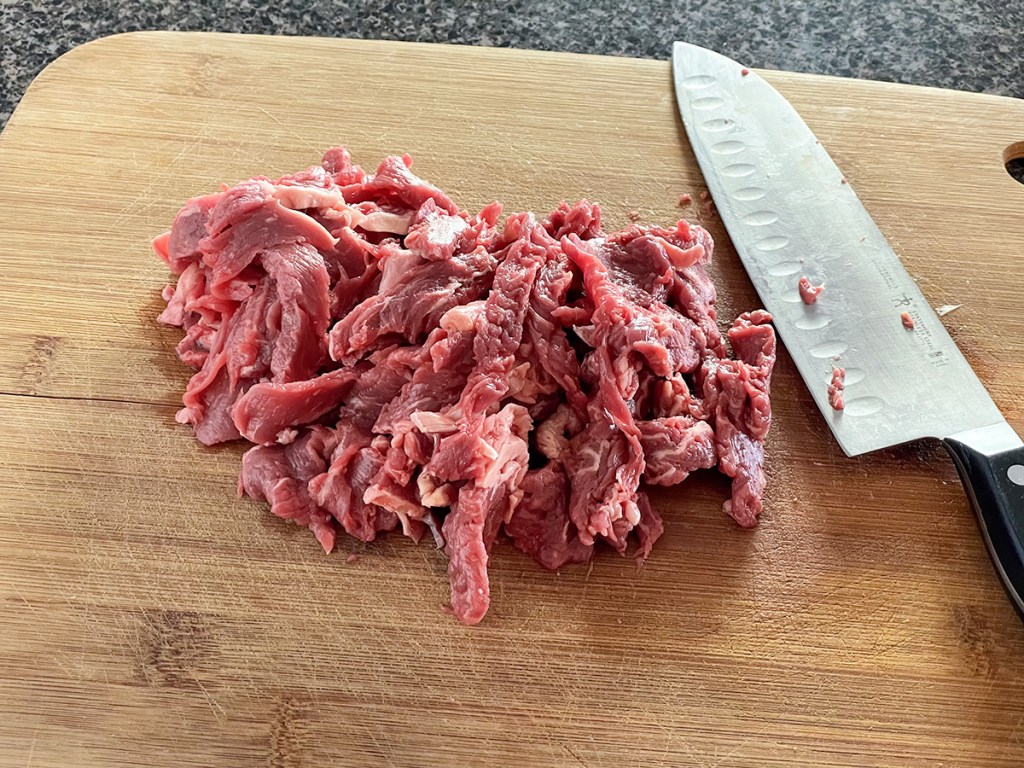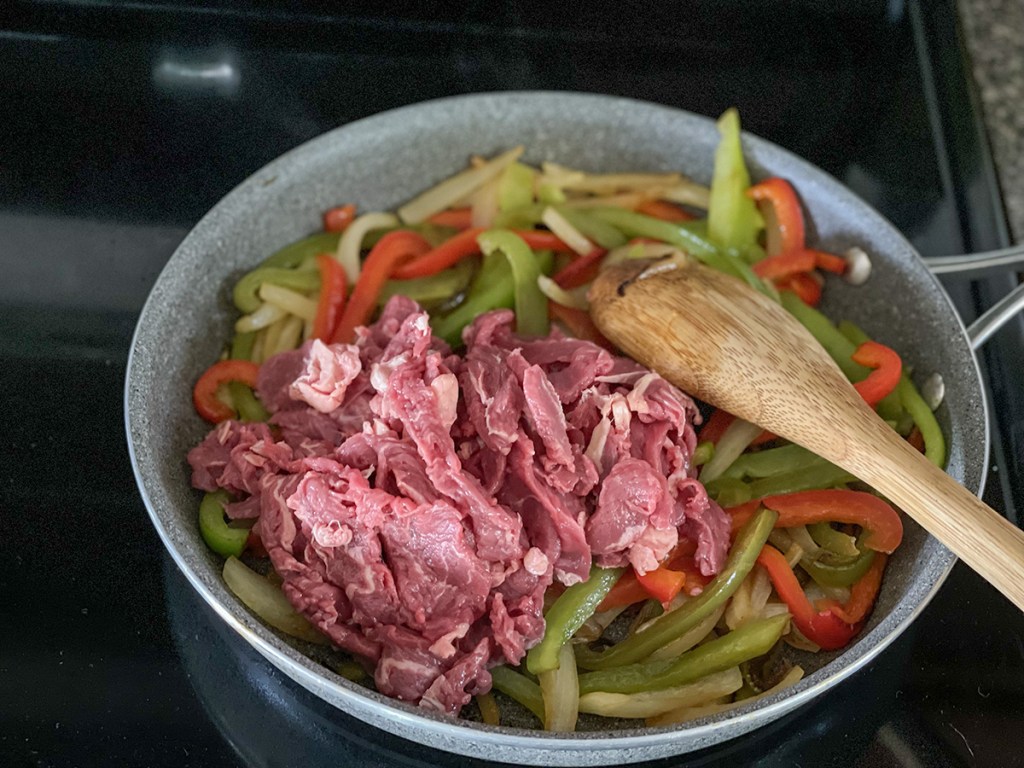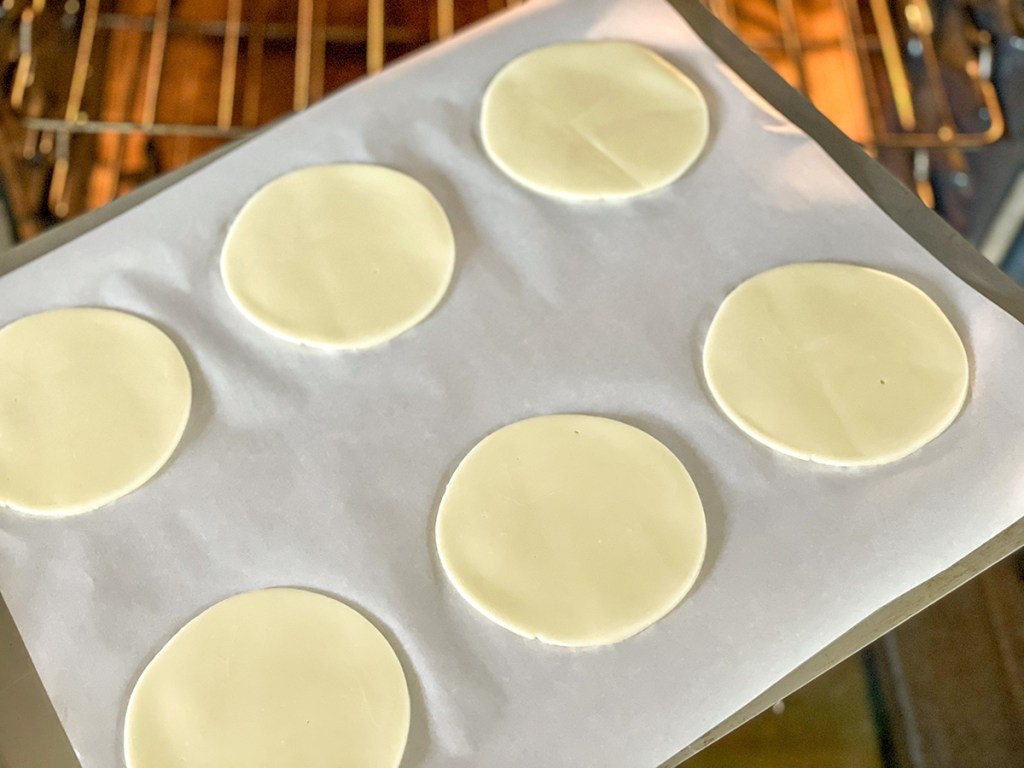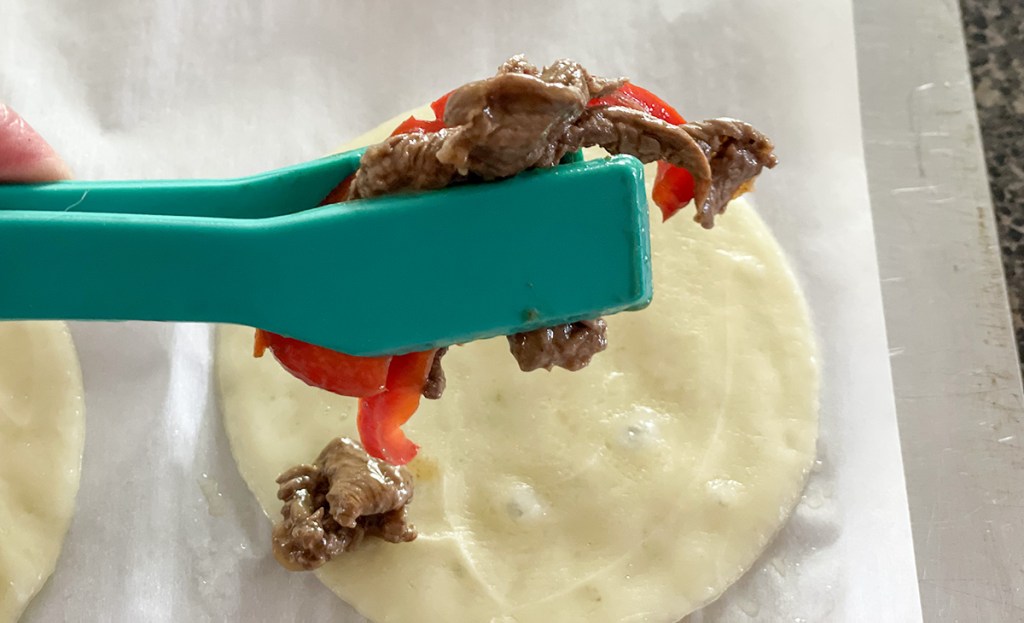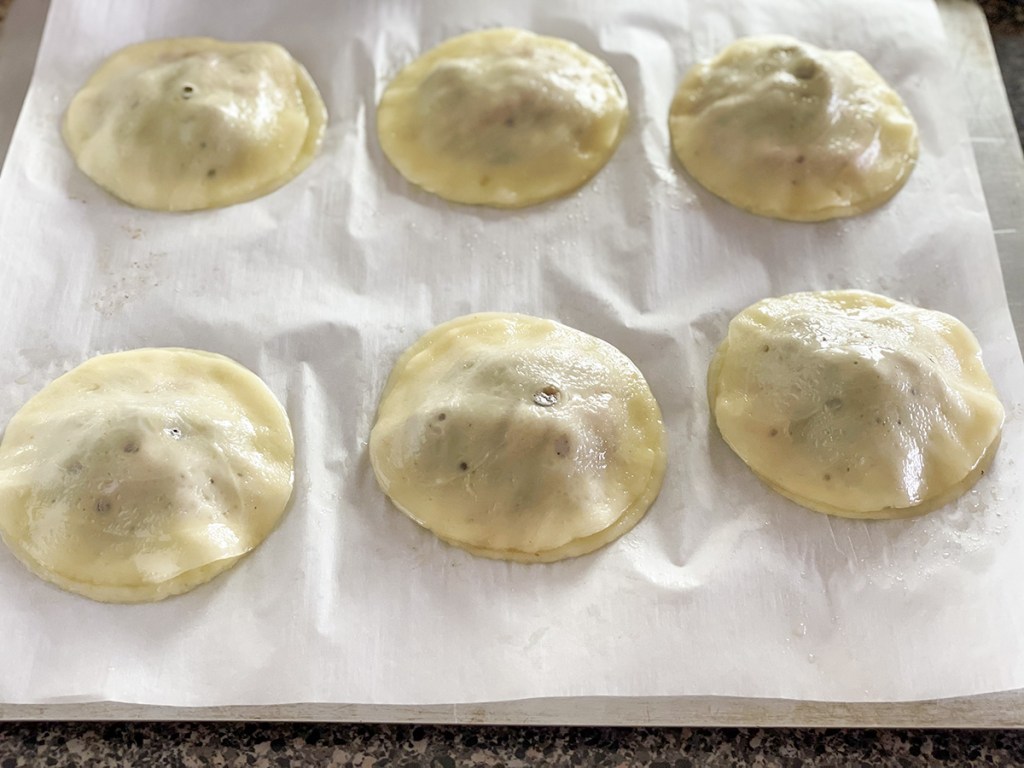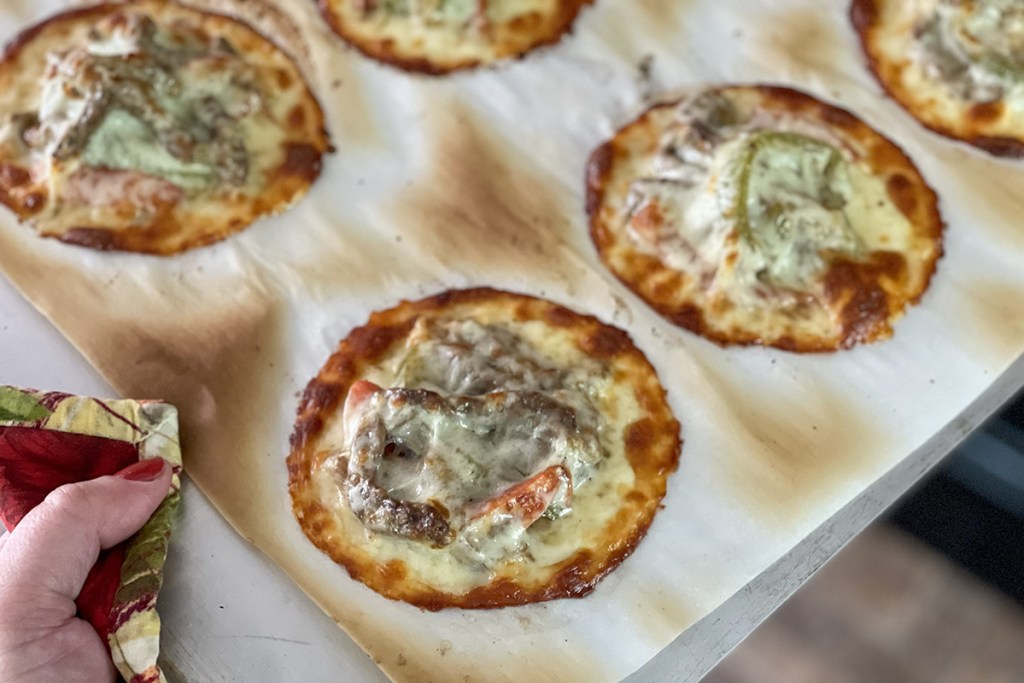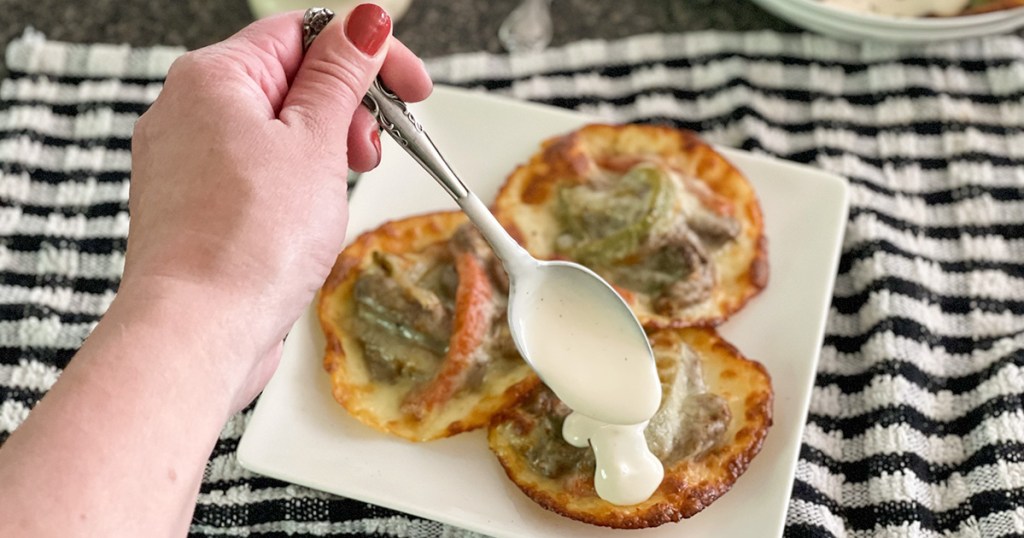 ---
Print
Keto Philly Cheesesteak Ravioli
yield: 4 SERVINGS
prep time: 20 MINUTES
cook time: 25 MINUTES
total time: 45 MINUTES
Philly cheesesteak filling nestled between two slices of melted provolone cheese.
Ingredients
Philly Cheesesteak Ravioli:
1 tablespoon olive oil
1 medium green bell pepper
1 medium red bell pepper
1 medium yellow onion
10 oz. ribeye steak
24 slices provolone cheese
Salt & pepper to taste
Cheese Sauce, optional:
1/2 cup butter (1 stick)
1/4 cup heavy whipping cream
1 cup shredded cheddar cheese
2 teaspoons garlic powder
1/2 teaspoon salt
1/4 teaspoon pepper
Directions
1
Place steak in the freezer to chill to make it easier to slice/shave into very thin pieces. Line two baking sheets with parchment paper. Preheat oven to 350 degrees.
2
Heat olive oil in a large skillet over medium heat. Slice bell peppers and onion into thin strips and then place in the skillet. Season with salt and pepper. Sauté until just starting to get soft, about 4 to 5 minutes.
3
While the peppers and onions are sautéing, take the steak out of the freezer and slice it into as thin of strips as possible, going against the grain. You almost want to shave the steak.
4
Add the steak to the skillet with the peppers and onions and sauté for 2 to 3 minutes, until the steak starts to brown. Add more salt and pepper to taste. If you like your steak well-done steak, cook an additional 2 to 3 minutes. Remove skillet from heat and set aside.
5
Place provolone cheese slices on baking sheets. I did 6 slices per sheet and cooked the cheese in two batches. Bake for 3 minutes until the cheese is melted and starting to bubble. Remove from the oven and let cool for 3 minutes.
6
When the cheese has cooled, loosen from the parchment paper with a spatula. Place a scoop (about a 1/4 cup) of the Philly cheesesteak filling on 6 slices of provolone. Top with the remaining provolone and press down along the edges of the cheese to seal the slices together and make your ravioli. Set the six prepared ravioli aside.
7
Repeat the above process with the remaining provolone slices and filling.
8
Once all the ravioli are assembled, place all 12 on the two baking sheets. Turn your oven to broil. Broil each baking sheet of ravioli for just about 30 seconds, until the cheese melts together to completely seal the ravioli. Let cool a few minutes and then serve!
If desired, top with cheese sauce (recipe below) or alfredo.
9
To make the cheese sauce:
In a small saucepan over medium-low heat, melt the butter. Add in the heavy whipping cream. Then add the shredded cheddar cheese, garlic powder, salt, and pepper. Stir until the cheese is completely melted. Reduce heat to low and stir occasionally until ready to serve to prevent burning.
Nutrition Information
Yield: 4, Serving Size: 3 ravioli
Amount Per Serving: 625 Calories | 50.2g Fat | 5.7g Total Carbs | 1.5g Fiber | 3.1g Sugar | 44.6g Protein | 4.1g Net Carbs
---
Tips for making the best keto Philly cheesesteak ravioli:
You can use whatever type of steak you like but I highly recommend ribeye for full flavor. It's one of the best steaks for keto with all of its gorgeous marbling!
Place your steak in the freezer for about 10 minutes before you're ready to slice it. This makes it easier to get those thin, almost shaved pieces.
Make sure you don't over-melt the provolone cheese. It won't hold your fillings very well if it's too melty.
I included an optional cheese sauce with this Philly cheesesteak ravioli recipe. It's dangerously rich, like "eat it by the spoonful" yummy. But you could also use a keto-friendly alfredo sauce or just eat these plain. All options are tasty!
You might have some leftover filling. If that's the case, use it as a garnish, eat it plain, or make more keto ravioli! 😄

All the makings of a Philly cheesesteak sandwich, but in a clever keto format.
I know I've said this before, but simple meals are the best! This is one of those dinners that your family will think you spent hours making. In reality, you'll spend less than an hour throwing this together. Nothing better than that!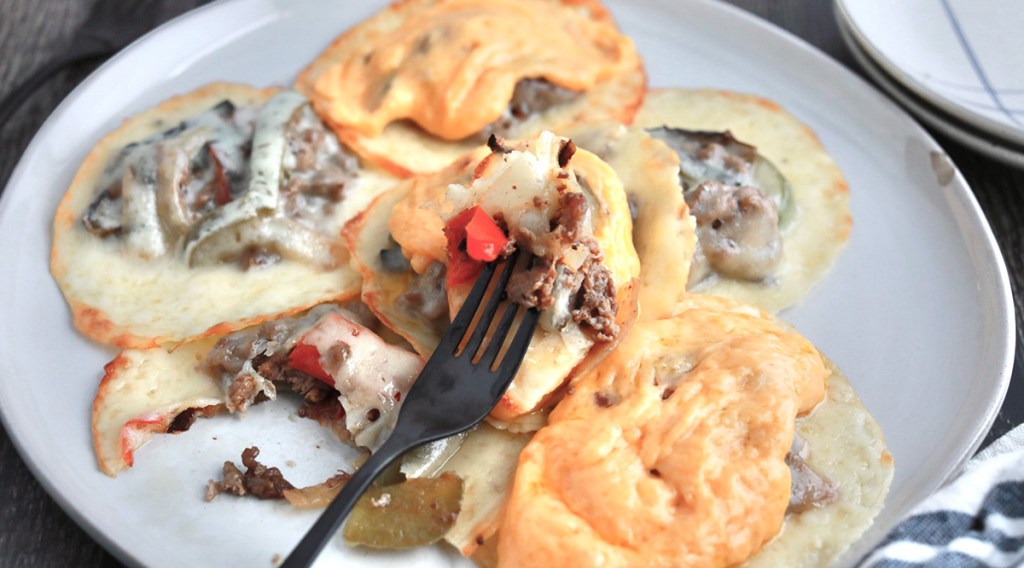 Here's what my Hip sidekick Jenna had to say about this keto Philly cheesesteak ravioli:
"OMG, these are SO good! If I could, I would eat these every night! There is just something so amazing about a ravioli made of cheese, but stuff it with Philly Cheesesteak ingredients and you've got the most amazing meal. That cheese sauce… it's worth making extra to pour over anything and everything! I am in love with this recipe and how easy it was to make."
---
Try our keto Philly cheesesteak stuffed peppers next!