Skip Takeout and Make Our Keto Orange Chicken at Home
Give your tastebuds a ride on the citrusy side with our Asian-inspired keto orange chicken recipe.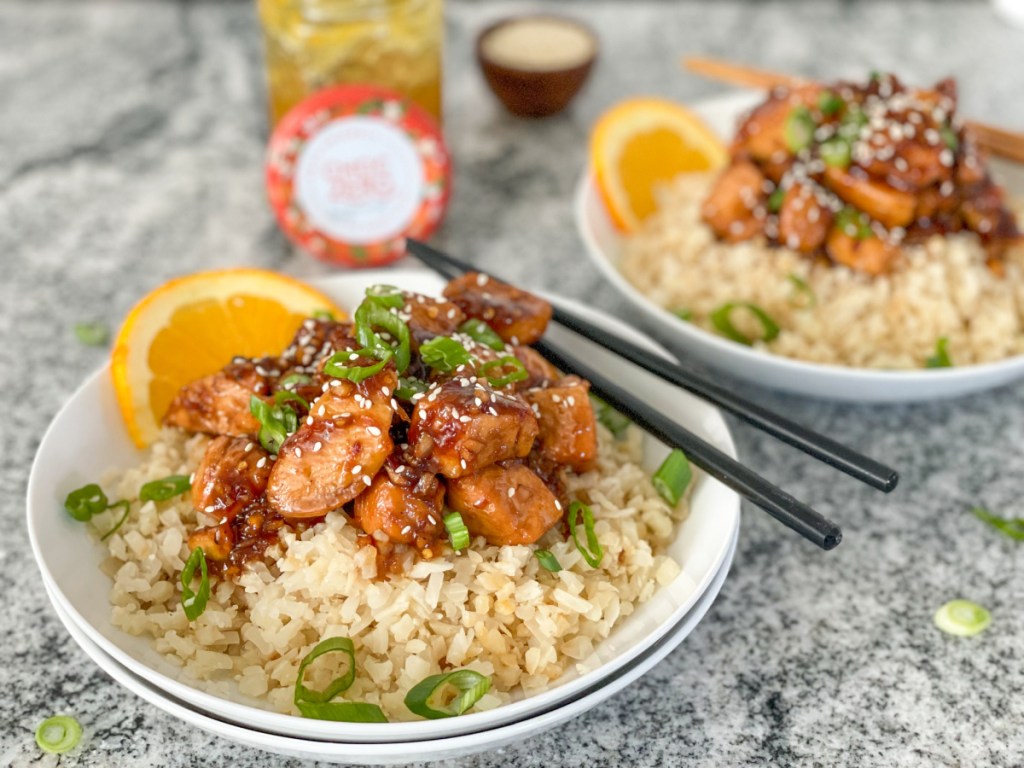 Keto orange chicken is bursting with bright orange flavor and the secret is in the sauce.
Sugar-filled skillet sauces are no match for the sweet and tangy flavor of our keto orange chicken recipe, all made possible by the latest creation from ChocZero. Their recently launched keto orange marmalade hit their site just in time for spring, but we've found more ways to use it than simply spreading it on low-carb toast. They've made it possible to indulge in orange chicken guilt-free!
And when I say "indulge" I mean it! This recipe turned out fantastic with an incredible authentic orange flavor.
If you've been missing Chinese food since starting keto, check out all of our keto Chinese recipes!
Let's talk about traditional Orange Chicken carbs.
We know the sweet sticky goodness of traditional takeout orange chicken comes with a price… and that's loads of carbs. 🤯 You'll spare yourself the carb overload by making the switch to our keto orange chicken recipe instead.
Traditional orange chicken has around 45 grams of carbs per serving. Meanwhile, our keto-fied recipe only has 4.2 grams of net carbs per serving. That's a saving of over 40 grams of carbs!
If you add in the cauliflower rice, it has 4 grams of net carbs for 1 1/2 cups. That makes for 8.2 grams of net carbs for an amazing dinner — score! 👏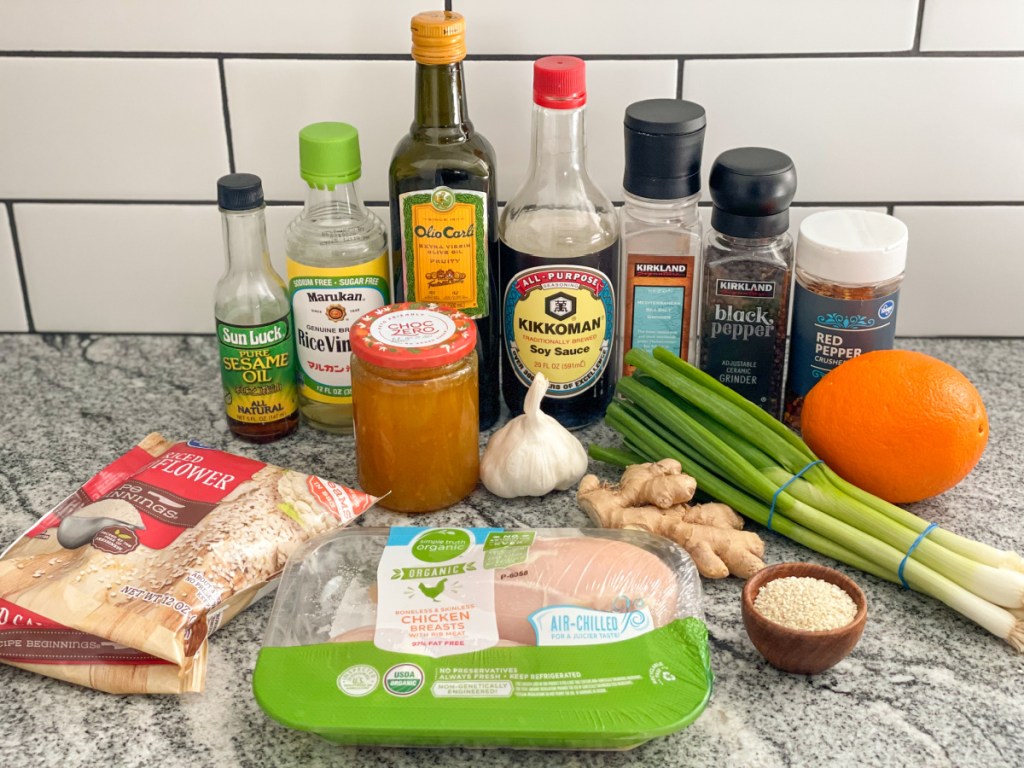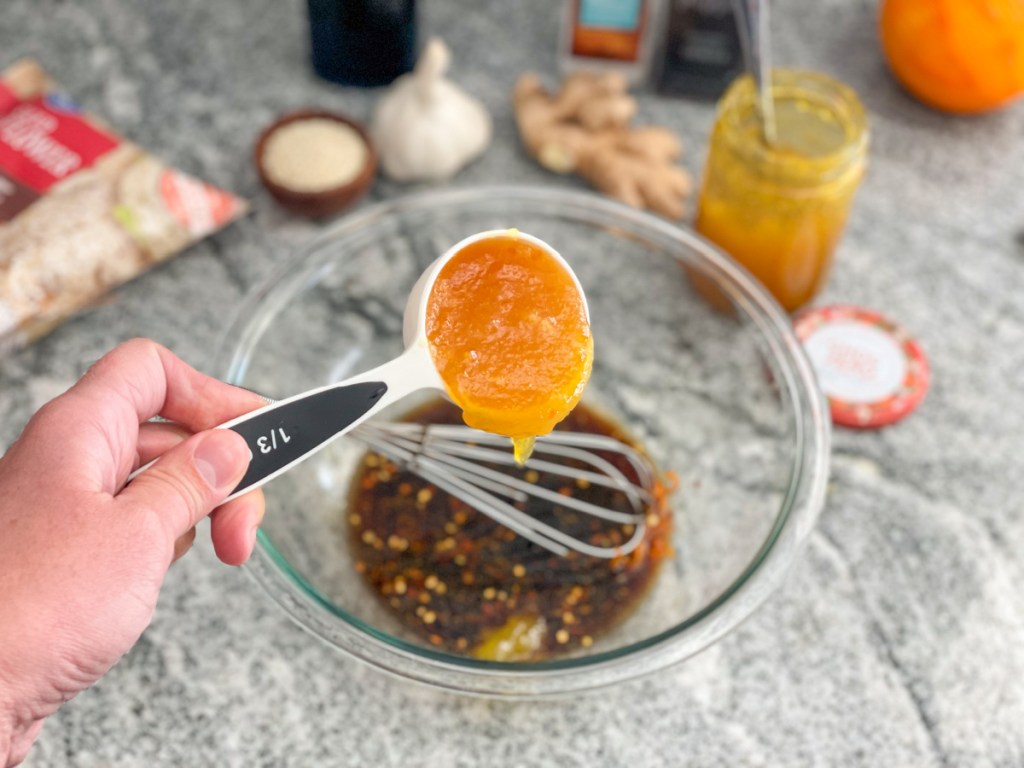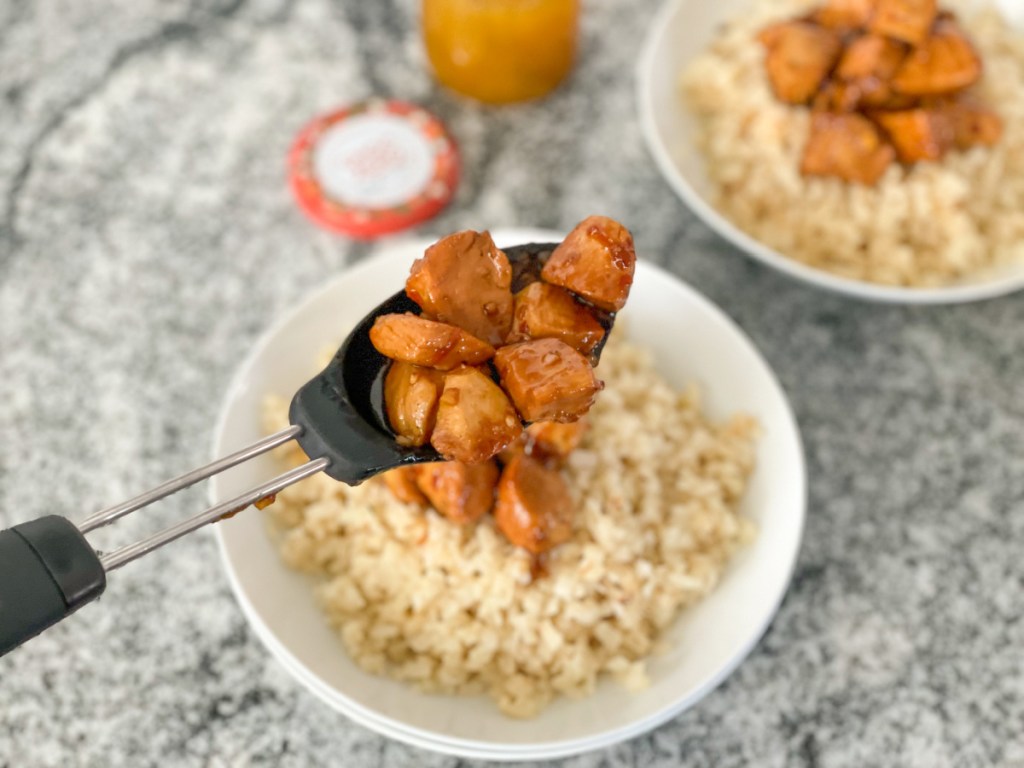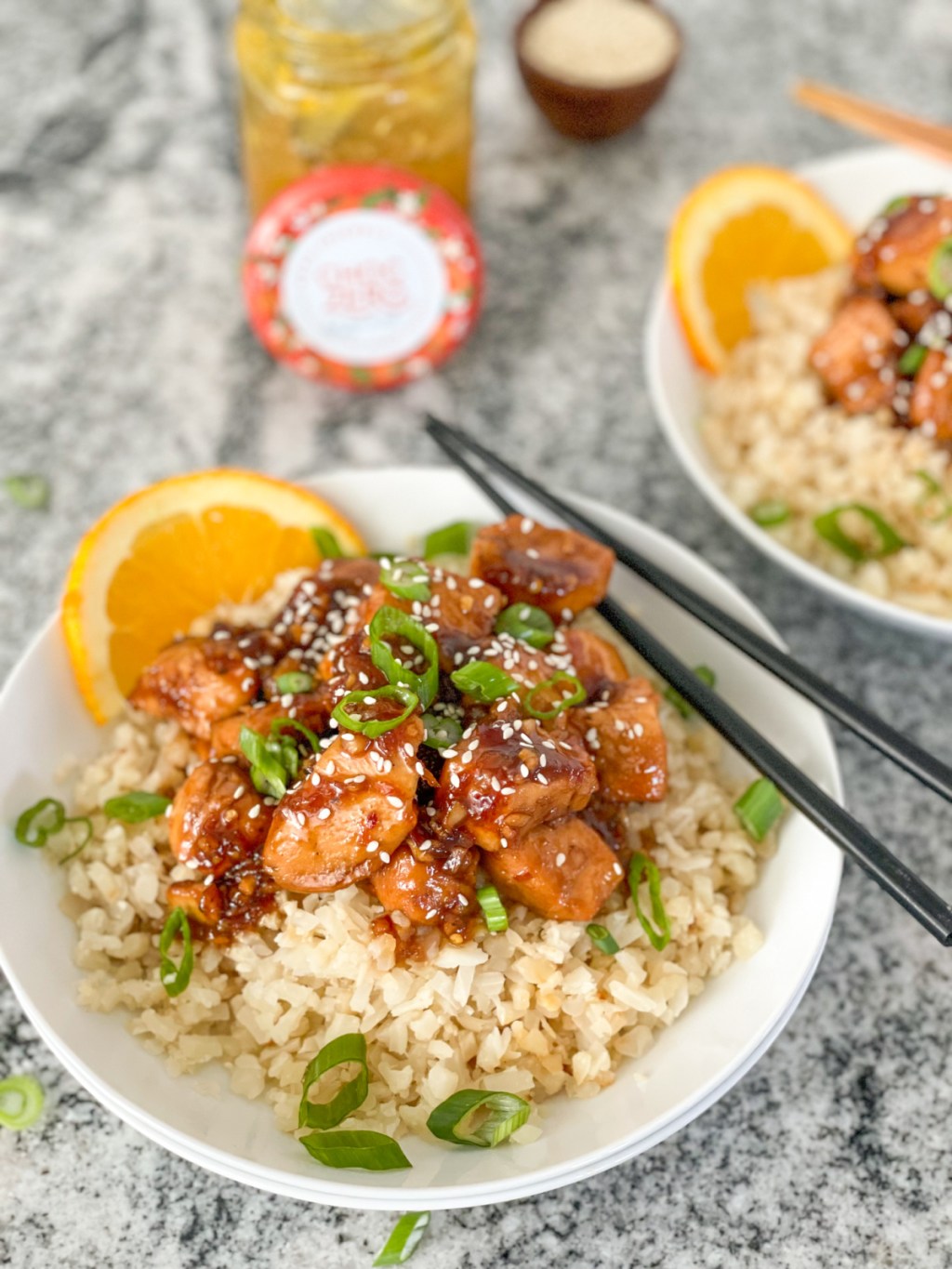 ---
Print
Keto Orange Chicken
yield: 4 SERVINGS
prep time: 15 MINUTES
cook time: 15 MINUTES
total time: 30 MINUTES
Bursting with so much orange flavor, it's hard to believe this orange chicken recipe is keto!
Ingredients
Keto Orange Marinade:
3 tablespoons water
zest from one orange
1/4 to 1/2 teaspoon red pepper flakes (optional)
Orange Chicken:
1 1/2 pounds chicken breasts
1 teaspoon salt
1/2 teaspoon pepper
1 tablespoon olive oil
5 cloves garlic, minced
2 tablespoons fresh ginger, peeled and minced
Serve with::
green onions
sesame seeds
Directions
1
To make the keto orange sauce: 
In a medium bowl, mix together soy sauce, rice vinegar, sesame oil, water, orange zest, ChocZero Keto Orange Marmalade, and red pepper flakes (optional). Set aside.
2
To cook the keto orange chicken:
Cut the chicken breasts into 1-inch cubes and then sprinkle with salt and pepper.
3
Heat olive oil in a large skillet over medium to medium-low heat. Add the chicken and cook for 3 to 5 minutes, until just starting to brown. Add the garlic and ginger to the pan and cook another 1 to 2 minutes.
4
Pour the keto orange sauce into the skillet with the chicken and reduce heat to low. Simmer for 8 to 10 minutes, until the sauce starts to thicken. If serving with cauliflower rice, now is the time to prepare it.
5
Once the sauce has thickened, serve the orange chicken over cauliflower rice and garnish with green onions and sesame seeds, if desired. Enjoy!
Additional Notes
*Nutrition Information does not include cauliflower rice, green onions, or sesame seeds.
Nutrition Information
Yield: 4 servings, Serving Size: 1 cup chicken
Amount Per Serving: 281 Calories | 12.1g Fat | 11.4g Total Carbs | 7.2g Fiber | 35.6g Protein | 4.2g Net Carbs
---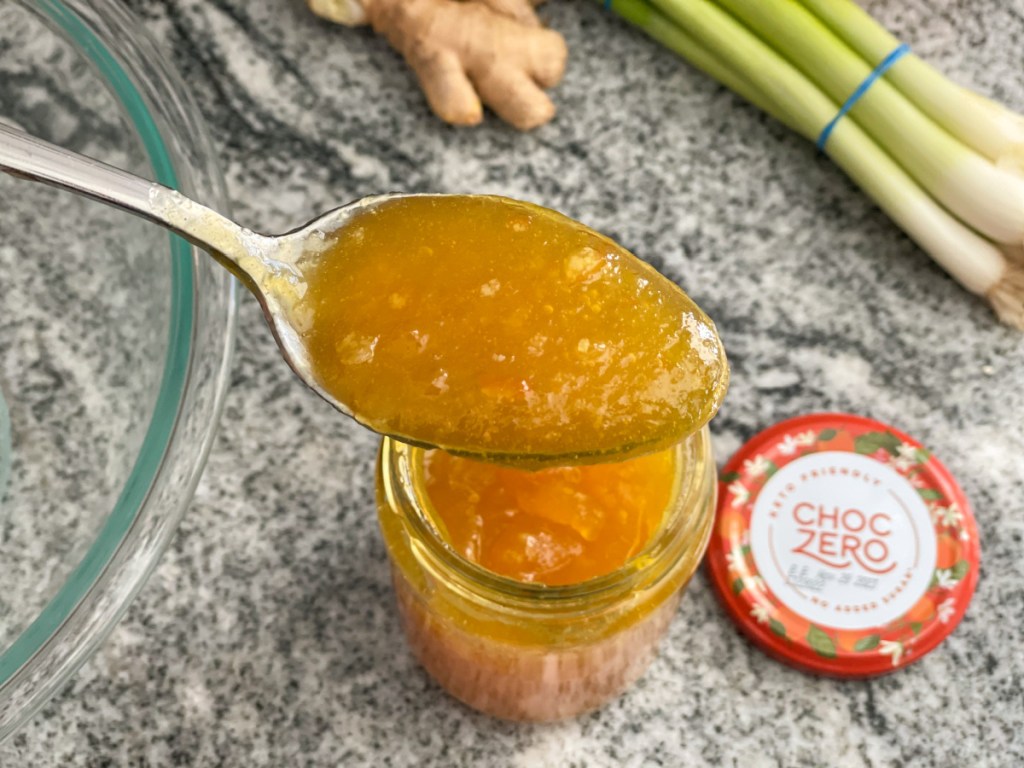 Tips for making the best keto orange chicken:
If you want to save time, you can make the orange marinade sauce up to a day in advance. You can also cube the chicken the day before as well.
The no-sugar sweetness of ChocZero's Keto Orange Marmalade totally made this recipe, and you can save on their site by using our coupon code HIP2KETO to score 10% off your order.
Leftovers are good in the fridge for up to five days. You could also freeze this for up to three months.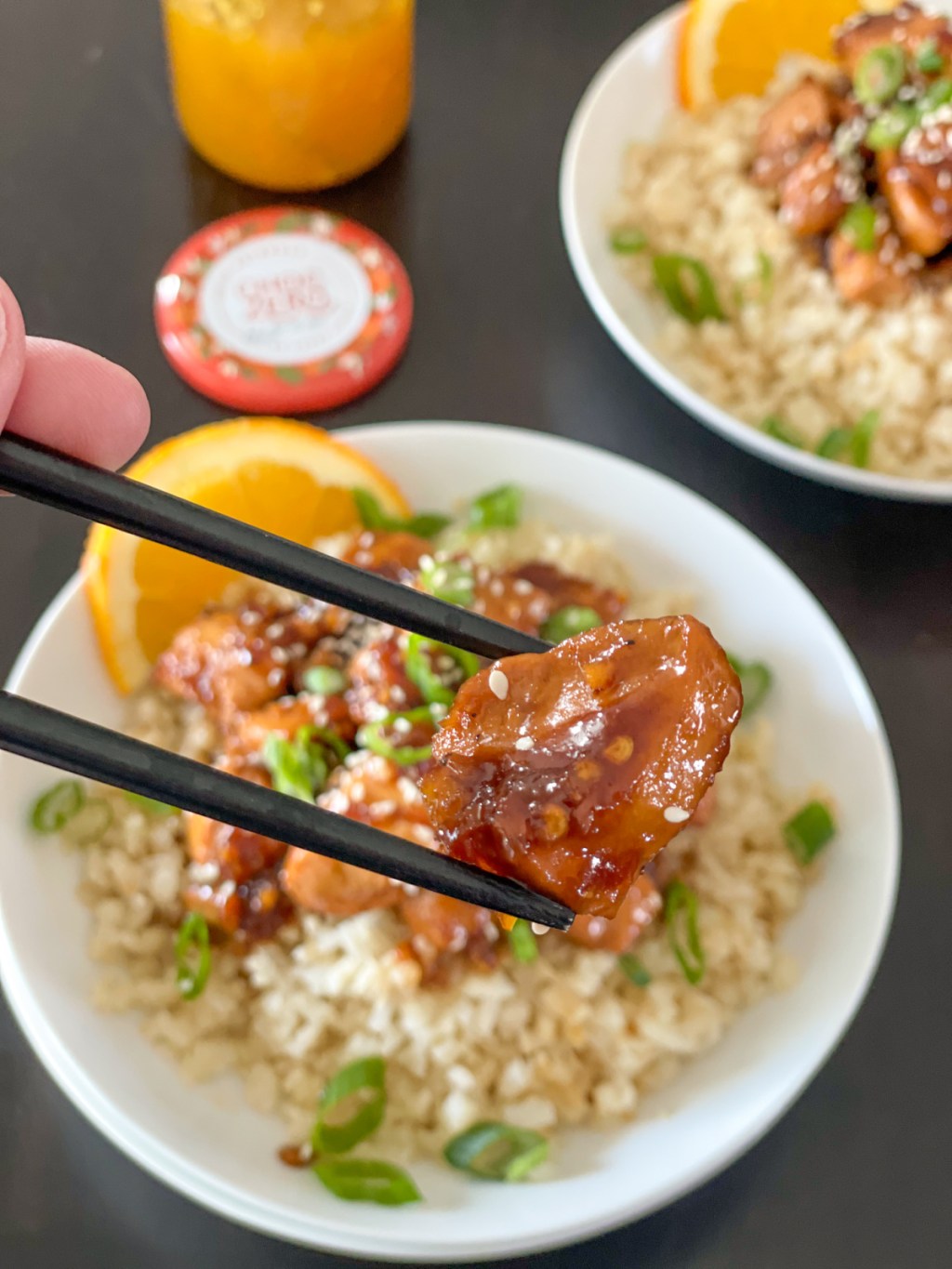 How to make keto orange chicken into an easy, peasy dinner:
This recipe comes together so easily and you can have dinner on the table in about 30 minutes. To make this recipe, you first make the orange sauce. Then you cut the chicken breast into one-inch pieces and brown it in a skillet. Once the chicken starts to brown, you add the orange sauce to the pan and let it simmer.
To make it complete, serve this over cauliflower rice, and I also recommend garnishing with green onions and sesame seeds, because who doesn't like a pretty-looking dinner?
Your whole family will love this meal. I mean it when I say the flavor is incredible. You might want to double the recipe so that you have leftovers. In fact, I thought it tasted better the next day!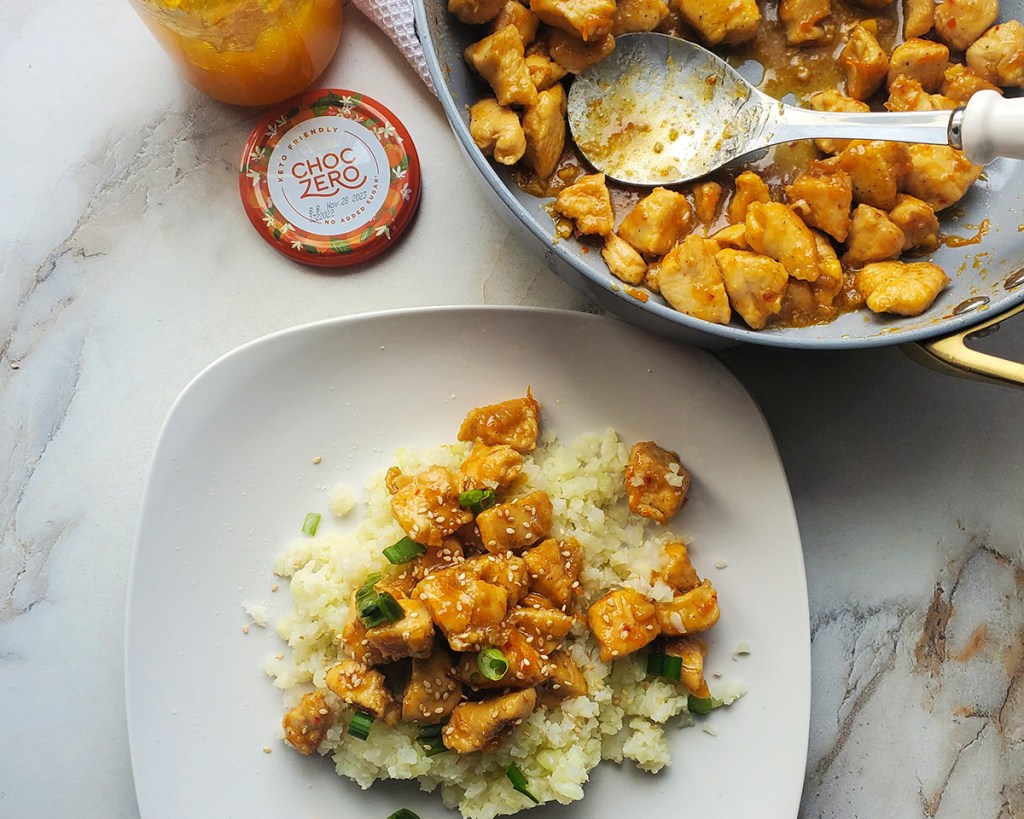 Here's what my Hip sidekick, Rachel, had to say about this keto orange chicken:
"This dish is bursting with flavor and the Orange Marmalade was so tasty! I made a second plate for my teenage son, and he said 'I'd totally eat this for dinner if you made this during the week again.' That's a win!"
---
Add some ChocZero maple syrup to your order for our keto maple pork tenderloin recipe!