Keto Onion Rings Cooked Chaffle-Style are a Brilliantly Easy Keto Snack
Did you know that you can make keto onion rings chaffle-style?
These keto onion rings chaffle-style are A-M-A-Z-I-N-G!
Using a mini-waffle maker for keto onion rings is probably one of the easiest things I've ever done! I was a little skeptical if the onions would cook, but they definitely did. These are so tasty! 🧅😋
We found this recipe on Instagram from Janelle Rohner and knew we had to share it with all of you! If you are a fan of onion rings, this recipe is for you.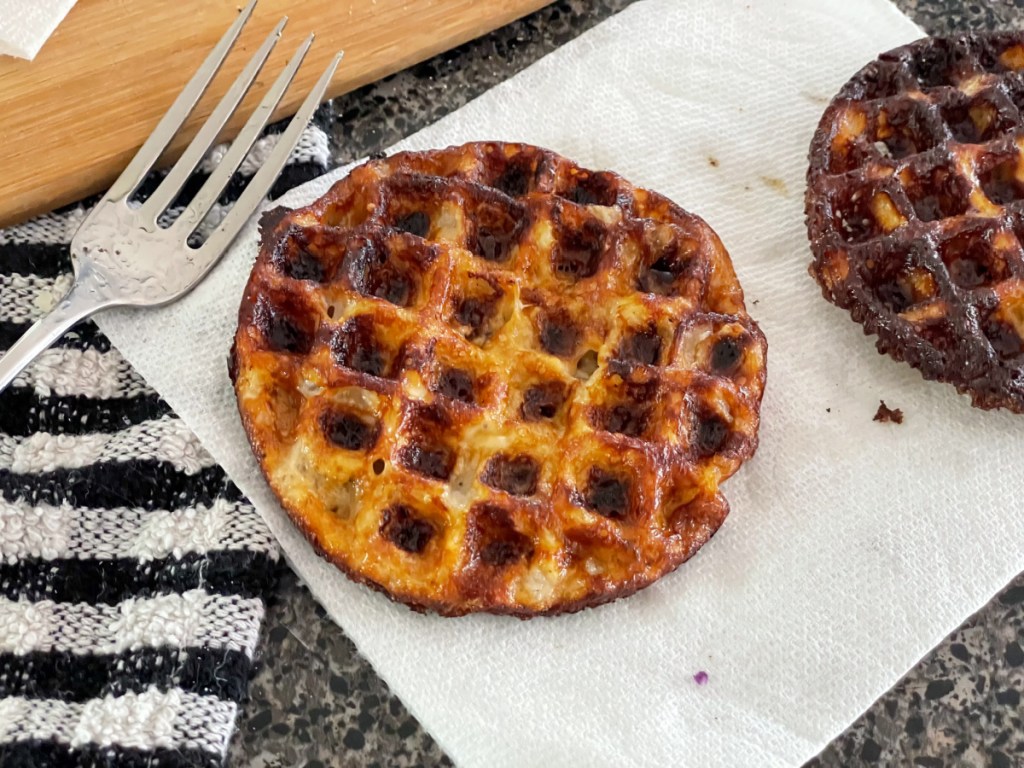 Onion slices + cheese + waffle maker = easiest keto snack ever!
All you need for this recipe is mozzarella cheese, an onion, and some seasoning… that's it! Oh, and a mini-waffle maker. I love my Dash waffle maker. If you're using a different waffle maker, don't miss the helpful cooking tips right below the recipe.
I like my keto onion rings chaffle-style a little more on the crispy side, but feel free to cook them to your preference.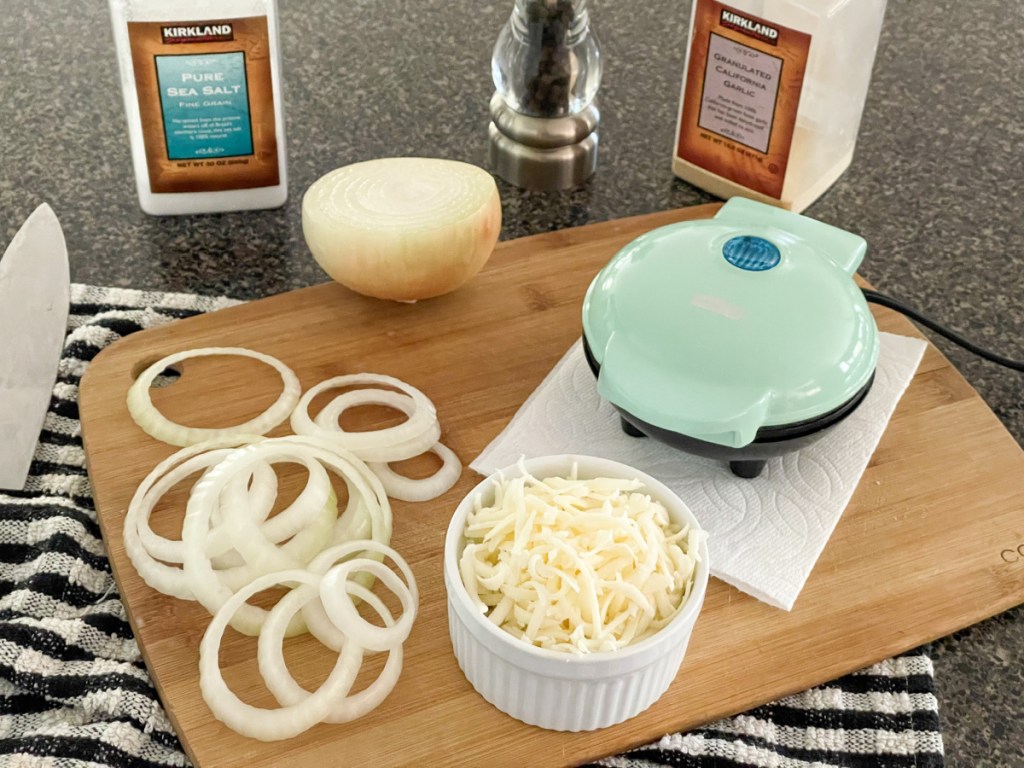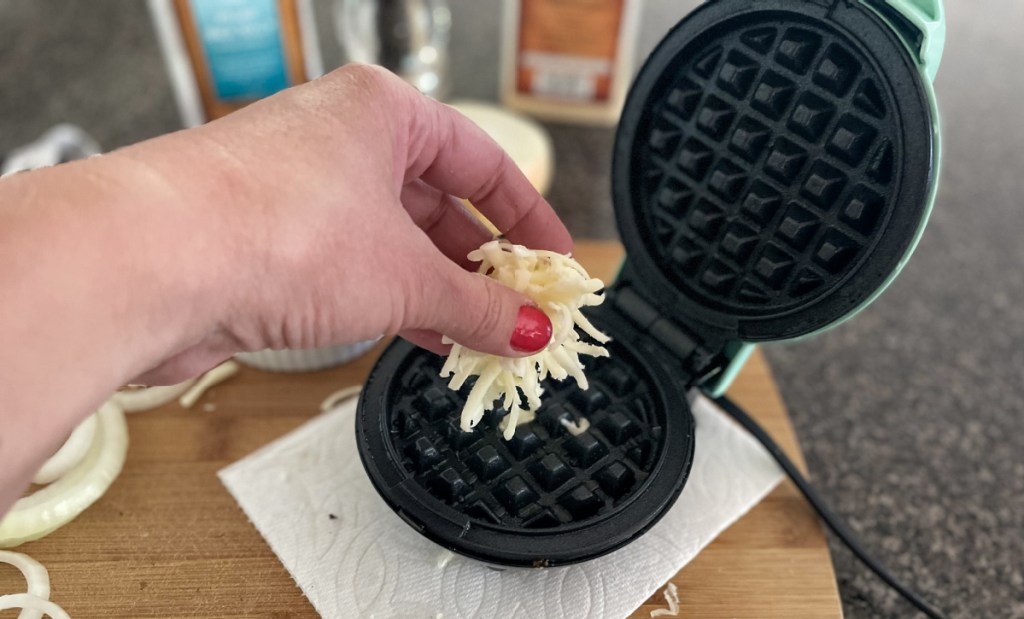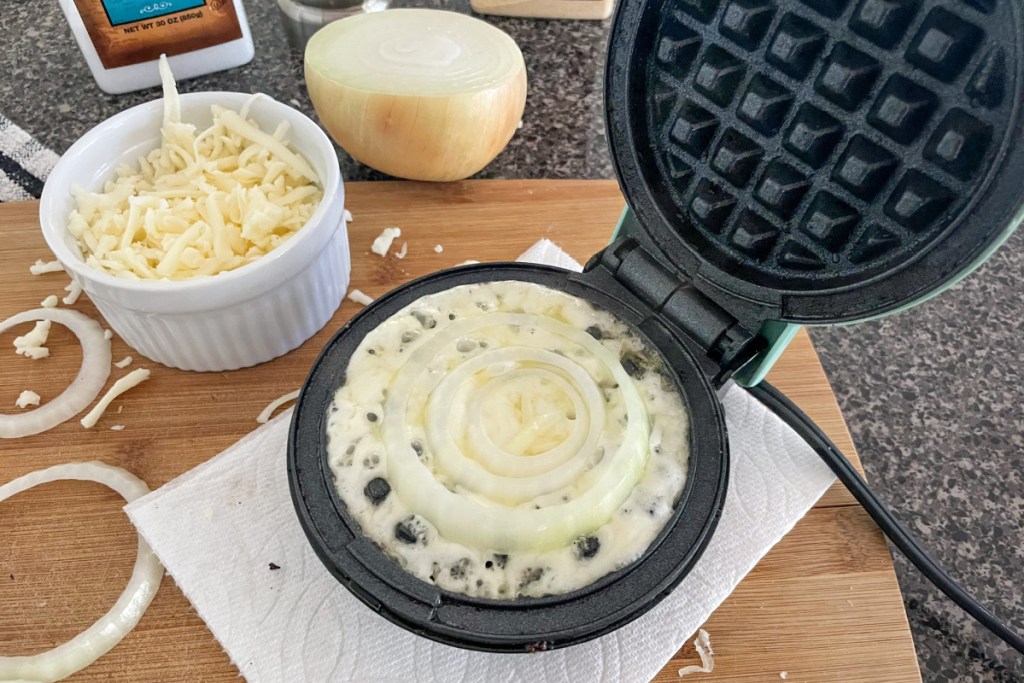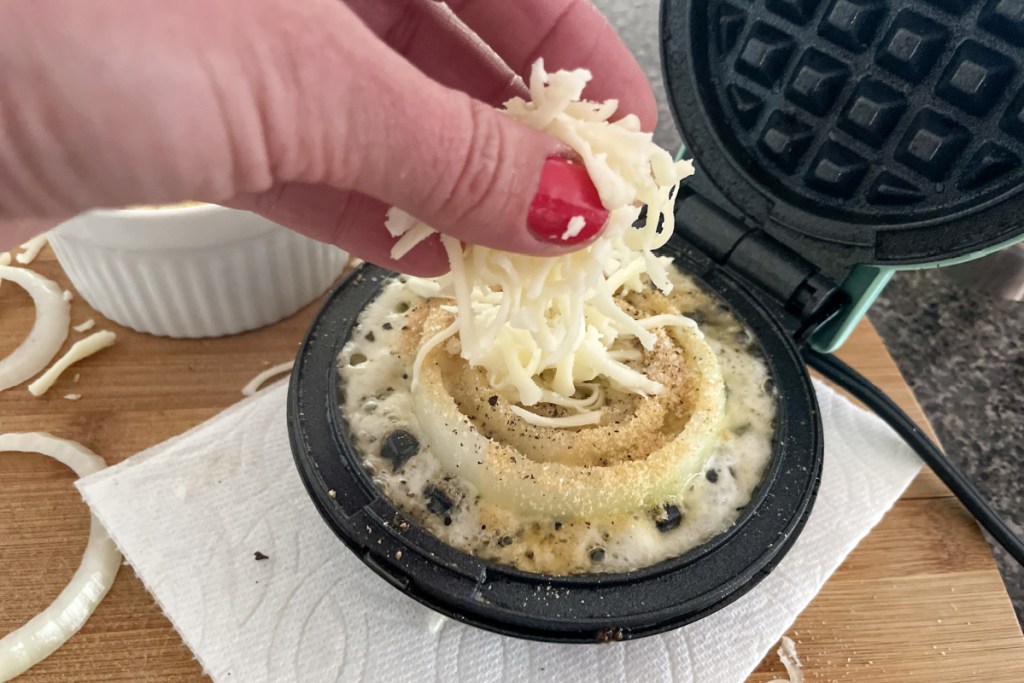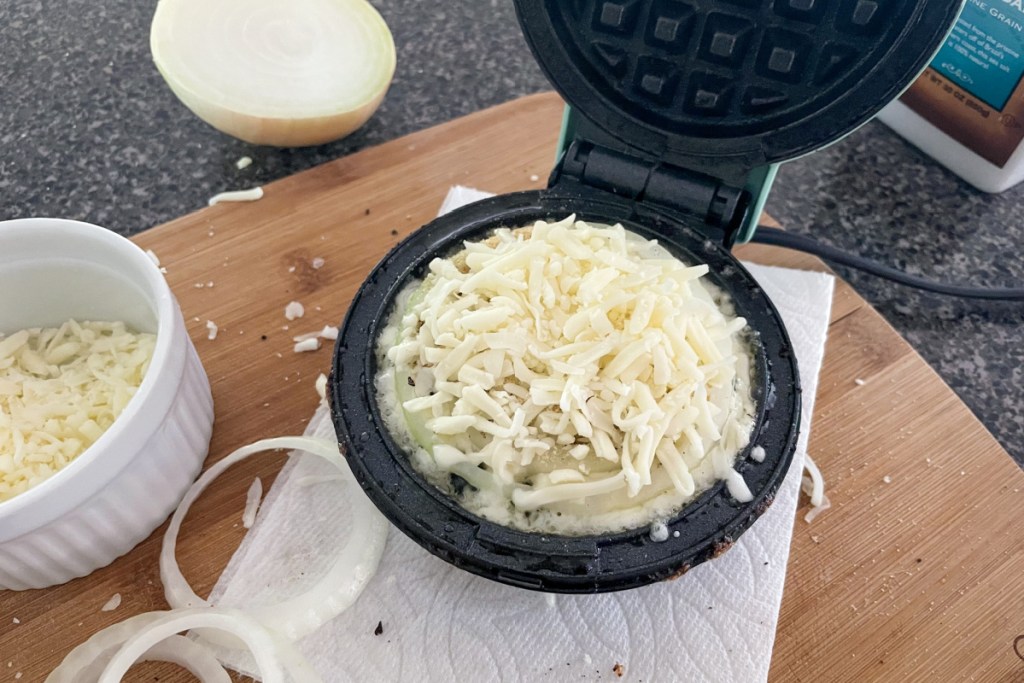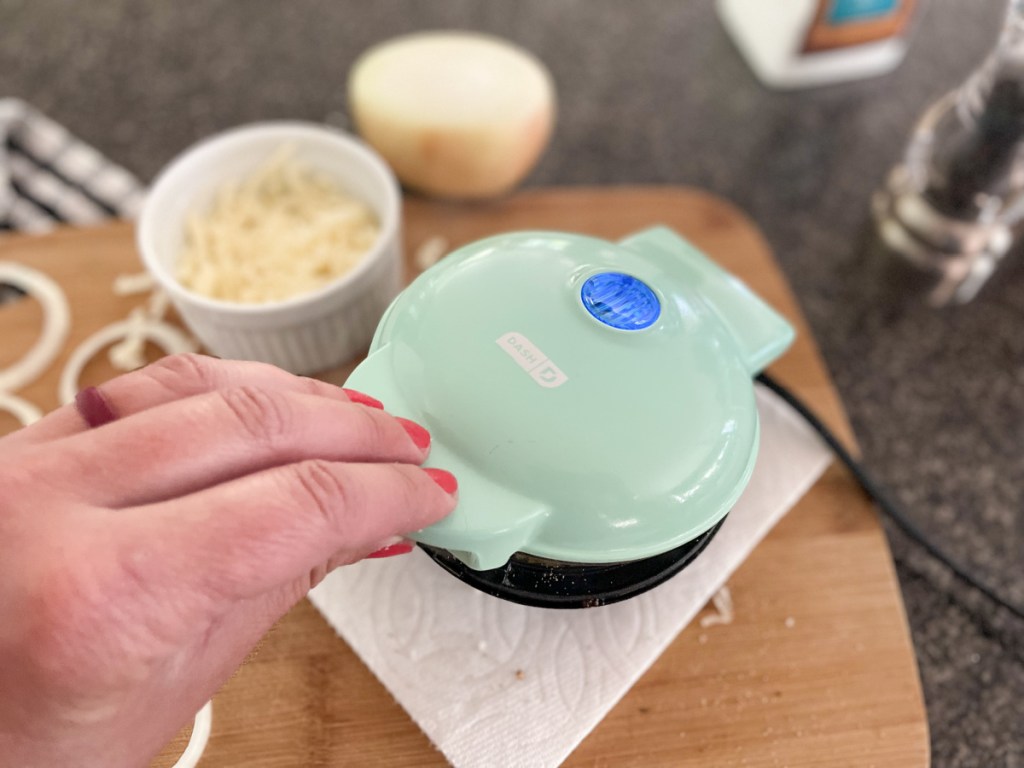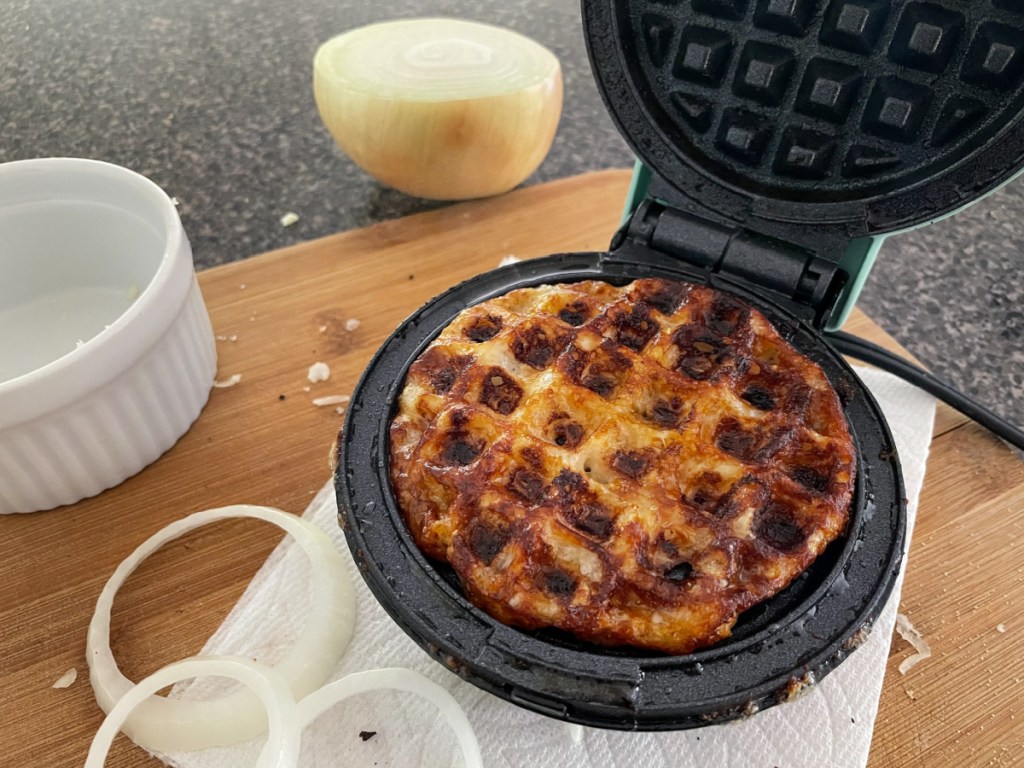 ---
Print
Keto Onion Rings Chaffle-Style
yield: 1 SERVINGS
prep time: 5 MINUTES
cook time: 4 MINUTES
total time: 9 MINUTES
Onion rings made in a mini waffle maker with just cheese!
Ingredients
1/4 to 1/2 cup mozzarella cheese, shredded, divided (more may need to be added based on your waffle iron size)
3 to 4 onion rounds, sliced thin
1/2 teaspoon garlic powder (or more if you REALLY like the garlic flavor)
pinch of salt
pinch of black pepper
Directions
1
Preheat mini waffle maker.
2
Add 2 to 4 tablespoons of shredded mozzarella cheese, top with the onion rings, seasoning, and remaining cheese.
*If not using a non-stick waffle maker, spray with cooking oil first.
3
Cook for 3 to 4 minutes, until crispy. Remove from mini waffle maker and let cool for about a minute before eating. Enjoy!
Nutrition Information
Yield: 1, Serving Size: 1 keto onion ring chaffle
Amount Per Serving: 107 Calories | 7g Fat | 4.9g Total Carbs | 0.6g Fiber | 1.2g Sugar | 6.6g Protein | 4.2g Net Carbs
---
Tips for making the best keto onion rings chaffle-style:
I used mozzarella cheese for these but you can mix it up with your favorite cheese. Cheddar or Colby Jack would be good too!
If you're using a Belgian waffle maker or a larger size waffle iron, you may need to add more cheese and/or onion to fill the extra cavity space. You'll want enough cheese on the bottom to melt through cavities and then enough piled on top to fully cover onion and any spots still peeking through from the bottom.
Cook time will vary depending on how many onion rounds you use. I do like them a little more crispy but found that with mozzarella cheese, they can go from crispy to burnt pretty quickly. So just keep your eye on them.
You definitely need a mini waffle maker for these. As I said above, I love my Dash mini waffle makers. I just think they're so cute, and they have so many color options!
These are so easy to make. I'm just giving you the recipe for one but you can easily double or triple or make 10x the recipe!
Eat these for a snack or for lunch or with dinner. I've definitely done all three!

Yum, can you see the onion? So, so good!
I definitely miss onion rings since going keto. These are so easy to make that I foresee keto onion rings chaffle-style appearing at my house on a regular basis.
Let us know what you think of this recipe, and /or any other unconventional recipes you've used your mini waffle maker for?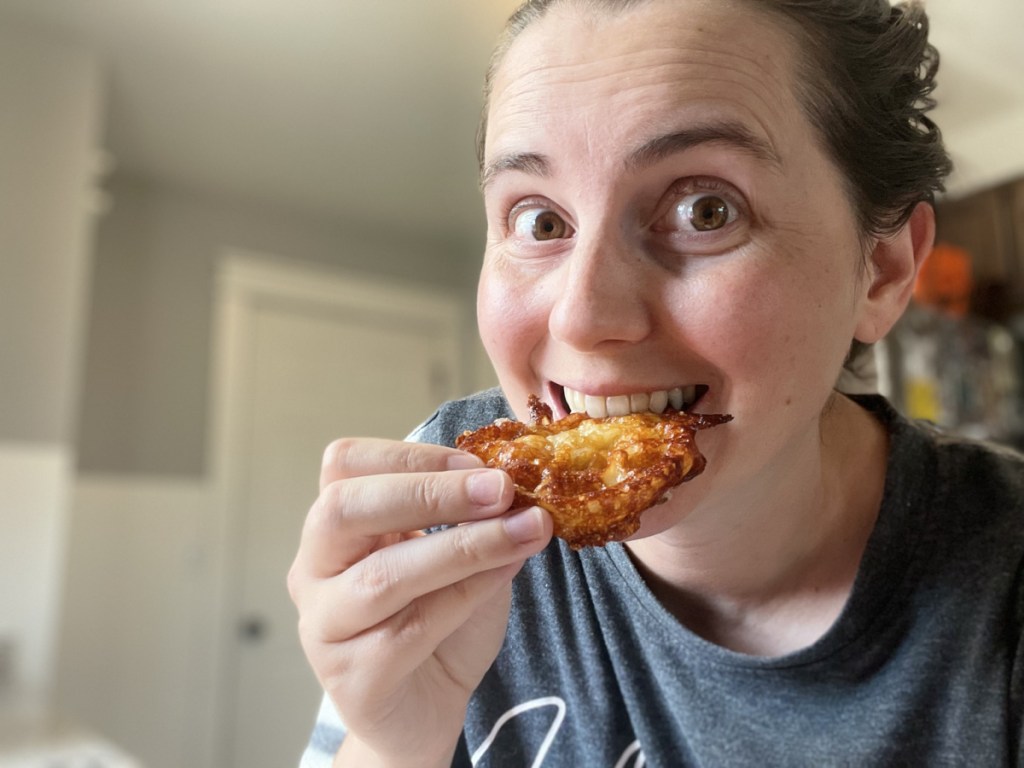 Here's what my Hip sidekick Chelsey had to say about these keto onion rings chaffle-style:
"If you're looking for a quick, easy, and delicious recipe, give this one a try! It's so easy to make, literally takes minutes and just a few ingredients. I'm a HUGE fan of onion rings and was worried that I'd miss the deep-fried breaded goodness that I love, but can honestly say that these were so good.
Plus, it uses ingredients that I usually have on hand so I can make them anytime I want! My husband and kiddo loved them too so that's always a bonus."
---
Want more chaffles? Check out this post on Chaffles 4 Ways!