This No-Bake Keto Eclair Cake is Amazing, Impress Your Low Carb Guests!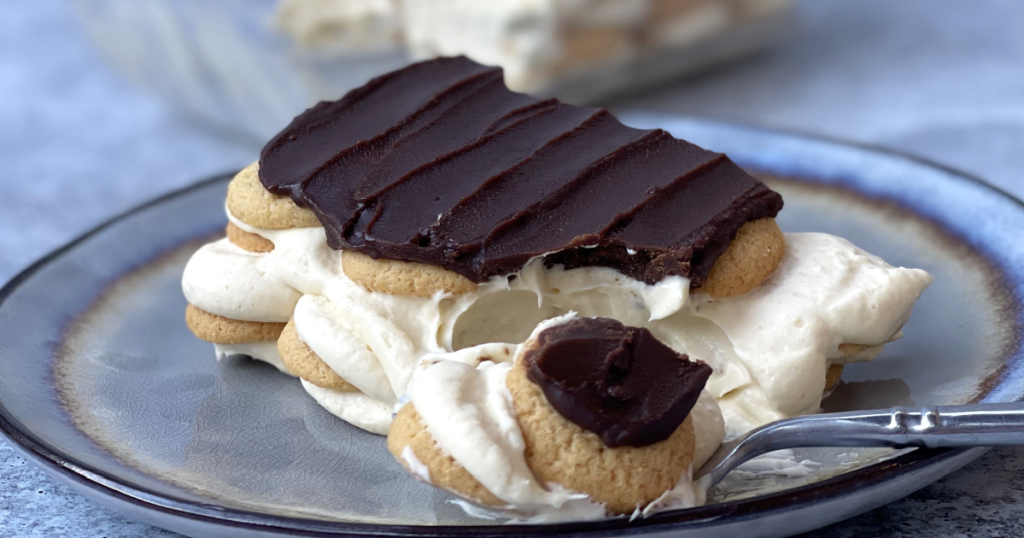 I declare this Keto Eclair Cake a winner! 🏆
We deconstructed the oh-so-delicious eclair and put it back together in this dreamy no-bake keto cake. Enjoy scrumptious HighKey vanilla wafers in-between layers of heavenly whipped custard, topped with a rich, dark chocolate ganache!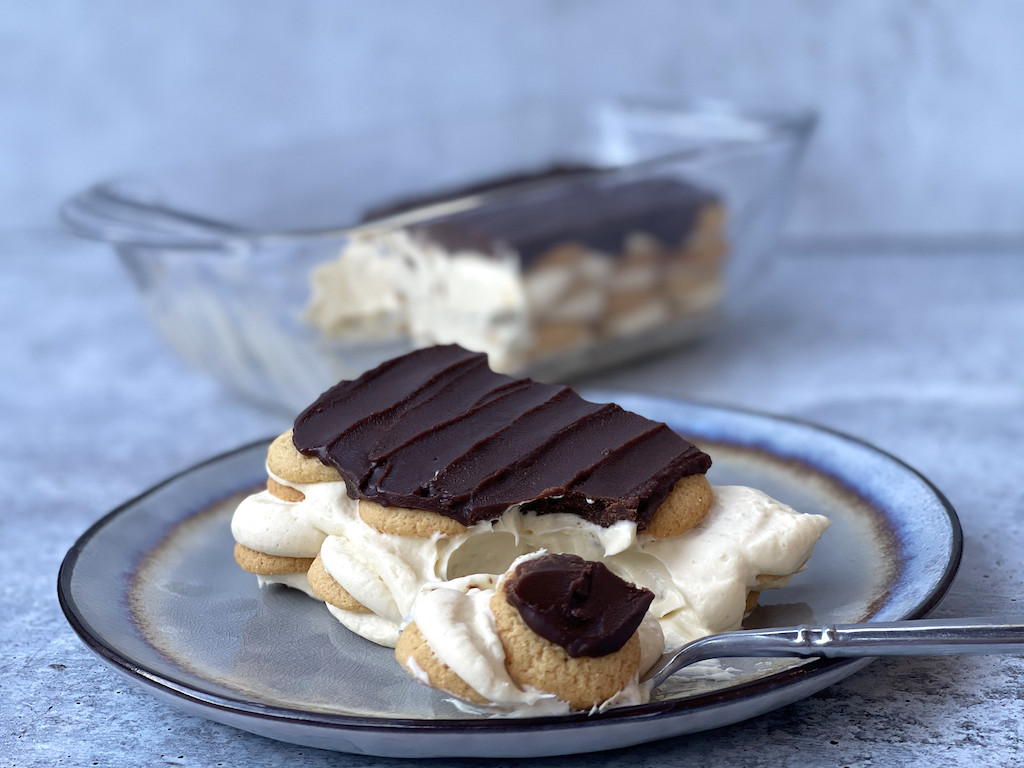 Tips for making the best Keto No-Bake Eclair Cake:
If you'd like more control of your layers and a cleaner finish, I recommend using a piping bag. You can also just pour over the whipped custard and spread it evenly with an offset spatula.
If you don't want to make the custard from scratch, feel free to use a box of your favorite sugar-free instant vanilla pudding instead. Keep in mind, going this route will result in a cake that could be considered dirty keto, though it will cut the prep time in half.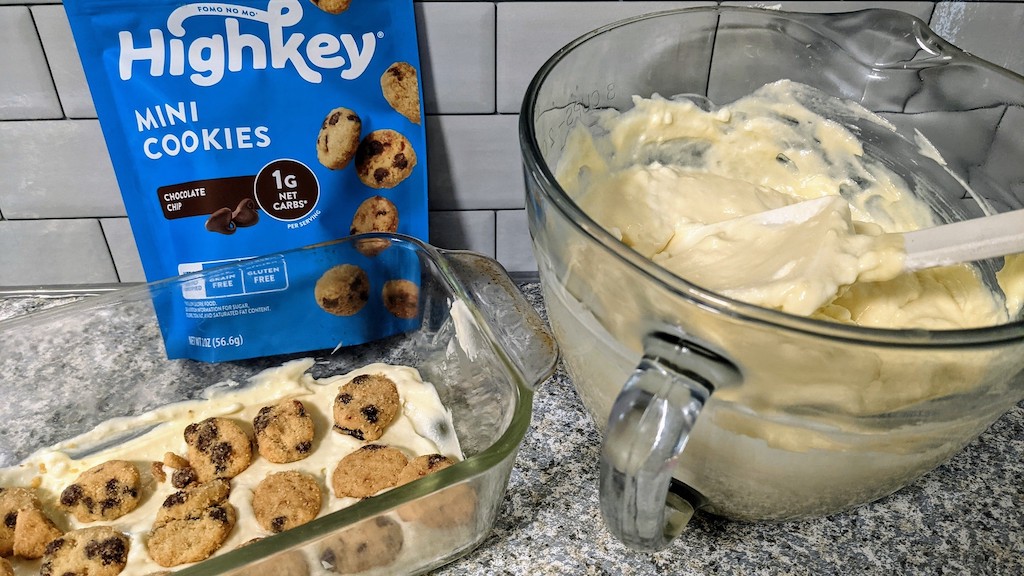 Make the Chocolate Ganache right before assembling the cake. If the chocolate ganache is not used within a few minutes of cooling, it will seize up and harden and will be difficult to work with unless you reheat.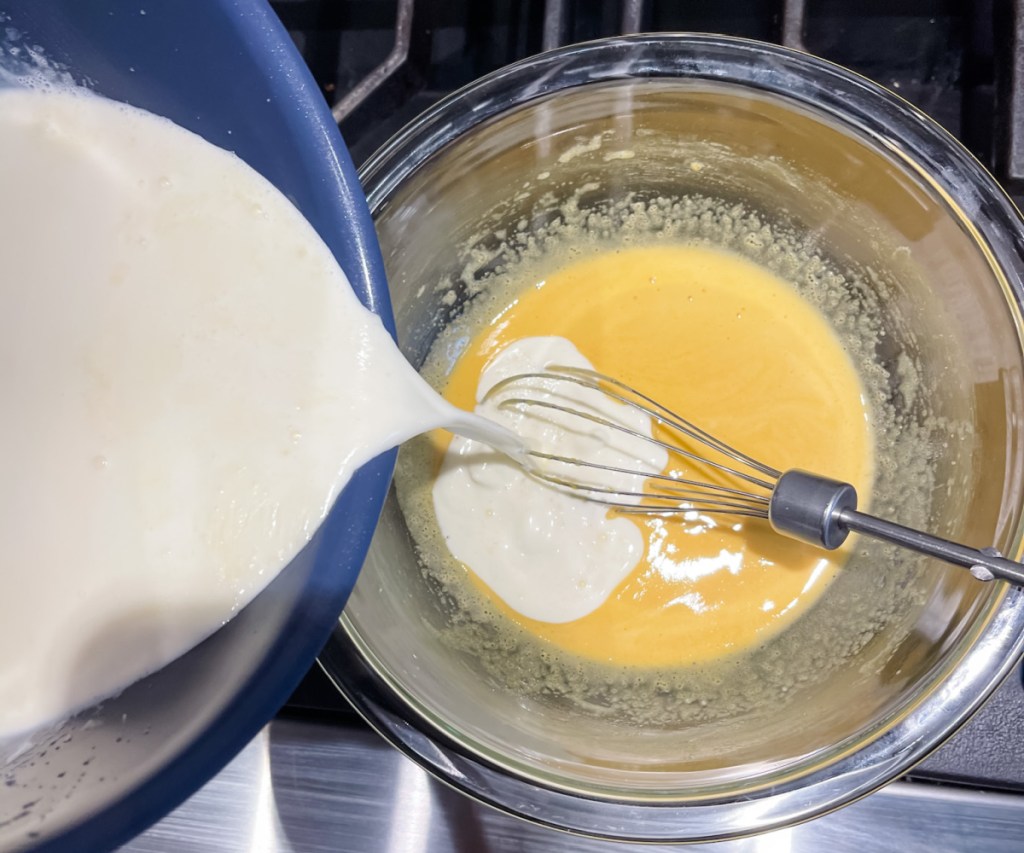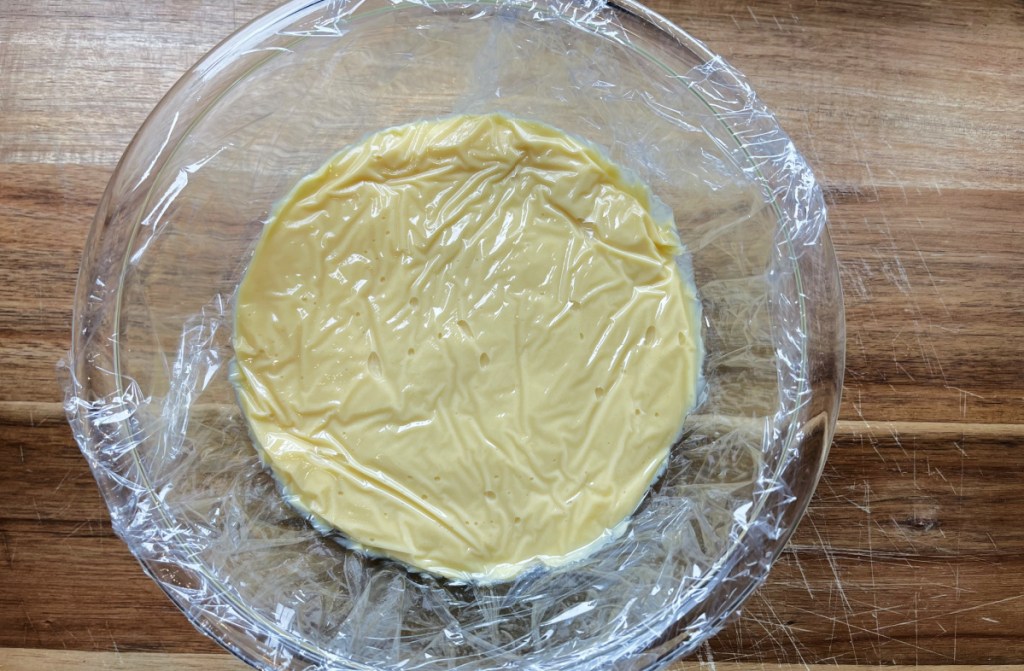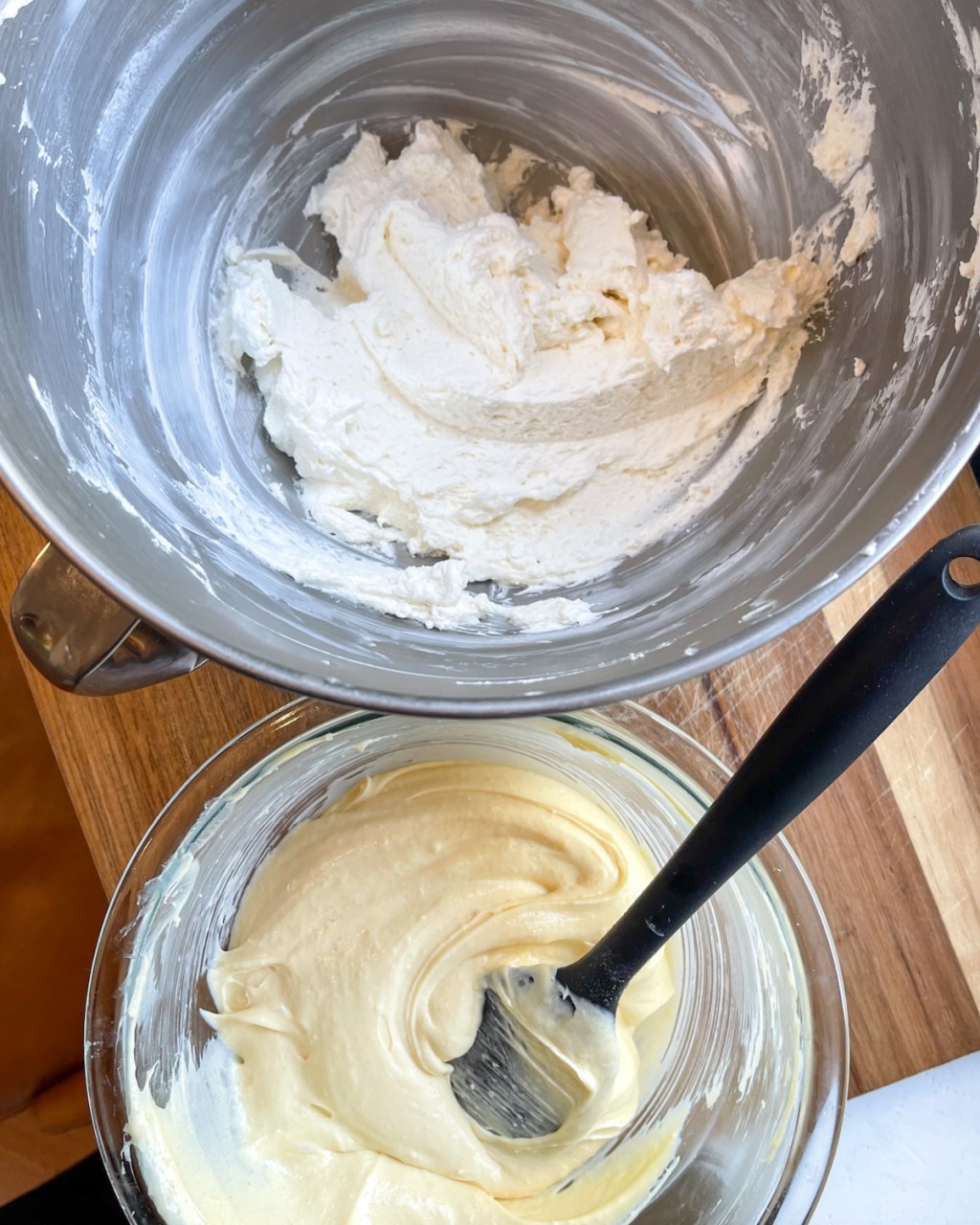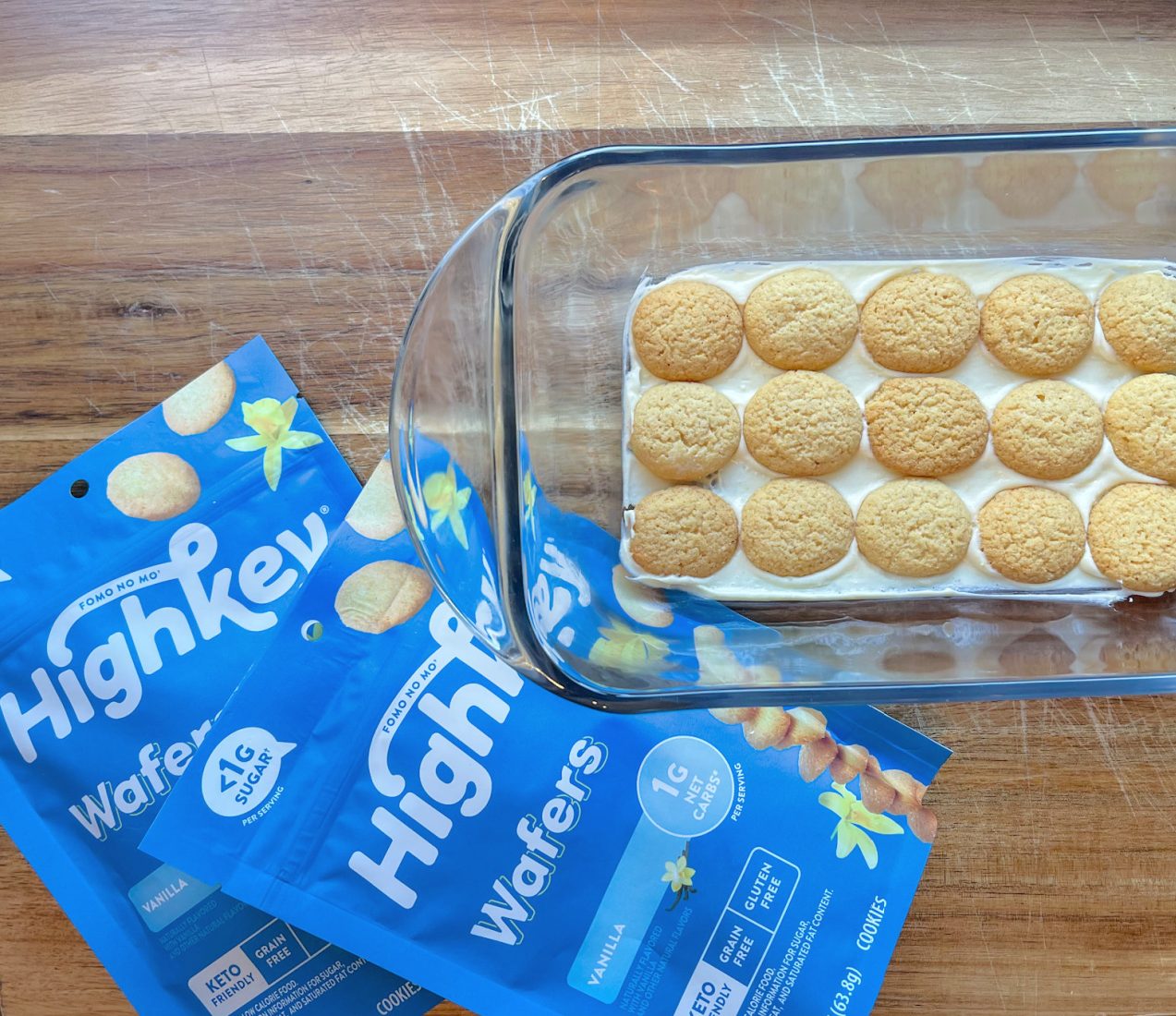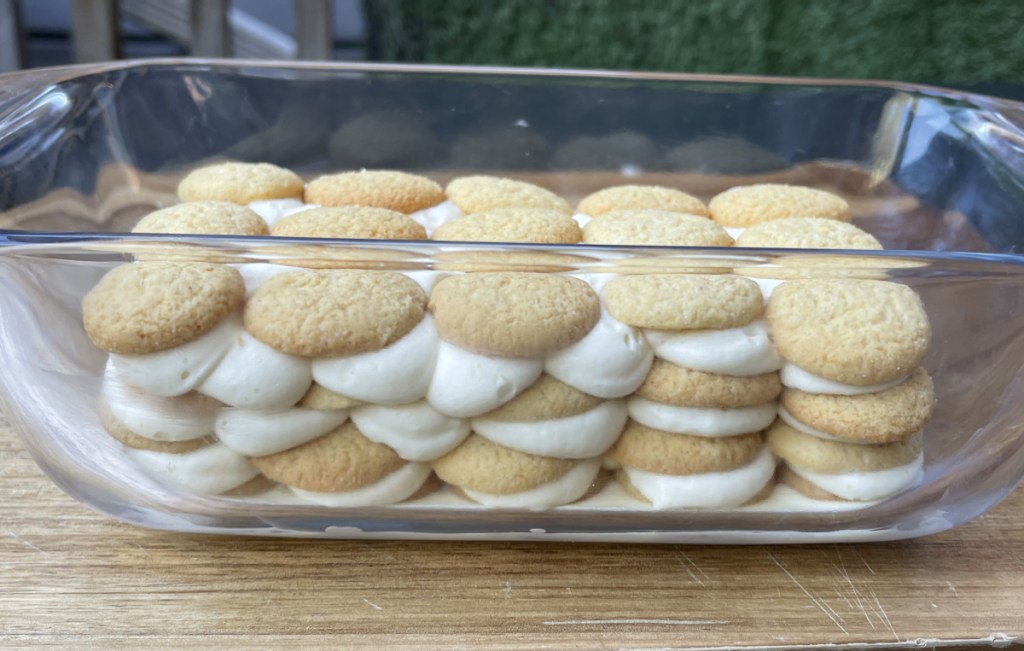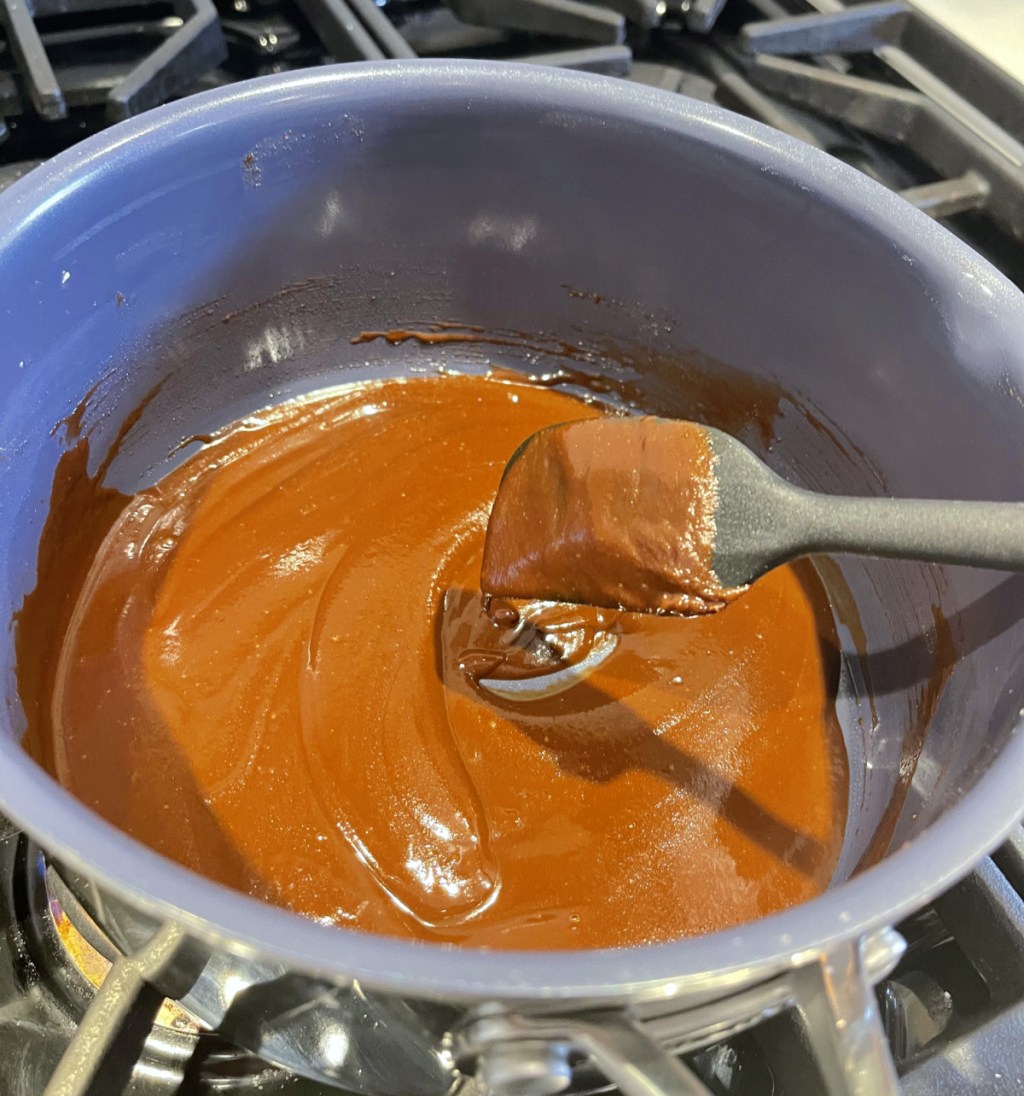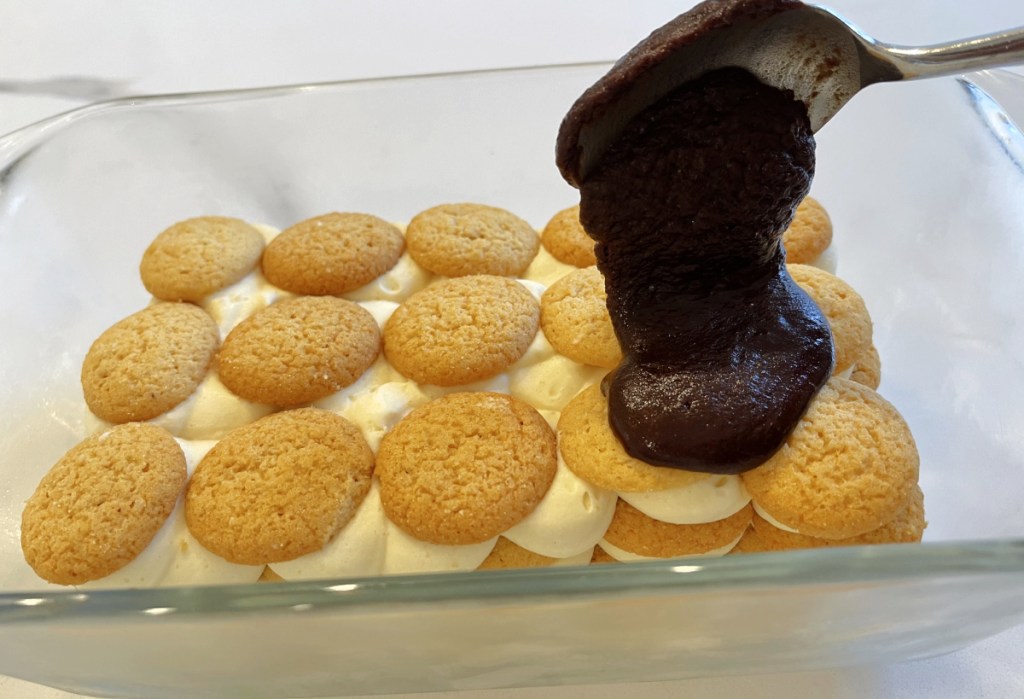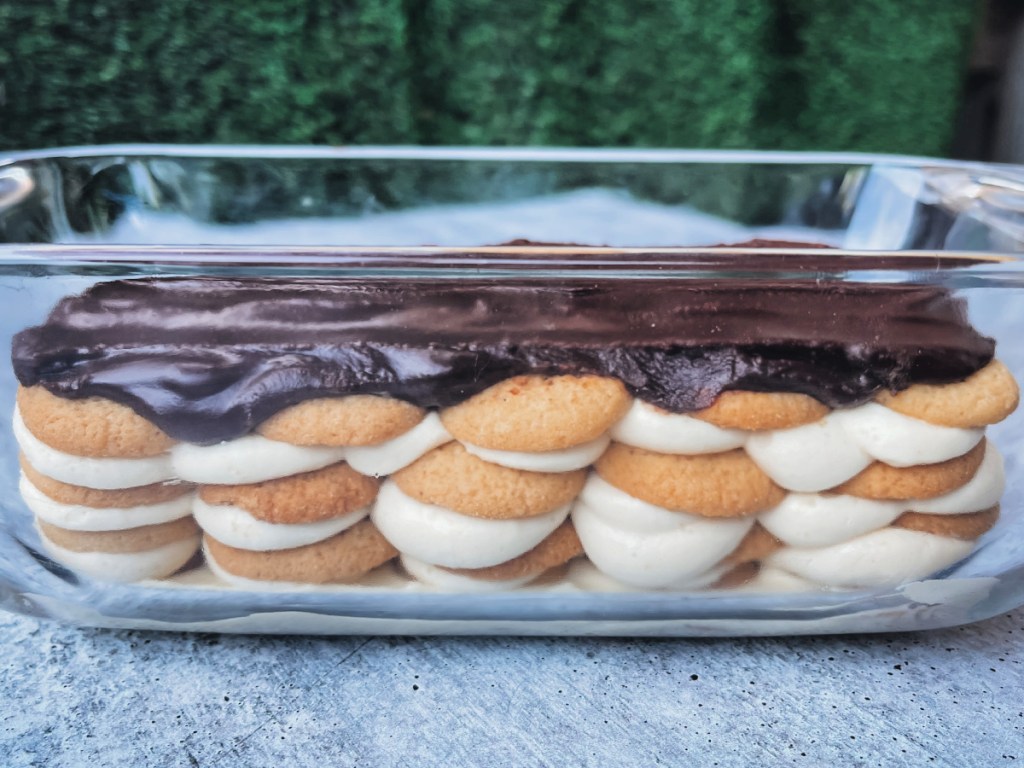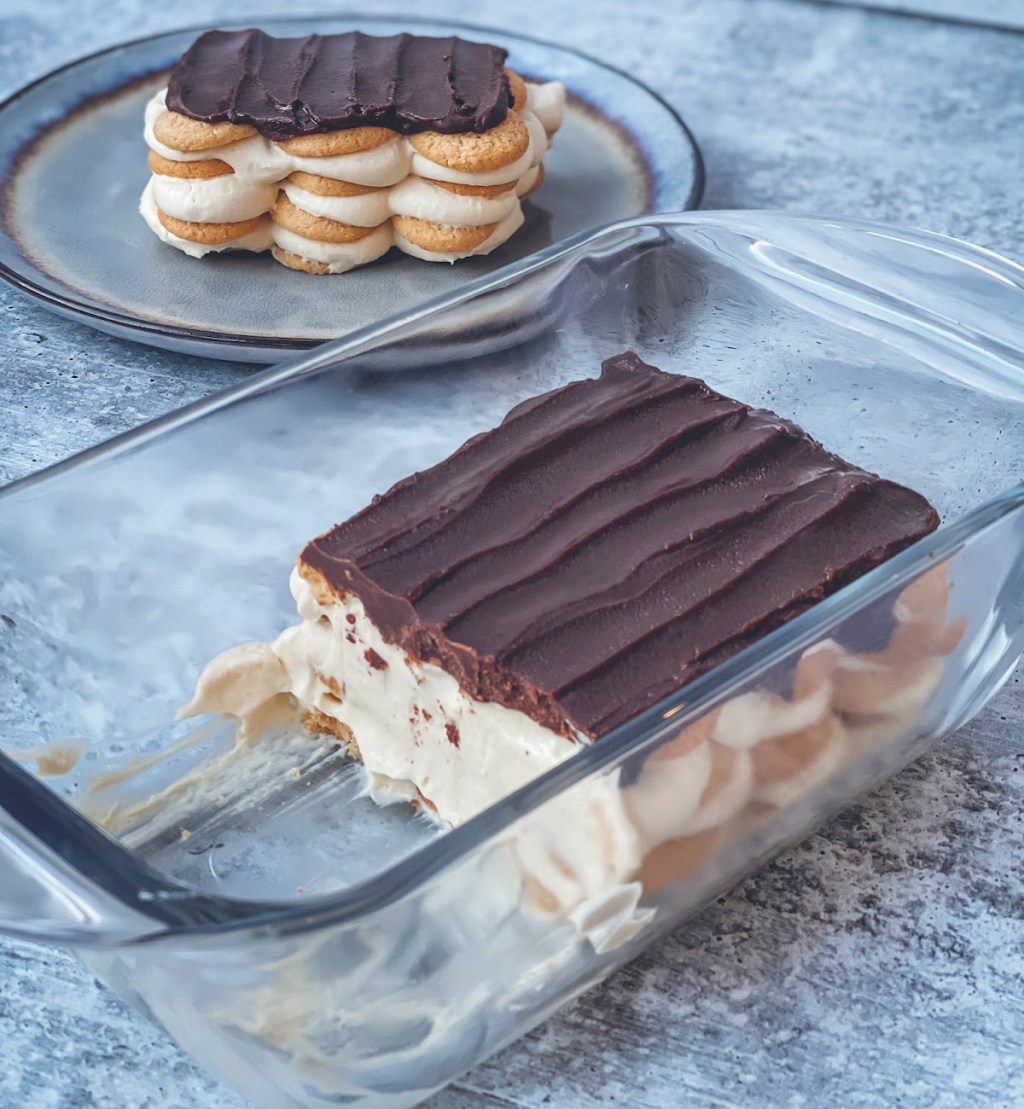 ---
Print
Keto No-Bake Eclair Cake
yield: 6 SERVINGS
prep time: 50 MINUTES
cook time: 10 MINUTES
total time: 60 MINUTES
Dive into decadent layers of keto whipped custard, keto cookie wafers, topped with a rich, sugar-free chocolate ganache.
Ingredients
Keto Vanilla Custard:
Keto Stabilized Whipped Cream:
Keto Chocolate Ganache:
Keto Vanilla Crust:
Directions
1
For the Keto Custard: 
In a saucepan over medium heat, bring the heavy cream to a simmer. In a heat-resistant bowl, whisk the egg yolks with keto sweetener and vanilla.
2
Slowly whisk about half of the hot cream into the yolks, then pour the tempered yolk mixture into the saucepan with the rest of the cream and cook until thickened, about 4 minutes, whisking constantly. Be careful not to overcook or the mixture will curdle.
3
Remove from the heat and sprinkle the surface with xanthan gum. Whisk well to combine and stop once the mixture thickens.
4
Transfer the custard to a bowl and line the top with plastic wrap, making direct contact with the custard mixture. This will create an airlock seal and keeps the mixture creamy, otherwise the surface will harden. Refrigerate the custard for 30 minutes.
5
For the Keto Stabilized Whipped Cream:
While the custard is cooling, make the keto whipped cream. Mix the gelatin and water in a heat-resistant bowl or cup. Let soak for a couple of minutes while the gelatin blooms and becomes soft.
6
Microwave the gelatin mixture in 10-second intervals until the gelatin is dissolved but make sure not to overheat or the gelatin will lose it's "gel".
7
In a large bowl, whip the heavy cream with a hand mixer or stand mixer at medium speed. After a few seconds, gradually add the sweetener and vanilla extract.
8
Right when the cream begins to form but is still soft, stop the mixer and spoon out about a tablespoon of whipped cream and add to the dissolved gelatin and mix. Add the gelatin mixture into the mixer bowl and finish whipping the cream until firm peaks form, being careful not to overmix.
9
Take the custard out of the refrigerator and mix into the finished whipped cream, folding in carefully so not to deflate the mixture. Use right away or store in refrigerator until ready to use.
10
For the Keto Chocolate Ganache:
Over low heat in a saucepan, melt butter and keto chocolate chips together until creamy. Stir in powdered keto sweetener and vanilla extract, stirring until smooth. Let cool 5 to 10 minutes, until thickened but still pourable.
Microwave directions:
In a microwave-safe bowl, melt butter and chocolate in the microwave by heating in 20-second intervals and stirring until fully melted. Stir in powdered keto sweetener and vanilla extract, and let cool 5-10 minutes to slightly thicken. Note this may not be as thick as the stove top ganache.
11
To Assemble the Keto Eclair Cake:
In a loaf pan or small casserole pan (I used a 9"x5" loaf pan), spread a thin layer of the whipped custard to create a stable base for the vanilla wafers.
12
Place a layer of the vanilla wafers on top the whipped custard and then cover the first layer of wafers with more whipped custard. Repeat this process until you have 4 layers of vanilla wafers in-between whipped custard.
13
Finally, pour chocolate ganache on top of the final layer of vanilla wafers and spread evenly. Refrigerate for at least 1 hour before serving to allow cake to firm up. Enjoy!
Additional Notes
Don't be alarmed by the high total carb count! Fiber and erythritol commonly found in keto products do not affect blood sugar in the same way that regular carbs do, so we subtracted them from the total carb count. You'll see that the net carbs are much lower once you remove the sugar alcohols and fiber.
Nutrition Information
Yield: 6, Serving Size: 1 piece/scoop
Amount Per Serving: 575 Calories | 58.8g Fat | 30.8g Total Carbs | 3.7g Fiber | 3.6g Sugar | 22.7g Sugar Alcohol | 5.6g Protein | 4.8g Net Carbs
---
Don't ya want to dive right in? 😍
While some extra love goes into making the whipped custard, the payoff is SO worth it! You're sure to please the sweetest of sweet tooth's the second they try a forkful of this creamy dessert.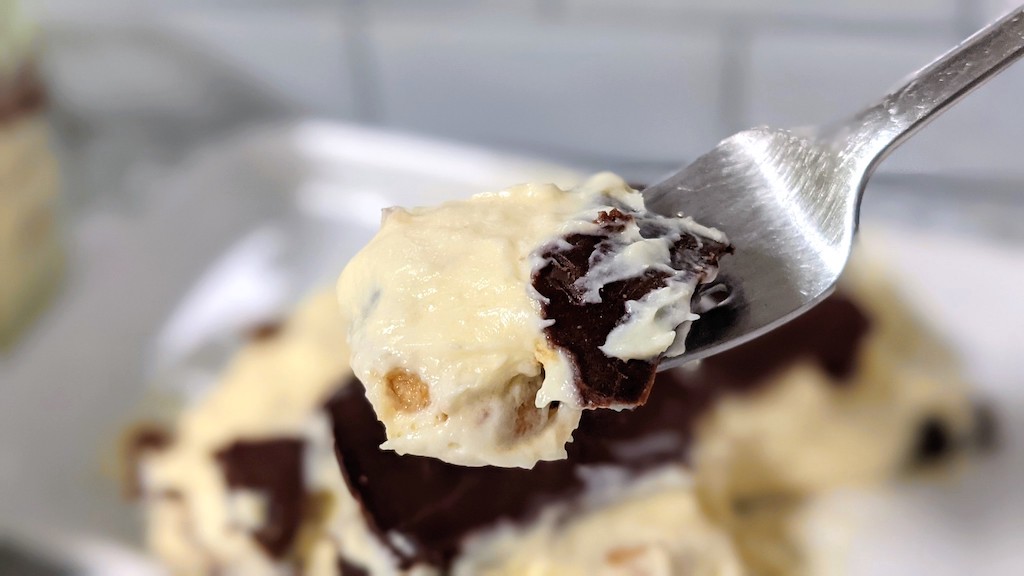 My Hip sidekick Jen made this recipe and here's what she thought!
"Talk about decadent! This eclair dessert is fantastic! And don't let the list of directions scare you. This recipe was really easy to make!
After the first few bites, I had no words to describe how yummy it tastes. It's creamy, rich, and has a little surprise crunch (from the cookies) with a layer of ganache. My non-keto husband thought it tasted just like a regular Boston Cream pie! I will have no problem bringing this to a family gathering because I know it will be eaten up by everyone."
---
Want more luscious desserts? Make this Keto Chocolate Hazelnut cake next!