Have Your Keto Chocolate Hazelnut Cake and Eat It Too!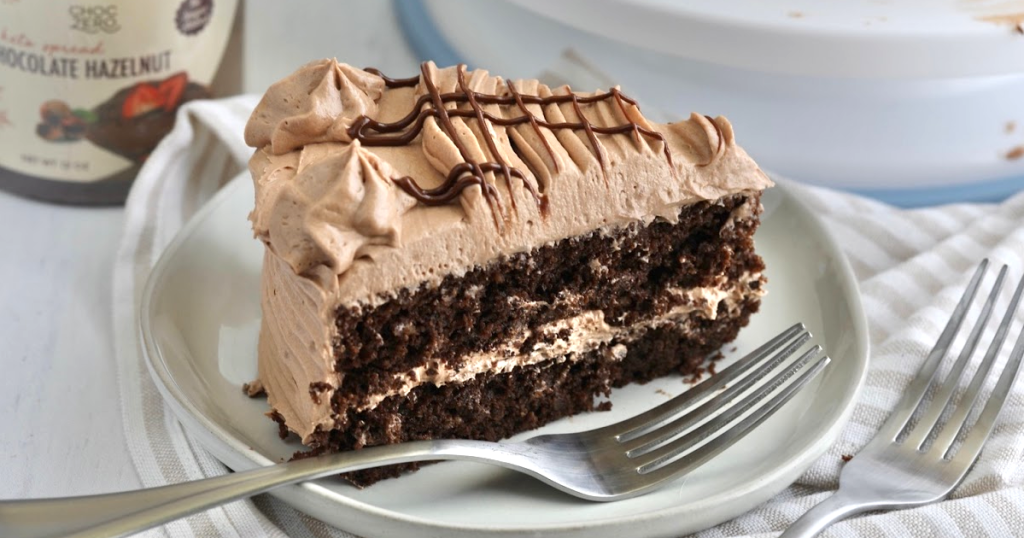 This keto cake is what chocolate hazelnut dreams are made of. 🤤
Do you miss sneaking spoonfuls of silky Nutella right out of the jar or indulging in one too many fancy Ferrero Rochers? Well, you're in luck because the ChocZero Chocolate Hazelnut Spread is totally keto-friendly with no sugar added, and still filled with all that delicious and sweet chocolatey, nutty goodness. So – of course, we decided to make a decadent keto chocolate cake with it!
Get all the frills and none of the added sugar with this luxurious keto chocolate hazelnut cake that will have you feeling like you're in keto dessert heaven. 😍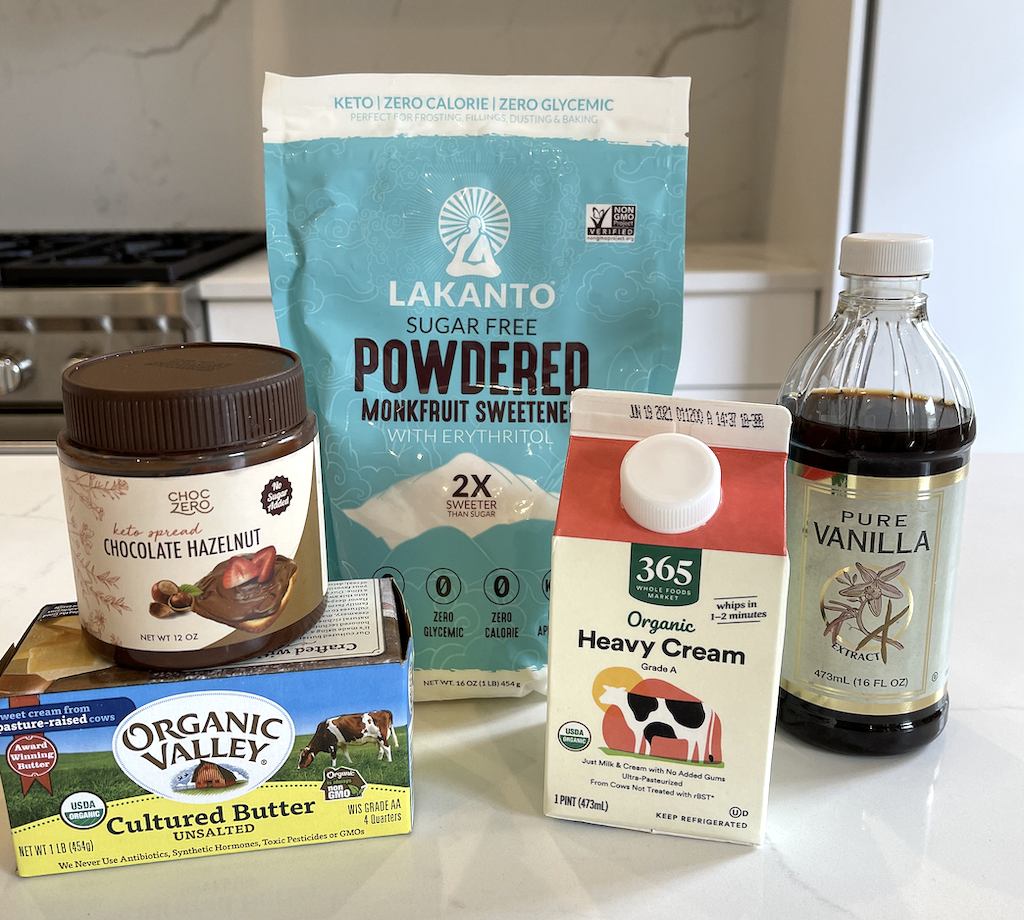 This keto chocolate hazelnut cake is easier to make than you'd think!
What's better than indulgent layers of chocolate hazelnut cake? A rich and fluffy frosting on top and in between. 🤤 This recipe might seem elaborate but I promise it's surprisingly simple.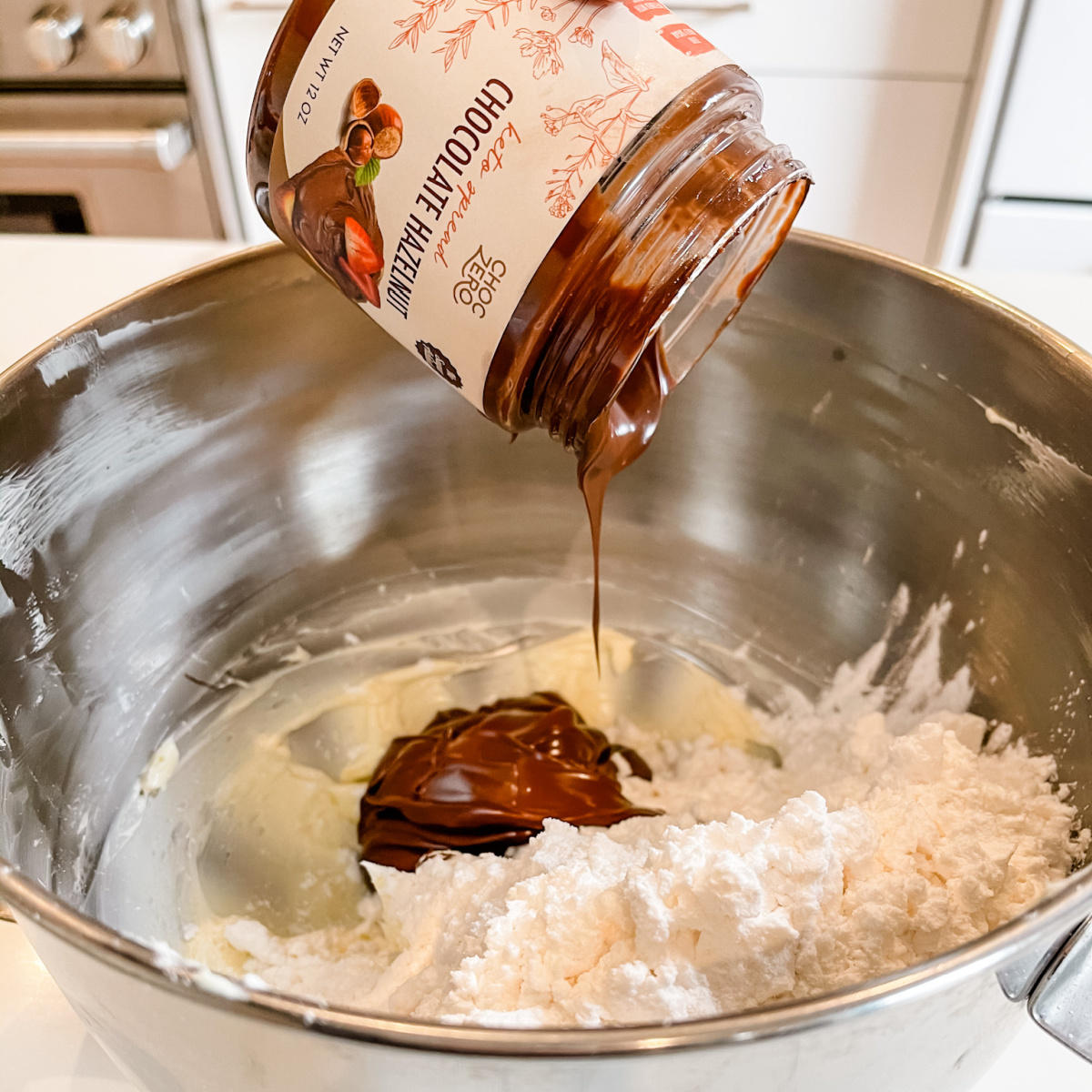 Tips for making the best keto chocolate hazelnut cake & frosting:
Get extra nutty. To really bring out the hazelnut flavor in the ChocZero spread, I used 1 cup of finely ground hazelnuts. You can make your own or buy hazelnut flour, but also feel free to substitute it for more almond flour if that's what you have on hand.
Don't have cake pans? Make 12 adorable mini cakes! This recipe can be used to make 12-16 cupcakes in a muffin pan (depending on how much you fill the pan). So if you don't have cake pans or want smaller portions, just make them cupcakes!
Add tang and tenderness. Mix the room temperature almond or coconut milk with the apple cider vinegar and let sit for at least 10 mins to curdle. This will create a buttermilk effect that really adds to the flavor of the cake.
Extra chocolate hazelnut spread, please! I would highly recommend getting at least two jars of the ChocZero spread because this recipe uses one whole jar and you definitely will want extra to enjoy straight out of the jar! 😋 Use promo code HIP2KETO to save 10% on your ChocZero order!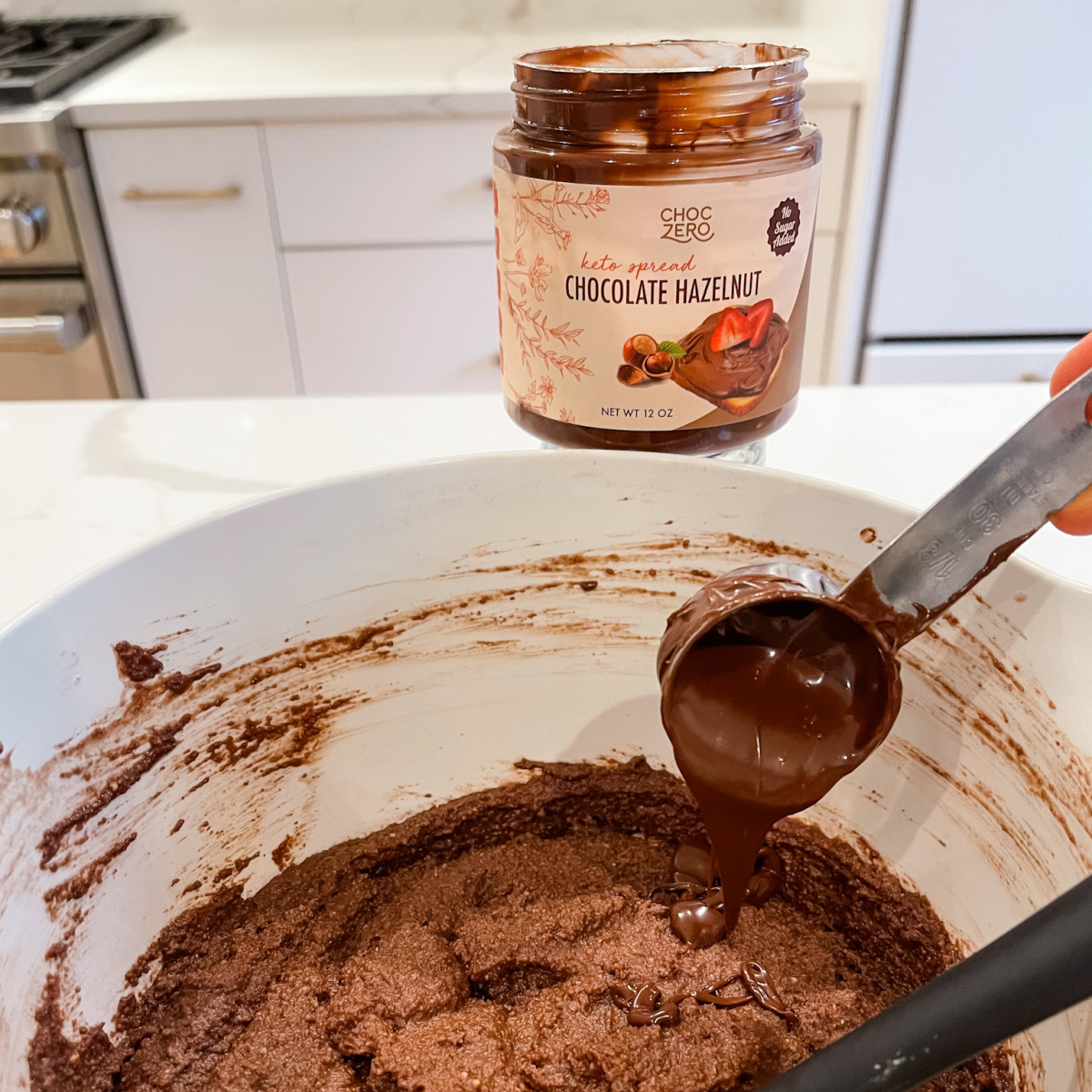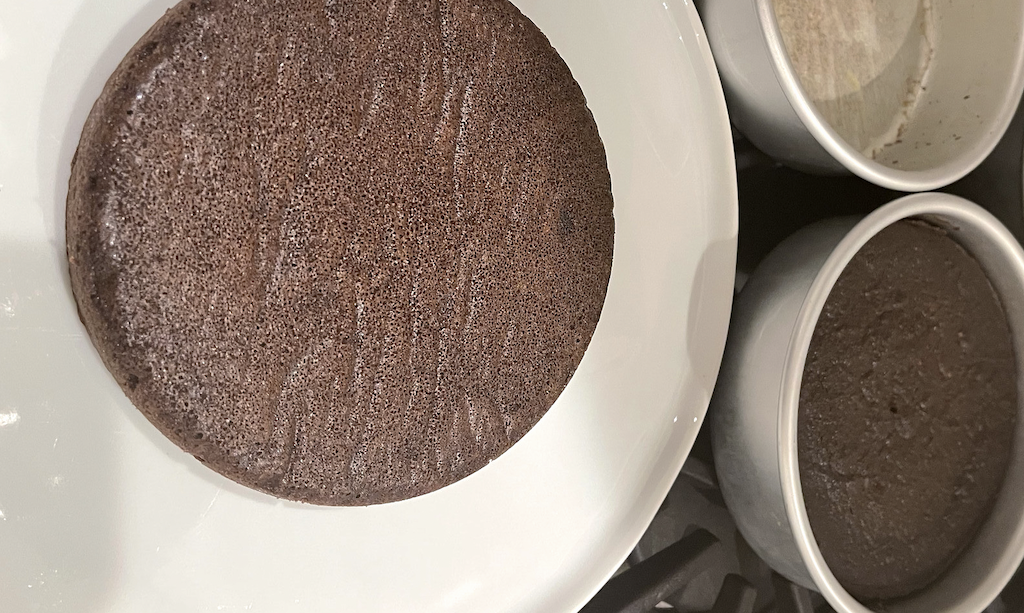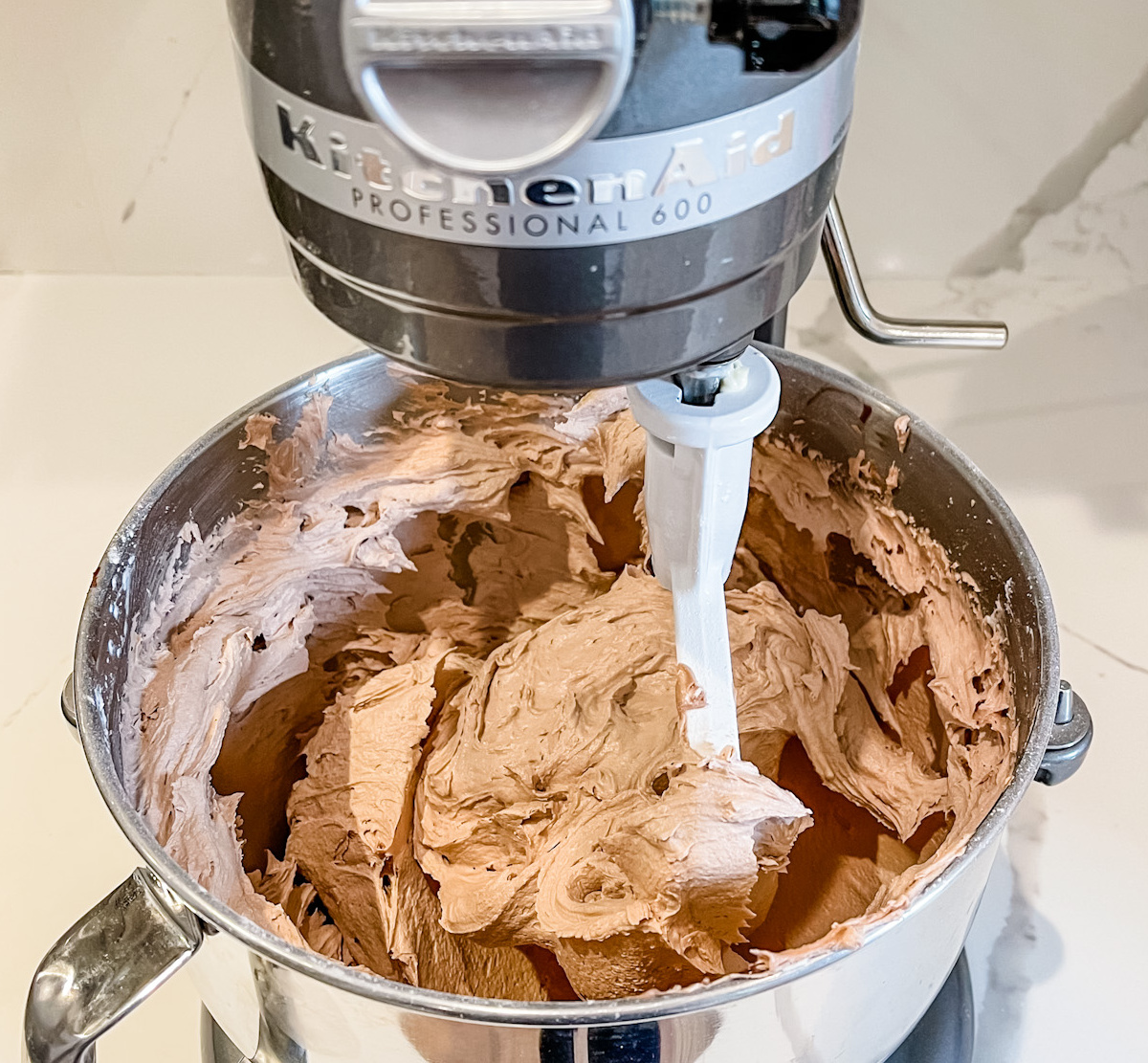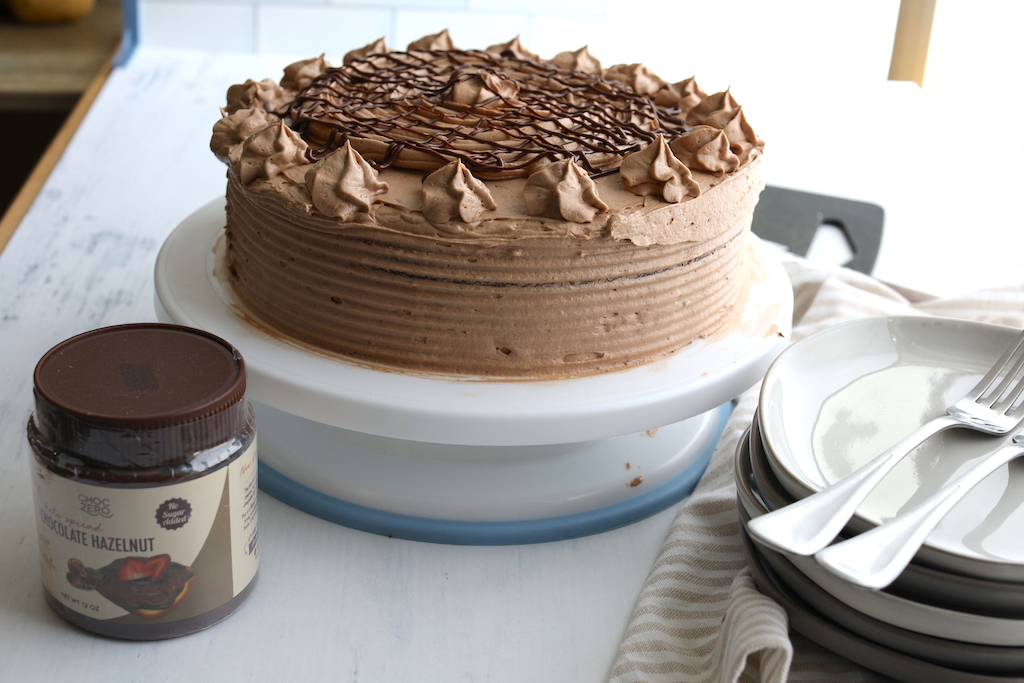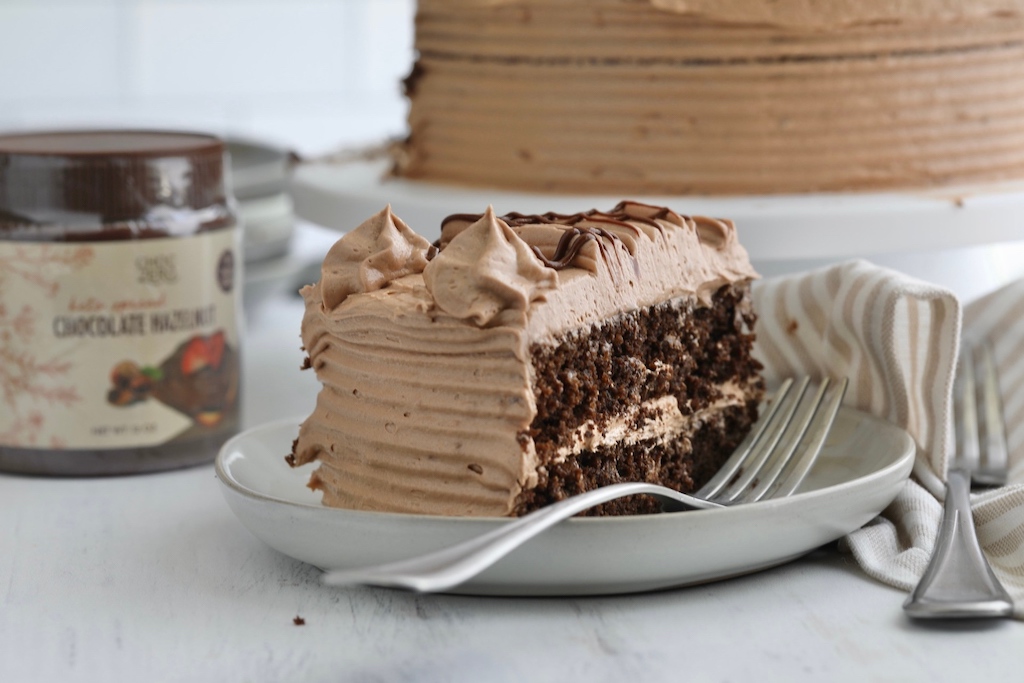 ---
Print
Keto Chocolate Hazelnut Cake & Frosting
yield: 16 SERVINGS
prep time: 30 MINUTES
cook time: 25 MINUTES
total time: 55 MINUTES
A rich and decadent chocolate cake baked with ChocZero's chocolate hazelnut spread and a rich whipped cocoa hazelnut frosting.
Ingredients
Keto Chocolate Hazelnut Cake:
3/4 cup unsweetened almond milk room temperature (or coconut milk)
1/2 tablespoon apple cider vinegar
1/2 cup unsweetened cocoa powder
2 teaspoons baking powder
1/2 teaspoon baking soda
1 teaspoon salt
4 large eggs, room temperature
1/2 cup melted coconut oil
3 teaspoons vanilla extract
Keto Chocolate Hazelnut Buttercream Frosting:
1 1/2 cup unsalted butter, room temperature
5 cups keto powdered alternative sweetener
1/2 cup heavy cream
1 1/2 teaspoons vanilla extract
1/8 teaspoon salt
Directions
1
To make the cakes:
Preheat the oven to 350 degrees or 325 degrees convection. Grease two 8-inch cake pans with butter and then line the bottoms with parchment paper.
2
In a small bowl, add the room temperature almond milk and apple cider vinegar and set aside for 10 minutes to curdle.
3
While the almond milk and ACV curdle, spoon and level all the dry ingredients and mix to combine in a separate large bowl—almond flour, hazelnut flour, coconut flour, cocoa powder, sweetener, baking powder, baking soda, salt. Be sure to spoon the flours into the measuring cup and level off the top, rather than scooping.
4
In a medium bowl, add the room temperature eggs, melted coconut oil, ChocZero Chocolate Hazelnut Spread, and vanilla extract, then pour in the curdled milk and beat mixture until completely combined.
5
Combine the wet and dry ingredients and mix well. Divide the batter evenly between the 2 prepared baking pans.
6
If baking at 350 degrees, bake for 18-25 minutes. If baking at 325 degrees convection, bake for 15-20 minutes. Rotate the cakes halfway through and check for doneness 5-10 minutes before set bake time. Cakes are done when a toothpick comes out clean from the center.
7
Let the cakes cool in the pan for 30 minutes before removing and wait at least an hour or overnight in the fridge before frosting.
8
To make the frosting:
In a large bowl beat the softened butter using a handheld or stand mixer with a paddle attachment. Beat on medium speed for about 2 minutes until smooth.
9
Stop the mixer and add in the hazelnut chocolate spread, heavy cream, vanilla extract, sweetener, and salt. Beat on low speed for 30 seconds, then increase to medium-high speed and beat for 2 full minutes. If frosting is too thin add up to 1/2 cup more keto powdered sweetener, or add another tablespoon of cream if frosting is too thick.
10
Use frosting immediately or cover tightly and store for up to 1 week in the refrigerator. Enjoy!
Additional Notes
NUTRITION INFORMATION (for the cake alone)
Yield: 16 servings, Serving Size: 1
Amount Per Serving: 195 Calories | 17.6g Fat | 10.9g Total Carbs | 4.1g Fiber | 1.1g Sugar | 4.0g Sugar Alcohol | 5.0g Protein | 2.8g Net Carbs
---
Don't be alarmed by the high total carb count! Fiber and erythritol (the main ingredient in ChocZero products and keto-friendly sweeteners) do not affect blood sugar in the same way that regular carbs do, so we subtracted them from the total carb count. You'll see that the net carbs are much lower once you remove the sugar alcohols and fiber.
Nutrition Information
Yield: 16 frosted slices, Serving Size: 1 slice
Amount Per Serving: 474 Calories | 42.8g Fat | 40.7g Total Carbs | 13.1g Fiber | 1.9g Sugar | 24.0g Sugar Alcohol | 6.5g Protein | 3.6g Net Carbs
---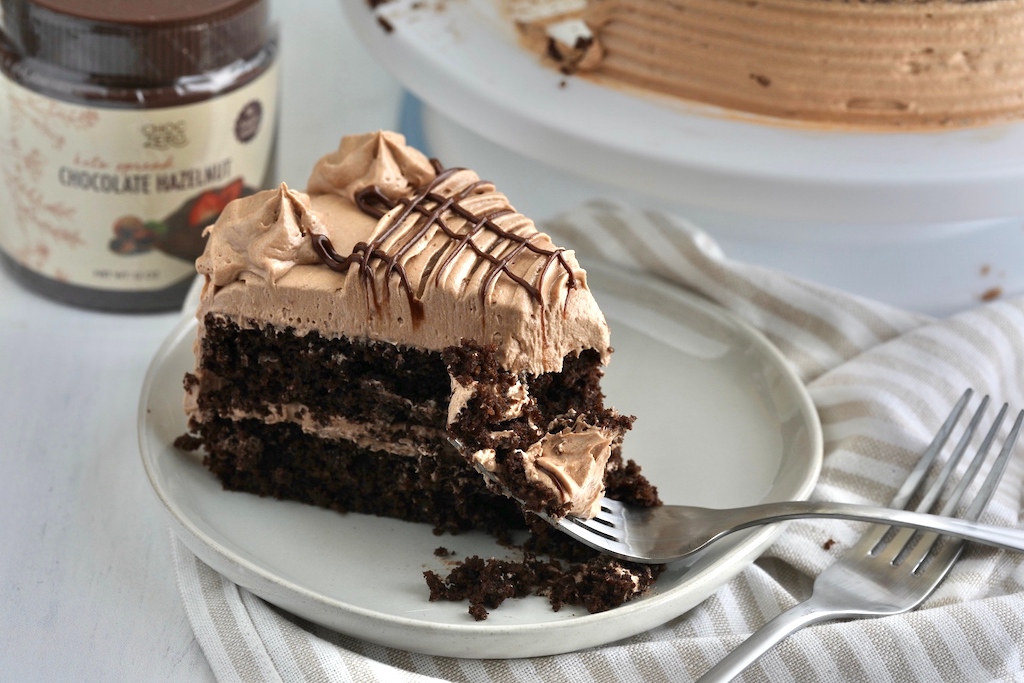 Even non-keto peeps will be drooling over this cake! 🤤
I gave my carb-loving boyfriend a slice without telling him it was keto and he LOVED it! So much so, he asked for more even after I told him it was low carb. 🤯 I cannot thank ChocZero enough for creating this delicious spread — I'd almost forgotten how much I missed having creamy chocolate + hazelnuts in my keto life!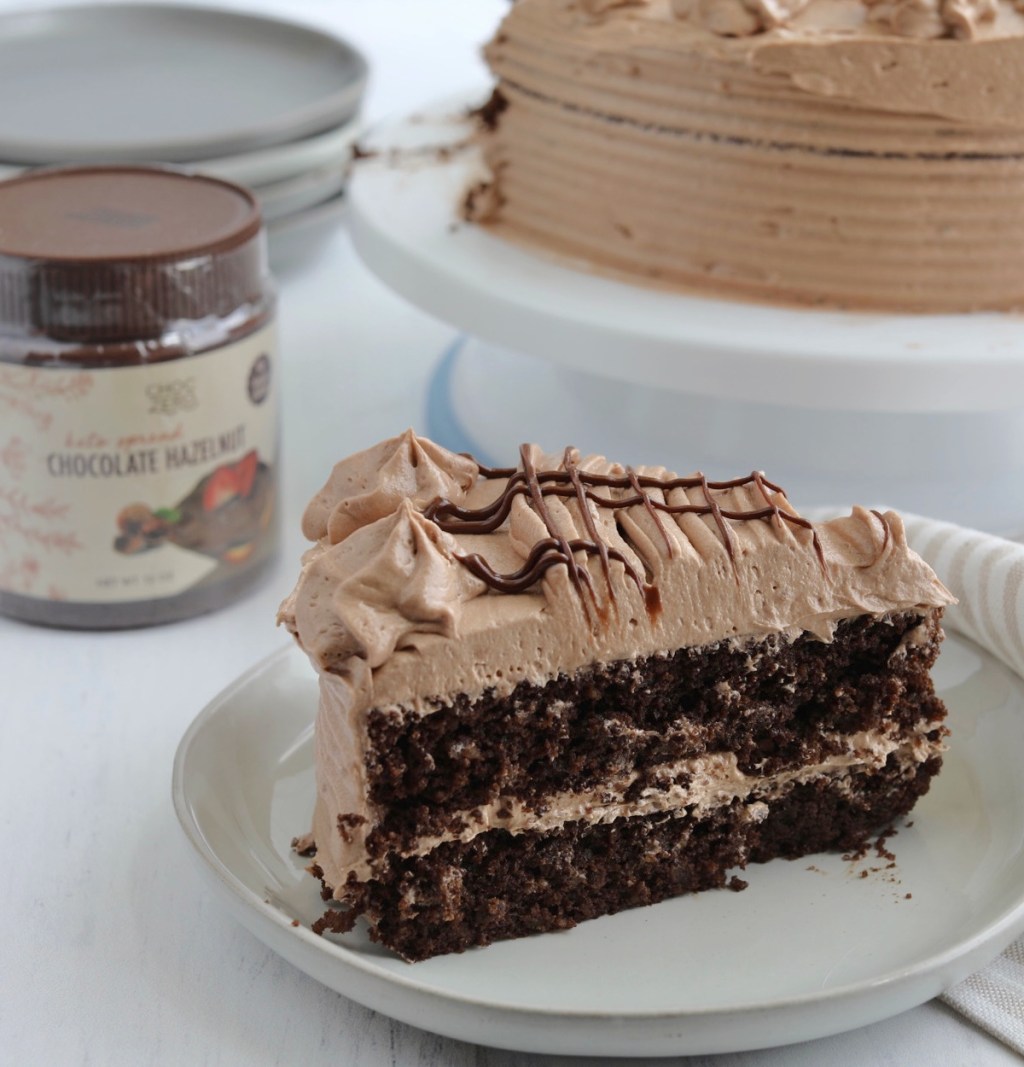 My sidekick Jenna gave this recipe a try and here's what she thought:
"I know I've mentioned this before, but I'll say it again – we are Nutella crazed in this household. The kids eat it often and put it on almost everything. I LOVE that ChocZero has saved the day again, and I also love that this dessert uses the keto chocolate hazelnut spread in both the cake AND the frosting!
It's so decadent and everything a cake should be! I had a nice-sized slice with a cold glass of almond milk… for breakfast! 😆"
---
You won't want to miss our love letter to this keto chocolate hazelnut spread!