Okay Guys… These are Seriously the BEST Keto Mashed Potatoes!
Yukon gold potatoes mixed with mashed cauliflower, butter, and parmesan cheese create the perfect keto mashed potatoes. 😋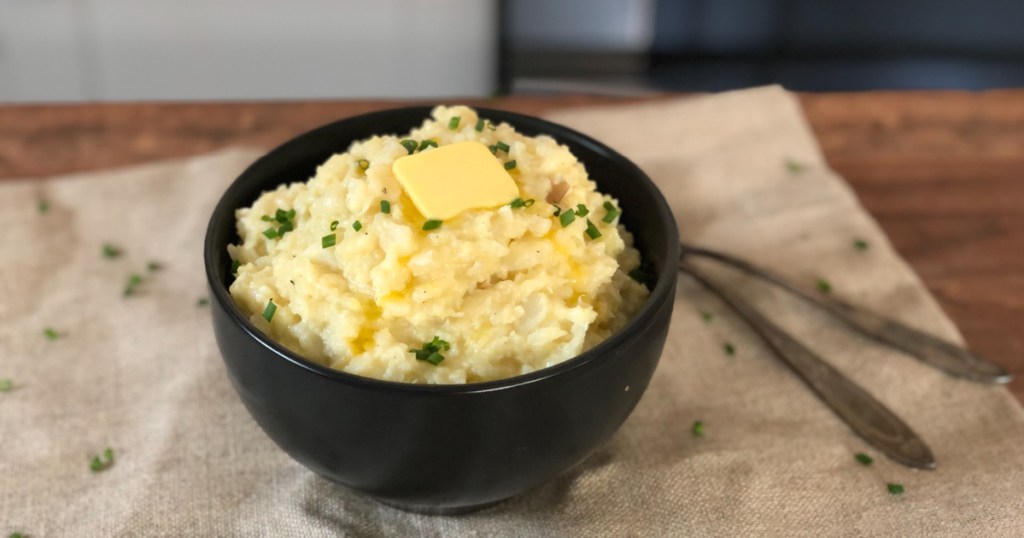 What!? Keto mashed potatoes? … with actual potatoes?!
Yep, we figured there had to be a way to still enjoy potatoes on occasion with a keto or low-carb diet. Giving up potatoes can be very difficult for some people, especially when first starting out. Potatoes are a staple item in many people's diets and often something that's considered comfort food.
Well, we've come up with the best keto mashed potatoes to help with that carb-craving nostalgia. And at only 7.7g net carbs per serving, you can easily make room for these on your keto or low-carb diet. 🥔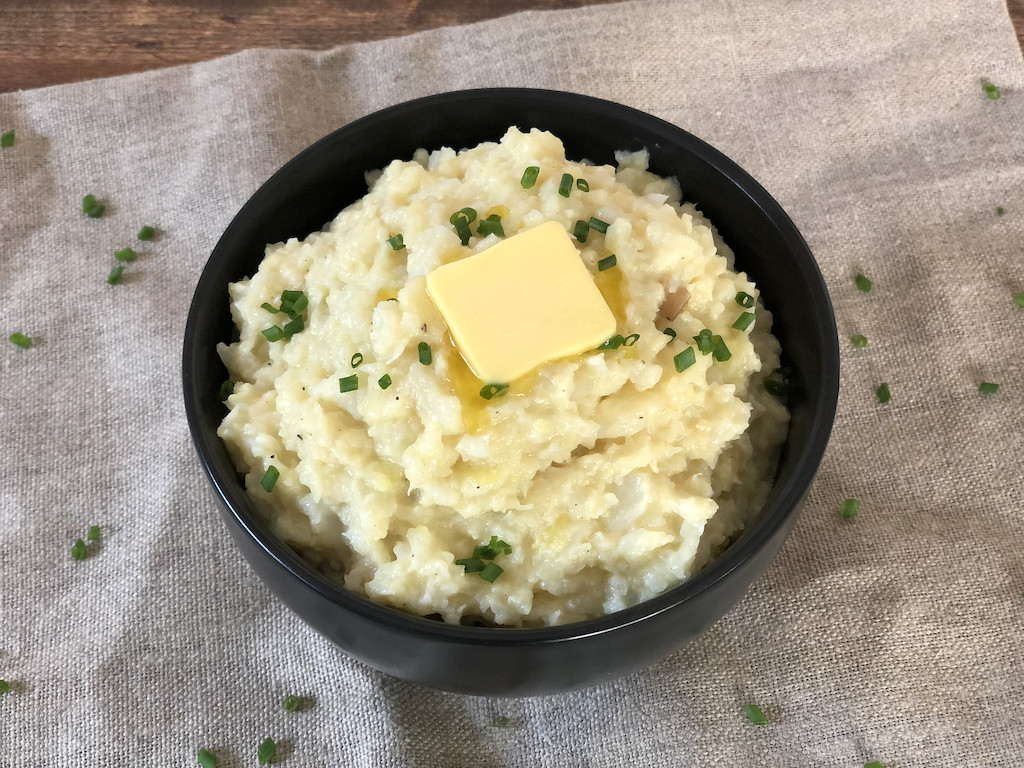 "Pass the potatoes, please!"
Serve up a big bowl of these low-carb mashed potatoes at your next family gathering and I guarantee people will be asking for more! This is so simple to make and definitely deserves a regular place on your table (depending on your carb goals, of course, 😉). Or save it for special occasions like Thanksgiving or Christmas!
This recipe uses cauliflower as the base, but the addition of creamy Yukon gold potatoes gives it that delicious potato flavor that totally overpowers the cauliflower. We also added butter, garlic powder, salt, and pepper… all the good stuff! And of course, parmesan cheese, because cheese makes everything taste better. 😄 You'll hardly even notice the cauliflower!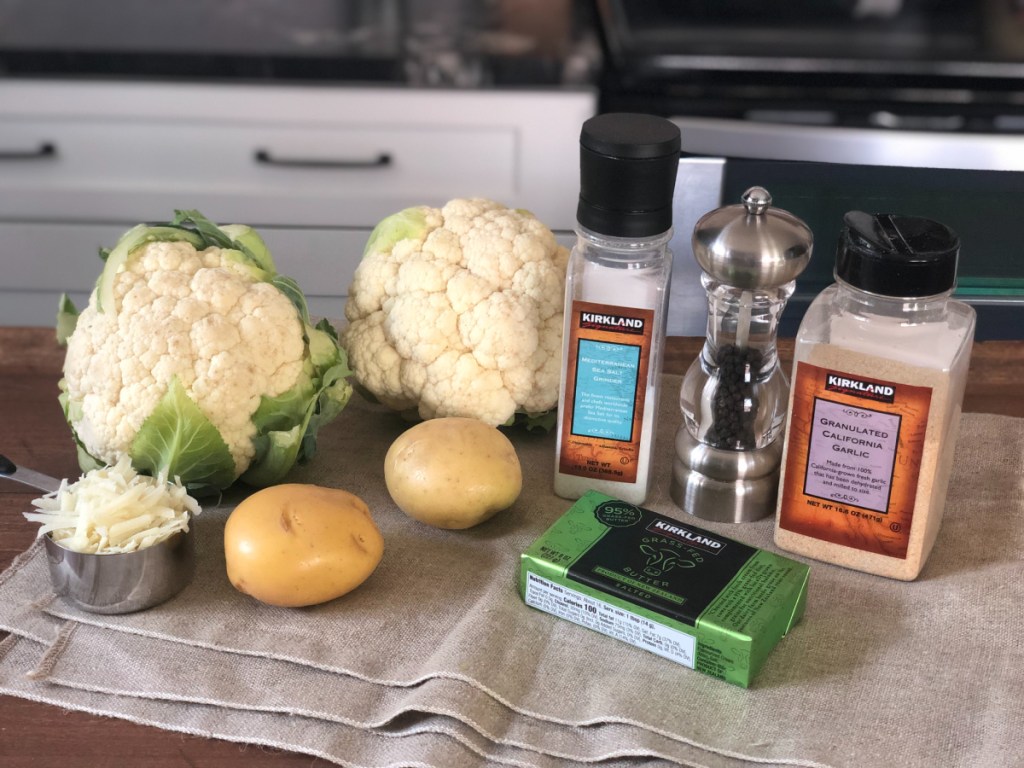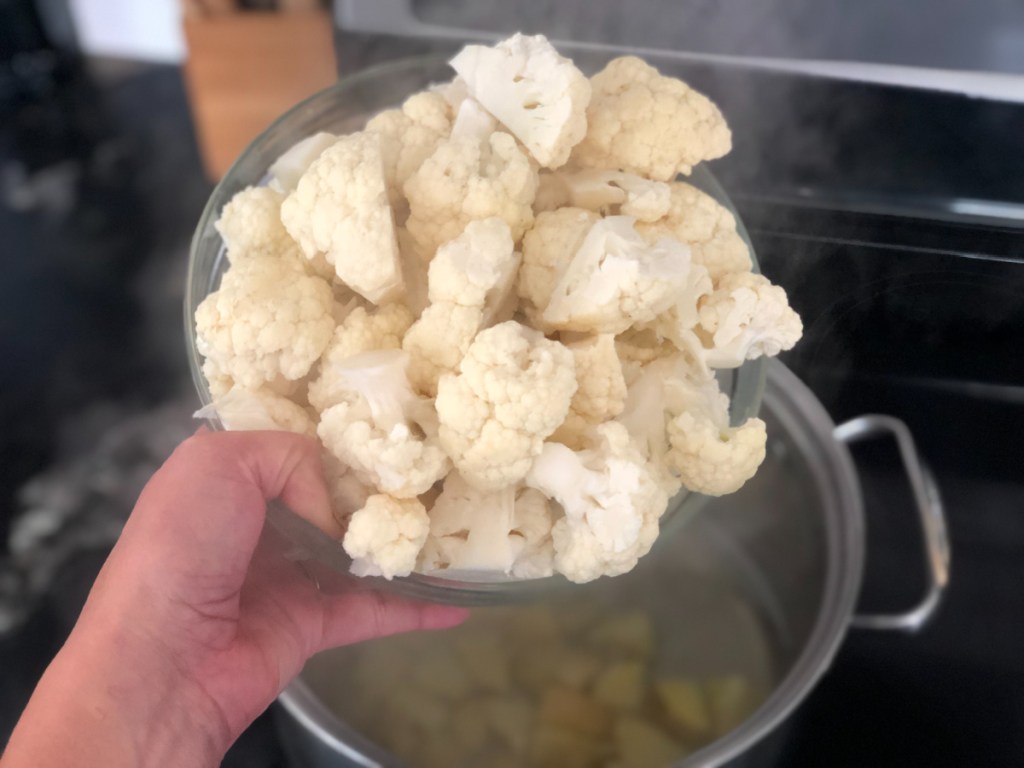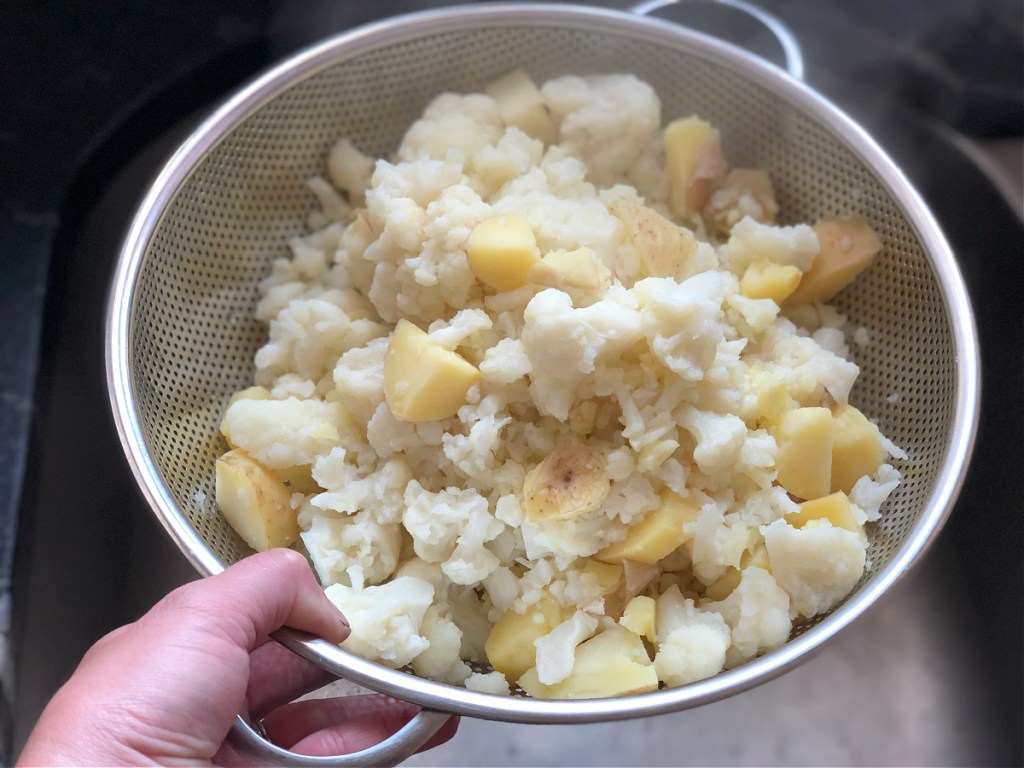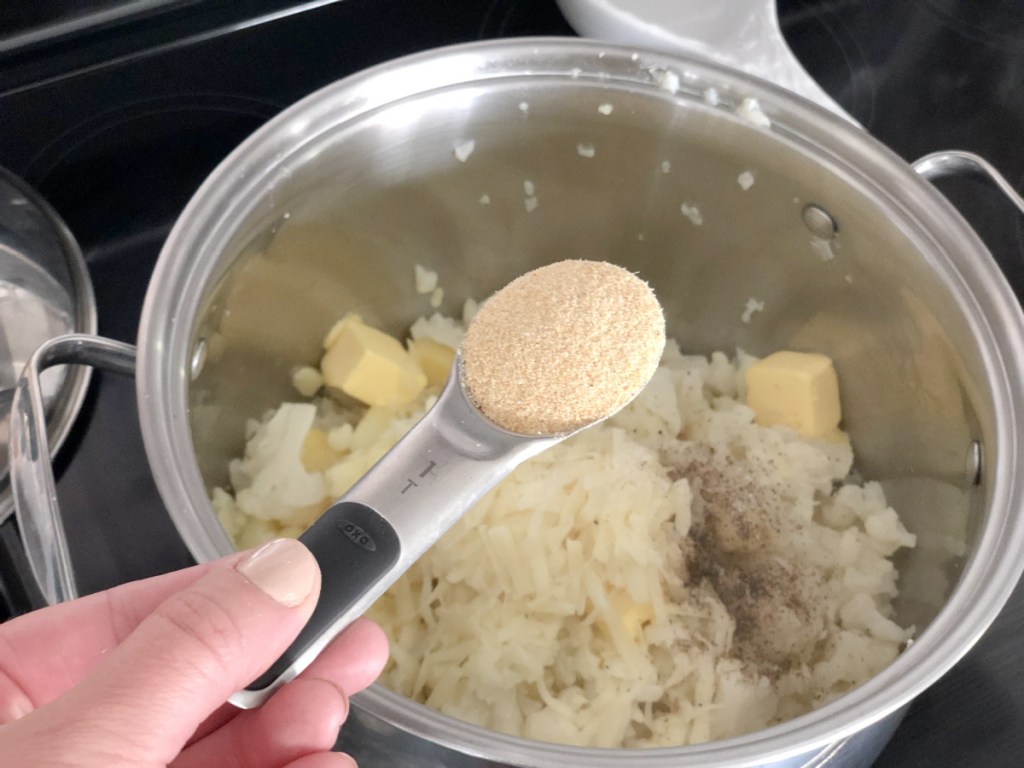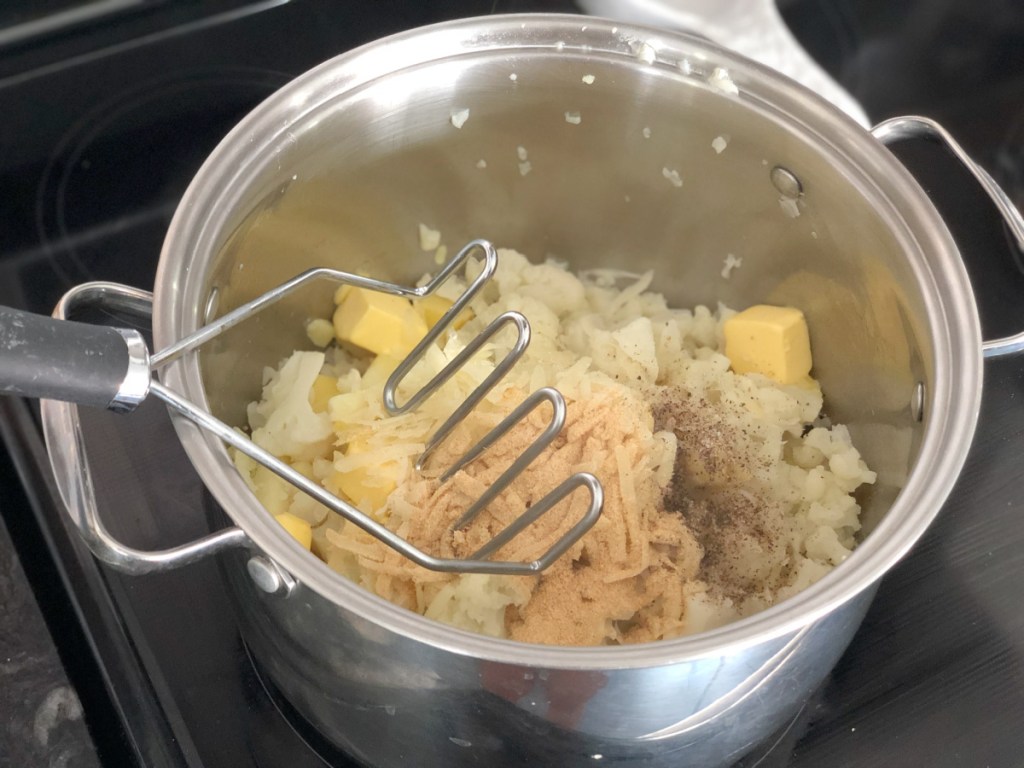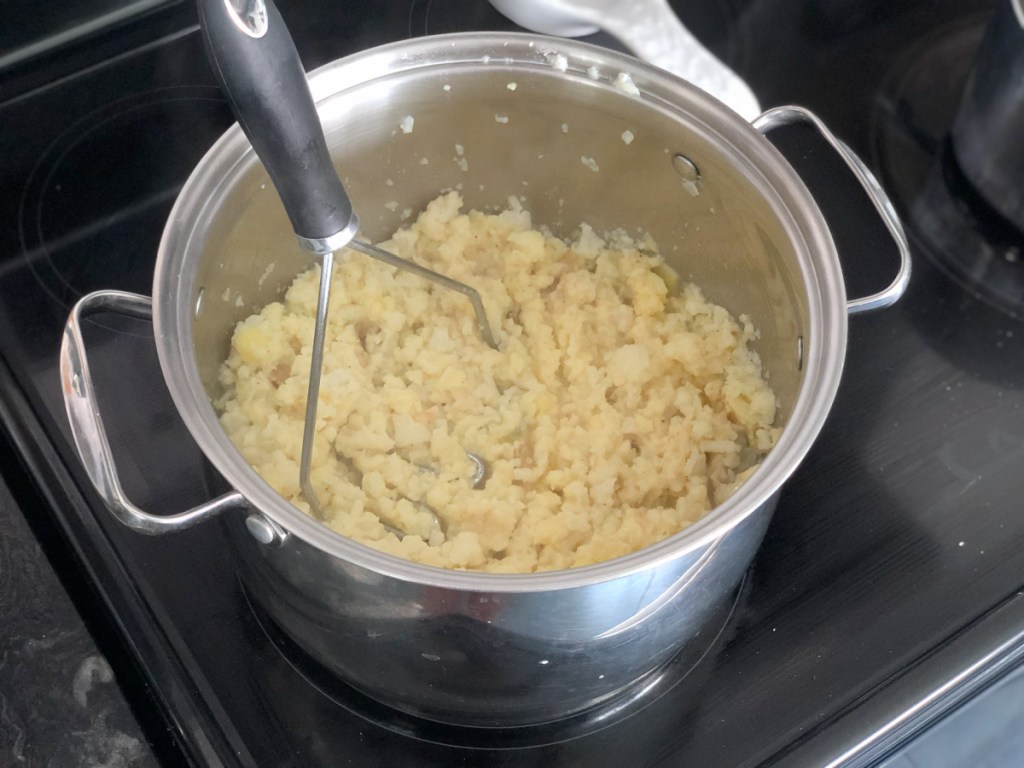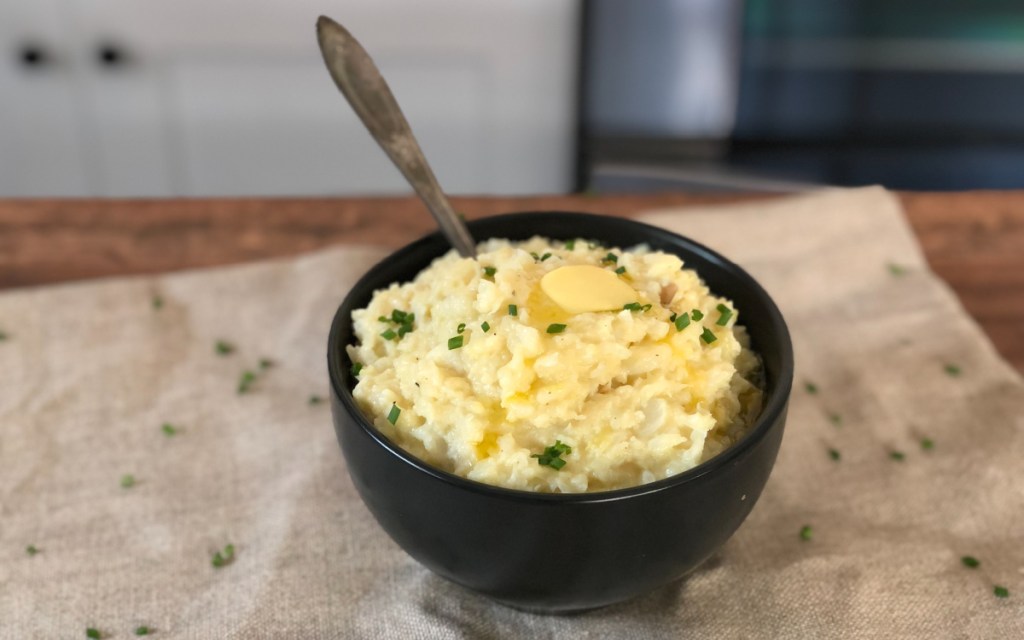 ---
Print
Keto Mashed Potatoes
yield: 12 SERVINGS
prep time: 10 MINUTES
cook time: 30 MINUTES
total time: 40 MINUTES
Yukon gold potatoes mixed with mashed cauliflower, butter, and parmesan cheese create the perfect low-carb mashed potatoes.
Ingredients
2 medium cauliflower heads, chopped
1/2 cup butter, salted
1 cup shredded parmesan cheese
1 teaspoon salt
1/4 teaspoon pepper
1 tablespoon garlic powder
Directions
2
Once the water is boiling, add in the Yukon gold potatoes and let them boil for about 5 minutes, until just starting to get soft when pierced with a fork.
3
Add the cauliflower to the stockpot and cover. Boil for another 20-25 minutes until the cauliflower and potatoes are mashable with a fork.
4
Drain off any excess water by dumping the potatoes and cauliflower into a colander placed in the sink. Pour the potatoes and cauliflower back into the stockpot over low heat.
5
Add butter, shredded parmesan, salt, pepper, and garlic powder to the potato-cauliflower mixture and mash with a potato masher. If you want a creamier texture, you can mix with a hand or stand mixer.
6
Cook the keto mashed potatoes over low heat until the parmesan cheese is completely melted, about 5 minutes to let the flavors come together. Stir every 1-2 minutes. Serve with butter, more cheese, sour cream, and/or keto gravy! Enjoy!
Nutrition Information
Yield: 12 servings, Serving Size: 1/2 cup
Amount Per Serving: 149 Calories | 10.1g Fat | 10.6g Total Carbs | 2.6g Fiber | 2.1g Sugar | 5.6g Protein | 8g Net Carbs
---
Tips for making the best keto mashed potatoes:
Make sure you use Yukon gold potatoes. They have that creamy, buttery flavor that masks the cauliflower taste. Russets won't do the trick!
If you want a super creamy texture for your low-carb mashed potatoes, use a hand mixer or stand mixer to "mash" the potatoes and cauliflower together. But if you like the chunky texture, stick to hand mashing.
You could use cheddar cheese in place of parmesan cheese if that's your preference. Also, feel free to double the amount of cheese for super cheesy low-carb mashed potatoes. 🧀
To take these mashed potatoes to the next level and really get your comfort food eatin' on, be sure to make our homemade keto gravy!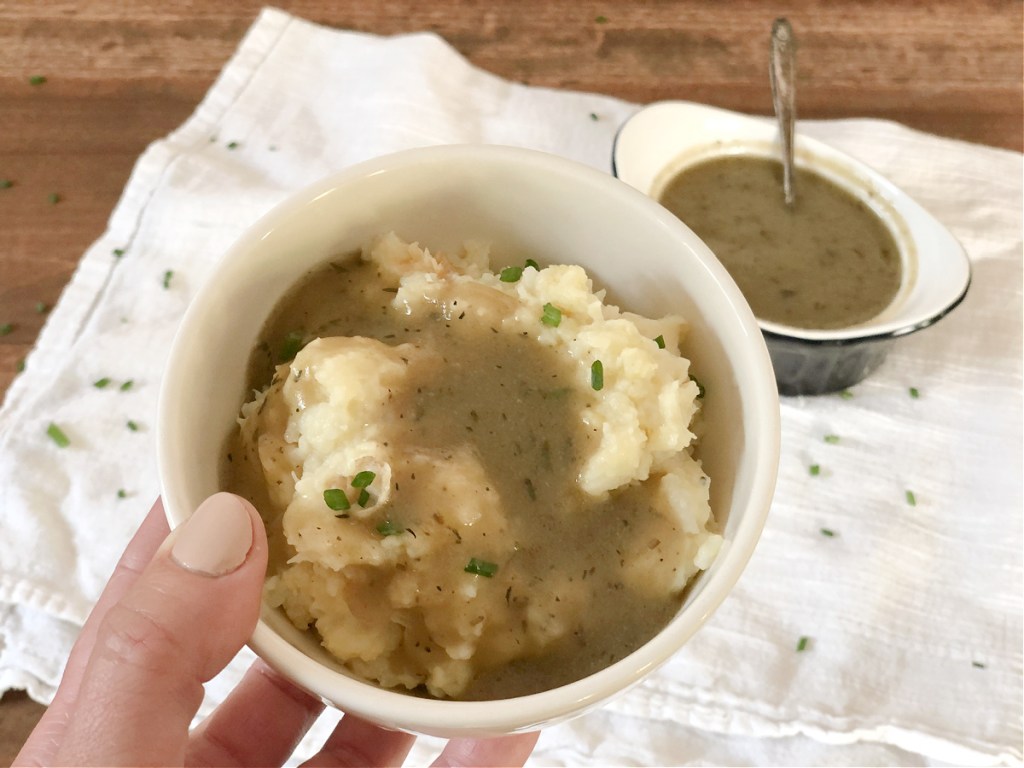 Do you feel like you've been missing out on potatoes for too long?
You are going to go crazy for this recipe! If mashed potatoes bring back childhood memories and the holidays just haven't been the same since you started keto, you need to make these low-carb mashed potatoes!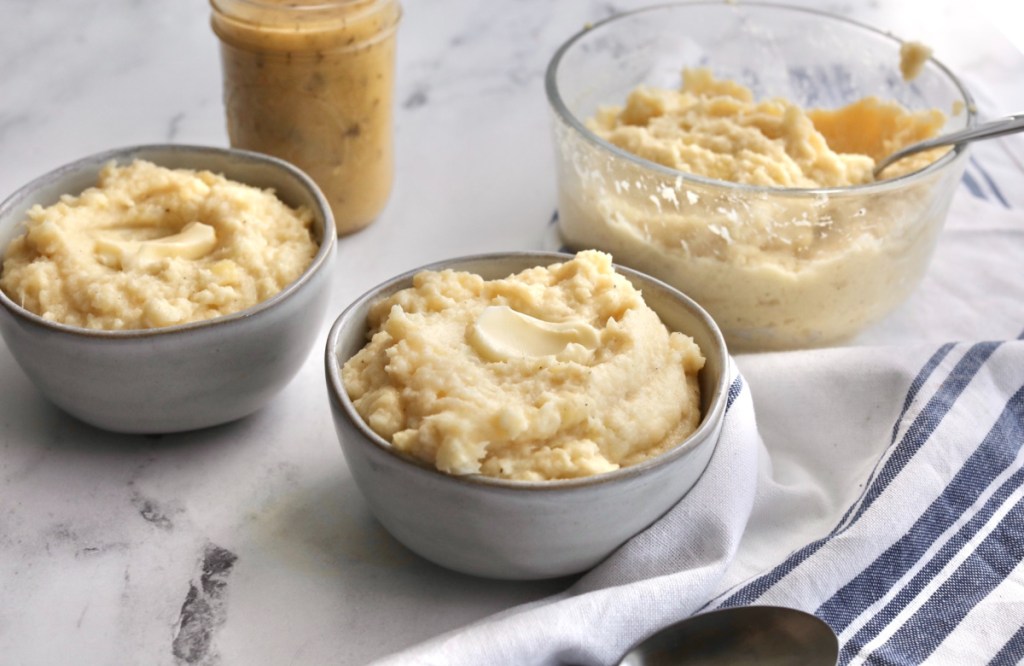 My Hip sidekick Jenna made this low carb mashed potato recipe and here's what she thought:
"Wow, I had no idea I could use any potato in my mashed potatoes for keto, this is brilliant! I love Yukon Gold the most for making mashed potatoes. I am a big fan of using cauliflower and/or rutabaga in mashed potatoes so we loved these and this whole recipe! Pair this with our keto gravy recipe and it's off the charts for flavor… YUM!"
---
Want more side dish recipes? Check out this recipe for our keto cauliflower potato salad.