Mouth-Watering Keto Lemon Dijon Chicken Thighs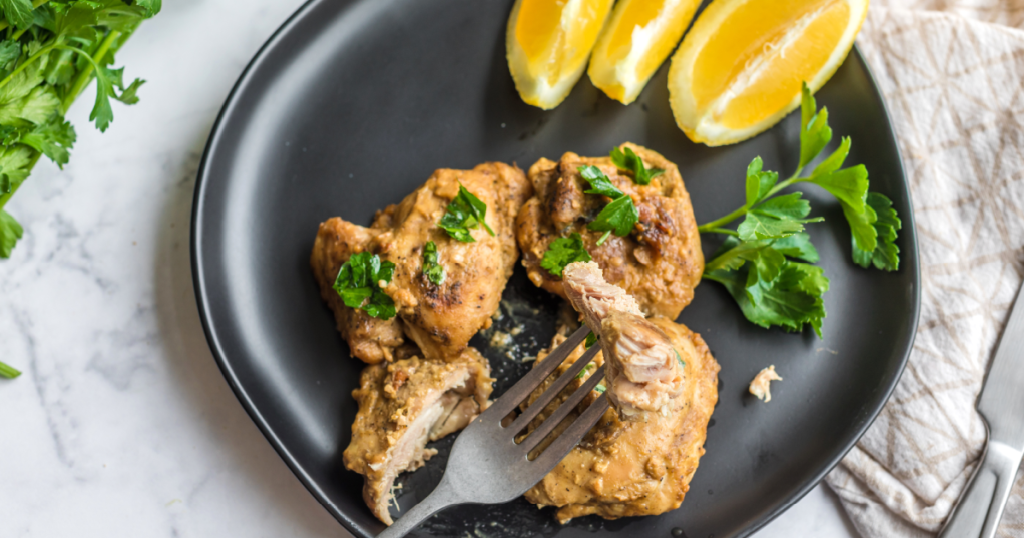 How about tender, juicy braised chicken thighs for dinner tonight?
I probably don't need to be the first one to tell you that braised chicken thighs are amazing! They're super flavorful and fall-off-the-bone tender. With our ketofied recipe, you'll see how simple it is to create a luscious pan sauce in minutes that is spooned over the chicken before serving.
Although these thighs are great for a family dinner, they also fit the bill for a very special dinner you'd be proud to serve to guests. They're outrageously delicious and keto, of course, with only 1.3g net carbs per serving! Who would have known?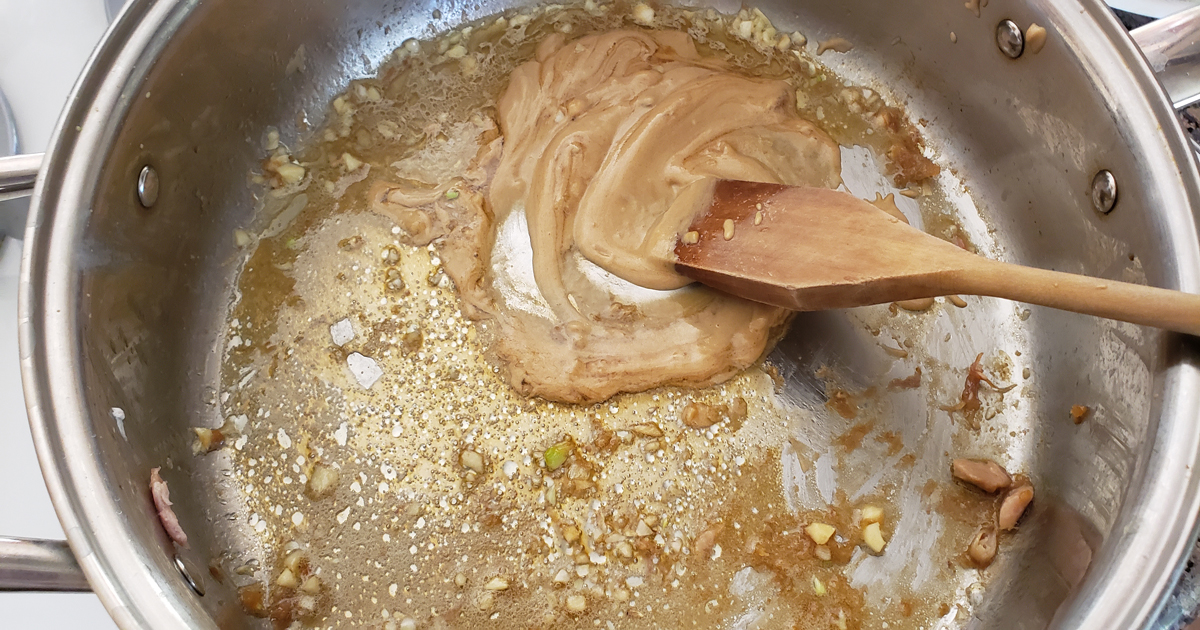 Everything happens in one skillet!
Yes! Thankfully you only need ONE pan to make Lemon Dijon Chicken Thighs! It's easy, breezy prep with one pan going from stovetop to oven, and then back to the stovetop for a finishing pan sauce. Everyone wants an easy clean up after dinner and this recipe makes it happen.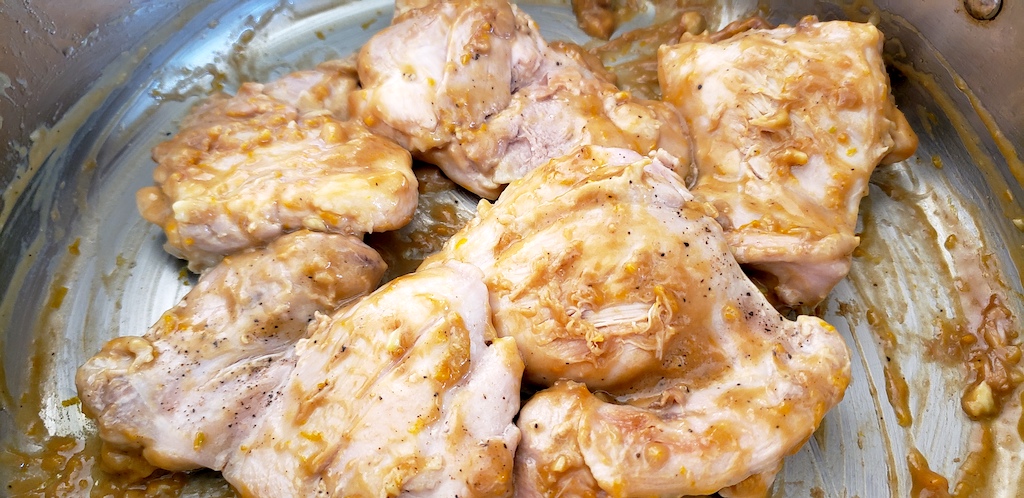 Why braising?
Braising adds so much moisture to the meat, making it fall-off-the-bone tender and melt-in-your-mouth delicious! Braising is actually a two-step cooking process that involves an initial saute/fry/sear followed by a slow simmer in a liquid — in this case it's lemon juice, keto brown sugar sweetener (like Swerve or monk fruit golden), and Dijon mustard.
The result is super tender meat with brilliant flavors; a very subtle sweetness, a burst of fresh lemon, and the sharp spice of Dijon. Braising tenderizes any cut of poultry or meat, and the oven does most of the work once you've done the initial stovetop sauté.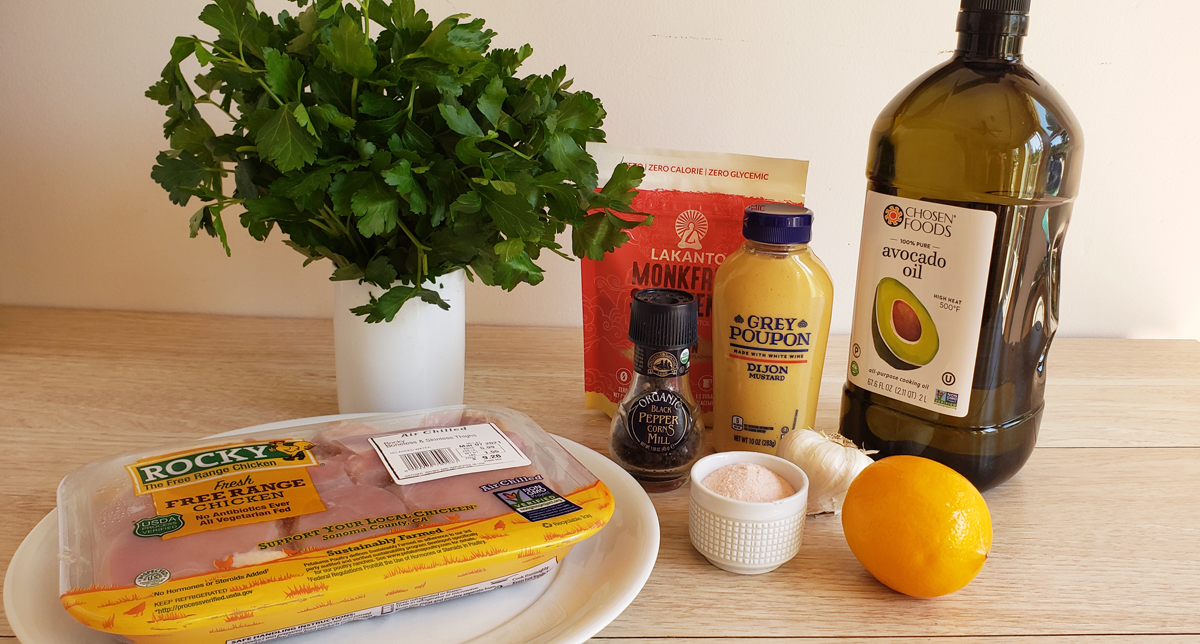 Tips for making the best keto lemon Dijon chicken thighs:
Who says the white meat is better? Don't shy away from chicken thighs! Thighs are moist, juicy, and high in fat. If you don't often buy chicken thighs, this is a simple straightforward recipe that would be a good way to add them to your dinner menu.
You only need one skillet to brown the chicken, make the cooking sauce, and whip up a wonderful pan sauce to spoon over the chicken.
Want to get the most bang for your buck out of your lemons? Try rolling them on a hard surface before juicing, as rolling will break up the interior pulp to release the most juice. You can also microwave the entire fruit for 5-10 seconds to have a better chance of extracting the most juice.
Be sure your skillet or Dutch oven is oven-proof! That means no plastic or rubber handles and no Teflon. If you're using any kind of non-stick cookware, check the manufacturer's specs to be sure it is oven safe to 400 degrees F.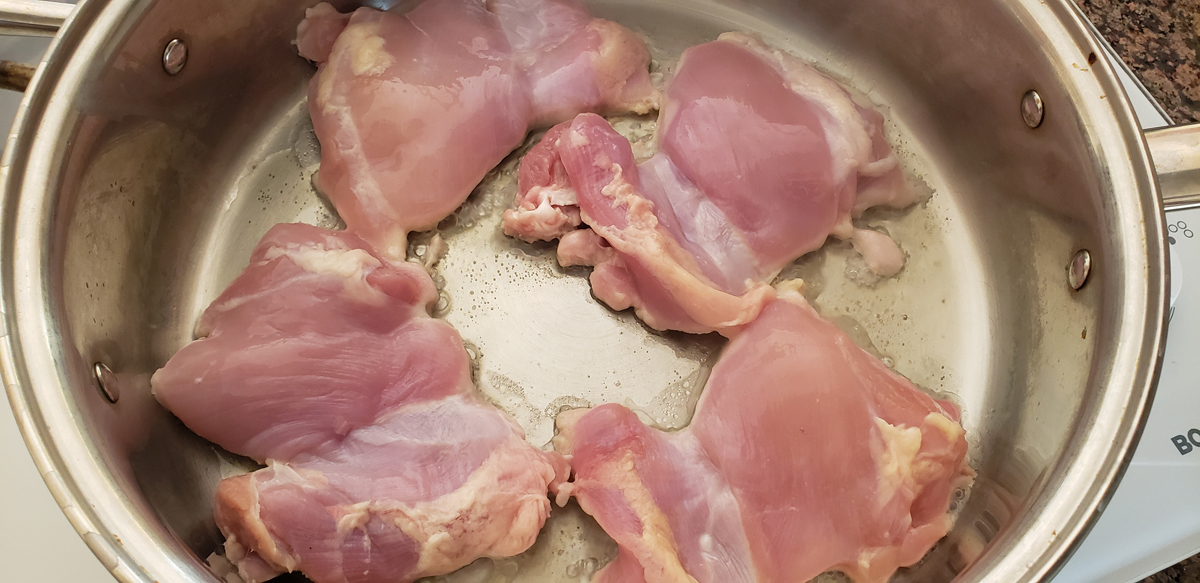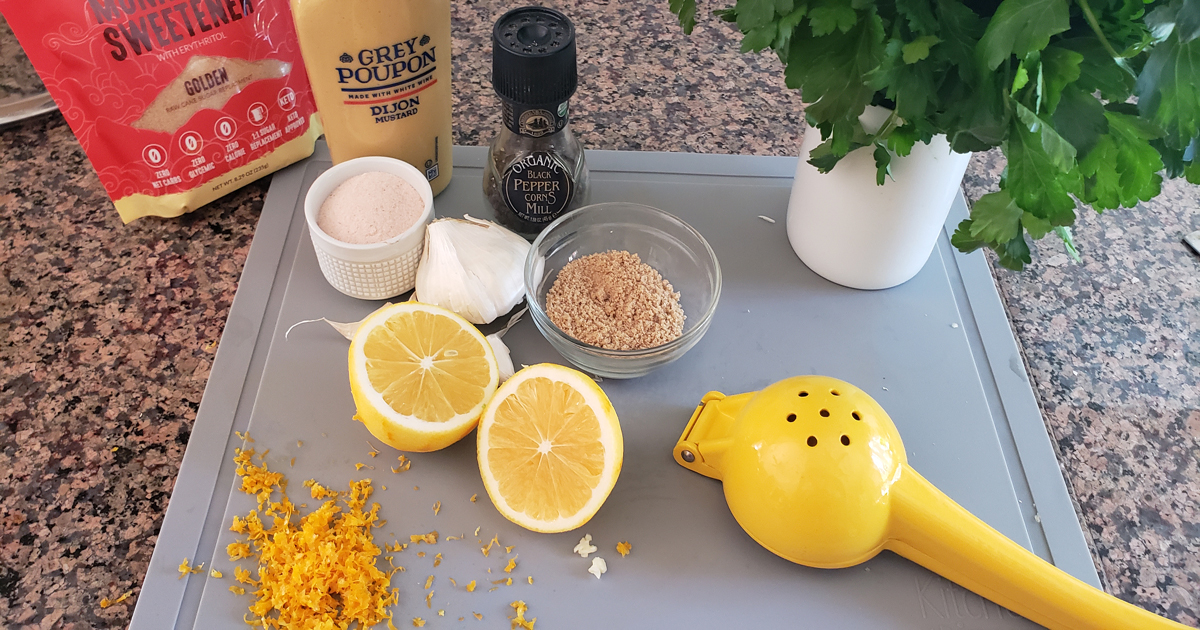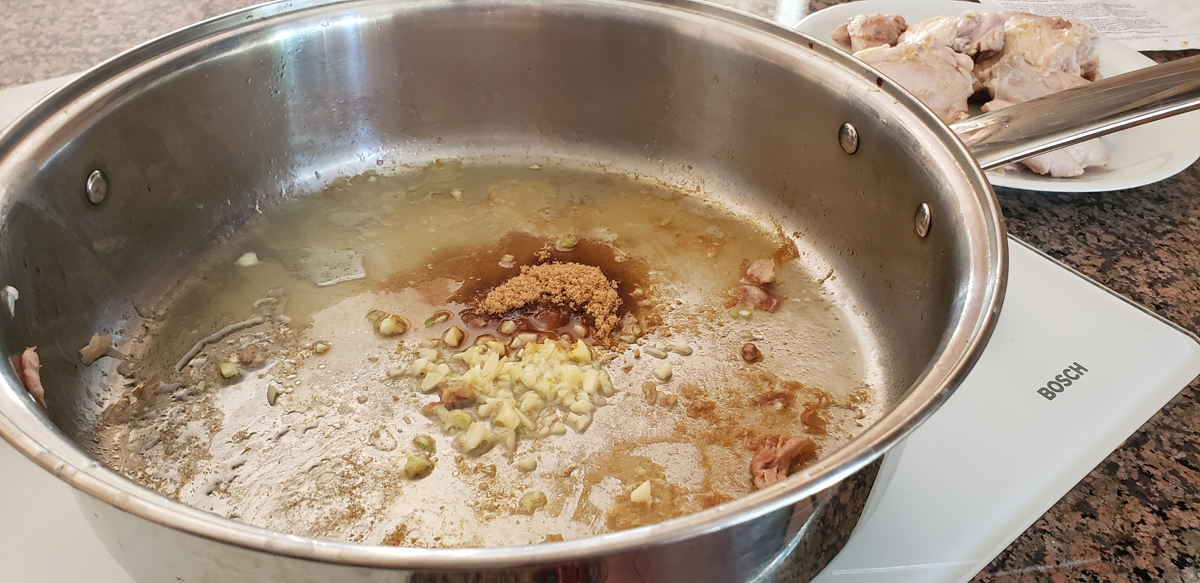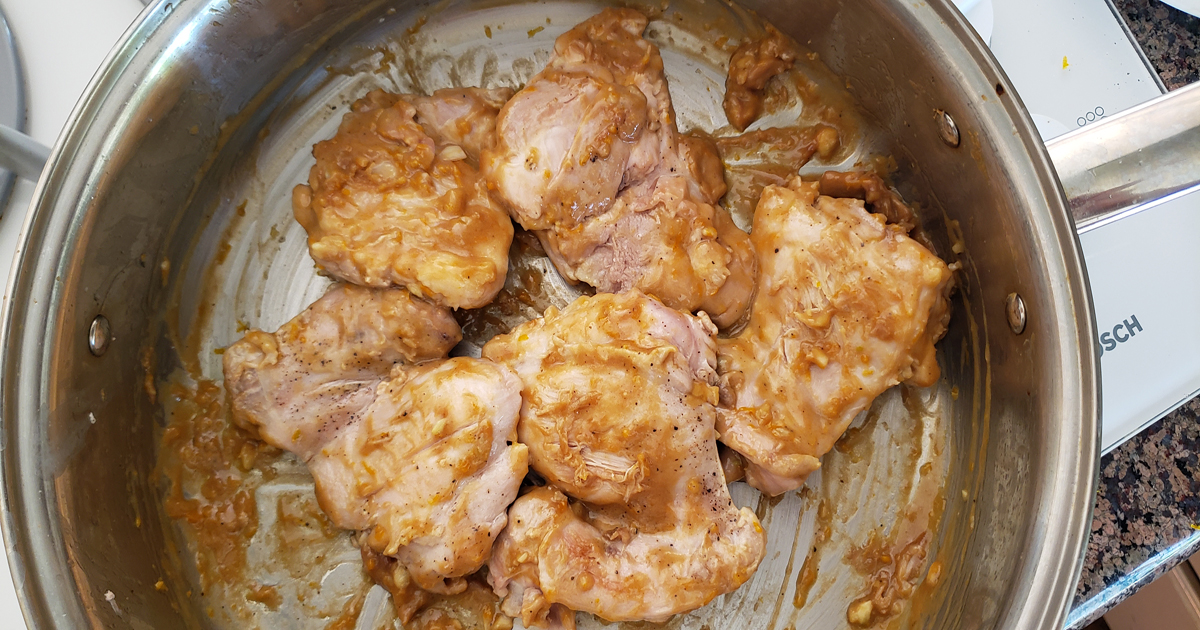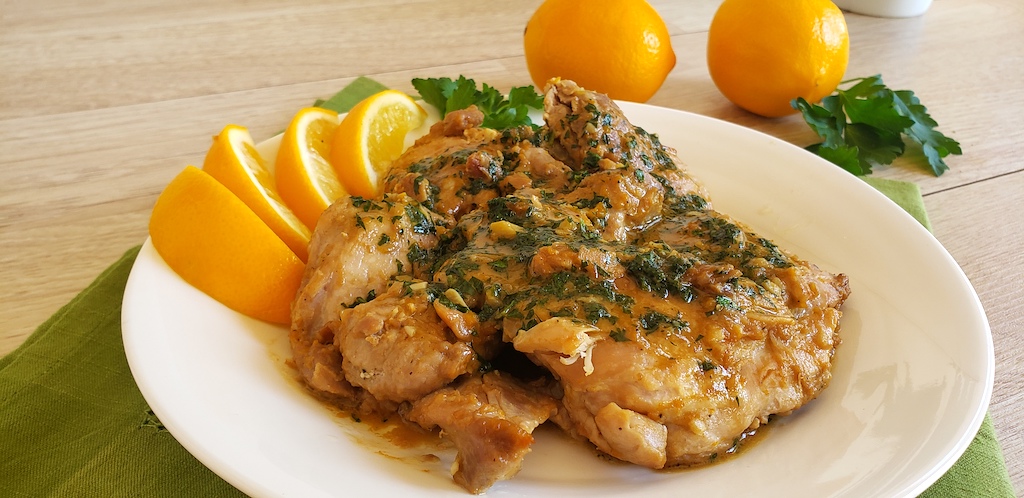 ---
Print
Keto Lemon Dijon Braised Chicken Thighs
yield: 6 SERVINGS
prep time: 20 MINUTES
cook time: 40 MINUTES
total time: 60 MINUTES
With a few ingredients, you can create a luscious braised chicken dish the whole family will enjoy. You don't have to be keto to love these!
Ingredients
Lemon Dijon Chicken Thighs:
1 tablespoon avocado oil
6 boneless, skinless chicken thighs
1/2 teaspoon salt
1/4 teaspoon pepper
2 cloves garlic, minced
1/4 cup plus 2 tablespoons (6 tablespoons) Dijon mustard
Juice of two lemons, about 5 - 6 tablespoons
zest of 1 1/2 lemons, about 3 teaspoons
1/3 cup parsley, chopped and loosely packed
2/3 cup chicken broth or water
Directions
1
Preheat oven to 350 degrees F.
2
Add oil to a large oven-safe skillet or Dutch oven and place over medium high heat.
3
Season thighs with salt and pepper and add to skillet when the oil shimmers.
4
Sauté for about 3 to 4 minutes per side and remove chicken to a plate.
5
To make the sauce:
Add garlic, Dijon mustard, lemon juice, brown keto sweetener, and lemon zest to the same skillet over medium heat. Scrape up any brown bits from the chicken and stir into the sauce. Simmer for 3 to 5 minutes while stirring until sauce thickens.
6
Add the chicken thighs and coat both sides with the sauce.
7
Bring to a simmer over medium heat, cover, and move to the preheated oven.
8
Bake for about 40 minutes until the chicken is fully cooked and very tender.
9
When done, remove chicken to a plate. Add broth to the skillet and simmer over low heat for about 3 to 5 minutes until the sauce thickens.
10
Remove from heat, stir in parsley, and spoon the sauce over the chicken.
Nutrition Information
Yield: 6, Serving Size: 1 chicken thigh
Amount Per Serving: 176 Calories | 7.8g Fat | 11.2g Total Carbs | 1.0g Fiber | .8g Sugar | 8.0g Sugar Alcohol | 20.9g Protein | 2.2g Net Carbs
---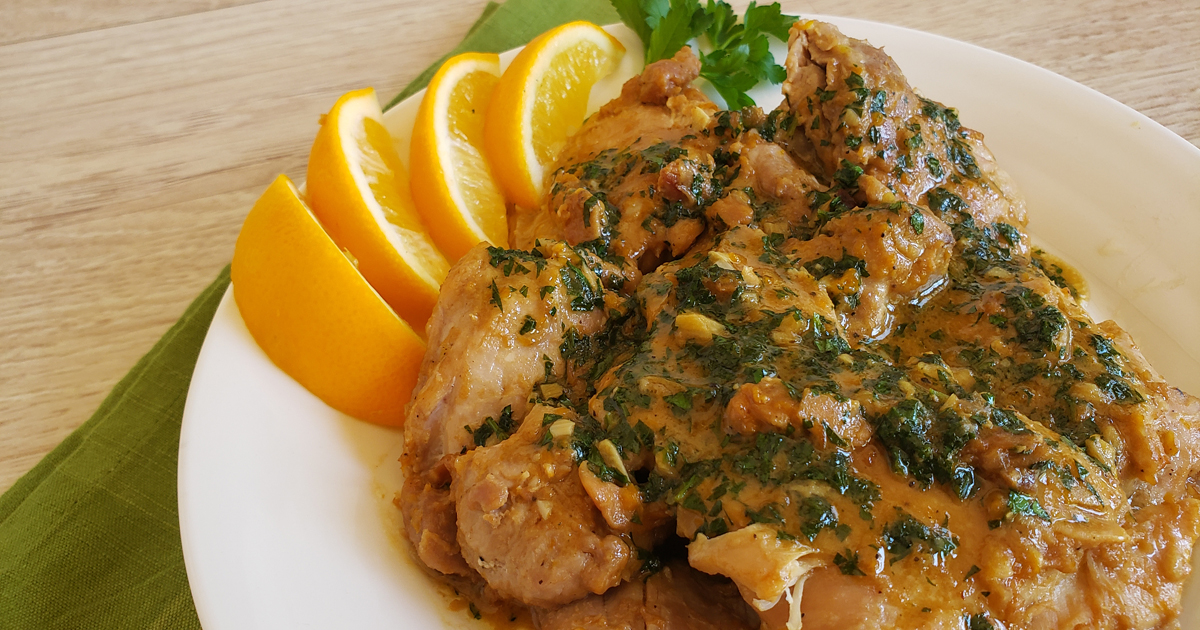 Chicken thighs with a velvety rich sauce? Sign me up!
I'm already salivating at the thought of making these braised keto chicken thighs again. The sauce really sets the whole recipe over the top!
If you need side ideas, serve these with cauliflower rice or cauliflower mashed potatoes to soak up the luscious pan sauce.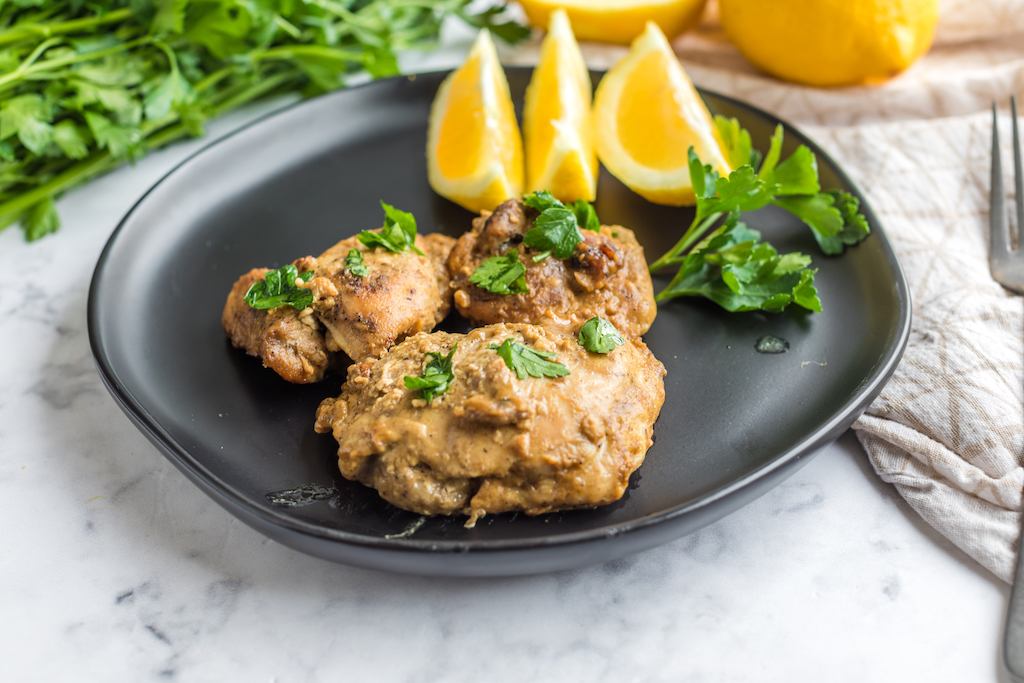 My sidekick Jenna gave this recipe a try and here's what she thought:
"These chicken thighs turned out awesome and I love the flavor of the sauce – I honestly can't get enough of it! The fresh lemon juice with the parsley is such a delicious combination. Better yet, the chicken and sauce reheat beautifully the next day!"
---