Keto Key Lime Pie with Salted Pecan Crust
Delicious cool, creamy, and tart sugar-free key lime pie made with a crunchy salted pecan crust.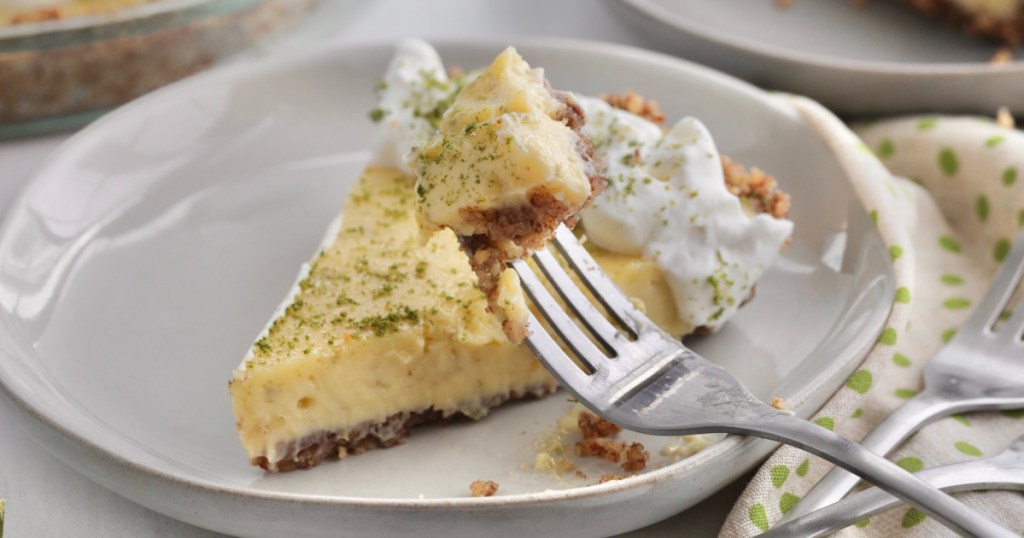 The perfect summer dessert = keto key lime pie!
Key lime pie is seriously one of the best desserts out there, but it seems that it's often overlooked or forgotten. Key limes can be difficult to find at the grocery store, and it's definitely a labor of love to zest and juice 20 key limes to make a pie. But let me tell you, it's totally worth the effort. You won't regret it!
To make a keto version of a traditional key lime pie, this recipe replaces the graham cracker crust with a nut crust made of pecans. We also substitute regular sweetened condensed milk for our homemade keto sweetened condensed coconut milk. Let me tell you, the keto sweetened condensed milk made with coconut milk pairs beautifully with the key lime flavor. 🥥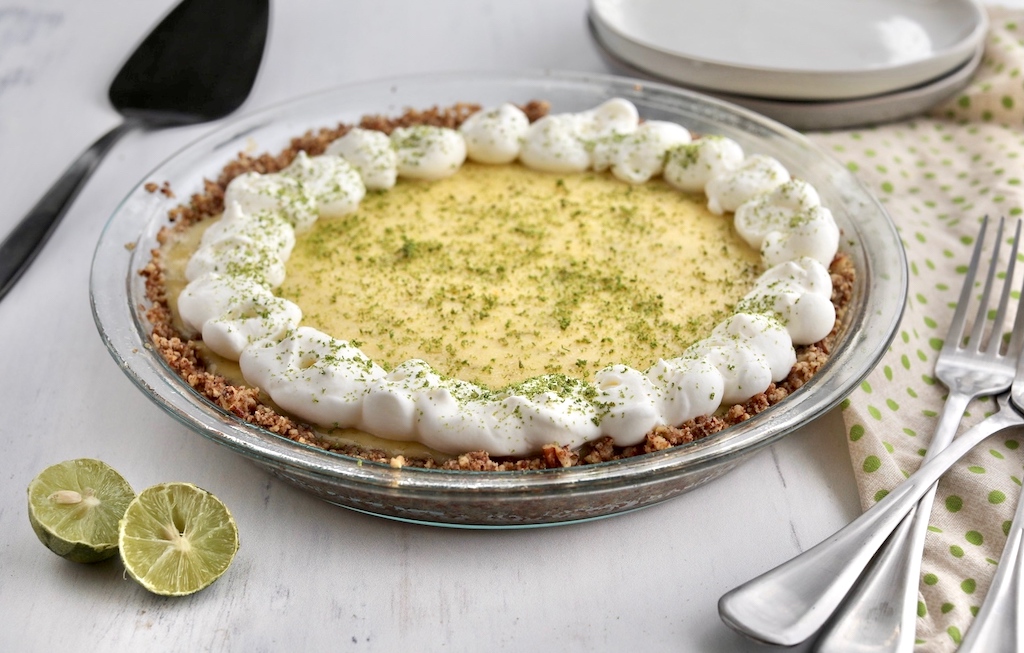 "You put de lime in de coconut, you drank 'em bot' up"
Okay, so now you have to play "Coconut" by Harry Nilsson while you make this keto key lime pie. 😂 And you definitely have to use our recipe for keto sweetened condensed coconut milk. Otherwise, you won't have "de lime in de coconut".
But if you really aren't a coconut fan, you can give this low-carb sweetened condensed milk instead!
This recipe is fairly easy to make. As mentioned earlier, the hardest part is zesting and juicing the key limes because they're so tiny! But just put "Coconut" on repeat and work away at it!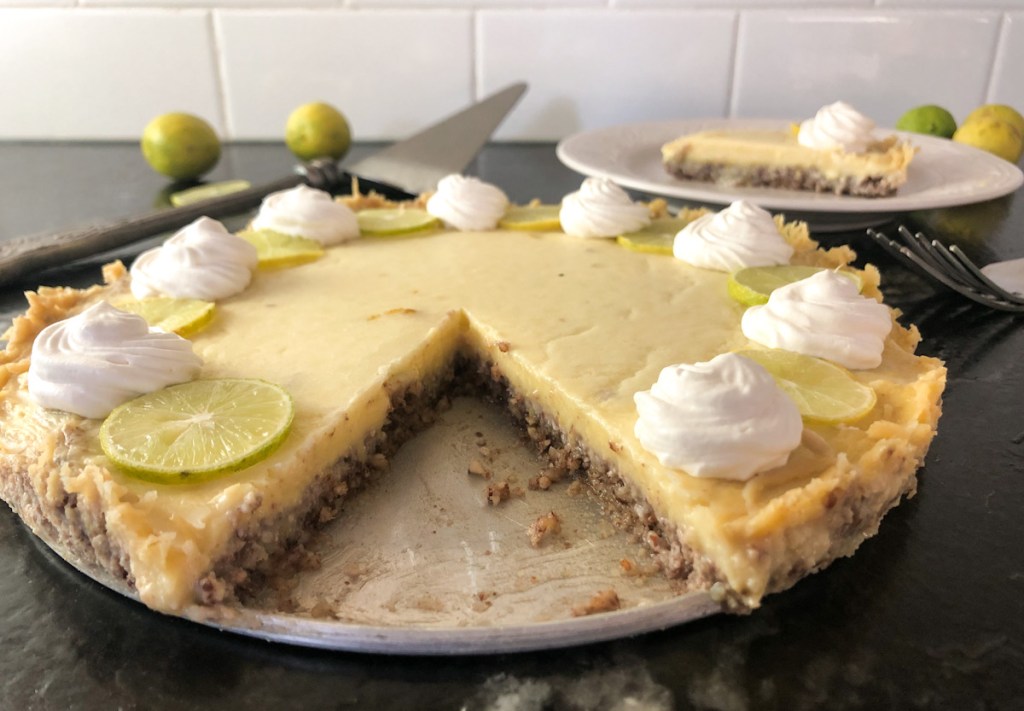 Follow these tips to make this delicious keto key lime pie…
Make sure you get the pecans very finely chopped with the food processor or blender. This will help them stick together better to form the crust. You could use walnuts in place of pecans.
If you can't find key limes, you could make this keto key lime pie with regular limes. But note that the flavor will be different. Key limes have a sort of creamy, tart sweetness that's different than the crisp, tangy flavor of regular limes. If you decide to use regular limes, you'll only need four to five. You could also use the zest from regular limes and then purchase this key lime juice.
This pie can be baked in a regular pie pan or springform — either way works!
Feel free to cover the entire pie with whipped cream instead of just dollops. If you find that the key lime pie is a little tart for your taste buds, add more whipped cream topping to mellow out the flavor.
This recipe makes a pretty tart key lime pie! If you want to cut the tartness, you can add 1-2 tablespoons of keto confectioners sugar to the filling. Note that the adjustment will change the nutrition information.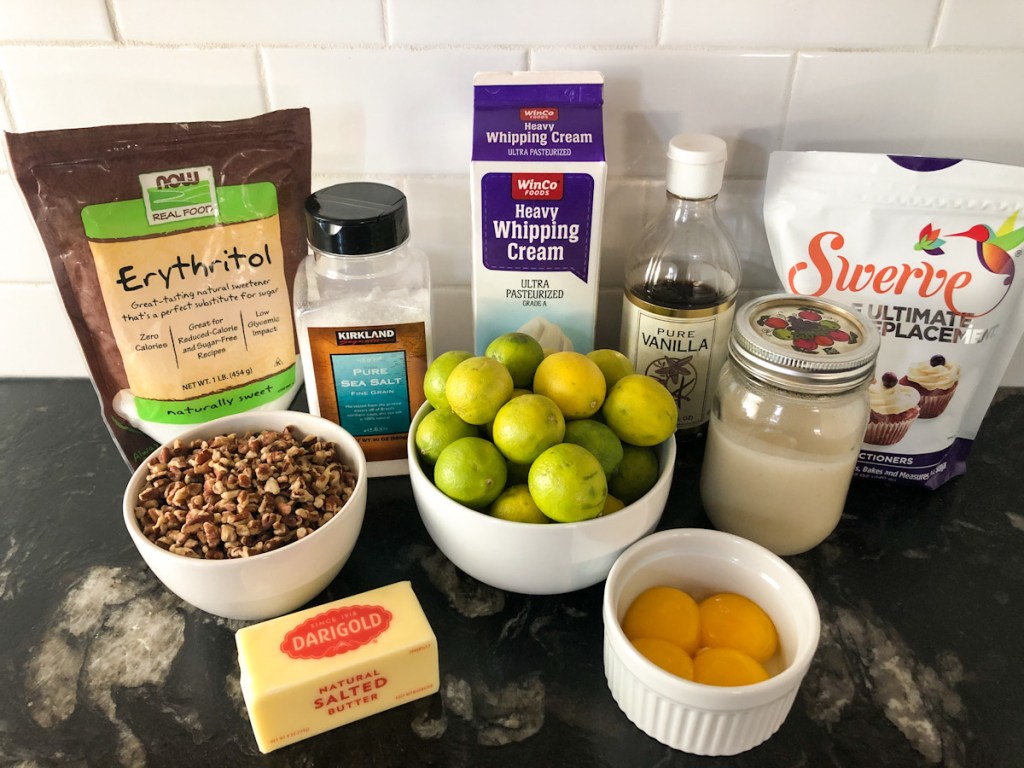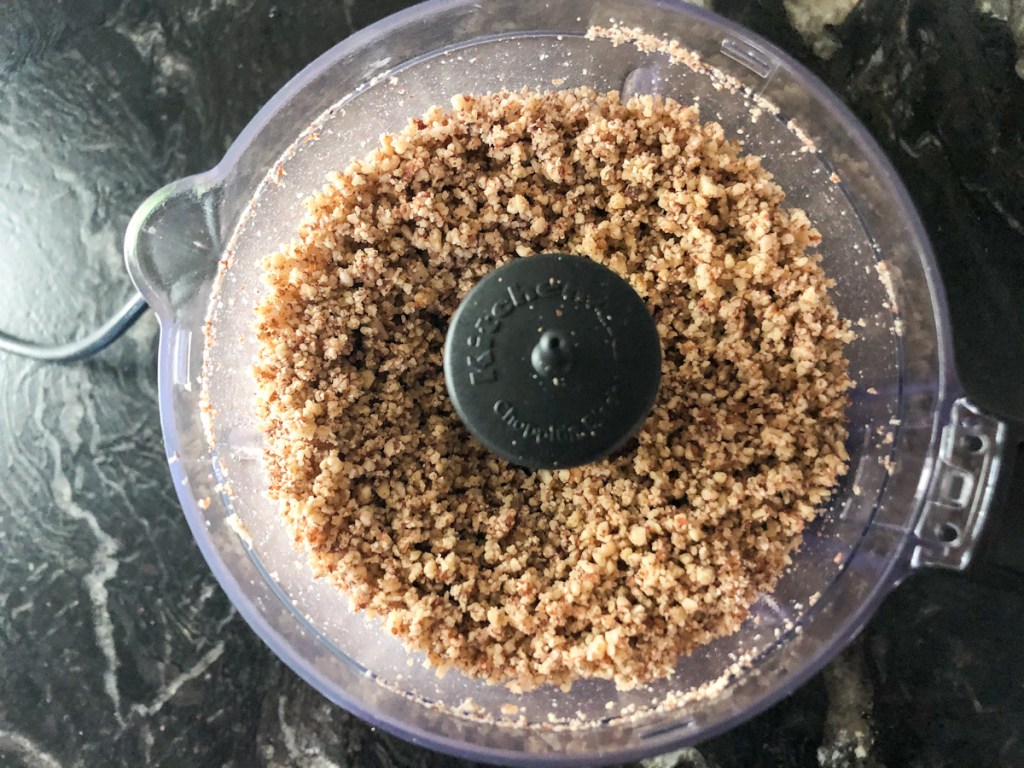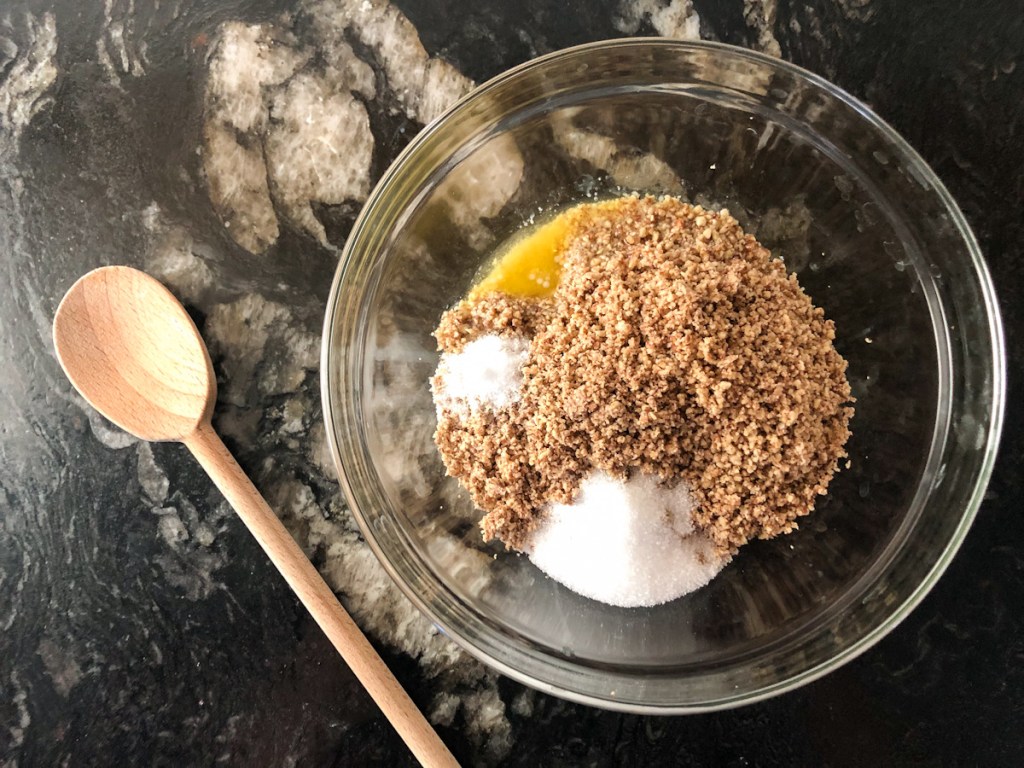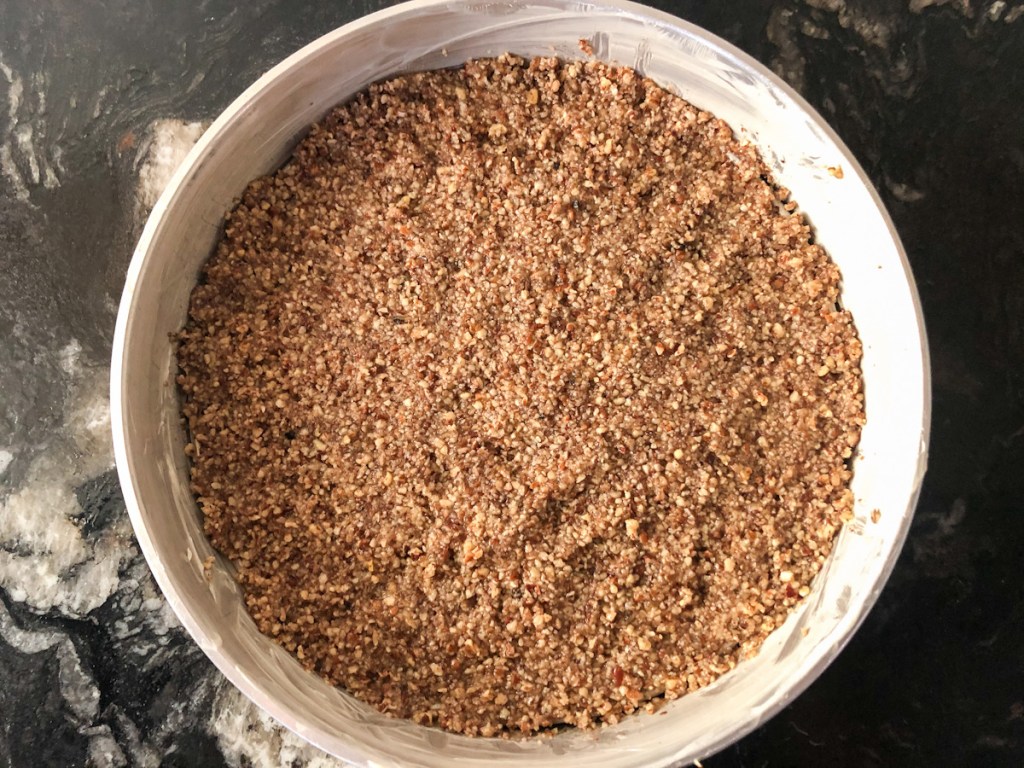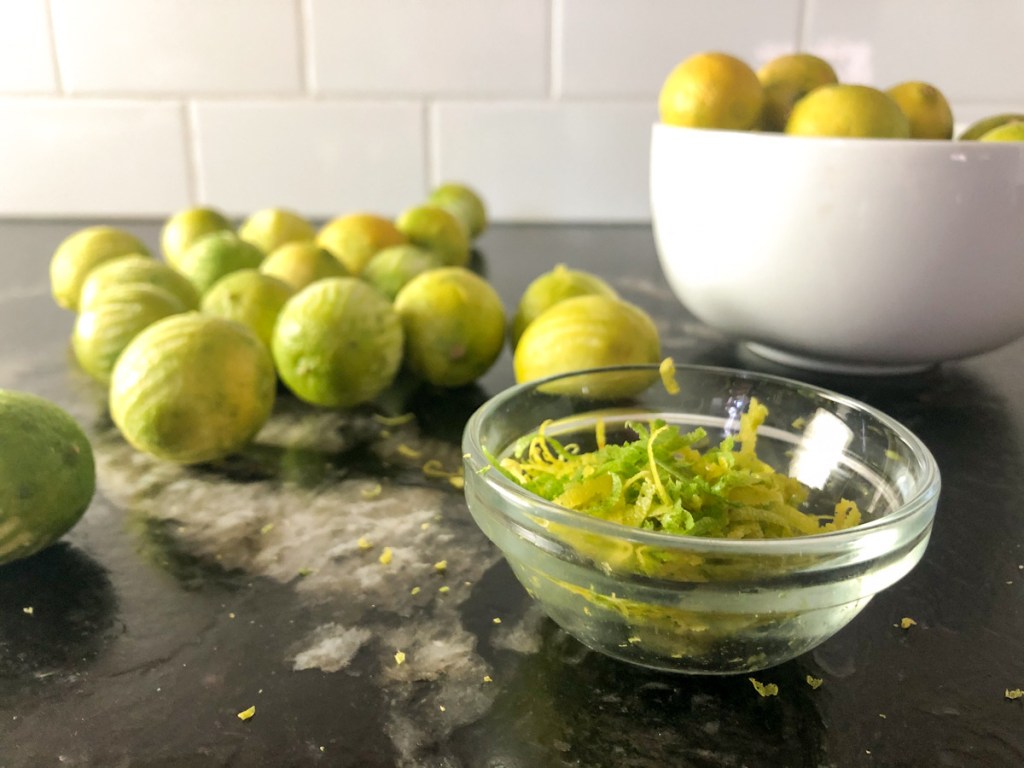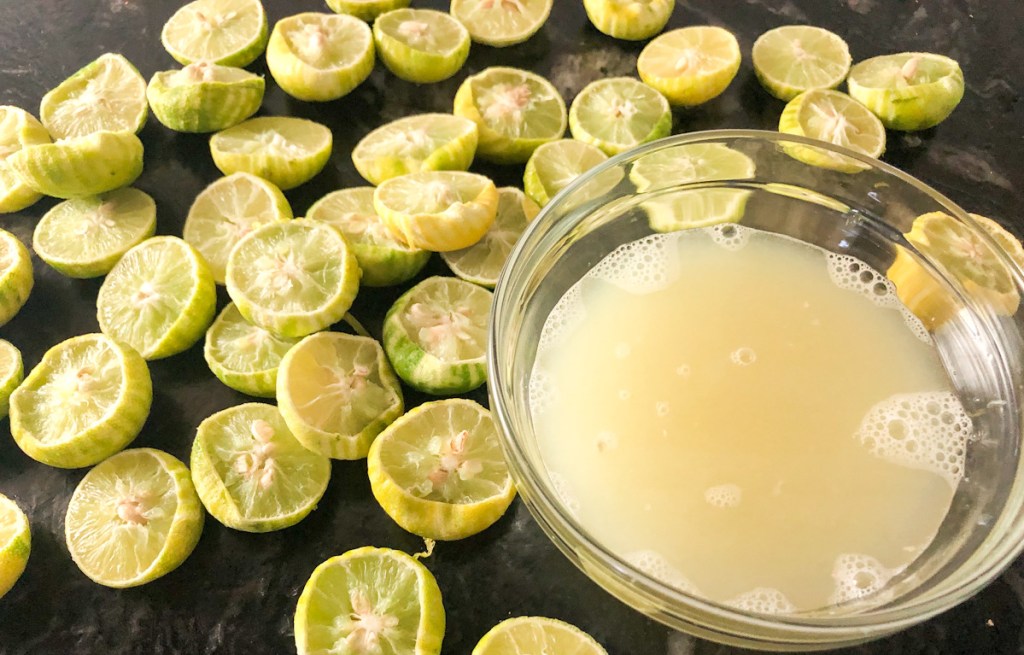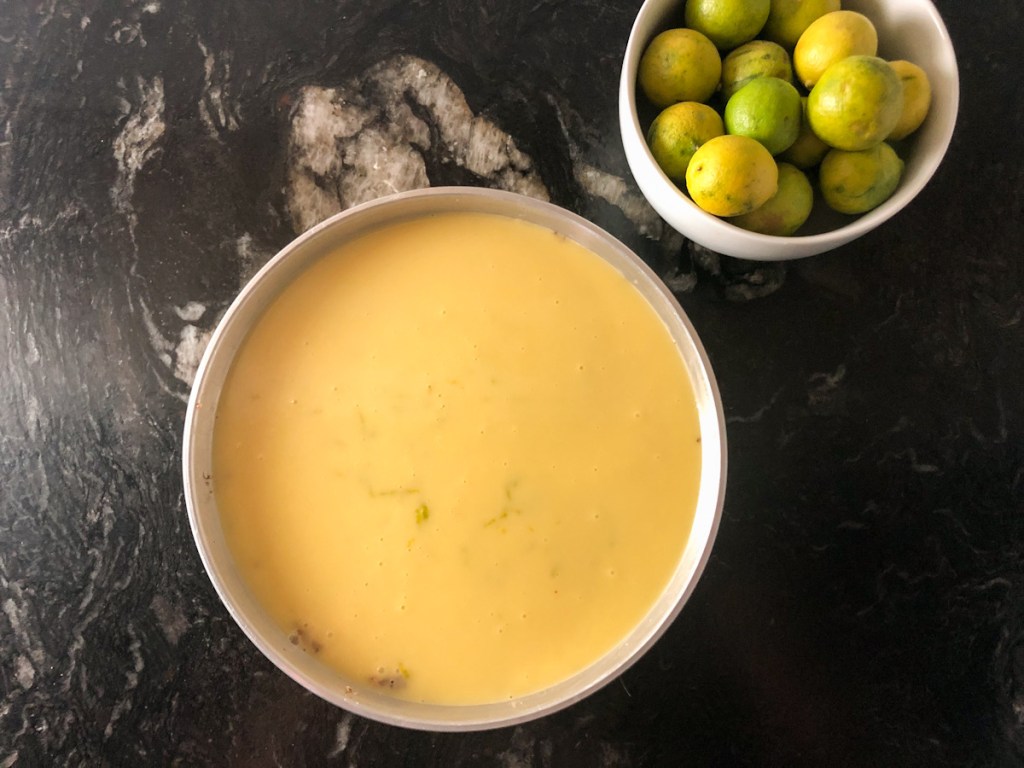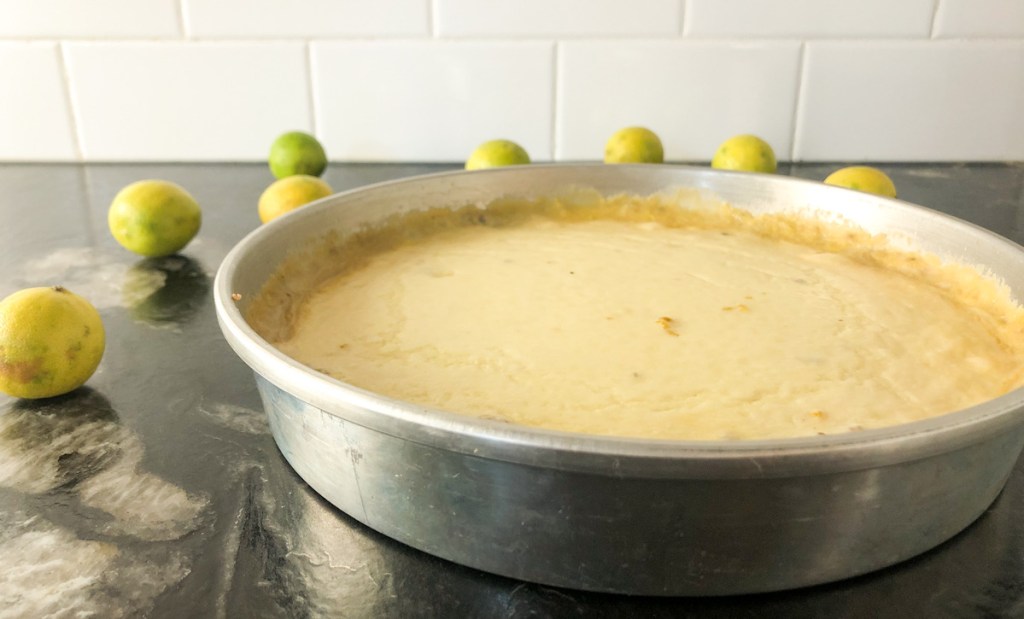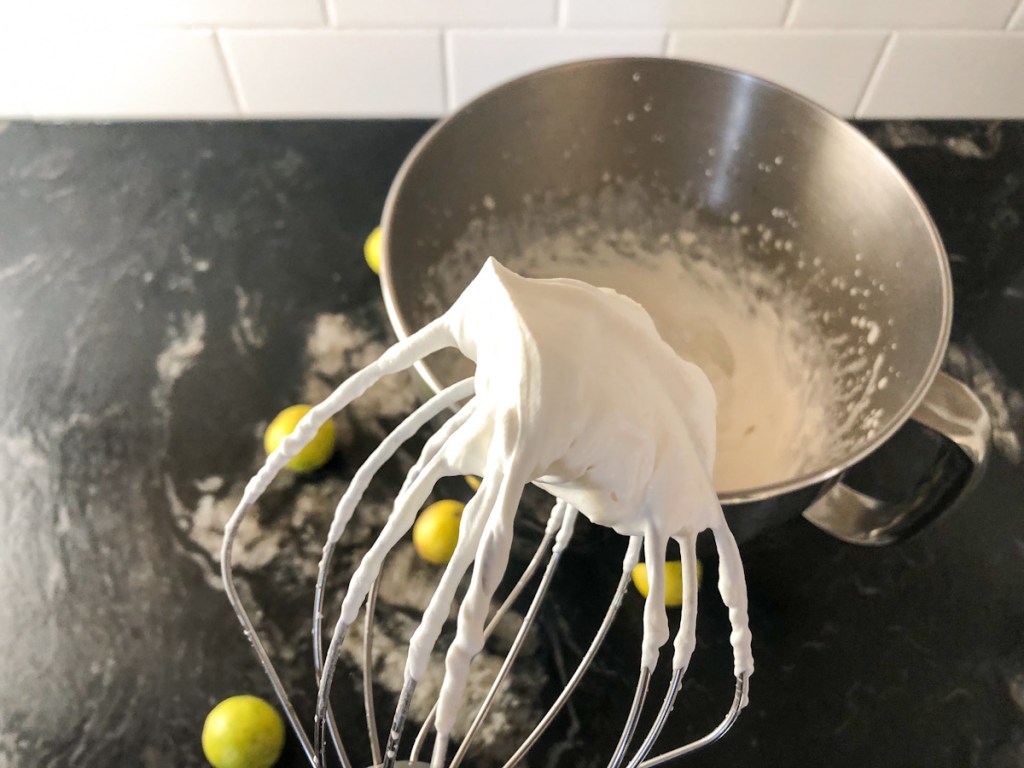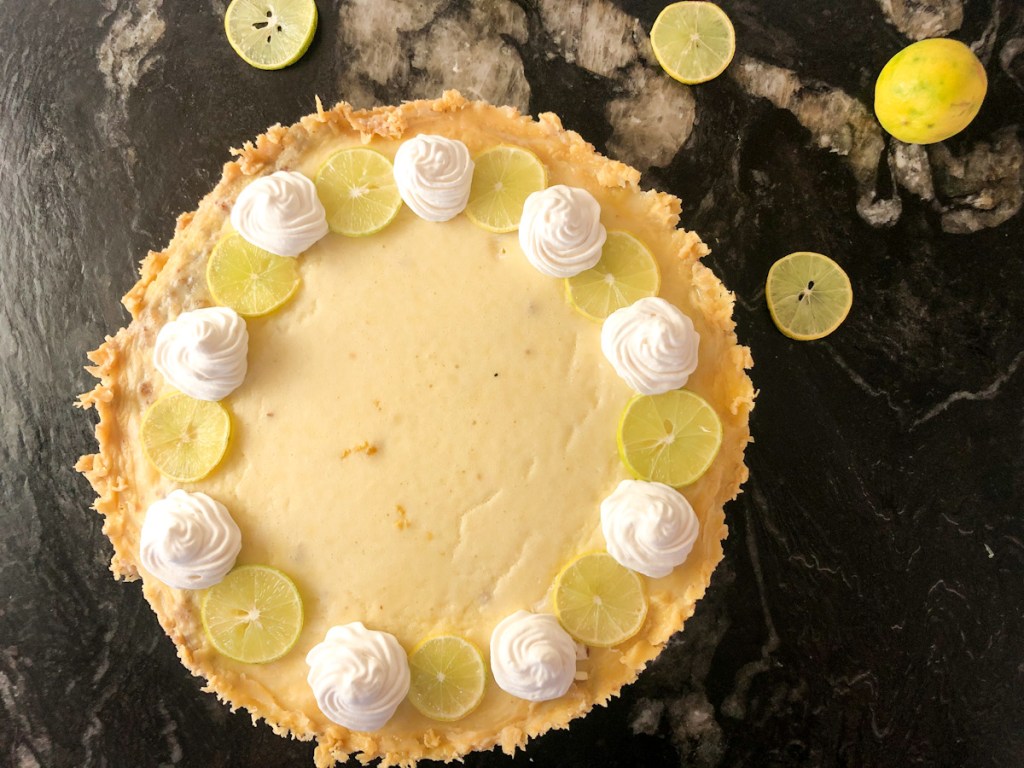 ---
Print
Keto Key Lime Pie with Salted Pecan Crust
yield: 8 SERVINGS
prep time: 30 MINUTES
cook time: 20 MINUTES
total time: 50 MINUTES
Delicious cool, creamy, and tart sugar-free key lime pie made with a crunchy salted pecan crust.
Ingredients
Salted Pecan Crust:
1 1/2 cups chopped pecans
2 tablespoons salted butter, melted
1/2 teaspoon sea salt
Key Lime Filling:
20 key limes, zested and juiced
4 large egg yolks
2 tablespoon key lime zest (from the 20 limes)
1/2 cup key lime juice (from the 20 limes)
Whipped Topping:
1 cup heavy whipping cream
1 teaspoon vanilla extract
Directions
1
Preheat oven to 325 degrees. Lightly grease a 9-inch pie plate or springform pan.
2
For the crust:
Run the pecans through a food processor or blender to finely chop them. Mix pecans with butter, keto sweetener, and salt. Press the nut mixture into the prepared pie plate or springform pan. Bake the pecan crust for 10 minutes and then remove it from the oven and let cool.
3
For the key lime filling:
While the pie crust is baking, make your keto key lime filling. Zest the limes and then juice them. In a bowl, mix together the keto sweetened condensed coconut milk, egg yolks, lime juice, and lime zest.
4
Pour the filling into the cooled crust.
5
Bake the pie for 20 minutes at 325 degrees. The pie is done when the center is set. It will just slightly jiggle when you shake the pan.
6
Let the pie cool on a wire rack and then place in the fridge to chill for at least 3 hours before eating.
7
For the whipped topping:
Make the whipped topping just before serving. With a stand or hand mixer, whip together heavy whipping cream, keto confectioners sugar, and vanilla extract. Whip until soft peaks form. Top pie with whipped cream as desired. You can decorate or cover the entire pie with whipped cream.
Additional Notes
Total time does not include the chilling time of 3 hours.
Nutrition Information does not include whipped cream.
Nutrition Information
Yield: 1 9" pie, Serving Size: 1/8th of the pie
Amount Per Serving: 222 Calories | 23.7g Fat | 9.3g Total Carbs | 1.7g Fiber | 0.8g Sugar | 6.5g Sugar Alcohol | 3.1g Protein | 1.1g Net Carbs
---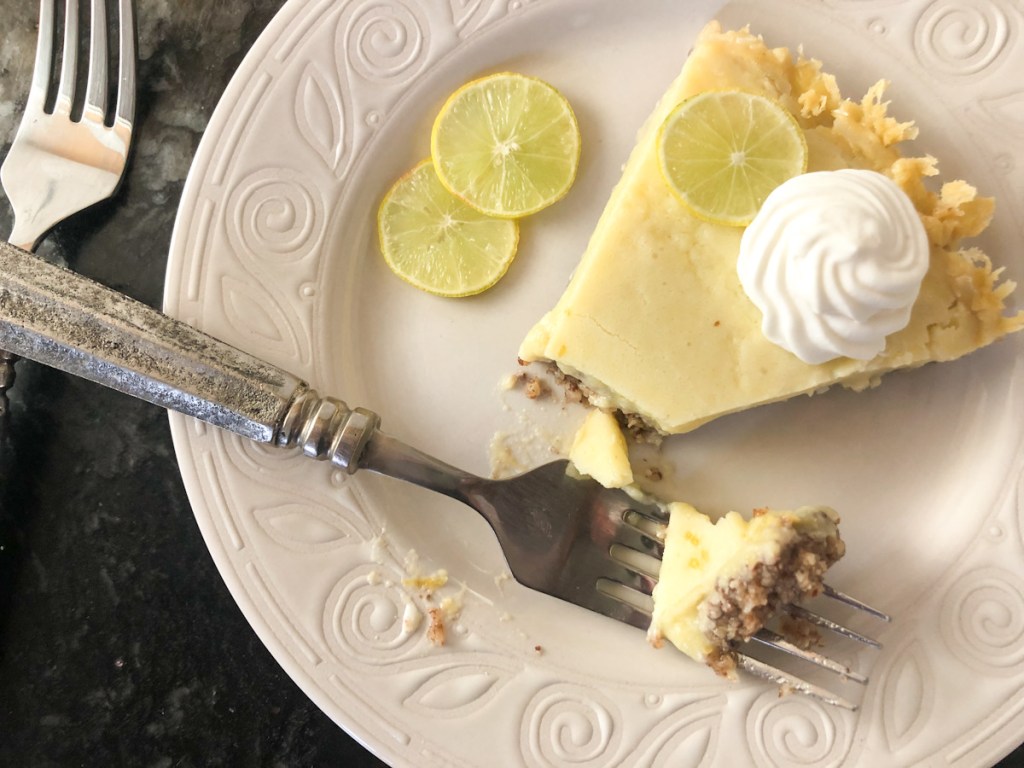 This refreshing dessert is going to become a favorite!
Who knew that key lime pie could be amazing, even more so when it's keto! And that crust… who doesn't love a nut crust?! Trust me, the flavor combo of the key limes with a hint of coconut and pecans is out of this world!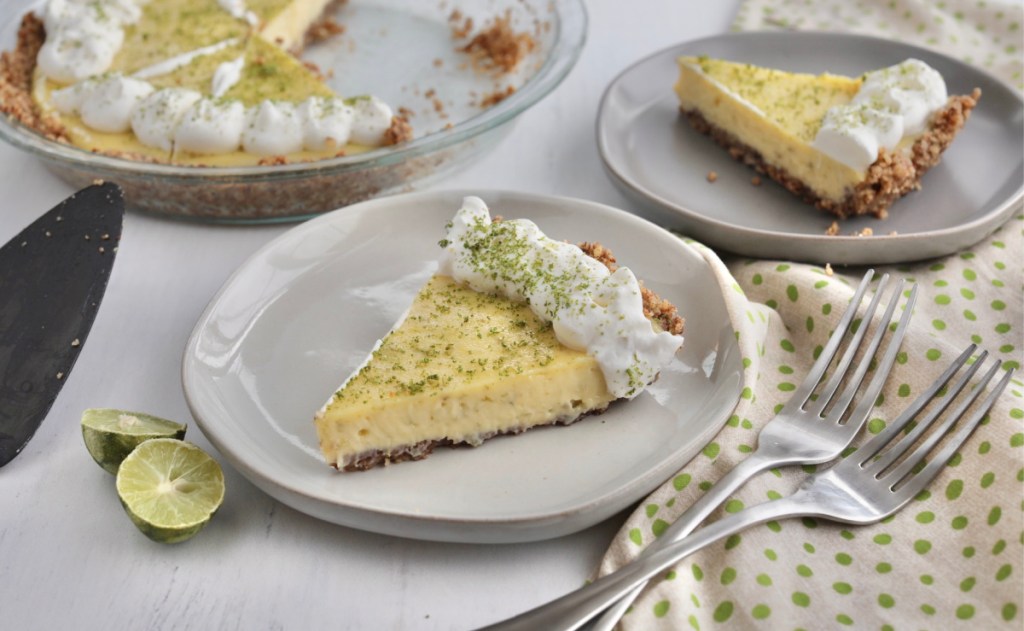 And don't just take my word for it… my Hip sidekick, Jenna, tried out this recipe and here's what she had to say:
"Key Lime Pie is my favorite pie in the whole world and I am forever going to make it with this crust! WOW! I am very picky about pie crusts and actually often don't eat the crust, because of this, but this one I am crazy about! The flavor is so fantastic and the texture with the creamy pie is perfection. I love how fresh this pie tastes and ate half of it myself over the past two days. 😂"
---
Want more keto sweets? Check out this Keto Orange Creamsicle Cheesecake!