Keto French Onion Soup Recipe
Looking for a classic savory soup staple during the fall and winter months?
This keto French onion soup checks off all the boxes: low-carb, easy, savory, and total comfort food. Did I mention easy? This recipe is beyond simple, and the outcome is a tasty meal for the whole family. This soup is packed with flavor from the rich broth to the melted cheese – in fact, this keto recipe screams grandma's table.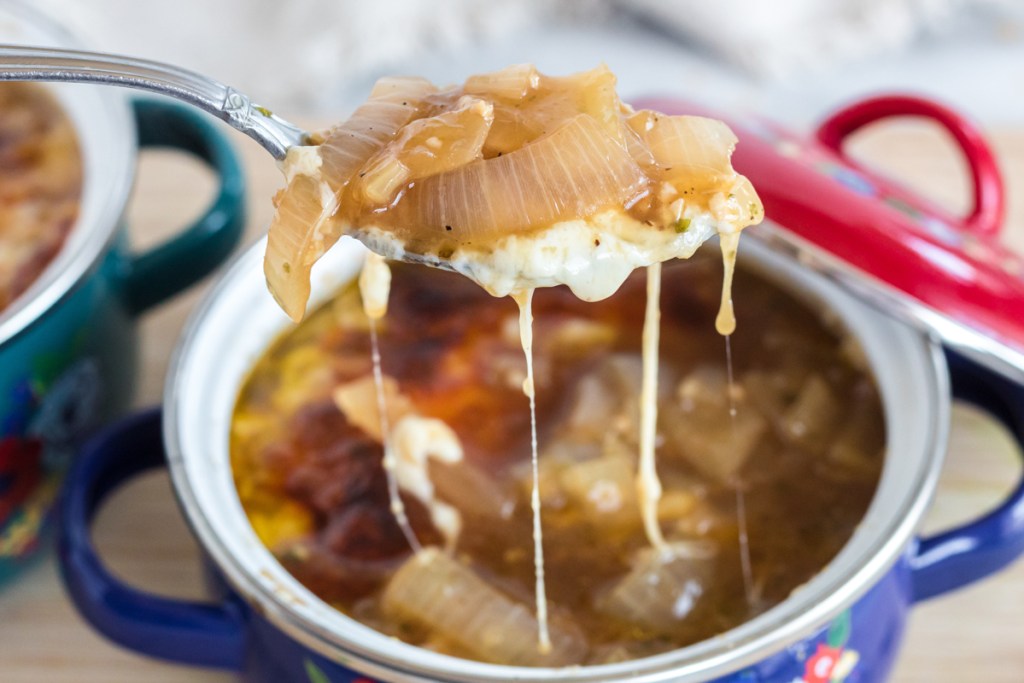 Mouthwatering soups are packed with flavor, and this soup does not disappoint.
Here is a savory winner for the cookbooks. Traditional French onion soup has those oh so good croutons hiding below the cheese… but don't worry – I've added a replacement for those croutons to still give you that comfort carb feeling without the carbs, bloating, and guilt.
---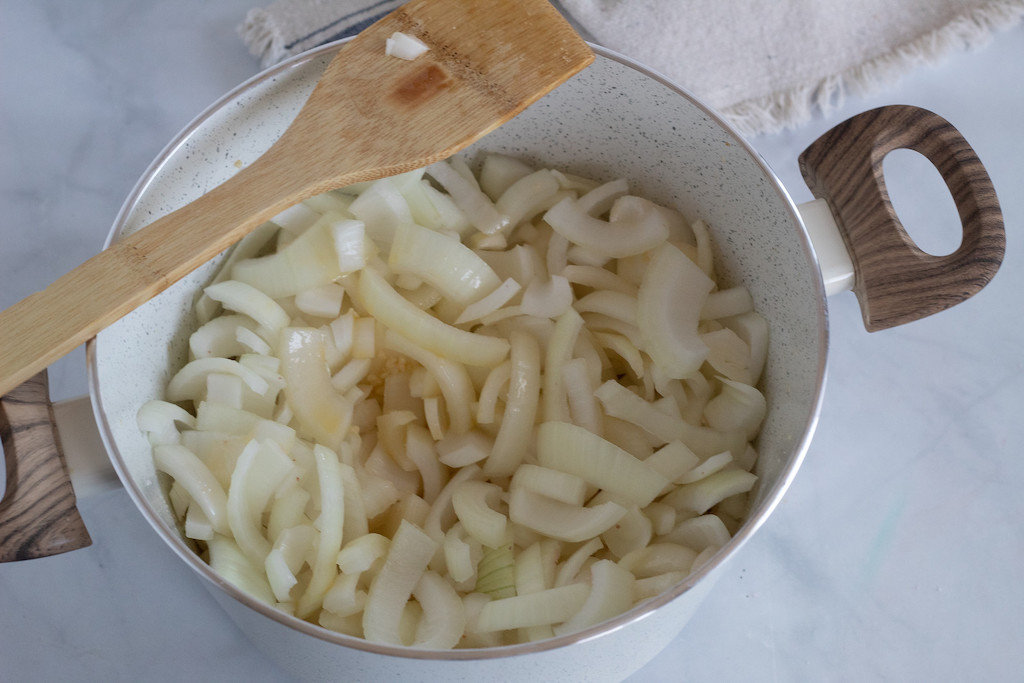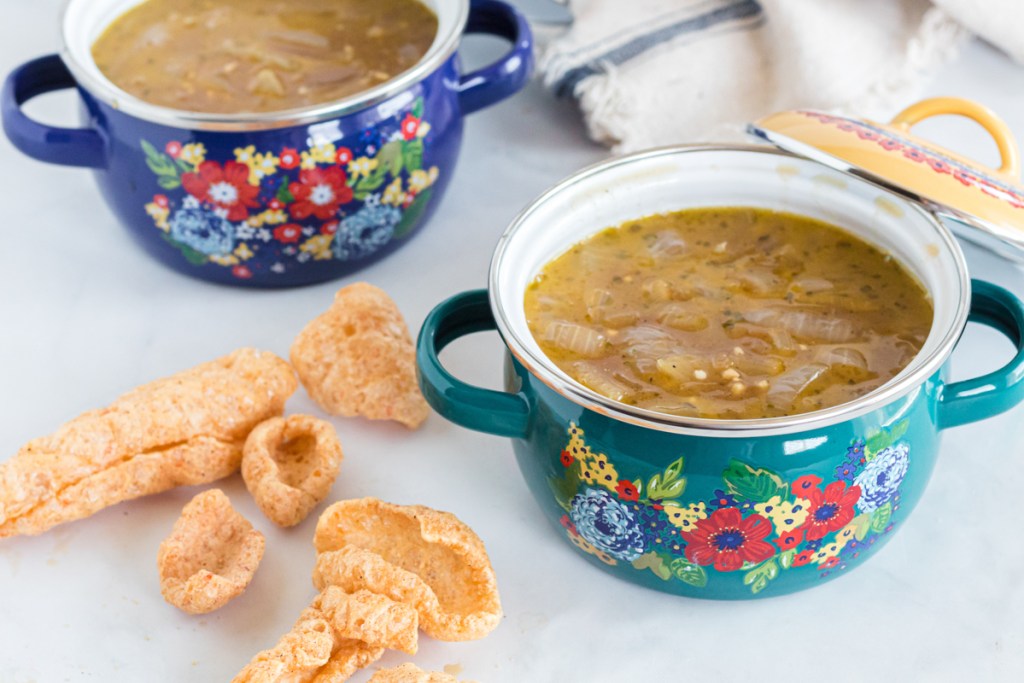 Hip Tips
---
Caramelizing the onions is the key to bringing out the flavor for this soup. It's such an easy step, and so worth it!


---

Aren't these Mini Dutch Ovens I used in this recipe so cute?


---

I used mozzarella and parmesan cheese in one bowl of soup, and I used provolone in another. That said, try mixing up the cheeses in yours. You can even add a punch of flavor and try gruyere cheese!


---

This soup can be made ahead of time – just don't add the cheese to place under the broiler until you're ready to eat.
---
Print
Keto French Onion Soup
yield: 6 SERVINGS
prep time: 10 MINUTES
cook time: 1 HOUR 10 MINUTES
total time: 1 HOUR 20 MINUTES
This soup is packed with flavor from the rich broth to the melted cheese - total comfort food!
Ingredients
1/3 cup grass fed butter
2 tablespoons minced garlic
4 sliced medium onions
2 tablespoons worcestershire sauce
1 teaspoon pepper
2 teaspoons salt
3 cups organic beef broth
2 sprigs fresh thyme
2 bay leaves
1/2 cup mozzarella cheese
Pork Rinds
Directions
1
In a large saucepan over medium heat, melt butter and garlic.
2
While butter is melting, slice your onions into 1/2 inch slices. If you prefer smaller pieces of onion, I suggest chopping. Add onions to melted butter and caramelize for 20-30 minutes, stirring occasionally.
3
Add spices and broth to your caramelized onions and let simmer for 30 minutes on low.
4
Remove thyme and bay leaves before pouring the soup into dutch ovens or an oven-safe dish.
5
Pour soup into the dutch ovens, leaving about an inch space from the top to add pork rinds and cheese.
6
Add crumbled pork rinds and cheese to the very top and place in the broiler until cheese is bubbling.
Nutrition Information
Yield: 6 cups, Serving Size: 1 cup
Amount Per Serving: 197 Calories | 14 Fat | 12 Total Carbs | 2 Fiber | 0 Sugar Alcohol | 7 Protein | 10 Net Carbs
---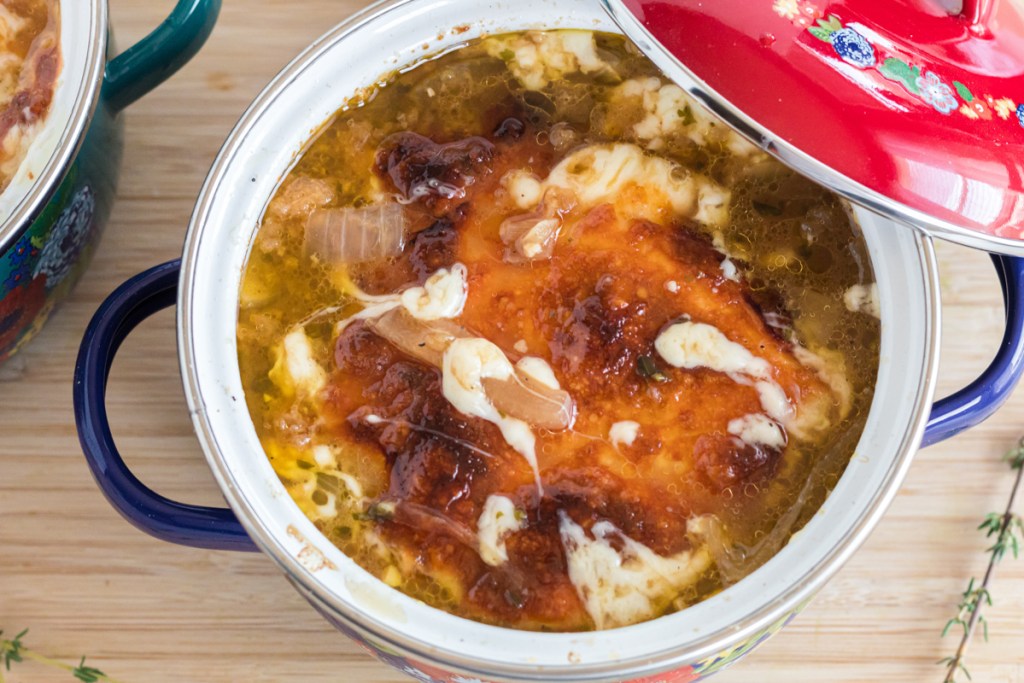 Seriously. How amazing does this soup look!
I can't get enough of this. It's so tasty, I never even miss the bread! And the pork rinds behave just as croutons would in this recipe. So whether you're craving a classic soup recipe or just want something with loads of flavor, this will be a staple in your kitchen in the fall and winter months for years to come. Enjoy!
---