This Keto Iced Chai Tea is a Must-Try This Summer
Cool off this summer with a tasty keto iced chai tea!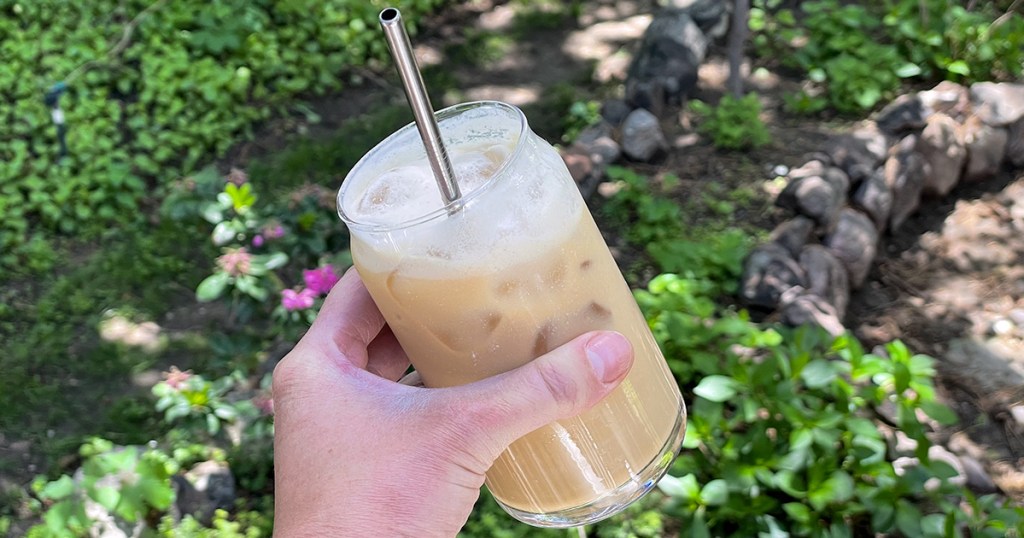 If you love to order chai teas, this is for you!
Chai tea is probably one of the most popular non-coffee drinks at coffee shops. Who doesn't love the warm spiced flavors of cinnamon, cloves, nutmeg, cardamom, and ginger?
You can make your own chai tea blend if you want, however I used chai tea bags for convenience sake. Any brand works, but I used Tazo Classic Chai as Lina mentions this one in her Starbucks copycat chai tea latte post.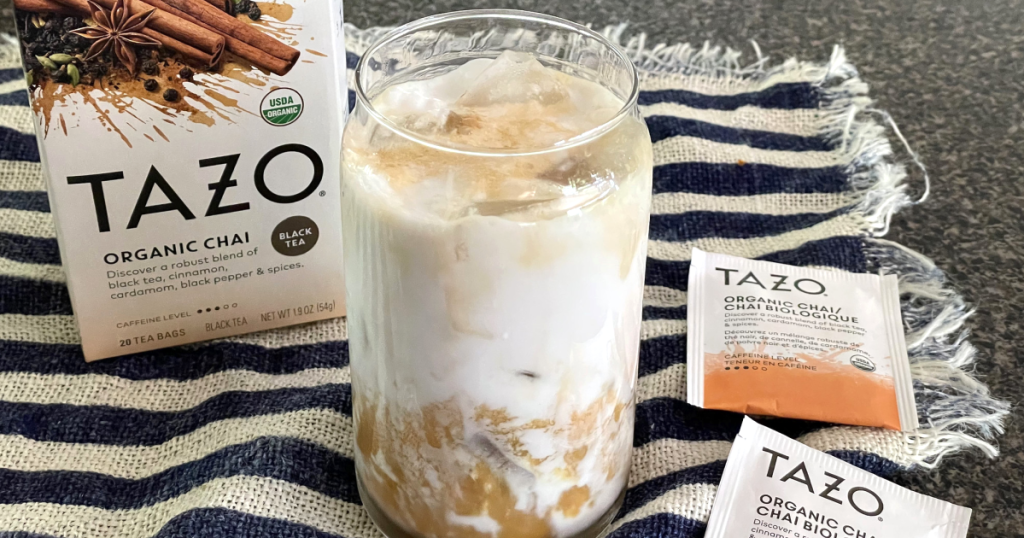 Perfect for the warmer weather!
Now that summer is pretty much here, sipping on a cool drink in the afternoon is high on my agenda. I typically go for coffee in the afternoons, but with the warmer weather, I just need a good iced drink for the refreshing aspect.
This keto iced chai tea is so yummy and easy to make that it might permanently replace my afternoon coffee.
To enjoy this drink, you start by making a chai tea concentrate with the tea bags, mix in your keto sweetener, let it cool, and then pour it over ice and your milk of choice. Absolutely delicious!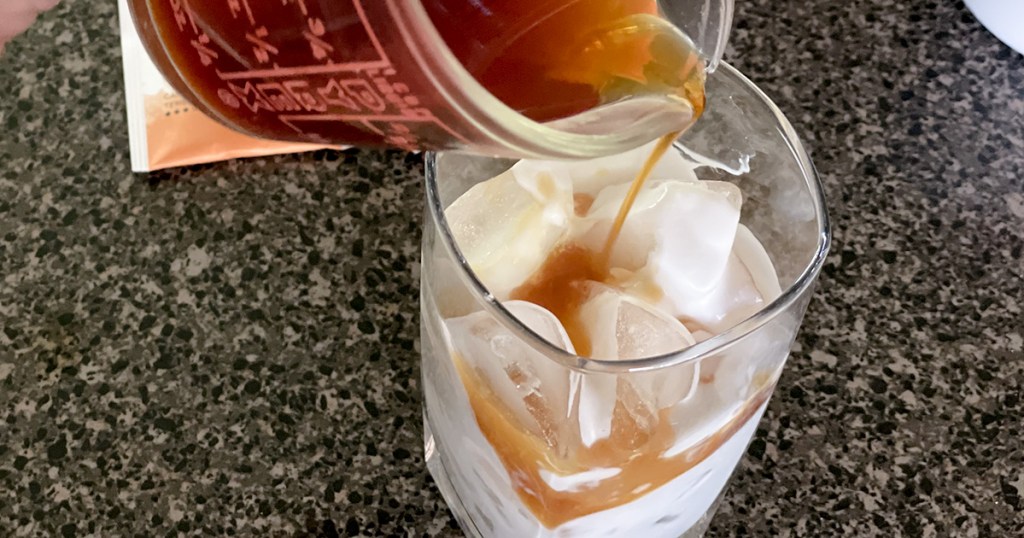 Tips for making the best keto iced chai tea:
Use whatever brand of chai tea bag you like. You can even find a decaffeinated version of the chai tea bags I used over at SwansonHealth.com.
I went with full-fat canned coconut milk in this drink. I love the flavors of coconut and chai melded together. YUM! Other keto-friendly milk works as well, such as unsweetened almond milk or thickening it up with some heavy whipping cream.
The longer you let the tea bags steep, the stronger chai flavor you'll get. I recommend at least 5 minutes but you could even let them steep longer if desired.
If you don't have liquid stevia, you can use keto confectioners sweetener to add just a hint of sweetness. If you like chai tea more on the sweet side, feel free to add up to a tablespoon. Stir the keto confectioners sweetener into the chai tea concentrate while it's still hot so that it dissolves. A keto granulated sweetener also works, just make sure you stir it in really well while the chai tea concentrate is still hot to help it dissolve.
You could also try a keto coffee syrup in place of the sweetener! A flavor like vanilla or cinnamon dolce would be so delish!
Sprinkle your keto iced chai tea with cinnamon and nutmeg for added flavor!
Make this a dirty chai tea by adding a shot of espresso to the chai tea concentrate — talk about a boost of flavor AND energy!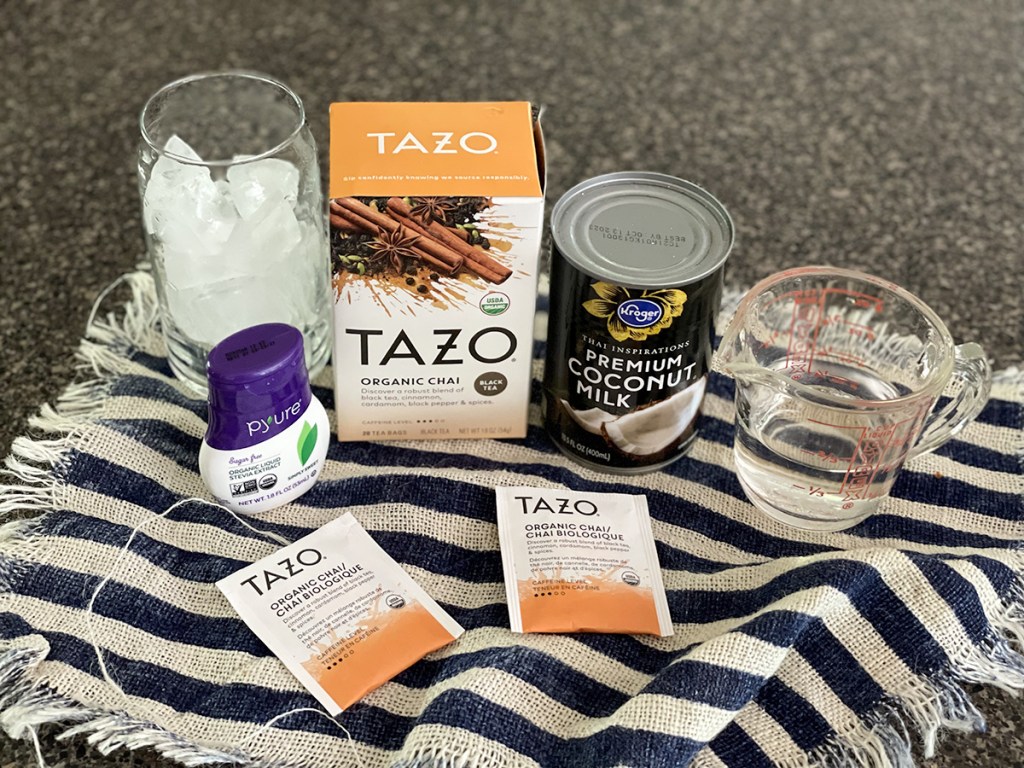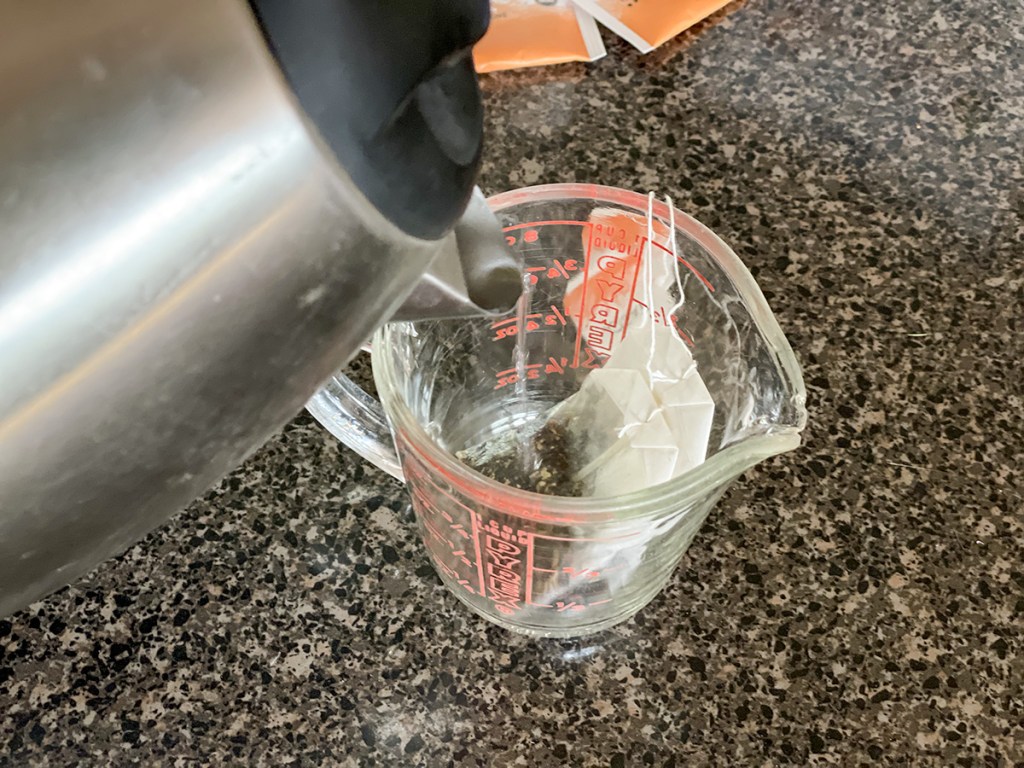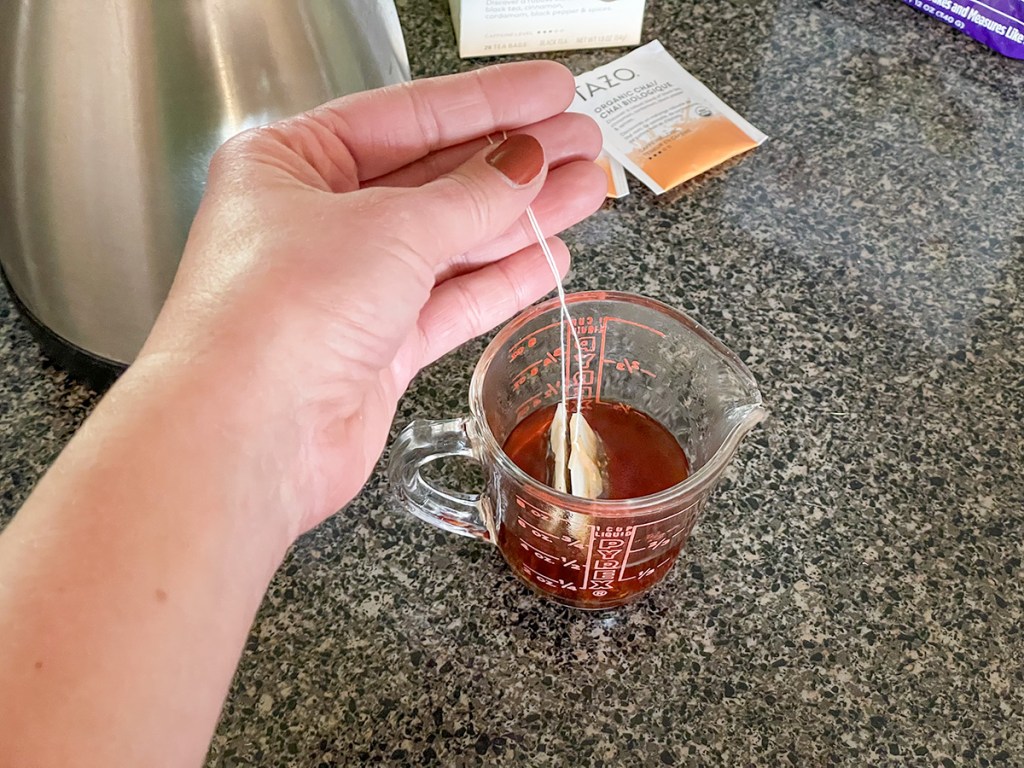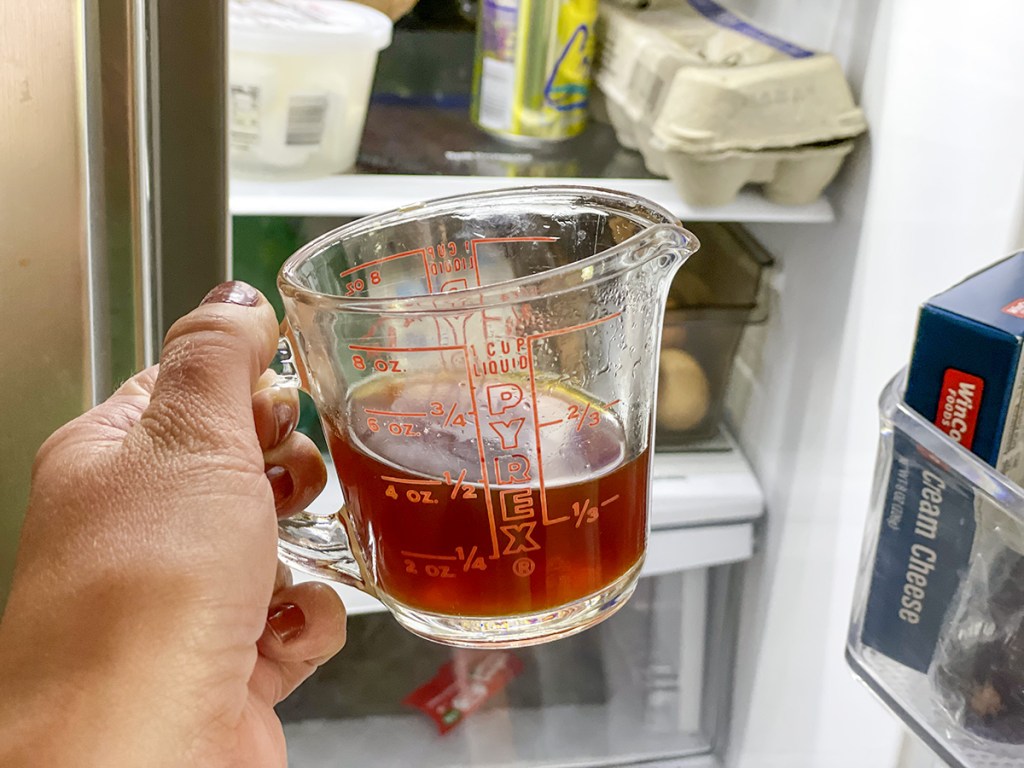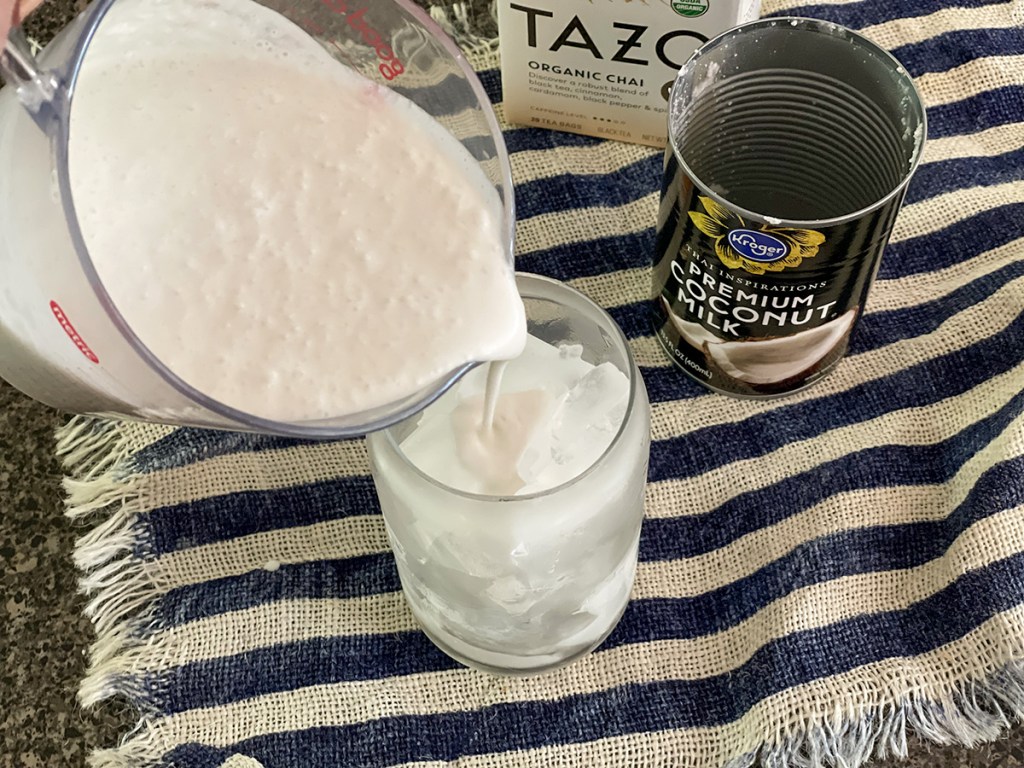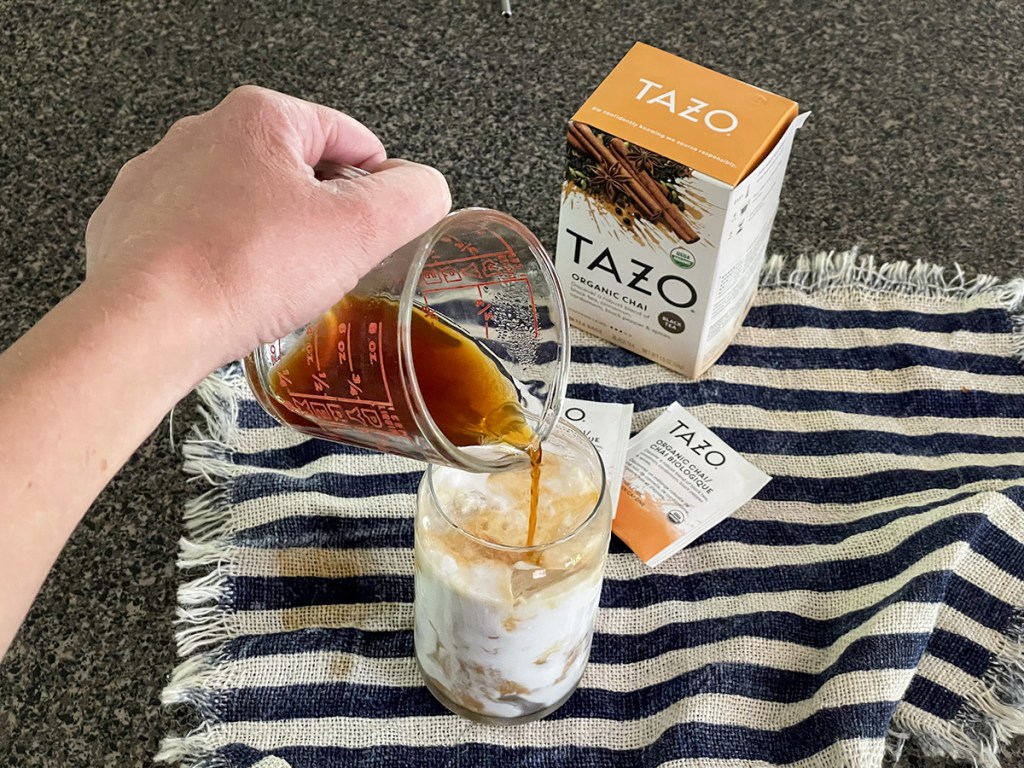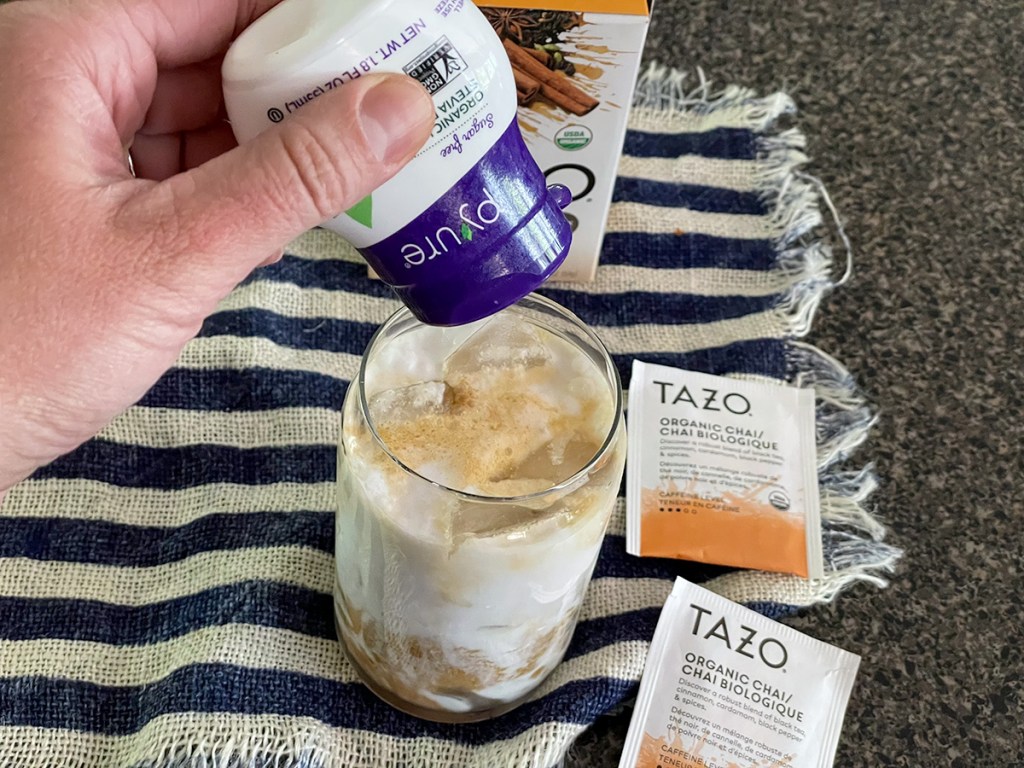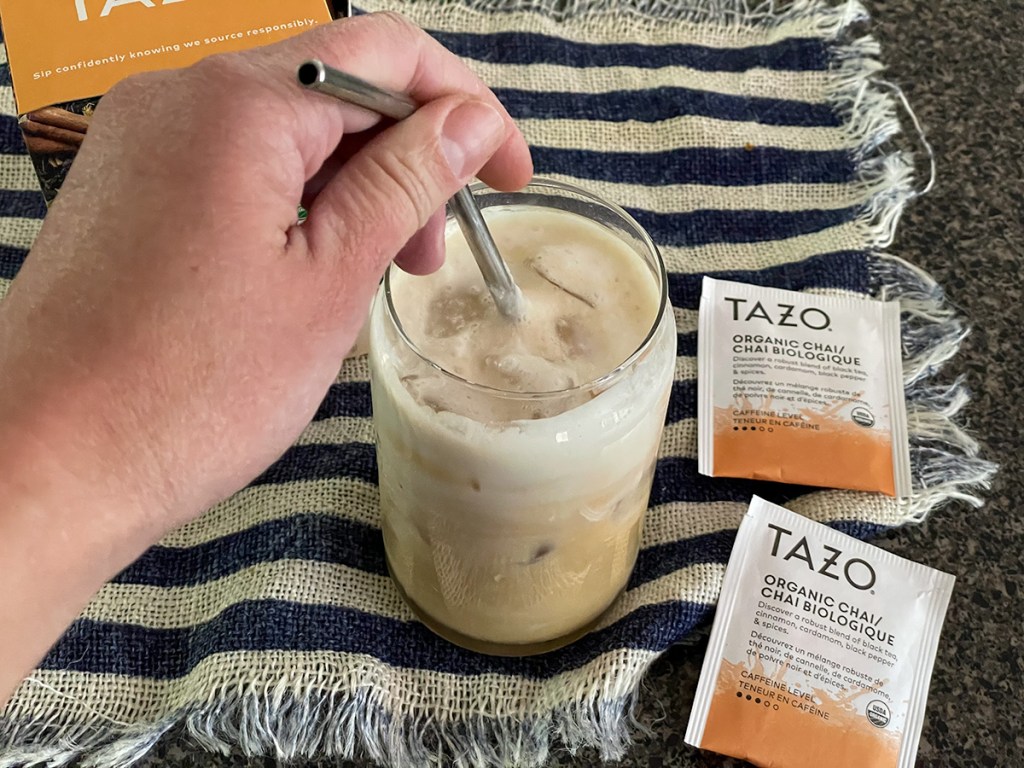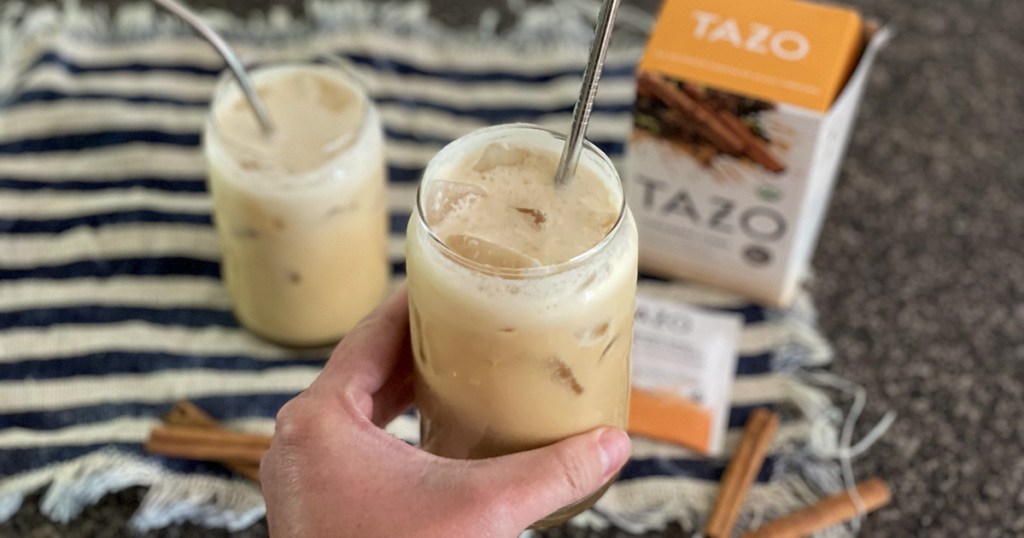 ---
yield: 1 SERVINGS
prep time: 10 MINUTES
cook time: 10 MINUTES
total time: 20 MINUTES
Enjoy this keto-friendly version of a chai tea latte with all the warm spice flavors in an iced & refreshing drink.
Ingredients
water, for steeping tea
1 to 1 1/2 cups ice
Directions
1
To make the chai tea concentrate:
Place the chai tea bags in a heat-proof container such as a Pyrex measuring cup or tea/coffee mug.
2
Bring a pot of water to a boil and then measure out 1/2 cup. Discard the rest of the water. Pour the half cup of boiling water over the chai tea bags. Let the tea bags steep for at least 5 minutes and then discard the tea bags.
3
Place the concentrate in the fridge to chill for about 10 minutes.
4
To make the iced chai tea latte:
Fill a glass with 1 to 1 1/2 cups of ice cubes, depending on the size of your glass. Pour the coconut milk into the glass over the ice. Then pour the chai tea concentrate over the coconut milk. Add in the stevia drops.
5
Stir the chai tea concentrate and stevia in with the coconut milk. Sprinkle with cinnamon and nutmeg if desired. Enjoy!
Nutrition Information
Yield: 1, Serving Size: 1
Amount Per Serving: 420 Calories | 45g Fat | 6g Total Carbs | 0g Fiber | 6g Sugar | 0g Protein | 6g Net Carbs
---

Making this cafe-style drink at home guarantees the freshest flavor and saves you some money in the long run!
I prefer making my own keto iced chai tea over the premixed box you buy at the store, or even over ordering it at a coffee shop. I like being able to control the amount of sweetness in my drinks, especially on a keto diet. This refreshing drink is so simple to make, I hope you enjoy it as much as I do!
Here's what my Hip sidekick Jenna had to say about this keto iced chai tea:
"This is SO CREAMY AND REFRESHING!! I love this! It's not super sweet and totally hits the spot, just how I like my Iced Chai Tea Lattes (which happens to be my regular Starbucks order). The coconut milk takes this drink to a whole other level so I highly recommend using that versus another keto-friendly milk if possible. It's perfect for summer and is definitely worth making at home!"
---
Looking for a treat to go with your keto iced chai tea? Try these keto coconut chocolate chip cookies!