Warm Up with a Starbucks-Inspired Keto Chai Tea Latte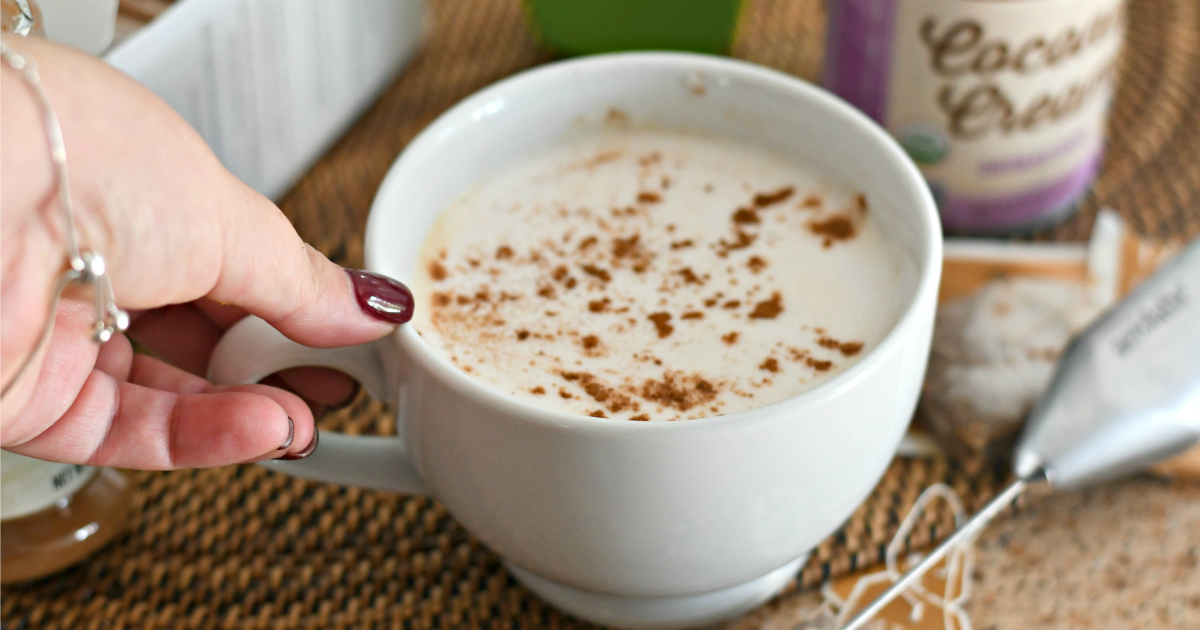 I love comforting and warm drinks this time of year.

If you do too, make this (better than) Starbucks keto chai tea latte! Chai tea is a bold and flavorful black tea infused with delicious spiced flavors like cinnamon, ginger, cardamom, cloves, and black pepper. Adding steamed "milk" makes for a cozy latte that's perfect to enjoy on a chilly day.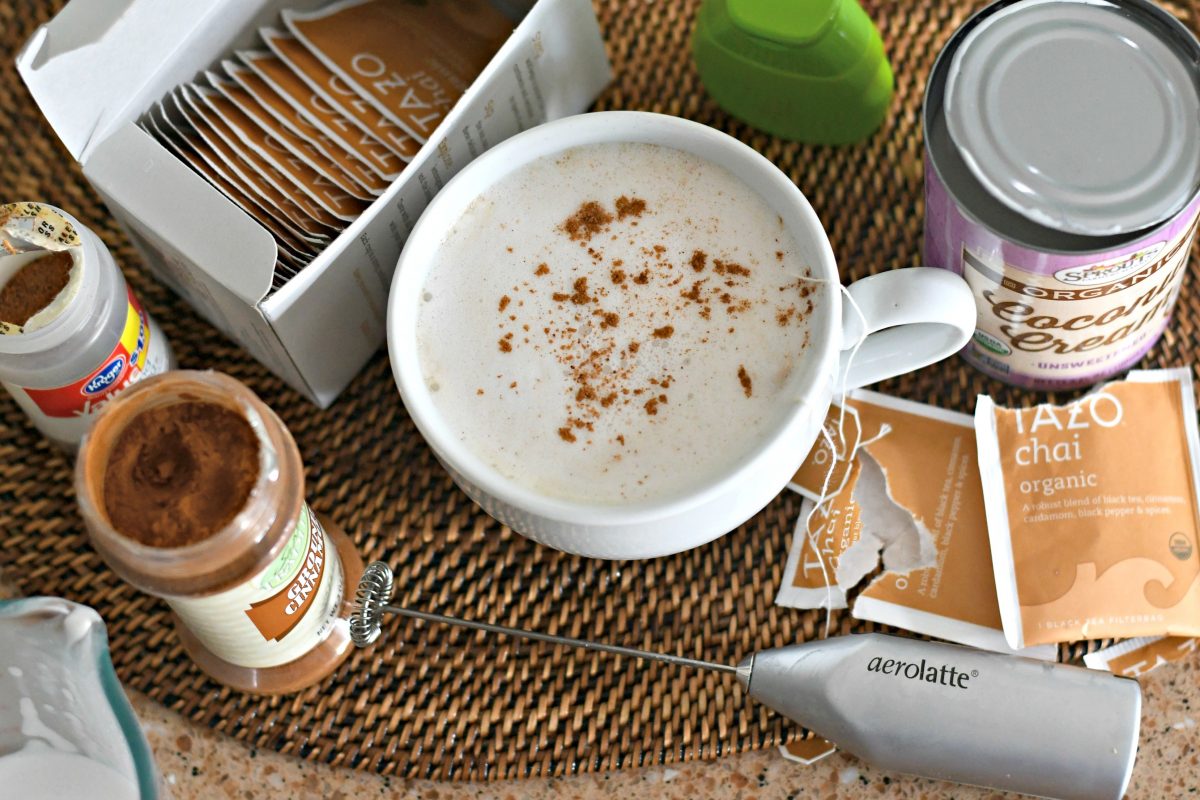 Let's make a keto chai latte!
Starbucks has a yummy version that's unfortunately full of sugar and not at all keto, so today I'm sharing how you can EASILY make your own that tastes even better in my opinion, and is low in carbs! Plus, you'll be saving money by making yours at home any time you're craving one.

BREW, SWEETEN, & FROTH!
Some recipes online include buying all the spices and brewing them with black tea. I think a great shortcut is to use tea bags that have all those yummy chai spices already included. I recently asked a Starbucks barista how she would make a Keto-friendly chai latte and she suggested Tazo chai tea as a great base for a latte. She advised using two tea bags to yield a stronger result when brewing.
Sweeten to taste using your favorite keto sweetener. I used liquid Stevia drops in my latte, and for my milk, I used coconut cream from a can. It was so YUMMY and creamy! You can also opt to use almond milk or heavy whipping cream, but you'll need to adjust nutritional info.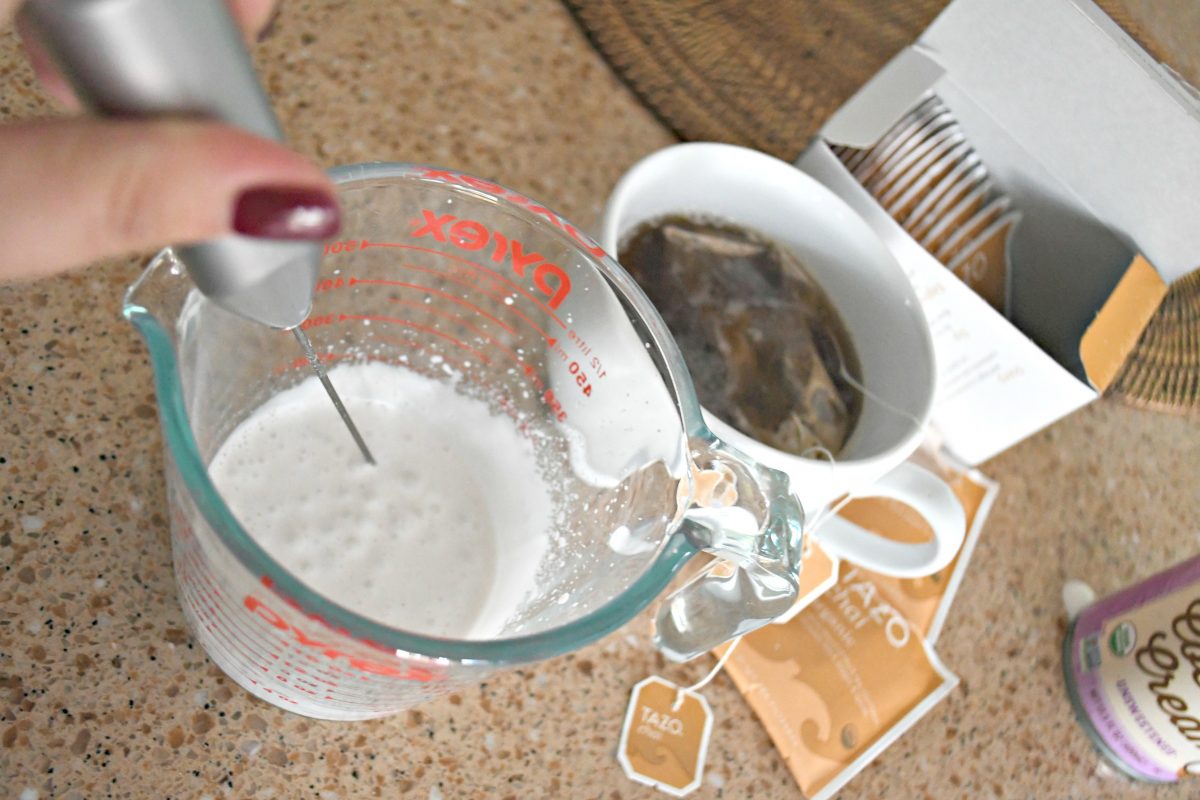 I happen to have this little handheld milk frother and LOVE it. It makes great homemade lattes! The coconut cream definitely frothed up nicely, too. You can alternatively do your best with a whisk or even use an immersion blender.
---
Print
Keto Starbucks-Inspired Chai Tea Latte
yield: 1 SERVINGS
prep time: 5 MINUTES
total time: 5 MINUTES
Chai tea is a flavorful black tea infused with spiced flavors. Make your own keto chai tea latte to enjoy on a chilly day.
Ingredients
8 oz. boiling water
2 chai tea bags
1/4 cup coconut cream
10 drops stevia, liquid
dash of cinnamon & nutmeg
Directions
1
Steep two tea bags with boiling water for about 5-10 minutes.
2
Warm coconut cream in the microwave or on the stove, and froth. Pour on top of tea, and mix in liquid stevia.
3
Top with a dash of cinnamon and nutmeg. Enjoy!
Nutrition Information
Yield: 1 latte, Serving Size: 1 serving
Amount Per Serving: 177 Calories | 18g Fat | 2g Total Carbs | 1g Fiber | 2g Protein | 1g Net Carbs
---
Such a delicious chai latte result!
I love the bold flavors of this tea as a creamy and frothy latte. What a comforting drink that's also keto-friendly. I think this is an even better result than Starbucks, and it's super easy to make yourself!
---