Best Keto Gumbo Recipe with Chicken, Sausage, and Shrimp
The rich flavor of this keto gumbo is sure to impress!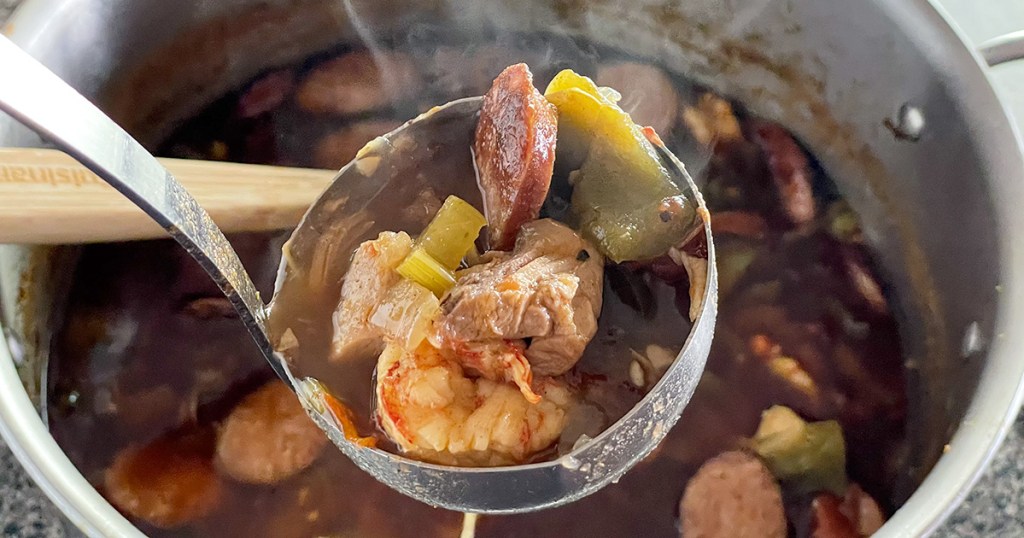 What exactly is gumbo?
Gumbo is a rich, slow-simmered Southern dish typically made by sautéing onions, green bell peppers, and celery with broth, chicken, and andouille sausage. Optional ingredients include shrimp and canned tomatoes if you want a more robust flavor. I made it a keto gumbo by serving it over cauliflower rice.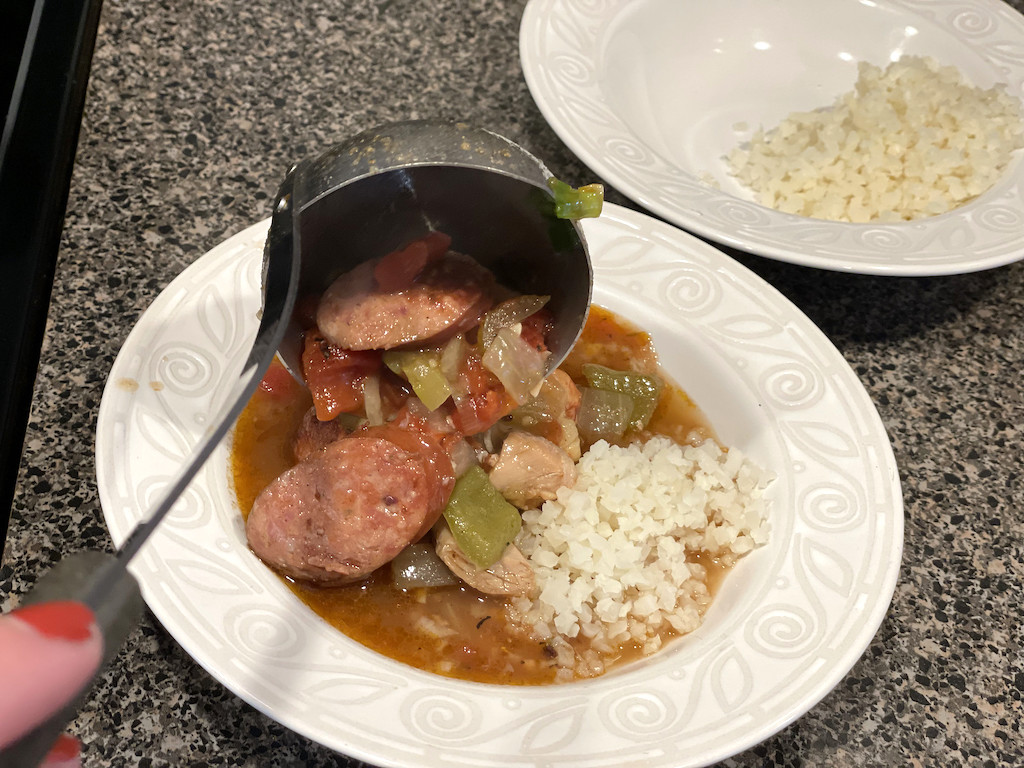 To get that spicy Southern kick, gumbo is seasoned with cajun or creole seasoning. If you really like spice, go for cajun seasoning as it's typically spicier than creole. You can also add in some cayenne seasoning or top with tabasco sauce if you really want some heat!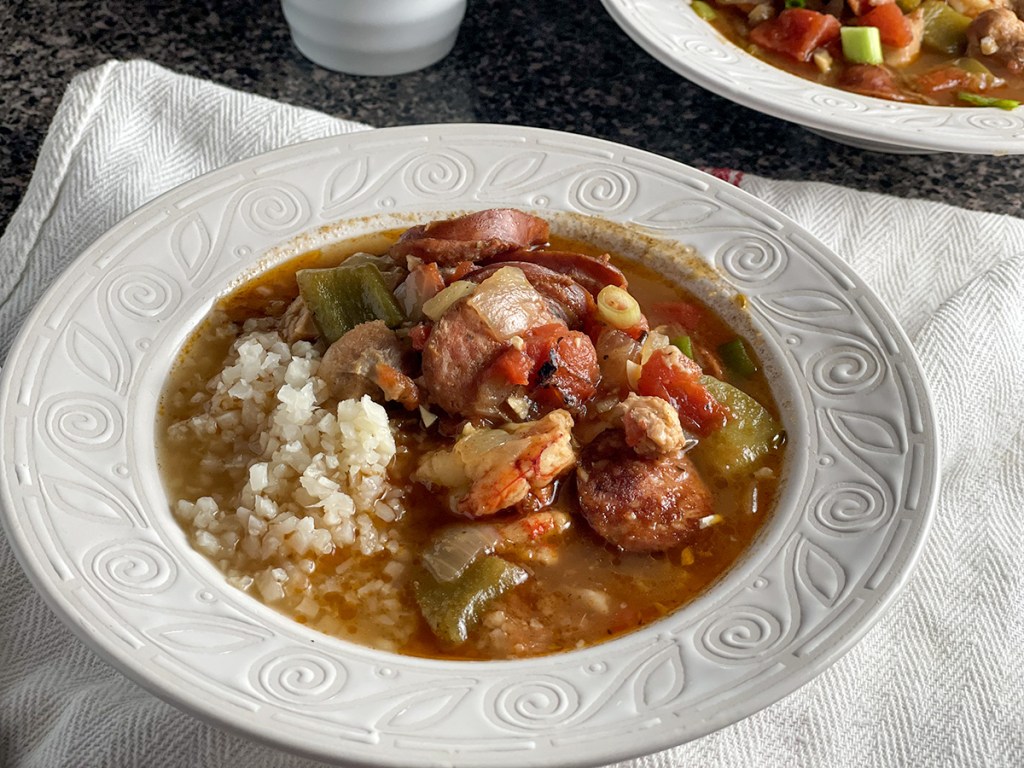 How do you make gumbo keto-friendly?
The key to a perfectly flavored gumbo is making a roux. A typical roux is made with flour and fat such as butter or oil. But since flour obviously isn't a keto food, I made a keto roux using xanthan gum and butter. And it turned out excellent! The secret to a good roux is patience.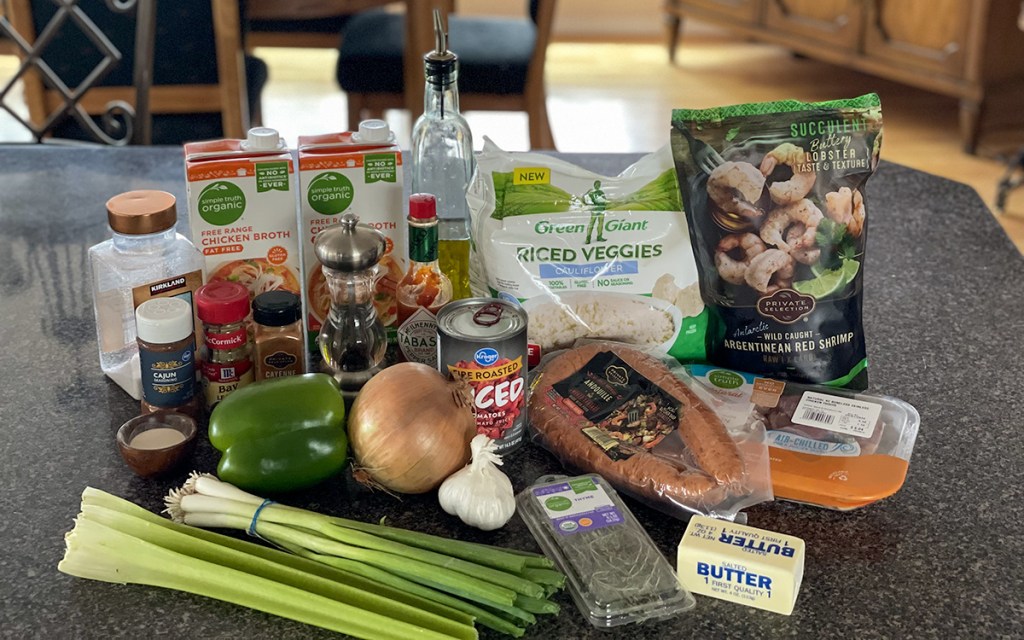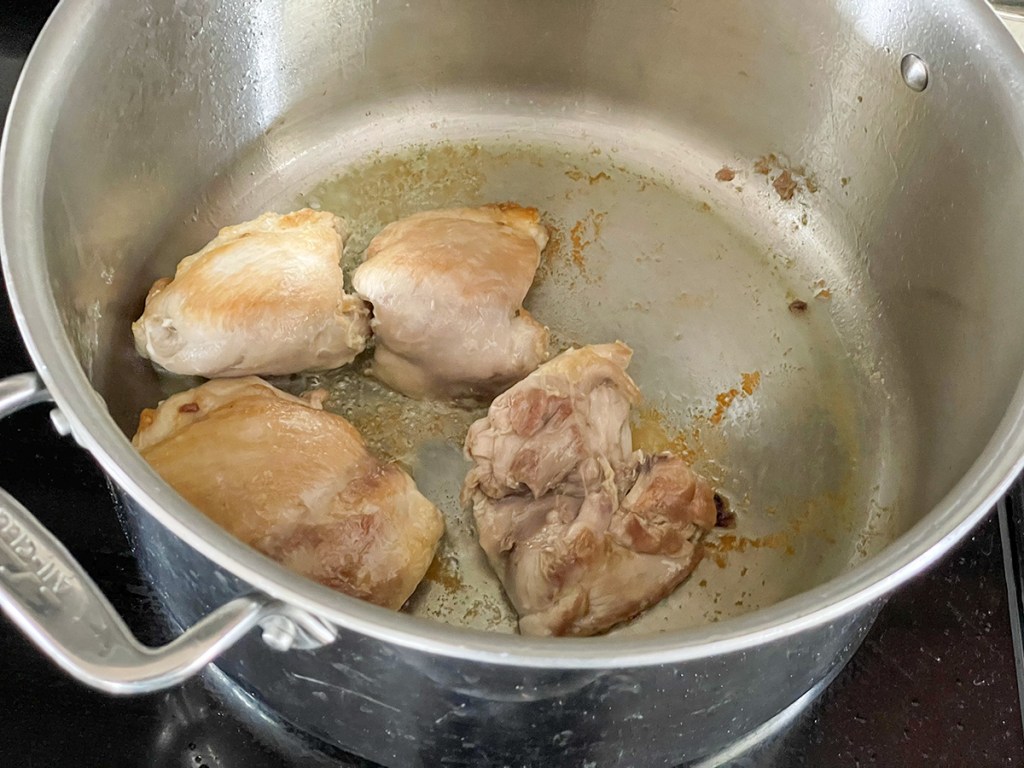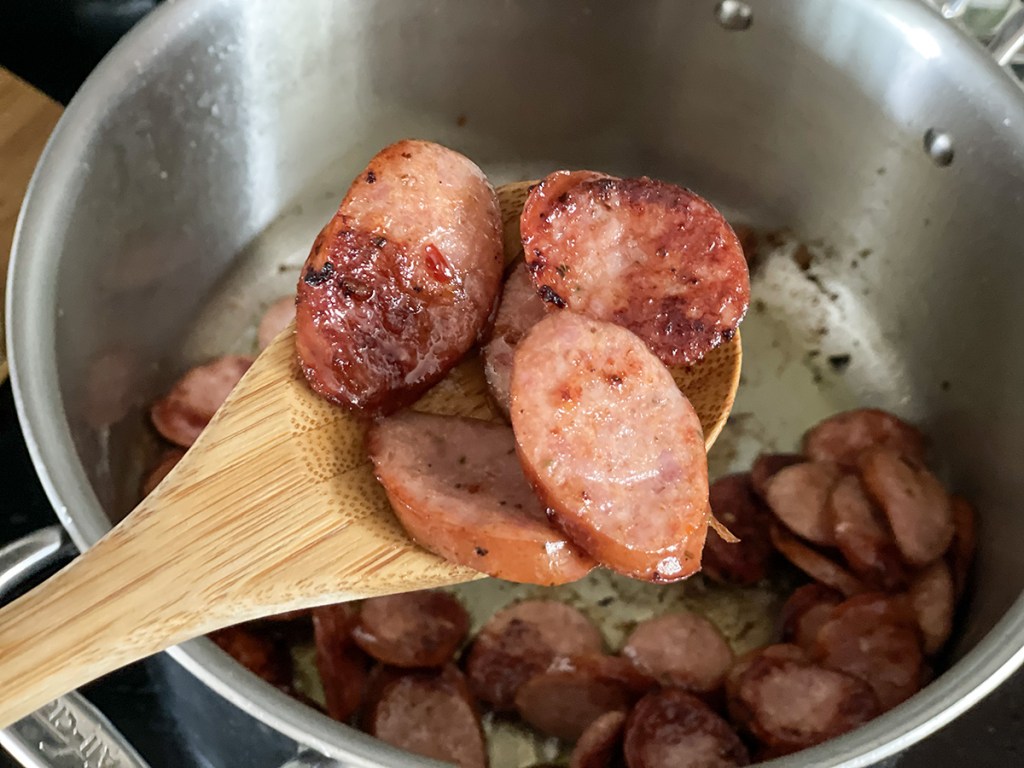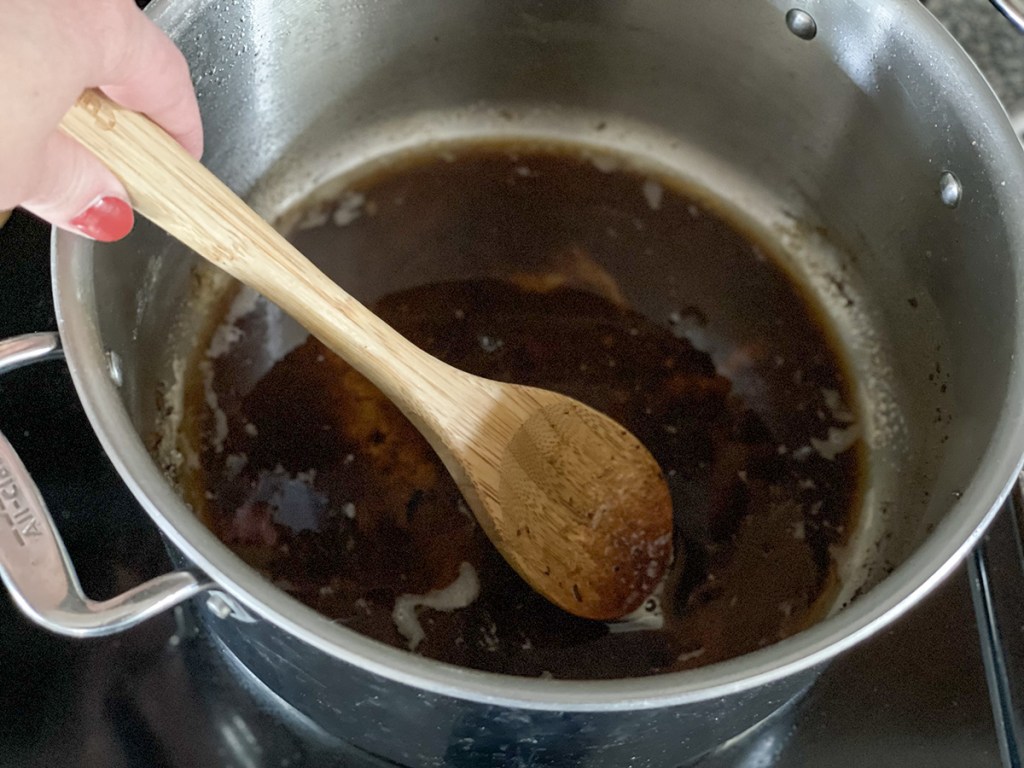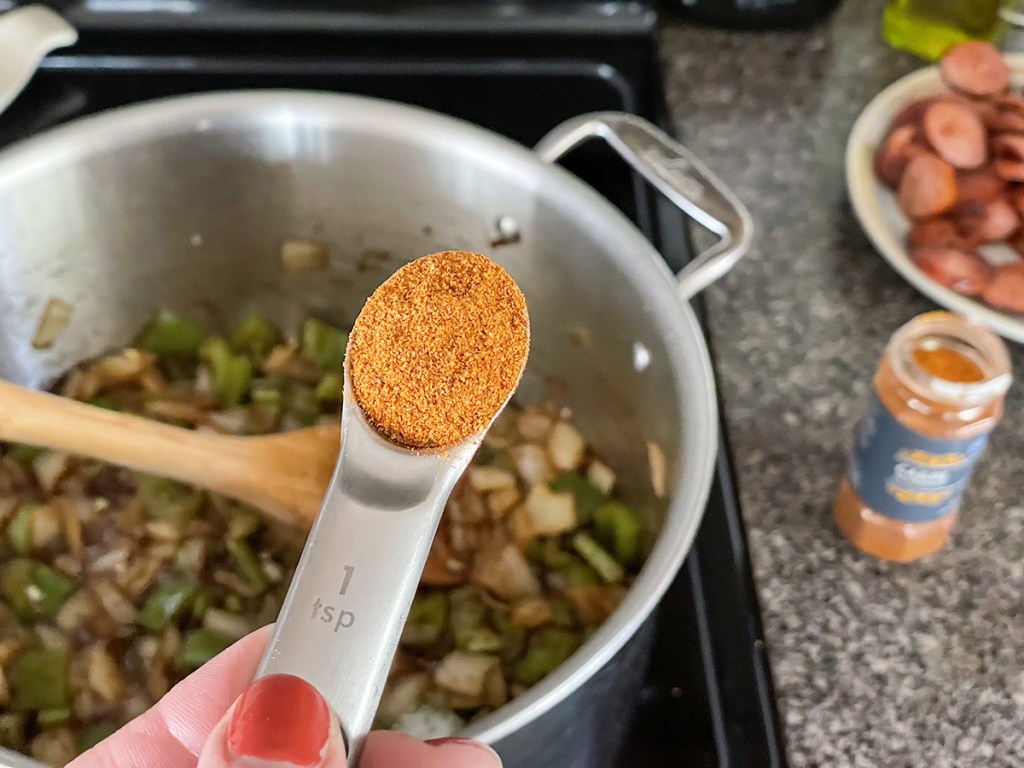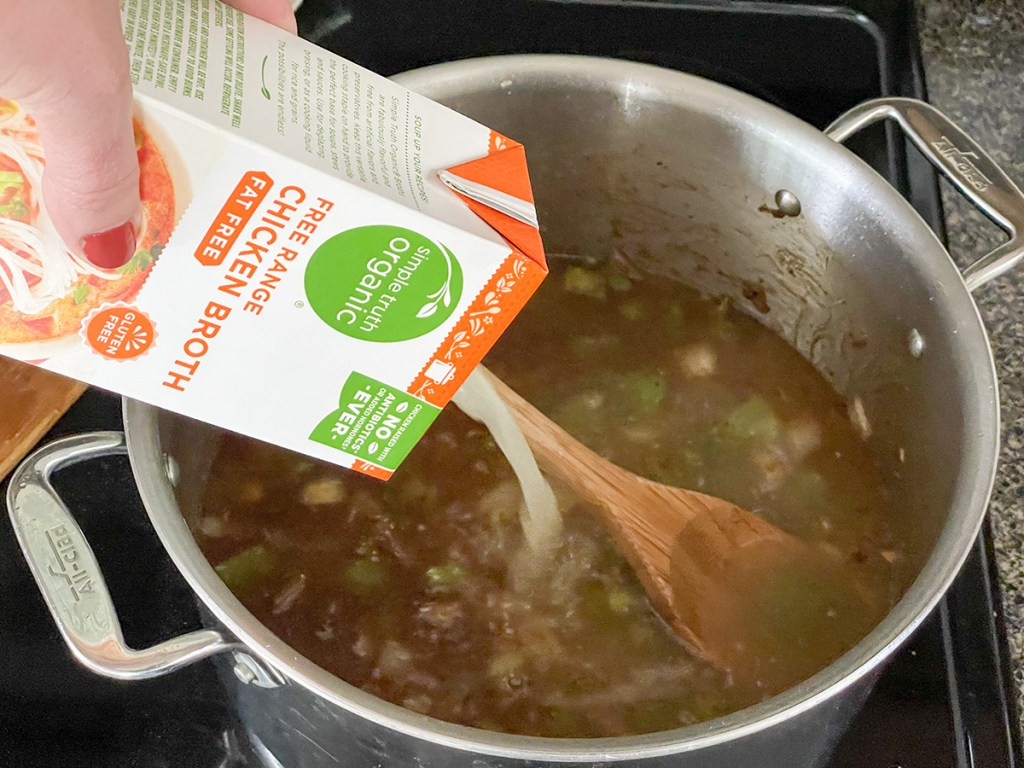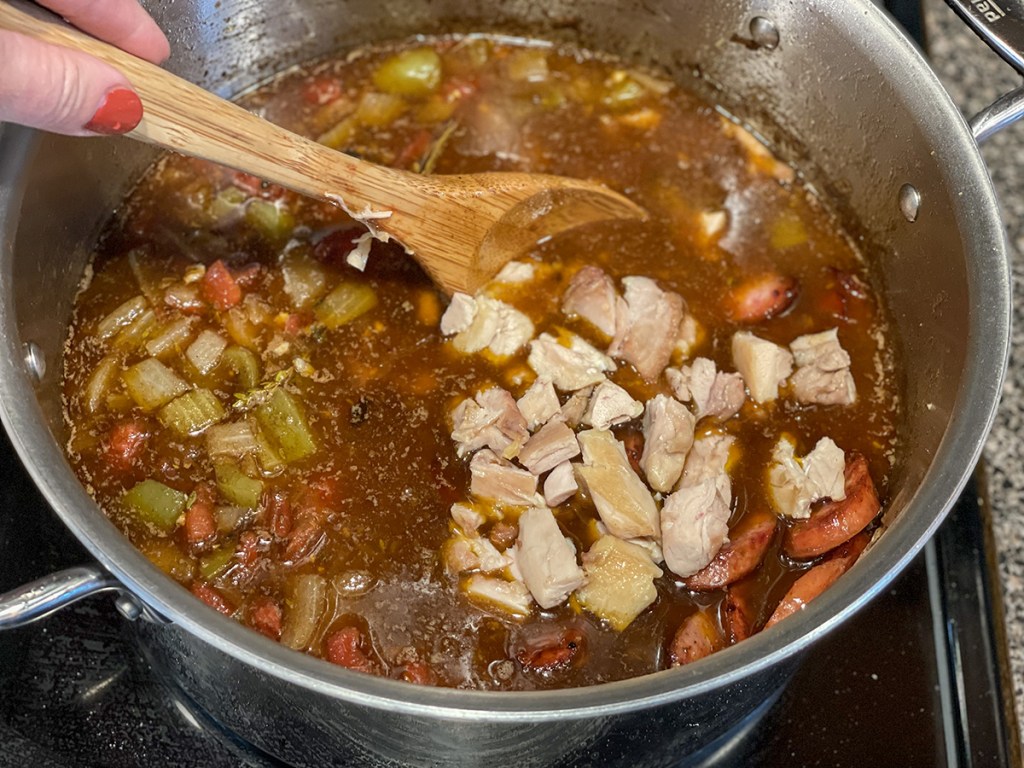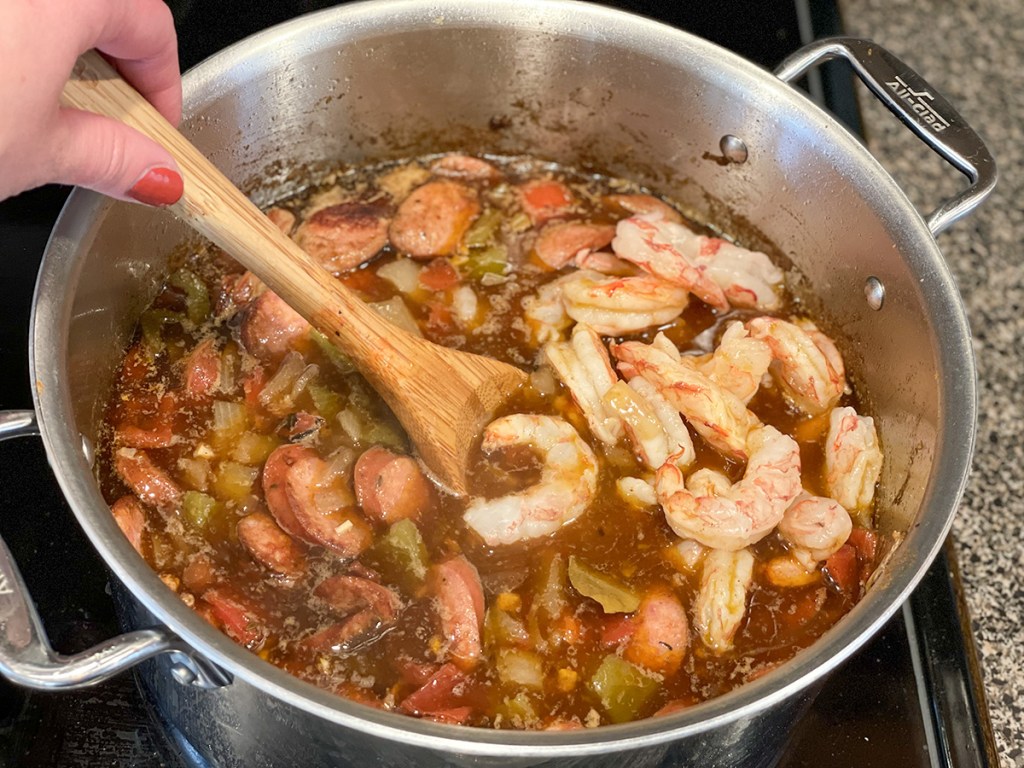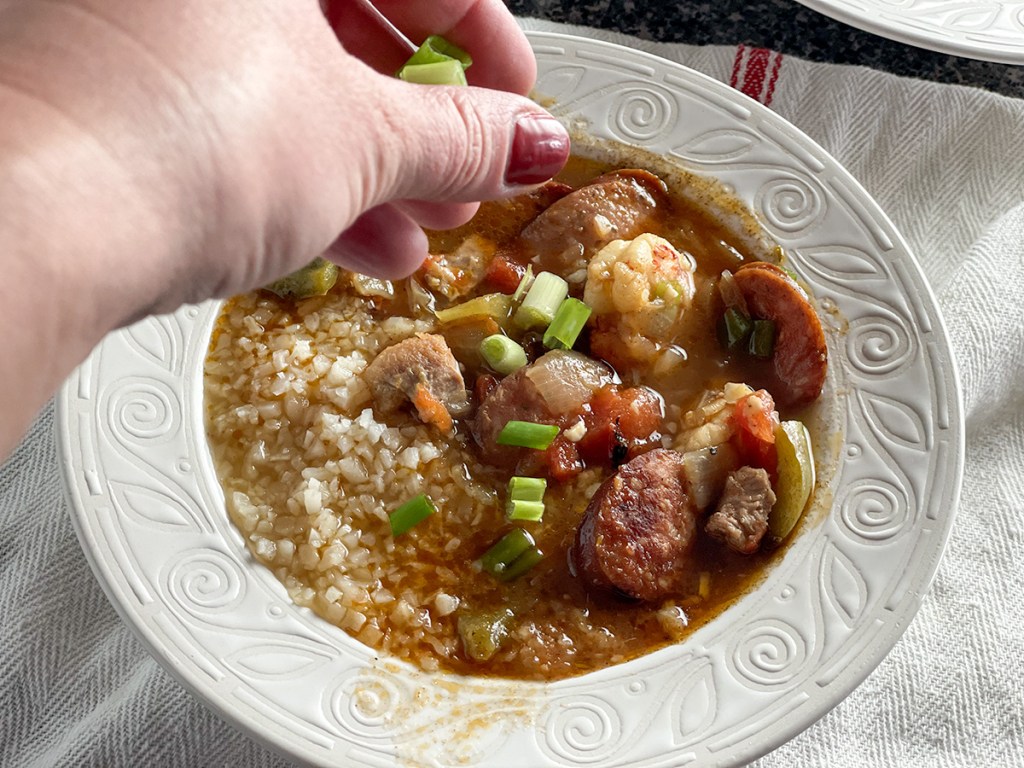 ---
yield: 8 SERVINGS
prep time: 60 MINUTES
cook time: 2 HOURS
total time: 3 HOURS
A rich, slow-simmered Southern dish made with a keto roux and a robust broth with chicken pieces, shrimp, and andouille sausage.
Ingredients
1 tablespoon olive oil
1 pound boneless, skinless chicken thighs
1/2 cup salted butter (1 stick)
1 medium yellow onion, chopped
1 medium green bell pepper, chopped
3 stalks celery, chopped
6 garlic cloves, minced
1 teaspoon salt
1 teaspoon black pepper
1/8th teaspoon cayenne pepper (optional)
2 bay leaves
1 pound shrimp, fresh or frozen, peeled and deveined
1 bunch of green onions, chopped, divided
Directions
1
Heat olive oil in a large stockpot over medium heat. Once hot, add the chicken thighs and cook 5 minutes on each side until cooked through. Remove and set aside. Once cooled, chop the chicken into bite-sized pieces.
2
Add the andouille sausage rounds to the stockpot and cook for 4 minutes, stir and cook another 4 minutes until browned. Remove and set aside.
3
To make the keto roux:
Reduce heat to medium-low and melt the butter in the stockpot. Scrape up any browned pieces of meat from the chicken and andouille. Once melted, sprinkle 1 teaspoon of xanthan gum over the butter. Stir to incorporate. Continue stirring and add the second teaspoon of xanthan gum.
Cook the keto roux until browned, about 20 to 30 minutes and it's the color of chocolate milk. Be careful not to burn the roux. You'll need to stir it the entire time. If it seems a little thin, add a third teaspoon of xanthan gum.
4
After making the roux, add the onion, bell pepper, and celery to the stockpot and sauté for about 10 minutes until soft.
5
Add the garlic, salt, pepper, cajun seasoning, and cayenne (optional). Stir to combine.
6
Next add the chicken broth, canned tomatoes, bay leaves, and thyme. Chop the chicken thighs into bite-sized pieces and add to the stockpot. Also, add the andouille sausage. Simmer for 2 hours, stirring occasionally.
7
Add the shrimp and half of the green onions to the stockpot for the last 10 to 15 minutes of simmering. If serving over cauliflower rice, cook according to package directions.
8
Serving over cauliflower rice, if desired, and garnish with green onions. Enjoy!
Nutrition Information
Yield: 8 servings, Serving Size: about 2 cups
Amount Per Serving: 452 Calories | 31.5g Fat | 10.5g Total Carbs | 3g Fiber | 4.6g Sugar | 32.3g Protein | 7.3g Net Carbs
---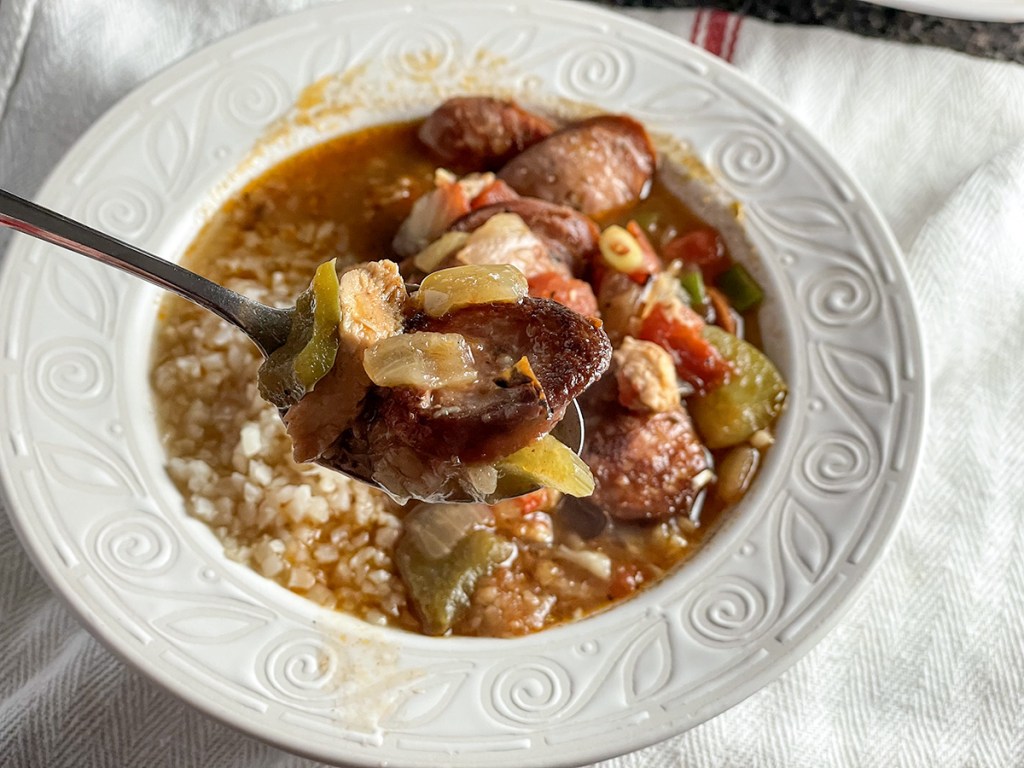 Tips for making the best keto gumbo:
Plan on spending about 3 hours making this soup. It's totally worth it, promise! It's one of those meals where the cooking process is therapeutic.
Don't skip making the roux. It helps emulsify the fat and adds a deep, rich flavor to the broth. It does take about 30 minutes to make and needs to be stirred constantly to prevent burning. Note that it's not the same as using flour but it's as close as you can get!
If you can't find andouille sausage, any type of precooked sausage will work, but it will change the flavor profile a bit.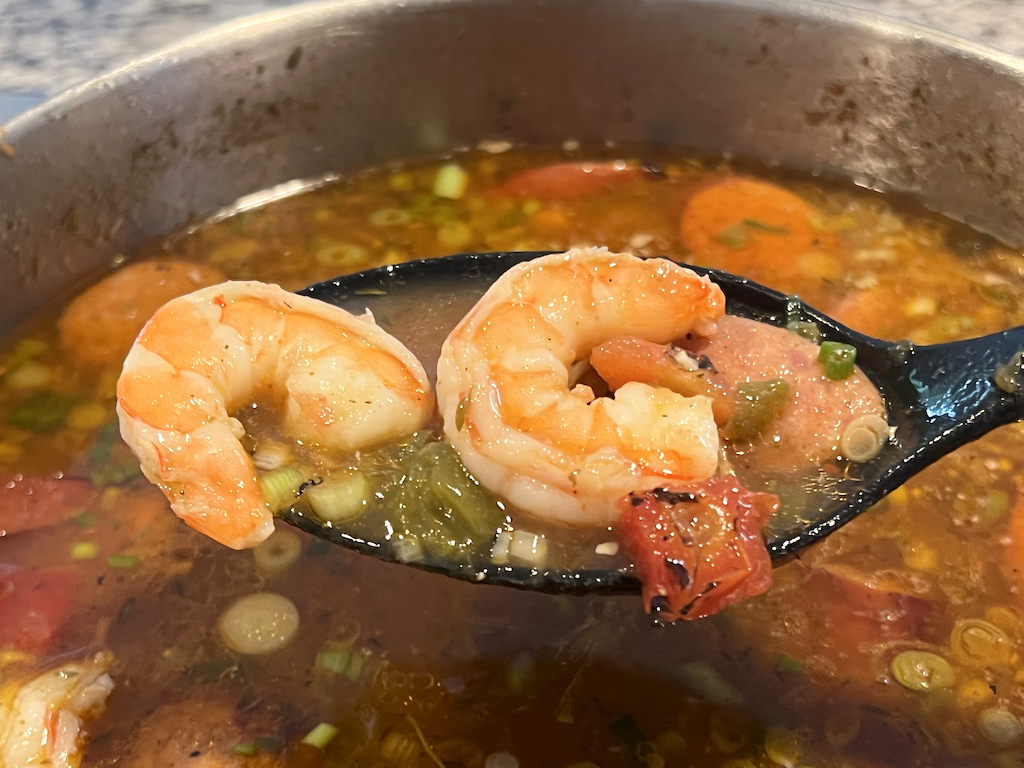 Enough to feed a crowd!
I went all out with this keto gumbo recipe, so it's plenty to feed at least eight people. Leftovers reheat beautifully, and I almost think it tastes better the next day.
It's perfect on its own or served over cauliflower rice.
Here's what Collin had to say about this keto gumbo recipe:
"YUM!! This was SOOOOOO good and so flavorful! My whole family loved it. I wouldn't change a thing other than maybe adding a little salt to taste before serving. I tend to like more salt than others though. Oh and I didn't have xanthan gum on hand to thicken it, but it was honestly fine – just not as thick."
---
Looking for more amazing keto meals, try our keto cream cheese chili!